John: The process of picking the MacStories Selects awards is simple. During the past year as we used and reviewed hundreds of apps, Federico, Ryan, and I kept a shared note in Apple Notes with a list of the apps that struck us as potential candidates for one of our 2019 awards. Not long ago, each of us revisited that list and refined it. Then, we convened in the MacStories Slack and hashed out the winners and runners up.
Today, we are pleased to announce the winners of the second annual MacStories Selects awards. As we explained when we introduced the inaugural Selects awards, we expected that we would expand and evolve them in 2019, which is precisely what we've done.
This year, the Selects Awards feature four new awards:
Best New Feature
Best Watch App
Best Mac App
Readers' Choice Award
Best New Feature recognizes a new app feature that stands out for its impact. We also added an award for the Best New Watch app; in a year that saw Watch apps gain independence from the iPhone, this is an award that felt like an obvious and natural addition to Selects. With Apple's renewed focus on Mac hardware and apps, we also wanted to recognize the 2019 Mac app that we feel represents the best that macOS has to offer.
Finally, for 2019 we are debuting a Readers' Choice award selected by members of Club MacStories. All of our readers care about the apps they use, or they wouldn't be reading MacStories in the first place. However, Club members' interest and dedication to discovering and using the very best apps available rises to an entirely different level, so we felt it would be fitting to tap into their refined tastes with this special award.
When we looked back on our 2018 Selects picks, we couldn't help but feel that something was missing. The awards were well-received by readers and developers alike, but they lacked a sense of permanence and concreteness found in other awards ceremonies. So, we're very pleased and excited to announce that this year, we have commissioned custom, hand-made awards that we will be sending to each Selects award recipient later this week. From New Zealand to Texas and many points in between, each of the eight MacStories Selects awards will be in the hands of winners soon.
Congratulations from the entire MacStories team to the winners and runners up this year. Every one of these apps represents the best the App Stores have to offer. Thanks too to the developers of all the apps we use and love; your hard work doesn't go unseen. 2019 has been a fantastic year for apps, and we can't wait to see what you come up with in 2020. Also, thanks to the Club MacStories members who participated in the Readers' Choice award voting. The Club is an important part of MacStories, so it was great to find a way to involve its members.
With that, let's get on with the 2019 MacStories Selects awards.
Table of Contents
Readers' Choice Award
John: Drafts is the perfect pick for our first Readers' Choice award because it encapsulates so many of the qualities in apps that we value at MacStories. At its core, though, Drafts succeeds thanks to a careful balance of flexibility and power that allows users to mold it to their individual needs.
For some users, Drafts is a simple scratchpad and doesn't need to do much more than serve as a temporary location for parking text. For others, the app can be a blogging platform, journal, task manager, or something entirely different. That's made possible by a sophisticated set of features that has evolved steadily since the app debuted in 2012. Yet through all those updates and despite the app's wide array of use cases, Drafts has remained true to its core mission of being "where text starts."
In his review of Drafts 1.0, Federico explained the essence of the app:
Drafts is a frictionless way to capture and save ideas that also happens to be integrated with system functions and applications you may be already using to elaborate on those ideas.
That is even more true today than ever before. In fact, Drafts has become one of the premier choices for users who want to automate text-based tasks.
Getting text in and out of Drafts has always been fast and dead simple. The app incorporates a versatile share extension, dictation via an iOS or iPadOS device or the Apple Watch, and even an iMessage app. Coupled with user and community-created actions, workspaces, and JavaScript and Shortcuts support, Drafts powerfully leverages the functionality of other apps. It's an approach that transforms the app into the glue that holds disparate apps together in custom workflows, extending Drafts far beyond its built-in feature set.
Of course, Drafts is also notable for the regular updates it receives and its use of the latest Apple frameworks and APIs. For example, in iOS and iPadOS 13, that has meant the addition of multiwindowing support, shortcut action parameters, and a whole lot more.
It may sound funny, but I've found that the addition of Drafts for the Mac has enhanced the iOS and iPadOS versions too. Even before the recent addition of actions to the Mac, simply having my drafts everywhere I work has made me more likely than ever before to use the app.
Finally, it's particularly fitting that Drafts is our first Readers' Choice winner because few apps have such a strong community of users behind it. The active forums and user contributions to the Action Directory, along with Greg Pierce's excellent Drafts Guide, all make it easy to learn even the app's most advanced features from its most dedicated users.
Readers' Choice Award: Runner-Up
John: Apollo became a favorite of MacStories readers almost immediately after its launch. Developer Christian Selig, whom we interviewed in one of our earliest AppStories episodes, has not only created a Reddit client that surpasses the official Reddit app, but he's also built a large community around the app whose feedback has helped guide its development.
One of the greatest strengths of Apollo is its design. The app looks great and features an ever-growing set of custom icons. However, it's also designed to simplify navigation with one of my favorite features, the Jump Bar. The Jump Bar allows users to tap the title of a subreddit to quickly search for another or pick from a list of personal favorites.
Similar to Drafts, Apollo is also highly customizable. In addition to the custom icons, the app includes a wide variety of appearance options that can be tweaked. However, the app's customization goes well beyond its looks. My favorite example is swipe gestures: with options for long and short swipes left and right across multiple sections of the app, it's possible to tailor Apollo to comfortably fit the way you browse Reddit, which makes it a fantastic Readers' Choice runner-up.
Readers' Choice Award: Runner-Up
Ryan: A second runner-up for our Readers' Choice Award is Things, making it the third-party task manager most favored by our readers, and for good reason. Following version 3's long-awaited, and ultimately satisfying 2017 launch, the team at Cultured Code has worked tirelessly to make the app better. Earlier this week marked the eleventh major update for the app in the last two years, a development pace unmatched among Things' competition.
On the spectrum of digital task managers, Things sits nicely in the middle between simple and complex. The app's beautiful, clean design makes it feel particularly accessible, and features like the Magic Plus Button and This Evening section effectively streamline some standard task manager concepts. The app is no lightweight in power user features, however, with section headings in projects, full UI navigation from an iPad's keyboard, checklists inside tasks, tags, start dates, notes, deadlines, calendar integration, and more.
Things has a prestigious track record, having been one of the premier task managers on Apple platforms for over a decade now. I've used the app for a good chunk of that decade, and I'm not sure that there's ever been as good a time as now to be a Things user. The readers have spoken, and they have my whole-hearted agreement.
Best New App
Federico: Few web services have had a profound impact on the MacStories team's workflow as Toggl did. Since we started using the popular time tracking service years ago, we've been able to gain a better understanding of our schedules and the time we spend working on the (several) projects that readers see on MacStories, Club MacStories, and our podcasts. The only problem: Toggl's native app for iPhone and iPad leaves much to be desired, and even though it's gotten better over the years, it still lacks essential integrations with the modern iOS and iPadOS platforms.
Enter Timery. Created by indie developer Joe Hribar, Timery is a full-featured Toggl client for iPhone and iPad that aims to provide a desktop-class time tracking experience for Toggl users, whether they're using the service for free or paying for a premium subscription.
What sets Timery apart from other time tracking utilities is the unique combination of developer Hribar's understanding of the needs of Toggl users and his embrace of modern iOS and iPadOS technologies. Timery isn't just a more customizable Toggl client with advanced features such as saved timers, quick editing for time entries, tag and project management, and a fantastic chronological feed of your timers; it's also an exemplary iOS and iPadOS citizen that showcases what great iOS and iPad apps should offer in 2019. Timery comes with a powerful widget that lets you start and stop timers with one tap; you can customize its icon, choosing from a variety of alternative looks; dark mode is natively supported in iOS and iPadOS 13; and, more importantly, the app now integrates with Shortcuts thanks to parameters.
By taking advantage of Timery's native actions in the Shortcuts app, I was able to stop using my own custom shortcuts based on the Toggl web API and switch to single-action commands that let me start and stop my favorite timers in just two seconds. And if that wasn't enough, Timery has been updated just this week with even more shortcuts, including one to extract the details of the total time you've logged on a specific project in the last week.
Working for MacStories, we come across hundreds of new apps on a monthly basis. Some of them are productivity-oriented apps, which is one of the areas of focus of the site. We review the apps that catch our attention more than others, but it's not often that a new app manages to go beyond mere professional intrigue and actually change the way we get work done. Timery is one such app: its clear focus on providing a superior time tracking experience based on the Toggl web service, combined with a superb implementation of modern iOS and iPadOS technologies, have made it a staple of our Home screens and our favorite app debut of 2019.
Best New App: Runner-Up
Federico: Alex Hay's Toolbox Pro is based on an ingenious premise: thanks to parameters in iOS and iPadOS 13, it's effectively become possible for third-party developers to create actions that add missing functionality to Apple's Shortcuts app in a way that feels native and is just as fast and secure as default, Apple-designed actions. I had a feeling that this sort of utility could become a reality when I reviewed the updated Shortcuts app in September, but I had no idea that something as powerful, versatile, and clever as Toolbox Pro could come out just a couple months later.
Toolbox Pro is a new kind of meta-app whose sole purpose is to provide actions that extend Shortcuts. As I detailed in my review – where I shared plenty of downloadable examples – Toolbox Pro is a container of actions that you can use in custom shortcuts you create in Apple's Shortcuts app for iPhone and iPad. Actions provided by Toolbox Pro offer a solution to some of Shortcuts' longstanding limitations (there are actions to create global variables, filter lists, create images from text, and much more), but they also introduce entirely new functionalities such as searching the Apple Music catalog, creating rich menus, or leveraging machine learning to analyze the contents of photos and pass results back to Shortcuts.
Toolbox Pro serves as an example of the flexibility granted by parameters, which allow third-party apps to be as integrated with Shortcuts as Apple's own actions for, say, Reminders or Mail. Hay's app – which is being regularly updated with new features – has helped reimagine what Shortcuts power users can build in the app with native enhancements that do not sacrifice any of the visual affordances of Shortcuts. Toolbox Pro may be designed for a niche market, but it's also the perfect demonstration of how iOS and iPadOS developers can still come up with fresh, exciting ideas. For this reason, and thanks to its sheer utility, Toolbox Pro deserves a mention among the best new apps of 2019.
Best New App: Runner-Up
Federico: Developer Simon Støvring is no stranger to fresh, interesting ideas, but with Jayson, a utility to preview and browse the contents of JSON files, he built something I didn't even know I needed until I tried it.
Jayson is a powerful JSON viewer for iPhone, iPad, and Mac (thanks to Mac Catalyst) that allows you to navigate the structure of JSON documents with a file manager-inspired UI. Even though viewing JSON as syntax-highlighted text is an option, Jayson shines when you use its visual navigation mode, which breaks down JSON elements such as dictionaries and arrays and lets you page through them as if you were using column view in the Files app. You can open different sections of the same JSON document in tabs or in-app splits, edit values, and share a specific portion of a document with other apps.
We like Jayson because, unlike other developer utilities that only prioritize power and legacy features at the expense of good design and modern features, Jayson is an elegant app that taps into nearly every aspect of the modern app experience on Apple platforms. Dark mode, custom app icons, and iPad multiwindow are natively supported; there's a vast selection of keyboard shortcuts to navigate documents on iPad; on both iPhone and iPad, you can long-press on any item to reveal a context menu with a collection of useful actions; Jayson uses the Files document browser as its root view, meaning that any JSON document from any file provider can be opened and edited in-place without creating a duplicate copy. Impressively, Jayson also offers shortcuts to load JSON content into the app and – a genius addition – preview JSON inside a rich notification that lets you navigate the document's structure from the notification banner itself.
Jayson may be a developer utility, but, like the other apps in this category, it also proves how there's never been a better time to build a productivity app for iPhone and iPad, and it's among our favorite new apps of 2019.
Best App Update
Ryan: When you follow apps closely, you learn before long that at different times of year, apps usually receive different kinds of updates. The second half of the year is when every app works to adopt the new OS technologies Apple unveiled at WWDC; starting in June, developers are hard at work ensuring their apps will be ready on day one to implement features like dark mode or multiwindow, and there's little or no time available to work on any other types of features. But earlier in the year, developers have more opportunities to think creatively about their apps' feature roadmaps, usually resulting in updates from January-May that emphasize unique new functionality. LookUp 6, however, which debuted this September, defies that standard pattern by offering both system-level features and its own evolutionary changes in a single update. After surveying the whole year's worth of app activity, it's hard to find another update quite like it.
LookUp is an elegant dictionary app that has always been at the forefront of adopting the latest system features on iOS. When the iPhone X first debuted, for example, with its TrueDepth camera system, LookUp used facial recognition to enable a 'Smile to Like' feature, where smiling while viewing a word would add it to your 'Liked' collection. It might sound like a gimmick, but in use it's actually a delightful addition, especially when aided by a tap of haptic feedback.
The app's strong history with OS updates made it no surprise when LookUp 6 introduced significant iOS 13 features on launch day. Dark mode, shortcuts with parameters, and even iPad multiwindow were all added in a single update. But that wasn't all: alongside these major additions, LookUp also introduced a skillfully-designed new quiz mode, the ability to navigate the entire iPad app interface via a connected keyboard, translation features, and more.
It's hard to take an already mature app and make it significantly better; sometimes attempts to do that only create feature bloat and overcomplicate what was great in the first place. LookUp 6 added so much new without detracting from the app's core purpose in the slightest; instead, it moved from strength to strength with this update, and became well-deserving of being named 2019's Best App Update.
Best App Update: Runner-Up
Federico: After a long hiatus, Silvio Rizzi's classic RSS reader for iPhone and iPad came back earlier this year with a major 4.0 update that rejuvenated the app with a modern foundation, ready for the post-Google Reader era. As is the case with other great RSS apps for iOS and iPadOS, Reeder 4 integrates with the most popular RSS services around today, from Feedly and Feedbin to Inoreader and self-hosted options like FreshRSS. But there's more to Reeder 4 that makes it special and a runner-up for the best app update of 2019.
In its transition to a modernized codebase that Rizzi is now sharing across three platforms (although Reeder for Mac isn't written in Mac Catalyst, it shares the same underlying engine of the iOS app), Reeder didn't lose the finesse and elegance that made the original version a standout hit for several years. Reeder 4 is as smooth as ever, with fluid gestures that let you navigate between sources of articles and web views powered by Safari View Controller. Reeder is the fastest, most pleasant and, dare I say, classy RSS reader you can find on the App Store today. While navigating hundreds of unread stories can often be an exercise in frustration and a chore in and of itself, Reeder's responsive interface makes it effortless and fun.
In addition to this, Reeder 4 can be used as a standalone read-later app to save any article from the web that you can't read right away: the app can sync with Instapaper and Pocket, but the new Reeder-specific, iCloud-based Read Later account is, in my opinion, a preferable option: it's powered by CloudKit so it's private by default and syncs quickly, and in the background, with all your devices; even better, the new Read Later account comes with advanced actions for the Shortcuts app (based on parameters) that let you save articles, find articles in your queue, and even extract the HTML contents of full articles saved in Reeder for later.
Rizzi's most impressive achievement with Reeder 4 is the following: in blending the app's tradition with new functionalities for Apple's modern ecosystem, Rizzi has thoughtfully straddled the line between familiar and innovative, crafting an RSS and read-later experience that's polished, fun to use, and well integrated with modern iOS and iPadOS frameworks. For these reasons, Reeder 4 is more than a comeback to appease nostalgic users – it sets a new standard for its category.
Best App Update: Runner-Up
Federico: Scriptable was already a remarkable example of how to integrate a productivity app with native iOS frameworks before version 1.4, but with the app's iOS 13 update, developer Simon Støvring took his JavaScript IDE to the next level.
The headline feature of Scriptable 1.4 is the ability to run scripts from the Shortcuts app without launching Scriptable at all. Thanks to parameters and Scriptable's new actions, you can now pass one or multiple inputs to a script, which will execute in the background without stopping a shortcut's execution flow and return data to the shortcut too.
This feature alone has vastly increased the utility of Scriptable since the app can now provide "native" enhancements for Shortcuts, but there's more. Scriptable 1.4 added support for system dark mode, the ability to reposition the editor's panels on iPad, deeper integration with Files and Reminders, and quick actions for the iPad's Home screen.
Although not as dramatic an upgrade as LookUp 6 or Reeder's relaunch, version 1.4 of Scriptable has expanded the scope of Støvring's app considerably, and it's among the best app updates of 2019.
Best App Feature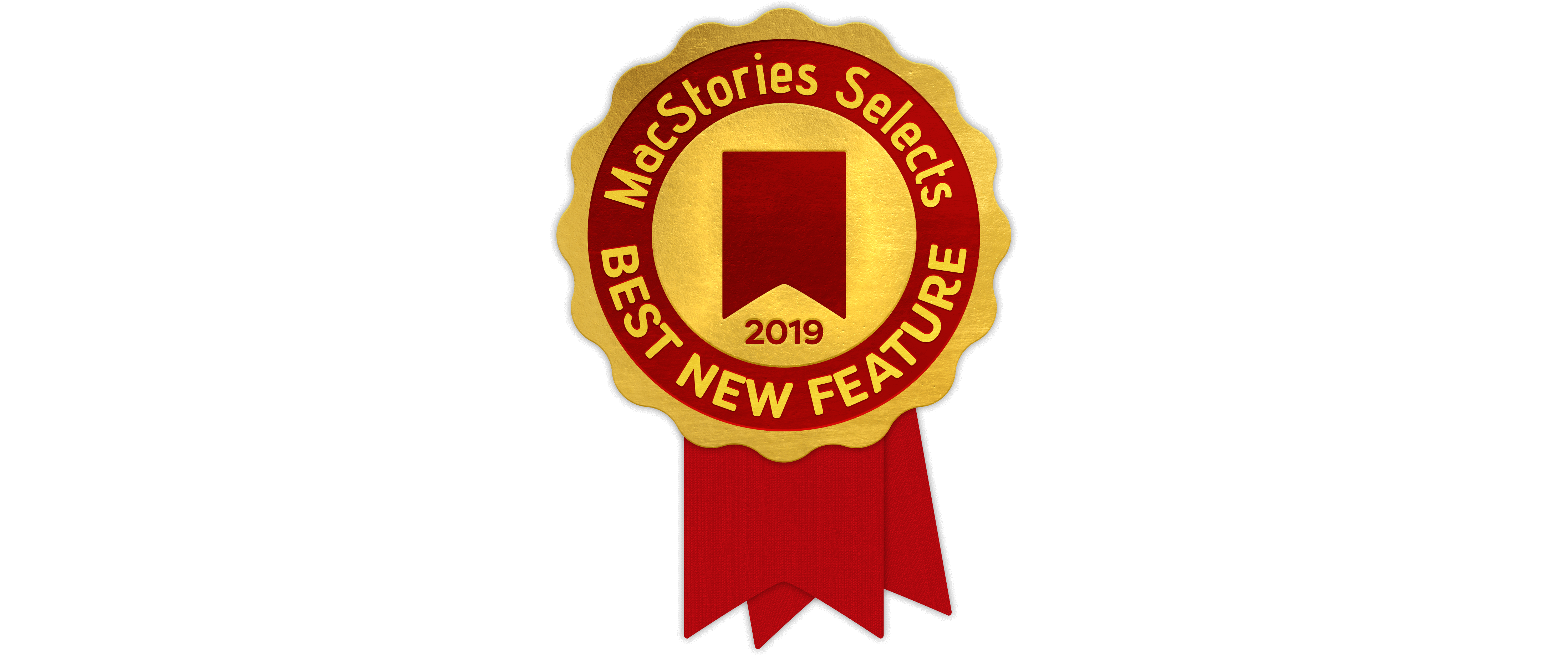 Ryan: Podcasts have long had a sharing problem. If you hear a great podcast and want to recommend it, you can always share a link to the full show, but the chances it will be listened to are low – especially if you're sharing to social media rather than making a direct recommendation to a friend. Overcast, the popular podcast client from Marco Arment, has historically offered a partial solution by enabling users to share time-stamped links to different parts of a show; anyone who sees the link can access the shared episode right in Overcast's web player, and starting at the exact point the sharer intended. Time-stamped links work well, but they still aren't the most ideal solution for social platforms.
In mid-2017 Anchor debuted a social-friendly method of creating video clips from podcasts, but the feature didn't quite catch on. In 2019, Overcast employed a similar approach, but with a couple key differences, and this time it stuck.
Overcast's clip sharing feature, like Anchor, enabled easy-to-make video clips of podcasts that were perfect for sharing on social platforms like Twitter and Instagram. Unlike Anchor's feature, however, any podcast listener could create and share these clips for any available podcast. Anchor put video creation tools only in the hands of podcast creators, while Overcast democratized those tools by giving them to users. And Anchor's clips could only be created for Anchor podcasts, which was a very limited selection of shows in a closed system; Overcast, on the other hand, hosts the full array of podcasts you'd find on any open platform such as Apple Podcasts, so clips could be made from any of your favorite shows.
Because of Overcast's clip sharing feature, 2019 became the year that podcasting's social hang up was finally overcome – at least among the kind of people who use third-party podcast clients. Overcast-generated podcast clips have been all over my Twitter feed since the feature first launched in April, making podcasts more social-friendly than they've ever been.
Best New Feature: Runner-Up
Federico: The year 2020 is nearly upon us, and in the context of MacStories, that's notable for a couple reasons: first, a change of decade is always a good opportunity to reassess the state of technology and where our favorite computing devices may go next; second, the iPad is going to turn 10 next year. Despite the tablet's relative state of maturity, however, one of the key components of its suite of productivity apps – Files – still leaves much to be desired, which a plethora of missing functionalities compared to the Mac's more powerful and integrated Finder.
Earlier this year, indie developer Simon Støvring set out to fix one of Files' longstanding limitations by taking advantage of an existing, native API that Apple itself isn't using in any of their apps: file bookmarks.
With file bookmarks in his JavaScript app for iPhone and iPad, the excellent Scriptable, Støvring was able to reimagine how power users can gain quick, persistent access to any file or folder they frequently open in the Files app. Here's the gist of it: in Scriptable, you can create bookmarks to files or folders located in the Files app regardless of the app or file provider they belong to; then, using JavaScript, you can retrieve any previously bookmarked file (even if it's stored outside of Scriptable's own document container) as well as list the entire contents of a folder.
Used inside Scriptable itself, file bookmarks have allowed me to speed up common file management operations on my iPad, such as tagging images, uploading them to a server, then moving the originals to another Files folder. But it's when combined with Shortcuts that file bookmarks prove the quality and ingenuity of Støvring's idea: with the ability to run scripts and create bookmarks inside Shortcuts, it's now possible to automate the process of creating "bookmark shortcuts" end-to-end. I based my FS Bookmarks shortcut, which lets you create direct Home screen launchers for files and folders, around these two technologies, and it's been a solid workaround to compensate for the lack of a native alternative in the Files app.
In an ideal scenario, we shouldn't have to rely on file bookmarks in Scriptable to get fast access to frequently used files and folders. But given the current state of affairs in the Files app, Støvring's feature is our best shot at creating Files-based launchers, and it deserves a mention among the most useful, creative new app features of 2019.
Best New Feature: Runner-Up
Ryan: Despite the lack of new Pro hardware, 2019 was a big year for the iPad. The debut of iPadOS brought a lot of fascinating and powerful new technologies for developers to take advantage of, one of which was multiwindow. I've been delighted to see how many third-party developers have quickly implemented multiwindow into their apps, but GoodNotes might offer the most compelling implementation of all.
GoodNotes does all the right things with multiwindow: following the recommendation of Apple at WWDC, practically anything that can be dragged away inside the app can become a new window. You can drag notebooks, PDFs, images, and more from your Documents or Favorites libraries to create new windows with them. You can also long-press a file to see an 'Open in New Window' option in the context menu; even tabs can be converted to windows. Everything available in the best of Apple's own multiwindow implementations is present in GoodNotes, and then some.
What makes GoodNotes' multiwindow feature further stand above the rest is that it enables working in the same document in multiple windows simultaneously, something I've not seen anywhere else but Ulysses. It's especially useful in GoodNotes because, with longer documents, you're able to view different parts of the document at once and make any notes or annotations you need to. Not every app needs multiwindow support within duplicate documents, but in GoodNotes it's undoubtedly a strength, and Apple's own iWork suite could stand to borrow the approach.
Best Watch App
Ryan: It's taken a few years, but Apple Watch apps are finally, slowly, starting to hit a sort of stride. Watch apps may not be the do-it-all Swiss Army Knife powerhouses they were originally billed as, but after lots of iteration in software and developer tools, developers like Aaron Pearce can now create app experiences that best implement the strengths of the Watch while mitigating the device's shortcomings.
Pearce's HomeRun debuted near the end of 2018 as a tool for more quickly running HomeKit scenes from your wrist. Apple's own Home app exists on the Watch as a way to run scenes, but where Home can only fit two scene or device triggers on-screen at once, HomeRun enables up to 12. Not only that, but you can run scenes directly from your watch face using HomeRun's complications. If you own a Watch and have more than a couple HomeKit devices, HomeRun has been well worth the price of admission from the start.
It was in 2019, however, that HomeRun really grew into the kind of flexible tool that merits its Best Watch App award. Over the course of the year, the app doubled down on offering timely, informative functionality through complications and the Watch's Siri face. It started with version 1.1, which enabled creating custom icons for different complications, such that your complication for running a 'Good night' scene, for example, could feature a glyph with a bed, or snoozing Zs. HomeRun had always let you run specific scenes just by tapping its complication, but that functionality became far more intuitive when you could set a custom color and glyph for each scene complication.
HomeRun 1.2 is the update that stands out to me as especially impressive, and a true innovation on the Watch platform. A new Daily Routines feature enabled creating custom parameters (based on time or context) for HomeRun to surface different scene actions through complications or the Siri watch face. With complications, you could set a schedule that determined which HomeRun complications appeared on your watch face at different times of day. So, for example, after setting everything up you could see a 'Good morning' complication first thing in the morning, then around 8:00 AM that complication could be automatically changed to display and trigger your 'I'm leaving' scene, and at 5:00 PM it would change to your 'I'm home' scene, at 7:00 PM your 'TV time' scene, and finally at 10:00 PM your 'Good night' scene. All of this is entirely customizable in the app: you can set which times during the day to change HomeRun's complication, which icons are displayed at each time slot, and which HomeKit scene is triggered when you tap that complication.
Similarly, Daily Routines for the Siri watch face enable surfacing different scene triggers as Siri face cards based upon certain contexts throughout the day. Rather than being tied to specific times, the Siri face system utilizes six different contexts that Siri on the Watch is aware of: Morning, Evening, Home, Work, School, and Gym. Each of these six contexts can have a different scene associated with it, so that you always have the appropriate contextual scene on your wrist.
Daily Routines is a powerful concept that I hope more Watch developers learn from. It can take a single complication on your watch face, or the system of cards on the Siri face, and let you control the information or action that's accessible from that space at any given time of day, in any given situation. The smartest Watch apps are context-sensitive, and HomeRun leads the pack in that regard.
Best Watch App: Runner-Up
Ryan: WaterMinder is a natural fit for the Apple Watch in several respects: it's health-related, like many of the Watch's most important apps, and it serves two very simple purposes, helping you log water intake and track that intake. With its health focus and simplicity, in many respects it's a quintessential Watch app.
One of WaterMinder's core strengths is that it's highly configurable. Setup of the app takes place inside its iOS companion, where from the Settings tab you'll see two Watch-related menus: Apple Watch and Complications. The former presents a couple layout options for configuring the Watch app, as well as some optional screens you can enable. The default layout for the app displays your intake progress at the top, with several buttons to quickly log what you drank underneath. This is my preferred layout, because everything fits in a single view. However, you can also choose another option which features a larger visualization of your intake, such that the buttons for logging just require a little scrolling to get to. The standard setup in either case keeps the entire UI to a single screen, but you can optionally enable additional pages that house your history and/or achievements.
Beyond customizing the main UI itself, WaterMinder also has some of the most customizable complications I've ever seen with a Watch app, right in the same class as the excellent CARROT Weather. From the iOS app, every complication across various watchOS faces can be customized both in the info it displays, and the colors and other display details too. The app's functionality is limited by design, but WaterMinder deserves recognition for all the tools it provides to tailor every detail to your exact needs.
Best Watch App: Runner-Up
Ryan: Chirp is a remarkably full-featured Twitter client for the Watch. You may want less Twitter in your life, in which case the wrist is the last place you need your timeline, but for those who do want always-on Twitter access, including when they may be away from their iPhone, Chirp is easily the best option. Particularly following its Swift UI-powered 2.0 debut earlier this month, the app pushes the technical limits of what a Watch app is capable of.
Where some Watch apps specialize in keeping things limited, offering only select functionality that's optimized for the wrist, Chirp takes the opposite position in being as feature-rich a Watch app as I've ever seen. Both approaches certainly have advantages and disadvantages, but I think for the type of user who would want a Twitter app on their wrist in the first place, developer Will Bishop absolutely chose the right approach in leaving no feature stone unturned.
Chirp includes access to your timeline, mentions, DMs, trending tweets, lists, likes, profile, and search; it enables composing tweets with the surprisingly effective FlickType keyboard; you can view a grid of up to four photos at once in your timeline, and also play videos and GIFs, and read linked web articles, all while browsing on your wrist; you can also tweak all of the app's many settings right from the Watch app. Nearly anything you can do in a Twitter client for iOS can be done in Chirp, and that's massively impressive.
Best Mac App
John: Reeder 4 marked the comeback of the beloved RSS client that hadn't seen significant updates for quite some time. That's because developer Silvio Rizzi was rebuilding the app from the ground up. With version 4, Rizzi has built a foundation for the future of Reeder and implemented some important new features that distinguish it from its peers.
Few apps have been covered on MacStories more than Reeder for iOS and the Mac. On the Mac, our coverage started in 2010 with a preview story by Federico about the upcoming 1.0 version of the app. Reeder has changed a lot since its launch about nine years ago, but what hasn't changed is its attention to design.
Reeder strikes a careful balance between customization and feature creep. I've used many RSS clients that throw in a setting to satisfy every possible tweak a user might want to make. The trouble with that approach is that settings become confusing and intimidating to adjust. There are still a lot of ways to customize Reeder to your reading style, but the difference is that the app presents them in a coherent, comprehensible fashion that doesn't try to be everything to everybody.
A good example is the font selection for Reeder 4. Instead of allowing you to set the font to any of the hundreds installed on most Macs, Reeder has eight, and they're all good choices. There are also settings to pick among several themes, adjust font size and line spacing, and much more. Just as refreshing as the limited, tasteful options for changing Reeder's appearance is the fact that the app sets sensible defaults that I've hardly tweaked at all since the app's release.
Reeder's appeal is more than just skin-deep, though. The app does an excellent job with the fundamentals too. Sync is fast, and Reader View, which displays full-text versions of truncated feeds, is extremely reliable. Reeder lets you access RSS in several different ways, including locally, via a web service, and self-hosted. The app also supports read-later services Pocket and Instapaper.
Reeder has its own read-later service too, which is unique among RSS clients. Probably no single feature has transformed the way I collect articles to read, whether for work or pleasure, than Reeder's share extension. On the Mac, that means that I can right click any link or use the Mac's share sheet to save the article for reading later. What's impressive is how accurate the app is at properly parsing articles and including the headline, text, and images without any advertising cruft. Combined with the same feature on iOS and iPadOS, I've replaced a patchwork system of different RSS readers on different platforms, Safari's Reading List, and a dedicated read-later service to one RSS reader that works across all of Apple's major platforms, which has been a delight.
Other touches I appreciate on the Mac include the generous use of keyboard shortcuts, swipe gestures, and third-party app integrations. Perhaps the best part of the keyboard shortcuts is that they can be modified, which is critical if you are coming from an RSS client with a different keyboard shortcut setup and you don't want to relearn commands that have been firmly ingrained in your muscle memory. Swipe gestures are a powerful tool for acting on stories in the moment as you're viewing them. Whether that means sharing with someone else, or sending the data to another app for processing later, gestures allow you to scan through and act on hundreds of articles quickly.
RSS has been on something of a roller coaster ride ever since Google shut down its Reader product. Periodically RSS is declared dead, but it's far too useful to go away. As many people have become disenchanted with social media, they've revisited RSS, especially since it delivers only what you choose to receive by subscribing to feeds. It's an old technology, but it's also a reliable one that is far more efficient than trying to pluck interesting stories from your Twitter timeline. With Reeder 4, developer Silvio Rizzi has built an app that makes reading a delight, which is why it's our Best Mac App selection for the 2019 MacStories Selects awards.
Best Game
John: Picking the MacStories Selects Best Game wasn't easy this year. 2019 has been one of the best years in recent memory for games on Apple's platforms. On top of a long list of excellent game releases, Apple debuted Apple Arcade, its game subscription service that's packed with stellar titles.
Looking back on the year though, there's one game that stood out from the pack: Dead Cells. The game is a dungeon-crawler, in which you battle your way past enemies, exploring and collecting items. If you die, you have to start over, but you don't lose everything you've collected. The game is hard, but not frustrating, encouraging players to keep trying to advance just a little further than their last try. All of this, along with fantastic pixelated artwork and an excellent soundtrack, have made Dead Cells the iOS game I've returned to over and over since its debut in August.
The game appeared on consoles and PC about one year before its iOS debut, but it's the attention to detail on iOS that really makes it our pick for 2019's best game. Too often, games ported from other platforms don't take advantage of hardware and OS features that are unique to Apple's devices. This, however, is where Dead Cells really shines.
Dead Cells supports game controllers, which is a fantastic way to play on a big-screen iPad. One of the most unique features, though, is Auto-Hit mode, which simplifies the interaction with onscreen controls, eliminating the need to use the weaponry buttons when attacking enemies. Combat is a big part of Dead Cells, but the onscreen controls can be tricky to master, especially on a smaller iPhone screen. With Auto-Hit turned on, Dead Cells is still fun and engaging, but more focused on the exploration and item collecting aspects of the game. Although it's not my favorite way to play Dead Cells, I appreciate that I have a way to enjoy the game even when all I have with me is my iPhone. Finally, unlike many other iOS and iPadOS games, Dead Cells' developers have taken the time to create an Apple TV version, which is a lot of fun.
Far too few developers take the time to tailor their games to iOS and iPadOS, instead porting games from one platform to another with little or no consideration for a platform's unique characteristics. Dead Cells shows what can be accomplished by carefully crafting a game to each device it runs on, which is why it's our 2019 MacStories Selects Best Game of 2019.
Best Game: Runner-Up
John: Grindstone is an Apple Arcade title from Capybara Games, who many will remember for its excellent collaboration with musician Jim Guthrie on Superbrothers: Sword & Sworcery EP. A color matching puzzle game with turn-based tactical elements, Grindstone was one of Arcade's launch titles.
Puzzle games, especially ones that revolve around matching items on a grid, are a tried and true genre on iOS and iPadOS, which makes building new and interesting riffs on them difficult. Despite that, Grindstone succeeds with a careful balance between the desire to complete as many objectives per level as possible, and preserving your health, which isn't replenished from level to level.
I love Grindstone's colorful animation, sound effects, and soundtrack. They're icing on the cake to one of the freshest, most addictive puzzle games to come along on iOS and iPadOS in a long time. If you missed it in the flurry of early Arcade releases, be sure to set aside some time to play it now. You won't be disappointed.
Best Game: Runner-Up
John: Sayonara Wild Hearts is one of Apple Arcade's most-promoted titles and one of its best. It's also precisely the sort of unique game that might have gotten lost in the fray if it had been released outside of Arcade. Moreover, it shows that iOS and iPadOS have the potential to compete head-to-head with systems like the Nintendo Switch on indie games. Sayonara Wild Hearts isn't the first game to be released almost simultaneously on both systems, and I doubt it will be the last.
On iOS and iPadOS, Sayonara Wild Hearts holds its own against other systems with innovative rhythm-based gameplay, stylish artwork, and a compelling storyline. The object of the game is to collect hearts and defeat periodic enemies as you're propelled forward automatically through a variety of environments on a skateboard, motorcycle, and while flying. There's a fantastic pop-inspired soundtrack that will stick with you long after you finish playing the game too.
If you haven't tried it yet, Sayonara Wild Hearts is one of the best games available on iOS and iPadOS, period.
App of the Year
Federico: The App of the Year award recognizes an outstanding app that sports a unique blend of factors: great design based on Apple's human interface conventions which also exudes its own personality; an intuitive user experience designed for multitouch and external keyboards; integration with modern iOS and iPadOS frameworks and support for the latest OSes; best-of-class functionality supported by a fair business model that's clearly explained to customers. Furthermore, our App of the Year needs to be the kind of product that has directly, and substantially, influenced and impressed the MacStories team over the past 12 months. And in 2019, that app is iA Writer, the powerful Markdown text editor by iA available on the iPhone, iPad, and Mac.
iA Writer has been around for several years now, offering an elegant Markdown writing and editing experience enhanced by popular features such as syntax highlighting for parts of speech and focus mode. From our perspective, however, iA Writer has gone through a fascinating reinvention phase over the last two years: I caught wind of iA Writer's refreshed approach to document management and app integrations in late 2018, when I detailed how, thanks to external library locations, the app could use any other Files-based app's document container as a bookmarked folder in its library. It was thanks to external library locations that iA Writer became my go-to text editor on all platforms: I wrote about my setup in detail earlier this year, explaining why and how I was using iA Writer alongside Files, Scriptable, and Working Copy for all my writing at MacStories.
Beyond its support for open-in-place and the Files app, iA Writer is, quite simply, a case study on how to build a desktop-class iOS/iPadOS app in 2019 that understands the traits of each platform while offering an opinionated, sophisticated design at the same time. iA designed custom monospaced typefaces for the app's text editor, which have a very distinctive look and are instantly recognizable; however, when it comes to previewing Markdown documents, you can create your own custom preview templates using standard HTML and CSS, which gives you the freedom to preview drafts with any kind of theme you'd like. I've taken advantage of this option to create two MacStories templates that allow me to preview stories as they'd look on the site, which has saved me a considerable amount of time this year. Another example: unlike other text editors, iA Writer uses a standard flavor of John Gruber's Markdown syntax; at the same time, iA Writer is the only text editor I've found that supports Content Blocks, a remarkably clever feature that lets you embed any kind of content within a document – and compile it at export – with a simple URL-like syntax.
On top of all this, iA Writer offers dozens of features and smaller touches that helped it stand out from everything else this year. The app supports dark mode, iPad multiwindow, and context menus in iOS and iPadOS 13; there's a Quick Search panel (which can be activated with a keyboard shortcut) that lets you search across hundreds of documents with incredible performance; you can create smart folders – just like on a Mac – by choosing from multiple filtering criteria for your documents; Content Blocks let you preview images embedded in Markdown documents as local files without uploading them to a web server first.
Whether you're a novelist, blogger, academic, or simply someone who's looking for a great text editor, iA Writer represents the very best developers can create for Apple's platforms in 2019 – a rare combination of thoughtful design, performance, customization, and native integrations with the system. iA Writer was the app behind my two biggest stories of the year – Beyond the Tablet and the iOS and iPadOS 13 Review – and it's become an essential productivity tool for the MacStories team. For all these reasons, iA Writer is our App of the Year 2019.
App of the Year: Runner-Up
Federico: Created by indie developer Marcos Antonio Tanaka, MusicHarbor is the missing utility to keep track of new releases in Apple Music. The app didn't come out in 2019, but received a series of notable updates over the past 12 months that convinced me to try the app again, and I was impressed.
MusicHarbor works by scanning your music library to find which artists you'd like to check out new releases for. Once you've built a collection of artists you want to follow, the app will assemble a feed of new releases in the main Releases section, which is refreshed every time you open the app. Each music release, whether it's a single or album, can be played inside MusicHarbor thanks to its adoption of the MusicKit framework, but you can also view it in the Music app, save it to your library, or add it to a playlist.
What makes MusicHarbor special – and, ultimately, the reason why we all use the app here at MacStories – is just how much developer Tanaka understands what someone who wants to know about new music releases is looking for. The layout of the main Releases page can be customized to the level of information density you desire; upcoming music releases can be saved as events into a calendar; you can filter releases by type, excluding items such as remixes or EPs; and in a recent update, the app added support for music videos, so you can browse a chronological feed of videos from artists you follow that will open in Apple Music – another feature that Apple's own app is sorely missing.
MusicHarbor is a terrific companion to Apple Music, and it's helped us discover new music we love in a way that wouldn't have been possible with Apple's Music app alone. If you care about new music releases and staying on top of your favorite artists, you need MusicHarbor, which sits among the very best apps we've tried this year.