Reminders
We covered the most important change to Apple's Reminders app – the ability to tag reminders and create powerful smart lists – in a standalone story you can read here. In addition to smart lists, there are other smaller improvements to Reminders worth pointing out this year.
External keyboard support has been extended with new commands for navigation and handy shortcuts such as 'Mark All Overdue to Today'. Thanks to iPadOS' new keyboard shortcut menu, commands are also easier to discover.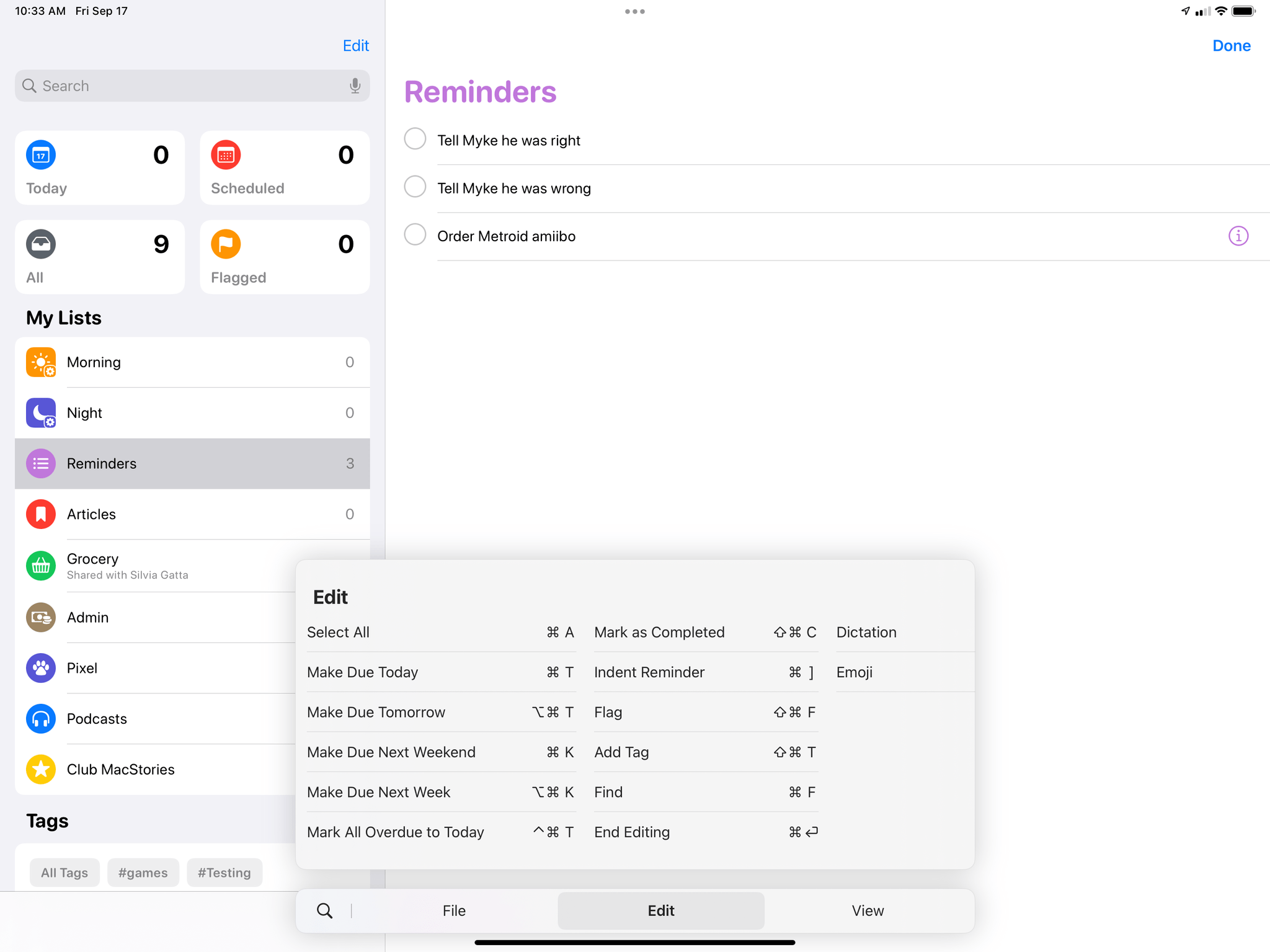 The app's natural language parsing engine for dates and times has also been greatly improved in iOS 15 with a better understanding of more complex dates and repeating times. To give you a sense of the new dates you can type in Reminders when creating a new task, these are all valid strings the app will recognize:
"end of November"
"second Monday of the month"
"Sunday night"
"every other weekend"
"every two mondays"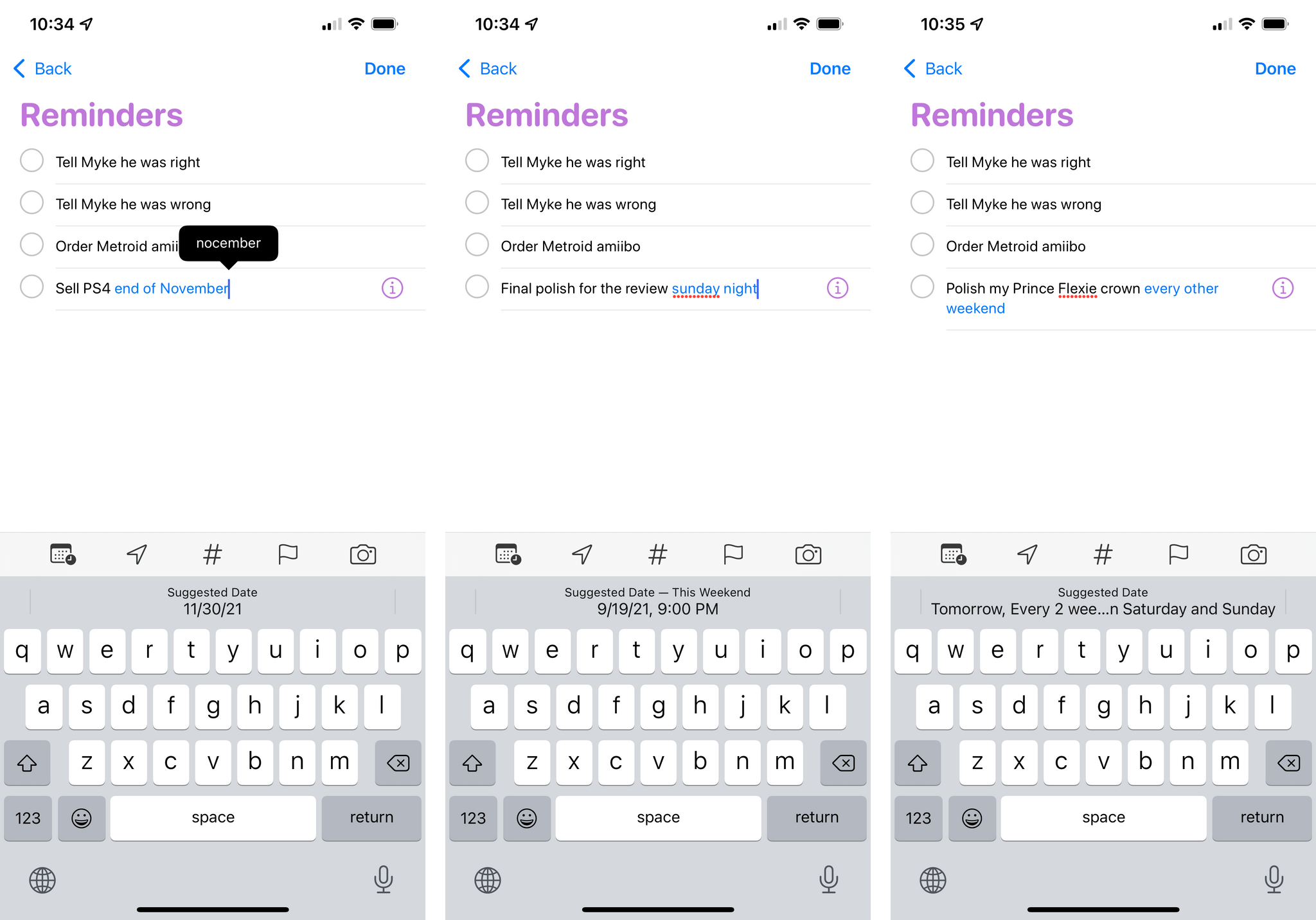 There are surely more permutations of these commands you can try, but you get the idea. Of course, these natural language dates also work when adding reminders via voice in Siri.
Speaking of Siri, as part of the assistant's new Announce Notifications feature in iOS 15, you can choose to have Siri announce reminders that are due when you're wearing headphones. The mere thought of Siri announcing notifications in my AirPods gives me anxiety, so I turned it off immediately, but I understand if some of you out there may find it useful.
Lastly, Apple added a native solution to clear completed reminders from the app without having to use a custom shortcut. When you show completed reminders in a list (More ⇾ Show Completed), you'll find a new 'Clear' button that lets you clear completed items older than a month, six months, or a year, as well as all completed reminders at once.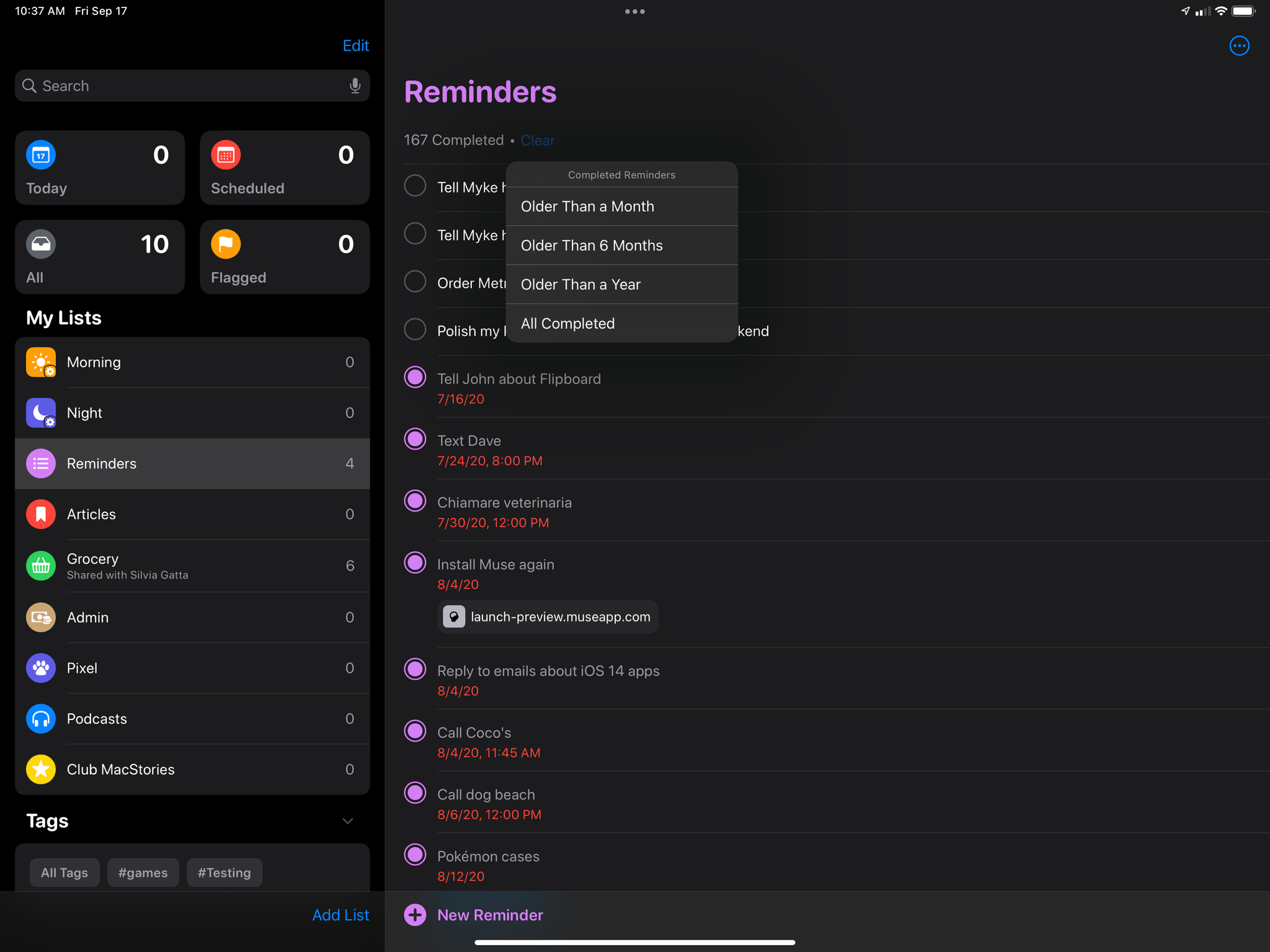 Calendar
The only change to the Calendar app in iOS and iPadOS 15 relates to the pandemic and how frequently we've been working remotely from home for the past 18 months.
When adding a new event in the Calendar app now, you'll see a new 'Video Call' option underneath the Location field. The FaceTime app is a default choice for scheduling events that will take place as video calls, but the Calendar app can also recognize links for scheduled calls from popular services such as Zoom and WebEx. The event inspector already displayed a phone icon for events that had an associated call URL before; in iOS 15, you'll find a new camera icon, a dedicated 'Join' button for the call, and a share button to quickly copy the call's link or share it with other people.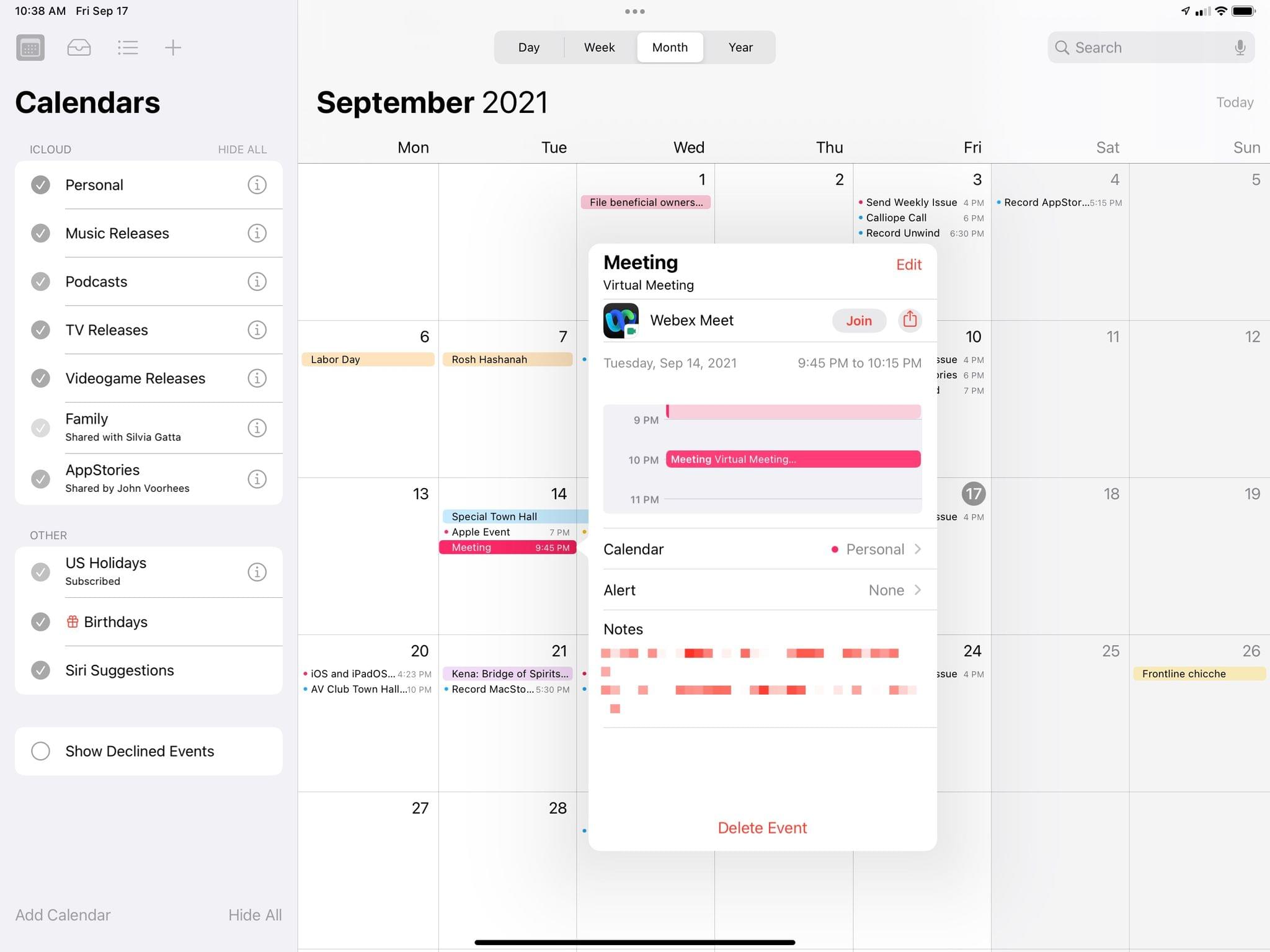 This kind of feature isn't new – Fantastical added a similar option in 2020 – but it makes sense for Apple to add web call detection to the built-in Calendar app given our current reality. I like the addition of a proper 'Join' button and the fact that raw Zoom or WebEx URLs are no longer displayed in the 'Notes' field of an event.
Mail
Speaking of the pandemic and working remotely, if you were hoping that would convince Apple to finally update the Mail app for iPhone and iPad with more modern features and integrations…well, I'm sorry to disappoint you, but it didn't.
There is one addition to Mail worth noting this year: Mail Privacy Protection. Once this setting is enabled (you can find it in Settings ⇾ Mail ⇾ Privacy Protection ⇾ Protect Mail Activity), Mail will hide your IP address and load remote content privately in the background, even if you don't open a message. I don't want to get into the technicalities of this feature (which are explained in Settings anyway), but long story short: Apple wants to protect your privacy by thwarting common industry technologies such as invisible tracking pixels, which can collect information about you and your Mail behavior such as whether you opened a message, where and when, and if you forward your message to someone else. If Mail Privacy Protection is enabled, remote content downloaded by Mail will be routed through multiple proxy servers, so the sender won't be able to know your exact IP address, but they'll only be able to collect generic information about a particular email message.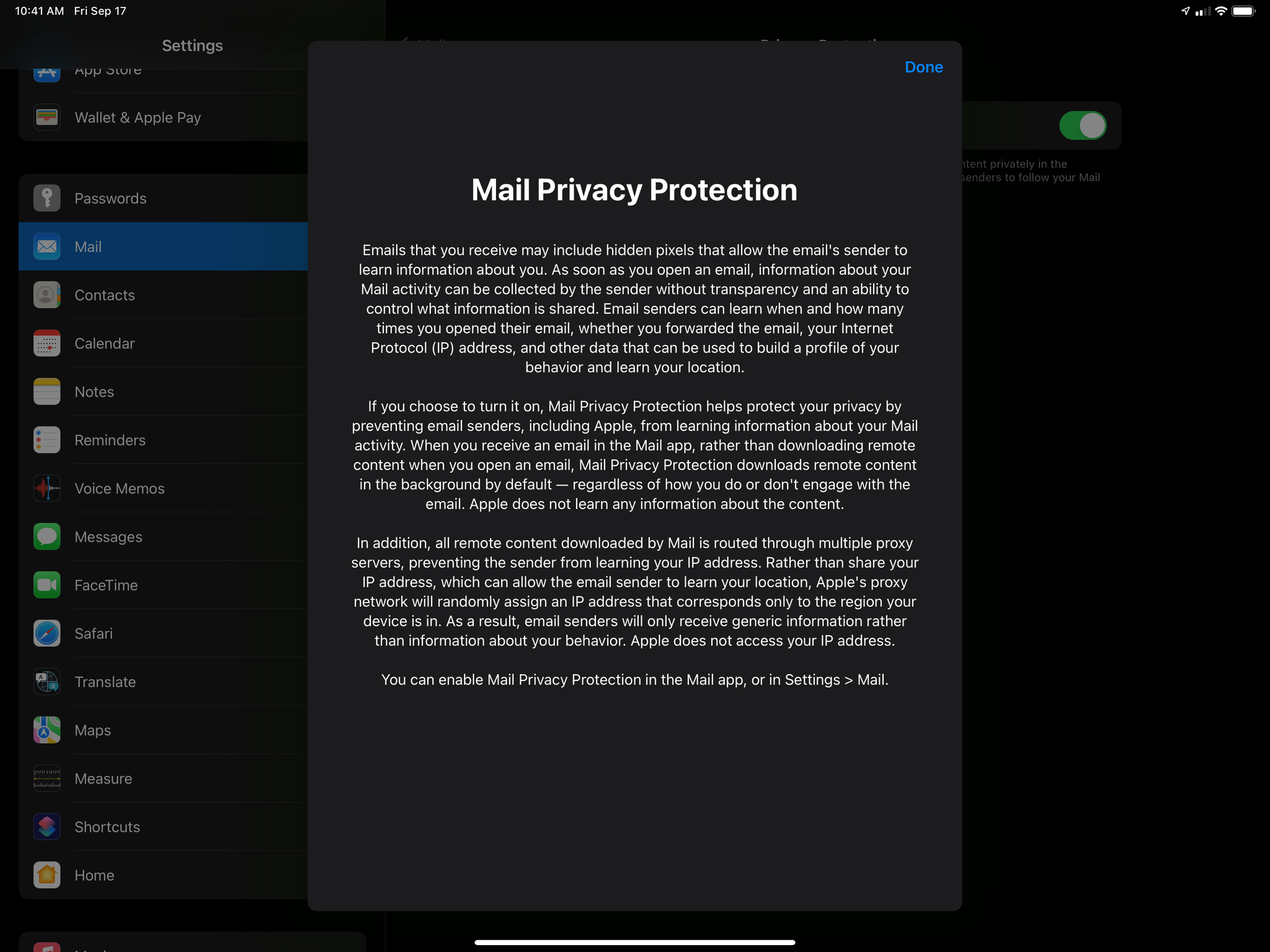 I say this as someone who runs a weekly newsletter powered by Mailchimp for which it can be genuinely useful to know whether a specific user received an opened a message or not: I welcome this move, and it's why we've been investing on the open web with Club MacStories rather than rely solely on newsletters. The newsletter and advertising industries has gone overboard with invasive tracking measures that don't respect user privacy and collect too much data that is, quite frankly, not necessary. I applaud Apple's decision to go after these shady practices, and I hope more email clients will follow a similar approach in the future.
That said, I can't help but feel Apple could have a done a lot more to upgrade Mail for iPhone and iPad users this year. The company seems to recognize that Mail can't continue to be the same app forever, and they're introducing the ability for third-party developers to enhance its functionality with native extensions…but only on macOS this year. I assume that the company will follow a similar pattern to Safari extensions with this feature, so I hope we'll be talking about Mail extensions for iPhone and iPad in this review next year.
Voice Memos
I've been highlighting this point for the past few years, and I still believe Voice Memos continues to be a fascinating playground for audio technologies Apple will eventually roll into the Podcasts app. Following last year's addition of an option to enhance the quality of voice recordings, Voice Memos for iOS 15 is gaining a redesigned 'Options' screen with a brand new audio effect: skip silence.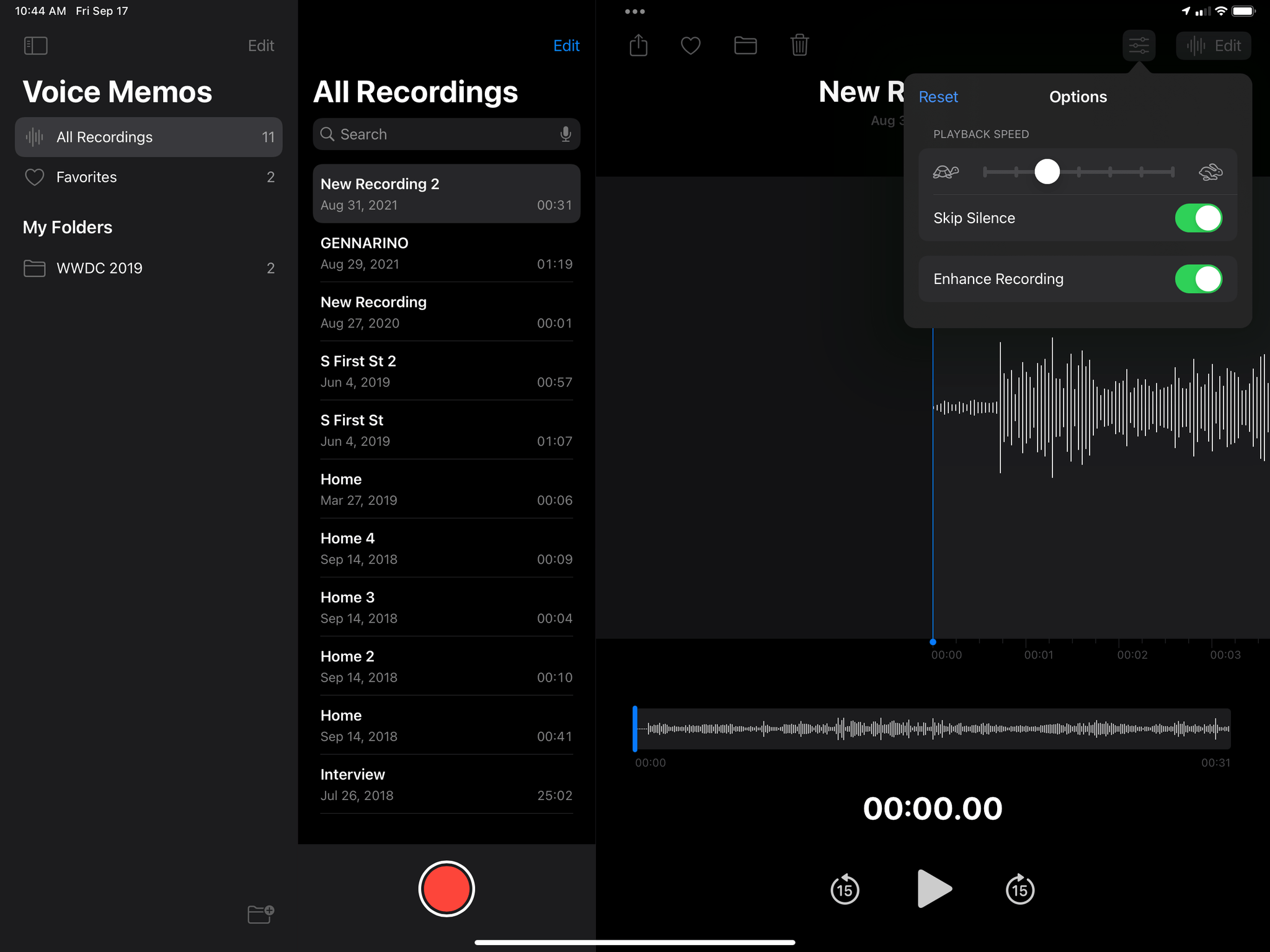 With skip silence enabled, Voice Memos will analyze your recordings and automatically skip over playback of any long gaps in the audio. You may have seen this feature before in podcast clients such as Overcast and Castro; Apple's implementation is similar to those apps, if only a tad more aggressive in cutting out silent parts of recordings to speed them up. Overall though, the effect sounds pretty natural and I'd recommend leaving it enabled to save a bit of time when listening back to recordings.
Additionally, you can manually control playback speed now using a slider with seven different levels of audio playback speed.
I don't use Voice Memos often, but I think the app offers a compelling package for students and anyone else who needs to record and transcribe lectures or meeting notes. Between the app's excellent support for multi-column on iPad, folders, and extended audio effects, I could see Voice Memos become just as popular as Notes for a certain category of users.
But really, I'm just waiting for these audio options to become available in the Podcasts app too.
Translate
It's a big year for Apple's newest built-in app: after its debut in iOS 14, Translate has arrived on iPad, gained a new conversation view and support for automatic translations, and, more importantly, also turned into a system-wide feature accessible from anywhere on iOS or iPad without launching the standalone app at all.
Let's start from the latter, which is a remarkable example of Apple's cross-pollination between apps and services throughout the operating system. Any time you select text in any text field, webpage, or message in the Messages app, you'll find a new Translate button to perform instant, contextual translations for the text you just highlighted. The translation popup offers options to change languages inline, copy the translated text, add it to your favorites, or continue viewing the translation in the main Translate app. This works from anywhere, for any language supported by Apple's Translate app.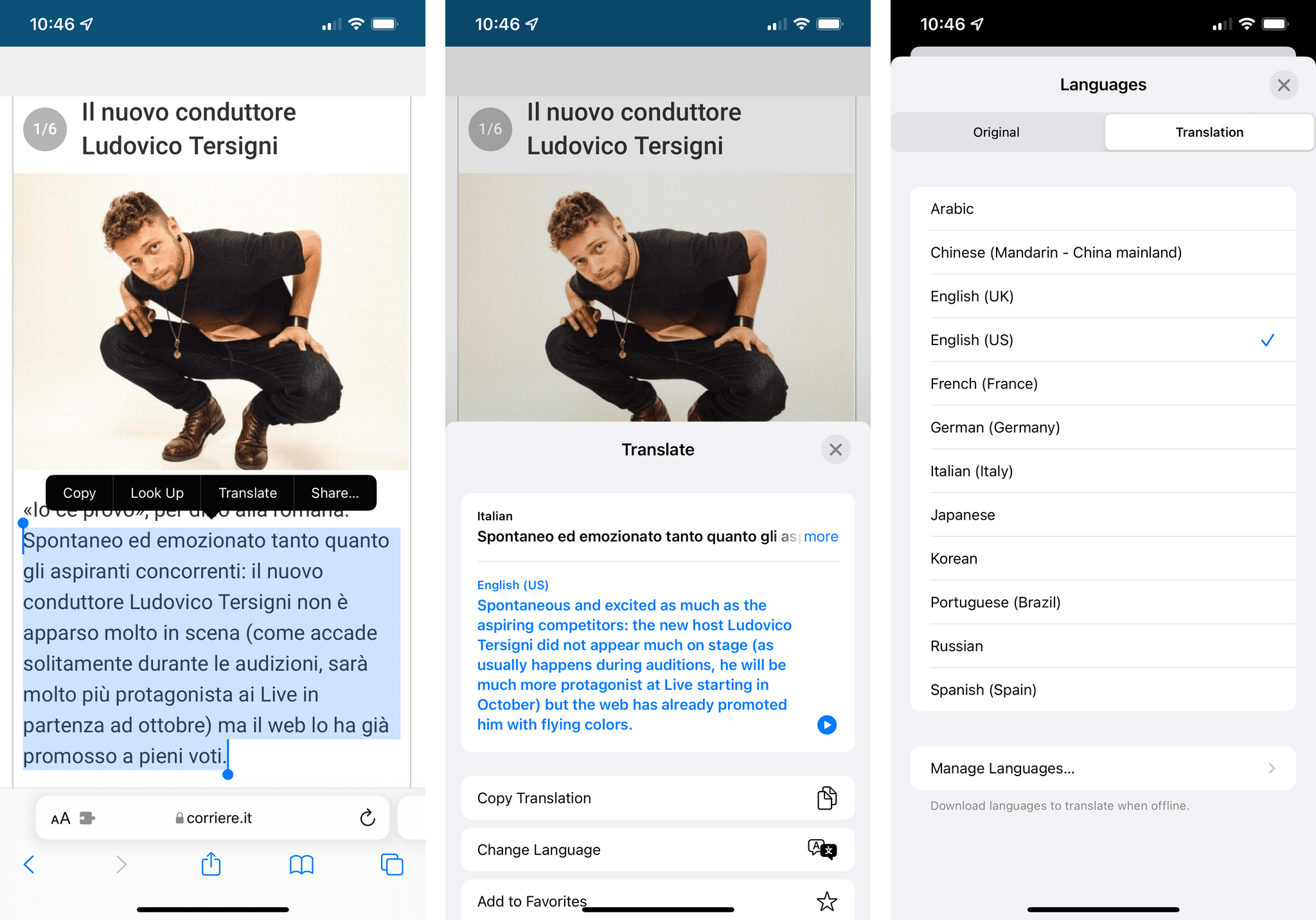 For multilingual speakers, system-wide translation is an incredible addition to iOS 15 that makes text accessible as much as Live Text in the Camera does. It's the kind of functionality that I find empowering for a lot of people, and it will also make for a fantastic learning tool if you often find yourself dealing with content in a foreign language and would like a way to quickly translate it.
Translate is also available on iPad now, and it's pretty much what you'd expect from a larger version of the iPhone app. There's a sidebar to navigate different views of the app, and you can see more text onscreen without scrolling. It's not groundbreaking, but it gets the job done.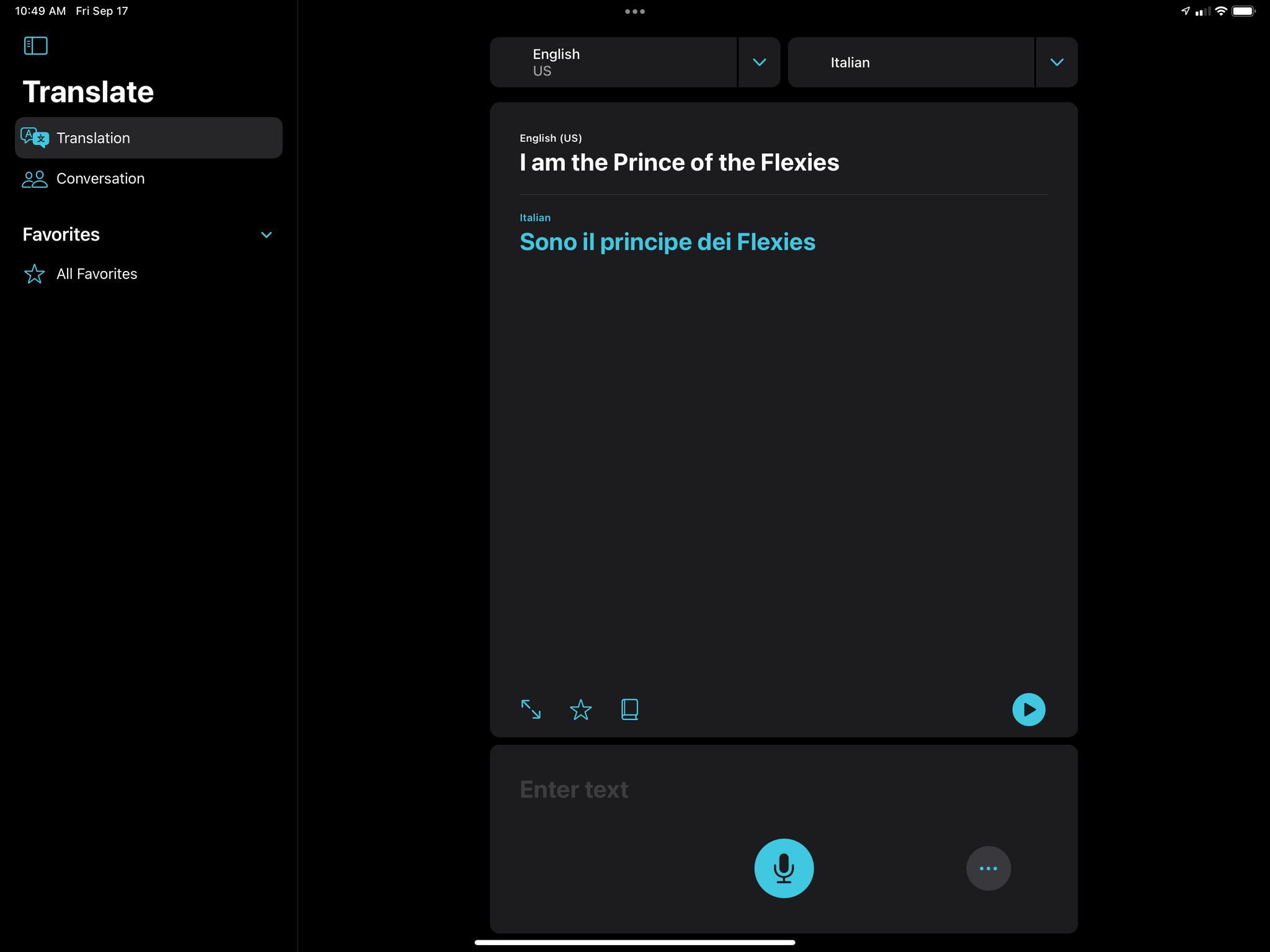 I'm more intrigued by the new face to face view that's been added to Translate and the app's new auto translate option. In iOS 15, Apple added a new tab called Conversations to the app that lets you choose between two distinct views for when you want to communicate with another person in a different language: side by side and face to face. In side by side mode, conversations happen in a message-like UI where you can see speech bubbles for dictated text and their inline translation; thanks to language detection, when the other person says something, their dictated text will sit on the opposite end of the transcript, just like an iMessage thread, which is a fun way to visualize a conversation happening in two different languages.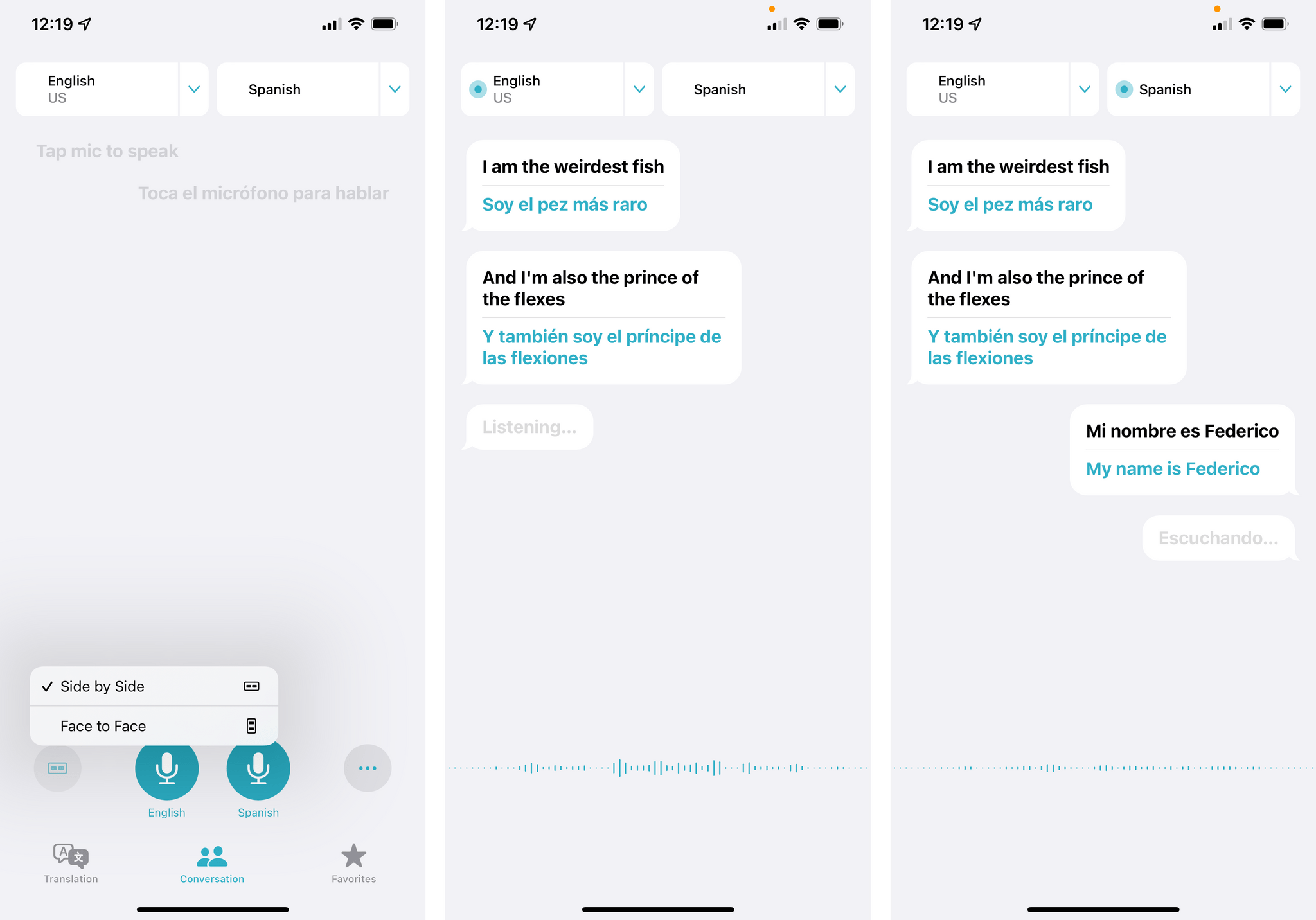 The face to face view is even more interesting: if you're chatting face to face with someone else and you don't speak the same language, you can now enable this new split screen mode so that each person can see the conversation from their own side on your iPhone. I can imagine this view being especially handy if you're a tourist in a different country and wanting to ask someone for information or help. I'm honestly surprised Apple didn't think of this mode last year since it makes total sense for the app.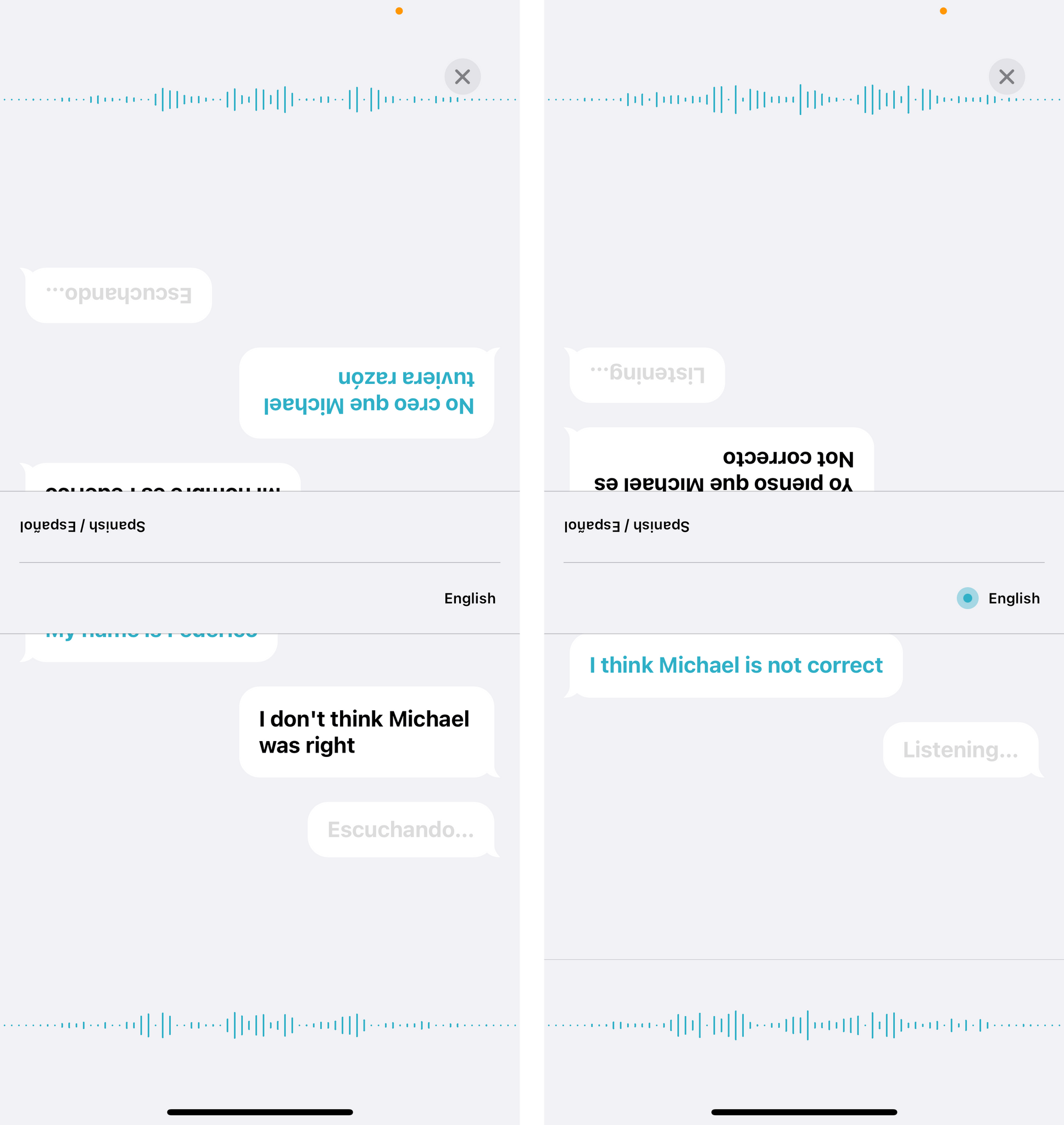 Also in the Conversations view, you'll find a new Auto Translate toggle under the More menu. When this option is enabled, you won't have to tap a microphone button to start translating speech; instead, Translate will detect when you start speaking and when you stop, so the other person can just follow up and respond in the conversation.
Weather
Apple's purchase of Dark Sky is starting to pay off: although the shutdown of the Dark Sky API has been delayed to 2022, we're starting to see how the acquisition of the popular weather service is making the built-in Weather app richer and more useful around the world.
The first thing you'll notice about the Weather app is its striking new design. Apple completely redesigned the Weather app with beautifully animated backgrounds (available for iPhones with the A12 chip and later) that support thousands of variations between different weather conditions.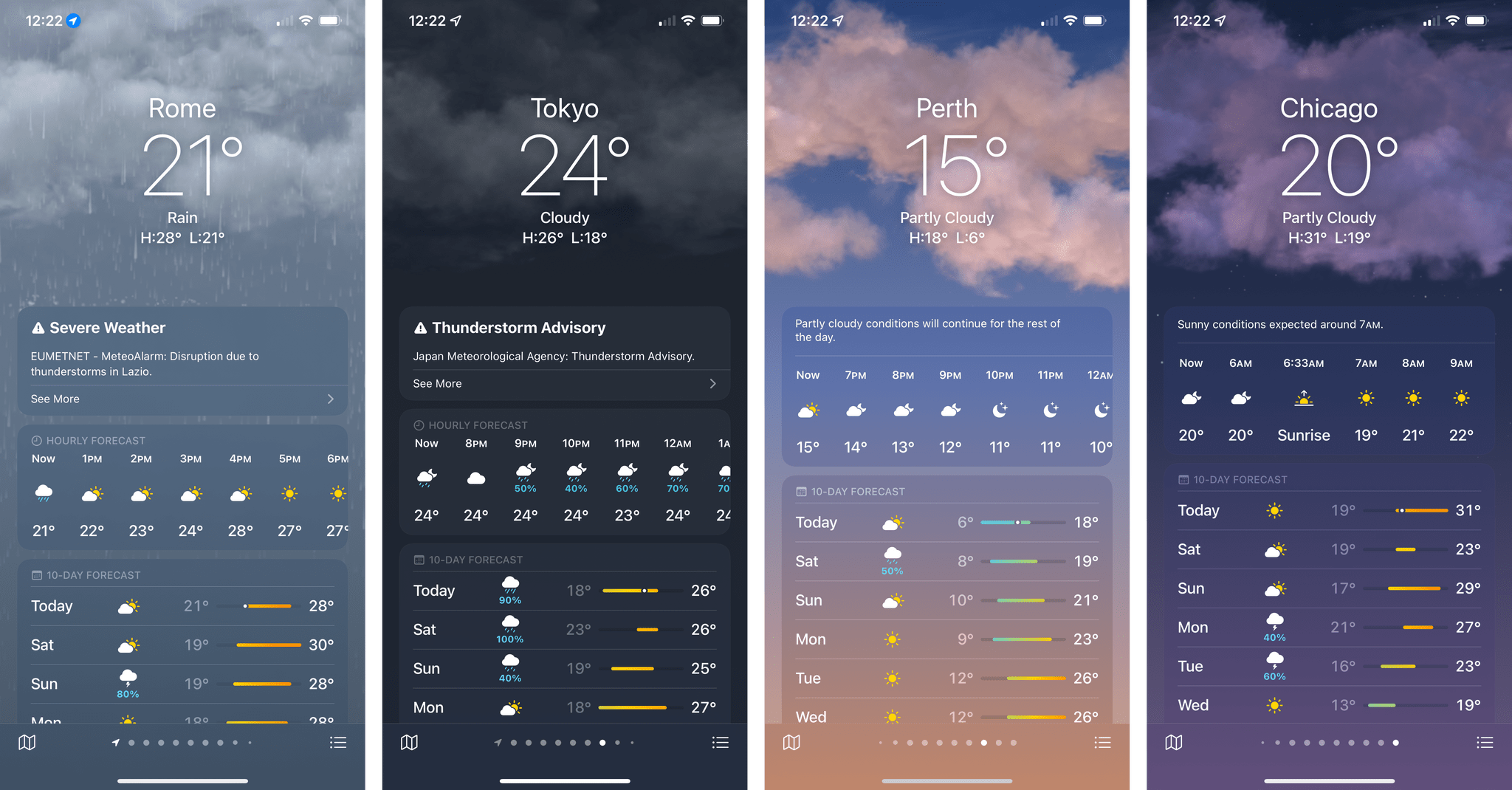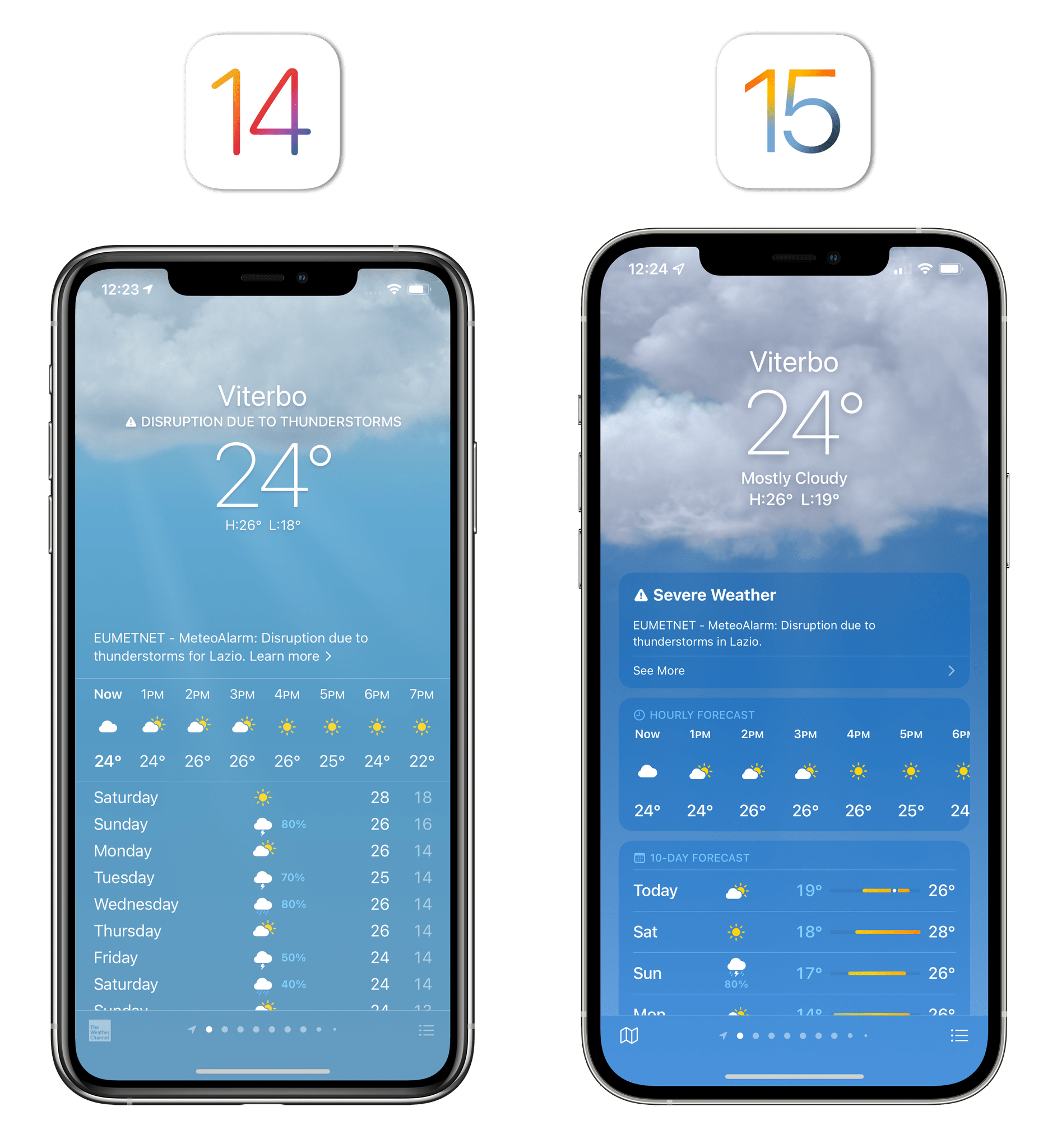 Weather was already a pretty and "fun" app to look at before, and it inspired a whole generation of realistic weather utilities on the App Store, but Apple was able to step up their game considerably with the iOS 15 redesign. More than the realistic animations, it's the details that make the new Weather app stand out: rain droplets bounce off the top section of the weather forecast as if it was a windowsill; snow accumulates on it until it falls off the edges of the forecast; stars in the night sky glow with greater intensity than before against a more realistic and pleasant dark blue background. If you thought the Weather app looked nice before, wait until you see how Apple redesigned it for iOS 15.
It's not just about looks, though: Apple extended the Weather app with new data points and smart layouts that change throughout the day based on weather conditions. The daily forecast at the top of the screen now features a contextual summary of what you should expect for the rest of the day; the 10-day forecast below it is more spaced out and features redesigned weather symbols along with colored bars to indicate low and high temperatures for each day, both of which I like.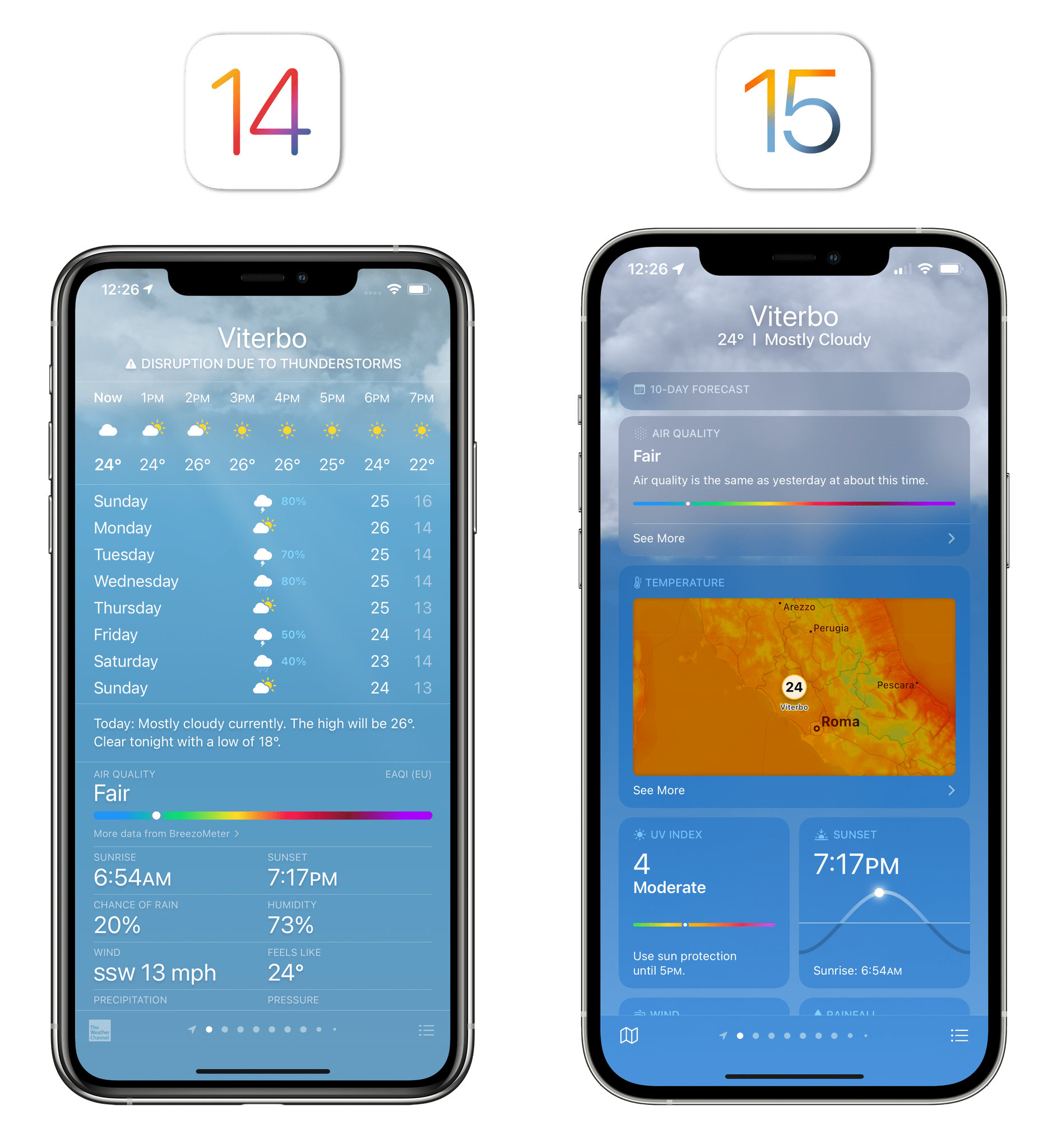 If you keep scrolling past the 10-day forecast, you'll see that additional data points have been turned from a simple text list into nicer, more visual tiles that present more details than iOS 14. Notably, Apple added support for full-screen, high-resolution weather maps showing precipitation, air quality13, and temperature in iOS 15. I never use these myself, but I appreciate their design and how the precipitation one has an animated 12-hour timeline to see how the forecast will evolve for the selected area. These maps are featured in large tiles underneath the 10-day forecast, which will only be presented if the current weather conditions for a particular location demand it – i.e. if it's raining in the location you opened, you'll see a precipitation map featured prominently under the forecast.
There's also support for notifications, another staple of Dark Sky that has found its way to Apple's Weather app. Unfortunately, as was the case with Dark Sky before, notifications are only available in Ireland, UK, and US, so I haven't been able to test them myself.
I'm impressed with the new design of the Weather app for iOS 15, but I'm also surprised by two aspects Apple didn't deliver on this year. The widget-like data points displayed in the app (for things like humidity, sunrise, sunset, etc.) would be perfect as actual Home Screen widgets, but they're nowhere to be found there. I'd like Weather to offer a richer selection of widgets in iOS 16 to go beyond the standard forecast.
And then, of course, there's the iPad app. Or lack thereof. If you want to check the weather on your iPad without getting a third-party app, Apple still wants you to use a website. It really is true what they say – you can't get real weather done on an iPad. I'm sure they'll fix it with the next iPad Pro, though.
Music
Unfortunately, I find myself writing a smaller section than I would have liked to for the Music app in iOS 15. While Spotify is still innovating on all fronts with new ways to find music you've recently listened to, better and more personalized algorithmic playlists, and blazing fast performance for search, Apple added a total of two new features to the Music app this year.
First, when you long-press a song in your Up Next queue, you'll now find a new 'Move to Top' button in the context menu that lets you quickly put a song at the top of the queue.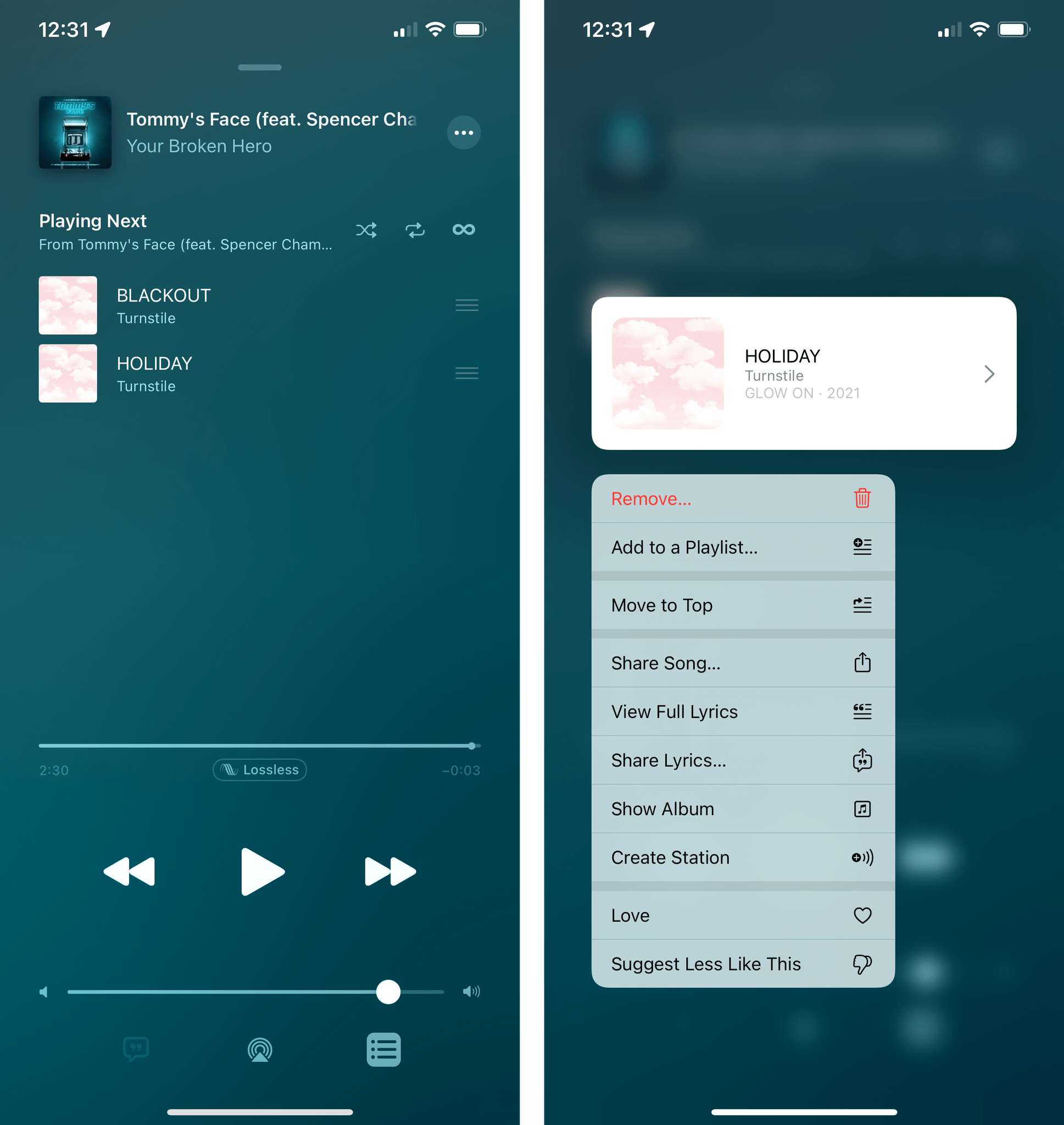 Second, there's a new Shared with You section in the Listen Now tab that aggregates Apple Music links shared with you in the Messages app and lets you jump back to the original message with one tap. This is my favorite implementation of Shared with You since my friends and I tend to share a lot of music links on a weekly basis, so I almost see this as "Reading List, but for music", which totally works for me.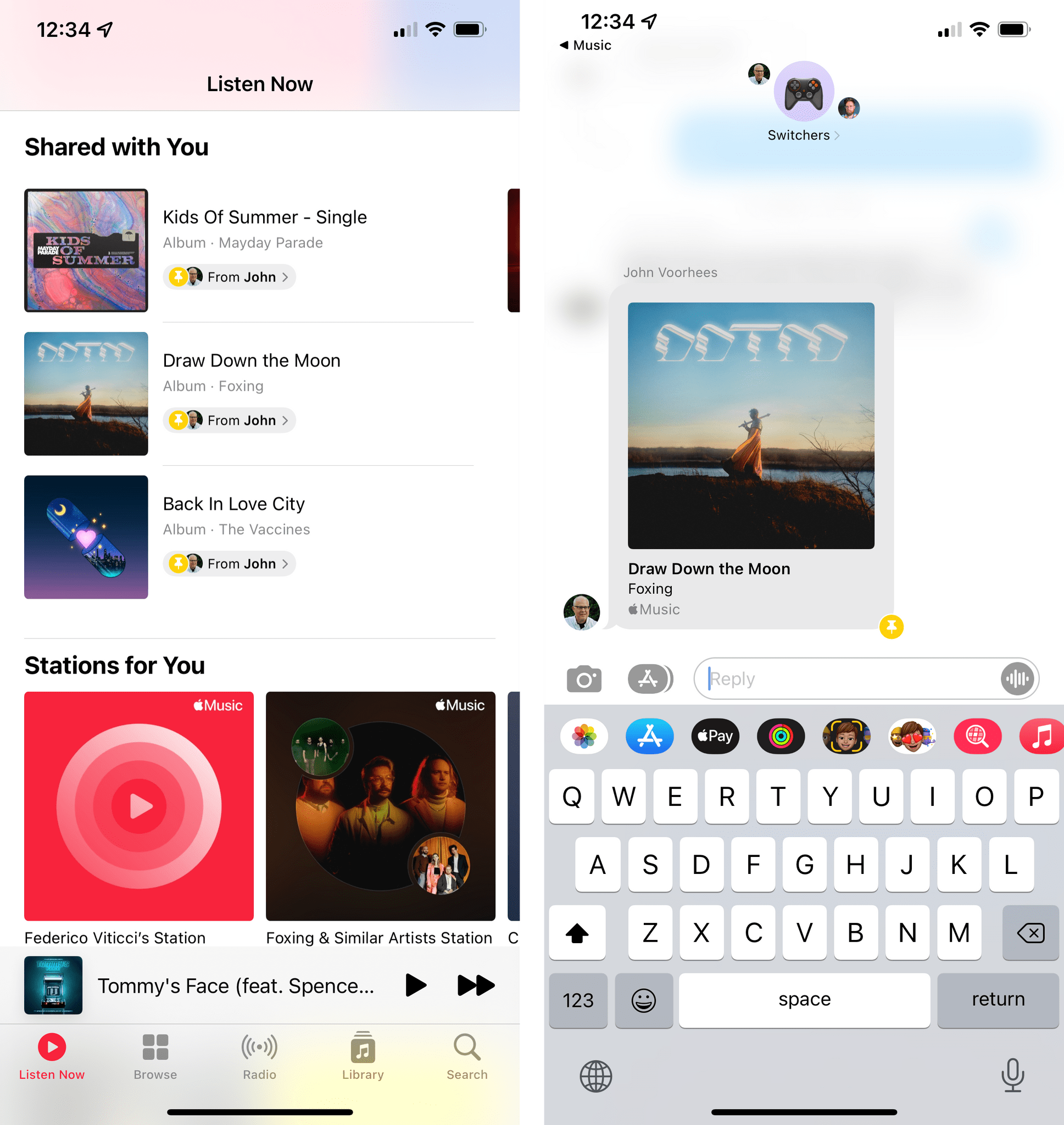 Now, I refuse to believe that Apple thinks these two features are everything the Music app needed this year in order to compete with Spotify. I'm willing to forgive the Music team given the rollout of lossless playback and Spatial Audio earlier this year and the work they've been putting on the Classical Music category with the acquisition of Primephonic. I expect, however, to see more substantial updates to Music over the next several months and in iOS 16, particularly when it comes to playlist management and sorting, smart playlists, faster search, and a slimmed-down, more efficient Listen Now tab.
---
Air quality maps are available in Canada, China mainland, Germany, France, India, Italy, Mexico, Netherlands, South Korea, Spain, UK, and US. ↩︎