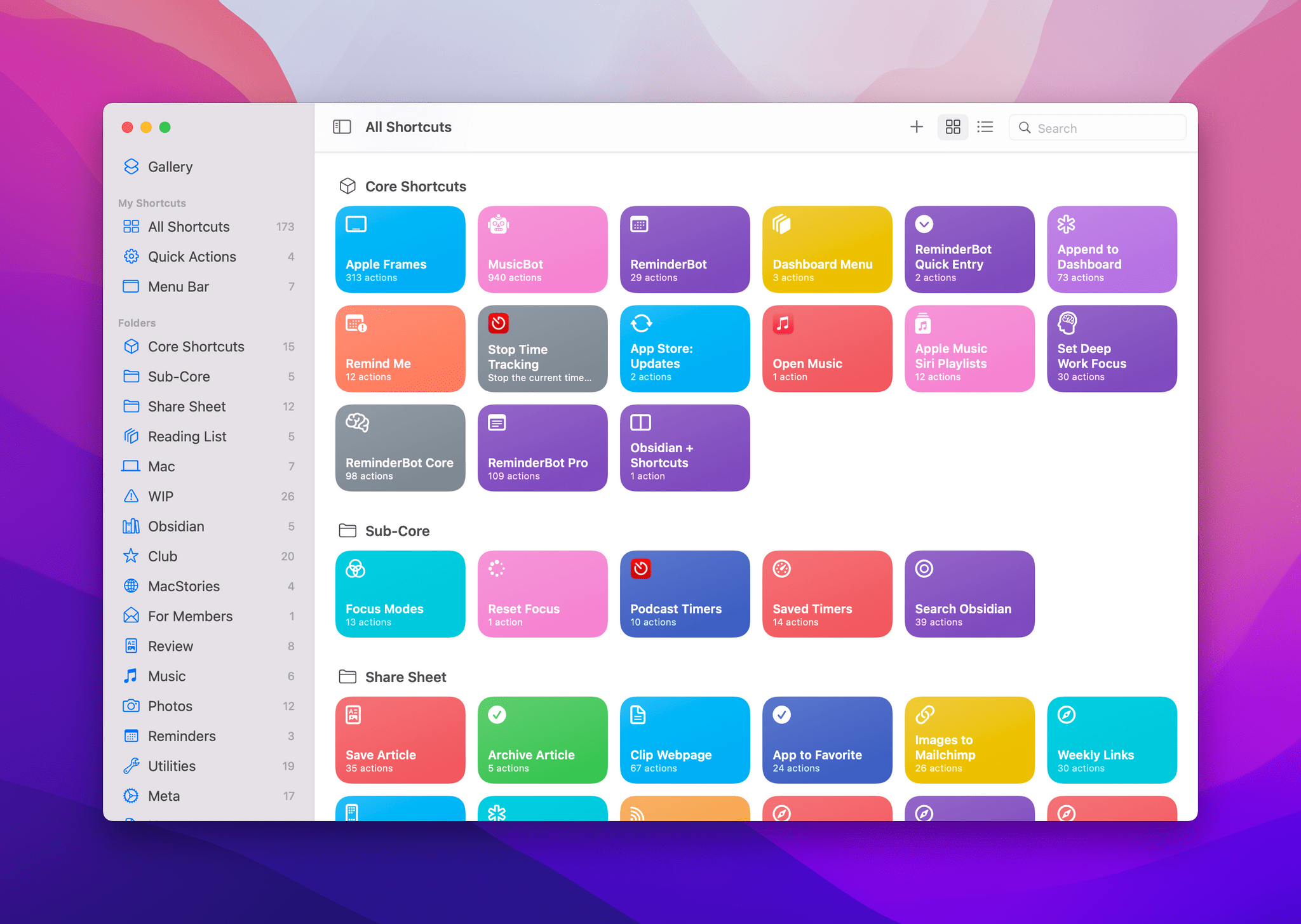 In researching topics for the Automation Academy over the past few months, I've been digging into all the details of Apple's built-in actions and comparing them against older versions of the Shortcuts app as well as third-party options offered by developers. In doing this, I've realized something that has been bothering me for a while: there is a clear inconsistency between modern features in Apple apps and their associated Shortcuts actions. The gap between functionalities in apps and matching Shortcuts actions has expanded over the years, and I think it's time Apple takes a serious look at its app actions to reverse this trend.
If I had to guess, much of this problem boils down to Apple's internal structure, how different teams communicate, and whether or not they are aware of each other's latest work. For example: if the Reminders team is adding tags in iOS 15, who's in charge of updating the 'Add New Reminder' action with support for a 'Tag' field? Is it the Reminders team? Or the Shortcuts one? We can't know the answer to this question. All we know is the predicament we're currently in: the Reminders actions in Shortcuts for iOS and iPadOS 15 have no tagging support whatsoever, despite tagging and smart lists being the highlight of the Reminders update this year.
Unfortunately, this problem isn't limited to Reminders but extends to a variety of Apple apps that have received new features over the years and which still aren't represented in Shortcuts. Let's take a look at some of the worst examples.
Tagging for Reminders and Notes
I mentioned tagging above, and the same issue applies to the Notes app as well. None of the actions for Reminders and Notes support adding, modifying, or retrieving tags as of iOS 15.2 beta 3. To make the inconsistency worse, while Siri is aware of custom smart lists in Reminders, actions in Shortcuts don't see them right now, so you can't work around the lack of tagging support by adding a reminder to a custom smart list.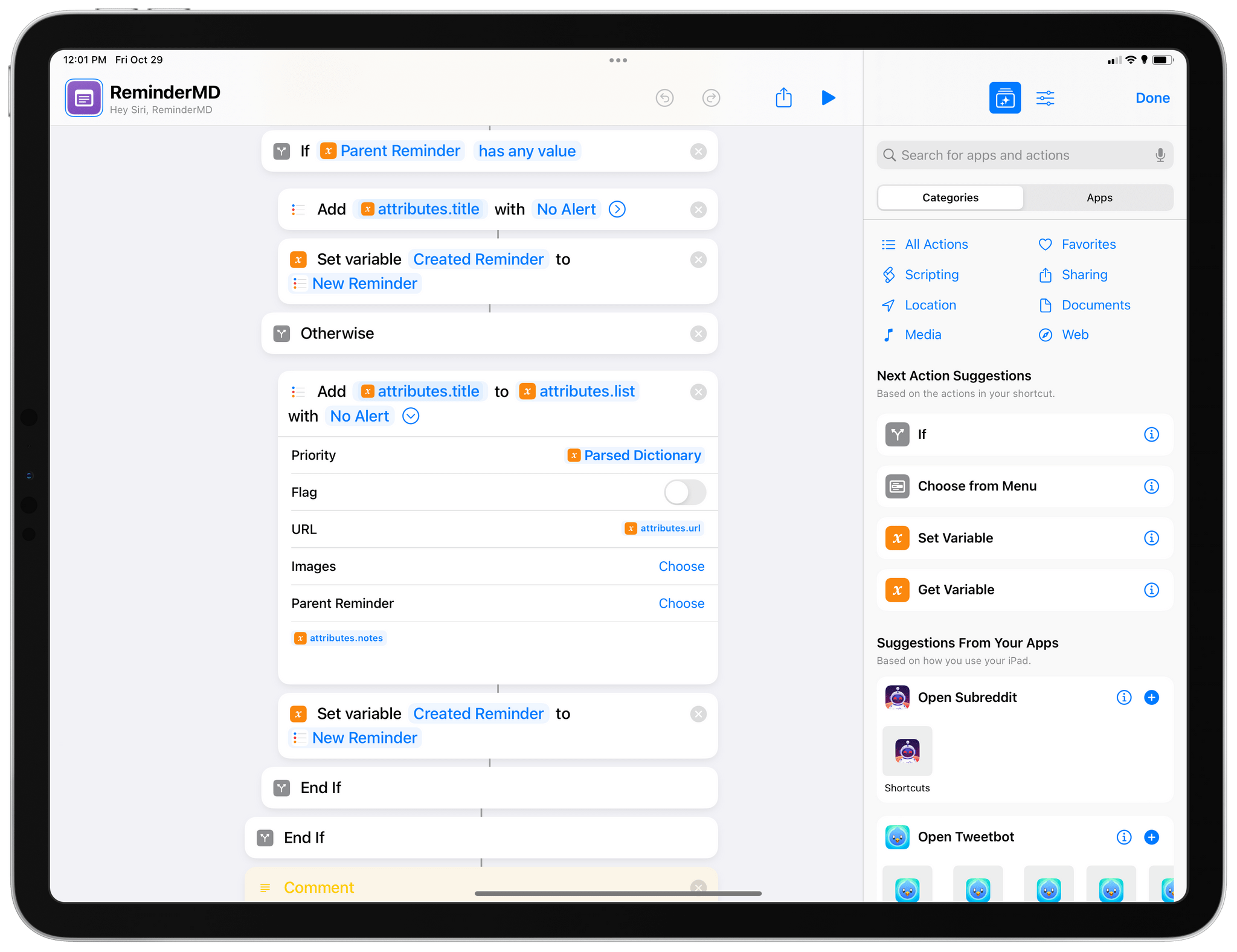 Tags and smart lists/folders are the most important additions for power users of the Reminders and Notes apps this year. I find it extremely odd that Shortcuts – the power user app on Apple platforms – doesn't support these functionalities at all.
Rich Text and Quick Notes in the Notes App
It gets worse for the Notes app, though. Shortcuts first gained Notes integration in version 2.2 in March 2019; back then, Shortcuts was still an app you had to download from the App Store. For the past 2.5 years, all the Notes actions in Shortcuts have been limited to plain text only.
One of the strongest advantages of Notes over other note-taking apps is the variety of formatting options it supports; you can save images, rich links, PDF attachments, and even drawings in the app. None of these types are supported in Shortcuts' Notes actions. Try to retrieve a note with the 'Find Notes' action, and you'll always receive a plain text version of it. The same goes for creating notes: pass an image to the 'Create Note' action, and it'll be completely ignored by the Notes app.
These limitations have hindered adoption of Notes actions in Shortcuts for far too long at this point; it's time for the Shortcuts and Notes team to work together on this and modernize Notes actions to reflect the rich nature of the Notes app.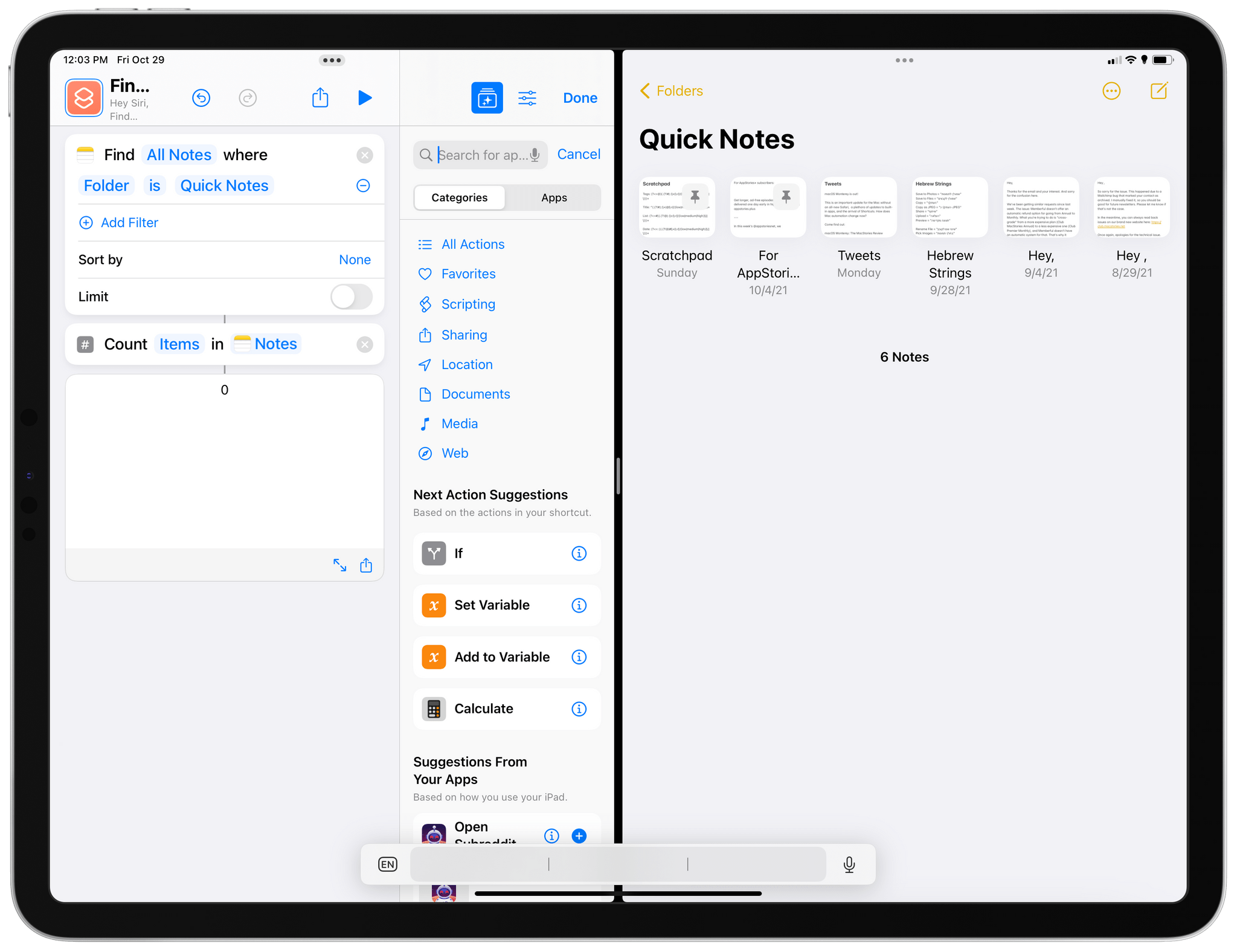 There's another example I'd add to the list here: the 'Find Notes' action is, at the moment, completely unaware of the existence of Quick Notes in iOS and iPadOS 15. You can select the 'Quick Notes' folder as a filter in the 'Find Notes' action, but it always returns zero results. Quick Note is, arguably, the best addition to iPadOS this year, and it's just sad that it's not integrated with Shortcuts at all.
Loving Songs and Playing the Apple Music Catalog
Workflow launched in late 2014, and Apple Music was introduced to the world in June 2015. Workflow, then Shortcuts, have always been able to find and play songs, playlists, and albums in the Music app, with one big asterisk: Shortcuts can't do anything with your Apple Music subscription. It can only find and play songs you've added to your local library.
Isn't this wild? In over four years of Shortcuts being an Apple app, the company hasn't been able to properly integrate it with Apple Music to let you perform basic actions such as "loving" the currently playing song or searching the Apple Music online catalog for a specific artist or album. The Music actions were designed in an era when Apple didn't have a music streaming service, and they were never updated to acknowledge Apple Music.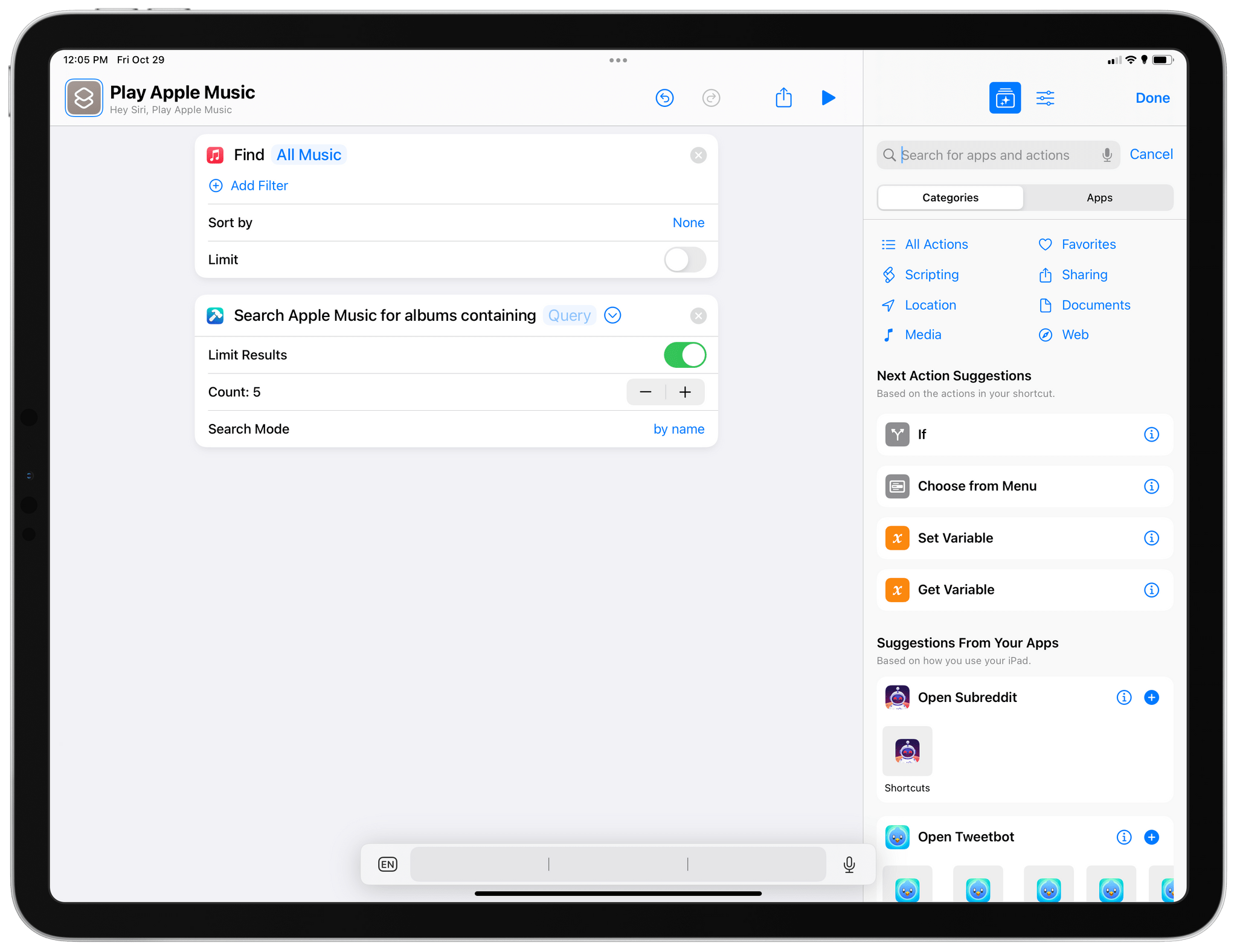 What stings even more here is the fact that Siri is obviously capable of searching and playing content from Apple Music and, worse, third-party developers have been able to fill this gap with their own Shortcuts actions. Toolbox Pro, for instance, has long offered a suite of Apple Music actions that use the native Apple Music API to search for anything, love songs, and even start playback of Apple Music content in the Music app on your devices. I think it's just incredible that third-party developers are doing this and Apple isn't.
Creating Split Views for Specific Windows
This is another fun one. Apple added multiwindowing to iPadOS in version 13.0, two years ago. This year, they redesigned multiwindowing with the addition of a brand new Shelf. Also this year, in the process of translating old Automator actions to Shortcuts equivalents for macOS Monterey, the company brought the concept of windowing to Shortcuts: with the new Split Screen Apps action, you can open two apps simultaneously using Split View on your iPad.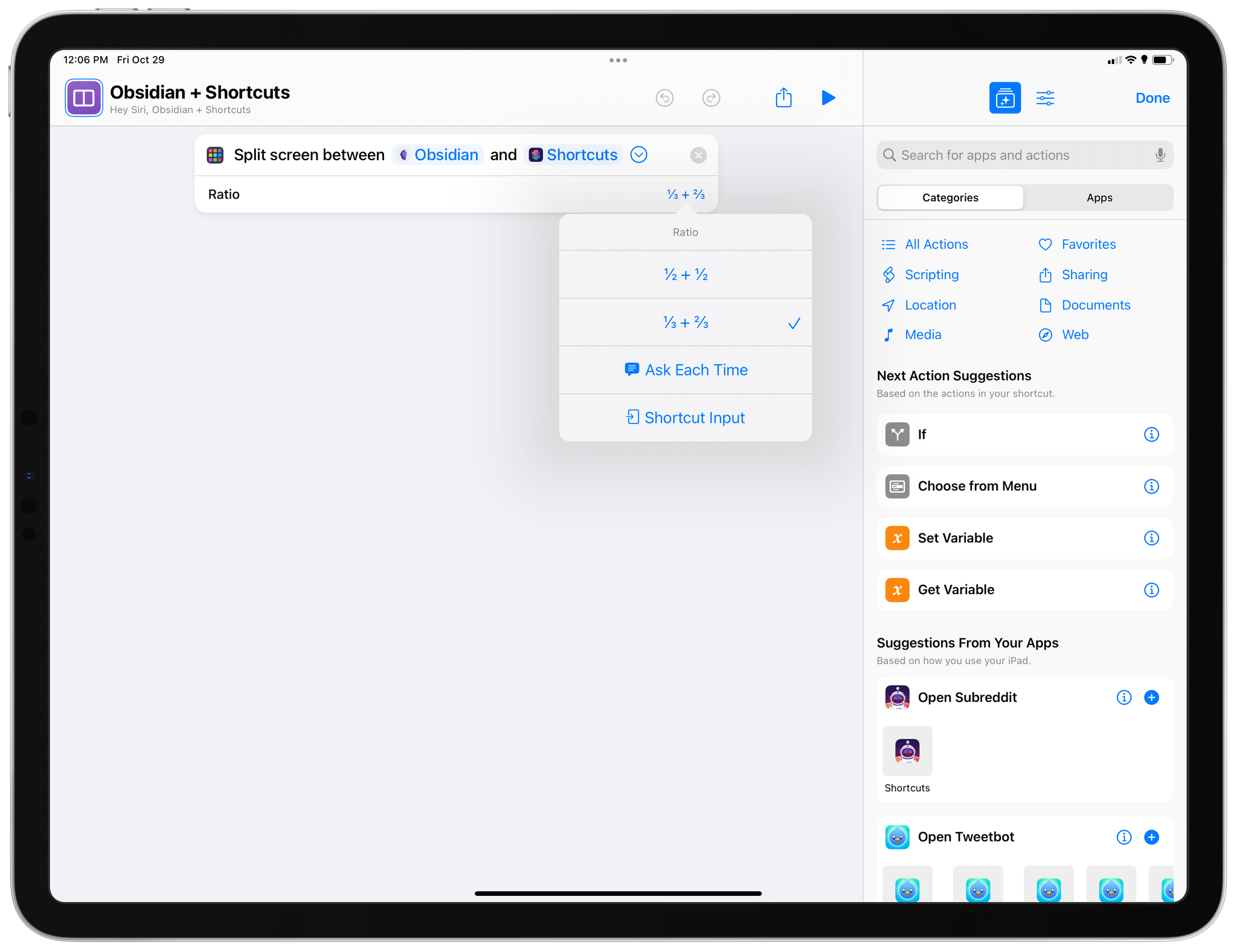 All of this is great, but there's a problem: in the same year Apple launched the Shelf and worked on new windowing actions for Shortcuts, they forgot to support picking specific windows in their Shortcuts actions for iPad. If you have multiple windows open for a specific app on your iPad and use the Open App or Split Screen Apps actions, you can't choose the window you want to open; Shortcuts always defaults to the most recently used window and you can't change that. To make matters worse, Shortcuts for Mac has a whole collection of window-related actions (including one called 'Find Windows') and none of them have been made available on iPad. Wasn't the point of adopting SwiftUI for apps – which Shortcuts did this year – to make cross-platform features seamless to implement?
Tab Groups and Reading List in Safari
One of the major additions to Safari this year, tab groups, is completely absent from Shortcuts so far. You can't move tabs between groups, close them, or – something I think a lot of users would have liked to do – find tabs in a group and extract details out of them. Once again, there is a profound disconnect between what is, quite obviously, a power user feature and the automation app for power users.
On a similar note, while the semi-abandoned Reading List feature has a Shortcuts action ('Add to Reading List'), Apple never got around to adding actions for processing or filtering Reading List items. Other read-later apps (see Reeder or GoodLinks) have long provided actions to find items you've already saved for later and export them; I'd like to see the same in Reading List. But, of course, this wish is predicated upon the assumption that Apple remembers Reading List continues to be a feature in their lineup.
FaceTime Links
Another app that got a major revamp this year is FaceTime: between SharePlay and the ability to share FaceTime calls with people on non-Apple devices, it's easier than ever to share content on FaceTime and have calls with participants joining from web browsers, Windows PCs, or even Android devices.
Now, I wouldn't expect Shortcuts to sport SharePlay integration already, but, at the very least, you should be able to create FaceTime links with it. This is the app that comes with excellent support for generating URLs, copying them, and sharing them with other contacts – and it already comes with a 'FaceTime' action to start a call with a specific person. This one feels like low-hanging fruit for the FaceTime team to implement in their actions.
Photos Search and Live Text
Lastly, I want to call out the other major addition to iOS and iPadOS 15 that is, at least so far, entirely missing from Shortcuts: Live Text and the ability to search for content in your photos.
There are multiple layers to these integrations. The ability to search for objects, animals, places, and more in Photos has been around for years; it's not new to iOS 15, but it's never been supported in Shortcuts. You can find photos that match specific criteria, but photo contents aren't one of them. Ideally, I should be able to add "dog" or "pizza" to the Find Photos action and find the same matches I can find via the search feature in the Photos app.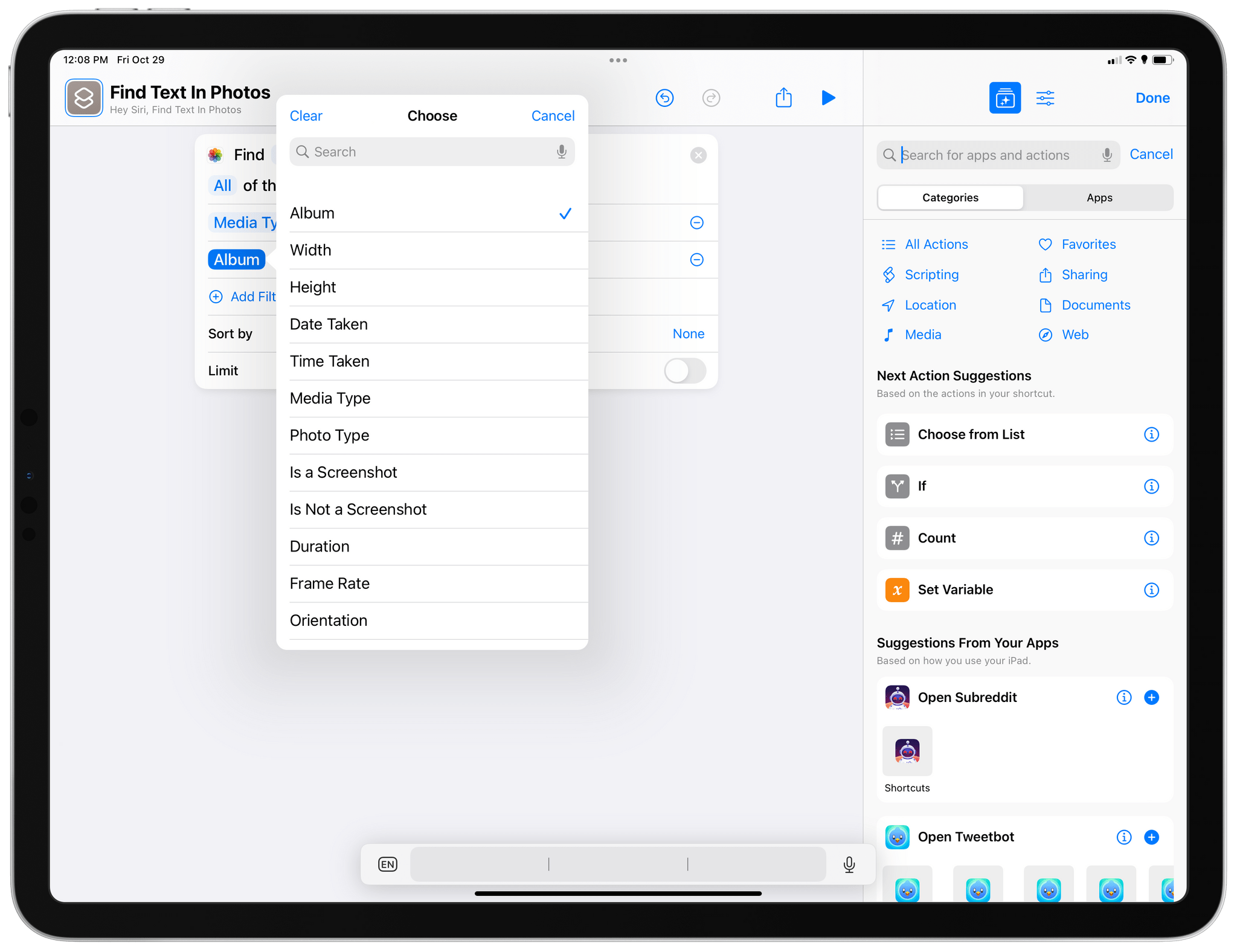 On a similar note, Shortcuts for iOS and iPadOS 15 can't extract text found by Live Text in your photos or find image contents recognized by Visual Look Up (I covered it here). Given Shortcuts' solid support for plain text and OCR, I was expecting to be able to query the Photos database for text found by Live Text, but that's not possible yet. Alas, Live Text isn't supported by the Take Photo action either: a native camera view comes up in Shortcuts when you use the action, but if you point it at text, the Live Text icon doesn't appear.
---
There's a conversation to be had here about Apple failing to put a process in place to consistently match new app features with Shortcuts actions. For too many years now we've had to accept the sad reality that Shortcuts gets some features eventually, and that just isn't right. New features should always be reflected in Shortcuts as actions that let power users take advantage of new functionality in their workflows. Shortcuts integration in system apps should be a priority for Apple, not an afterthought.
If Shortcuts is the future of automation on Apple platforms – and the company says it is – these delays between new app features and their Shortcuts equivalents need to end. I don't think this problem affects power users only: Apple isn't doing new Shortcuts users any favors by failing to add modern functionalities they might have just discovered and would expect to find in Shortcuts. Particularly this year with the influx of new users caused by the launch of Shortcuts for Mac, it's disheartening to see the app launch in such a precarious state and with missing features or outdated actions.
Hopefully, these inconsistencies will be fixed over the coming months with iOS and iPadOS 15 updates, or, more realistically for some of them, next year with iOS 16. Broadly speaking, however, before Apple adds new actions to the Shortcuts app, I'd like them to take a good look at their existing actions and modernize them for the new era of iOS and iPadOS 15.