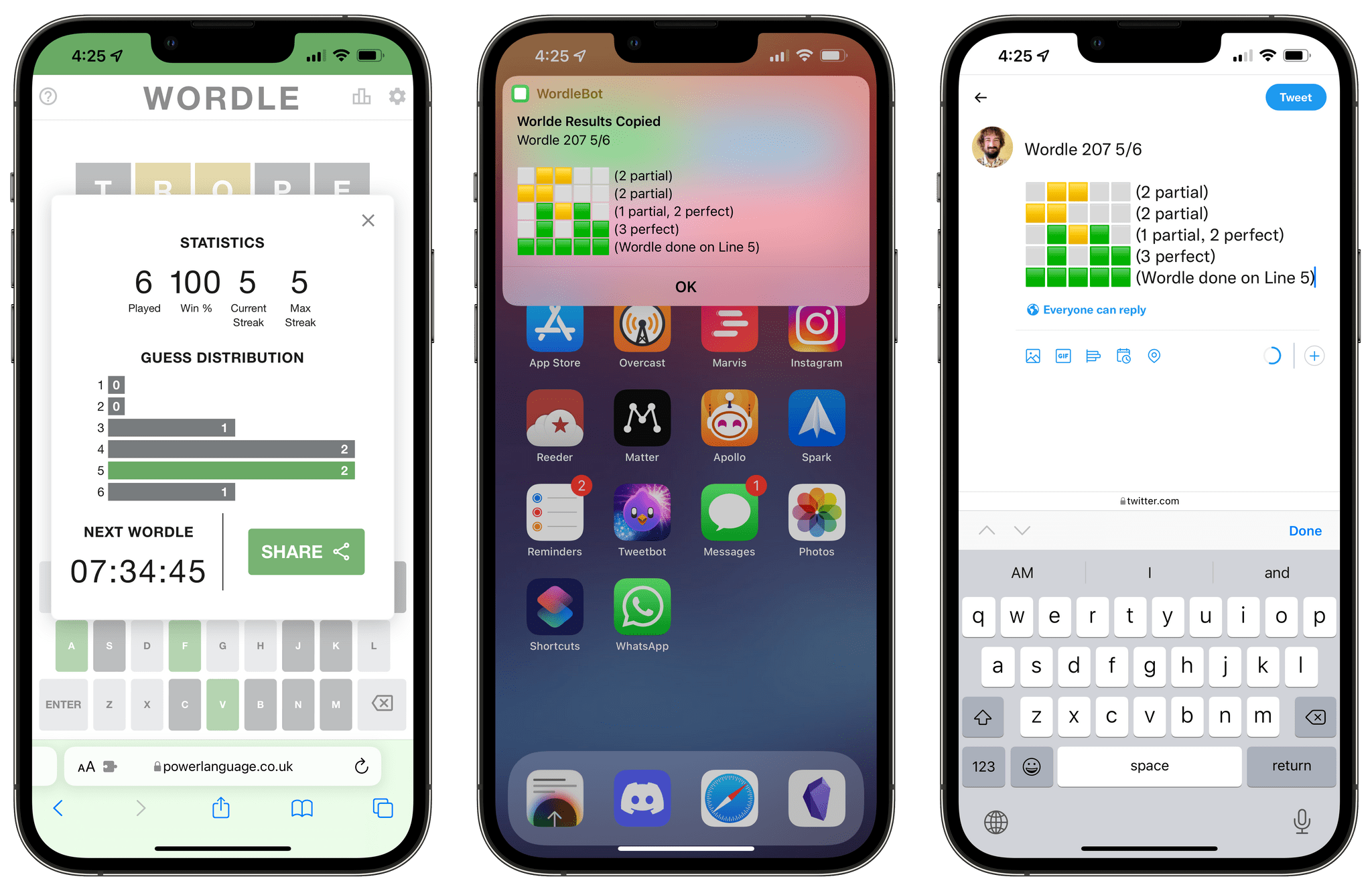 Update, January 18: I have released version 1.1 of WordleBot with support for converting emoji results to a single image. You can read the article here and redownload the updated shortcut below.
I, like the rest of the Twitter over the past few weeks, have fallen in love with Wordle, Josh Wardle's ingenious daily word game (if you somehow missed it, check out Wardle's profile in The New York Times). It's so refreshing to have something so disarmingly simple, yet challenging that isn't out to scam us (although some have tried) or sell our data on the Internet these days. Wordle reminds me of Brain Age for Nintendo DS in its heyday: everyone I know does it and is talking about it, at least for now. For me, Wordle has become this nice, daily ritual that I try to complete with my girlfriend to improve our English skills.
Wordle is a web app, and it comes with a clever built-in sharing feature that lets you share your results with other people by visualizing them as emoji of different colors based on the letters you guessed in the daily puzzle. I'm sure you've seen those tweets featuring lots of green and yellow emoji pass by on your timeline. While I think Wordle's default sharing mechanism is fun, on-brand, and already iconic, I don't like how its output is not accessible or descriptive enough. Folks with visual impairments such as colorblindness may find the emoji-laden Wordle tweets nearly impossible to decipher; those blocks of emoji don't play well with screen-reading technologies such as VoiceOver; and, I just thought it'd be useful to figure out a way to score each line of the puzzle to bring some additional context to your Wordle results.
So, I made WordleBot, a shortcut that takes Wordle's default shareable text and reformats it with partial and perfect scores for each line. With WordleBot, you'll be able to share results that keep the original Wordle aesthetic and format but also include scores for 🟨 and 🟩 letters on each line, like this tweet:
Wordle 207 5/6

⬜🟨🟨⬜⬜ (2 partial)
🟨🟨⬜⬜⬜ (2 partial)
⬜🟩🟨🟩⬜ (1 partial, 2 perfect)
⬜🟩⬜🟩🟩 (3 perfect)
🟩🟩🟩🟩🟩 (Wordle done on Line 5)

— Federico Viticci (@viticci) January 12, 2022