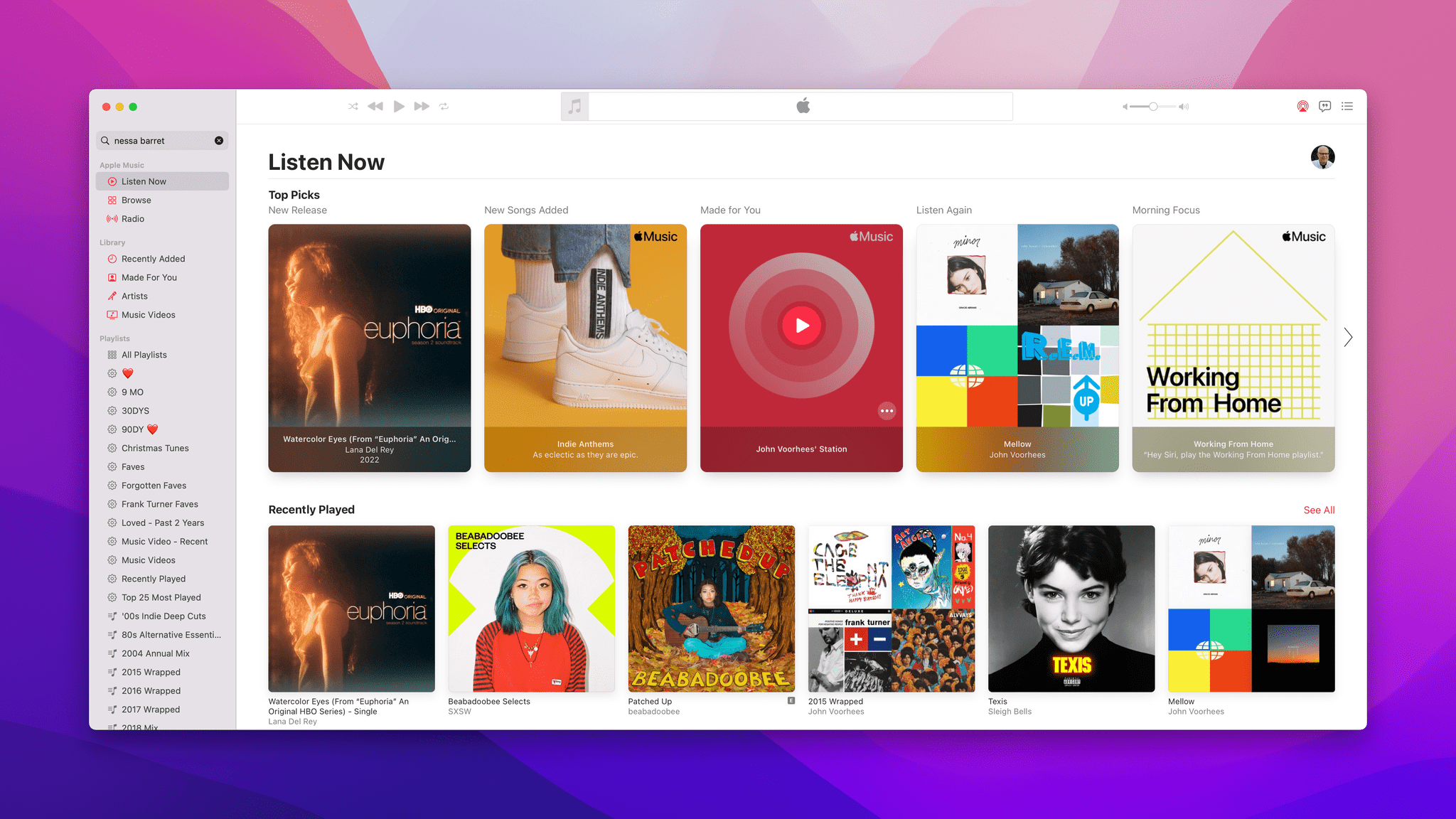 Editor's Note: Taking Apple Music Discovery into Your Own Hands is part of the MacStories Starter Pack, a collection of ready-to-use shortcuts, apps, workflows, and more that we've created to help you get the most out of your Mac, iPhone, and iPad.
Apple Music's tools for discovering new music could be better. A lot has been written about the problems, which I'm not going to rehash here. Instead, I've got a long list of tips, apps, and workflows you can use to discover new music now.
I've collected these apps and tips over many thousands of hours of listening and written about some of them here and for Club MacStories members before. However, this is the first time I've gathered and expanded those tips and workflows in one comprehensive story.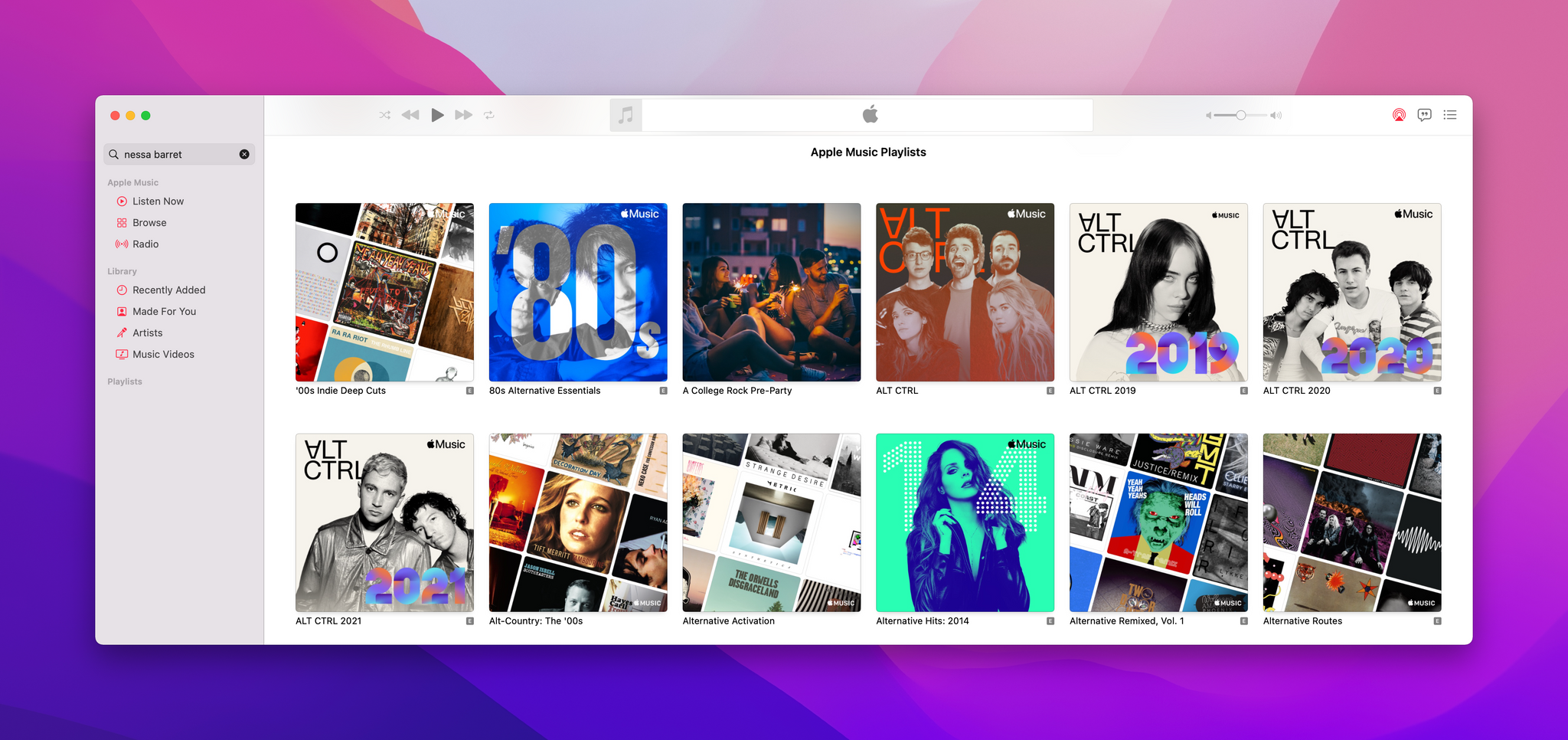 Apple Music Playlists
Apple Music offers a mix of algorithmic and curated playlists. Of the two types, I prefer Apple's curated playlists. Even if you're an album-centric listener, it pays to listen to a selection of these curated playlists now and then because they're the best way Apple Music currently has to discover new artists.
Apple regularly updates its curated playlists with new music, so they're worth revisiting periodically to see what's new. The playlists I listen to tend to add a few songs every week, which is nice, but I wish that at least some of the curated playlists turned over more quickly. After I've listened to the few new songs on a favorite playlist, the rest of it feels stale fast. Still, returning to a core list of playlists every few weeks is one way of the ways I discover a lot of new music.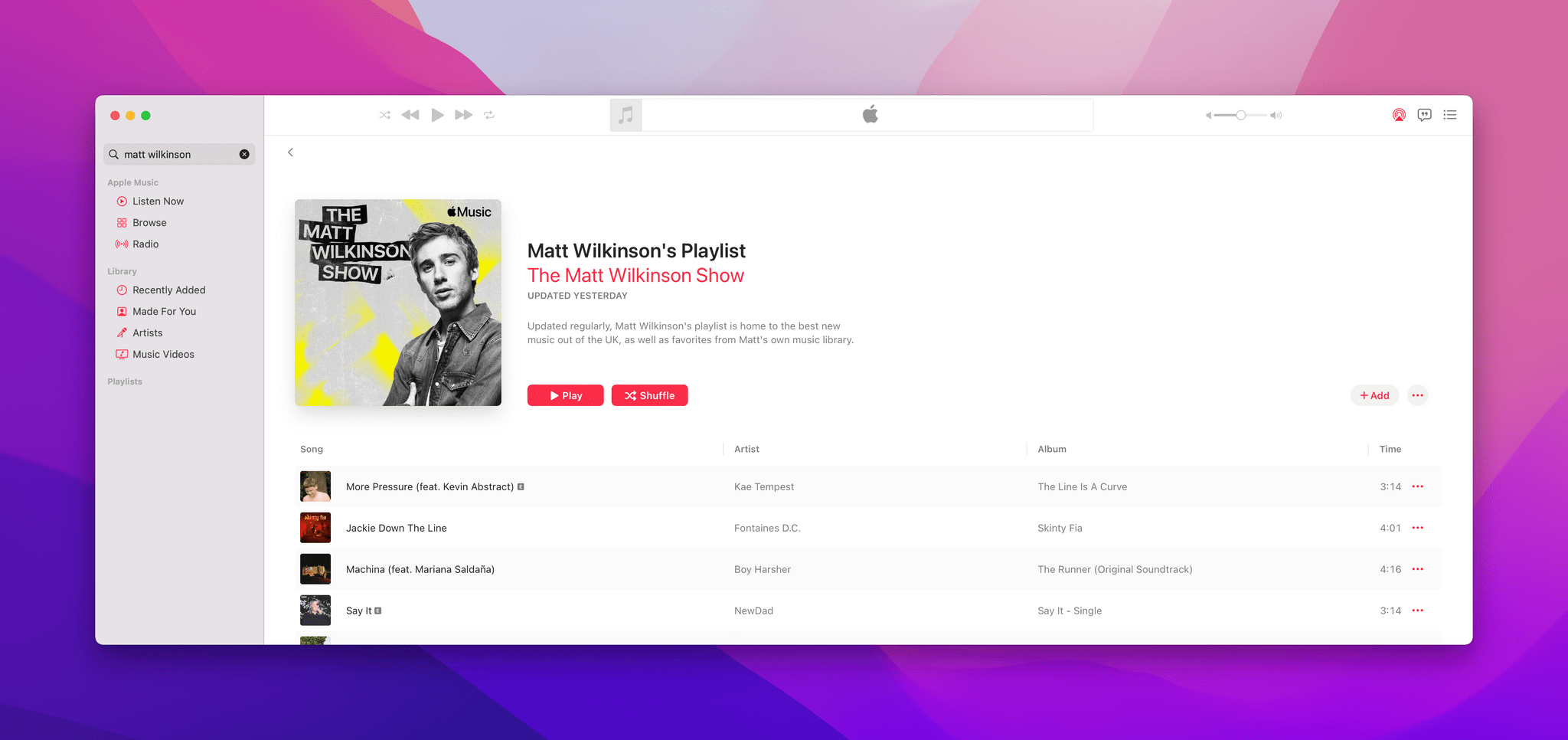 The best way that I've found to find playlists that match your tastes is to head to one of Apple Music's genre sections, which can be accessed by heading to the bottom of the Browse section and choosing Browse by Category. You'll find a good mix of playlists on each genre's page. Also, be sure to check out playlists curated by Apple Radio DJs because the ones I've tried have all been very good.
Nothing beats exploring Apple Music's playlists yourself, but I've collected a handful of my favorites below in case you're curious. My tastes tend toward Alternative and Indie/Indie Pop, and if that's your thing, you might like these too: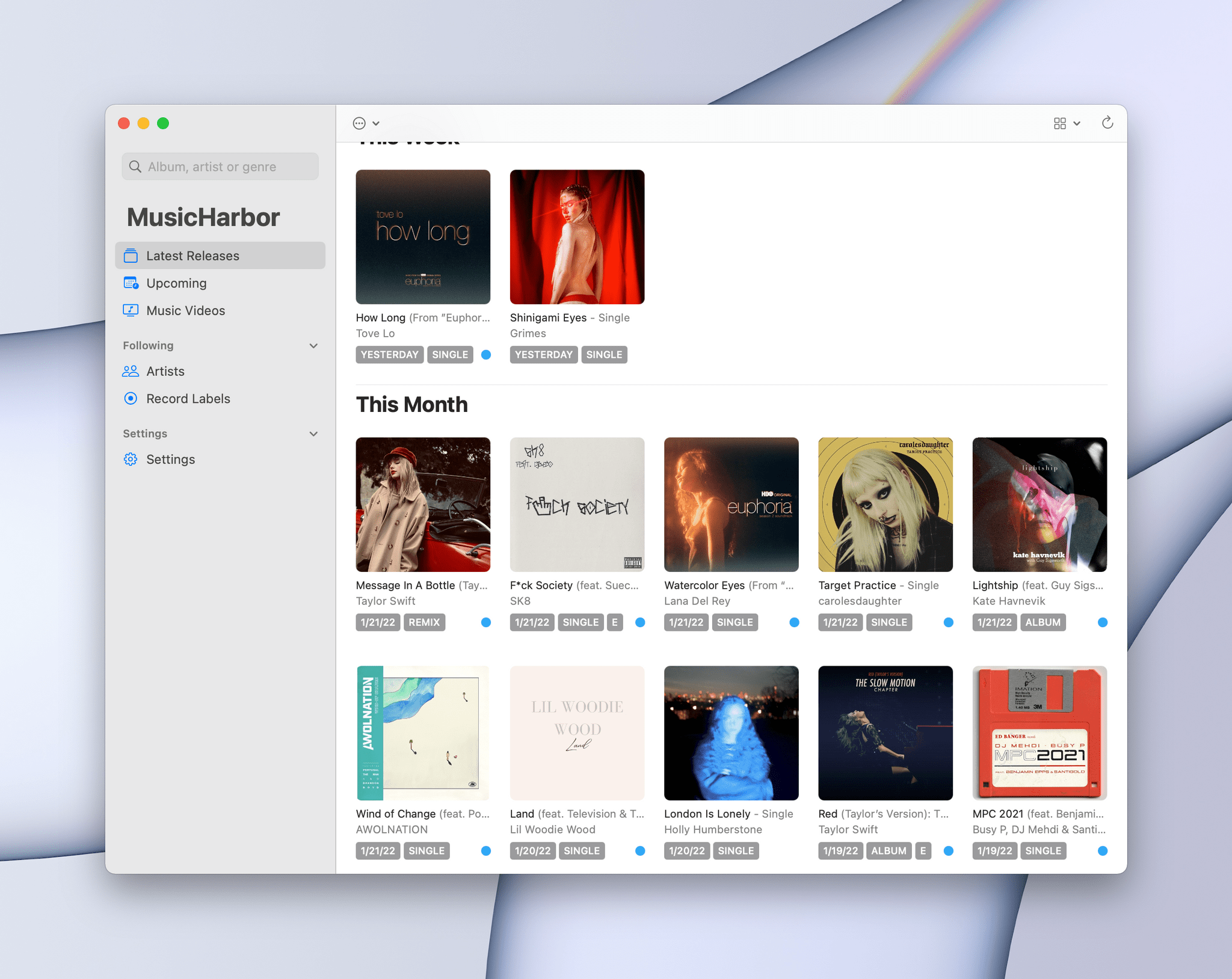 MusicHarbor by Marcos Tanaka, which was the MacStories Selects App of the Year in 2020, is an app we've covered multiple times. The app scans your Apple Music or Spotify library and lets you pick the artists you want to follow. Then, MusicHarbor collects the latest and upcoming releases of the artists you follow along with music videos and organizes them in chronological feeds. It's a fantastic way to keep on top of new releases and know when new music is coming.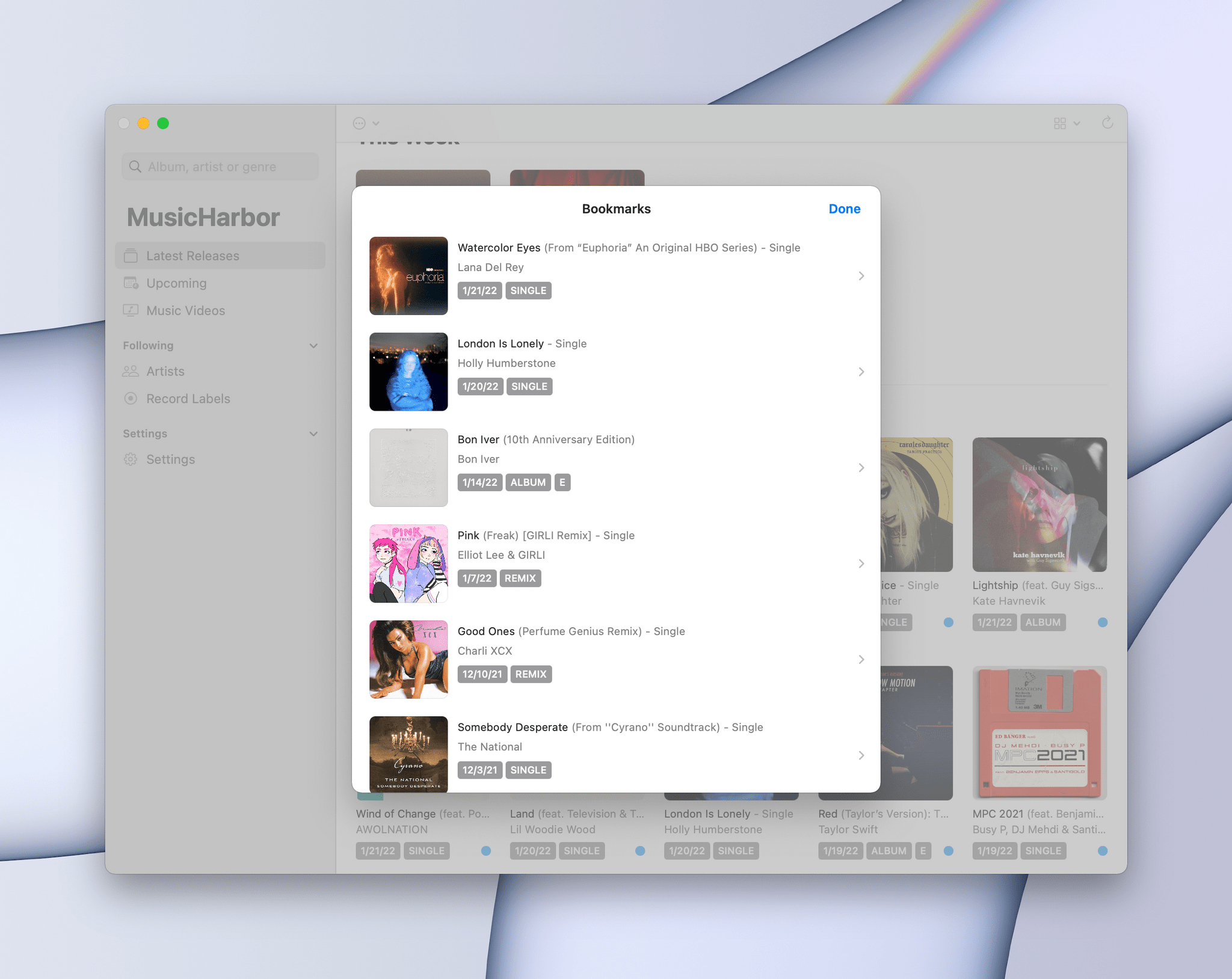 New music is usually released on Fridays, so I make it a habit to check MusicHarbor most Friday mornings as I'm getting ready to start my day. Browsing through the releases, I'll open what looks interesting in Apple Music to build a queue for the morning. Other times, I'll take advantage of MusicHarbor's bookmarking feature, which keeps interesting releases from getting lost among other releases. Alternatively, you can populate a designated MusicHarbor playlist with new releases.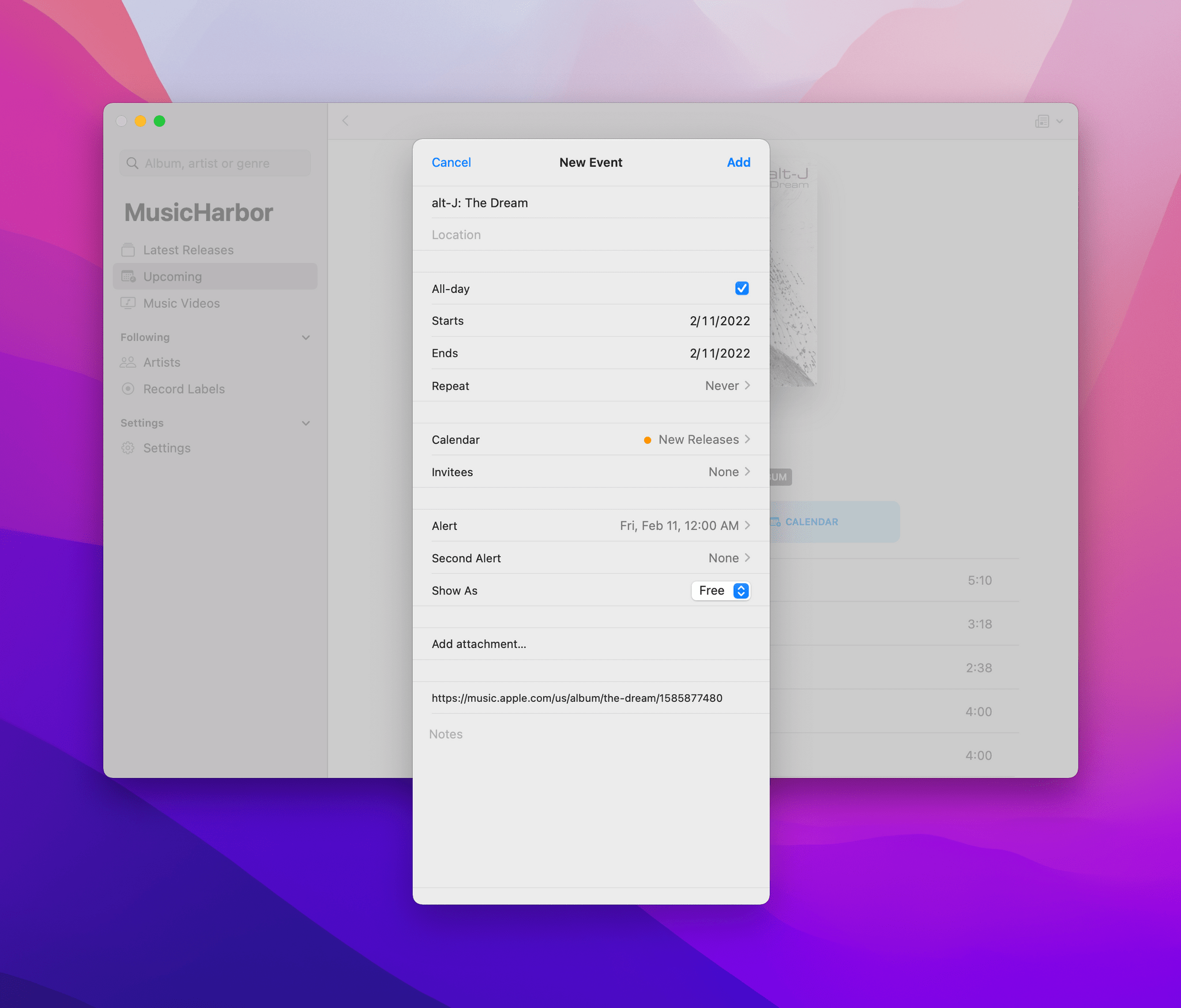 I also have a calendar dedicated to upcoming media releases, which I use with MusicHarbor. With a couple of clicks, the app adds an all-day event to my New Releases calendar with an Apple Music link in the notes field, so it's easy to find the album when it becomes available.

I recently wrote about Neptunes, a menu bar app that can display current track information in your menu bar and integrates with Last.fm. The app also has a handy set of global hotkeys that can be set for certain features. The hotkey that I've found most useful marks tracks as 'Loved' on both Apple Music and Last.fm. I've tied that hotkey to a button on my Stream Deck, so as I listen to Apple Music and hear something I like, I can tap the 'Loved' button. The workflow serves two purposes. First, marking the song as loved in Last.fm helps tune its recommendations. Second, the designation serves as a flag that I use in Marvis Pro to surface newly discovered music, which I'll cover in a moment.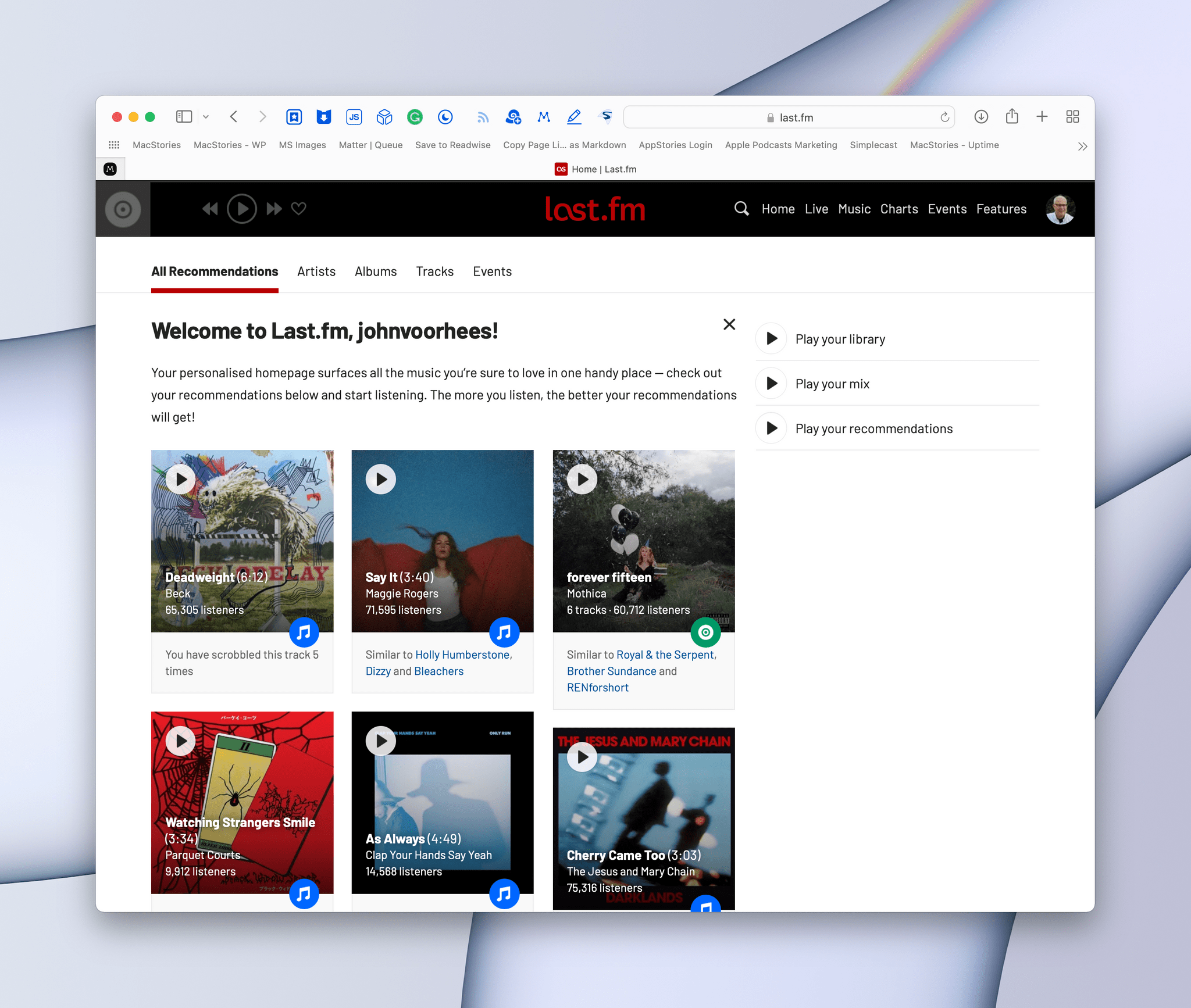 Last.fm has been around a long time. I've used the service on and off for years, but until last December when Federico piqued my interest in it again, I hadn't used Last.fm since 2015. One of the problems I had with the service in the past was the lack of support for the service in third-party apps, which has changed. With Marvis Pro's support of Last.fm on iOS and iPadOS and Neptunes' support on the Mac, I finally had the tools I needed for the service to track most of my listening history.
For the first couple of months that I used Last.fm again, its recommendations were a dated time warp of songs from 2015 when I last used it heavily. After about eight weeks of regular use, though, the recommendations on Last.fm's website have caught up with my current tastes and are fantastic. I don't listen to music on Last.fm, but I enjoy browsing its recommendations periodically throughout the week and picking a few artists to try in Apple Music. It's been a solid addition to my suite of music discovery tools and is effortless, thanks to Neptunes and Marvis Pro.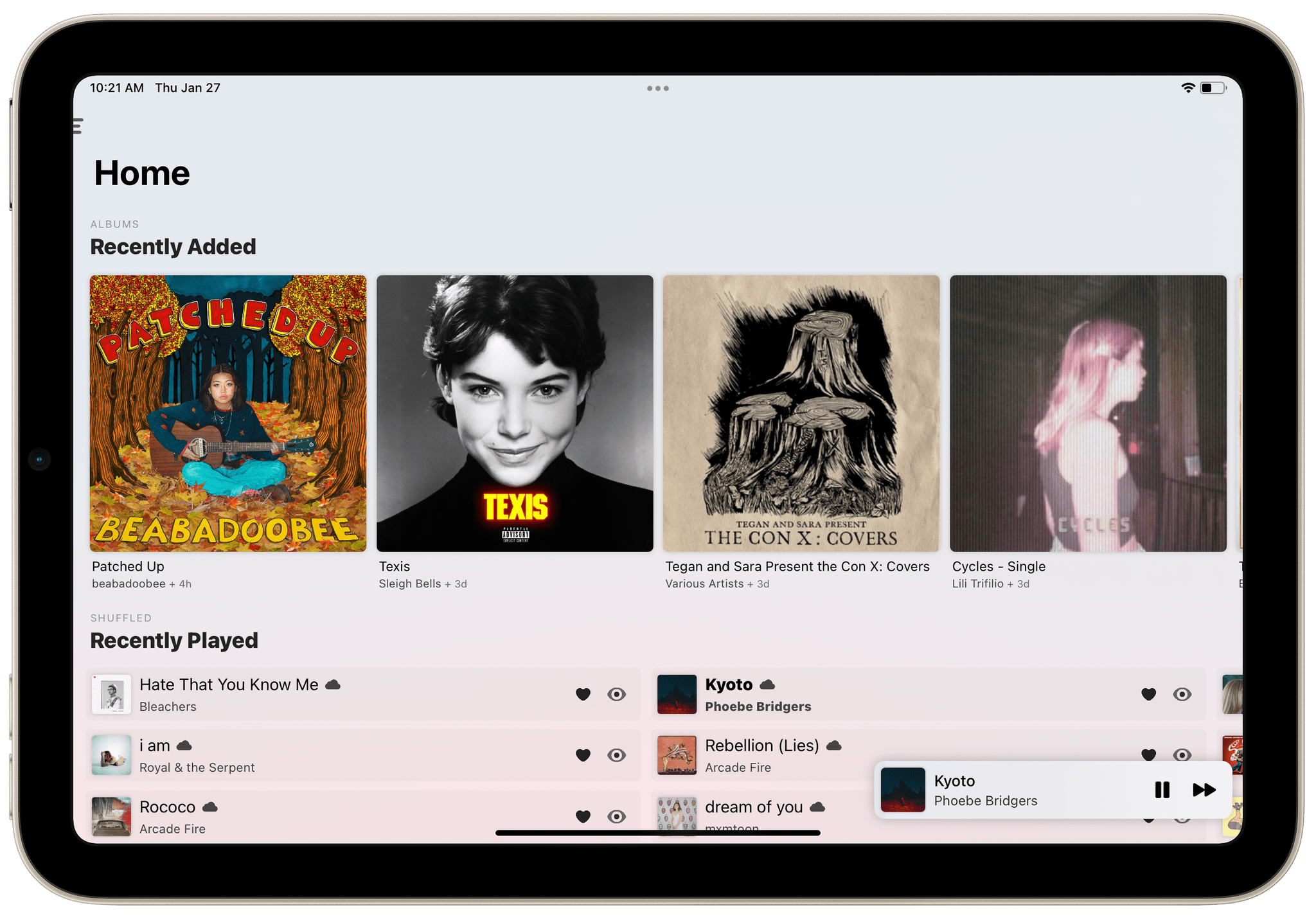 Marvis Pro is a third-party Apple Music player that we've covered here and on Club MacStories. The app's design is fantastic, it integrates with Last.fm, and, best of all, it's highly customizable. Marvis is organized around a Home view that is divided into customizable sections. Using an extensive set of filtering and sorting options, Marvis lets you create sections that are essentially smart playlists.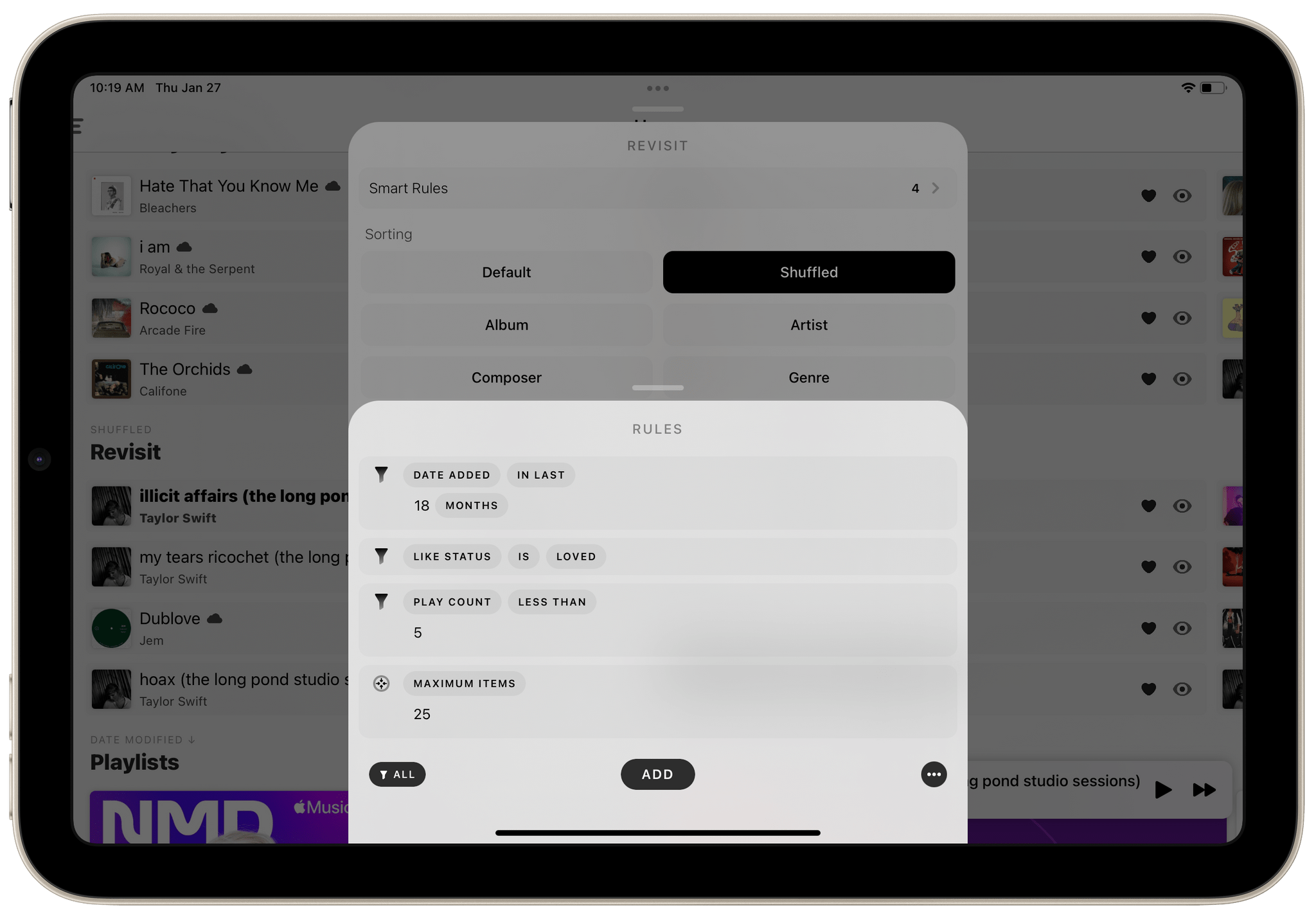 I've got several sections in Marvis, but the one I use most often for music discovery is called Revisit. As you can see from the screenshot above, Revisit resurfaces music from the last 18 months that I've marked as loved but have played fewer than five times. As I listen to my favorite playlists and hear something new that I like, I hit the 'Love' button on my Stream Deck, populating the Revisit section of Marvis Pro with new music. Then as the section's name says, I revisit those songs on Marvis Pro, shuffling through the list and often exploring the albums from which the tracks were pulled. My Revisit list has made a big difference to my setup because one-off songs that I like no longer disappear into my huge pool of 'loved' songs never to surface again.
Apple Music Channel in News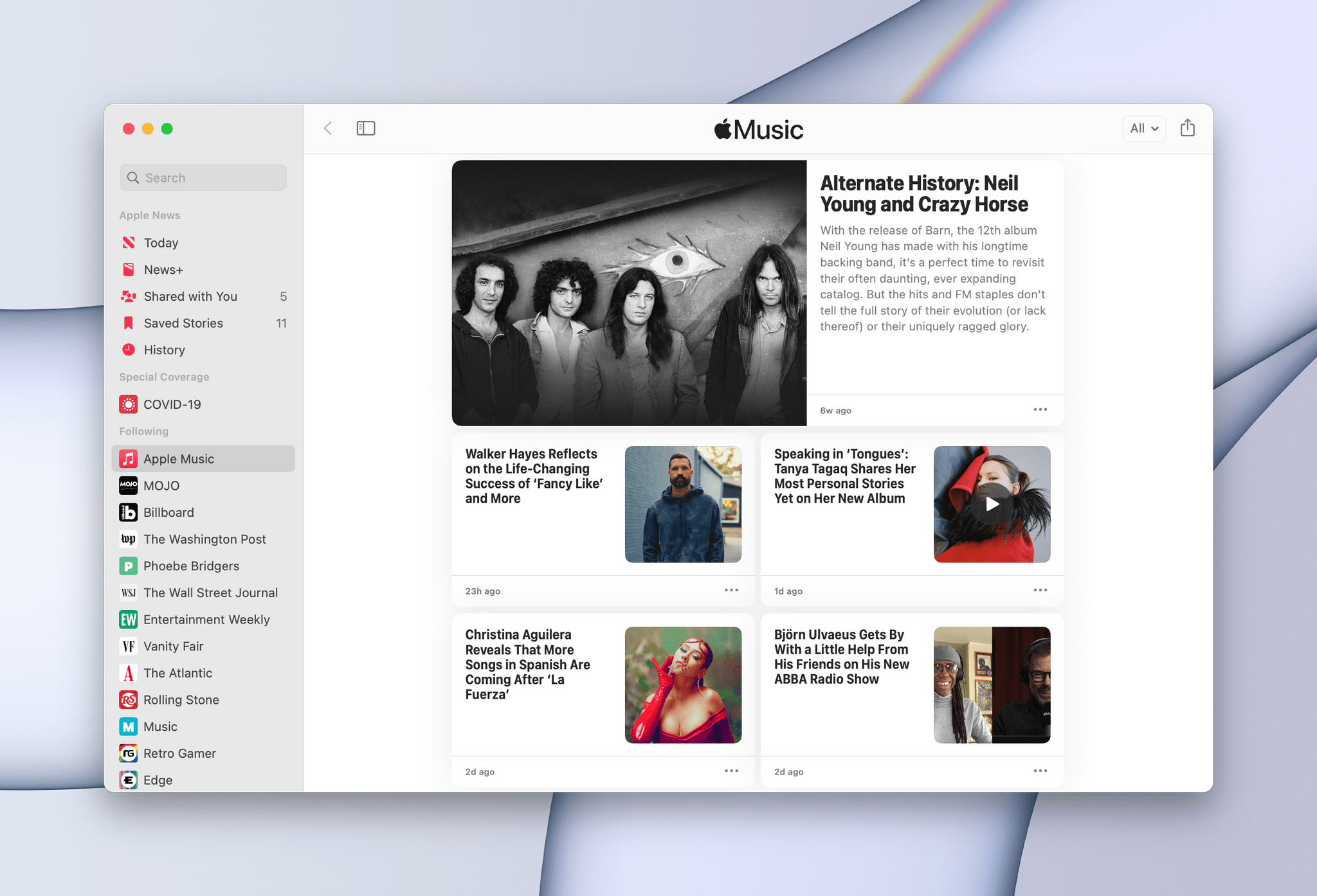 Finally, I should mention a hidden gem in Apple News. The service includes an Apple Music channel that has a surprisingly low profile. You can find a link to the channel at the bottom of Apple Music's Browse section or by searching for 'Apple Music' in News. The channel includes an excellent selection of feature stories covering artists, their albums, recaps of the week on Apple Music, and more.
I follow sites like Chorus.fm and Pitchfork's album reviews on RSS, which is where I get most of my music news and reviews, but the Apple Music channel is an excellent Apple Music-specific supplement to those sites.
What's Next?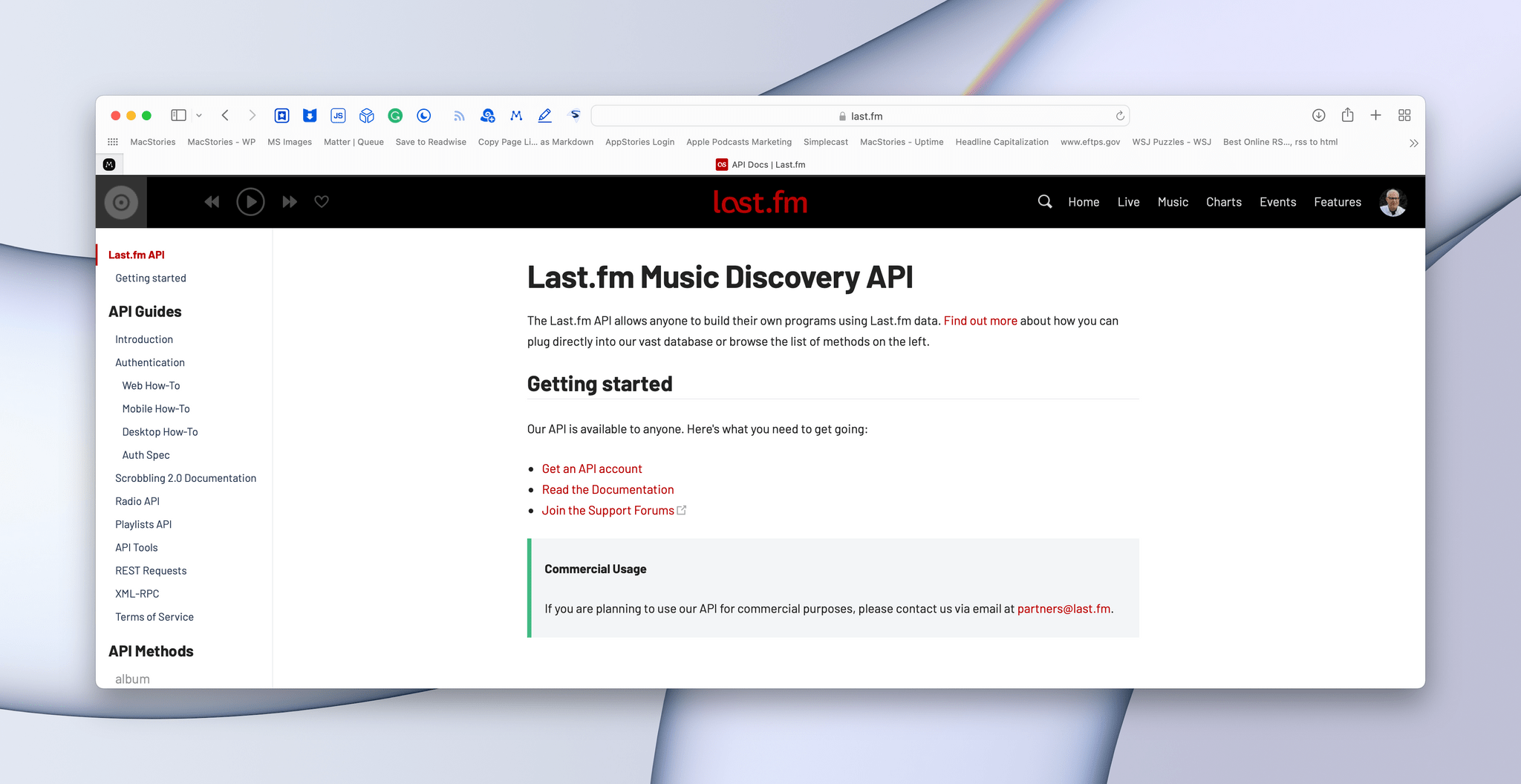 Like many others, I find Apple Music frustrating to use, especially when I want to listen to something new. I'm happy with my current strategies for finding new music, but I also know they could be substantially improved with better tools built directly into Apple Music itself. Barring that, one area that I'm currently exploring is combining Last.fm's API with Shazam's music recognition and perhaps other open APIs to extract Last.fm's excellent similar artist and music recommendations data from the service using Shortcuts, so I can have that information delivered to me on demand without visiting Last.fm's website.
---
That's it from me for our first-ever MacStories Starter Pack. I hope you enjoyed the shortcuts, workflows, app roundups, and review. It's been fun for us to unpack our annual app experiments in one consolidated and organized event. We've already heard from a lot of readers in the Club MacStories+ Discord community about how they're implementing what we've shared and are modifying all to suit their own needs, which is fantastic to see. If you've come up with an interesting remix of something we've shared, get in touch. We'd love to hear about it.
---
You can follow the MacStories Starter Pack on our hub, or subscribe to the dedicated Starter Pack RSS feed.