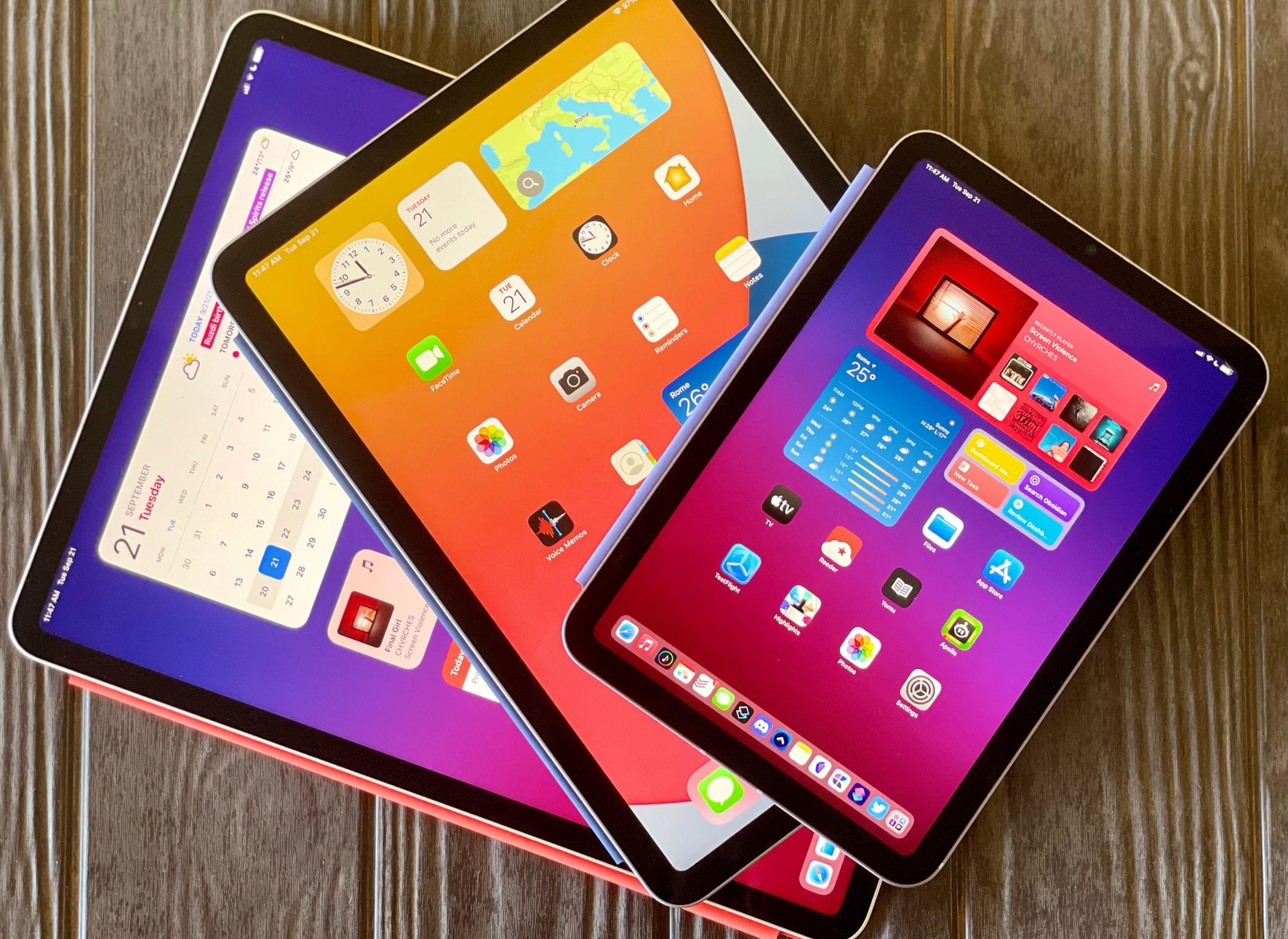 For the past week1, I've been using Apple's sixth-generation iPad mini, which is officially launching this Friday. I'll cut right to the chase: I've been waiting for this kind of iPad mini refresh for years, and the device absolutely delivers on all fronts. The new iPad mini fulfills my longstanding dream of an iPad Pro/Air-like device in a diminutive form factor, providing a highly portable experience unlike anything else in Apple's lineup.
The iPad mini was already in a class of its own; with this redesign, Apple has made the best small iPad I've ever tried – one that is a joy to use on a daily basis. Whether you're looking for a companion device to your iPad Pro or a portable iPad to complement your Mac experience, this little iPad is worth the price of admission.
The new iPad mini was the missing piece to my iPad workflow; now that I have it, I want to use it as much as possible.
Let me explain.
Mini Air
When I took the iPad mini out of its (colorful) package, my reaction was pretty much what I'd been expecting for several months when the device was rumored: this is a miniaturized version of the 2020 iPad Air.
The new iPad mini owes much of its design and feature set to the fourth-generation iPad Air, which I reviewed last October and called the new baseline for a "portable, versatile computer for everyone". Like the Air before, the mini does away with the classic, Home button-based design of the previous generation in favor of a variation of the iPad Pro design: it doesn't have a physical Home button and comes with a Liquid Retina display. And, again, like the Air before, the mini doesn't rely on Face ID for authentication but instead relies on a Touch ID button placed in the top right corner of the device (when used in portrait mode).
I could go on with the similarities between the iPad Air and new mini (same 500 nits for display brightness, four-speaker audio system, USB-C), and I'm going to cover some of them later in this story, but I think it's important to underline something right away. Despite looking like a smaller iPad Air, the new iPad mini yields a radically different experience that is thoroughly optimized for portability.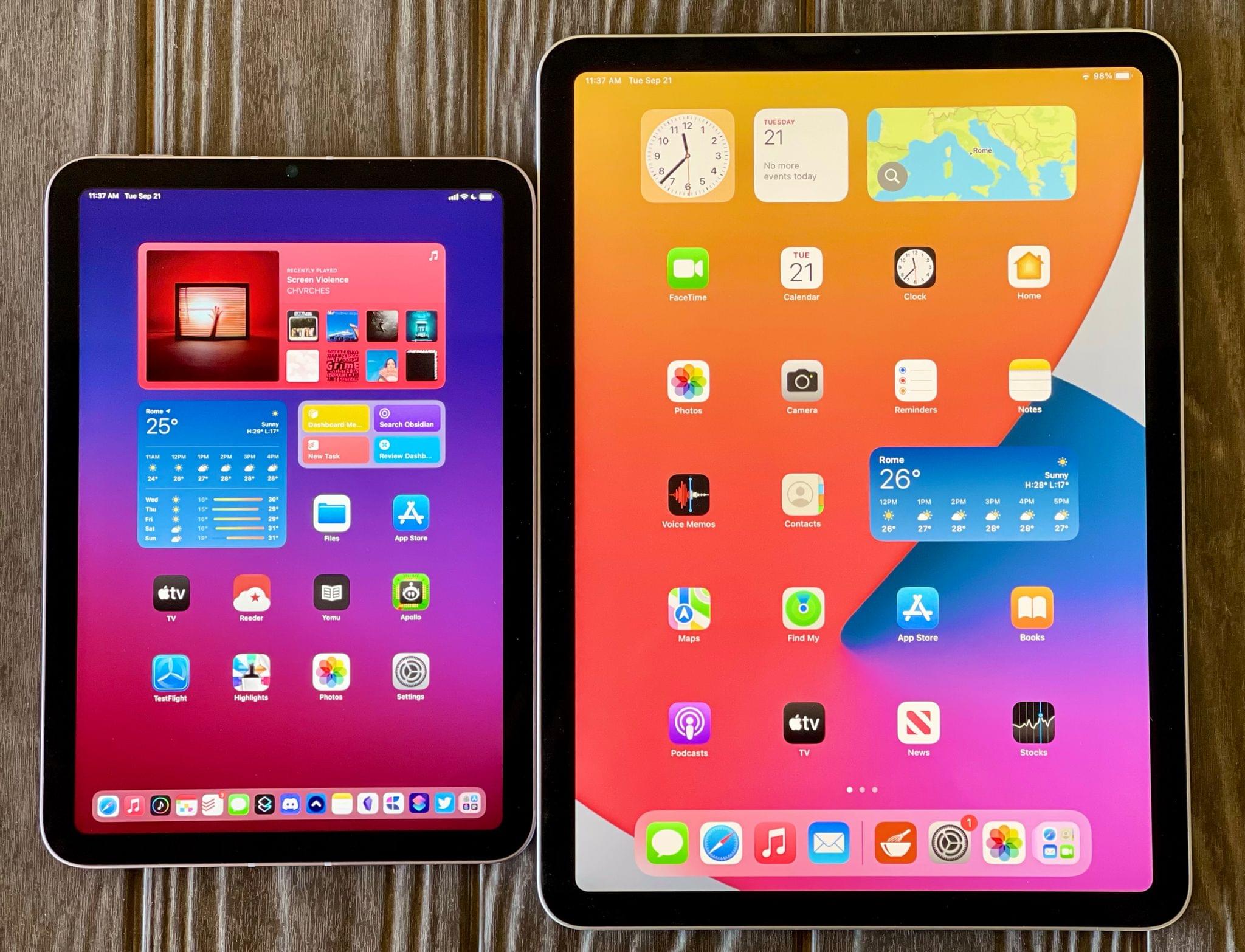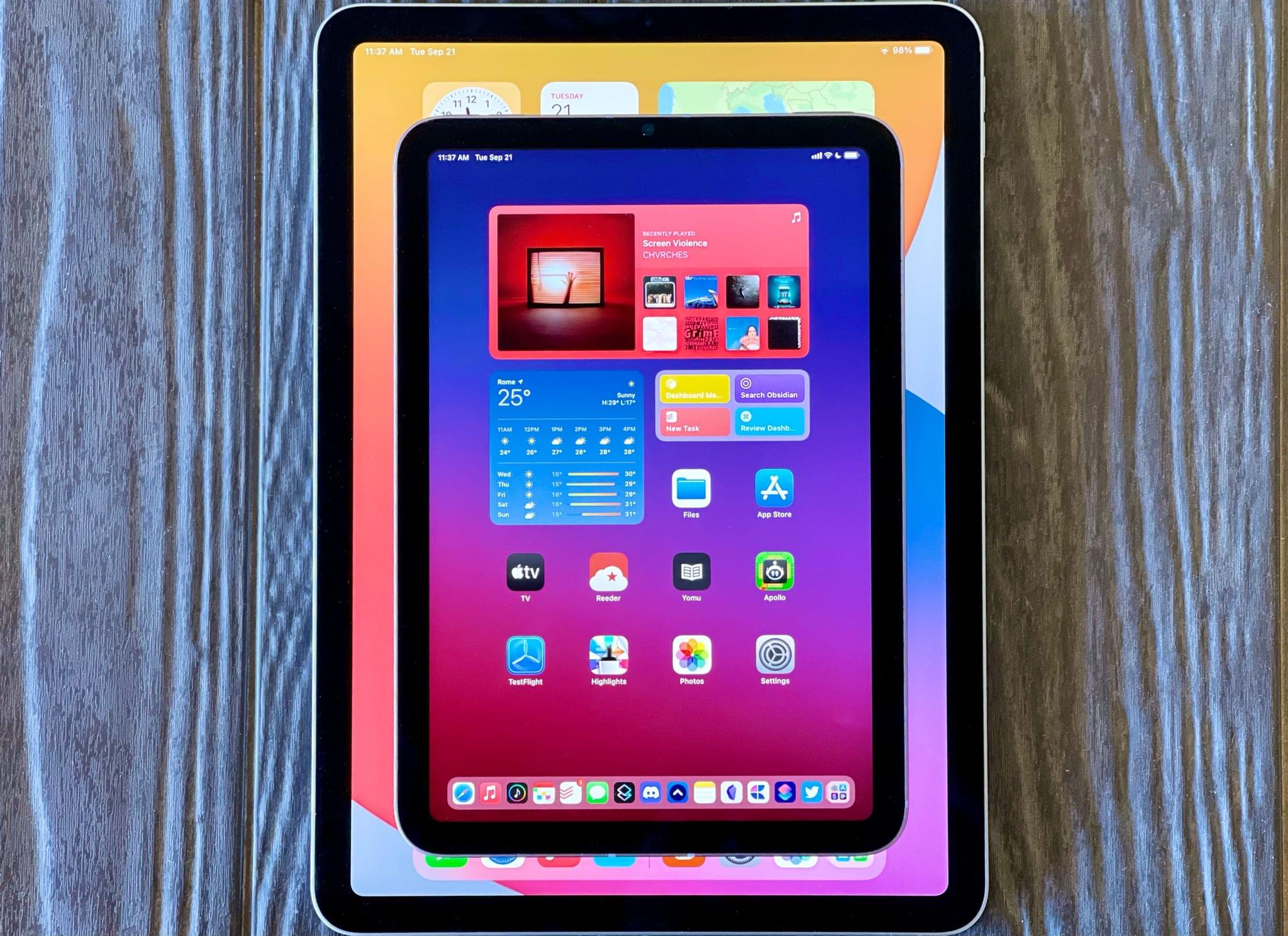 In the iPad Air, you can see some traits of the Pro line trickle down to an affordable model that more people may consider as a lightweight laptop replacement. The iPad Air is a consumer tablet with iPad Pro aspirations: its display size is, effectively, equivalent to the 11" iPad Pro, and it even supports the same Magic Keyboard of its more expensive and performant relative. The new iPad mini has no such aspirations. Instead, the iPad mini flips the iPad Pro aesthetic on its head and asks: what if the iPad Pro's industrial design, with its focus on gestures and the display, could also work in a tablet that is unashamedly portable and designed to be held at all times, rather than propped up on a keyboard?
I believe this is the crucial difference to understand between the iPad Air and new iPad mini. Over the past few months, whenever I mentioned on AppStories and Connected how much I was craving a substantial update to the iPad mini, I regularly received responses along the lines of, "Why don't you just use an iPad Air as your secondary, portable iPad?"
It's a fair question, particularly when there's only an $80 difference between the 256 GB, Wi-Fi + Cellular models, which is what Apple provided me with (along with an Apple Pencil, 5G SIM card, and purple Smart Folio). With that model – which I'd consider the best one for portable use cases – the iPad Air is $879, and the new iPad mini is $799. For just $80 more, the iPad Air is a better deal, right?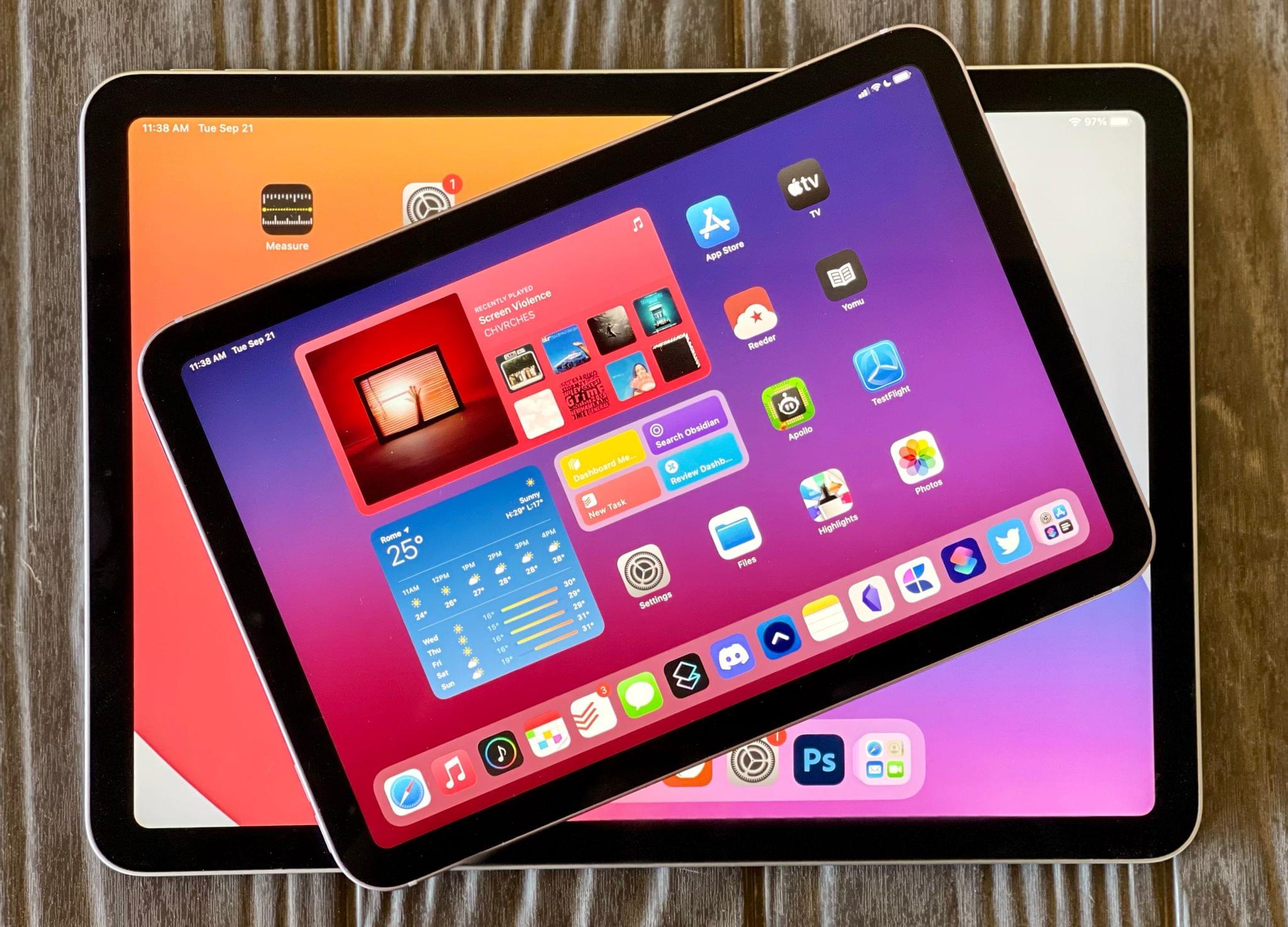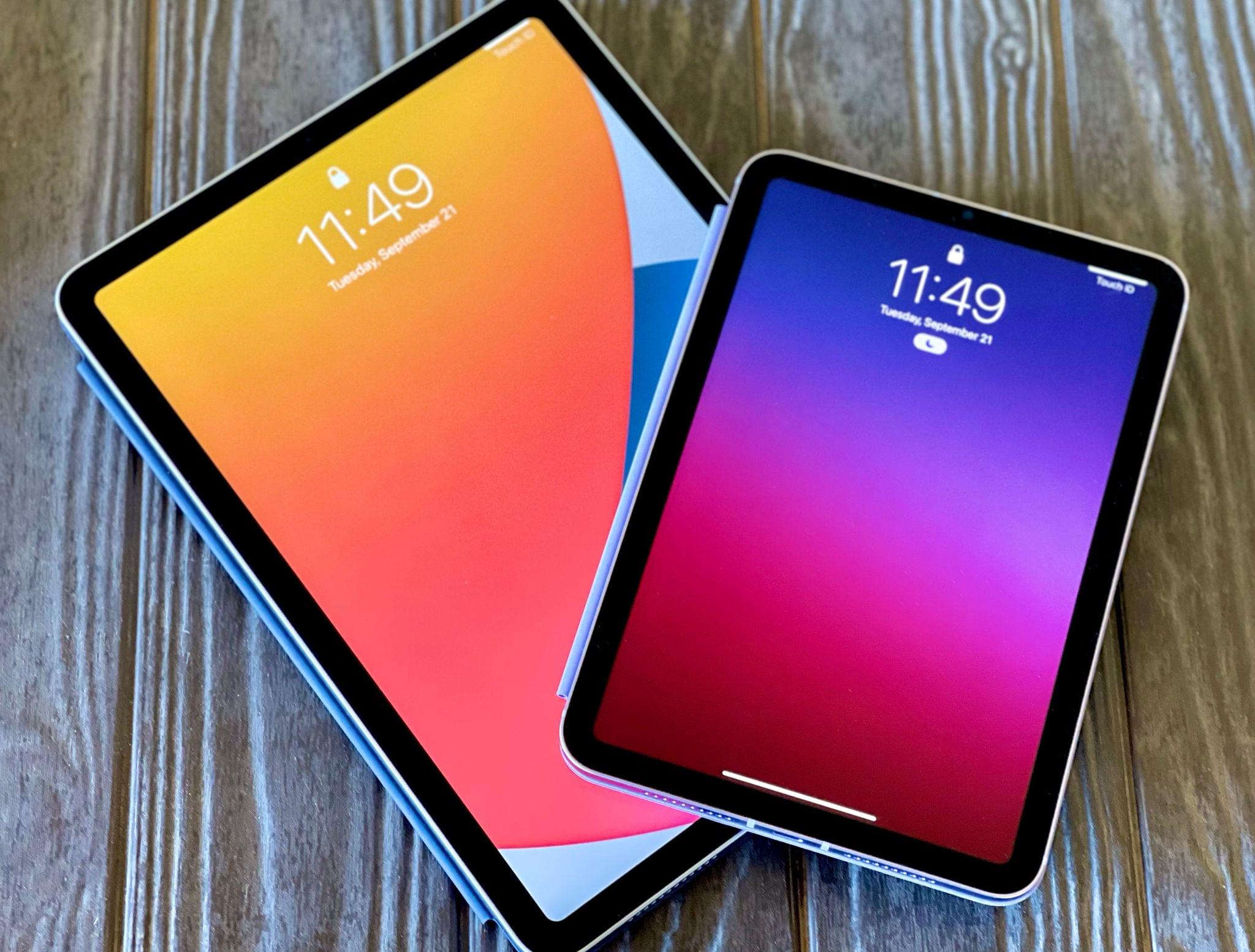 This is where the iPad mini's raison d'être lies. Having tested both the iPad Air and new iPad mini extensively, I can say this with confidence: while the iPad Air is a more portable and comfortable tablet than a 12.9" iPad Pro, it's still not remotely as portable or comfortable as the new iPad mini if you're looking for a device you can hold in your hands at all times. And, perhaps more importantly, even though you can use an iPad Air as, well, a portable tablet, I still believe the new mini is a more pleasant experience for the things a tablet should excel at – reading, watching videos, casually browsing the web, and playing games.
It all comes down to weight and display size. At 8.3", the iPad mini's new display is considerably smaller than the iPad Air's 10.9" display, but still taller and wider than an iPhone 12 Pro Max.2 I can hold the entire iPad mini in the palm of my hand; I can't do the same with the iPad Air. Then there's the weight factor: the iPad mini weighs slightly more than half the weight of an iPad Air. Compared to the Air's 460 grams, the iPad mini's 297 grams make it feel like you're holding an iPhone in your hands. Here's another way to think about this: the new iPad mini weighs just 70 grams more than an iPhone 12 Pro Max.
As a result, holding an iPad mini and using it as a tablet is still the unique, enjoyable experience that has differentiated this device for years – only now it's more powerful and modern thanks to its gestural multitasking system.
For the past week, I've typically held the iPad mini in portrait, with my pinky finger resting under the bottom edge of the device and my right thumb on its bottom right corner – sort of like I'd hold a book. The iPad mini is too big to be used completely one-handed, but I find this a comfortable way to grab it when I'm catching up on RSS or my Safari Reading List. Other times, I'd hold it with two hands in portrait, sort of like a big Game Boy. In fact, that's how I read a good portion of my iOS and iPadOS 15 review before publishing it. No matter how I held the new iPad mini, my hands and wrists never got tired, even when I read for hours and caught up on multiple episodes of Ted Lasso. I could never do this with iPad Air; I could do it with an iPhone, but the reading and watching experience wouldn't be nearly as nice.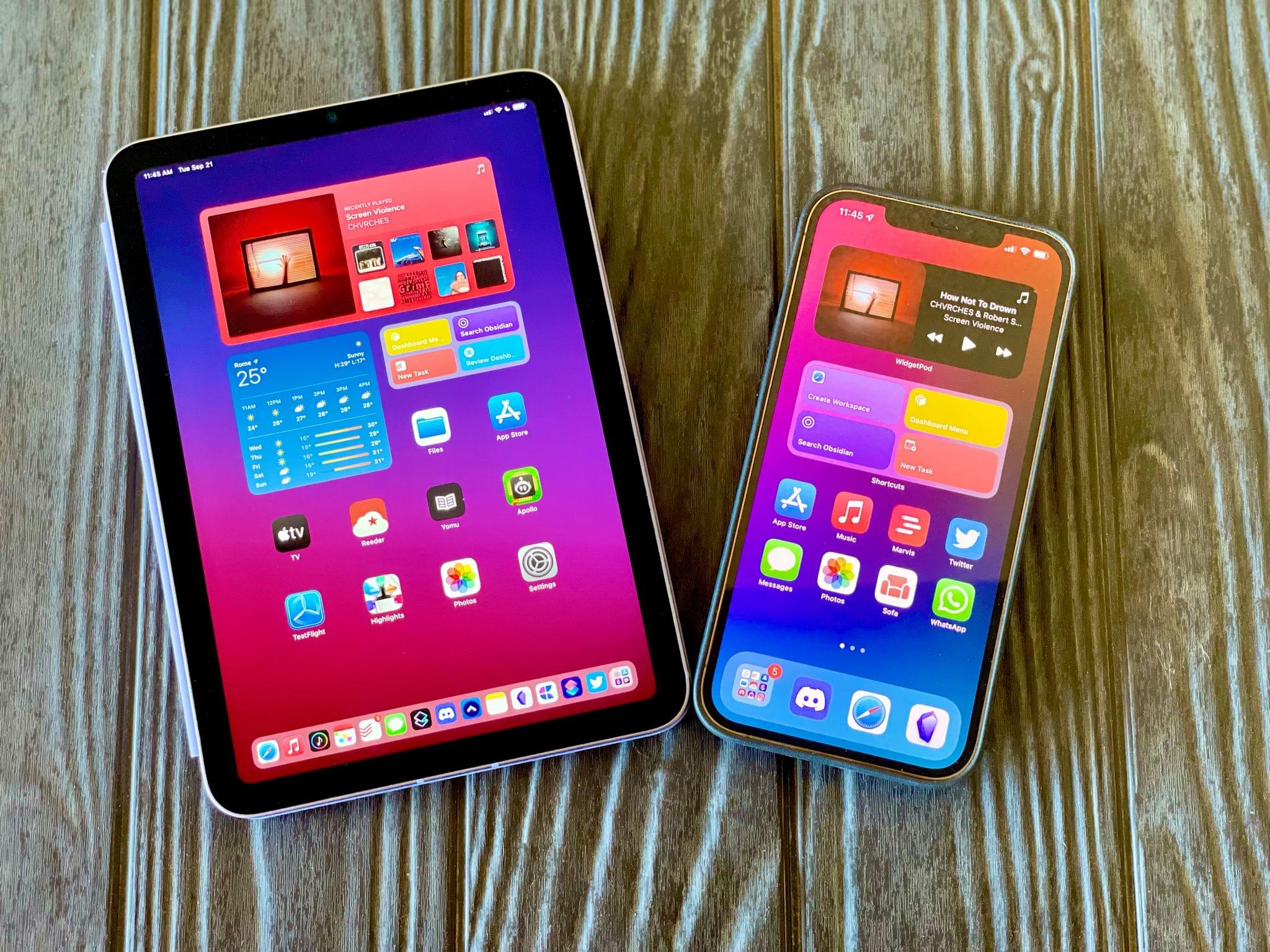 The comparison with the iPhone 12 Pro Max is fascinating for another reason: I like to remove the iPad mini from its Smart Folio case when I'm holding it, but I never remove the leather case from my iPhone. In that case, the weight difference between the iPhone and iPad mini goes down to a mere 41 grams (256g vs. 297), which is incredible if you consider how one of them is a phone and the other is small tablet. And there's another aspect to consider, too: weight distribution. When I'm holding the 12 Pro Max in one hand, it feels like a dense little brick. Conversely, even though the iPad mini is heavier than the 12 Pro Max, its larger surface makes it feel lighter in the hand. Relative lightness has long been the iPad mini's advantage in Apple's lineup, but this model has crossed a size/thickness/weight threshold that, in everyday use, makes the mini feel like Apple's lightest handheld computer. Which is funny when you consider how Apple makes another iPad called 'Air' that's meant to indicate exactly that.
I've already covered features such as Touch ID and the four-speaker system in my review of the iPad Air in October, and I won't rehash them in detail here. The Touch ID button is the same one previously seen in the Air (I literally can't tell the difference between them) and unlocks with the same speed and accuracy of the Air's sensor. Having tested a Samsung Z Fold3 lately, I have a newfound appreciation for Apple's dual-purpose lock/Touch ID button, which is ridiculously faster and more accurate than the flimsy button in the Fold3. The iPad mini gets surprisingly loud when listening to music via its built-in speakers (but not as loud as the Air), which is not something I do on a regular basis. As for the screen: Apple likes to call it 'edge-to-edge', and it really isn't, but it still creates the illusion that you're just holding a screen in your hands, which does the trick for me.
There's one final aspect in the Air/mini comparison I want to call out: display density. At 326 ppi (with a new resolution of 2266 x 1488) compared to the Air's 264 ppi, text on the iPad mini looks much crisper – and thus legible at small sizes – than on the iPad Air (or iPad Pro for that matter, which also carries a 264 ppi display). This has always been the case with the iPad mini (the previous model also featured 326 ppi), but it's important to remember this detail since you can tell the difference when looking at text up close. It may seem like a simple thing, but if you're looking for the most portable iPad that can deliver the sharpest, most enjoyable visual represantation of onscreen text, the iPad mini is it.
The 8.3" iPad mini's Display Compared to the 12.9" iPad Pro
Obviously, where the iPad mini's display doesn't hold up is in the comparison to the Liquid Retina XDR display found in the M1 iPad Pro. In short: if you're like me and use a 12.9" iPad Pro during the day and an iPad mini at night3, you'll notice the difference right away.
This isn't surprising at all, nor is it fair to compare the XDR display's higher peak brightness and local dimming zones to an iPad that isn't meant to be used in professional workflows. But while I didn't think Apple would be able to shrink the XDR technology from the 12.9" iPad Pro to the iPad mini in 2021, I was at least hoping they'd bring ProMotion to it. Unfortunately, they didn't.
I noticed the lack of XDR and ProMotion right away when I started using the new iPad mini last week. Compared to the iPad Pro, animations on the Home Screen and inside apps feel sluggish, which is to be expected when you have a display that refreshes at 60 Hz instead of 120 Hz. Everything feels a bit slower when you're navigating between pages and opening/closing apps on the iPad mini.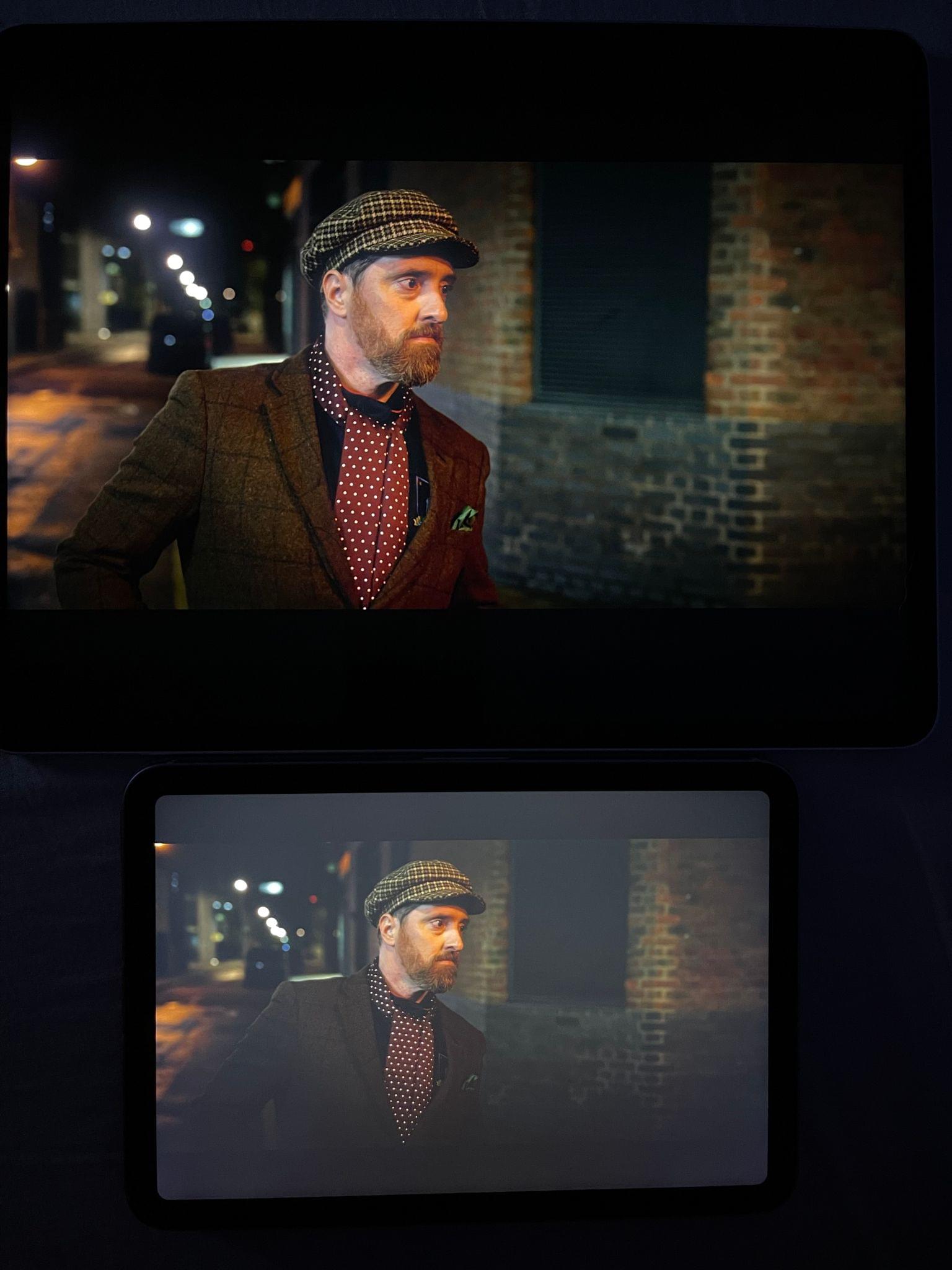 Similarly, the iPad Pro spoiled me in terms of color reproduction and black levels. I watched a few episodes of Ted Lasso on the iPad mini: the black bars surrounding the video don't "disappear" into the bezels of the device like on the iPad Pro, and colors aren't as vibrant or fun. Everything's washed out compared to the M1 iPad Pro. Again, I wasn't expecting the opposite to be true – although a Pro-level display in the iPad mini form factor is the dream for the future – but keep this in mind since it's something you'll notice when switching between iPads.
What you're gaining with the iPad mini compared to the 12.9" iPad Pro is a drastically more portable experience that is now also consistent with the same interactions you're used to perform on the Pro. This is something that always frustrated me about the old-generation iPad mini (which I've long kept by my bedside as my reading device): I'd use the iPad Pro to get work done during the day, and when I switched to the iPad mini in the evening, I'd have to "relearn" my way around the Home button, a different way to use the app switcher, and no gesture-based multitasking.
With the new design, the iPad mini is consistent with the iPad Pro's interaction vocabulary. This makes it easier to move between devices, despite the lack of XDR, ProMotion, and Face ID. When I leave the iPad Pro in the living room and grab the new iPad mini, it no longer feels like I'm moving to an old device from the last decade: it feels like I'm using a different flavor of the latest generation of iPads.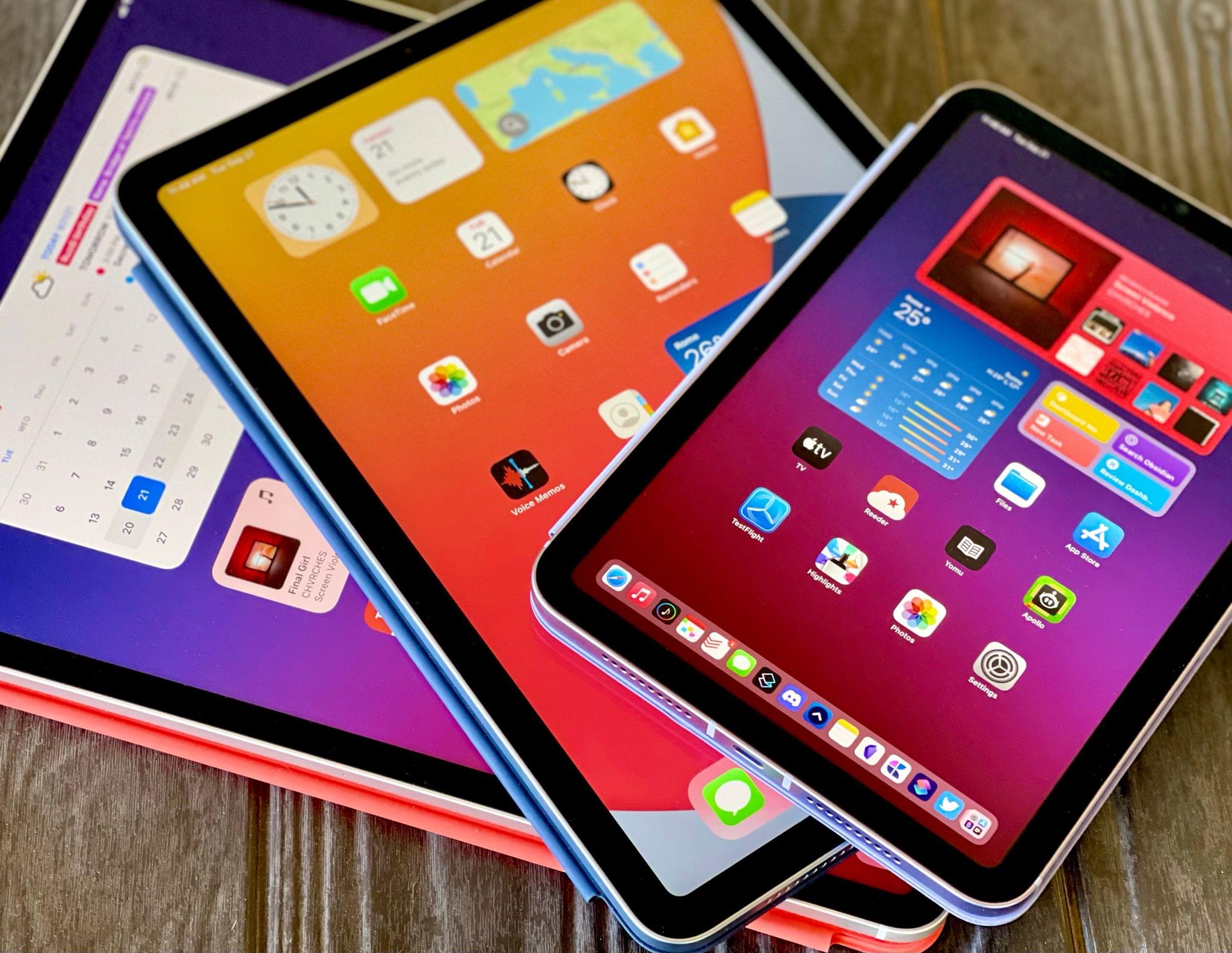 There are, naturaly, trade-offs to account for when it comes to using apps and multitasking on the largest and smallest iPad. As I'm going to detail in the next section, the new iPad mini slightly improves upon the Split View experience from the previous-gen model, but its bigger display (8.3" compared to 7.9") doesn't change how iPadOS deals with multi-column apps on a small display. Like the previous iPad mini and current-generation iPad Air, the iPad mini doesn't support three simultaneous columns in apps like Notes and Mail.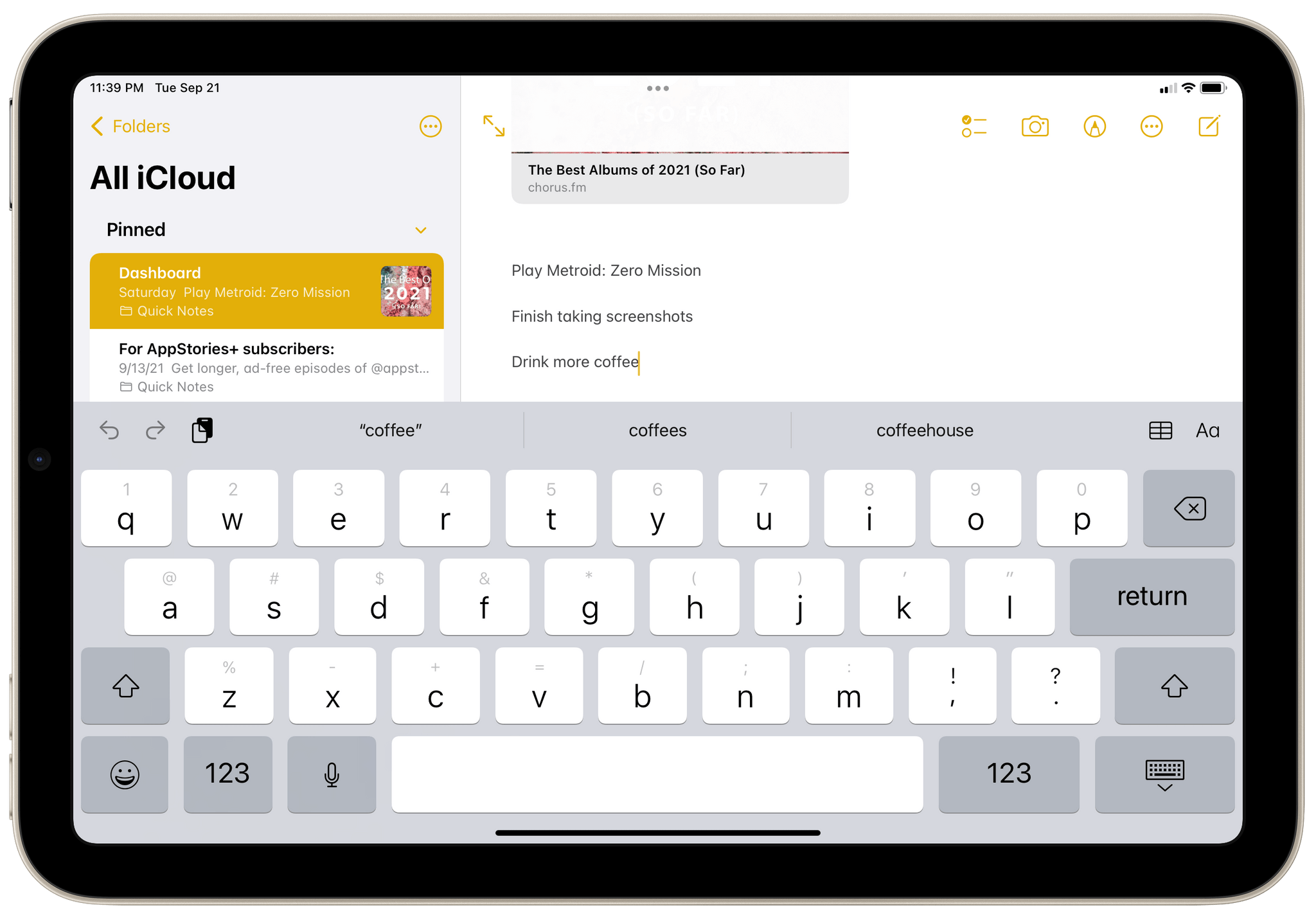 As I covered before in my iPad and iPadOS reviews, developers of third-party apps can force this behavior; in most apps, though, you'll only be able to use two columns in landscape mode. To this day, the 12.9" iPad Pro remains the only iPad capable of displaying three interactive columns onscreen at the same time. This is unsurprising, and ultimately doesn't matter much since I don't think you'd buy an iPad mini for its multi-column experience.
The comparison between the 12.9" iPad Pro and new iPad mini boils down to this question: if you have an M1 iPad Pro and love its big, bright, colorful screen, why should you get an iPad mini, which doesn't feature XDR and ProMotion, isn't as bright, and doesn't offer the same powerful multitasking capabilities?
Naturally, the answer is comfort. You can use a 12.9" iPad Pro in tablet mode and rely on it for all kinds of media consumption – I've done it for years – and you're going to love its display. But make no mistake: you're also going to feel tired of holding it in your hands soon enough. At 682 grams, the 12.9" iPad Pro is more than twice the weight of an iPad mini; its Liquid Retina XDR is absolutely stunning and a marvel of engineering, but it's also large and unwieldy. The iPad Pro makes modularity its key characteristic, and it is best experienced with a Magic Keyboard or as a tablet propped up on a desk via a Smart Folio.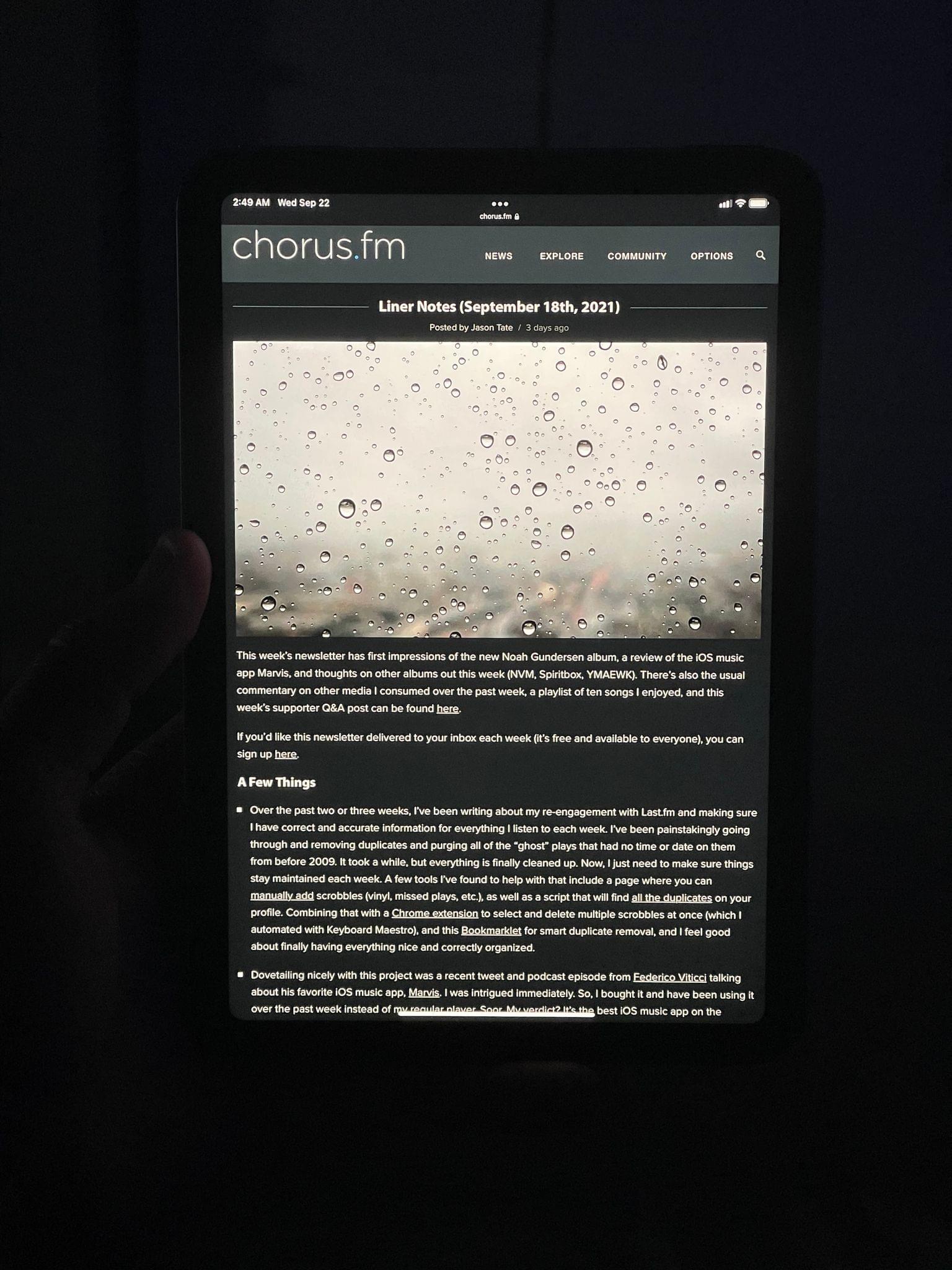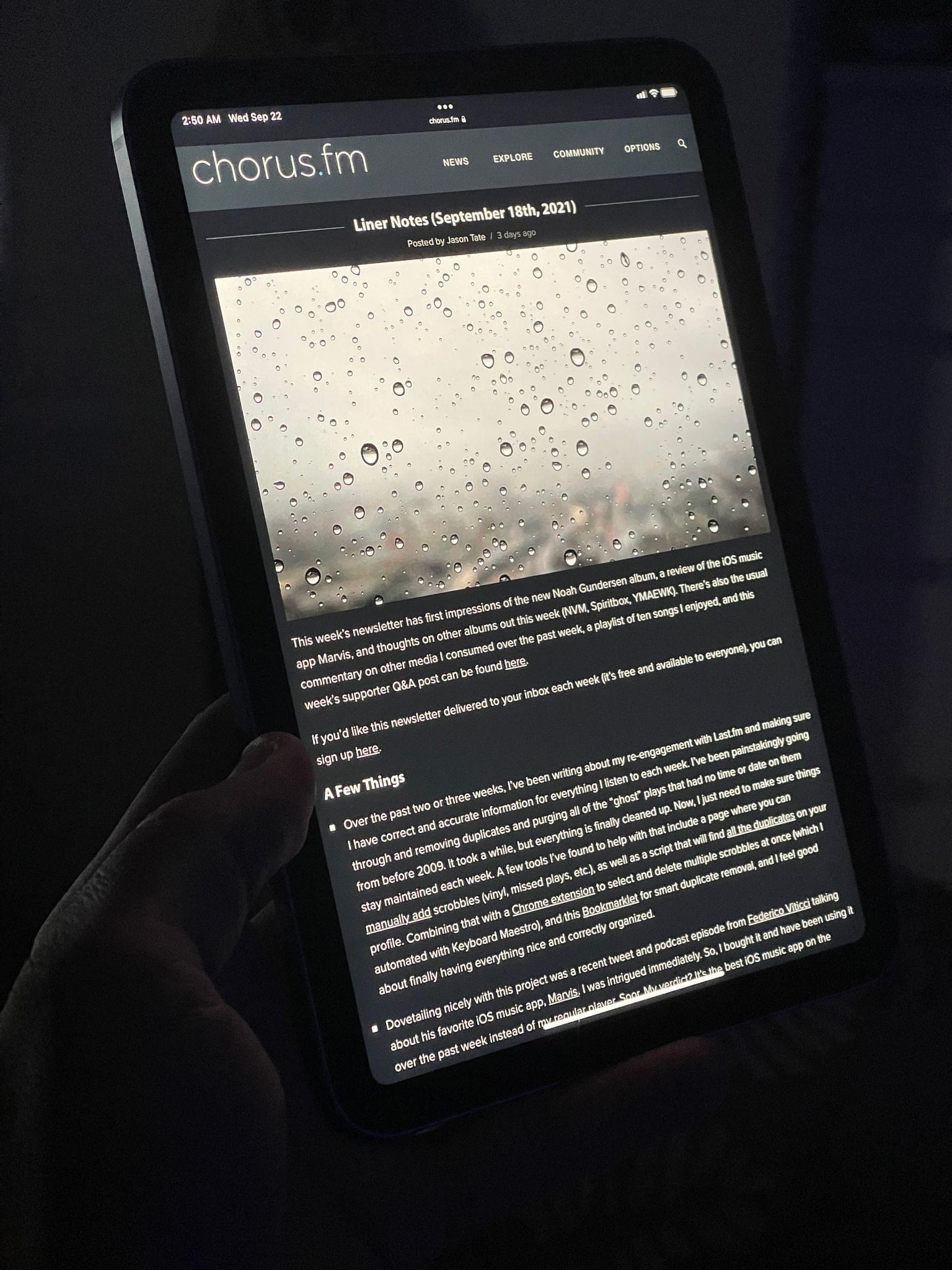 Conversely, the iPad mini prioritizes portability and handheld usage. I can hold the mini for hours at a time without any issues; even though its display isn't as gorgeous as the Liquid Retina XDR, I enjoy reading books, playing games, and watching videos on it more than the 12.9" iPad Pro.
For these reasons, the verdict is pretty clear to me: if you're an iPad-only user like myself and the 12.9" iPad Pro is your primary computer for "work tasks", the iPad mini makes for an excellent companion iPad for everything else. The iPad mini offers a vastly different iPad experience from my 12.9" iPad Pro, and that's precisely why I'm enjoying it so much.
The 8.3" iPad mini's Display Compared to the Old iPad mini
Now, this is where these comparisons get really interesting.
The new iPad mini is physically smaller than the 5th generation iPad mini, but its display is bigger. This is the result of adopting the Liquid Retina display technology, and it's similar to what happened with the 2018 iPad Pro (which kept the same screen size but got physically smaller). However, I should clarify here: in portrait mode, the display in the new iPad mini is taller than the old one, but also narrower. This has some interesting side effects on webpages and apps, and it makes using the new iPad mini a peculiar affair at first.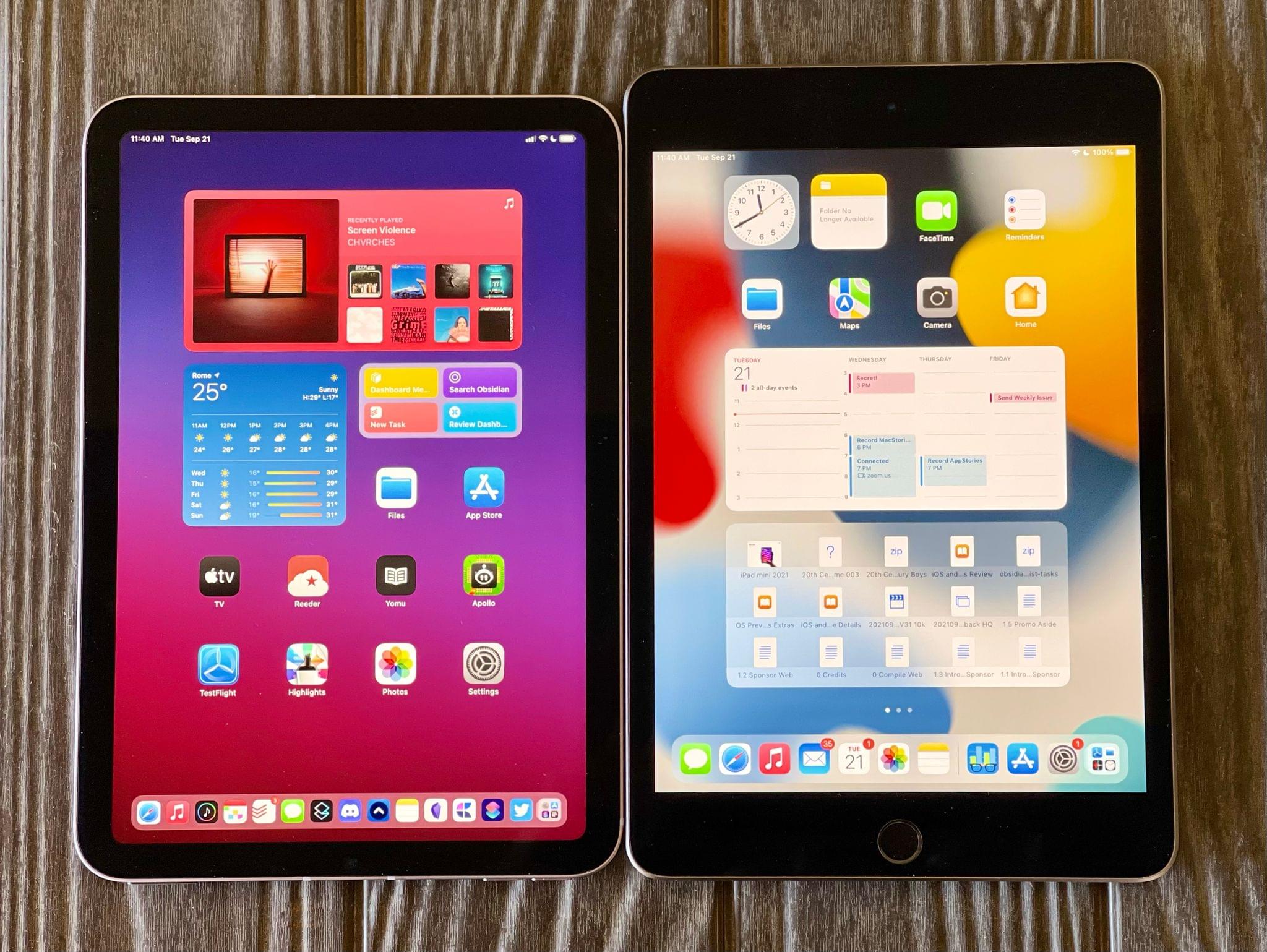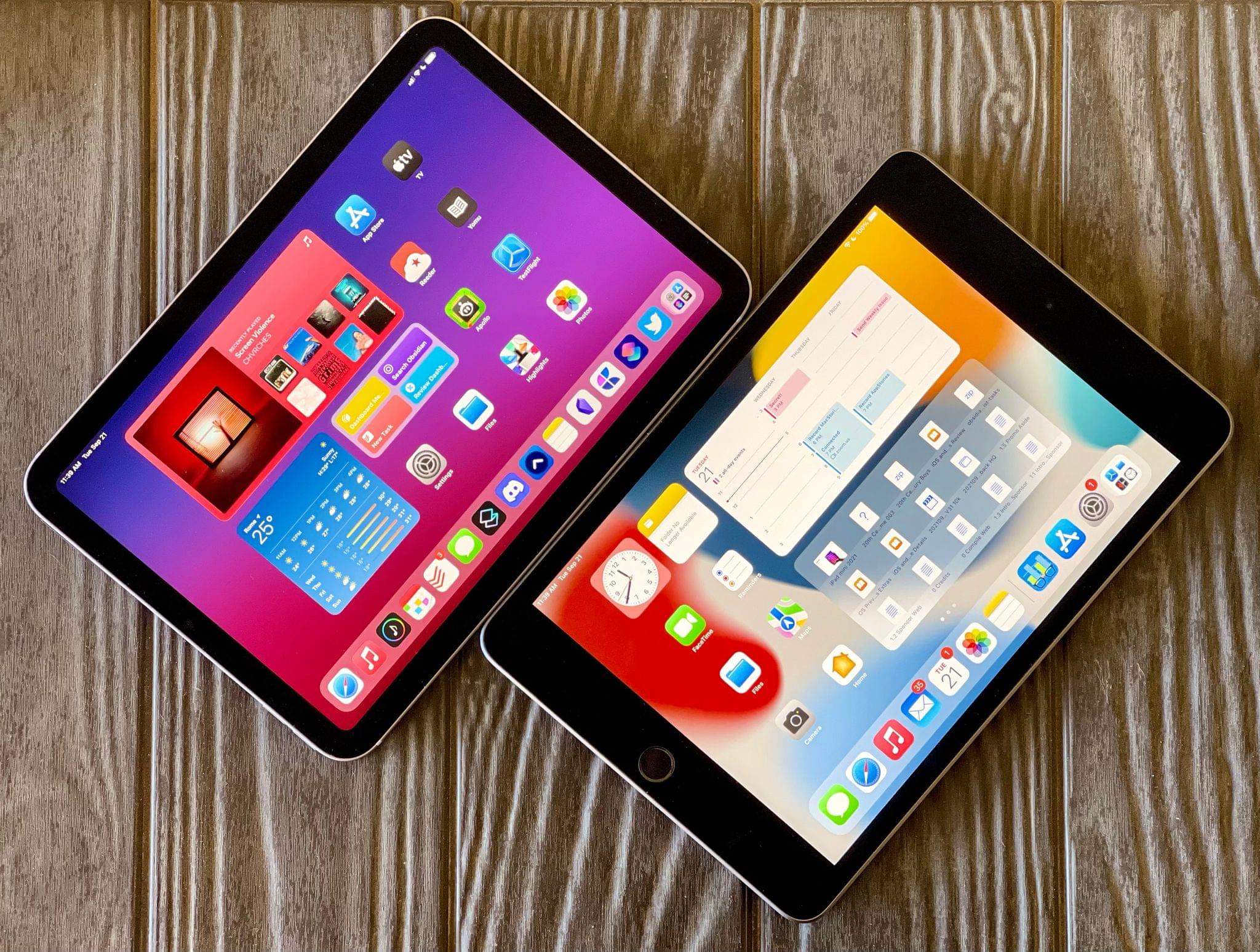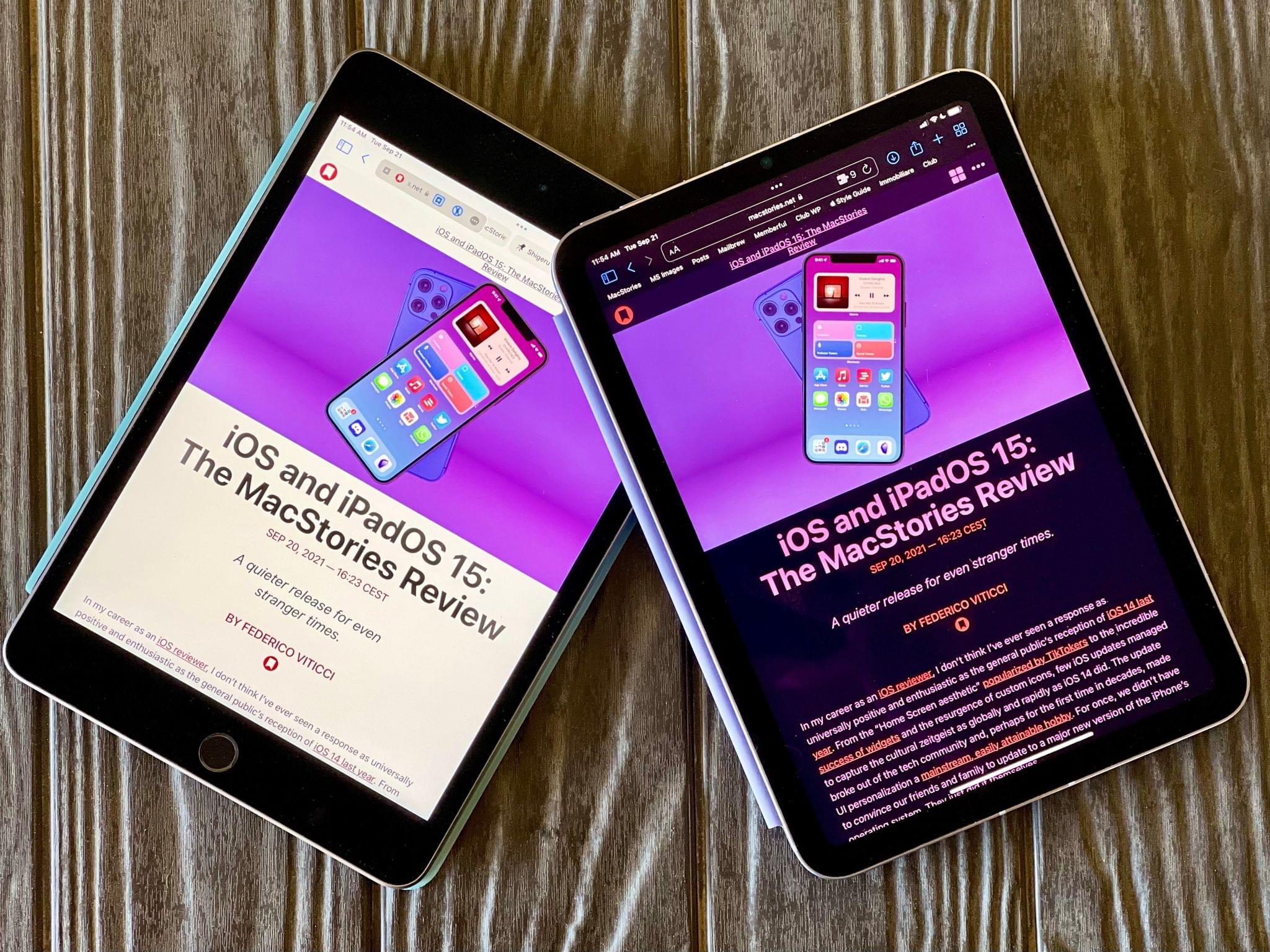 In portrait mode, the new iPad mini shows you more paragraphs of text when reading in Safari or Books, but line width is shorter since the screen is narrower than the old iPad mini. The device has gone from 1536 pixels on the narrow side in portrait to 1488; 48 pixels aren't a big deal, but at the same text size, you can see how the new iPad mini displays shorter lines of text. At the same time, because it gained 218 pixels on the taller side (2266 pixels compared to 2048), the new iPad mini balances it out with a lot more text displayed onscreen compared to the 5th generation mini. The end result: the new mini is better optimized for reading in portrait mode. Seeing more text on the same page without having to scroll is, in my opinion, more important than line width.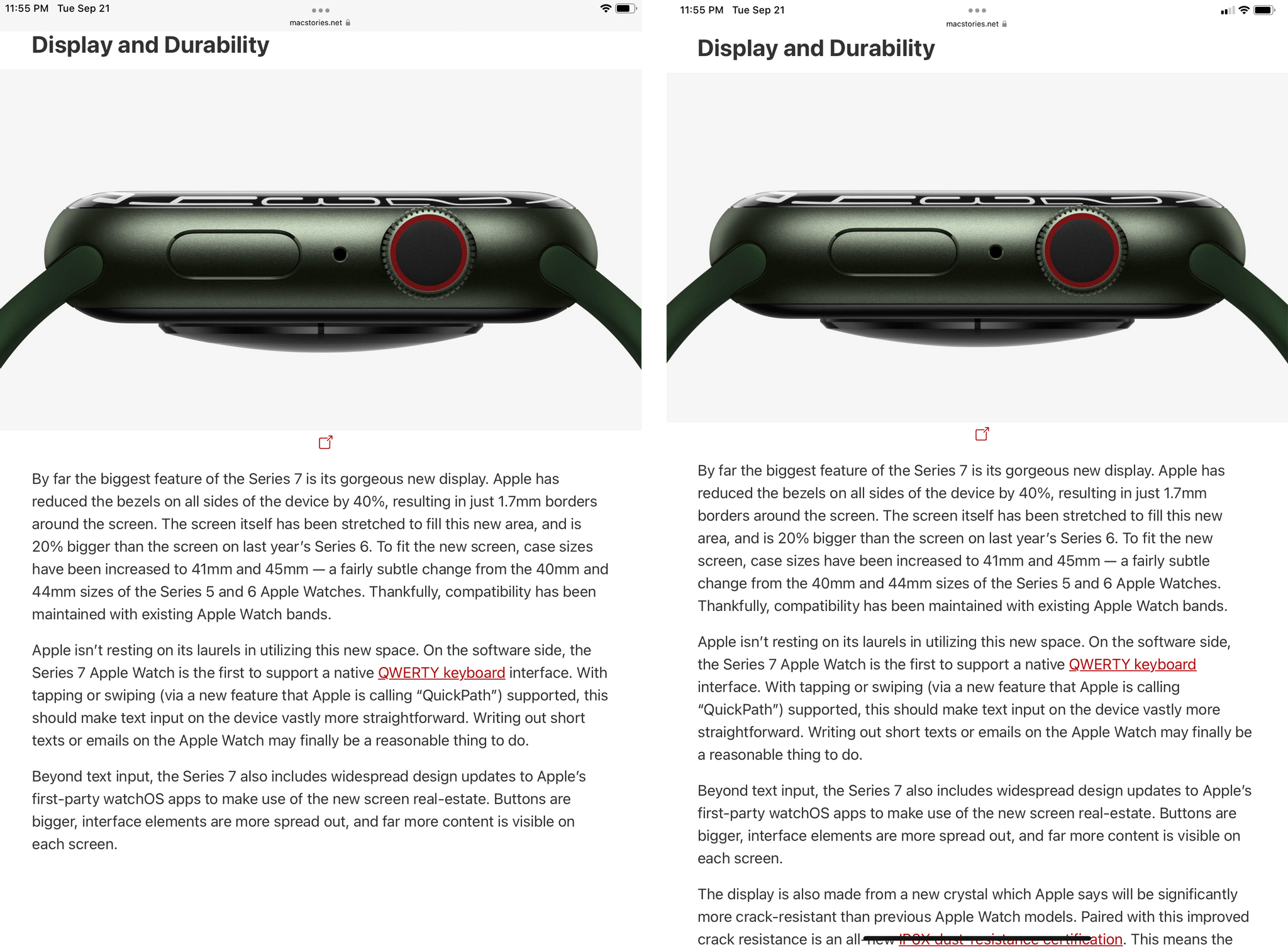 In portrait mode, the narrower display isn't a concern in other apps either. On the Home Screen, you see the same icon grid with four app icons across if widgets are installed. The dock can still get extra tiny with the ability to place up to 15 icons in it starting with iPadOS 15.4 In Safari's new (and terrible) compact mode in portrait orientation, the old iPad mini lets you see a handful of pixels of the fifth tab, while the new mini hides it by default. It's not a big deal.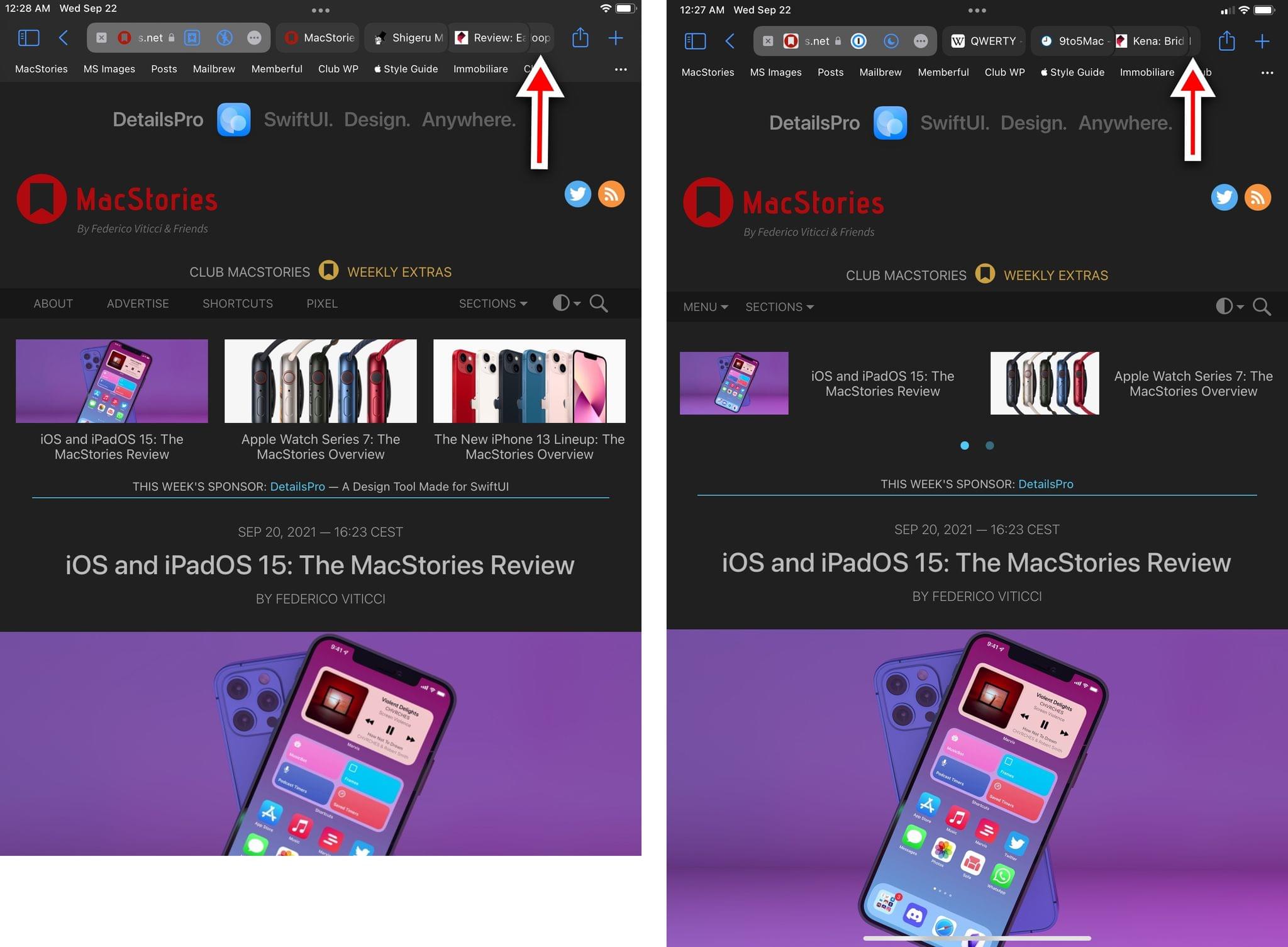 It's a slightly different story in landscape mode, but marginally so. The elongated form factor spaces out Split View or multi-column app layouts a little more, making them feel less cramped than the old iPad mini. The new iPad mini isn't a device I'd recommend for Split View or complex multi-column apps, but if you have to use them, they're going to be slightly nicer.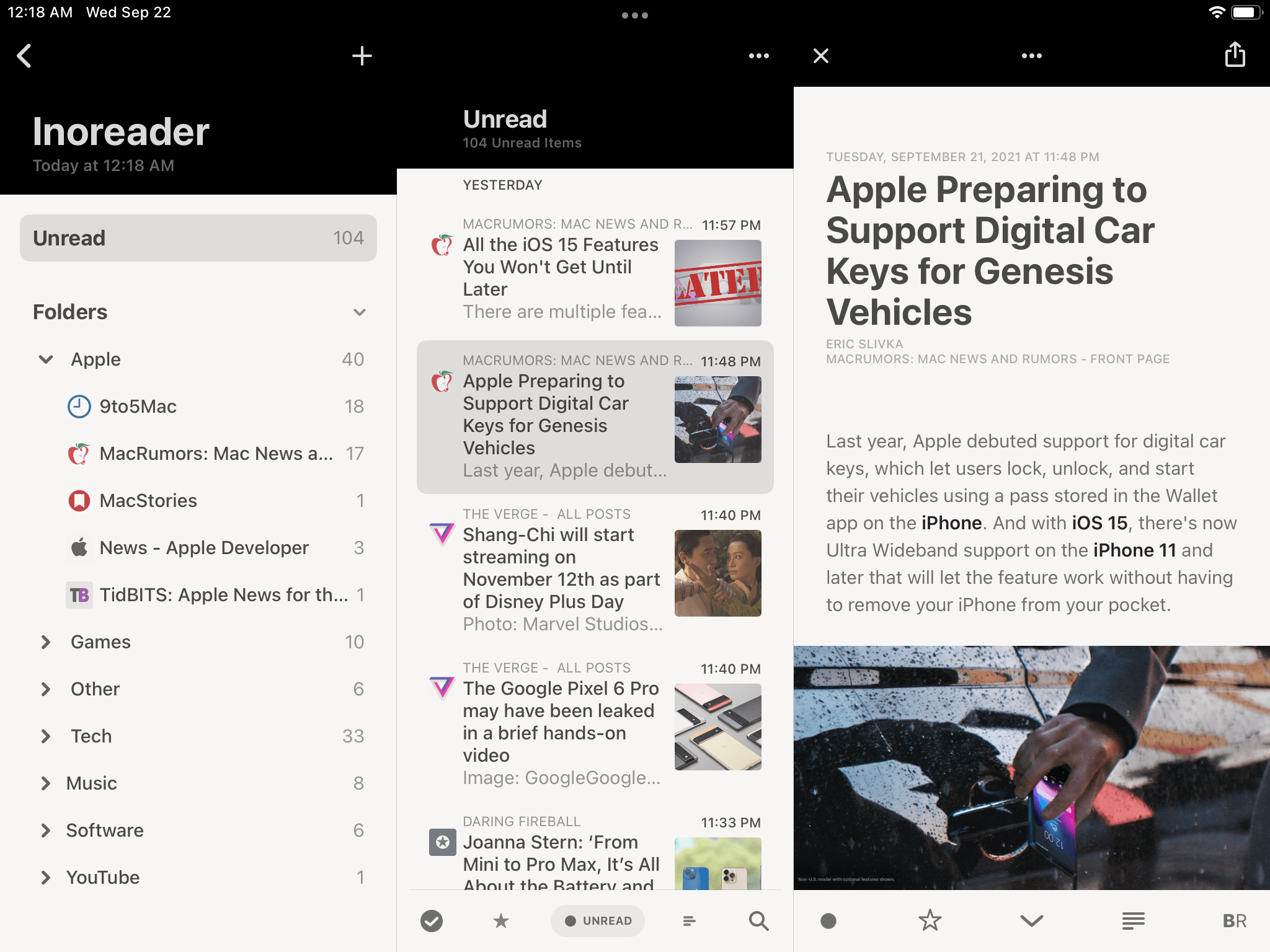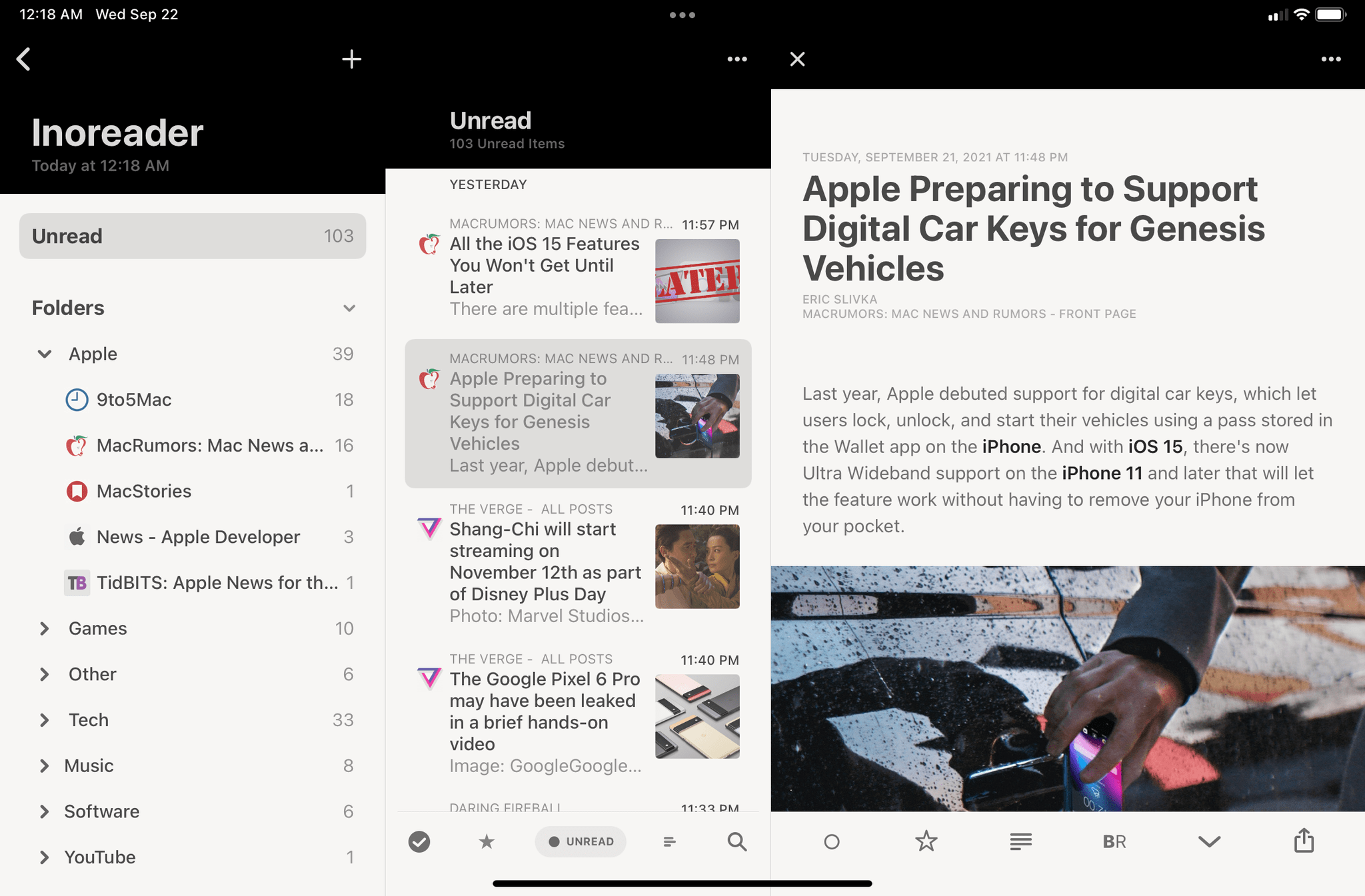 However, the opposite of what I mentioned above is also true: when used in landscape, the new iPad mini is more compact on the vertical side, so you get longer lines of text but fewer paragraphs of text displayed at the same time.

The new iPad mini's form factor reminds me of the 11" iPad Pro, and I think some apps will have to be updated to properly take advantage of its new screen resolution.
What ultimately matters to me is whether the new mini feels better to hold and use for prolonged periods of time than the old mini, and my answer is a resounding "yes". With its slightly smaller footprint and taller display in portrait mode, the new mini is easier to hold with one hand and shows more content. Thanks to the much thinner bezels at the top and bottom, I can now stretch my thumb to swipe up on the Home indicator and close apps, which I could never do with the old mini. Having used the new iPad mini for the past week, I'd never go back to the old model and its physical Home button. Good riddance.
Reading and Playing Games on the New iPad mini
In case it's not clear by now, I've spent the past week reading, watching videos, and playing games on the new iPad mini – all the tasks it excels at – and I've deeply enjoyed the experience. If you're receiving an iPad mini this Friday, there are some app examples and workflows I want to point out.
I noted this in my iPadOS 15 review, and I tweeted about it a few weeks ago, but Quick Note – one of my favorite additions to iPadOS this year – doesn't support capturing highlights in Apple's Books app. Quick Note is fantastic on the iPad mini when reading in Safari, but its lack of support for annotations in Books is disappointing.
Fortunately, someone listened to my plea: the latest version of Yomu, an EPUB reader for iPhone and iPad (from the same developer behind Articles+), now lets you save annotations as deeplinks in Quick Note. All you need to do is highlight and annotate some text in a book you're reading in Yomu, bring up Quick Note with a swipe, then save it as a deeplink via the 'Add Link' button.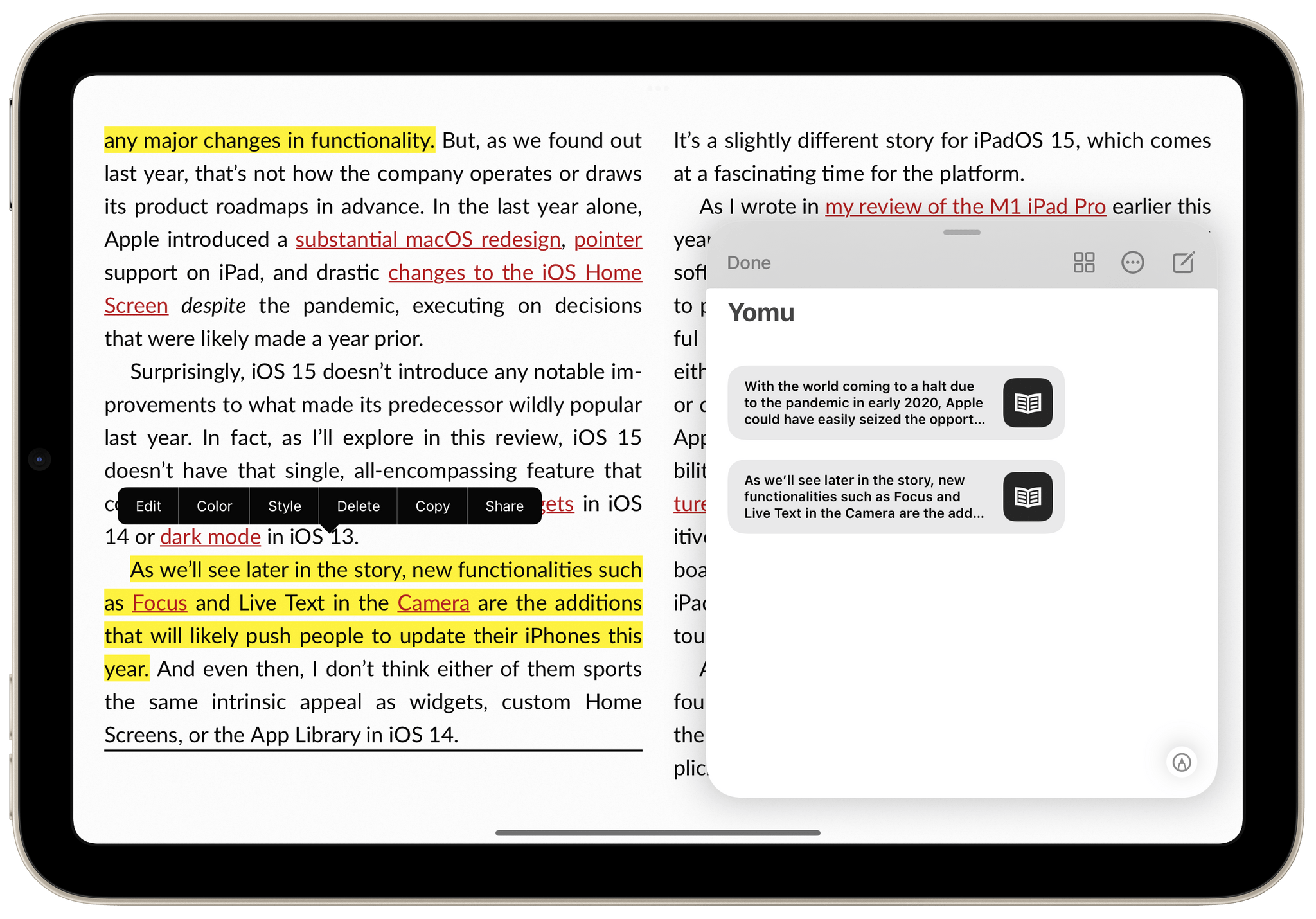 Text in the deeplink will be searchable in Notes, and you can tap the deeplinks to reopen specific annotations in Yomu.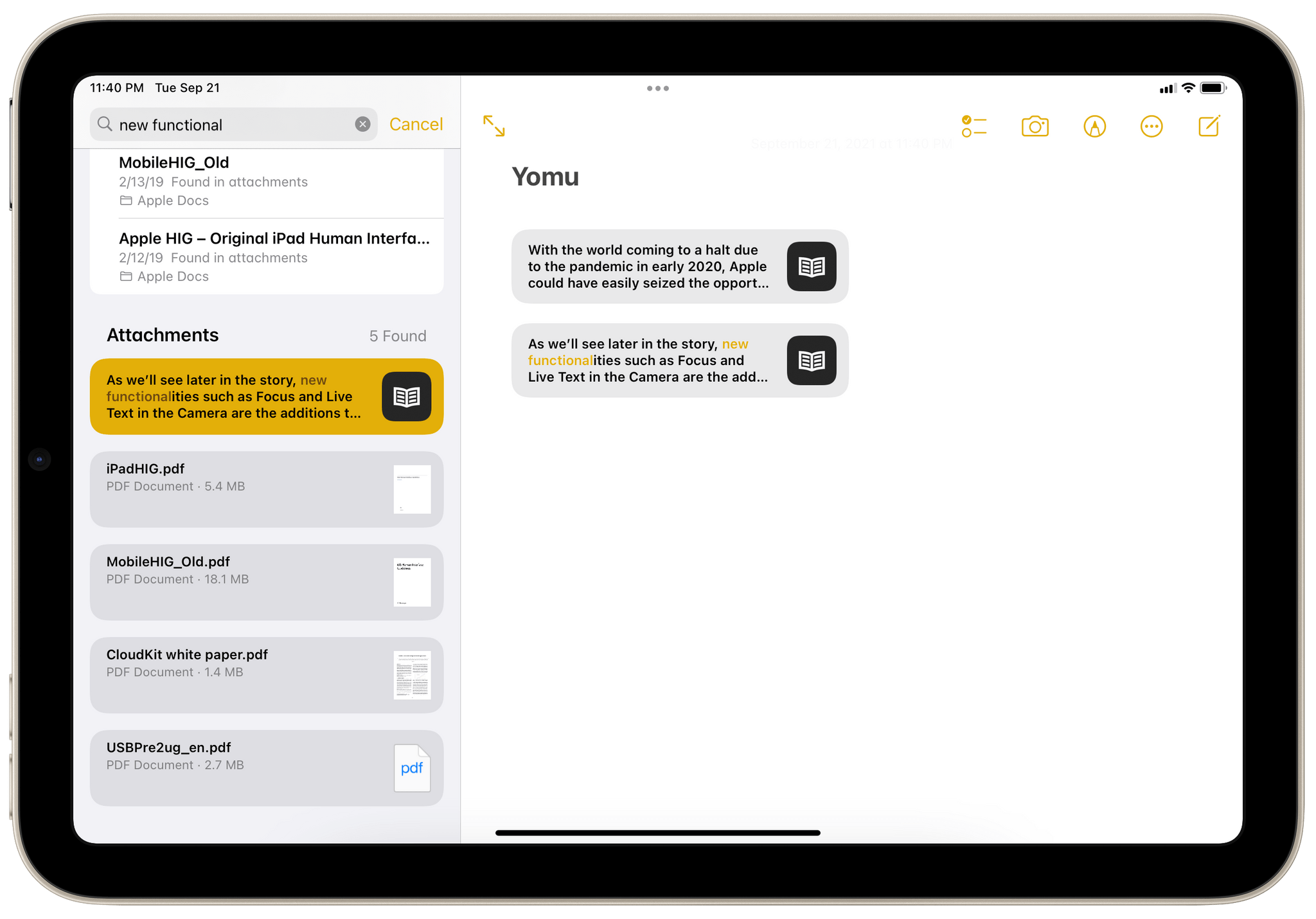 Until Apple gets around to adding highlight integration for Books in Quick Note, this is my preferred workflow for reading books and saving notes on iPad. Quick Note's system-wide access and the iPad mini's portable form factor are an amazing combo for readers and note-takers, and, honestly, a great reason to consider an iPad mini over a dedicated eReader.5
I also feel like the iPad mini is going to be the ideal iPad to play games with touch controls in landscape mode. The device is small and lightweight enough to be held with two hands for long play sessions; thanks to the wider aspect ratio in landscape, virtual controls in games stay out of the way and rest comfortably on the sides of the screen, under your thumbs.
There's only one downside: all the games I tried from Apple Arcade over the past week featured black bars (letterboxing) on the left and right sides of the display. You can see what I mean in the screenshots below, featuring Alto's Odyssey and Asphalt 8.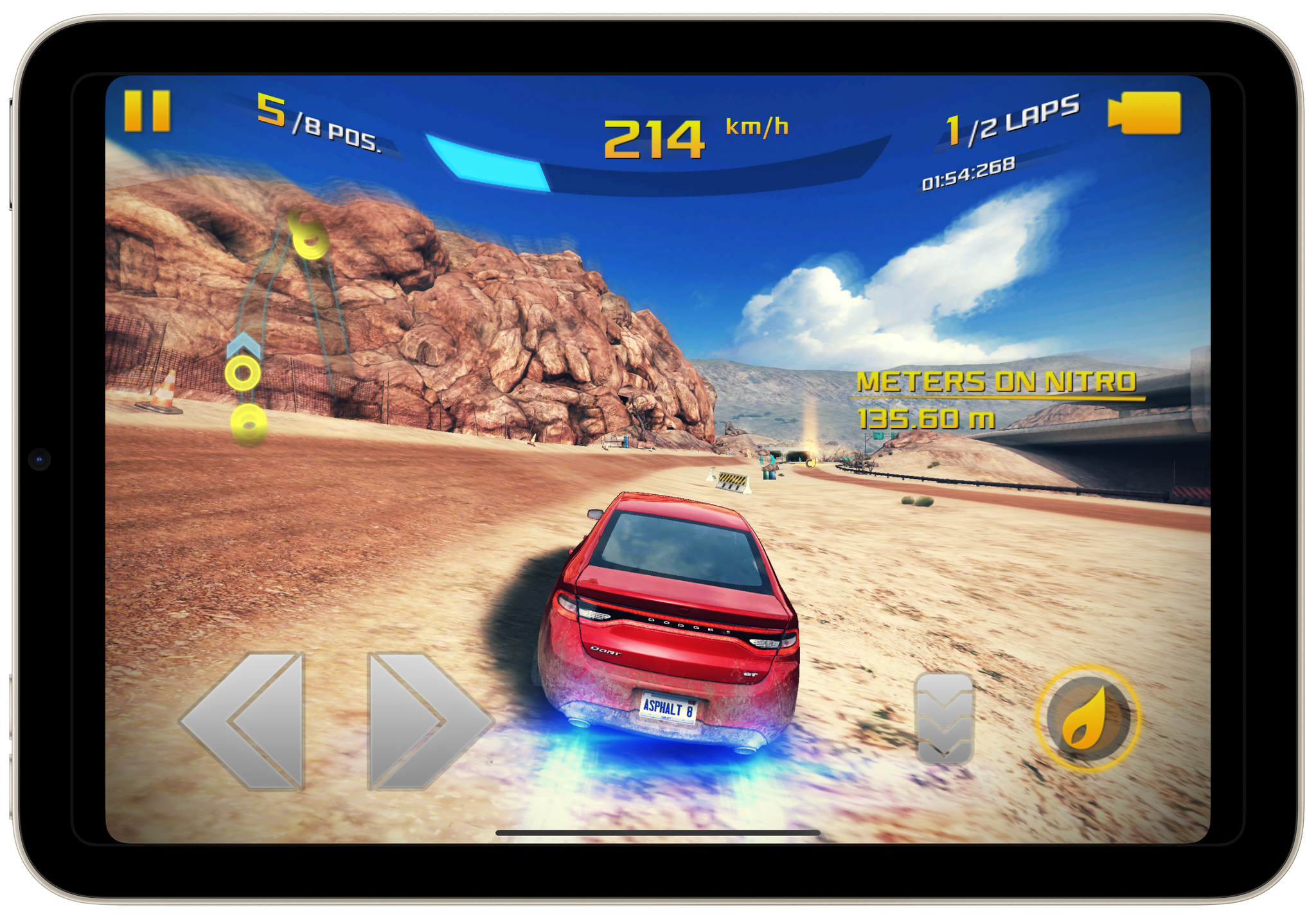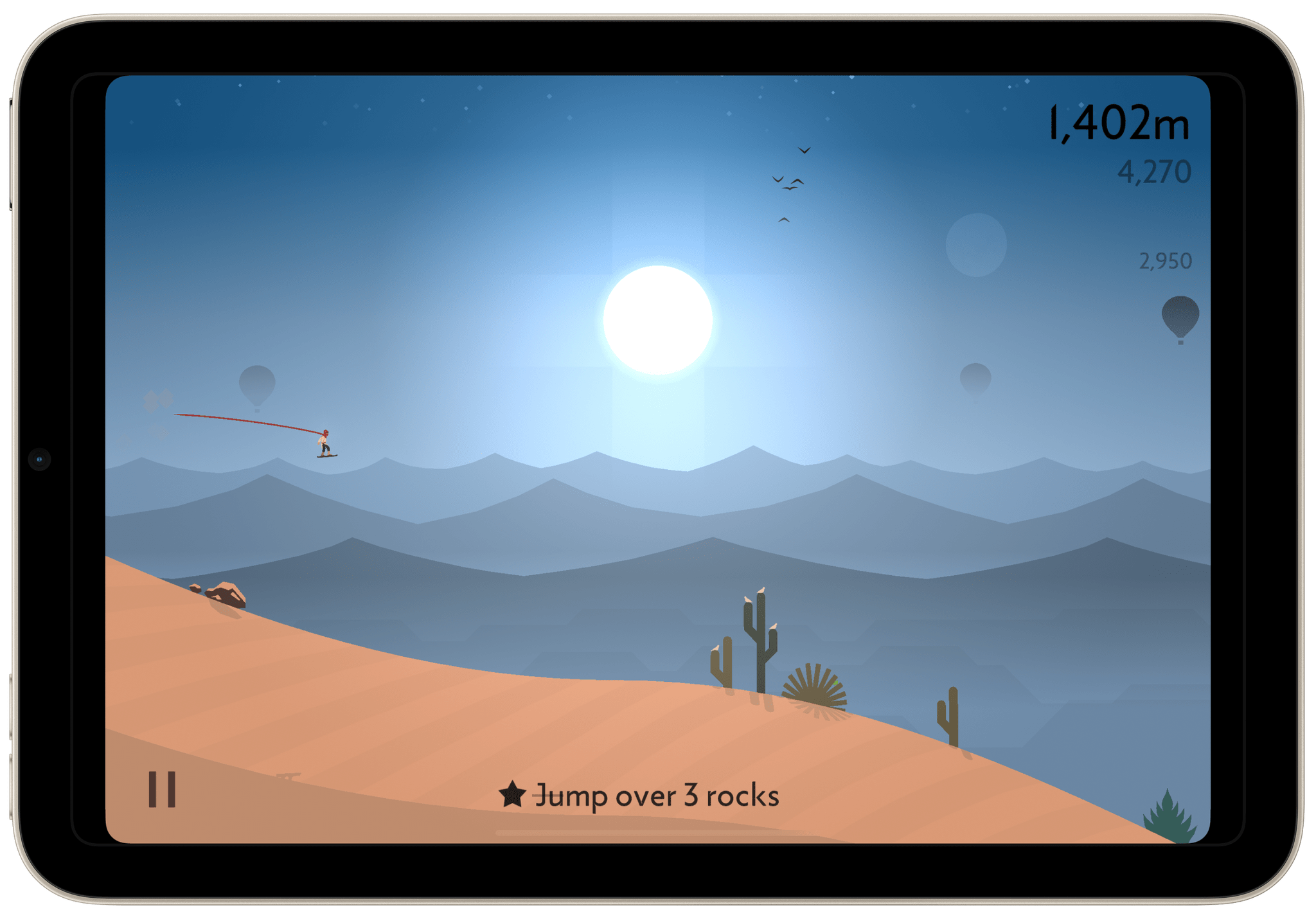 This isn't the kind of issue that has prevented me from enjoying games on the iPad mini, and I hope game developers will update their games quickly to take advantage of the full 8.3" display on the iPad mini. Still, I'm surprised I couldn't find any recently updated games on Apple Arcade that had already been optimized for this new display size.
For fun, I also installed a GameCube emulator on the iPad mini using AltStore and Xcode, which allowed me to play Wind Waker upscaled at 1080p on the iPad mini – something that wasn't possible 20 years ago on Nintendo's console. Thanks to JIT (just-in-time compilation), the iPad mini's A15 SoC ran the emulated game at a stable 30fps with no issues whatsoever, which I find remarkable. Playing this game (which you can see below) confirmed my theory that the new iPad mini is ideal for landscape gaming with virtual onscreen controls. I'm curious to see which games on Apple Arcade will take advantage of Apple's new official virtual control API now that iPadOS 15 is out.
I expect to take advantage of a 'Gaming' Focus extensively on the iPad mini. Because I'm going to use this device primarily to unwind at the end of the day, I plan to set up different Focus modes (reading, gaming, music, TV, etc.) with dedicated Home Screens and notification settings to block out distractions. My only concern here is storage: the new iPad mini, like its predecessor, tops out at 256 GB, so I know I will run out of space if I install too many games on it or download too many movies offline. I would have liked Apple to at least make a 512 GB version, if only for media consumption purposes.
Other iPad mini Details
I've used the iPad mini a lot over the past week and heard your questions. Here are some other interesting details about this device worth covering.
Taking screenshots and changing volume requires some practice. For the first time in the iPad's history, Apple has moved the physical volume buttons to the short side of the device, opposite to the Touch ID button. As a result, changing the volume and taking screenshots on the new iPad mini feels kind of strange initially and requires some practice.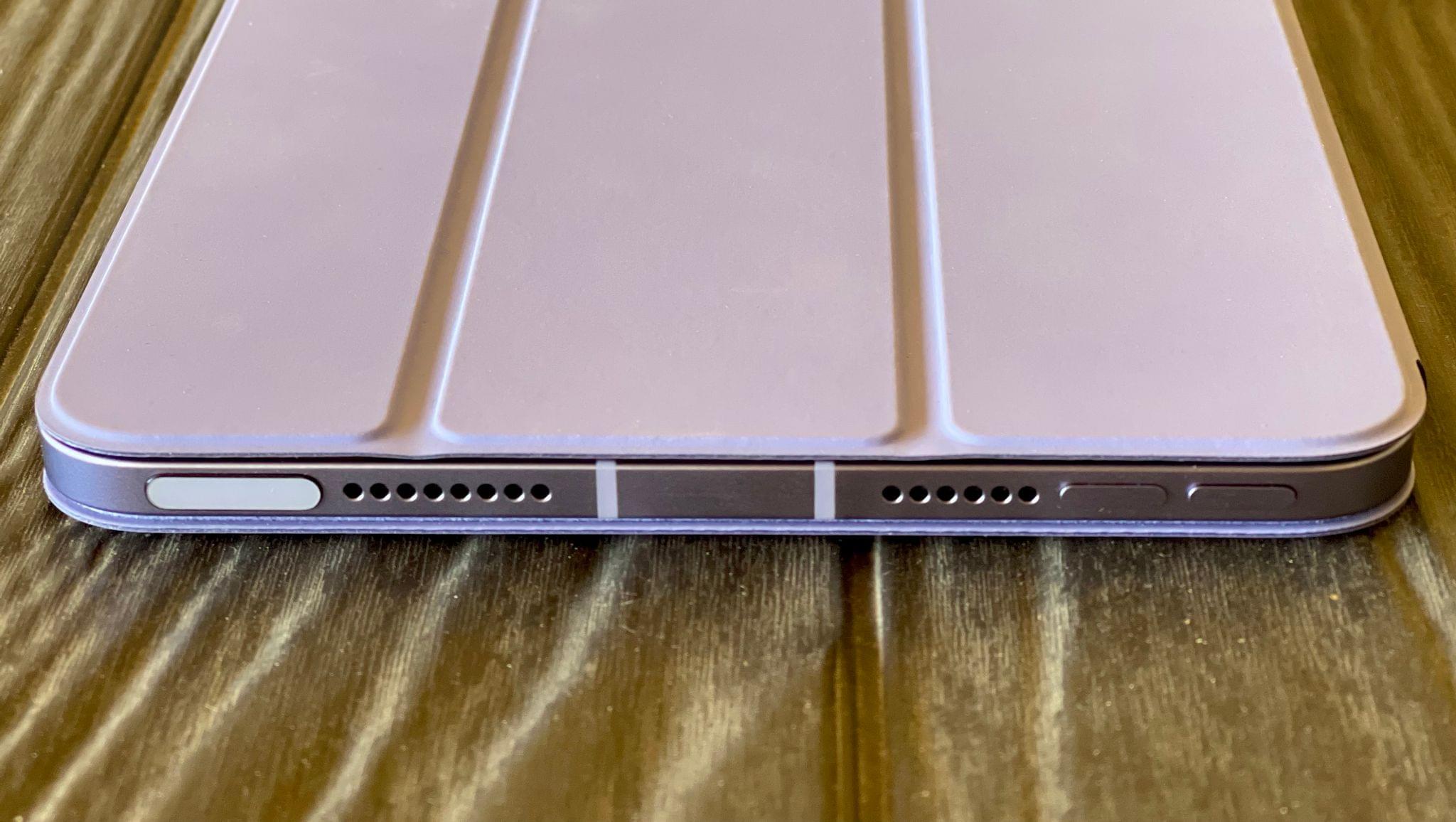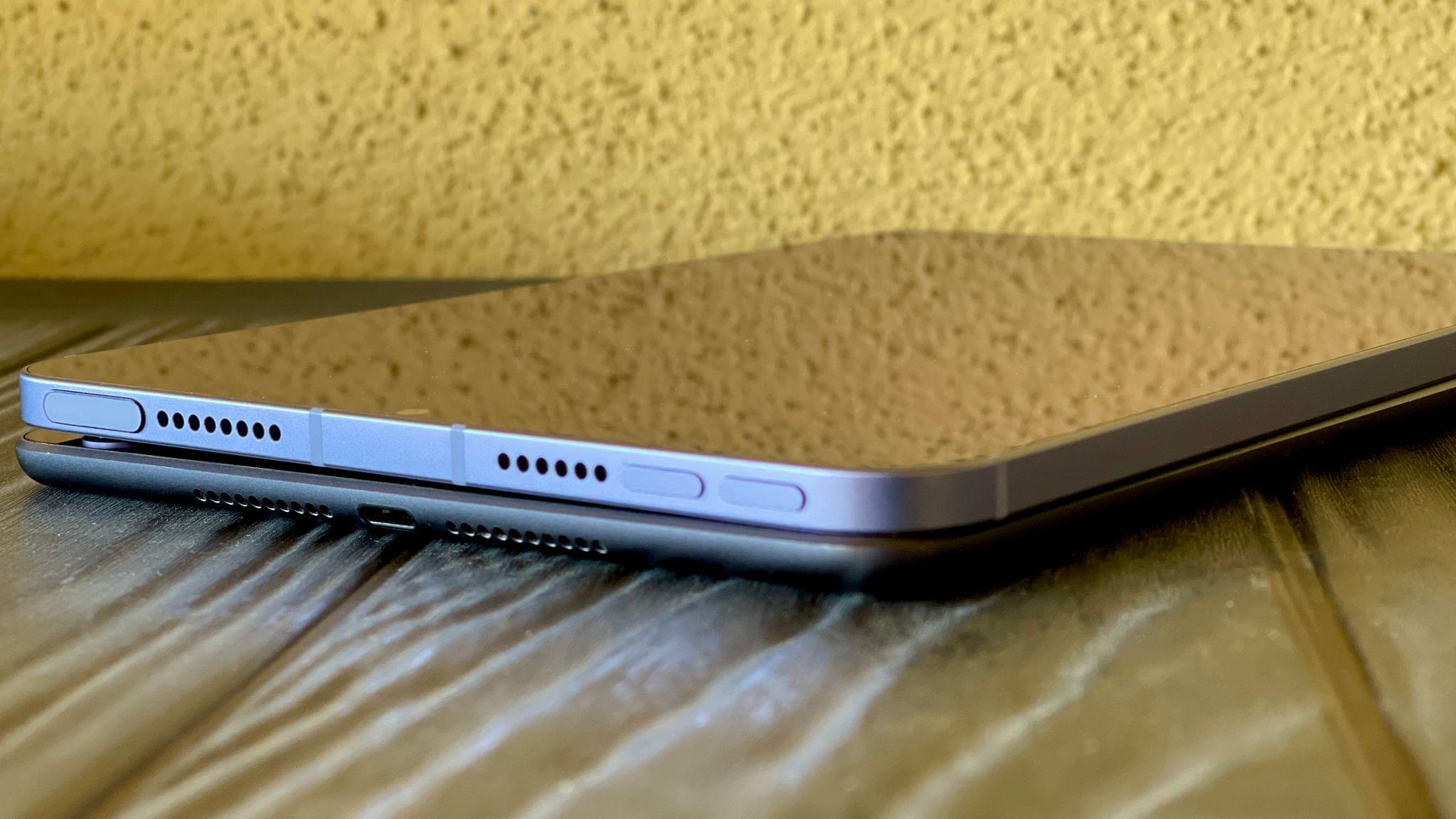 When you want to capture what's onscreen, you now have to press two buttons on the same side of the device (Lock + Volume Up, as always). Apple had to move these buttons because adding support for the second-generation Pencil (more on this below) meant there was no space left for them on one of the longer sides of the device; they couldn't be added to the other side either because then they wouldn't have been accessible when the Smart Folio is closed. I understand the compromises, and this is fine. Despite the relocated buttons, the iPadOS volume slider is still displayed at the center of the screen towards the top.
Moving the Pencil between multiple iPads works perfectly. I'm not an Apple Pencil user myself, but I can imagine how bringing support for the second-generation model will be a huge deal for people who are going to use the new iPad mini as a portable sketchbook and note-taking tool. Even though it doesn't affect me, I think this is an amazing addition to the iPad mini.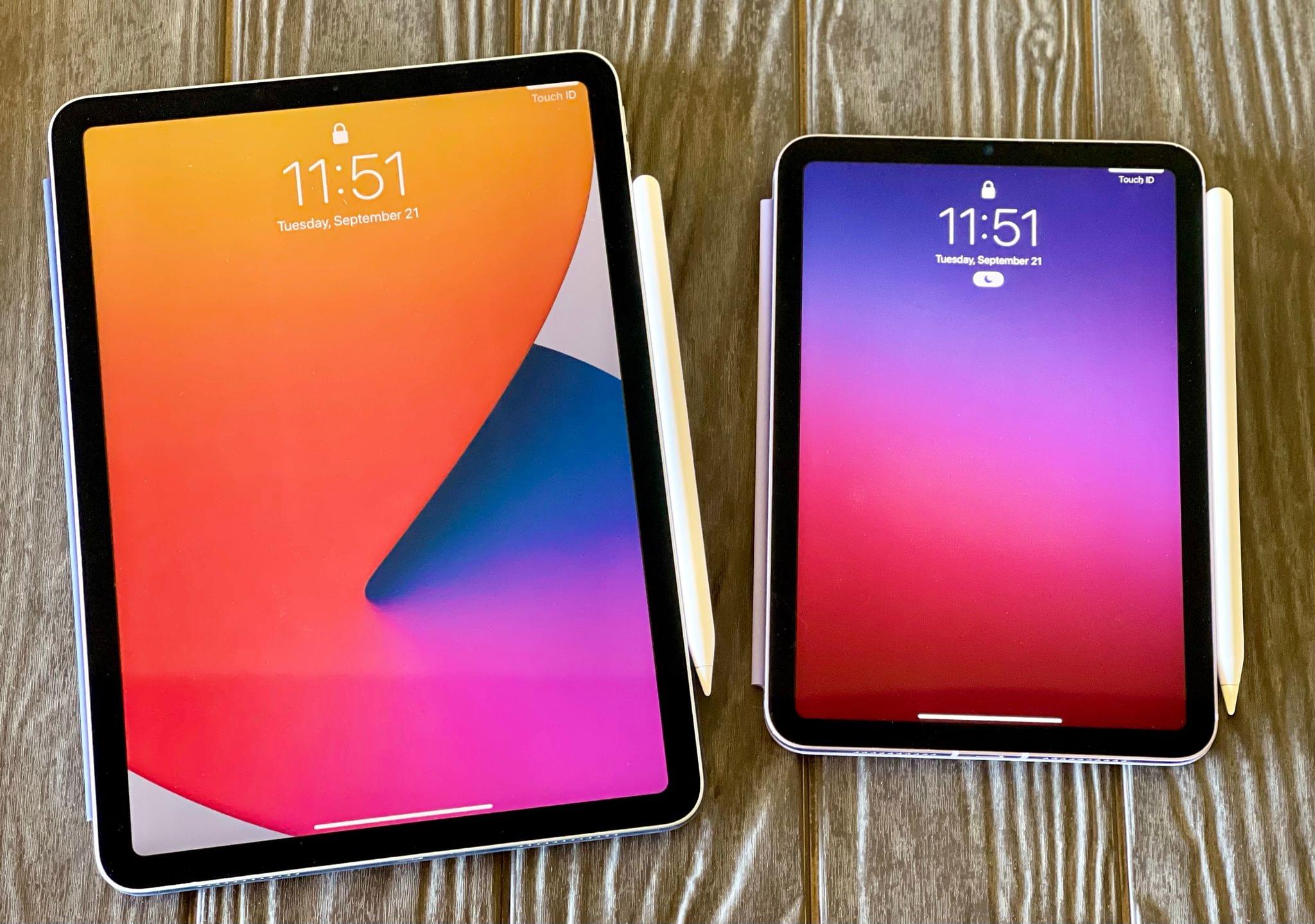 That said, if you're concerned that pairing your single Apple Pencil with an iPad Pro and iPad mini will be an issue, don't be: when you magnetically attach the Pencil to the mini, it instantly unpairs from the other iPad and pairs to the new one, and vice versa. The quick pairing has been reliable in my tests, and I find it quite amusing how the Pencil is almost as tall as the iPad mini in portrait.
The purple color is boring. Sigh. Here we go again: just like the "blue" color of the iPad Air last October, the "purple" review unit Apple sent me is barely purple. It's more like a subtle purple finish on what otherwise feels like a dull gray color to me. You can see it in photos in this review, and I'm disappointed that, once again, Apple wasn't able to deliver a fun, brightly colored iPad. Why is it that the company can only make real colors work on the iMac?6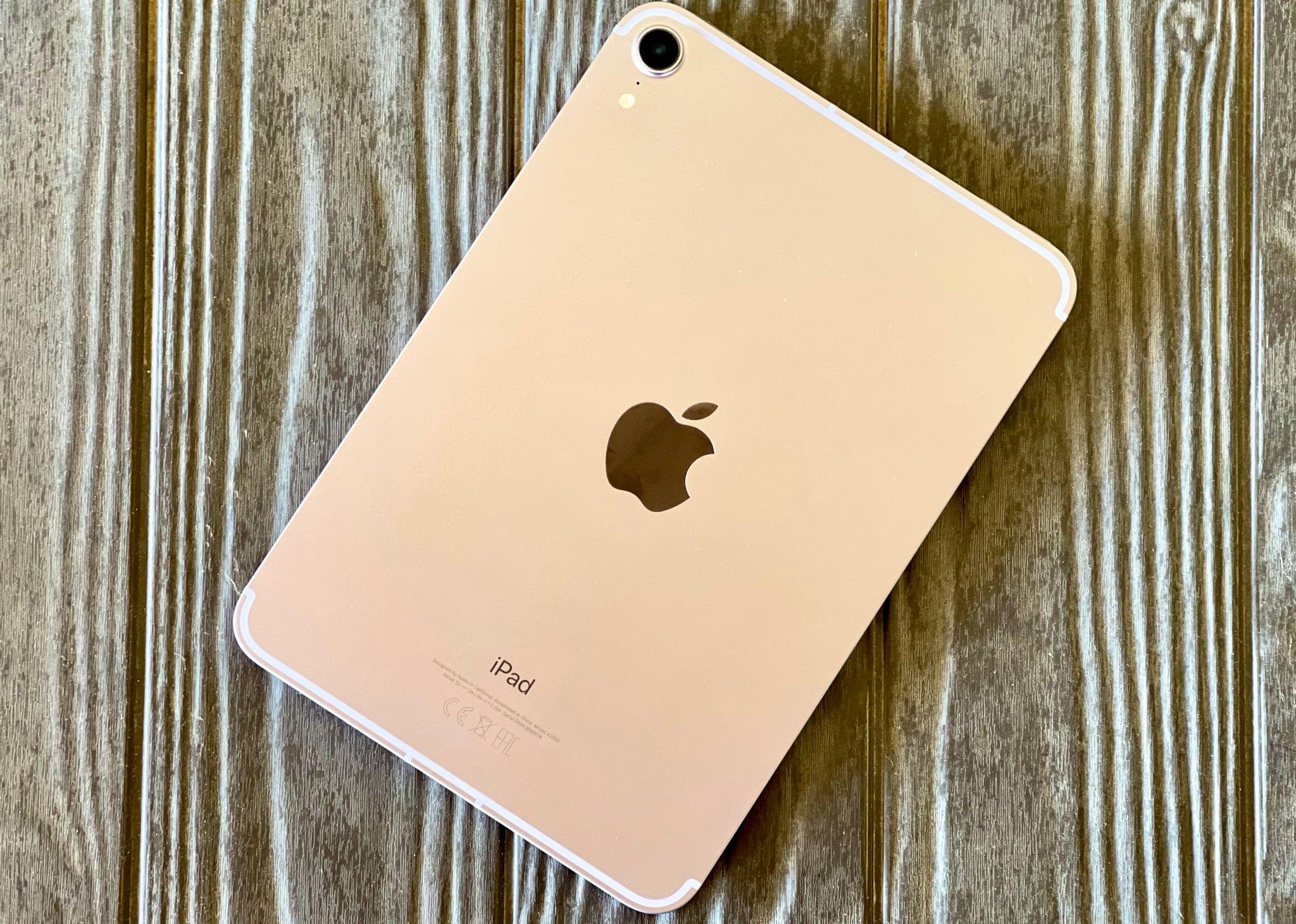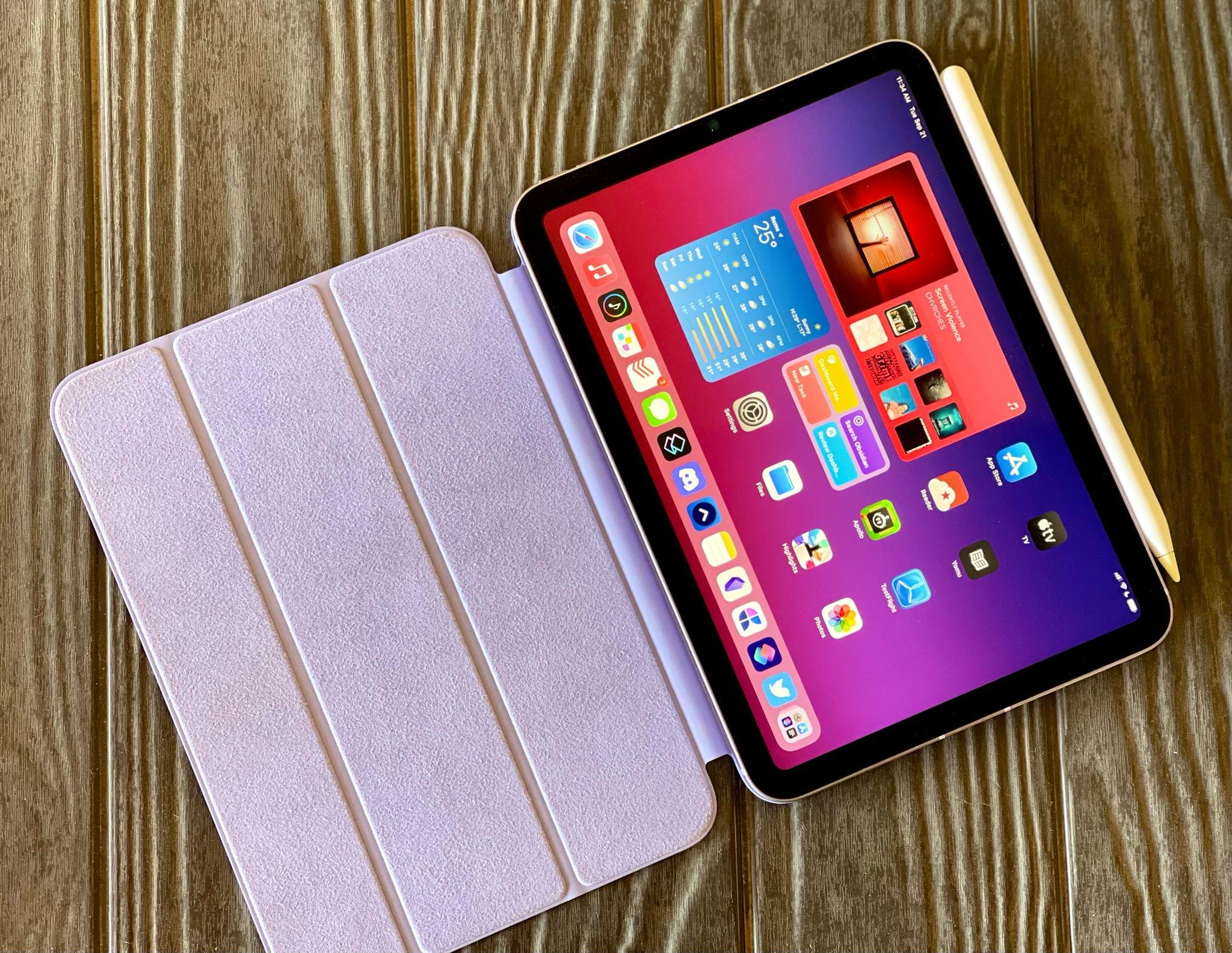 Tap to wake. Something that always annoyed me about the last-generation iPad mini has been fixed in the new one: tap to wake is supported now, so you can quickly wake the device from sleep by tapping the screen. I'm so used to Tap to Wake on the iPhone and iPad Pro now, it always bothered me that the old mini didn't support it, and I'm glad this changed.
Benchmarks. You know me: I don't typically obsess over benchmarks since I prefer to write about the experience of using a new Apple device. In the iPad mini's case, I think benchmarks matter even less since I doubt people are going to rely on this machine for CPU- and memory-intensive tasks. But for those who care, here we go:
| | Geekbench Score (single core) | Geekbench Score (multi-core) |
| --- | --- | --- |
| 2021 iPad Pro (M1, 16 GB RAM) | 1697 | 7223 |
| iPad Air (A14, 4 GB RAM) | 1583 | 4279 |
| 5th gen iPad mini (A12, 3 GB RAM) | 1113 | 1820 |
| 6th gen iPad mini (A15, 4 GB RAM) | 1591 | 4178 |
| iPhone 12 Pro Max (A14, 6 GB RAM) | 1593 | 4058 |
Some details worth noting here: the new iPad mini has 4 GB of RAM (Apple doesn't officially report this number, but Geekbench does) and the A15 is comparable to the A14 chip from last year's iPhone 12 in single-core performance, but it edges it out slightly in multi-core. The A15 holds up pretty well against the M1 in single-core performance, but gets destroyed in multi-core. Will you care about any of these numbers? I don't think so. In everyday use, the iPad mini's performance is comparable to the iPad Air; it does everything it's supposed to do without breaking a sweat. The only thing that makes it feel "slow" is the lack of a ProMotion display.7
5G. 5G. 5G. 5G. 5G. This is a fun one: along with the iPad Pro, the 6th generation iPad mini is the only iPad model that supports 5G networking. A new iPad mini can make for a very compelling option if you're looking for an extremely portable tablet: you can take this device anywhere, and it'll work with 5G. As I've covered in my review, 5G support has also been enhanced in iOS and iPadOS 15 with the ability for more system features to work if you choose to allow more data.
Center Stage is as good as ever. I wrote about Center Stage in depth in my iPad Pro review from back in May. Where by "in depth" I mean, we actually wrote a custom iPad app for it. If you missed my Center Stage coverage then, I recommend reading the section of my review about it. The new iPad mini8 comes with the same 12 MP ultra-wide front-facing camera with Center Stage previously seen on the iPad Pro. Which means that, at this point, the 2020 iPad Air is the only model left without Center Stage. The expansion of this feature to the whole line-up makes sense (it's not exactly a "pro" functionality), and Center Stage's automatic panning and zooming is even more dramatic on the iPad mini because of the smaller screen.
USB-C, finally. With the 6th generation iPad mini, Apple has abandoned the Lightning connector in favor of USB-C. I'm happy about this since I can now use the same charger for my iPad Pro and mini, which was another aspect of the old mini that annoyed me on a daily basis.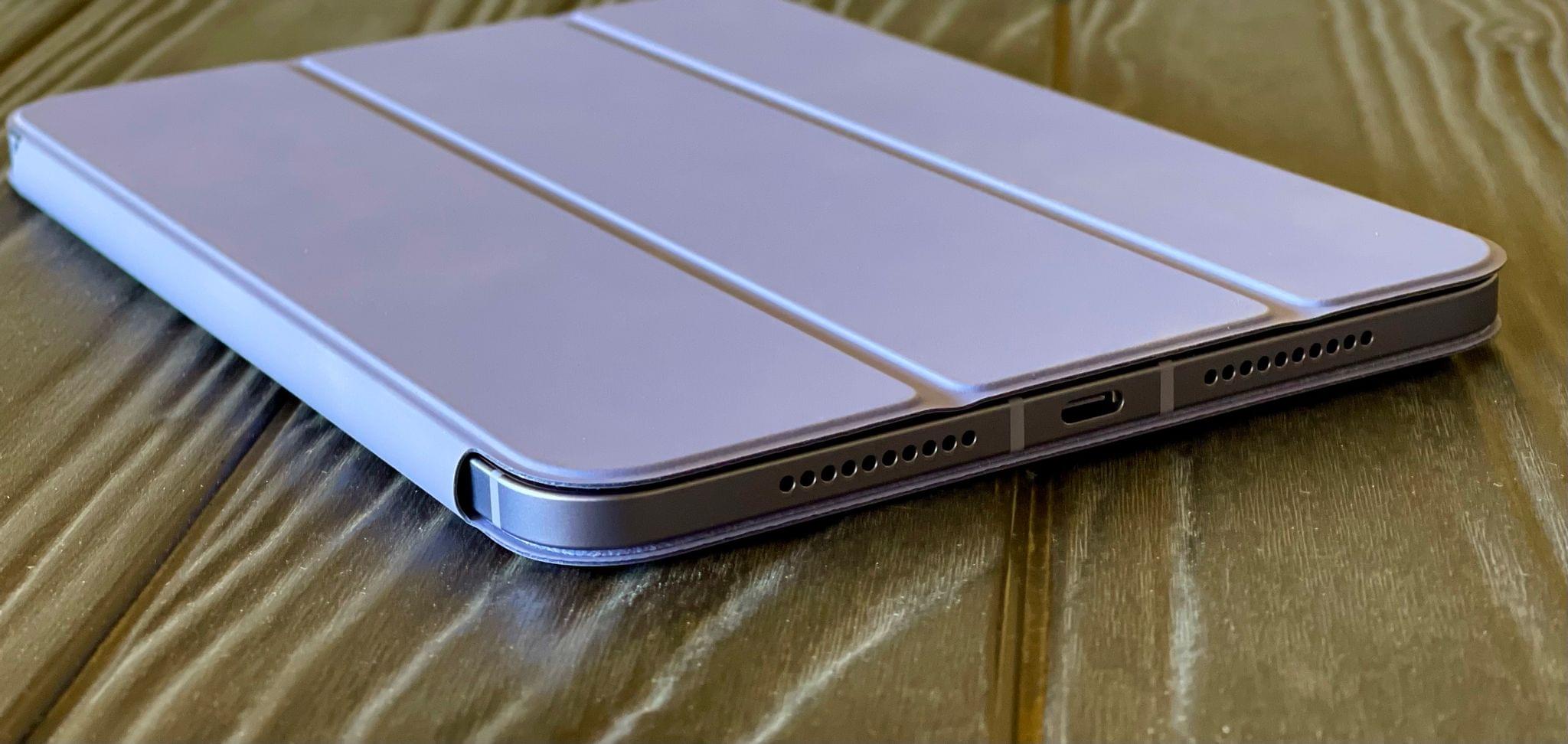 At this point, I'm just waiting for the iPhone line to also embrace USB-C. Please?
My Ideal Non-Primary Computer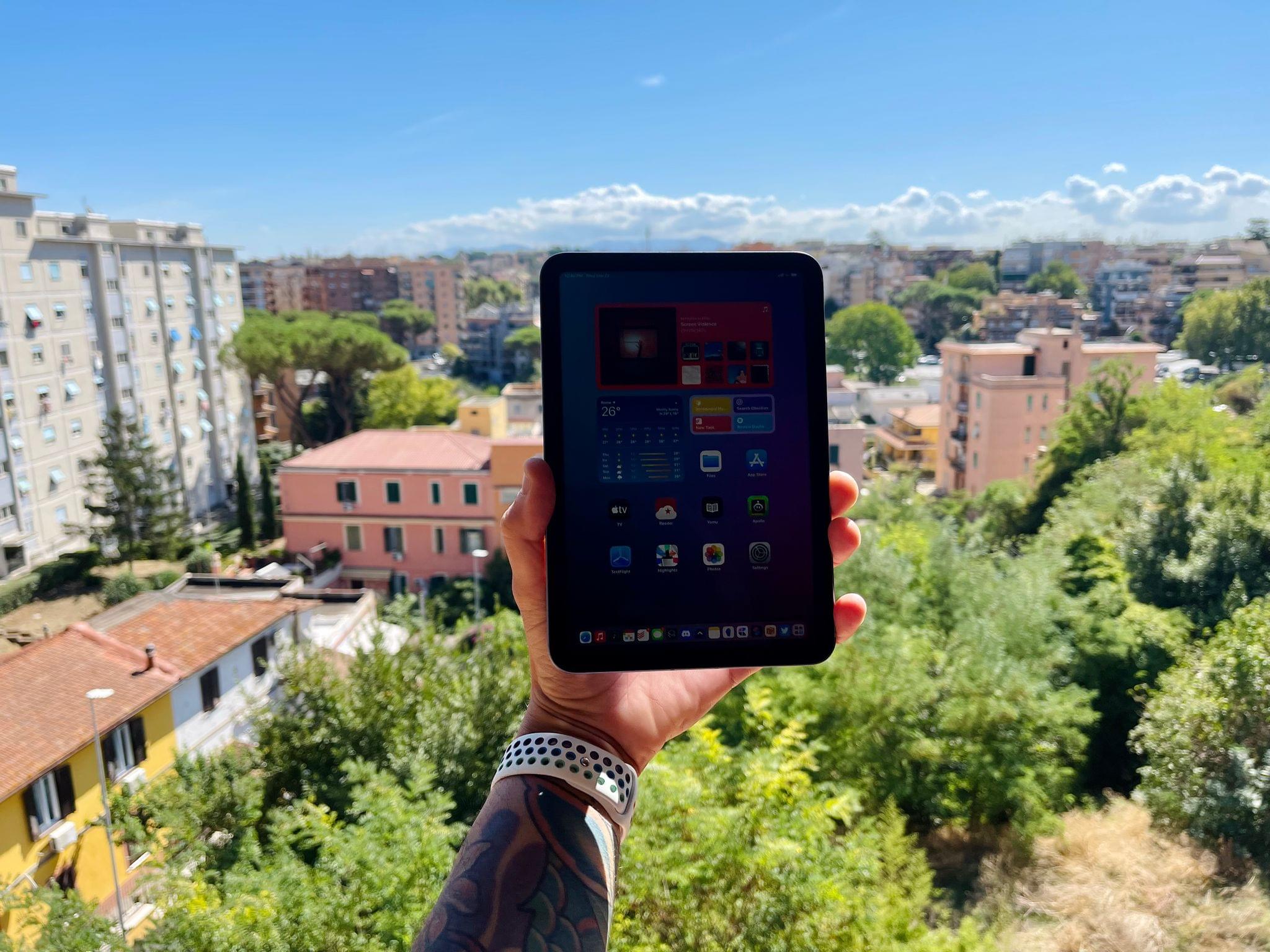 Three years removed from the debut of the genre-defining 2018 iPad Pro, it's fascinating to observe how that device produced two wildly different spin-offs: the iPad Air, which I consider the best all-around modular tablet for most people; and now the iPad mini, which is, quite simply, the best interpretation of a portable tablet Apple ever made.
I consider the new iPad mini the truest expression of a portable, handheld tablet to date. Although my 12.9" iPad Pro with M1 chip and Liquid Retina XDR display is, objectively speaking, a better computer, I find the new iPad mini a more enjoyable tablet for certain tasks in which the iPad Pro feels overkill – reading articles and books, playing games without a controller, catching up on Twitter and RSS, watching TV shows, and taking quick notes.
There's a quality you can't define with tech specs and objective analysis, which the new iPad mini embodies: delight. The new iPad mini isn't as powerful as an iPad Pro or versatile as an iPad Air, but it's more delightful than either of them for specific tasks that don't require a powerful CPU or Split View multitasking.
Which is kind of ironic coming from me, isn't it? I can finally say that I prefer using an iPad as my non-primary computer. Except, of course, that my main computer continues to be a 12.9" iPad Pro. But that is exactly the point: these two devices sit at opposite ends of the iPad spectrum, and they complement each other perfectly for different kinds of workflows.
When I look at the new iPad mini, I'm reminded of Steve Jobs' original introduction of the first iPad, all the way back in January 2010. At the time, Jobs had to explain why a tablet, as a third category of computer, would have to sit in between a laptop and a phone and be far greater at some key tasks than either of them. More than a decade later, that's what this new iPad mini is for me: it's far greater than my 12.9" iPad Pro and iPhone 12 Pro Max at key tasks, and it's the most fun I've had with a new Apple product in a while.
---
For those wondering: I received my iPad mini last Thursday morning, September 16. ↩︎
Which is another argument I've heard lately – "why get an iPad mini if the Pro Max is so large now?" An iPhone still doesn't provide the same comfortable reading experience of an iPad mini, not to mention how it lacks multitasking and, more importantly, Quick Note. ↩︎
That's a little too small for my taste, and I "only" keep 14 icons in it to make them slightly bigger. ↩︎
I've tried many over the years, and in the end I just prefer to use iPadOS because of Safari, Notes, Obsidian, and my shortcuts. ↩︎
That's because you can't get real color done on the iPad – duh. ↩︎
I am curious, however, to learn more about why there are no considerable gains year-over-year in CPU performance between the A14 or A15. Did Apple really hit a wall here? Why is the A15 downclocked on the iPad mini? ↩︎
And base model iPad, which Apple also sent me and I had no time to review. ↩︎