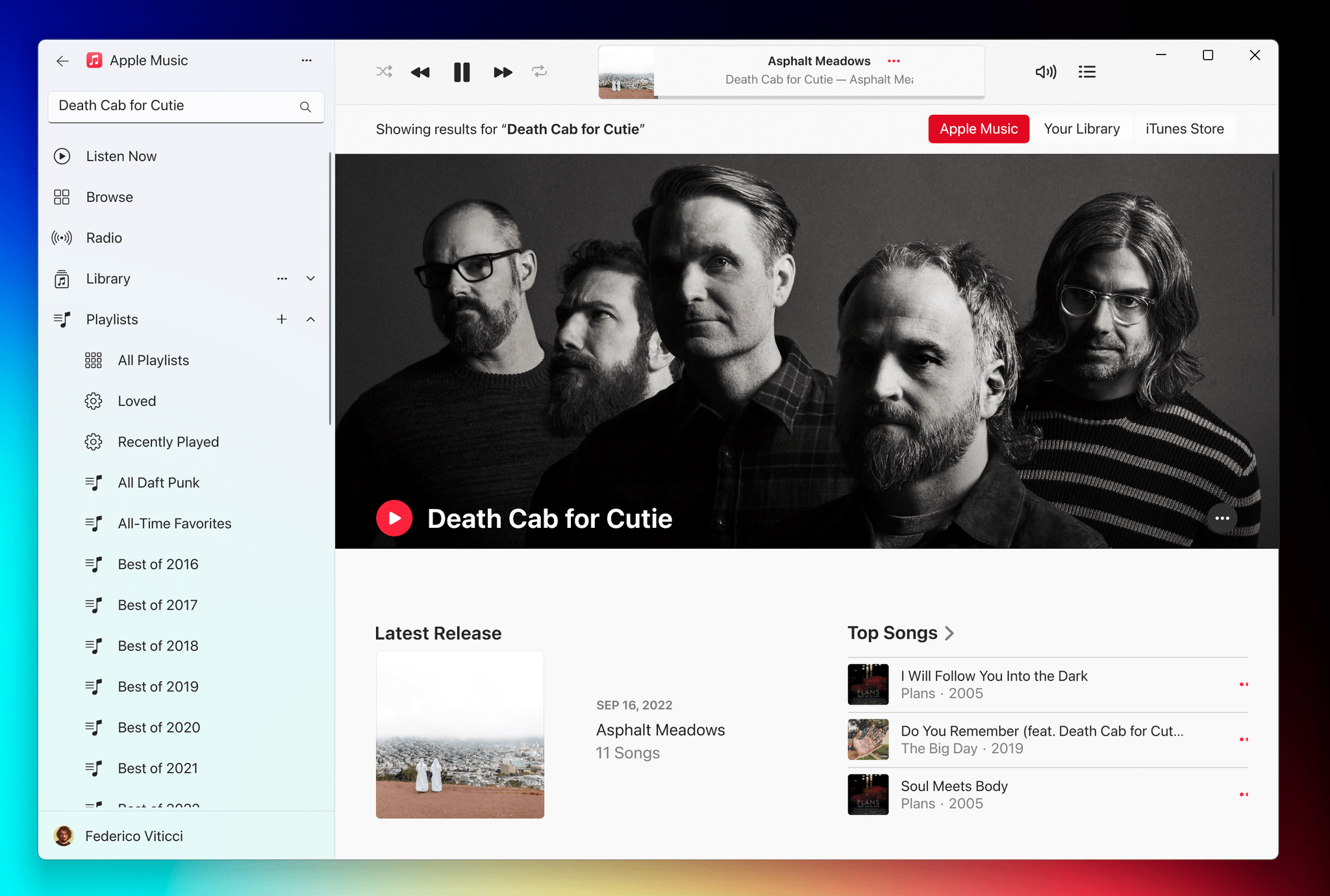 Last week, Apple released native versions of Apple Music, Apple TV, and Apple Devices for Windows. The apps, which are available on the Microsoft Store, are labeled as "previews", and they're meant to eventually serve as replacements for iTunes for Windows, which is the only flavor of iTunes Apple still distributes after they transitioned to standalone media apps a few years ago. I suppose the apps are also part of a broader strategy from Apple to establish a stronger presence of their services on Windows, as we saw last year with the launch of Apple Music on Xbox and iCloud Photos on Windows (which joined the existing iCloud configuration panel for Windows devices).
As an Apple Music subscriber and owner of a Windows gaming laptop, I thought it'd be fun to take Apple Music for a spin and see how it compares to Spotify on Windows as well as the existing Apple Music experience for Apple's platforms, which I know very well and enjoy on a daily basis.
The first thing I noticed when trying to install Apple Music for Windows was that I couldn't click the 'Download' button from the Microsoft Store. I figured that was due to the "preview" status of the app, and after some research, I came across a Reddit thread that suggested changing Windows' region settings to United States to get access to the download from the Microsoft Store. That worked. I'm assuming "preview" means Apple rolled these apps out in the U.S. at first, with more countries to follow at some point in the future.
After signing in with my Apple ID, I was presented with the usual Listen Now page that displayed featured items, my recently played albums, and recommendations based on my listening habits. This section is the same as the Listen Now page on my iPhone and iPad, and it lets me drill down into the Recently Played area to get a longer list of albums, just like I can on other devices. The rest of the app feels like a hybrid of the old iTunes, the Music app for Mac, and Music for iPad: Apple rewrote Music for Windows as a UWP app (even though, technically, it has been deprecated by Microsoft), and it features a sidebar with links to Listen Now, Browse, Radio, Library, and Playlists. When the window is small enough, the sidebar has a compact appearance with only icons being shown (which is not something you can do on iPadOS); make the window larger, and you get a proper sidebar with nested items under the Library and Playlists sections.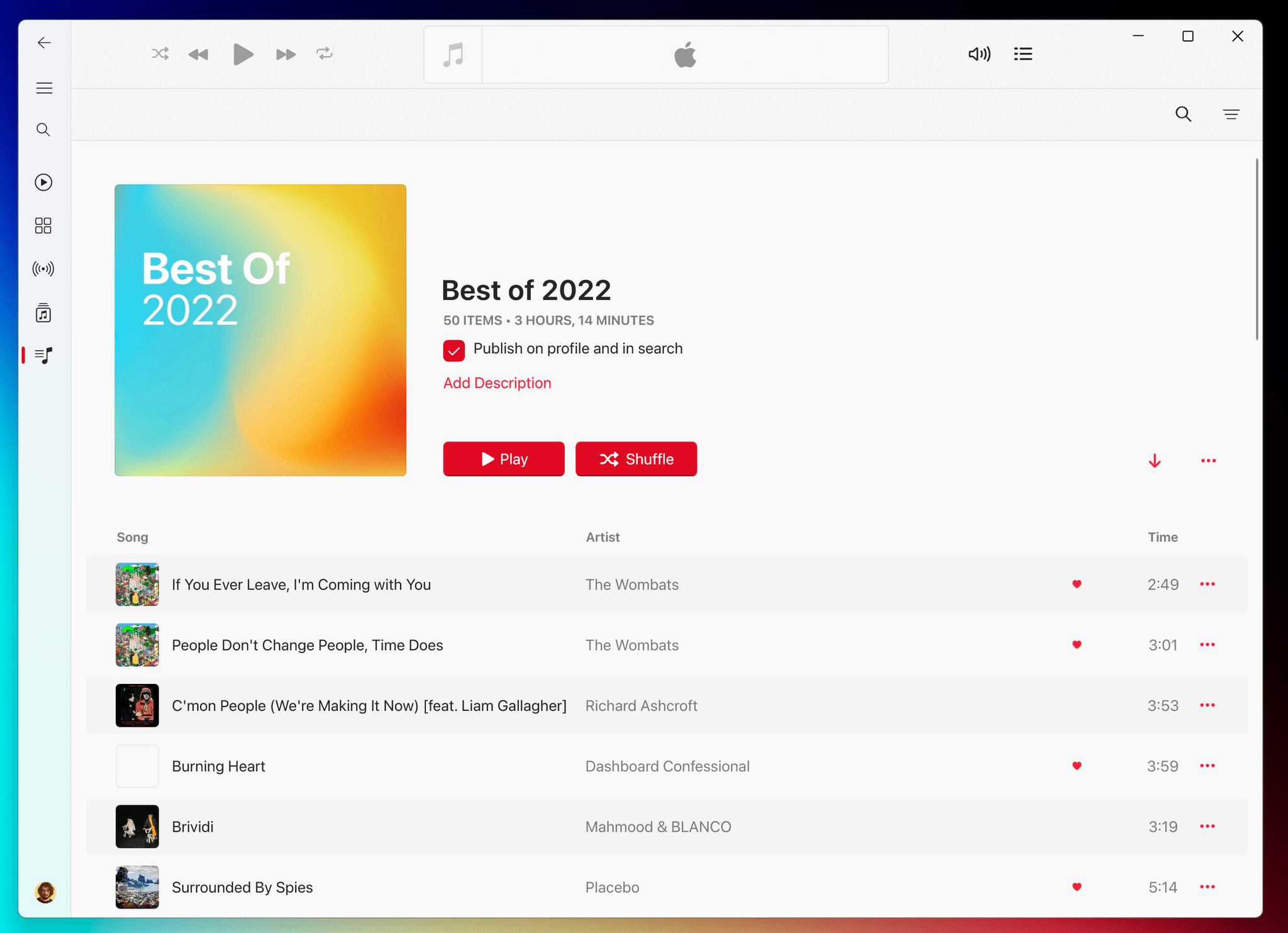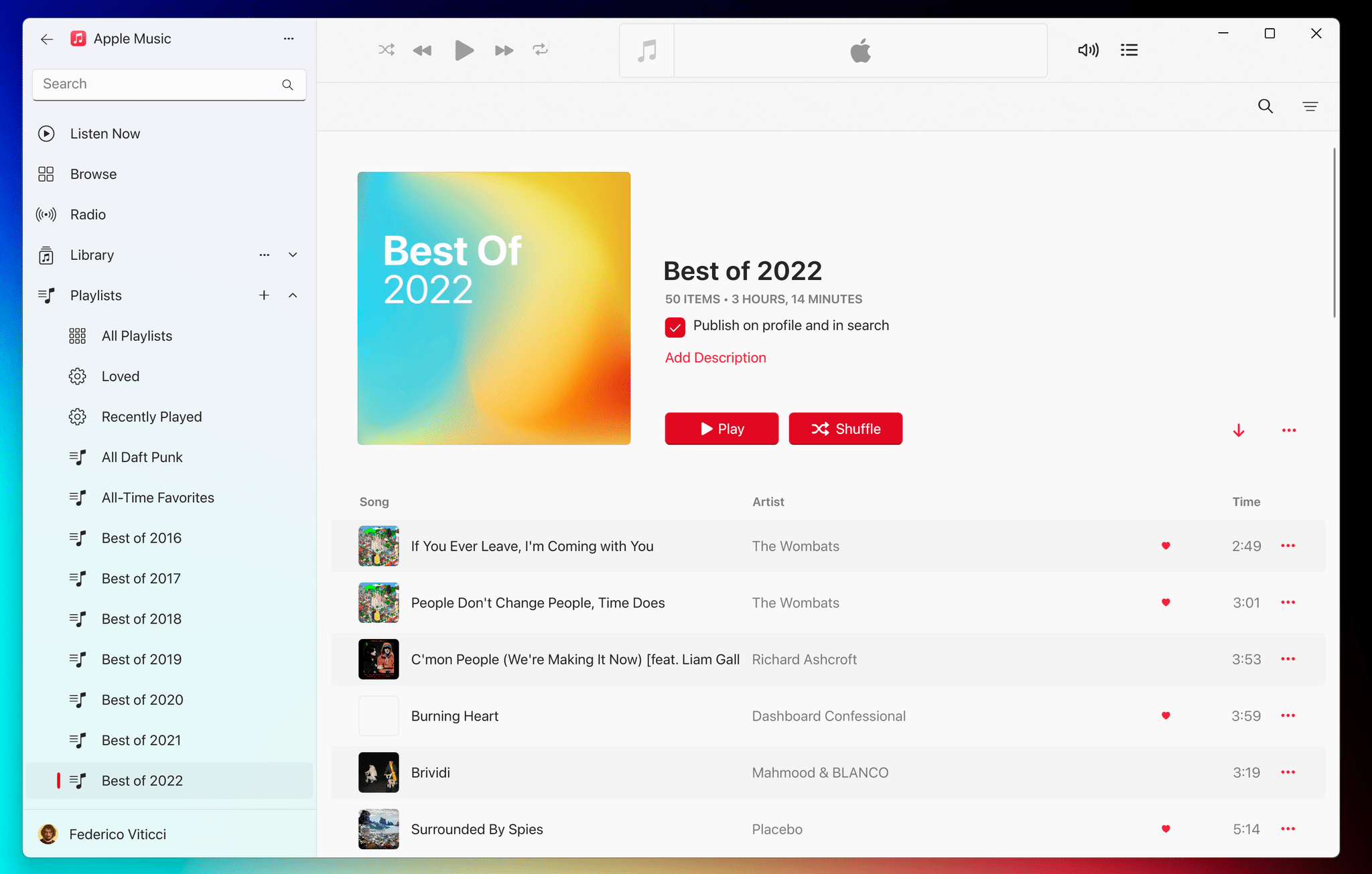 I noticed right away that my iCloud Music Library was synced from Apple's servers quickly, but the whole app felt clunky and sluggish compared to, say, Music for iPad or even Spotify for Windows. For starters, while Spotify for Mac and Windows offers a handy Command-K bar to search for anything from anywhere in the app, in Apple Music for Windows you always have to click in the search box if you want to search for something, and there's no Control-F keyboard shortcut to open the search page immediately. There are other keyboard shortcuts in the app, fortunately, but I couldn't find one for search.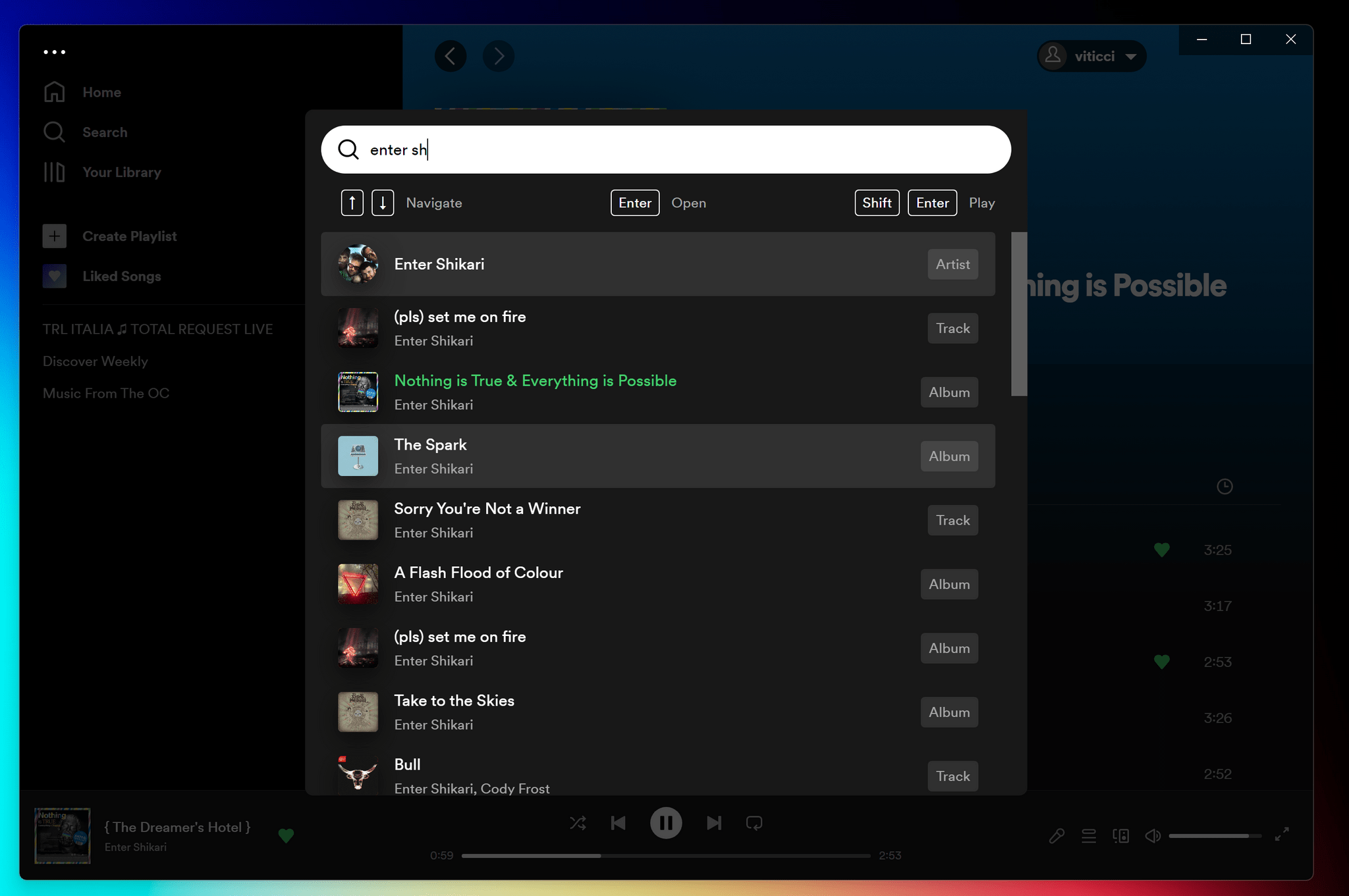 Where the "preview" nature of this app really shows is in its general instability and slow operations. I'm on the latest version of Windows 11, and sometimes when I search for something in Apple Music, search suggestions come up immediately underneath the search field, but actual results take more than 15 seconds to load. Other times the results page stays blank and I have to quit the app and reopen it. Occasionally, when I click the 'Browse' item in the sidebar, the app crashes. Then there are a series of inconsistencies: sometimes the contextual menu for songs has buttons to Play Next and Play Later, but sometimes it doesn't (I haven't been able to figure out why); the media keys on my keyboard to play/pause and skip tracks work just fine in Spotify for Windows, but they do nothing in Apple Music; sometimes new playlists sync back to my iPhone immediately, but other times they only appear after I've added at least a song to them.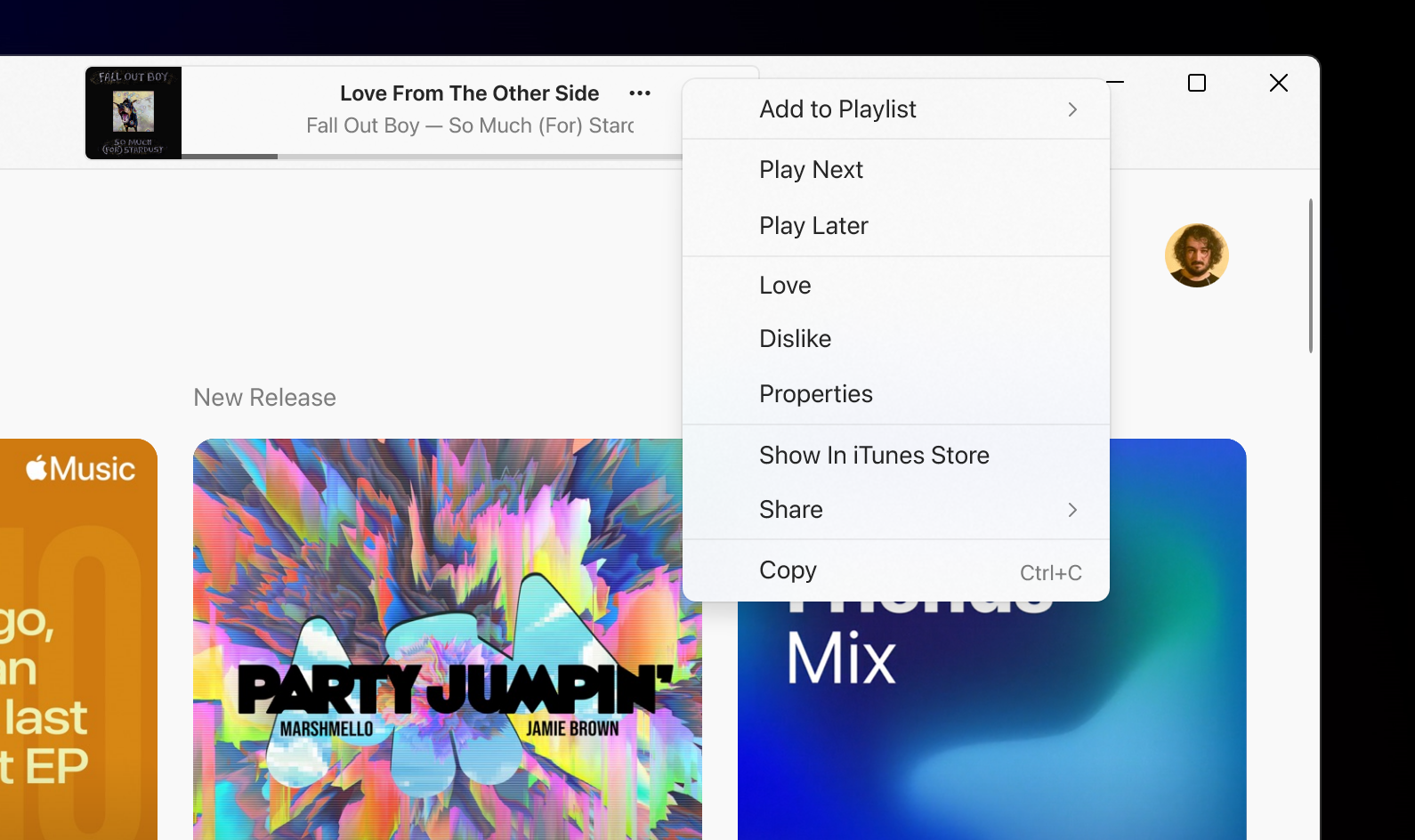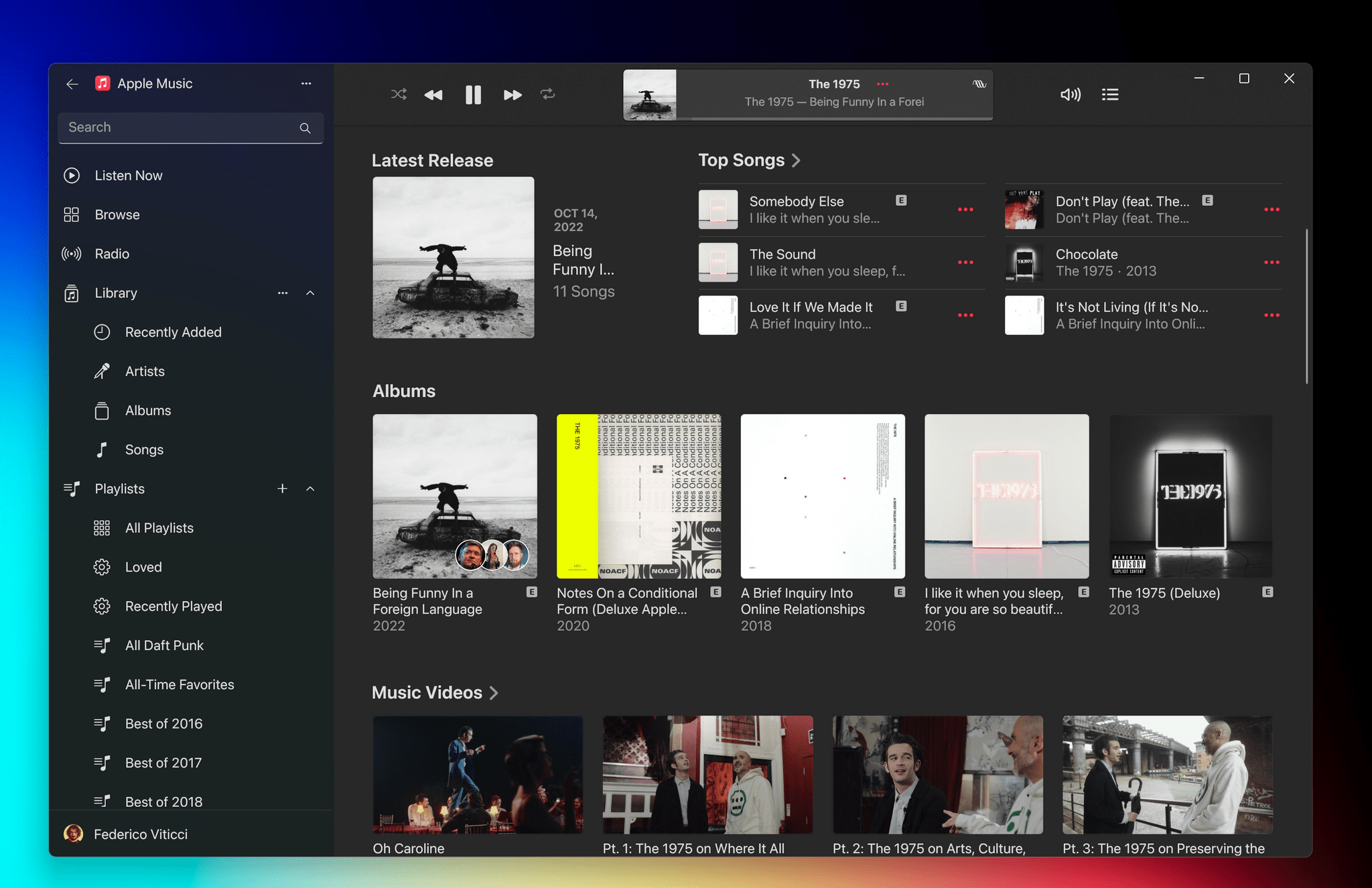 I should also point out that two of Spotify's best features are currently missing from Apple Music for Windows, and I was expecting Apple to ship at least one of them. First, there are no real-time lyrics in the app yet. Apple Music has, by far, the best lyrics experience of all modern music streaming services, and I hope Apple is working on bringing the functionality to its Windows client since I can't imagine going back to reading lyrics on Google search results like it's 2018 all over again.1 Second, when something is playing in Spotify for Windows, you can hover over its icon in the taskbar and you'll get an interactive window thumbnail preview with a) the title of the song that's currently playing and b) inline controls for music playback. The Apple Music taskbar icon offers neither of these functionalities right now, and I hope Apple will be willing to copy Spotify's approach here.
All that said, I should also note that, despite the issues and missing features of this first version, I'm excited to see Apple make more native apps for its services for Windows devices, and there were aspects of Apple Music for Windows that positively surprised me. For instance, lossless and hi-res lossless streaming and downloads are fully supported, as is crossfade (which is also available on Android but still nowhere to be found on iOS and iPadOS). There's even a 'Sound Enhancer' feature that "changes sound quality during playback" that I only recall seeing on macOS before.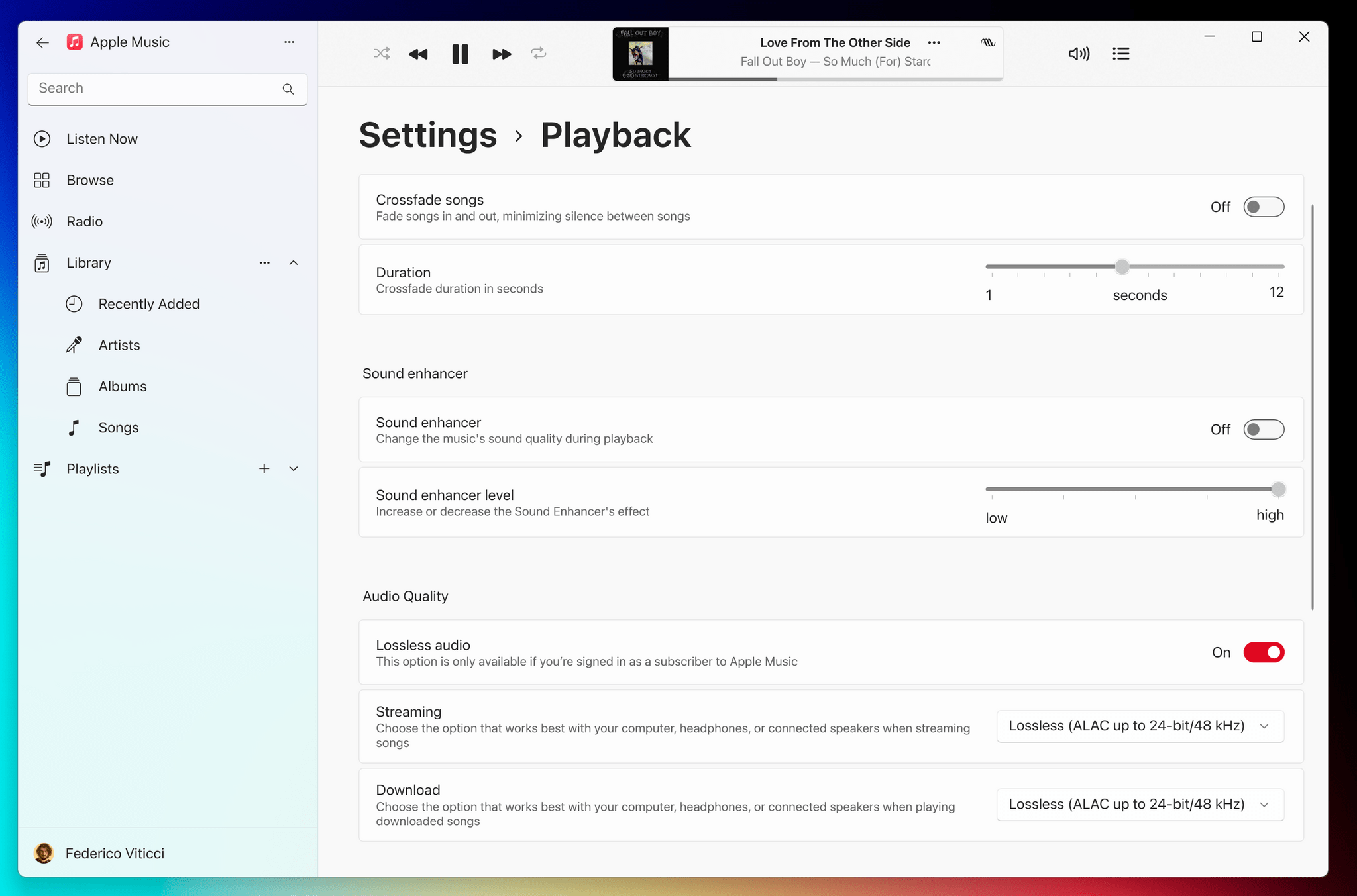 There's a lot of work for Apple to do to catch up to their own web client, third-party Apple Music clients like Cider, or the Spotify desktop app for Windows.2 Regardless, the launch of multiple apps for one of their key competitors in desktop computing is the sign of a healthy Services division at Apple. I'm keen to keep an eye on future developments for Apple Music and Apple's other media apps.