Maggie Appleton (via Michael Tsai) has written about one of the UI trends I've seen pop up more and more lately, and which we mentioned on AppStories several times over the past year: the so-called 'Command-K' bars inside apps.
Command bars are command-line bars that pop up in the middle of the screen when you hit a certain keyboard shortcut.They're also known as 'command palettes', 'command launchers', or 'omniboxes' Traditionally CMD + K, hence the moniker "Command K bars." But CMD + E and CMD + / have also been strong shortcut contenders.

[…]

They don't even have to remember its exact name. Fuzzy search can help them find it by simply typing in similar names or related keywords. For example, if I type "make" into a command bar, it's likely to show me any actions related to creating new items. Even if "make" isn't part of the action name.

[…]

These bars also do double duty as universal search bars. You're not only searching through the available actions in an app. You can also search through content like documents, file names, and tasks.
You've probably seen these command bars in apps like Obsidian, Craft, Todoist, Arc, Cron, Notion, and lots of others. (On Apple platforms, Things did something similar all the way back in 2018 with a feature called 'Type Travel'.) It feels like every modern productivity app – especially on desktop – has its own flavor of this interface element nowadays. In a way, this visual trend reminds me of pull-to-refresh before it was standardized by Apple and became a native iOS UI component.
I'm intrigued by Command-K bars as a feature that speeds up keyboard-driven interactions on iPad and Mac while at the same time serving as a search box for an app's own commands. Think of the typical Command-K bar as a mix of Spotlight, the macOS menu bar, and iPadOS' keyboard shortcut menu, but as an element that can be invoked from anywhere in an app and dismissed with just a keystroke. As the examples in Maggie's article show, Command-K bars can be genuinely useful to surface hidden commands and allow power users to save time when using complex apps.
There are plenty of cases where Apple's apps could benefit from this kind of in-app search makeover. Here's Notes, for instance, when you activate the 'Note List Search' command:

And here's the rather complex list of keyboard shortcuts supported by Safari: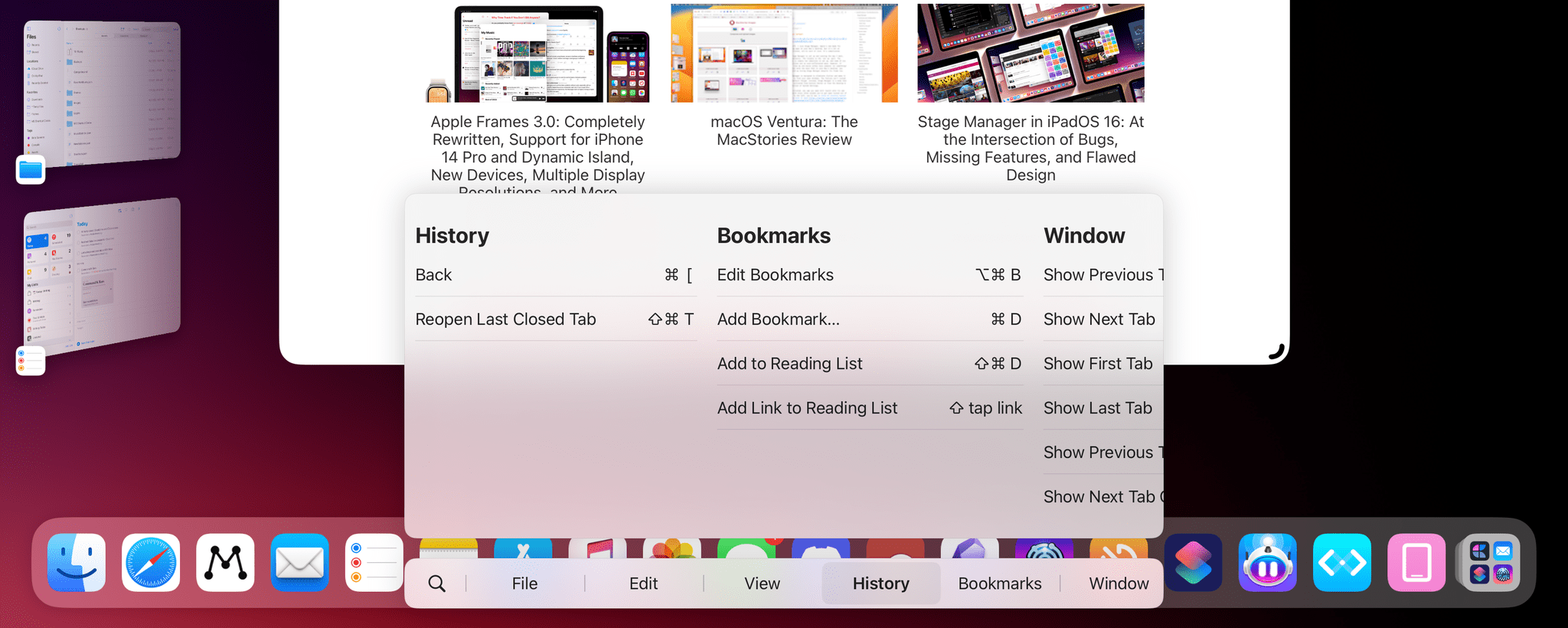 I said this on AppStories and I'll say it again: I think Apple should consider an in-app version of Spotlight that replicates the functionality of Command-K bars and is optimized for keyboard usage on iPadOS and macOS. Modern productivity software is clearly moving in this direction on desktop and the web; I'd like to see Apple apps offer faster keyboard navigation and command discoverability too.