Other System Apps
Messages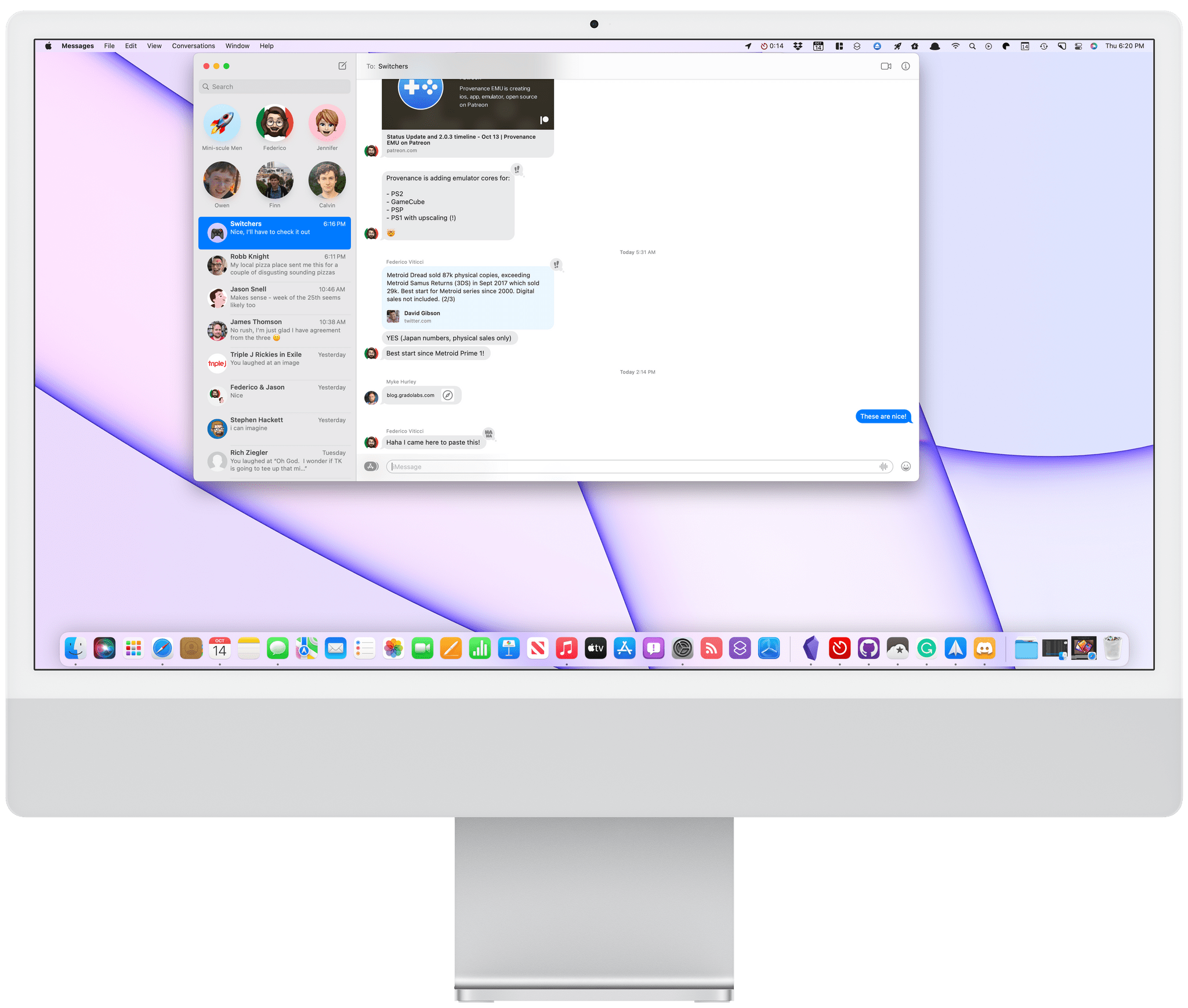 The changes to Messages in Monterey revolve around sharing. My favorite additions are two of the simplest: image stacks and the download button that appears next to images you receive.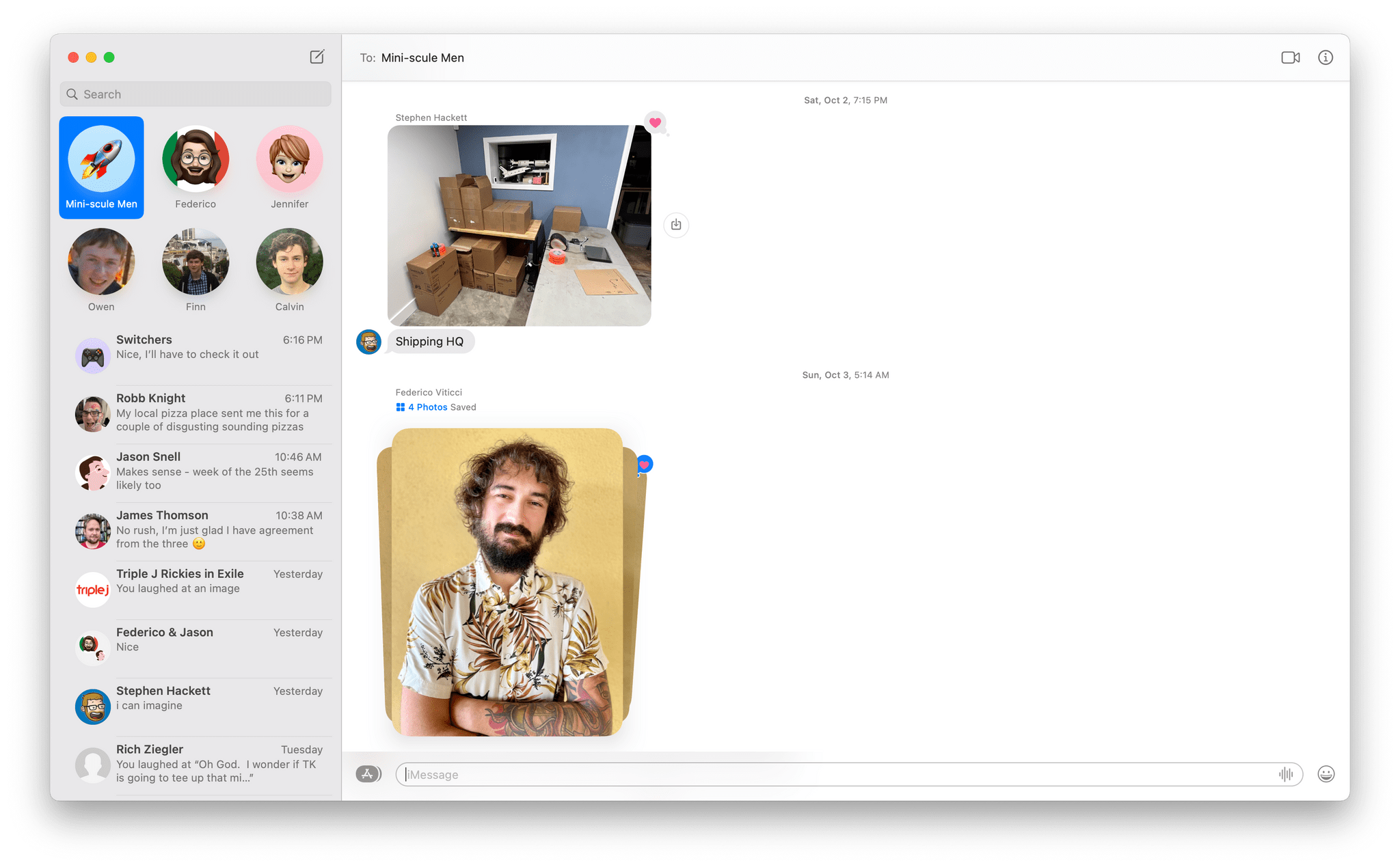 Image stacks save a lot of space when someone sends multiple pictures. Instead of delivering photos in a long end-to-end line that dominates a message thread, Message delivers images in an overlapping pile. You can swipe through the stack using a Magic Trackpad or the surface of the Magic Mouse to view the photos one at a time.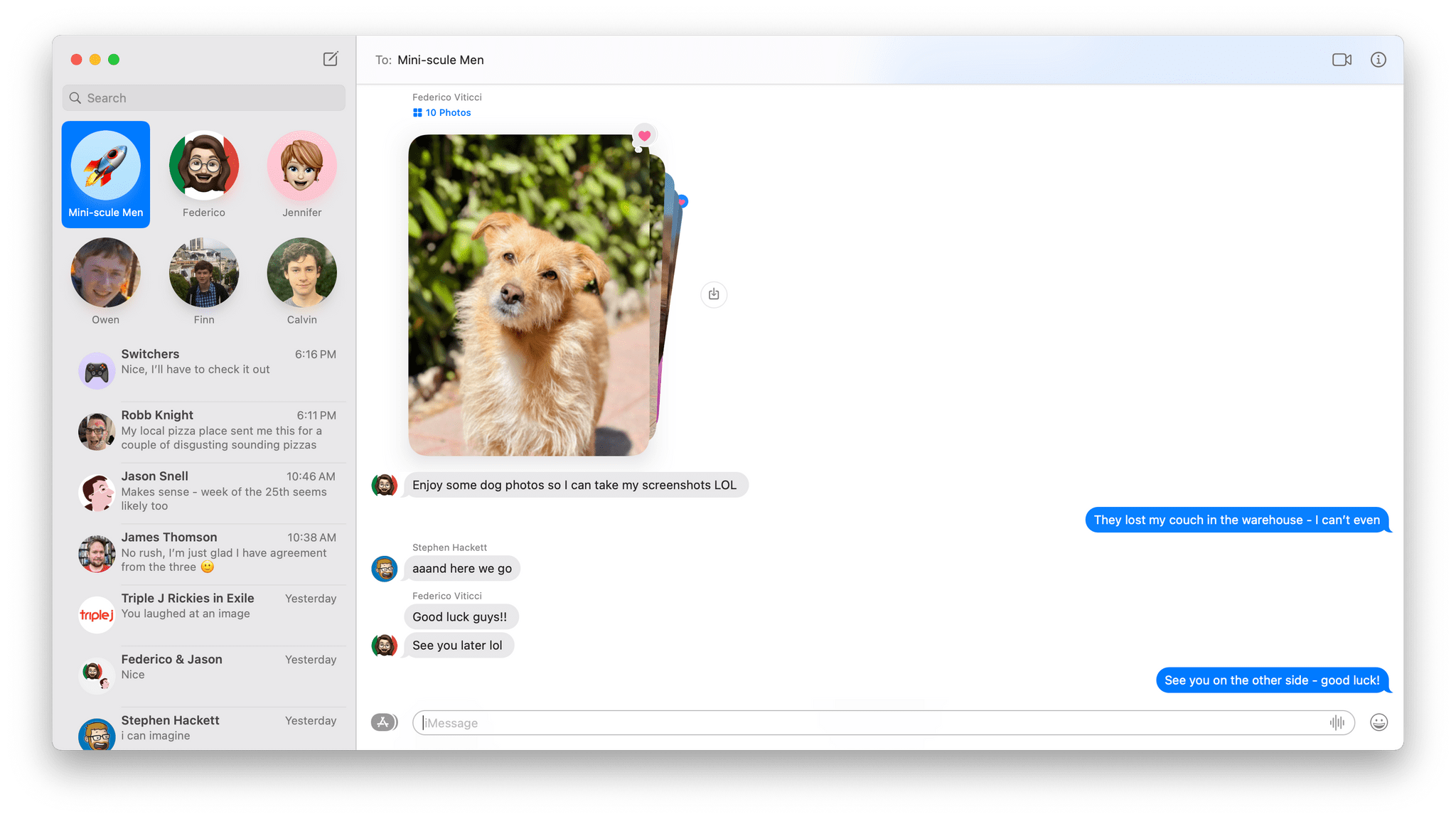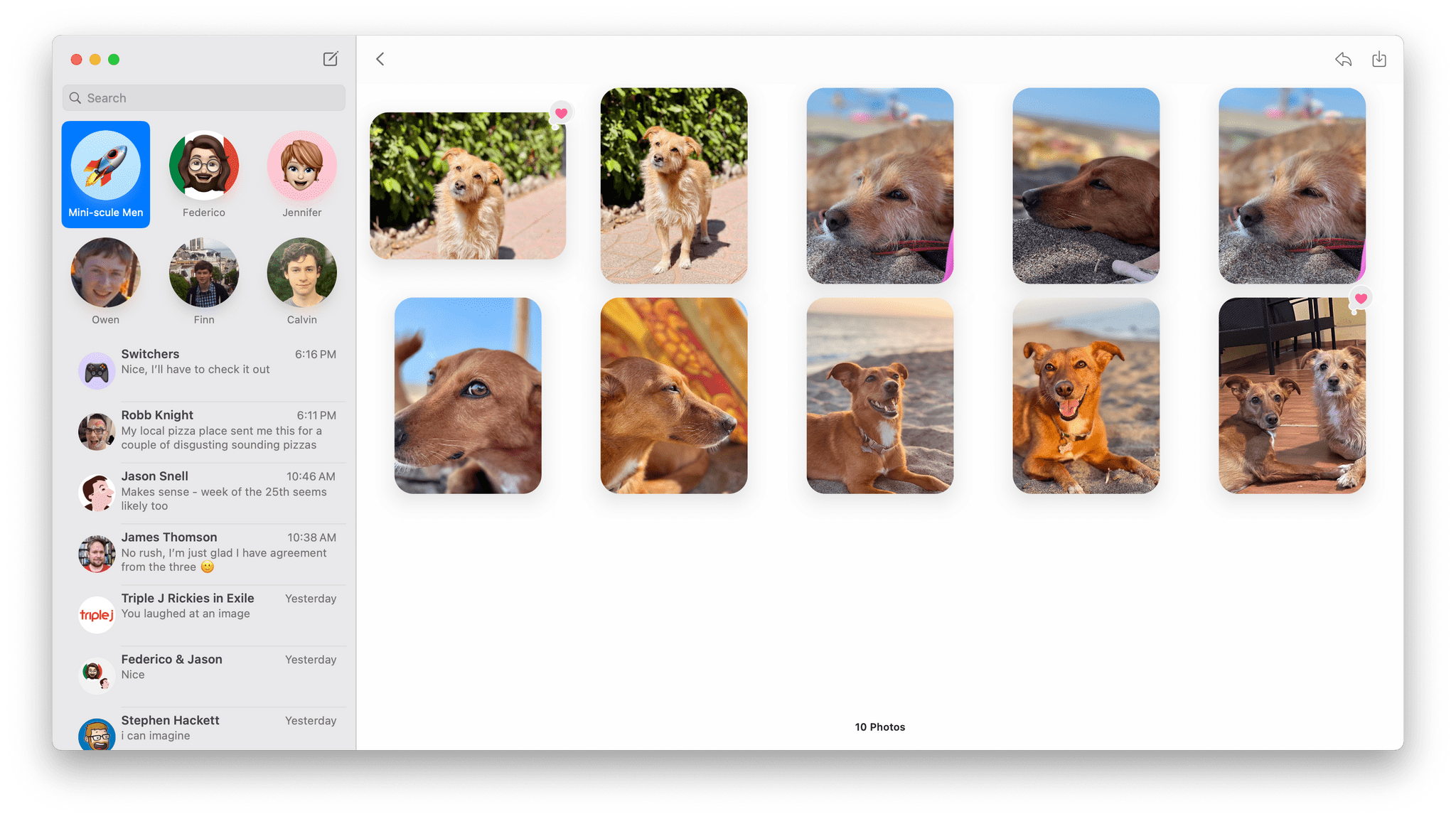 Alternatively, there's a small grid button just above the stack that you can click to open a grid view of the images. From the grid view, you can select images and download them using the download button in the toolbar, right-click to access options like Quick Look, Open, and Add to Photos Library, and Tapback, or save any selected images. You can also use the inline download button next to the stack to save all the images to your iCloud Photo Library at once. The inclusion of that tiny download button has greatly increased how often I save images I get in Messages.
Shared with You is the other headline feature added to Messages in Monterey. The feature gathers links and images shared with you in Messages and surfaces in relevant apps:
Images appear in the Photos app
Links to webpages appear in News and Safari
Podcasts URLs are displayed in Apple Podcasts
TV links appear in the TV app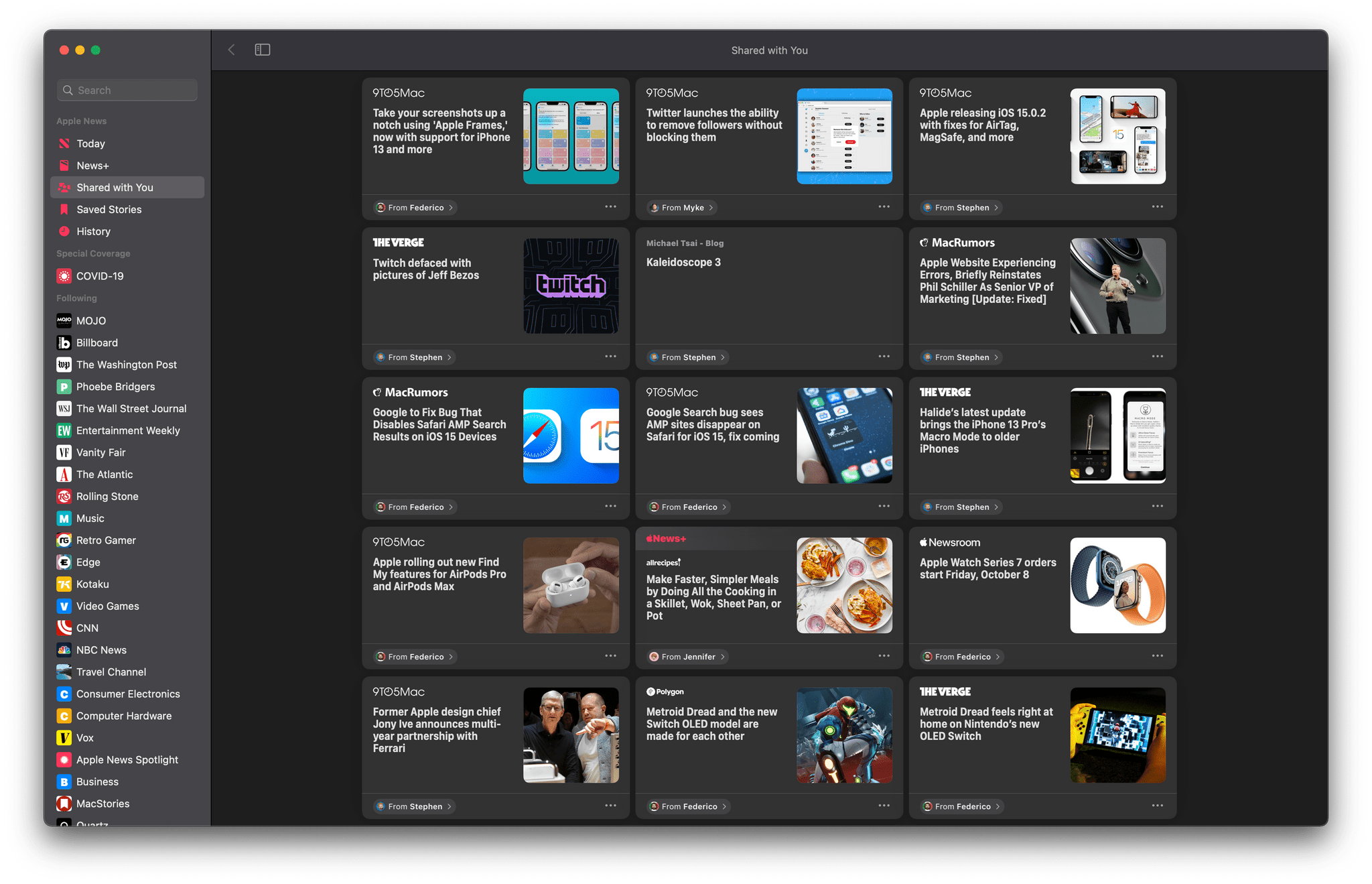 In each case, the shared media appears in a special Shared with You section of the related app. Beneath the media is a link back to the conversation where it was originally shared, which you can use to return to Messages for additional context or to respond. You can also pin items that are shared with you in Messages by right-clicking on them and choosing Pin, which puts them at the top of Shared with You in the relevant app.
What's baffling to me about Shared with You on the Mac is that it doesn't work with Apple Music even though it does on iOS and iPadOS. That's disappointing because Music is the category I find most useful when I'm using my iPhone and iPad. You can, however, pin music links in Messages so they are at the top of the info panel in Messages, for easy reference later.
Links to articles on the web are the sort of thing I either look at immediately or drop into a read-it-later service, making Shared with You unnecessary. The same goes for media like TV shows that I save to an app like Sofa or TV Forecast. However, I've enjoyed Shared with You in the Photos app more than I expected. It isn't perfect, but it has resurfaced some favorite photos buried deep in Messages' database.
I expect that a lot of people will have a similar experience with Shared with You. One or two categories may fit neatly with the kinds of media they consume and what their friends and family share, while others won't, which is entirely fine. It's simple enough to turn off the Shared with You categories that you don't use from Messages' preferences. However, I do hope we see Apple Music integrated into Shared with You in the future. There's no reason it should be an iOS and iPadOS-only feature.
FaceTime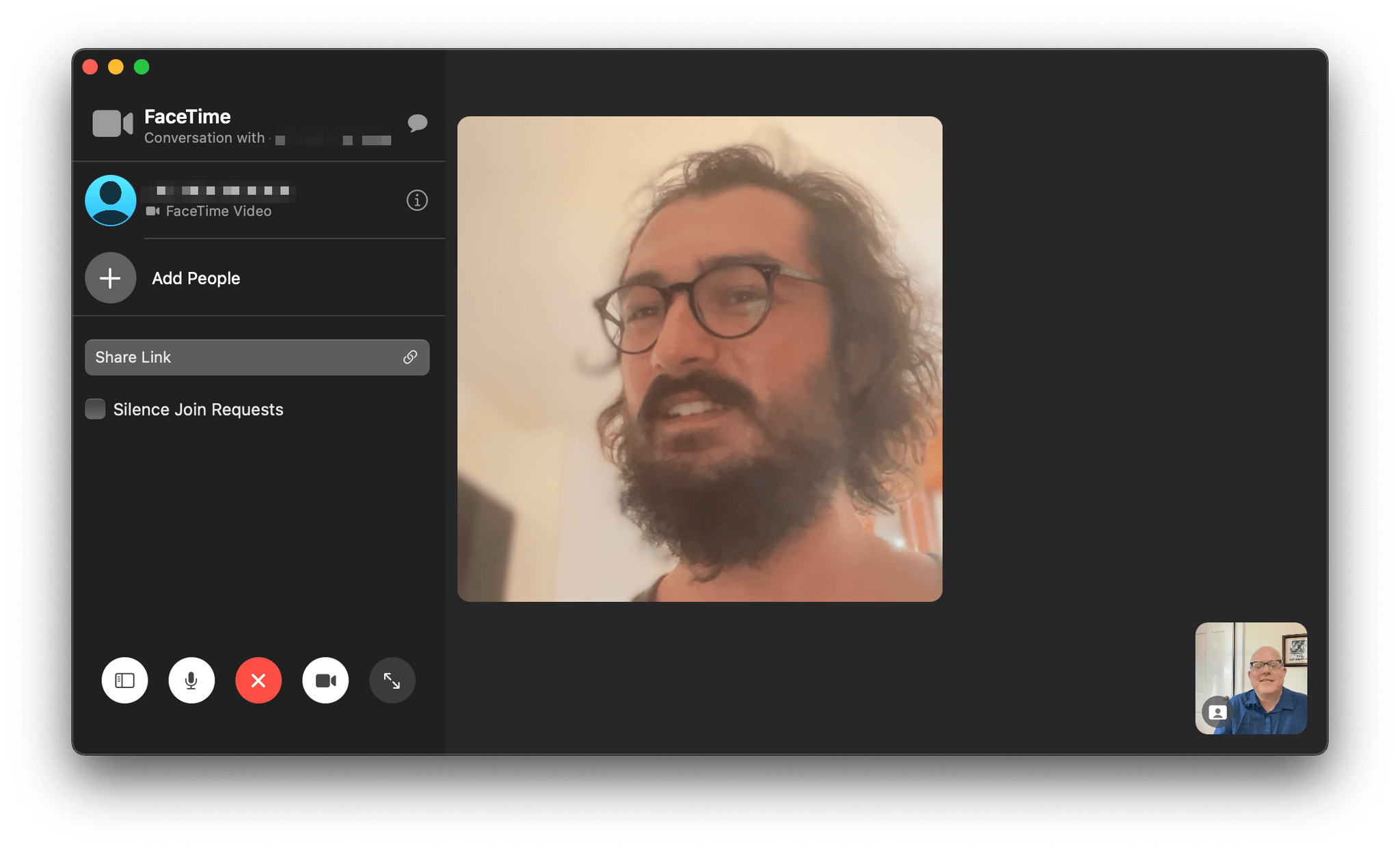 With Monterey, FaceTime calling is now available on the web, and Apple has introduced a number of notable audio improvements. I tested FaceTime on Monterey with Federico on the Mac and iPad over the summer, so be sure to check out that story for more detail, but here are the highlights.
The web-based FaceTime experience is very close to what you get using the native app. The main difference is that in our tests, the video was a little darker when using the web, which I suspect is the result of not being able to fully take advantage of the image processor and other real-time processing happening in the native FaceTime app. Still, the overall experience of using the web-based version of FaceTime is excellent.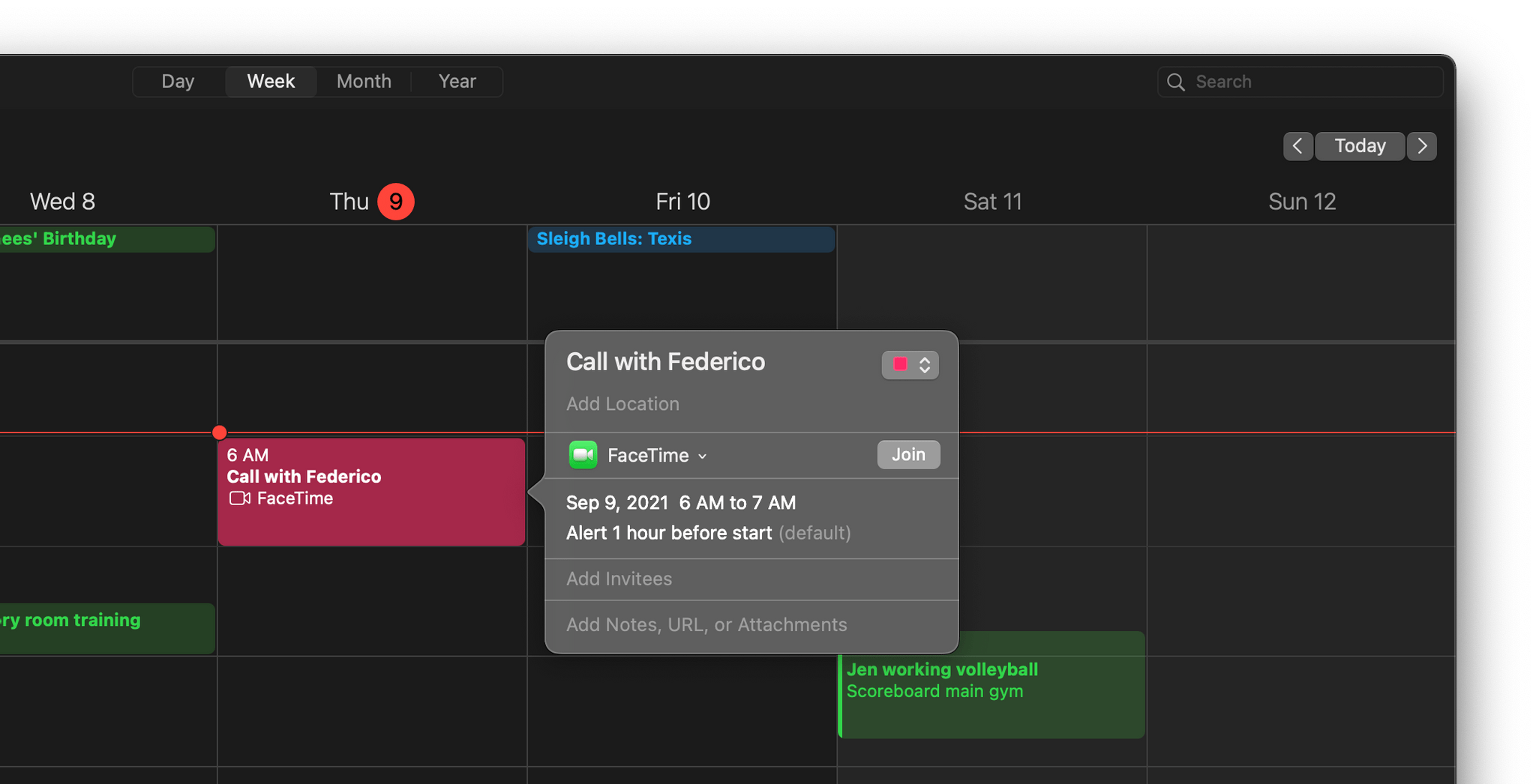 The practical reality of web-based FaceTime is that it opens up video calling to users who don't own Apple products, making group calls over FaceTime an option for the first time for many families and groups of friends where some don't own an Apple device. The update also means that invitations to FaceTime calls can be shared with a link that can be generated in the app or by setting up an event in Calendar where FaceTime is specified as the location.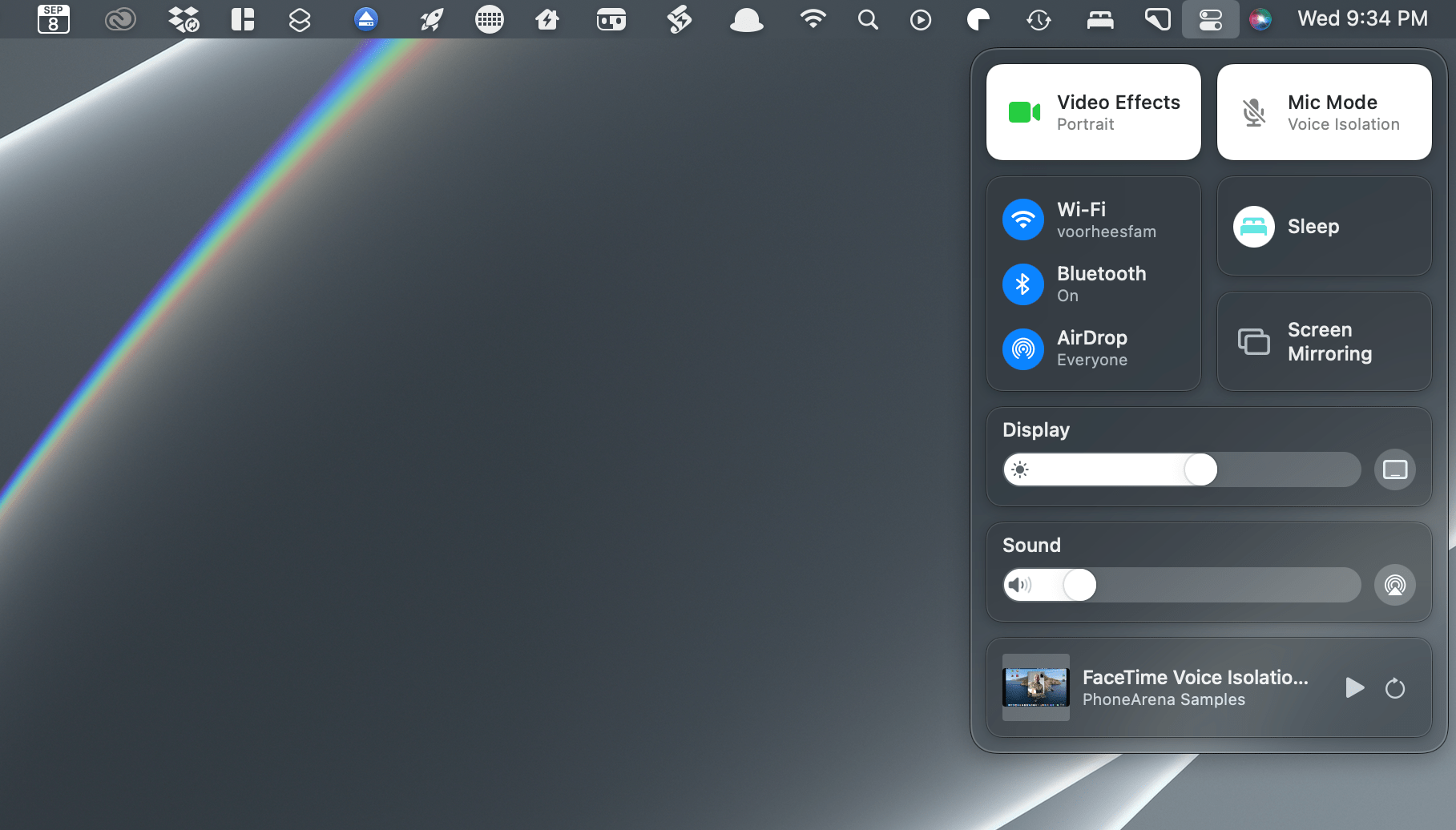 On Macs released since 2018, spatial audio has been added to FaceTime calls. I didn't find spatial audio nearly as noticeable as Apple's other audio updates to FaceTime. Voice Isolation eliminates background noise and boosts vocals. Wide Spectrum does the opposite, enhancing the sounds around a call participant so they can share the audio around them with others. Both features can be turned on or off from Control Center in the Monterey menu bar.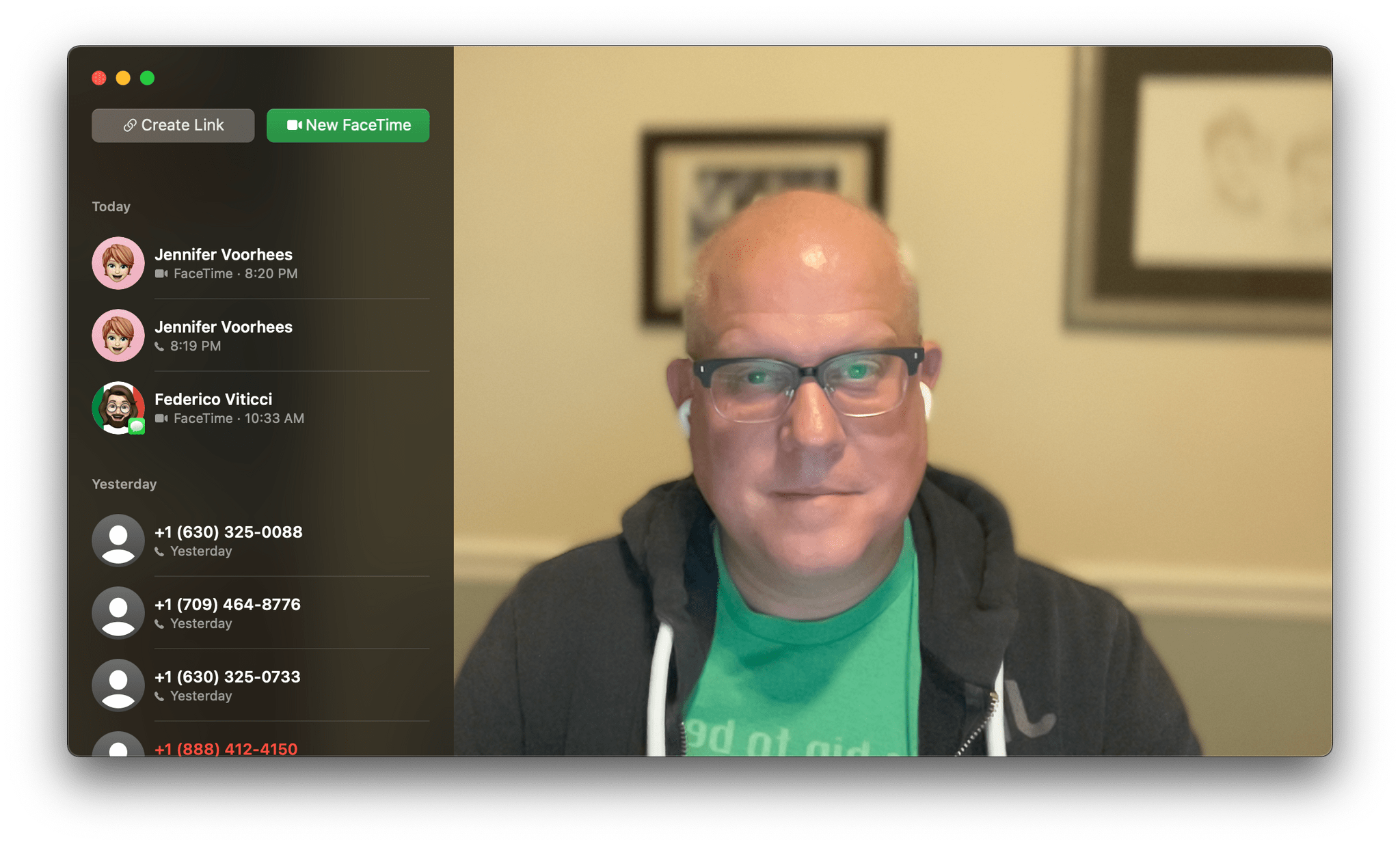 It's worth mentioning, too, that Apple has added a Portrait mode effect to FaceTime video if you have an M1 Mac. It's not perfect, but especially with high-contrast, simple backgrounds, I found it to be a good way to keep the focus on the people using FaceTime instead of their backgrounds.
Maps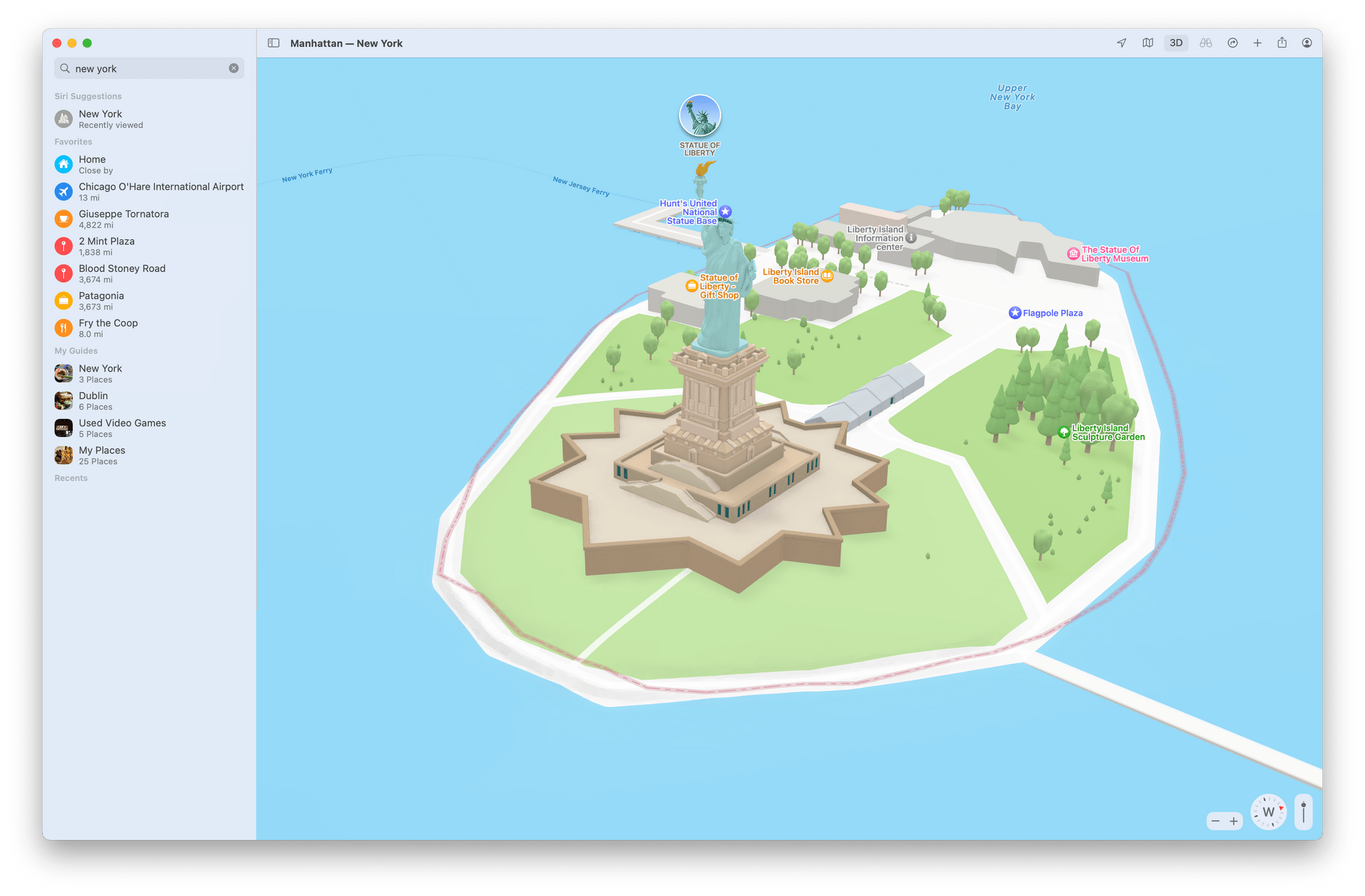 There are a lot of useful additions to Maps this year, which I covered in detail earlier this summer. However, the feature that has the greatest impact on me on the Mac is also one of the smallest changes. Now, when you do a search and then scroll, the map updates as you move around the map. For example, if you're viewing restaurants near your home and you drag the map a couple of towns over, the map updates automatically to display restaurants there too. While it's surprising that it took until now for this to be a feature of Maps, I certainly appreciate that it's available now. I've found it invaluable when researching restaurants, hotels, and other locations in places with which I'm not familiar.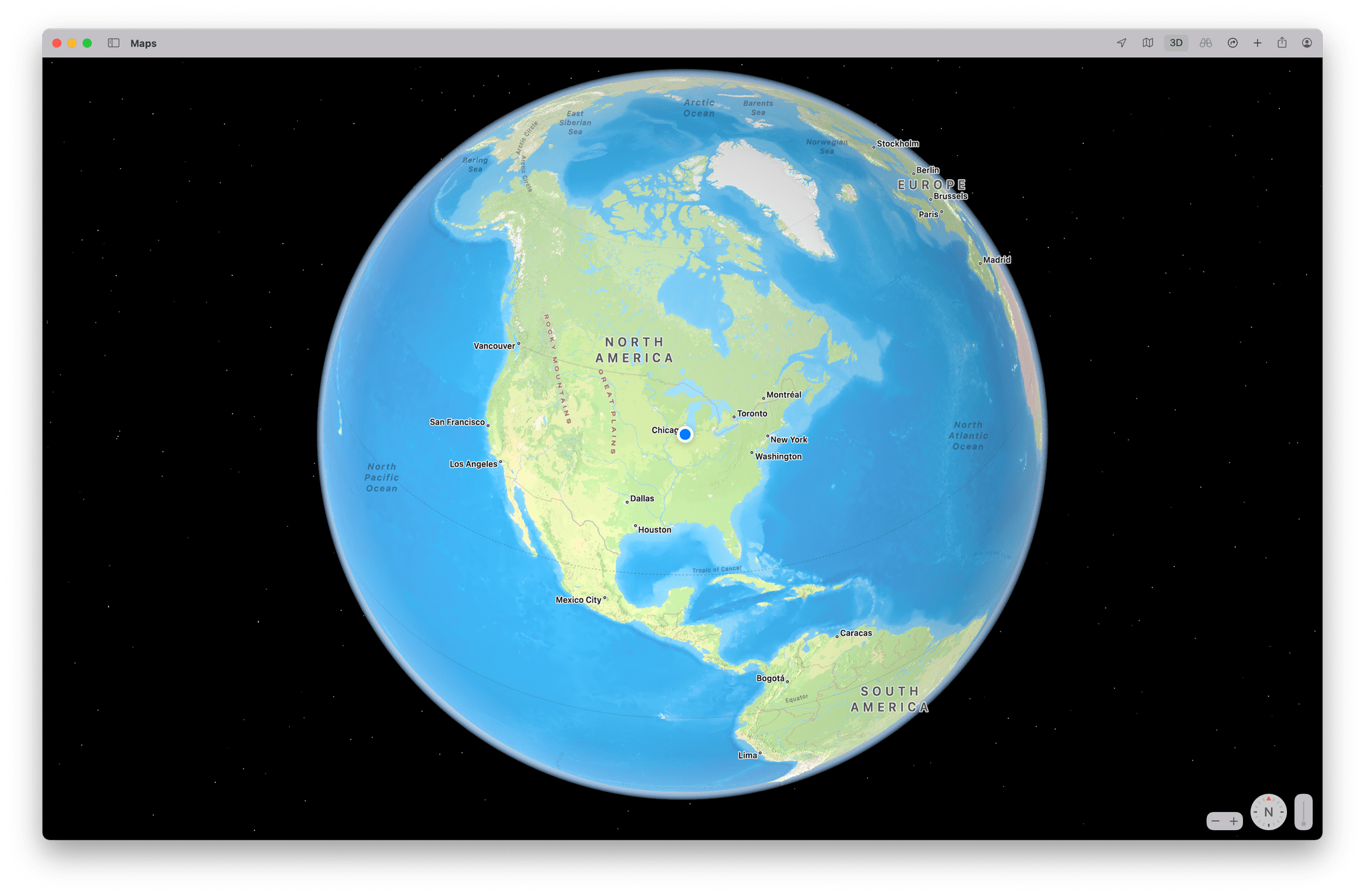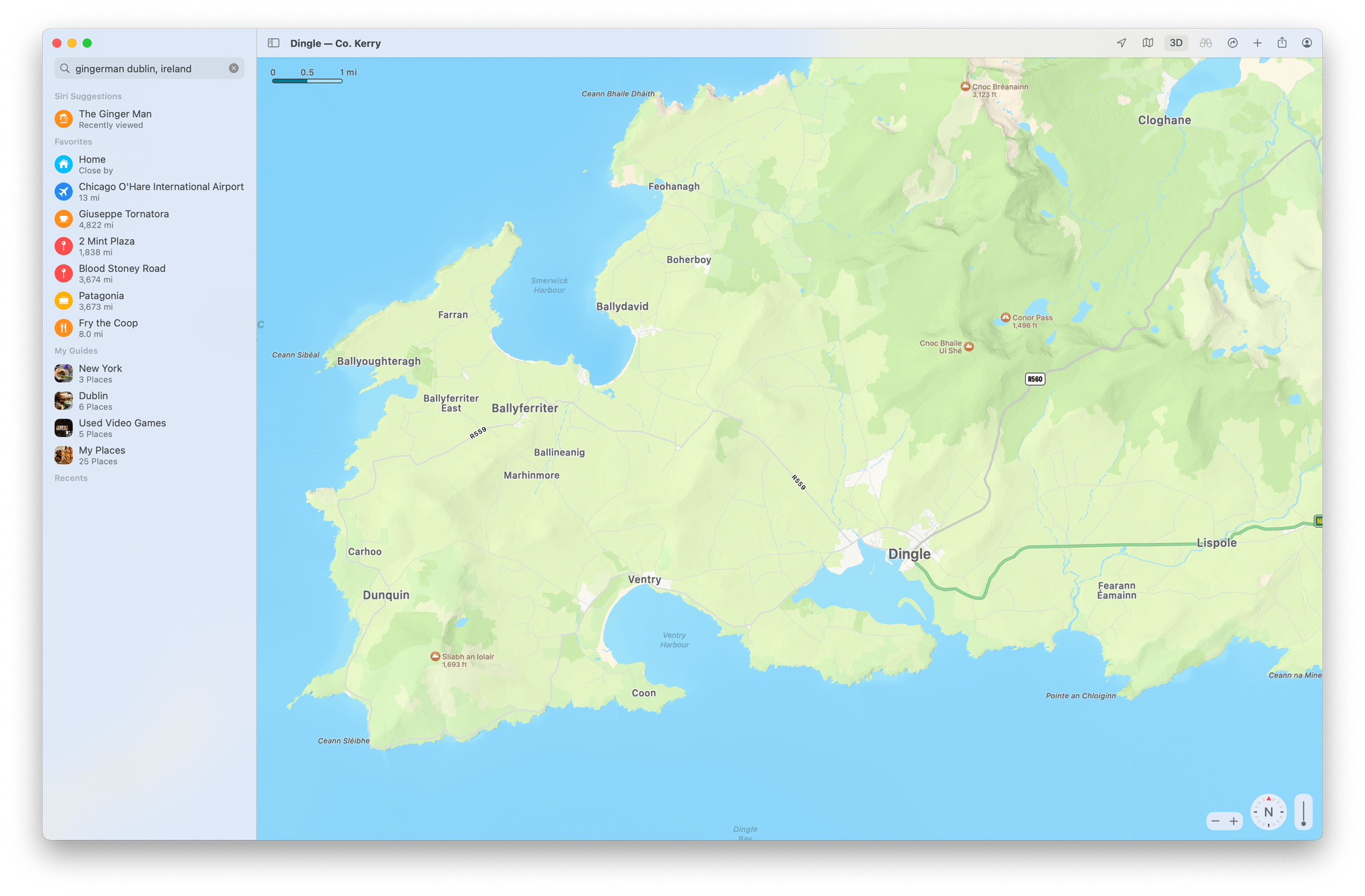 The changes to Maps run far deeper. Now, you can zoom all the way out to see the Earth as a globe that you can spin to find a region you want to examine more closely. As you zoom into an area, the differences compared to Big Sur are striking. One of the biggest changes is that there is more landscape detail than before. Mountains, forests, rivers, and other features of the landscape are depicted with more detail than before, and they are labeled and featured in the app's curated collection of guides.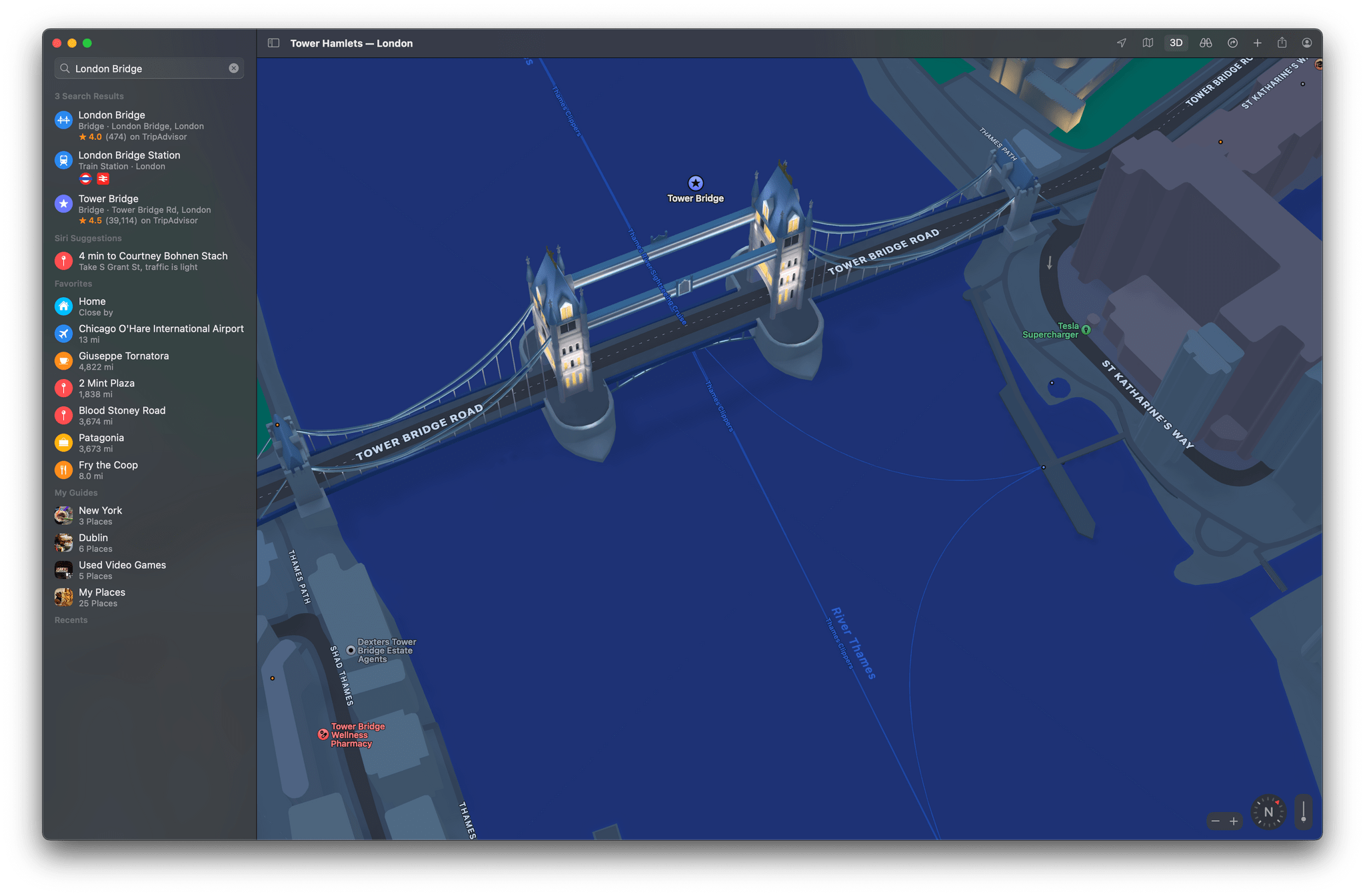 Maps has also added special 3D landmarks in certain cities. When I covered Maps over the summer, the 3D models were only available in the San Francisco Bay area, but now, they've been added to London, New York, and Los Angeles too. The 3D models of landmarks look terrific, and I hope new ones are added to other cities around the world soon.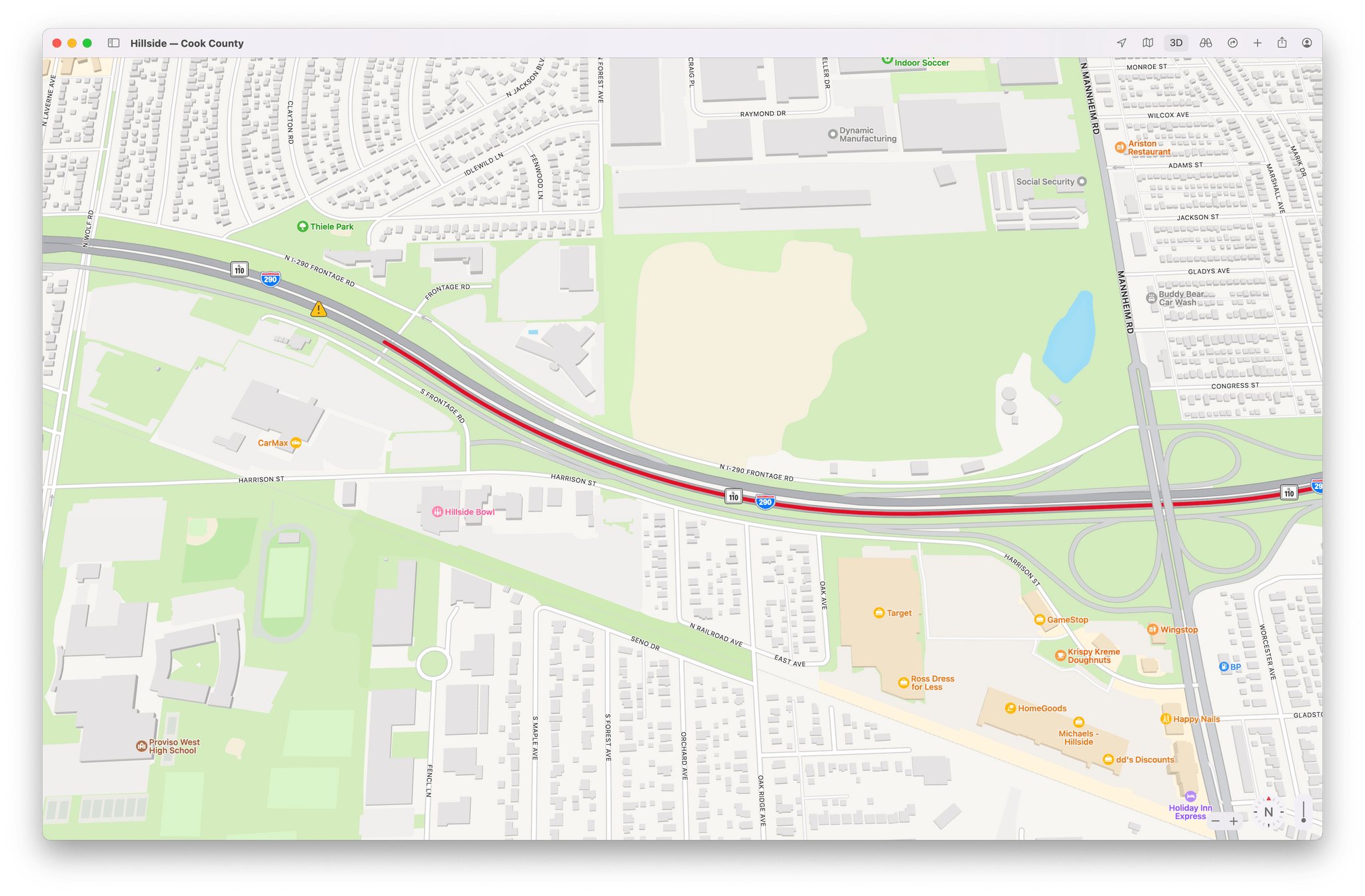 A new Driving view has joined Explore, Transit, and Satellite, emphasizing traffic conditions, road hazards, lane closures, gas stations, and similar details. Congested areas also display the length of delays. The new Driving view is most useful on the iPhone when you're driving somewhere, but it's still handy to have on the Mac when checking ahead to see what traffic conditions are like.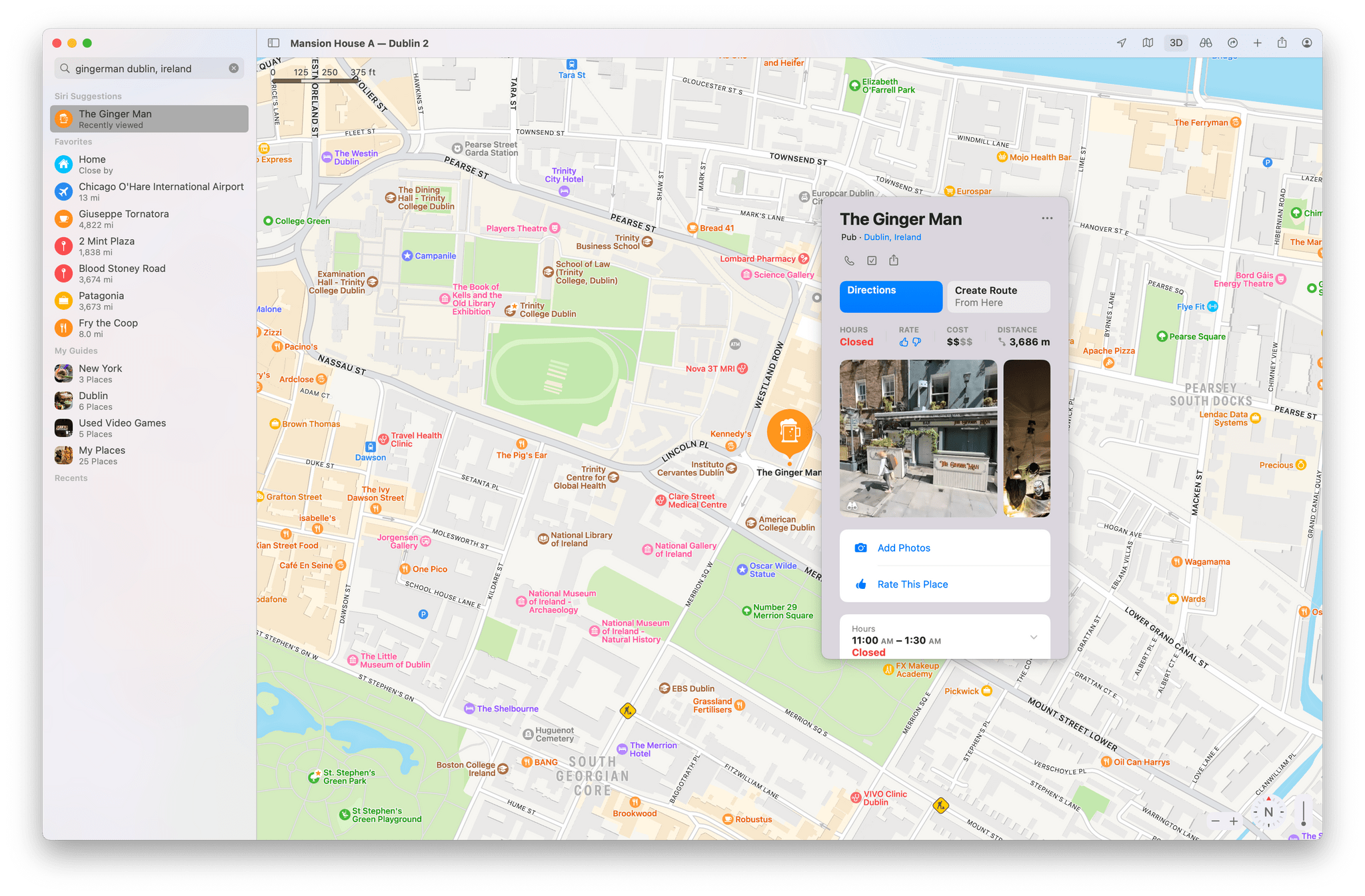 Place cards, which are displayed as a popover on the Mac when you click on them, have been redesigned and are packed with more information that's been made easier to read through a combination of typography changes and layout. Also, there's a new user icon that provides quick access to locations you've marked as favorites and guides you've created. This is also where you can report new locations to Maps and report issues with streets, places, and routes, and report traffic incidents. You'll also find Maps' preferences here. Access to these features used to be sprinkled elsewhere throughout Maps' UI, but I appreciate the ability to find them all in one easily accessed location.
All of the additions to Maps this year are solid. The new detail makes the experience of using the app richer on every level.
However, what's even more notable about Maps is that on a macro level, it's a fantastic example of Apple's Mac Catalyst strategy paying off. In years past, Maps would get out of sync on the company's platforms. Because Maps is inherently more useful when you're traveling, it was usually the Mac version of the app that fell behind what was available to iPhone and iPad users.
Last year, Maps was relaunched as a Mac Catalyst app, which has fulfilled the promise of helping keep Apple's apps in sync across its many devices. Mac Catalyst isn't as simple as pressing a button to deploy new code everywhere, but it's meant to facilitate the process of maintaining apps on multiple platforms, which it seems to have accomplished, judging from the nearly identical Maps features added on all platforms this year.