Finder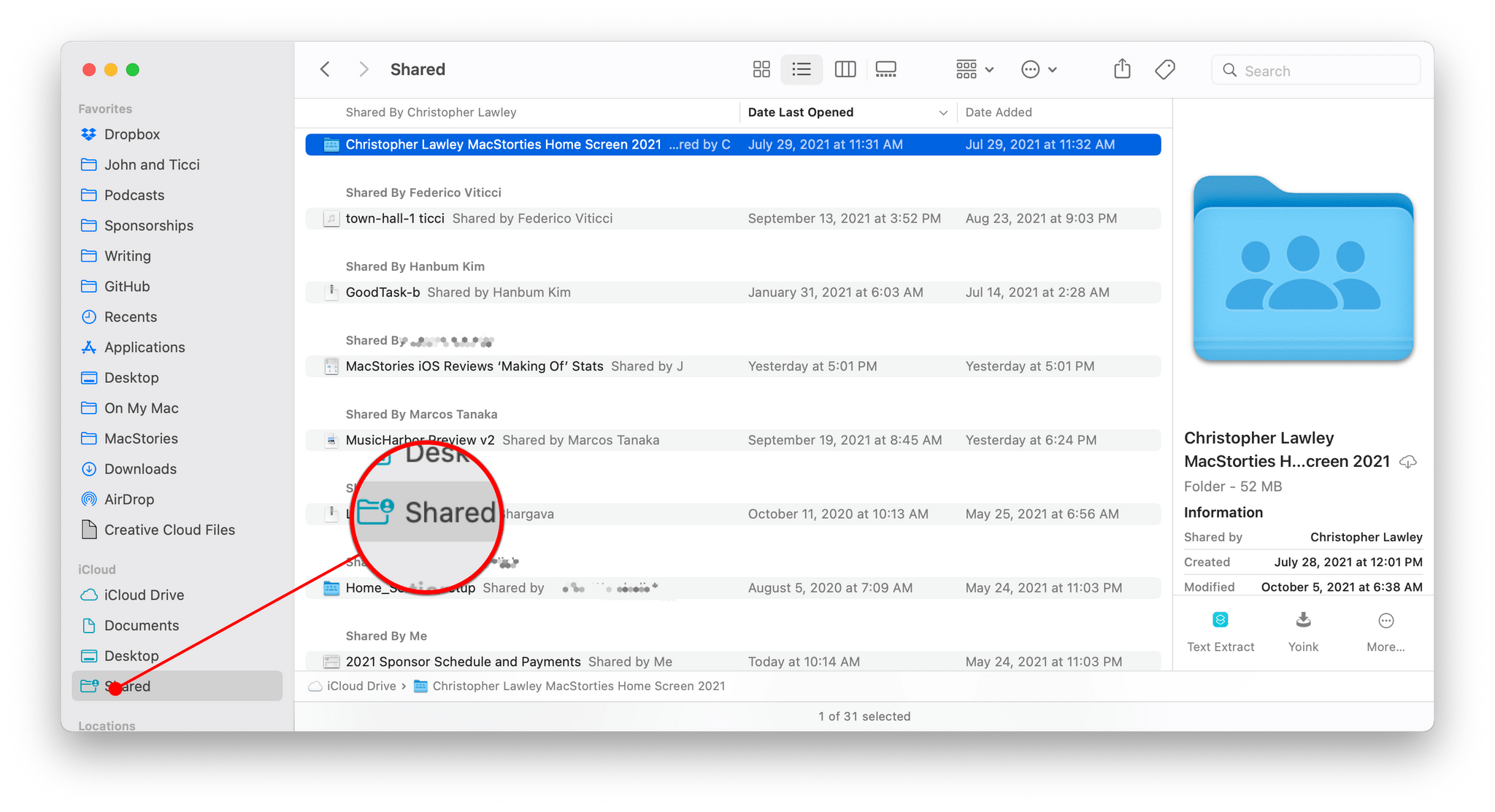 Shared with You isn't the only way Apple is surfacing shared content on macOS Monterey. The update also includes a new default Smart Folder in the Finder's sidebar called 'Shared' that aggregates any document you've shared with someone that uses Apple's sharing APIs. This is where you'll find any files shared with you using iCloud sharing or collaboration features in apps like Apple's iWork suite.
I haven't found myself drawn the Shared folder much. I have a handful of documents like Numbers spreadsheets that I've shared with Federico, but I open them from inside the app or by going to Numbers' iCloud folder. If your work is more focused on shared iCloud files, I can imagine it being useful, but personally, it's not something that I've felt was missing from the way I work.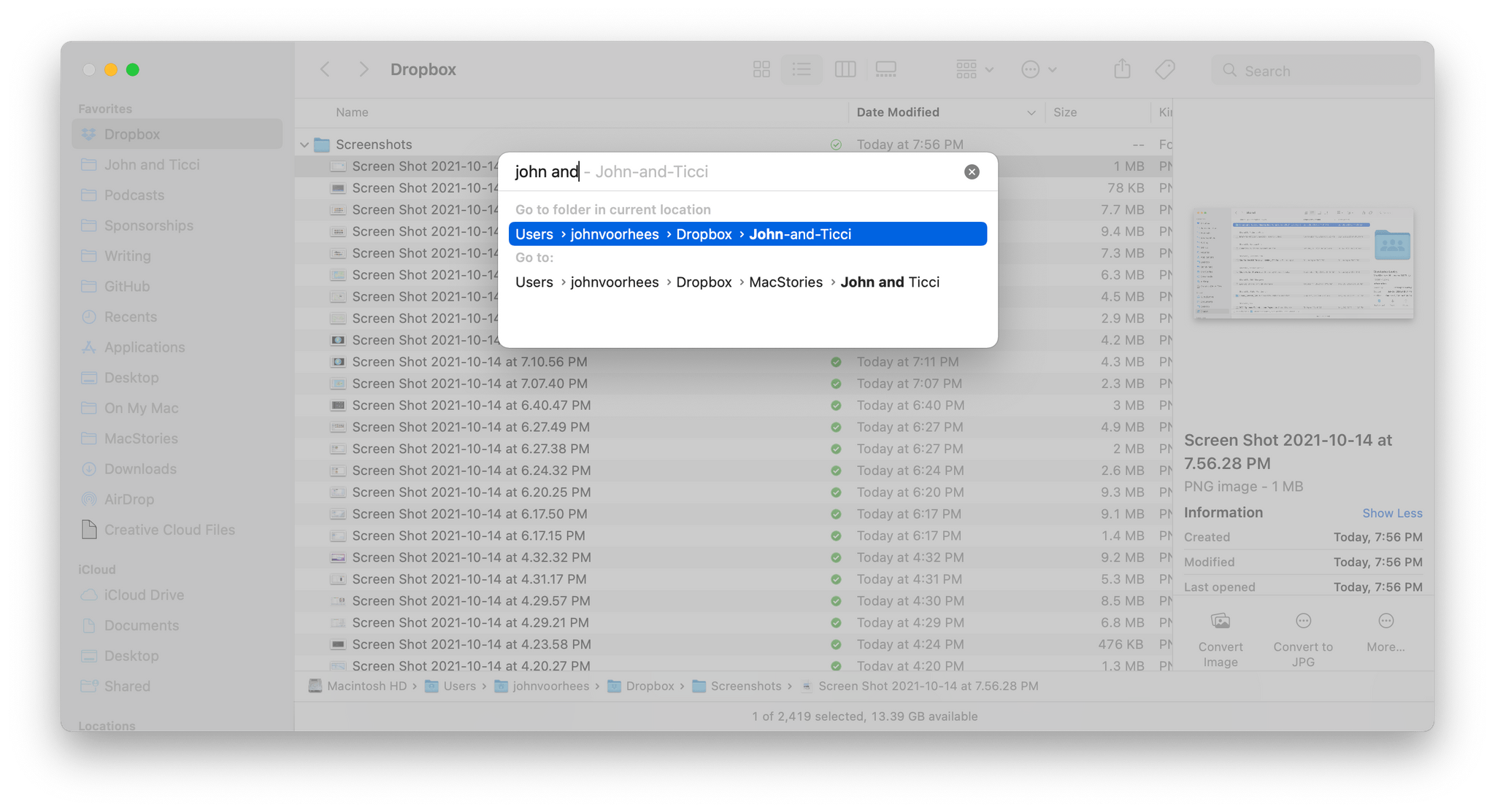 The Finder also has an updated Go to Folder menu option that works a lot like Spotlight. Click on the option from the Finder's menu or use the ⇧⌘G keyboard shortcut, and a floating search bar appears. As you type, results autocomplete. I have rarely used Go To Folder in the past because Alfred, which has had powerful autocomplete functionality for years. Because I use Alfred for so much more than finding files and folders, I'll probably stick with it, but if you aren't already relying on a launcher app like Alfred, give Go to Folder a try because it has been vastly improved.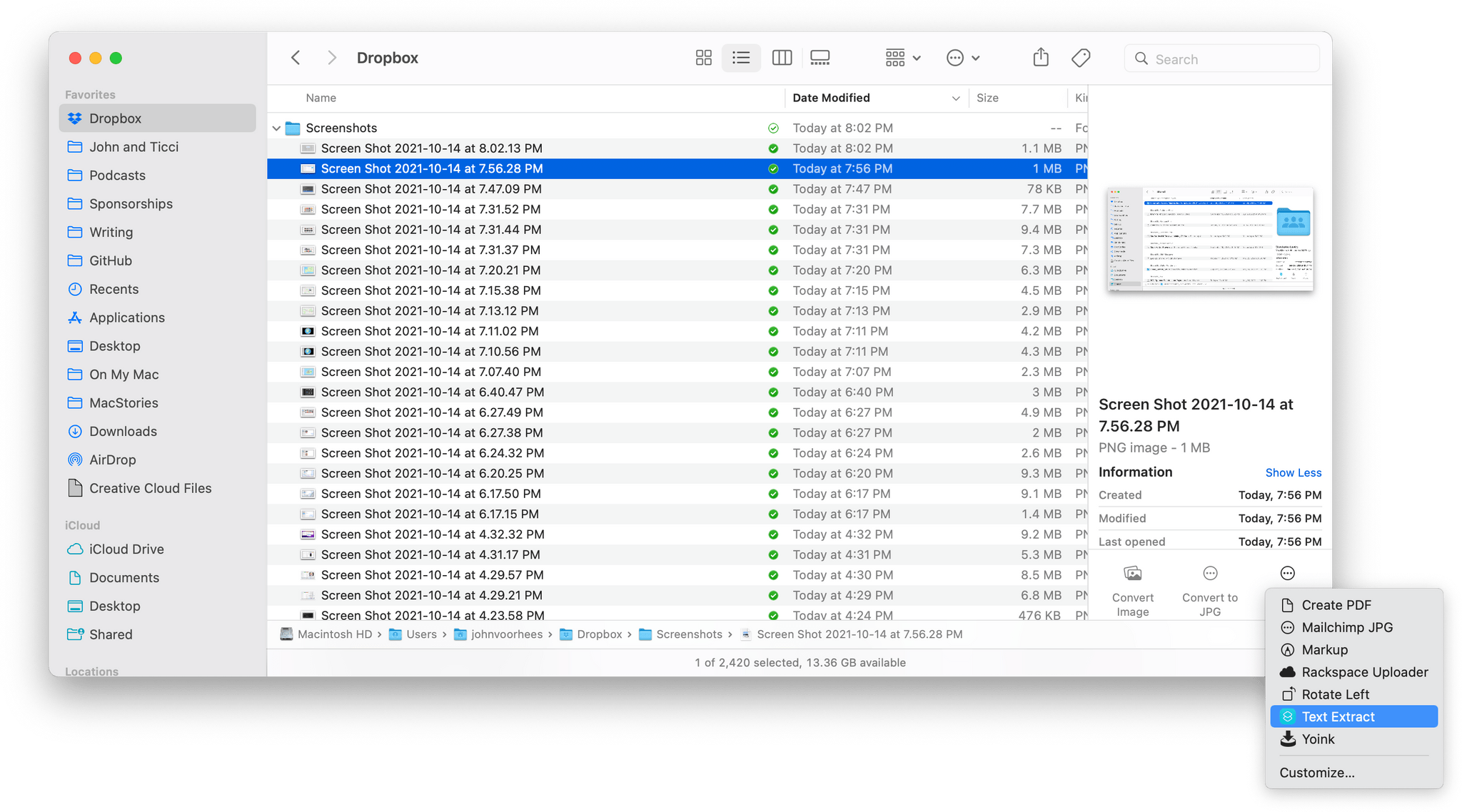 As I mentioned in the Shortcuts section, you can also make your shortcuts accessible in the Finder's Quick Action menu. Quick Actions have been in the Finder since macOS Mojave. macOS ships with a set of system Quick Actions, and they can be created in Automator. Third-party developers can ship their own Quick Actions too, but few have. Whether Shortcuts will be a hit with third-party developers remains to be seen, but if it is, Quick Actions should become significantly more useful than they have been so far.
Copying files has been improved too. There's a new pie-style icon that fills as a file is copied, and Apple says it will give users a better sense of when a copy will be finished. You can also interrupt a file copy job and resume it later in a manner that's similar to stopping and restarting a download in Safari.
Mail
At WWDC, Apple announced that existing Mail extensions would stop working at some time in the future, although no date has been given yet. In their place, Apple introduced MailKit, a new developer framework for creating four types of mail extensions for composing messages, applying rules to incoming messages to automate things like color labels, inbox destinations, and read status, content blockers for blocking messages based on their HTML content, and message security for encrypting and decrypting messages.
Developers can offer Mail extensions as part of an app or on their own as long as they are sold on the Mac App Store. From what I've read and heard, the initial scope of Mail extensions is viewed as fairly limited by developers, which will preclude some existing Mail extension developers from adopting MailKit. However, the new framework promises improved security and easier user installation and management, which could pay off over time.
Voice Memos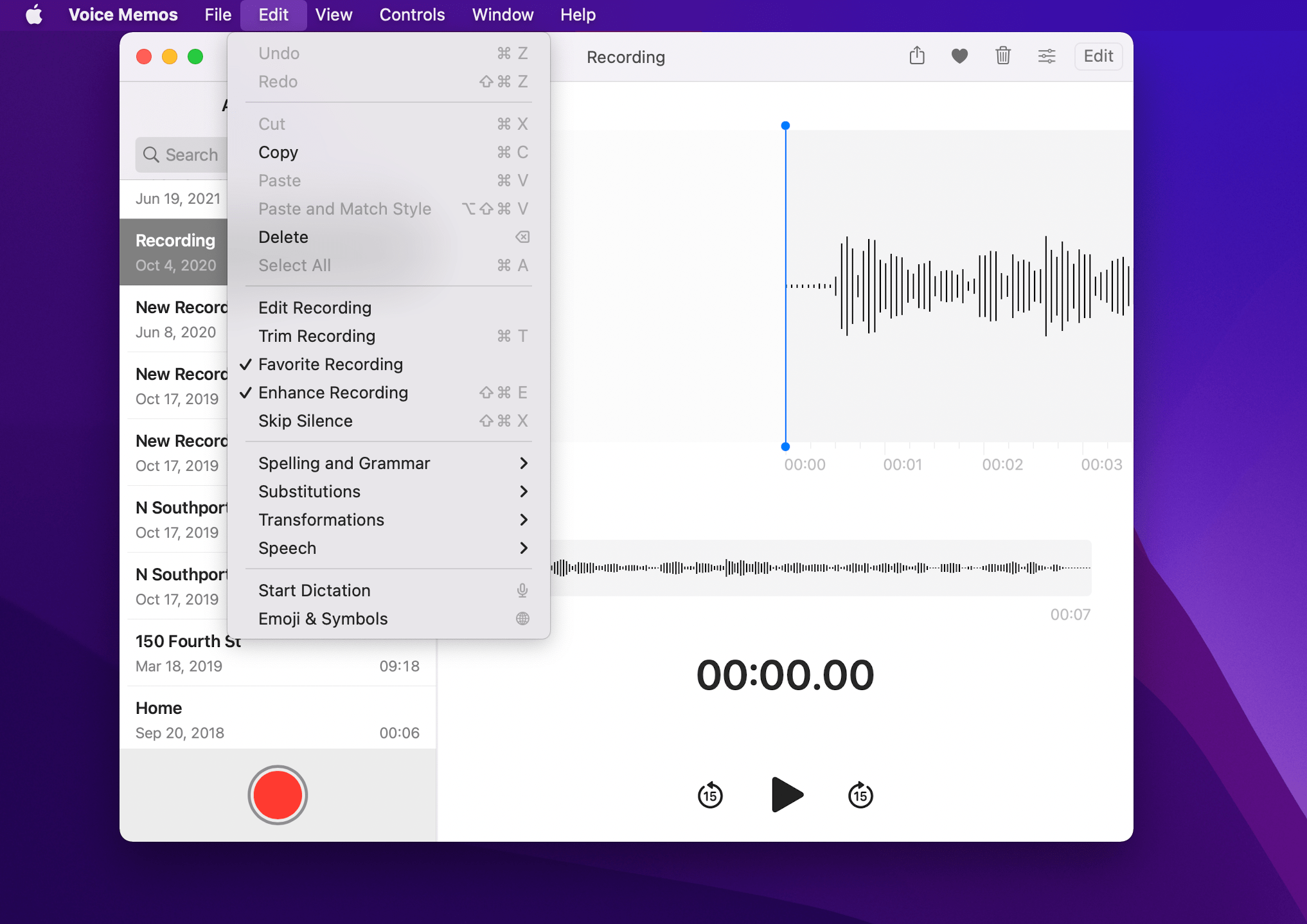 You have to wonder whether Voice Memos is a testing ground for features Apple would like to use elsewhere someday. I say this particularly in connection with the app's new skip silence feature, which is similar to the skip silence feature pioneered by Marco Arment in the Overcast podcast player. With a single click, you can skip over long silences in audio, which is handy, and while not exactly the same as Overcast's feature, it's the sort of thing I wouldn't be surprised to see come to Apple Podcasts next year. Voice Memos also adds playback speed controls with Monterey, allowing you to speed up or slow down the audio.
Apple News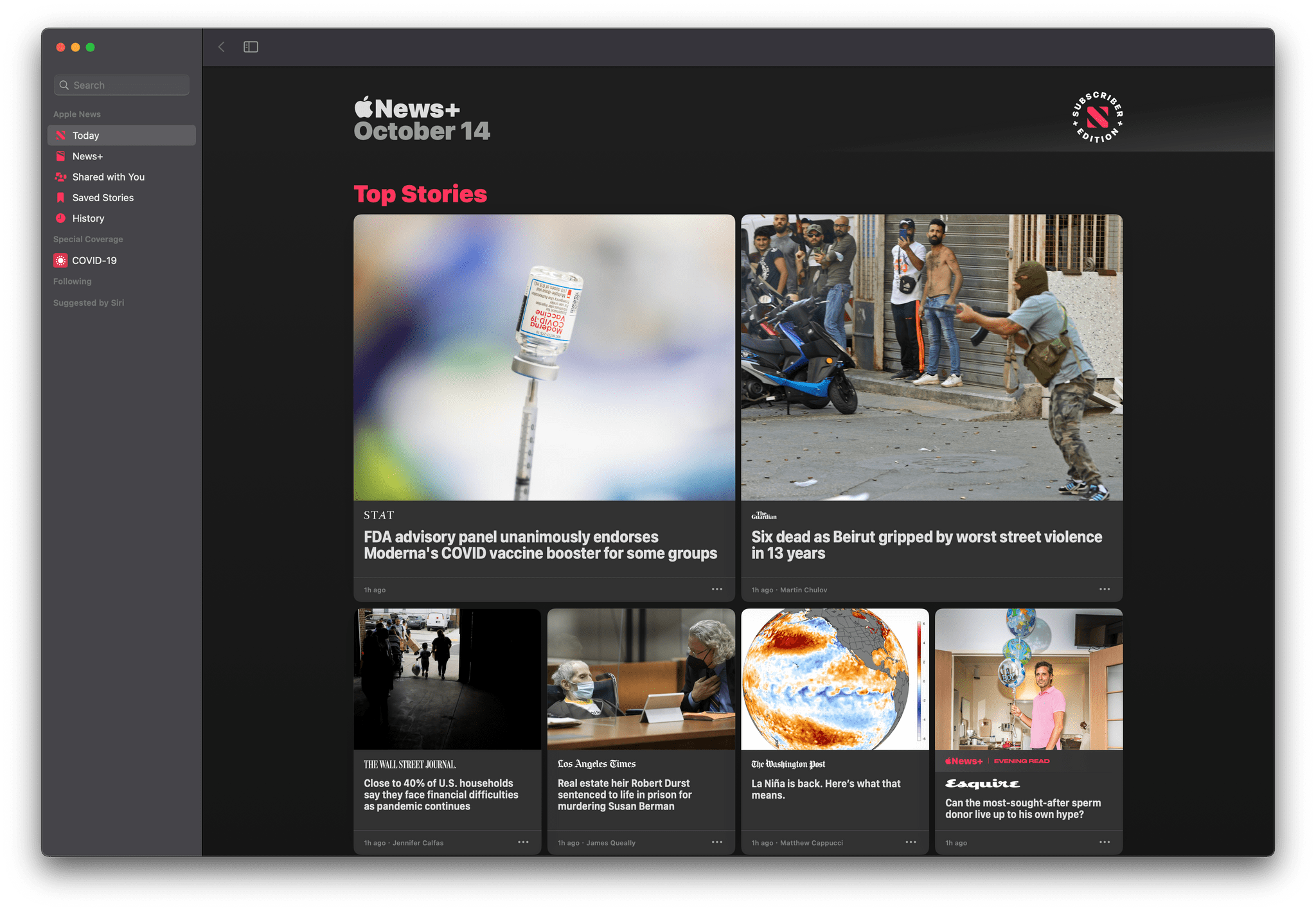 The changes to Apple News are light this year. The design of the app has been tweaked, but the changes are nothing drastic. The second tier of stories after the biggest headlines of the day now feature bigger images that look more like smaller versions of the top-tier stories, but I had to look back at Apple News on a Mac running Big Sur to figure out the differences.
Shared with You is also available in News too. I rarely use Apple News on my Mac, and Shared with You isn't going to change that, but it could be useful to you if people you know send a lot of links you want to read all at once when you're in front of your Mac.
Apple Podcasts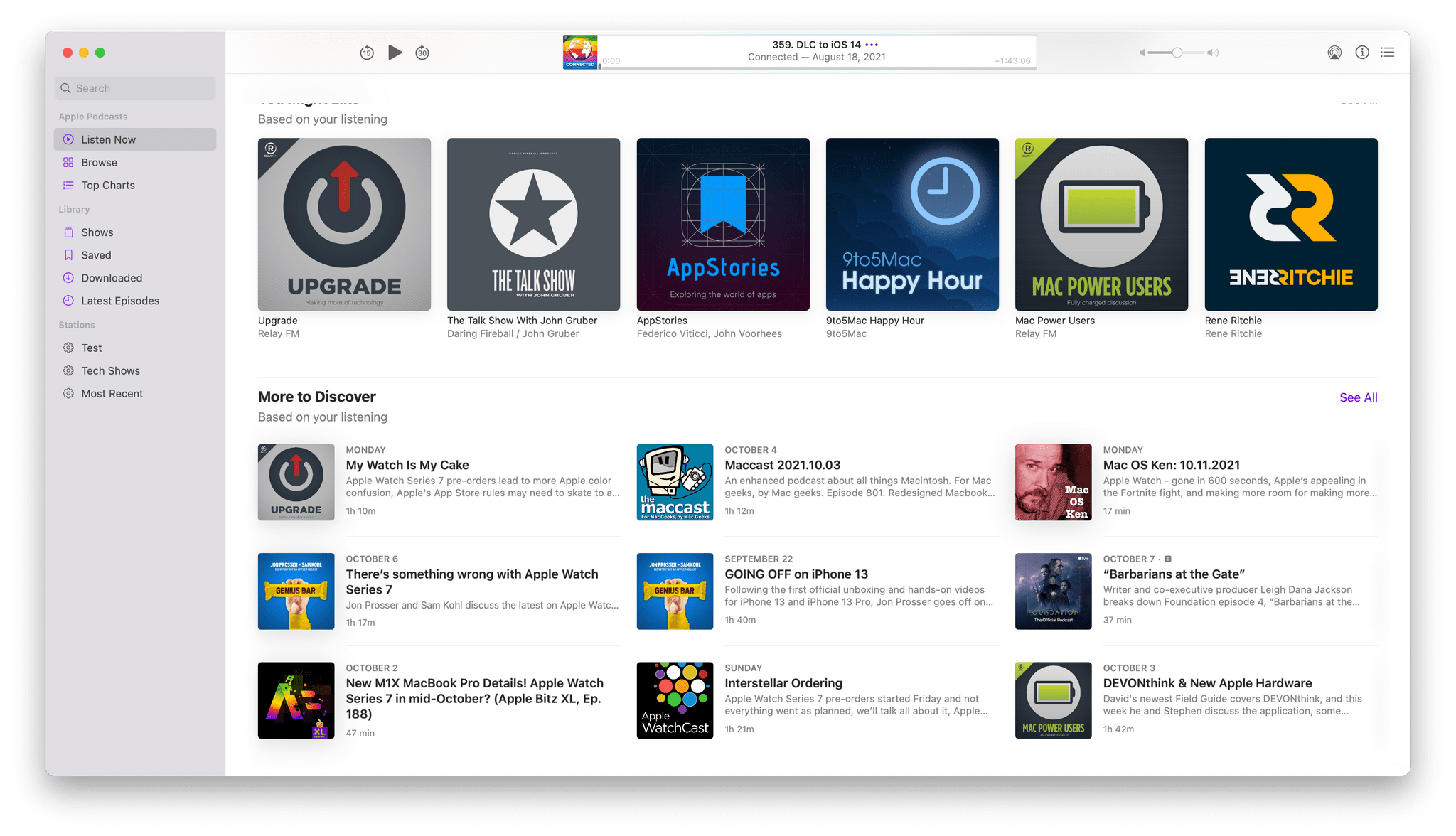 Apple has also tuned up the recommendation engine for its Podcasts app this year. The Listen Now section is more personalized with recommendations based on topics the app has decided you're interested in. The 'If You Like' section recommends shows you have in common other listeners. Podcasts also offers topical recommendations based on the categories of the shows you listen to.
I haven't noticed a significant change to my recommendations, but I don't play podcasts regularly in Apple Podcasts on my Mac, and most of the episodes I've downloaded are from shows we produce at MacStories that I download for testing purposes. As a result, my recommendations unsurprisingly are tech shows with a heavy focus on Apple. They're good recommendations, though, because many are shows I already listen to in other podcast players on my iPhone.