Books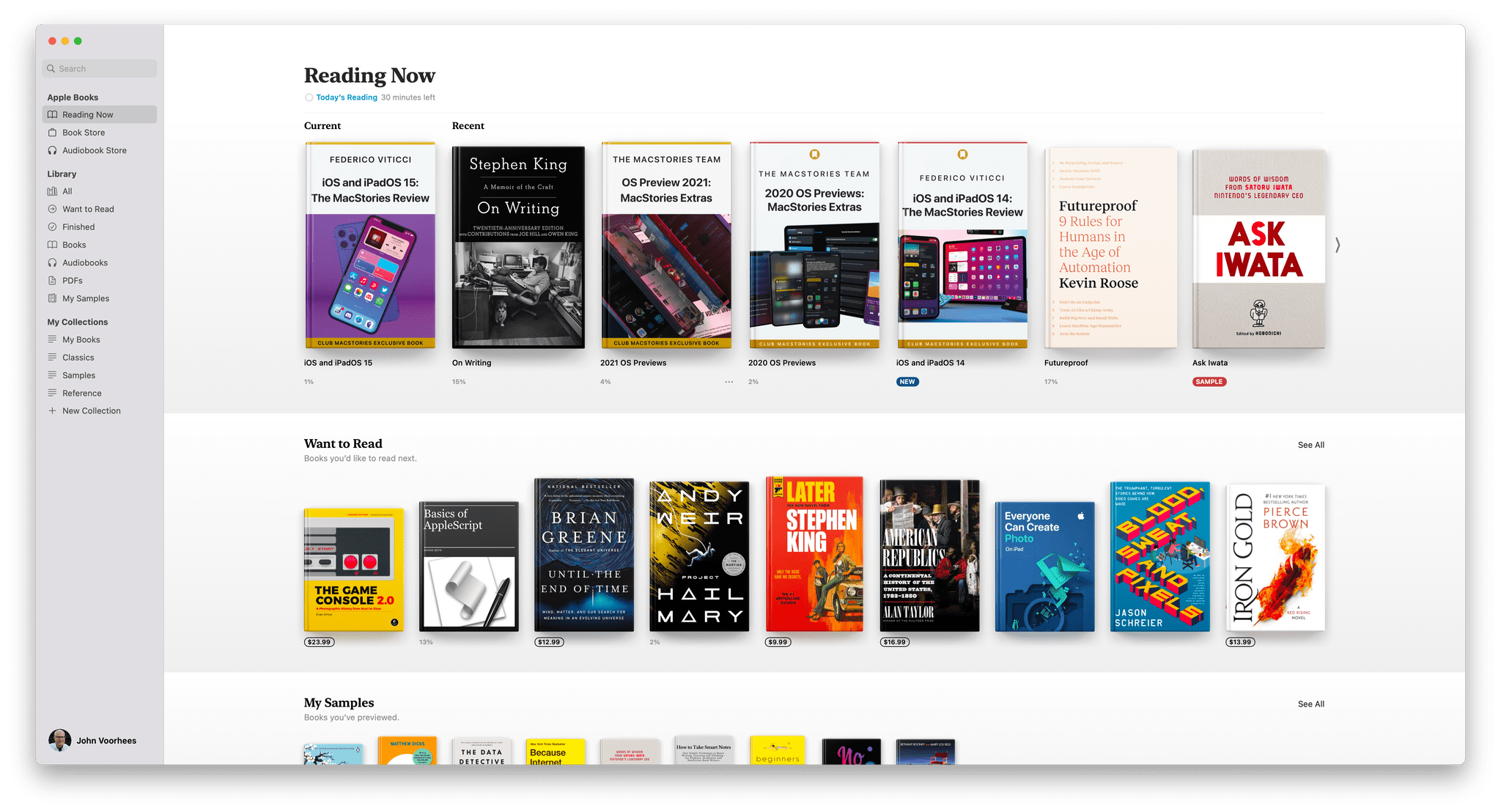 Finally, Books on the Mac has been updated to work like the iPhone and iPad versions. Books is one of those apps that languished on the Mac, which isn't surprising. Books undoubtedly is used first and foremost on the iPad, followed by the iPhone, with the Mac a distant third. The Mac just isn't the place you think to go when you want to relax with a good book. However, Books is also a PDF reader, and its store is full of reference and other non-fiction books that serve as companions to students and anyone learning something new, which is why I'm glad to see it has been updated.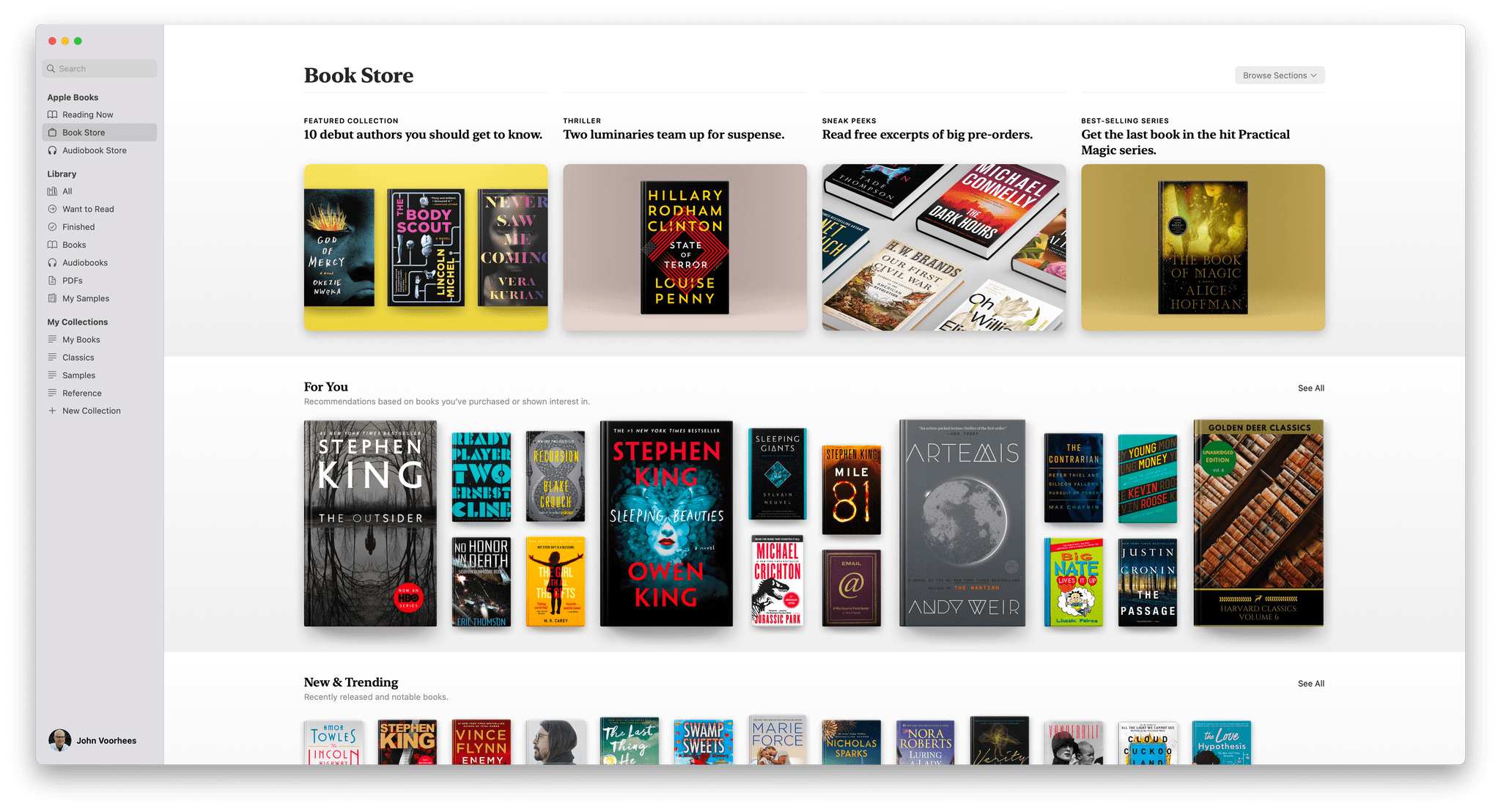 If you've used Books on an iPad, the experience on the Mac is nearly the same, except the app has a sidebar on the left for quick access to the functionality found in the tab bar on the iPad. The changes mean there's a Reading Now section highlighting the book you're currently reading, your recent reads, books you want to read, and samples you've downloaded. The Book Store has adopted the modern design of Book Store on the iPad, and there's a separate Audiobook Store on the Mac for the first time too.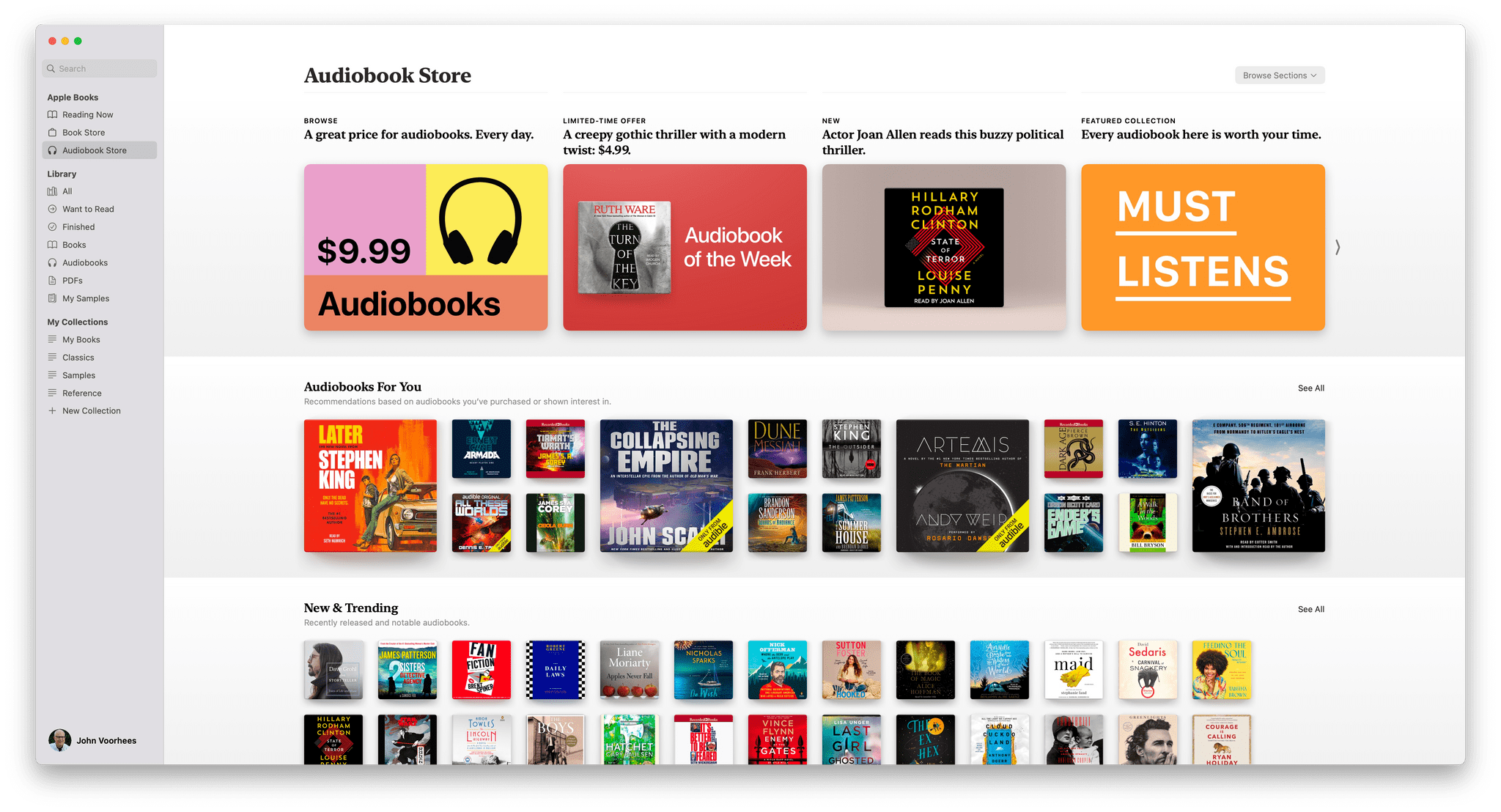 Over three years ago, we wrote a glowing review of the update to Books on the iPhone and iPad because it was clear from the update that it was redesigned with readers in mind. The Mac isn't going to be the place I do most of my reading, but I'm pleased that Mac users can now benefit from the same features that have been a joy to use since 2018 on the iPhone and iPad.
Visual Look Up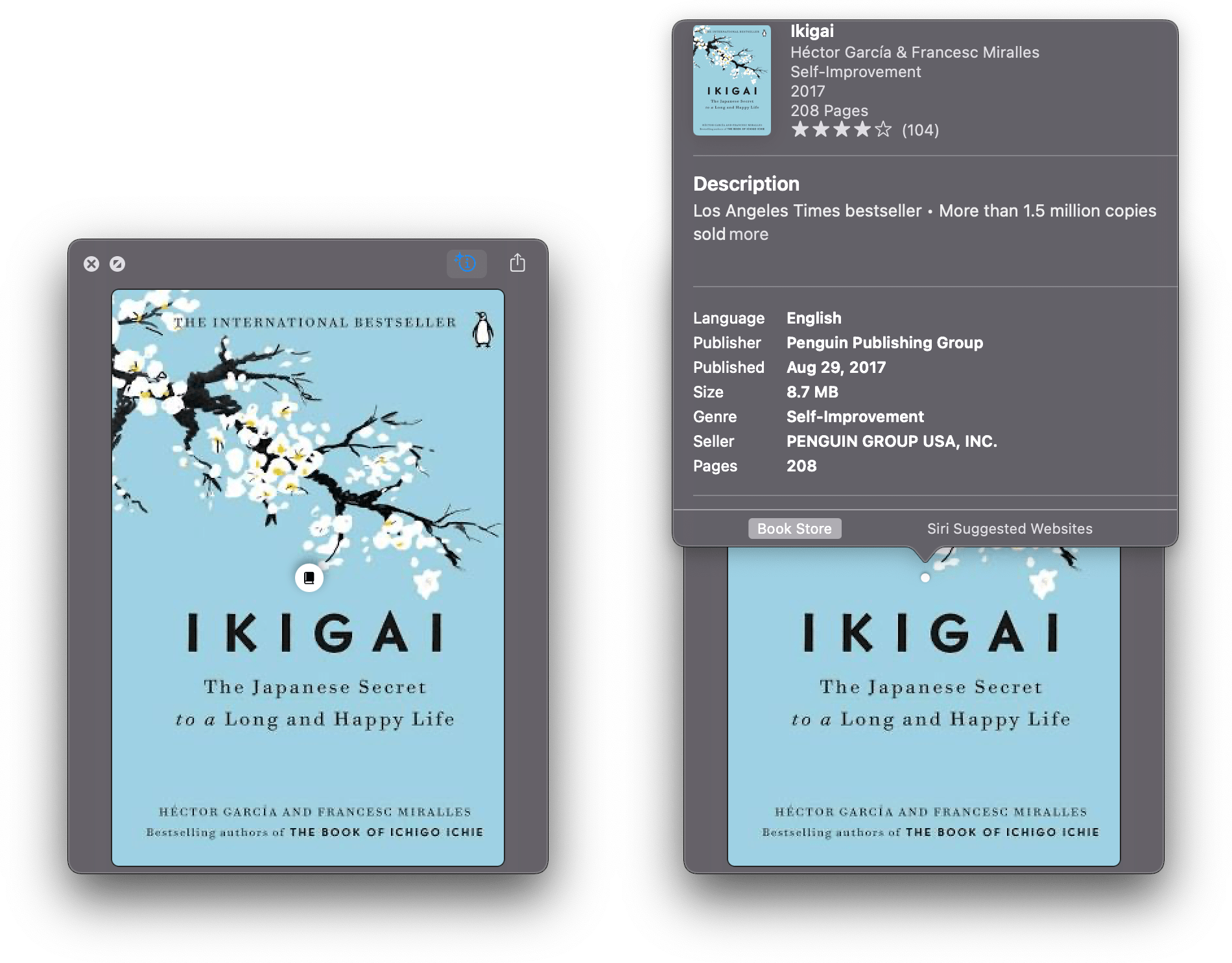 Apple Books also works with Visual Look Up, a new system-wide feature that can also identify animals, plants, landmarks, and works of art. The feature works roughly the same way for each category, but the results are uneven between categories.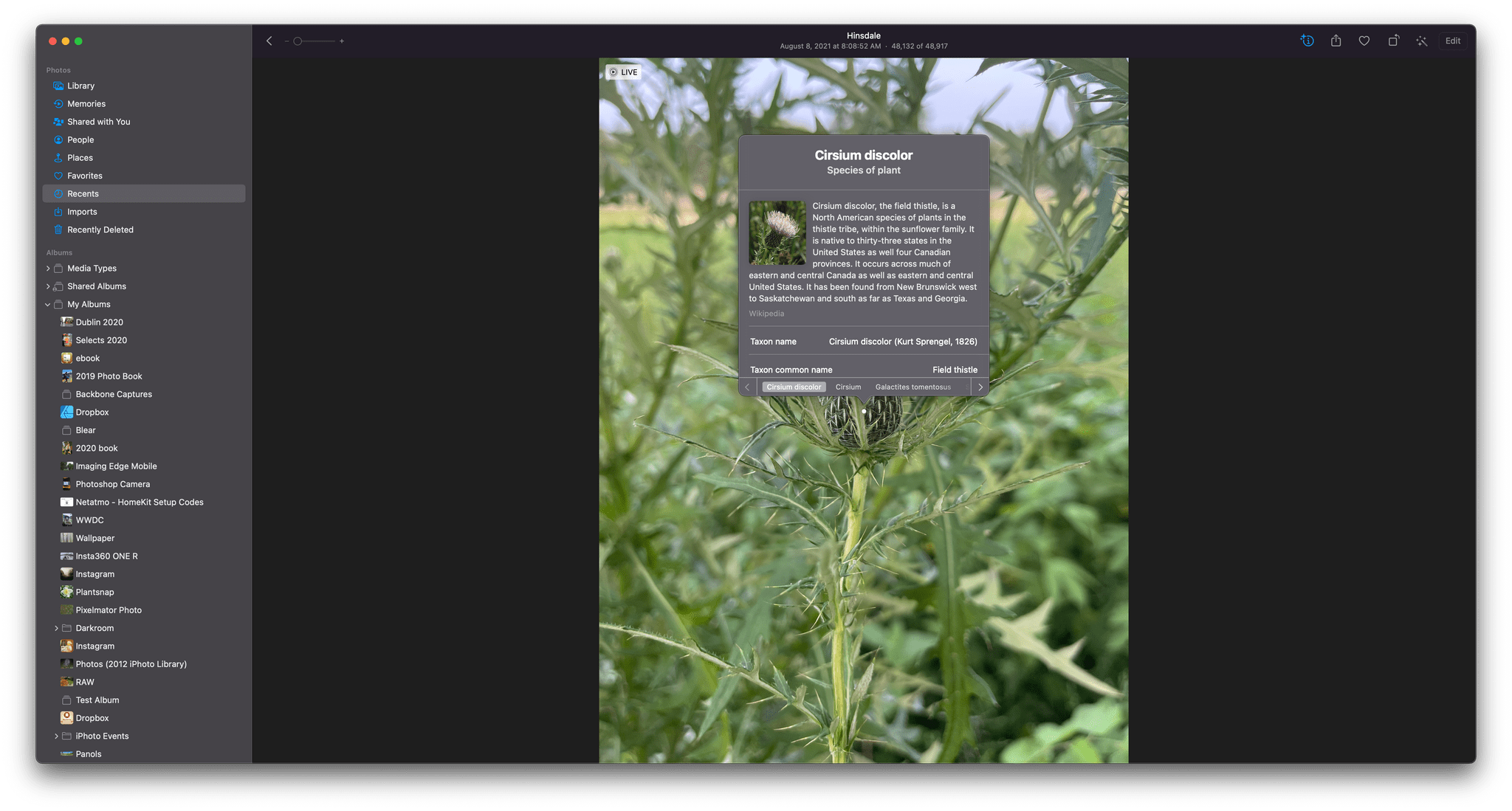 If you're in the Photos app, you'll see a little sparkle icon applied to the info button for any image for which Monterey can provide additional information. Click the info button, and for some categories like plants, a small icon will appear in the center of the image that you can click for more information. For landmarks, the icon is of a map shown in the bottom corner of the image.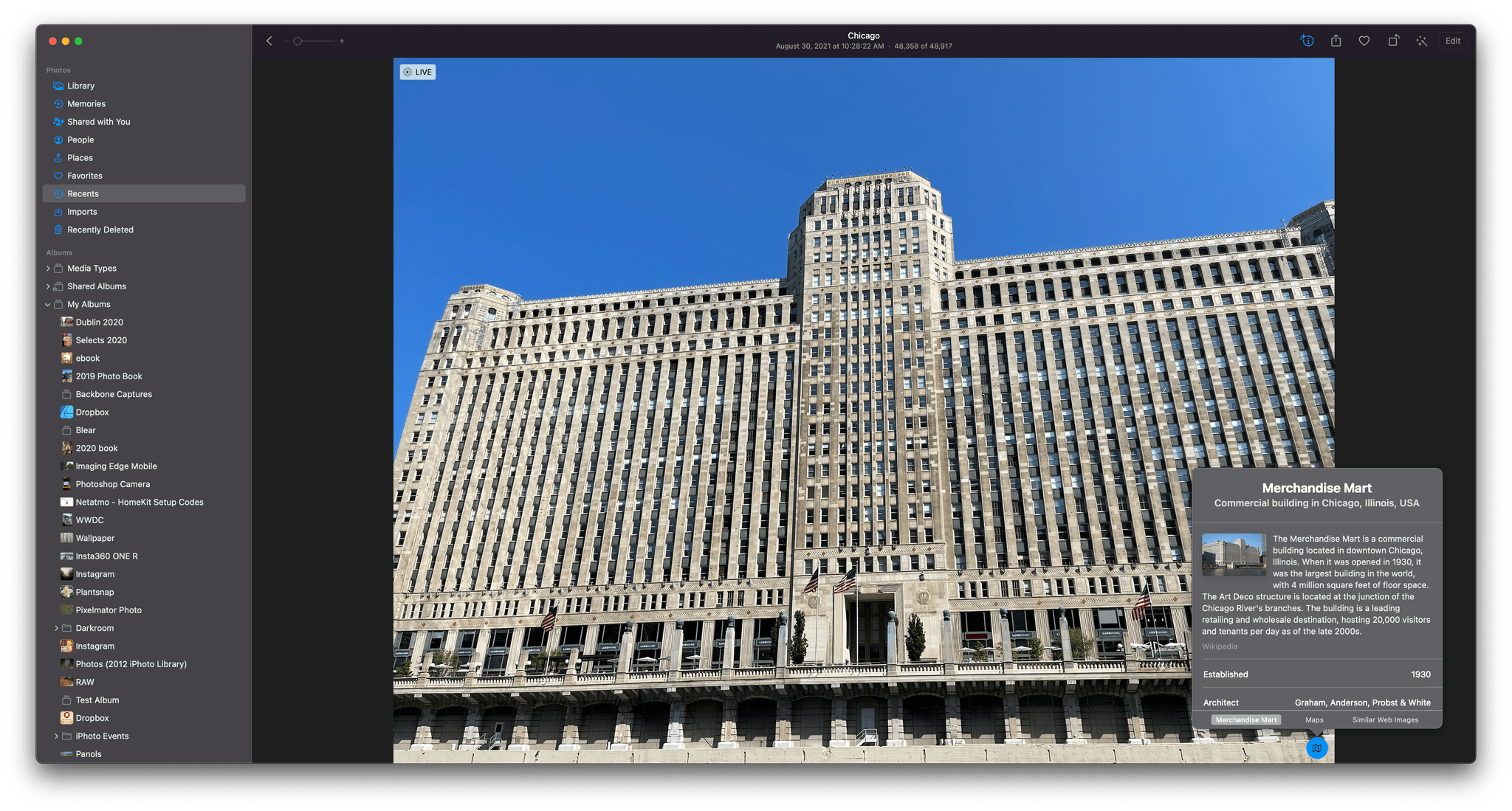 If you're in Safari, you can right-click on an image and select Look Up to see more information. In the case of books, the feature returns basic information about the book from the Apple Books catalog, a link to the Apple Books store, and Siri suggested links to other sites, including other booksellers. Most other categories return Wikipedia entries.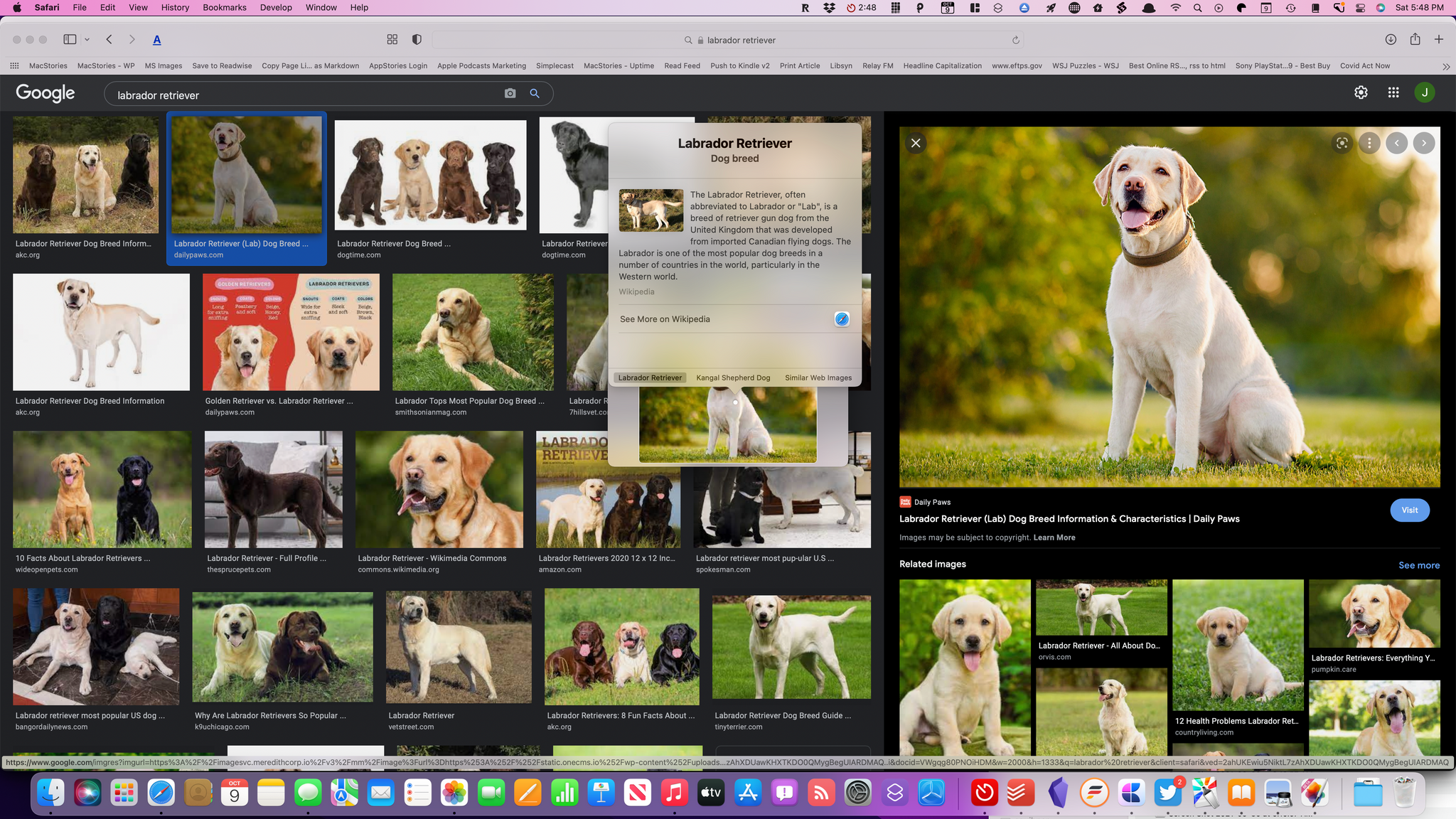 In my testing, plants were correctly identified most of the time, and books were spot-on as long as they were available from Apple Books. Landmarks worked well as long as there was GPS data associated with the image, which obviously narrows down the possible choices significantly. The least reliable categories included dog breeds, which isn't too surprising. Results for mixed breed dogs often felt like a random stab in the dark, but the feature identifies pure bred dogs and cats without too much trouble.
The most surprising omission from Visual Look Up are other types of media like TV shows, movies, and music. Apple has an enormous database of artwork as part of Apple Music and the iTunes Store, which it should make use of like it's doing with books. Just as you might be reading a book review on the web and use Visual Look Up to quickly locate it in Apple Books to purchase, I'd like to be able to read a review of an album online and use Visual Look Up to open the album in Music, so I can listen along as I read the review. The same sort of scenario makes sense for movies and TV shows too.
Photos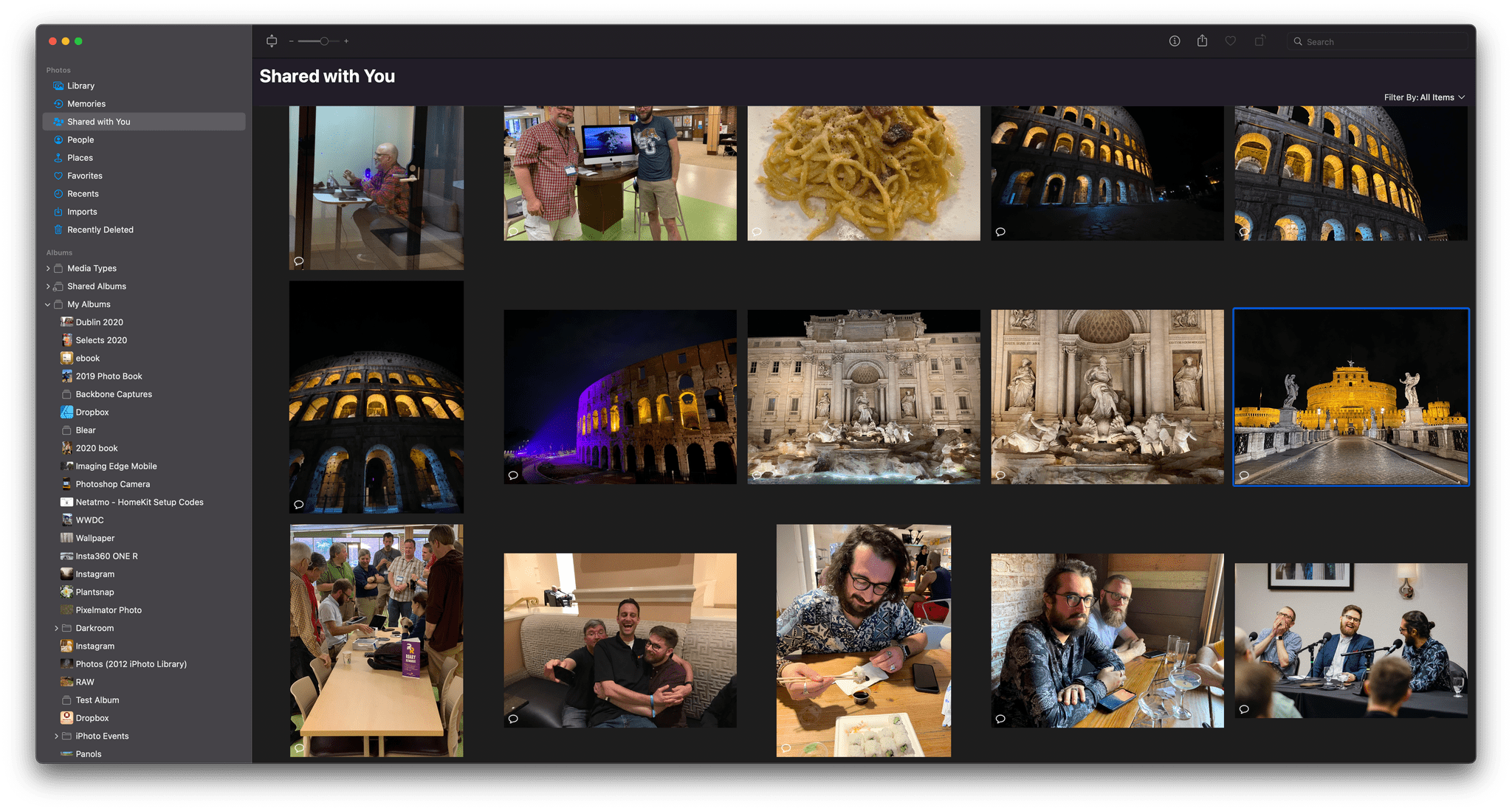 The updates to Photos this year are split across under-the-hood improvements and enhancements to Memories that are coming later. Photos can now import images from a second Photos library, which is good to see. Merging photos libraries used to require a third-party utility like PowerPhotos. Apps like that will still be useful for their more extensive feature sets, but I'm glad to see a common task like merging libraries brought into the Photos app itself.
Apple also says that iCloud Photos syncs more quickly with a new Mac than previously. I haven't had a new Mac to try this on, but I certainly hope it's accurate because syncing a large library for the first time took seemingly forever on prior releases of macOS.
Photos should identify people more accurately too. That's a feature that has always been reliable for me, so I can't say I've noticed a difference, but any improvement is welcome when it comes to organizing and searching your photos.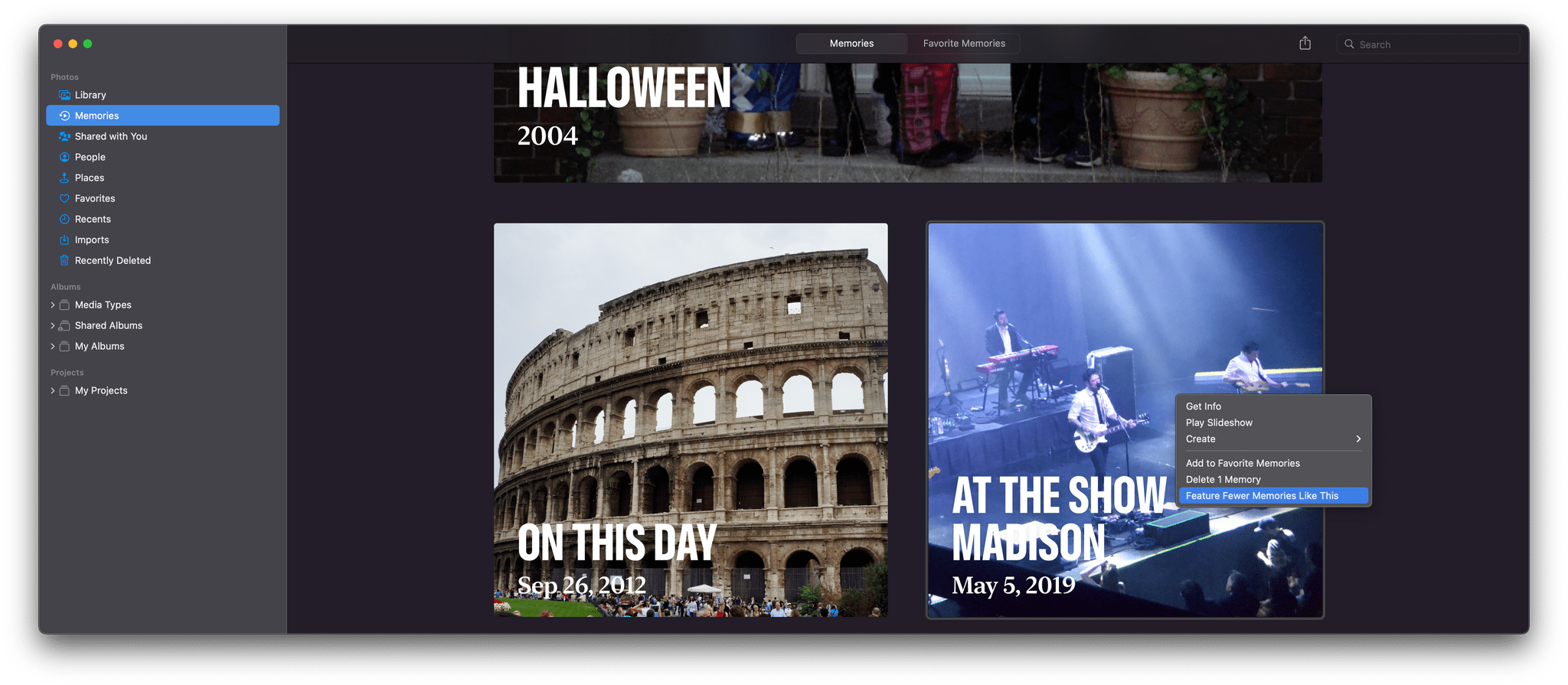 With Monterey, you can instruct Photos to suggest certain types of memories, places, holidays, days, or people less often, and the change will be reflected system-wide in the Photos app, widgets, and Memories. In Memories, for instance, right-click on a memory, and there will be an option to feature it less. Not all memories are happy ones, so I'm glad to see Apple has put more control in the hands of its users.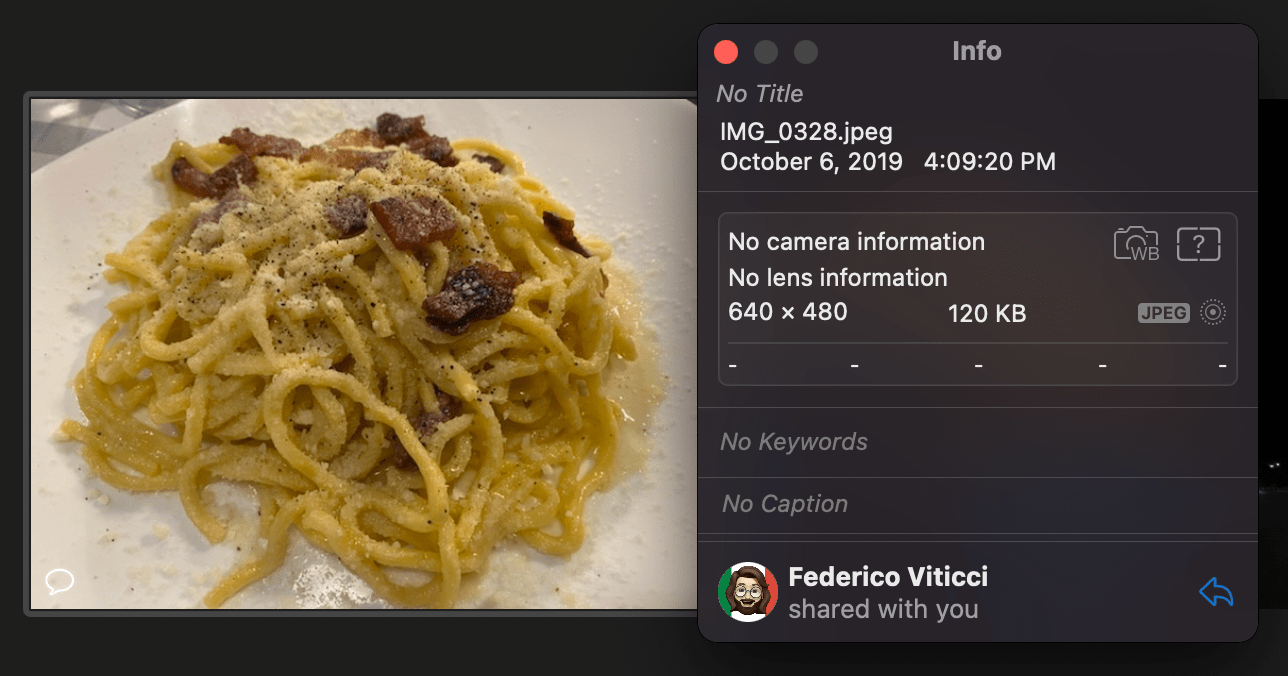 Shared with You is also part of Photos in macOS Monterey. I turned it on to see what would turn up and was generally pleased with the results. I was surprised to find that the shared images stretched back years, grabbing photos from Messages from long before I installed Monterey, which was nice because those were all photos that would have been difficult to locate in the Messages app. There were a handful of design prototype images that Federico had sent me over the summer and an unappealing picture of a half-eaten sandwich from a couple of years ago, but by and large, the images were of friends and family, which were fun to rediscover without scrolling through Messages.
Memories is a feature that's slated to get new features later this fall that will let you move around inside the auto-generated memory, skipping around among photos without breaking the feel of the memory. Apple says the music and transitions will adjust on the fly to create a more immersive experience. You'll also be able to change the music and style of Memories. Because the changes to Memories aren't available yet, I have not tested them.