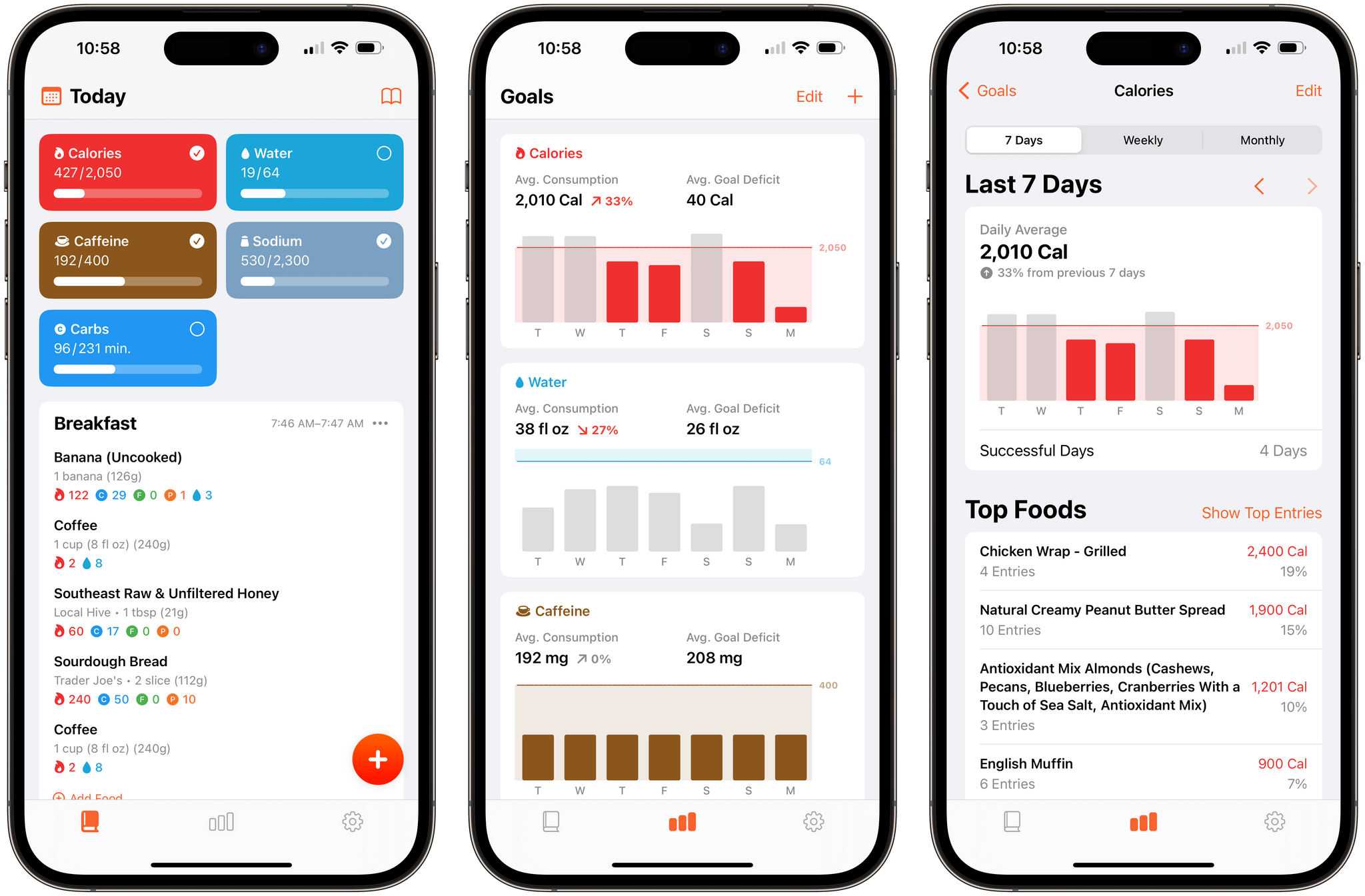 It's been over two years since FoodNoms, the nutrition tracking app for the iPhone, iPad, Mac, and Apple Watch by Ryan Ashcraft, debuted on the App Store, and I reviewed it. Over the past two years, the app has steadily improved, refining its database of foods, adding Home Screen widgets, and a lot more. With version 2 out today, FoodNoms has taken its biggest step forward since its launch with a long list of new features and a refreshed design.
At its core, FoodNoms lets you set goals, track what you eat, and monitor your progress toward your goals. There are a lot of apps that do something similar, but what sets FoodNoms apart is its design, ease of use, and emphasis on privacy.
I've been a fan of FoodNoms' design from the start, but version 2 is a cut above previous versions, especially on the iPad and Mac. Tweaks to the app's design run throughout the app without alienating existing users. If you look back through my original review, you'll spot differences, like the colorful tiles at the top of the app's Today screen that track your goal progress and the updated Goals screen, immediately.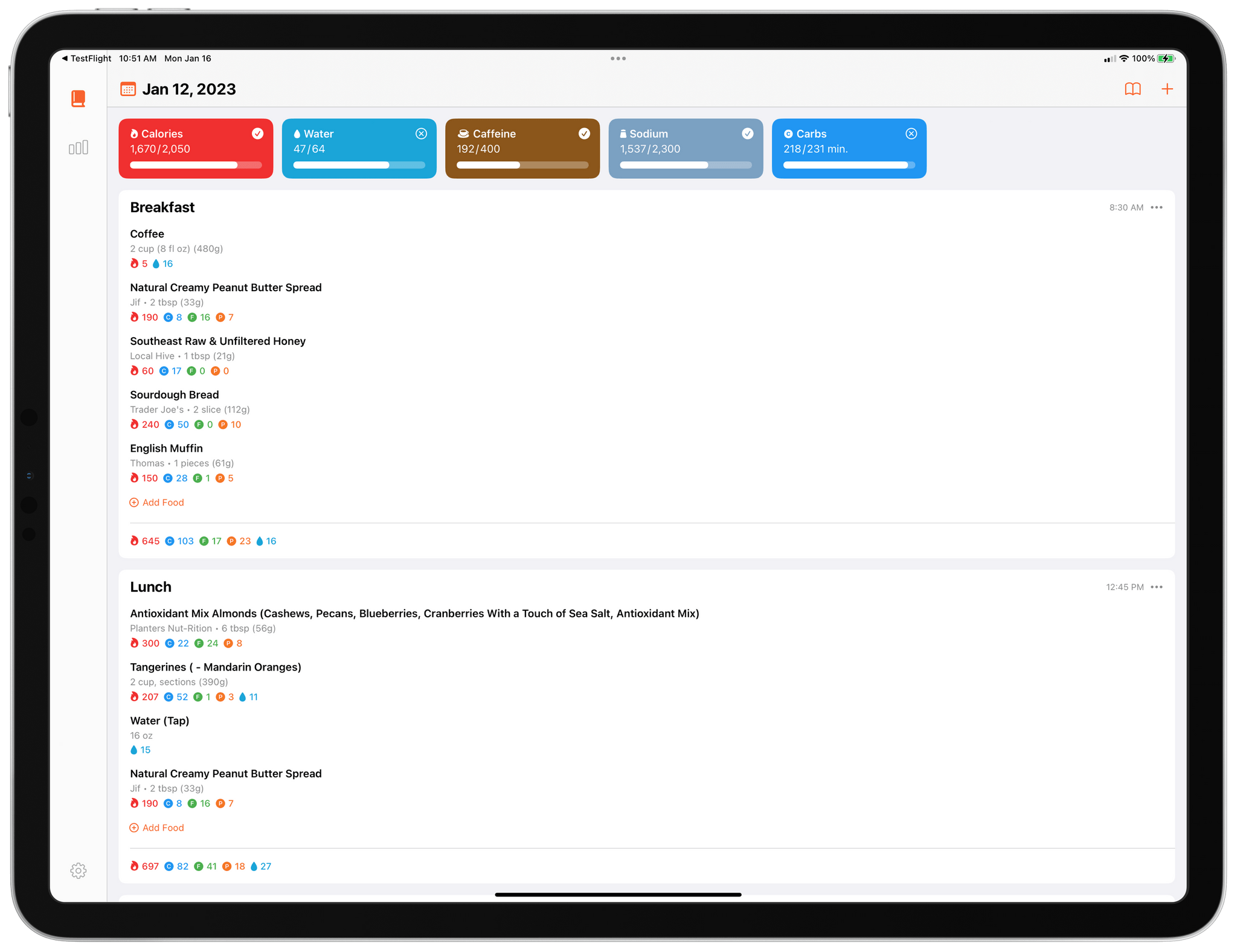 Where you'll notice the biggest change, though, is on the iPad, where the tab bar has been replaced with a sidebar that opens up more vertical space for your tracked data and makes better use of the device's bigger screen overall. The same is true on the Mac, where the app has been built with Apple's Catalyst technology and closely resembles the iPad version. The overall effect is a refreshed, modern look that does a better job emphasizing and communicating progress toward your nutritional goals than ever before. The iPad update also brings with it multiwindowing support, and both the iPad and Mac support keyboard shortcuts.
Tracking nutrition and forming better eating habits can feel like a chore when you first start, which is why it's crucial for tracking apps to make entering data as simple as possible. FoodNoms has delivered easy, low-friction nutrition tracking from the start. However, with the latest release, the app adds some important refinements. Searching the app's database of foods has been enhanced, so it's faster than ever. The algorithm for suggesting foods to log has been made smarter too. It's hard to objectively compare these sorts of under-the-hood improvements when using the app, but in my experience, FoodNoms' search is fast, and its suggestions are relevant, both of which speed up data input.
Of course, all of the other ways of logging foods are available. Besides searching, you can scan bar codes for prepared foods and create new foods from scratch, which you can choose to contribute to the app's community-sourced database. Foods can also be combined into recipes and added as meals that can be logged all at once, circumventing the need to enter multiple items repeatedly. Meals are now customizable in FoodNoms 2, too, letting you add to the app's pre-defined meal list.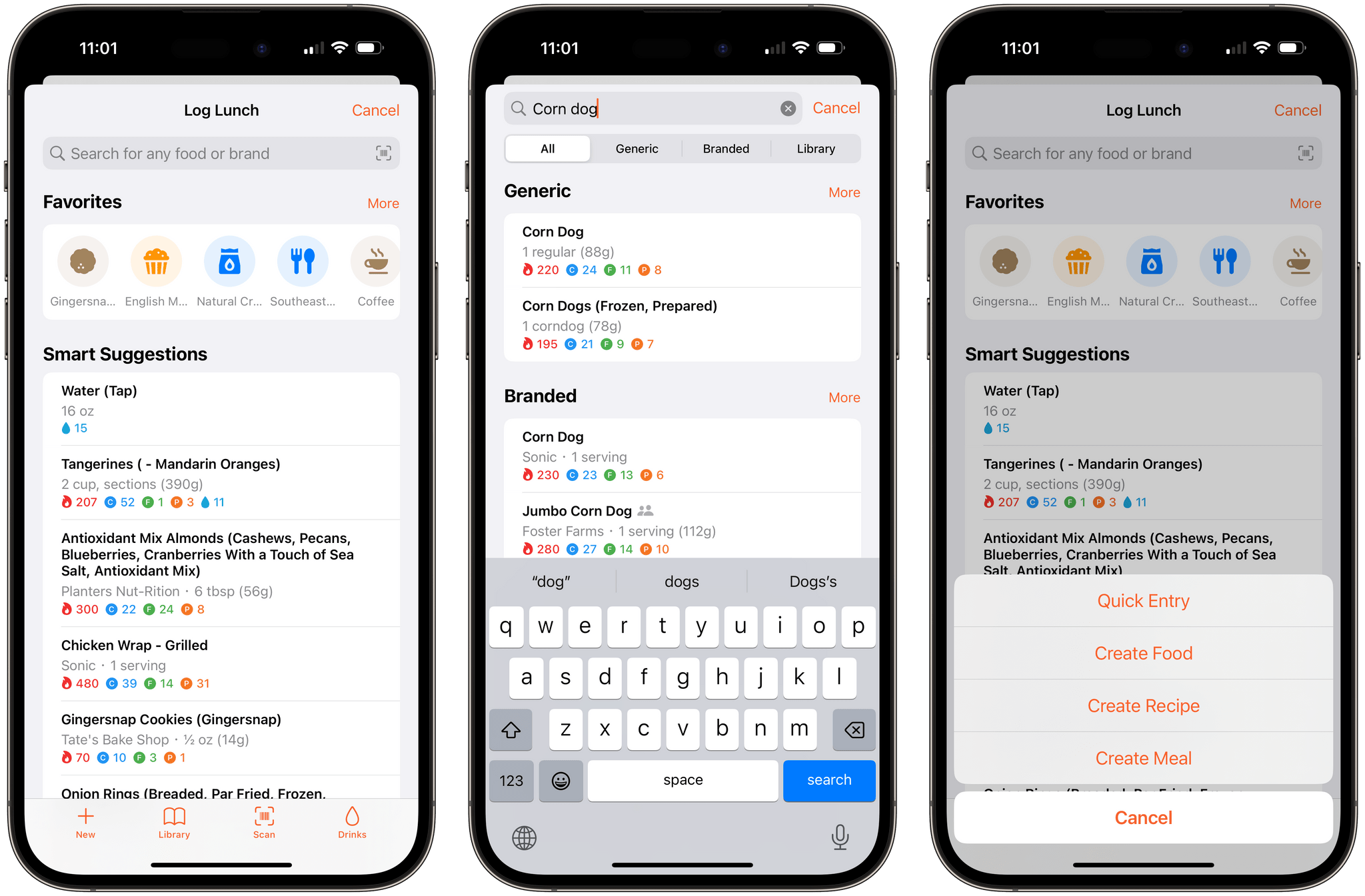 Another new feature of FoodNoms 2 is its Favorites bar. When logging an item, you'll see a row of items you've pinned as favorites for even faster entry. Favorites can be individual foods, recipes, or meals, and you can customize each with its own icon, color, and pre-defined portion size.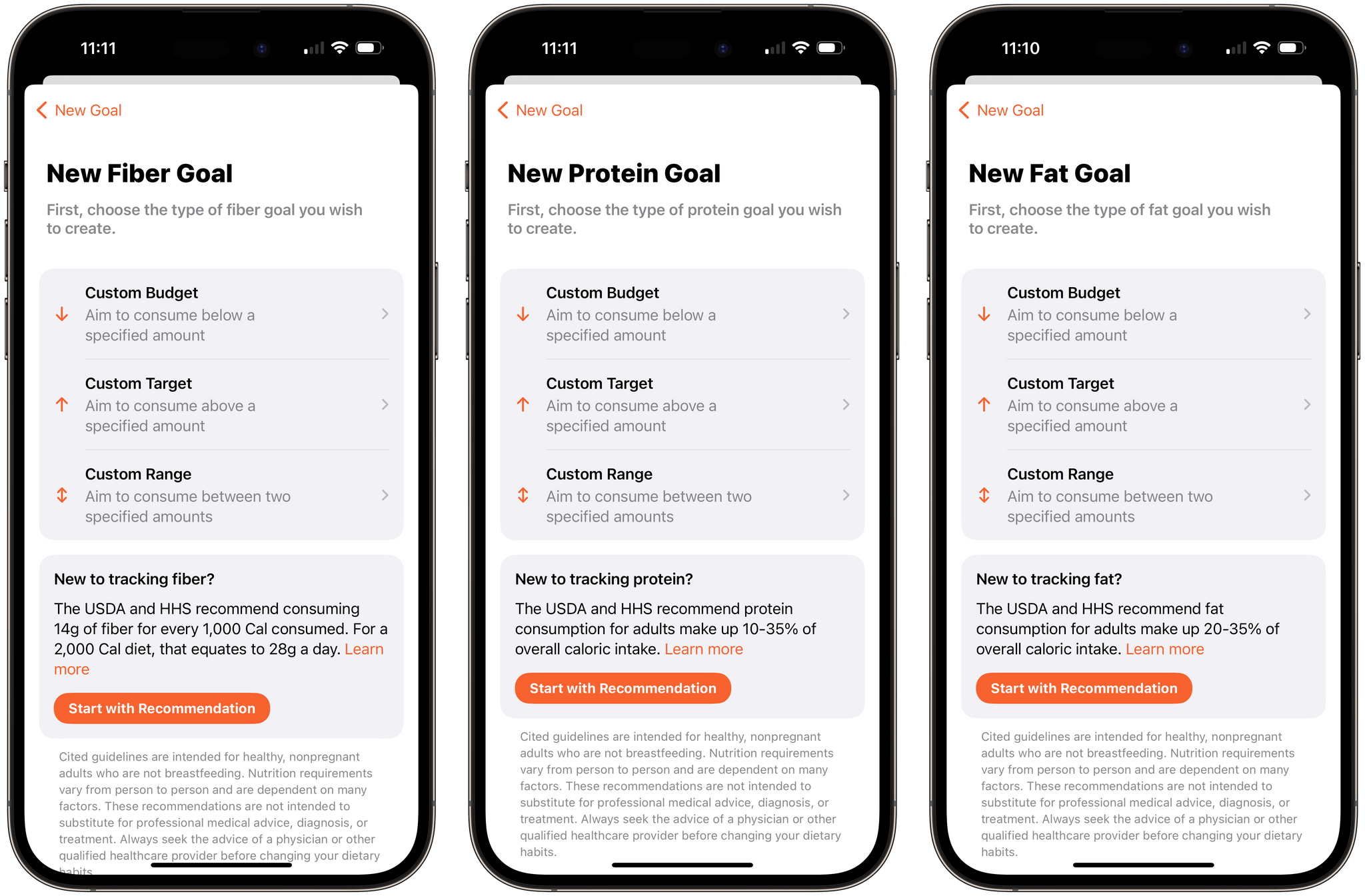 Goal tracking has been updated too. FoodNoms integrates more tightly with Apple Health than before, and one benefit is that tracking calories can now be based on your body profile and energy burn data from the Health app. That means, for example, that if you go out for a run and burn 500 calories, that burn will be reflected in your daily calorie allowance in FoodNoms. The app also includes goal recommendations based on guidelines from the US Departments of Agriculture and Health and Human Services, plus the Centers for Disease Control.
The deeper integration with Apple Health extends to syncing data from other food tracking apps, meal subscription services like Hello Fresh that include nutritional data about the meals they mail you, and devices like the HydrateSpark.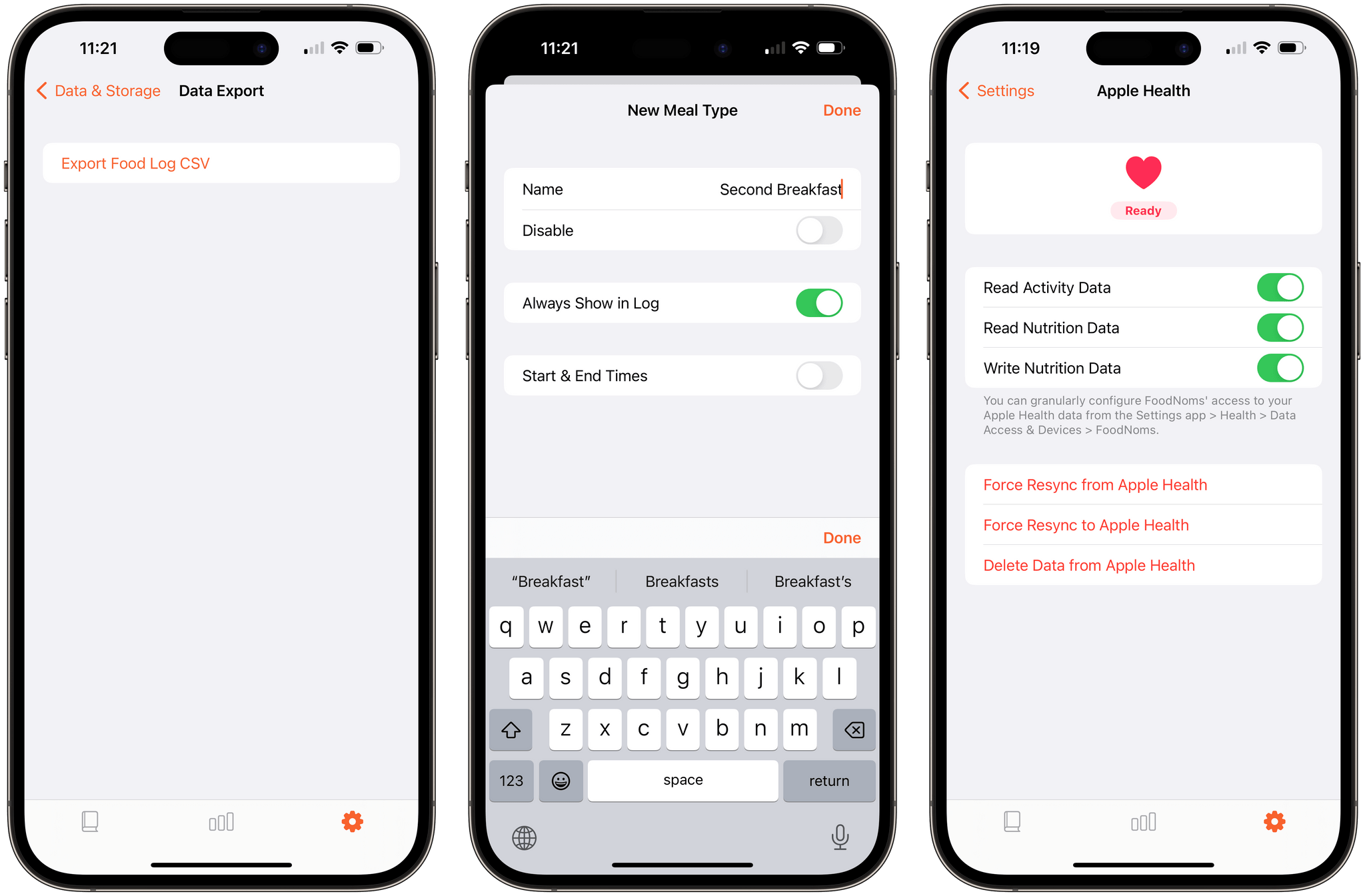 FoodNoms has been privacy focused since the start, which few other nutrition tracking apps are. FoodNoms 2 encrypts the goals you set for yourself, your library of foods, meals, and recipes, your meal types, and everything you log before saving it to your iCloud account, which is used to sync your data between devices. If you've turned on Apple's new Advanced Data Protection for iCloud option, that data will be encrypted end-to-end too.
I should mention, too, that there are new alternative icons available in FoodNoms' settings, and you can now export your logged foods to a CSV file.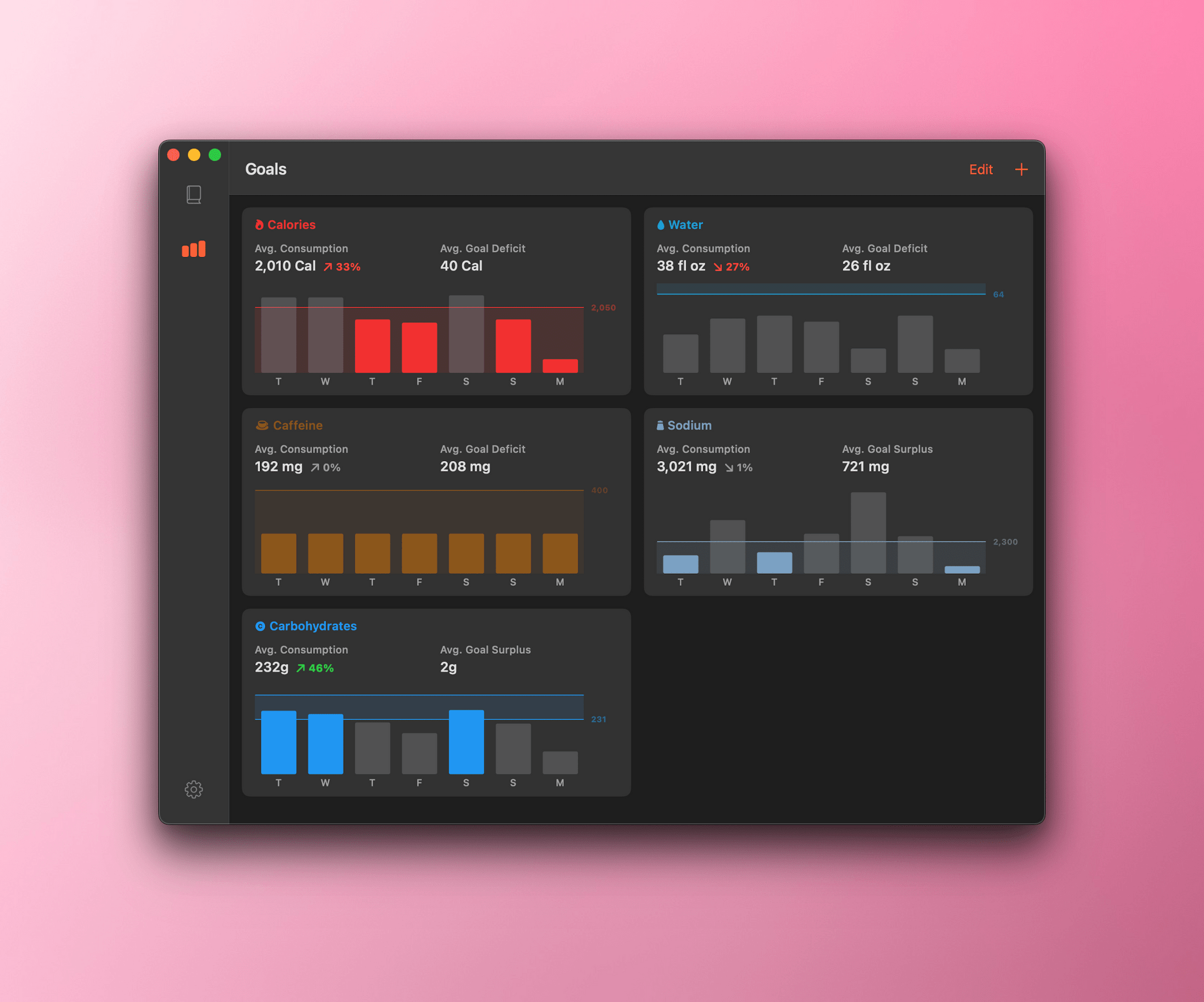 I'll admit that I'm not a consistent nutrition tracker. Instead, I track for a while when I feel like I've lost touch with how much and how well I've been eating. What I've always liked about FoodNoms is that it has no learning curve at all. Whether you drop in and out of the app like I tend to do or use it every day for months on end, the experience is great. The app doesn't require you to use it long-term to enjoy the benefits of tracking. Sure, over time, you'll build a library of meals, recipes, and favorite foods through long-term use, but FoodNoms is so easy to use and makes entering foods so simple that it is perfect for first-time and occasional users too.
Having moved somewhere that is warmer than Chicago, which, as far as I can tell, is everywhere, I've enjoyed spending more time outside this winter. That's kept me exercising more than I have during past winters and also thinking more about what I eat. The FoodNoms 2 beta came around just in time to catch me recommitting to good eating after the holidays, and it's been a terrific addition to my daily routine, which I highly recommend checking out.
FoodNoms 2 is available on the App Store as a free download, which includes all of the app's core logging and goal tracking functionally. Subscribing for $4.99/month or $29.99/year adds additional features, including the new custom meal types, favorites bar, nutrition data syncing with Apple Health, and importing of energy use data from Apple Health.
For a limited time to celebrate the launch of version 2.0, new subscribers and subscribers whose subscriptions have expired can get $10 off an annual plan by following this link.