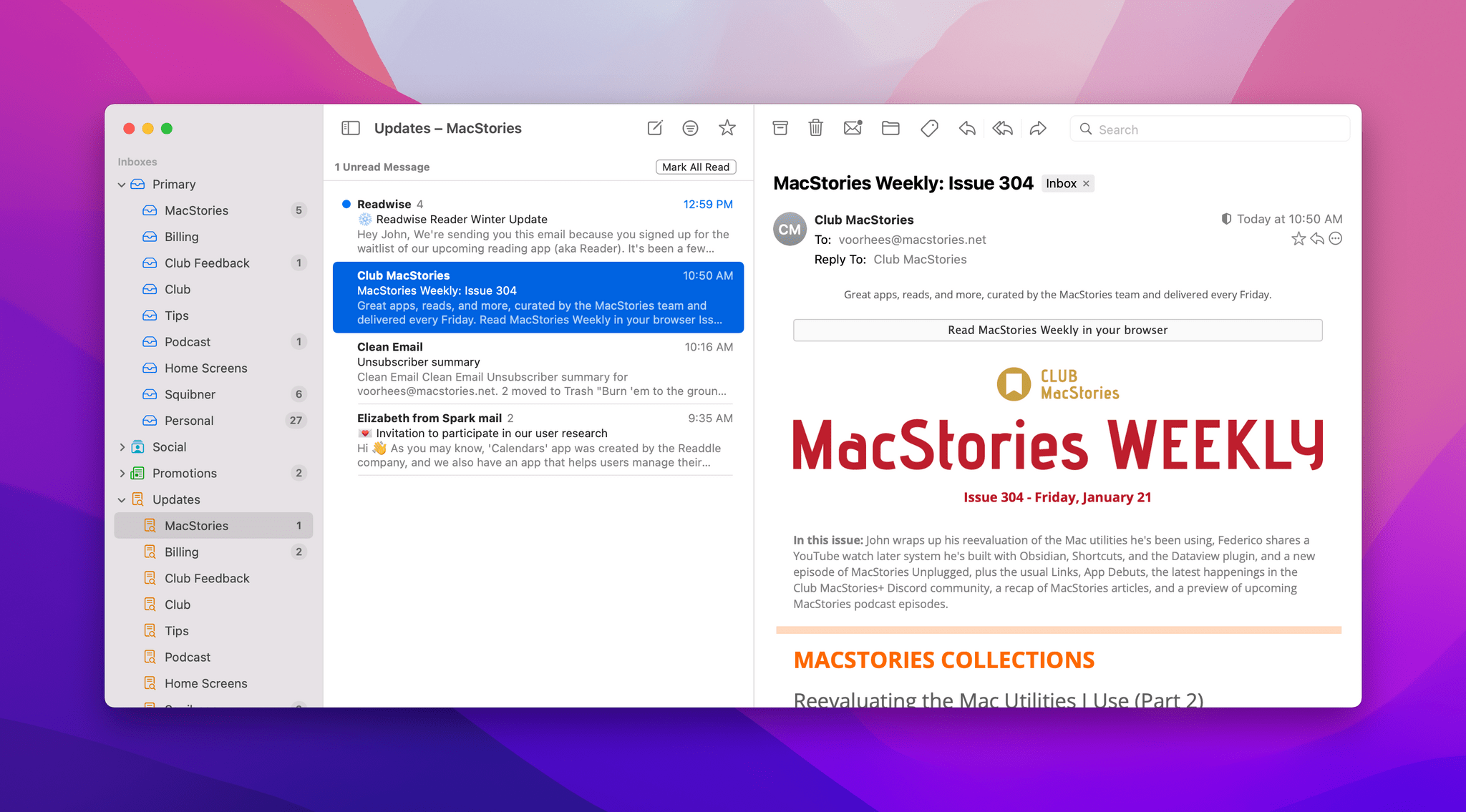 Editor's Note: Why I Abandoned the Search for the Perfect Email App and Am Making Do With a Hybrid Approach is part of the MacStories Starter Pack, a collection of ready-to-use shortcuts, apps, workflows, and more that we've created to help you get the most out of your Mac, iPhone, and iPad.
I've been revisiting my approach to email every year for what seems like forever. No matter which app I picked, I was never satisfied. On one level, that's surprising because I don't think my email needs are unique or complex. Even so, the features I value in an email app are ones that I care about a lot. The trouble is that a lot of MacStories readers could say the same thing but would pick an entirely different set of features they care about the most. This is a problem and conversation that goes back to the early days AppStories, and really, long before even that.
As 2021 came to a close, I knew something had to change and that I'd have to let go of my longstanding preference of using the same app across all of my devices. I don't abandon that approach lightly because I don't like the mental overhead of juggling multiple apps with different features to accomplish the same task. However, what started as patience as I waited for Apple to modernize Mail or a third-party developer to build something better, began to feel like stubborn inflexibility on my part. I knew it was time to make the most of an imperfect situation by cobbling together a hybrid solution that I hope will provide readers with some pointers on how they can improve how they manage email too.
Before I get to the apps I'm using to manage my email day-to-day, I want to cover how I dealt with my email backlog. My email accounts get messy as the end of the year approaches because it's our busy season at MacStories. I used to feel bad about it, but I don't anymore. It's not my job to have a perfectly organized inbox, which is good because it can be a mess at times. Still, a backlog of messages makes any email app harder to use no matter how good it is, so I spent some time over the holidays tidying up.