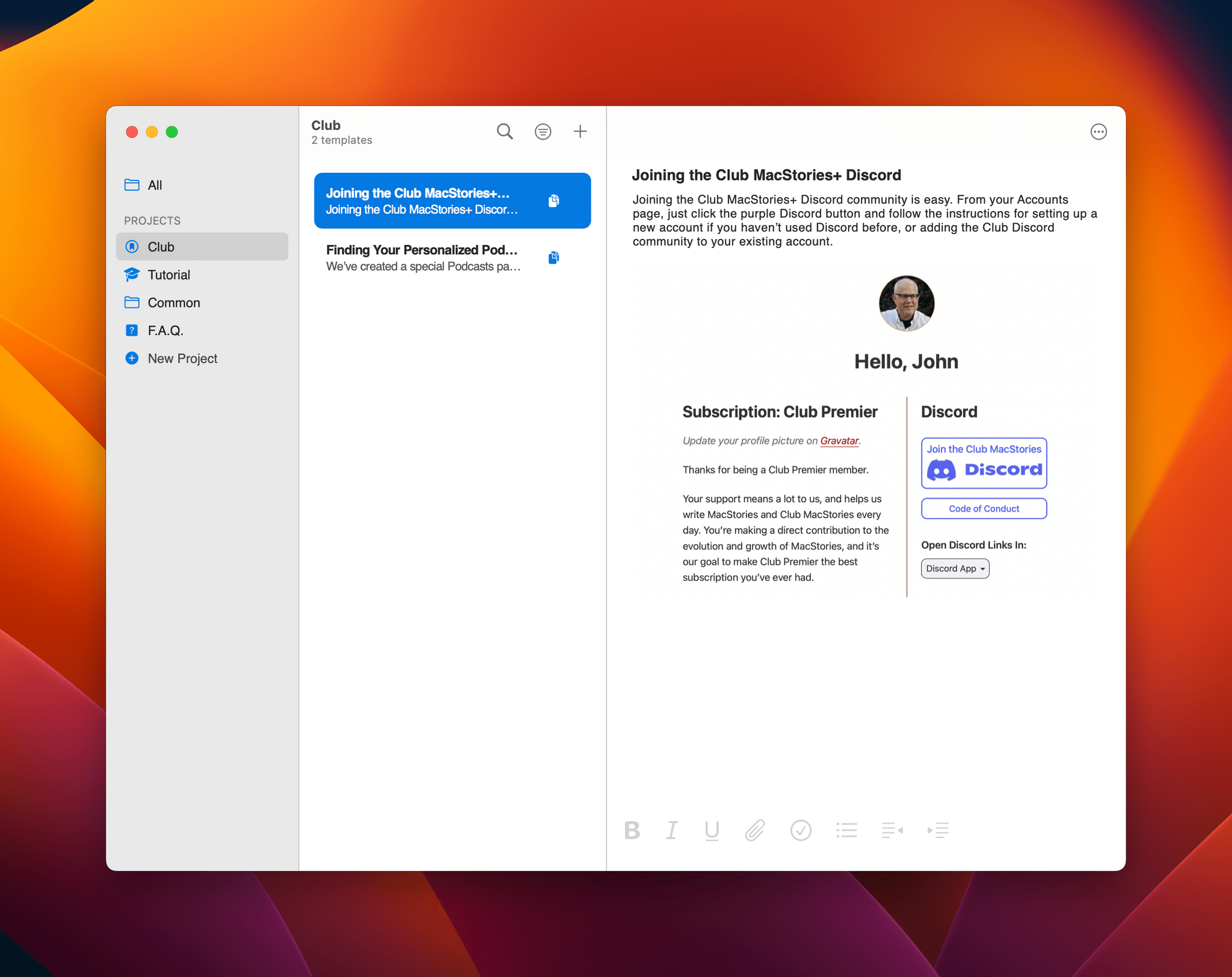 When Apple released macOS Monterey in 2021, it introduced a new extension point for its Mail app. At the time I wrote my Monterey review, there were no Mail extensions on the Mac App Store. Over a year later, there is still only a handful. That's why I was intrigued when Kriss Smolka of Funn Media contacted me about ReplyCube, the company's first Mail extension.
Funn Media is best known for its health and fitness apps like WaterMinder, Calory, and FitnessView, but they've also made a Dynamic Island game called Hit The Island, and a note-taking app. With several apps on the App Store, the company gets a lot of customer support messages from users via email, which is why they built ReplyCube. Those are the sorts of inquiries that require responses with clear FAQs, how-tos, and illustrated instructions, and because the same kinds of issues come up repeatedly, having a way to reuse those carefully crafted responses saves time.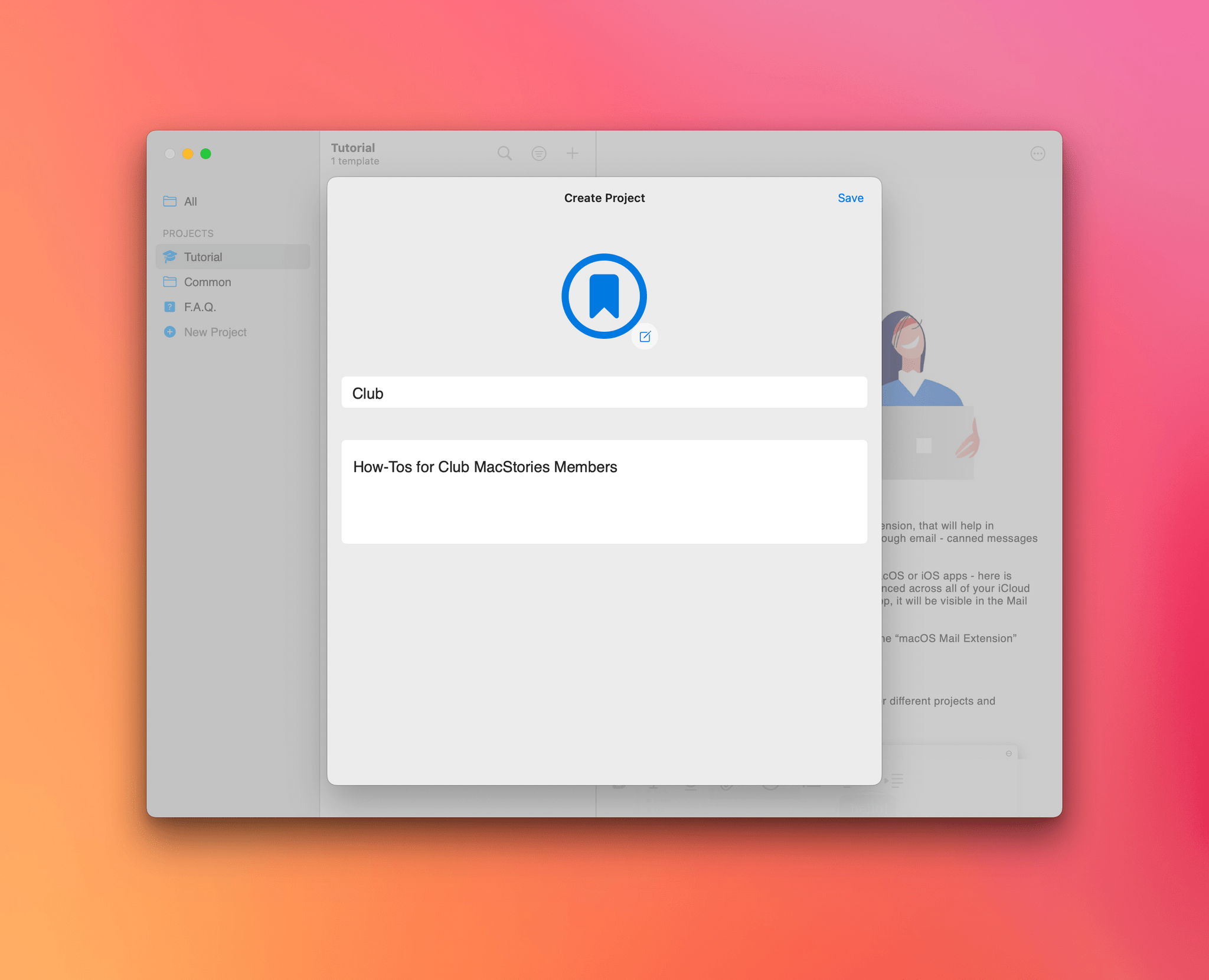 ReplyCube does exactly that. It's a standalone app for creating and organizing reusable messages that can be accessed from inside Apple Mail via the app's extension. ReplyCube is a single-window app that's divided into three panels. On the far left is a sidebar divided into categories. You can view 'All' of your snippets at once or by Projects that you add to the sidebar. The second column lists the snippets themselves, along with a short preview of their text. There's also a copy button to add the snippet to your clipboard. The final panel is the editing panel, where you can compose formatted snippets with bold, italics, underlining, checkboxes, bullet lists, and indentation. You can also include images and attach files to your snippets.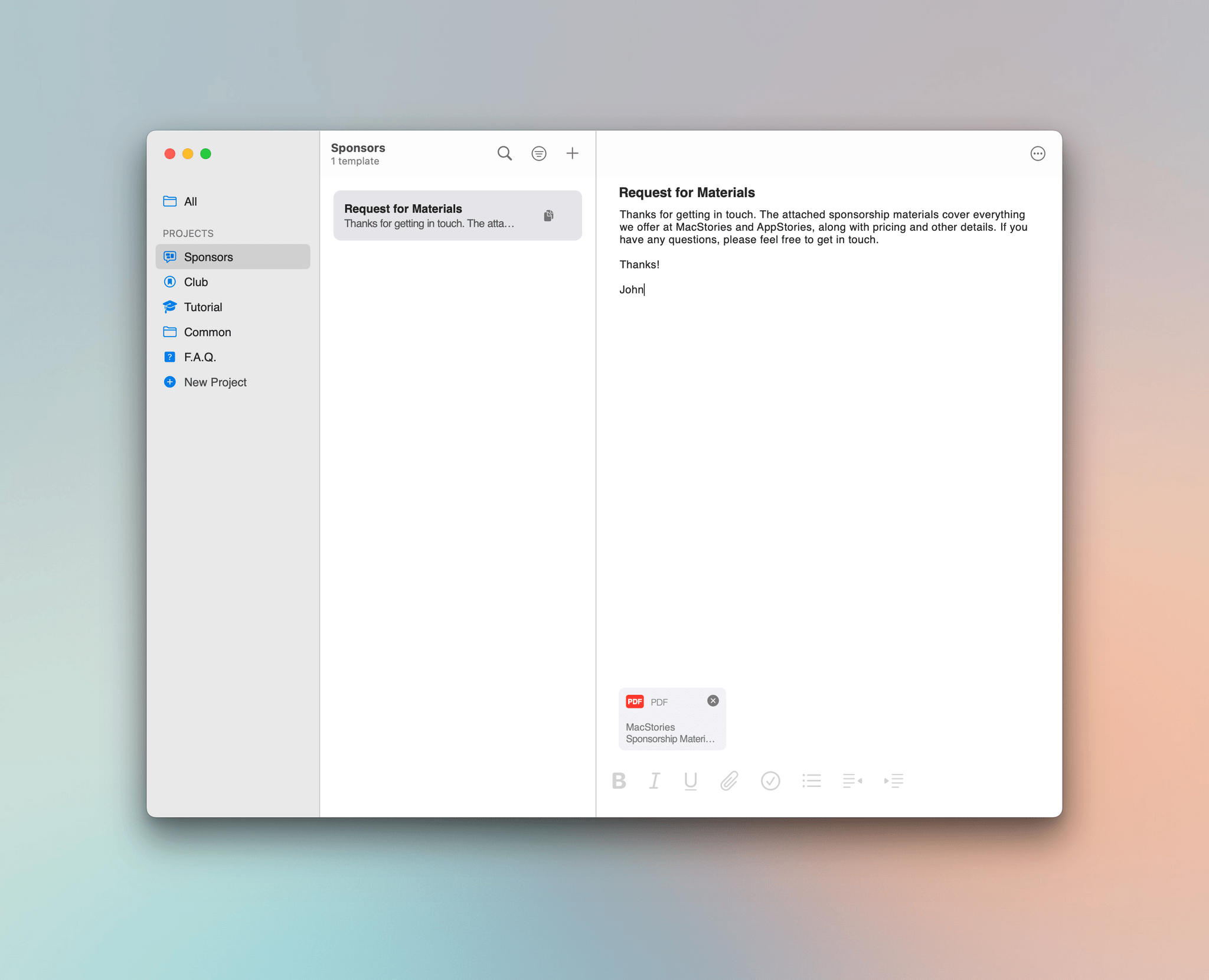 ReplyCube supports other ways to view and navigate and manage your snippets, too, including:
Search
Filtering by most recent, most copied, title, and project
A three-dot menu button for copying, deleting, or moving a snippet.
Snippets can also be moved from one project to another or added to a Mail message using drag and drop.
The process of creating pre-built messages couldn't be easier and more intuitive. In my testing, I ran into just one bug that crashed ReplyCube when I pasted a URL into its editor. Funn Media has already fixed the issue, which will be out as soon as App Review approves the update.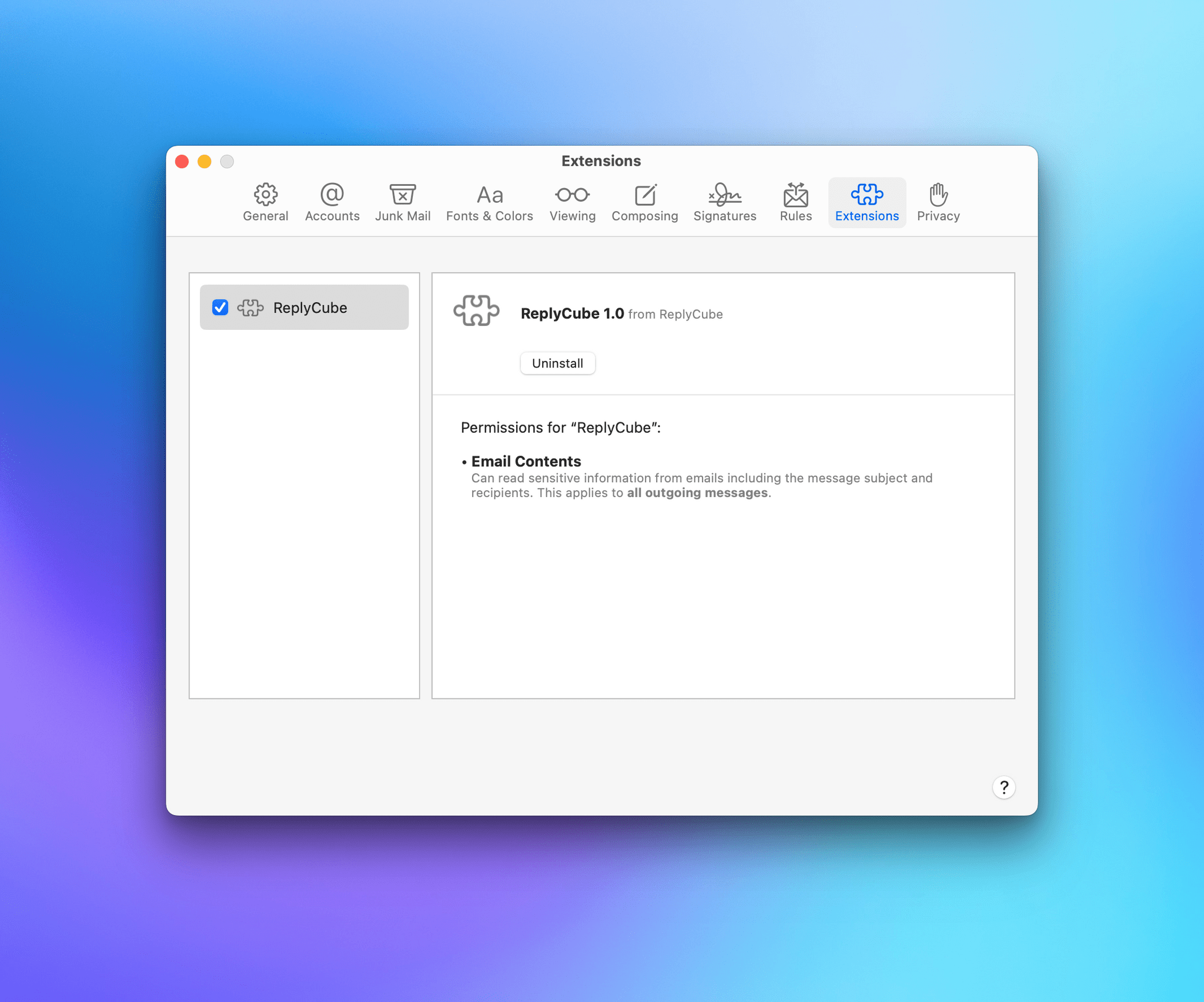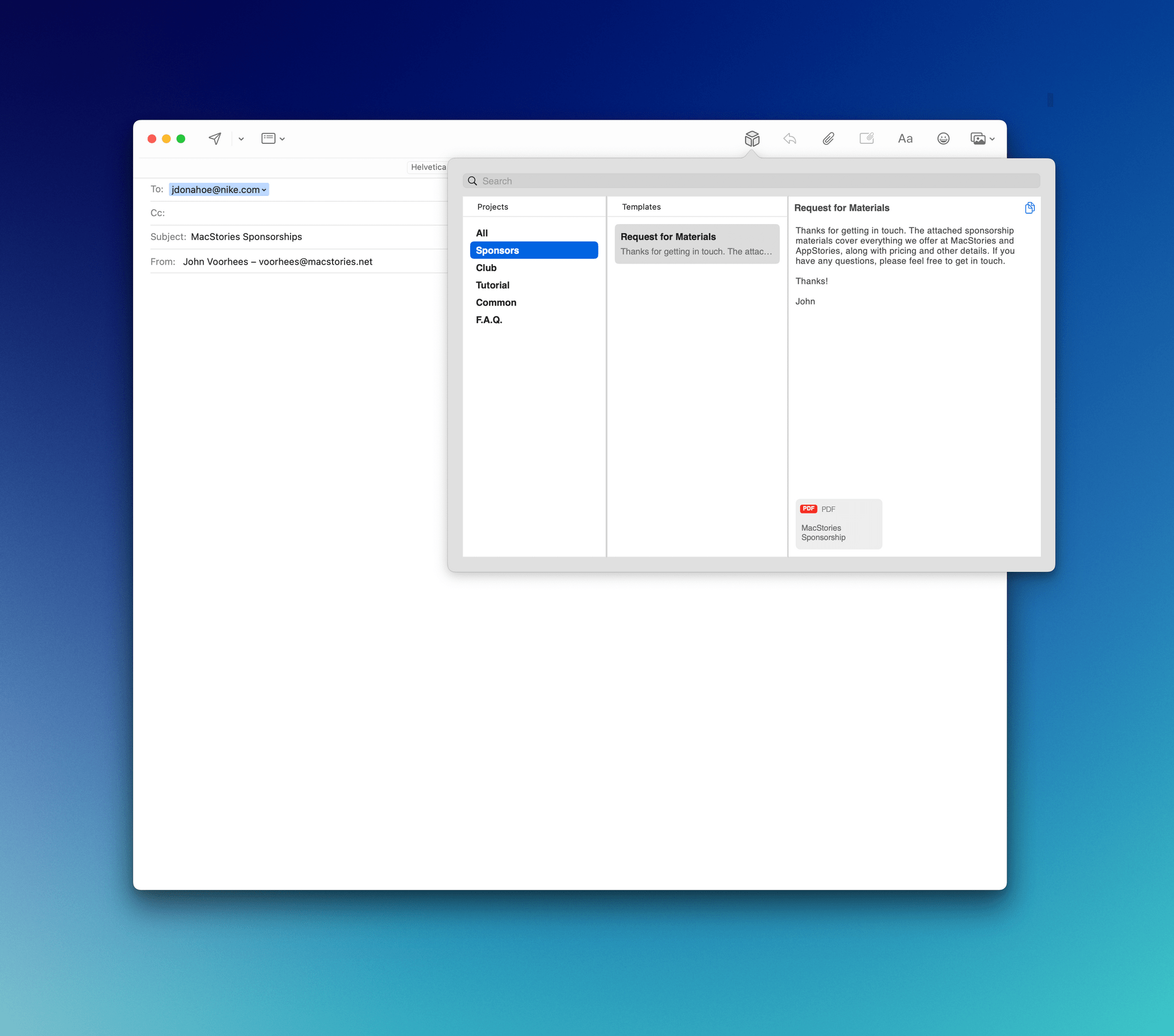 Once your reply snippets are set up in the main app, you'll probably spend more time using ReplyCube's Mail extension, which you can enable in the Extensions tab of Mail's Settings. Once the extension is set up, ReplyCube's icon will show up in the toolbar of Mail's Compose window. Click it, and ReplyCube's familiar UI appears in-line for picking a snippet to add to a message.
---
This is the first time since Monterey's release that I've had a Mail extension installed. I don't do a lot of support-style messaging, but for developers or anyone whose work involves sending out checklists, how-tos, FAQs, files, and other information repeatedly, ReplyCube is a great tool. There are other apps that save and manage text snippets on the Mac, but ReplyCube has the advantage of being baked into the structure of Mail itself because it's an extension. Plus, the formatting of the responses you create in the app maps perfectly to Mail's rich formatting, which isn't always the case if you copy and paste something from somewhere else.
ReplyCube is free to download on the Mac App Store. A $1.49/month or $9.99/year subscription unlocks unlimited project creation and the app's Mail extension.