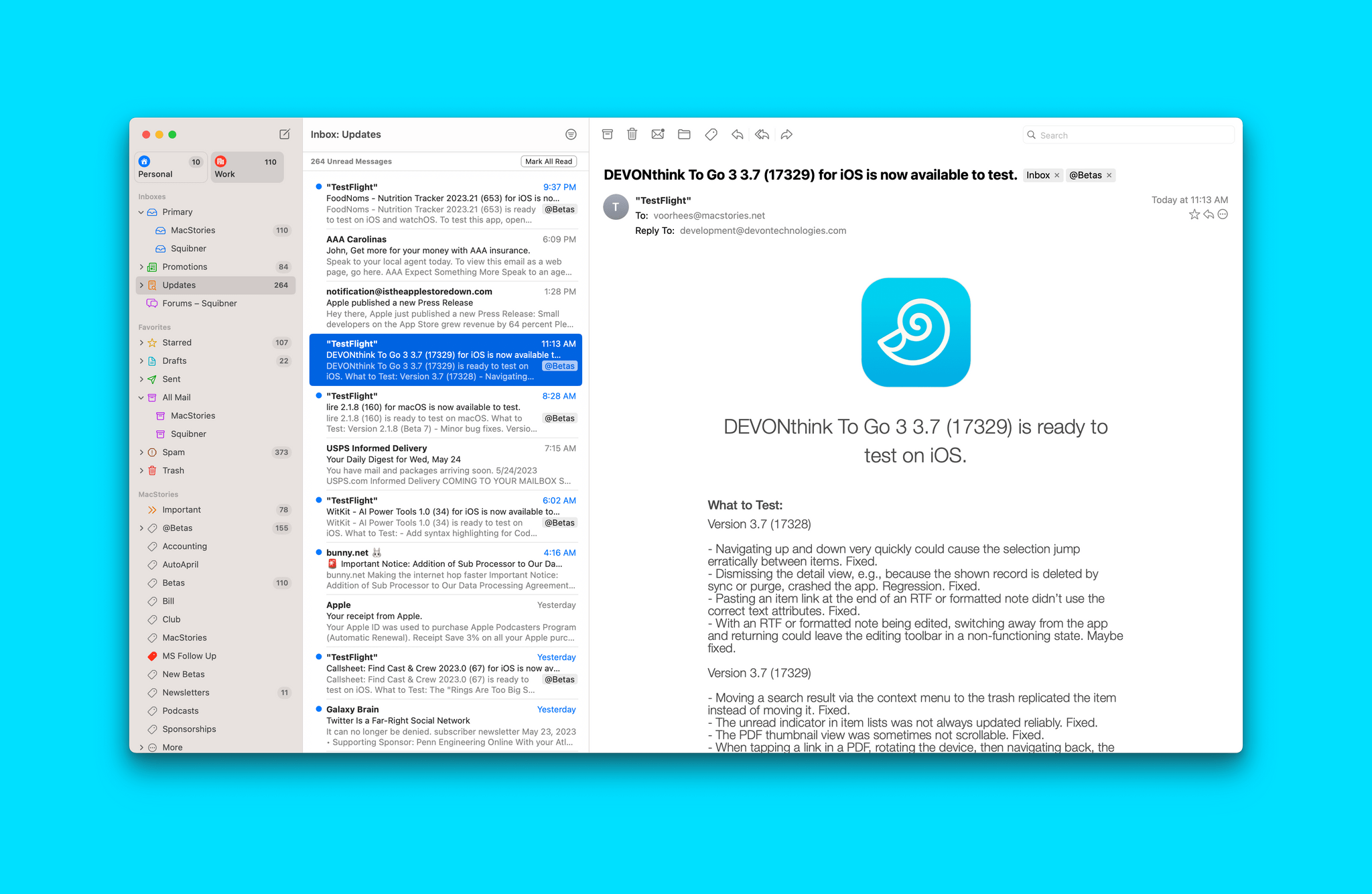 I'm going to straight-up spoil this review for you at the top. If you primarily use Gmail and work on a Mac, you should try Mimestream now. It offers the core Gmail experience wrapped in a thoughtfully designed native Mac app. If you spend a lot of time on other devices or have non-Gmail accounts, the call is tougher, but that's exactly my situation, and I think Mimestream is still the best Mac email choice for most people. Here's why.
I have four primary email accounts. Two are work-related, and two are personal. All but my iCloud email are connected to Gmail, which makes me a pretty strong candidate for Mimestream, which launched this week after a couple years in beta.
I've been using Mimestream on and off for over a year, returning to it in late January after briefly trying Missive. What drew me back to Mimestream was the app's native design, tight integration with Gmail, and open roadmap. The app doesn't have everything I want from an email client. However, because I handle most of my email on the Mac and most of what I'd like to see Mimestream incorporate is planned or under consideration for future updates, it's become how I manage most of my email.
As I mentioned at the outset, Mimestream is Gmail and Mac only. As a result, I've continued to use Apple Mail for my iCloud email address, which isn't a big deal because it's not an account I use for many things anyway.
The bigger deal is that Mimestream isn't on iOS or iPadOS. As a rule, I don't like using different apps on different platforms to do the same thing. That's one of the reasons I prefer Logic Pro for iPad over Ferrite, for instance. However, every rule has an exception, and Mimestream is one of those. The app is too good not to use. Plus, I handle most of my email on the Mac anyway, so switching to Apple Mail on my iPhone or iPad isn't as difficult for me as it might be for others.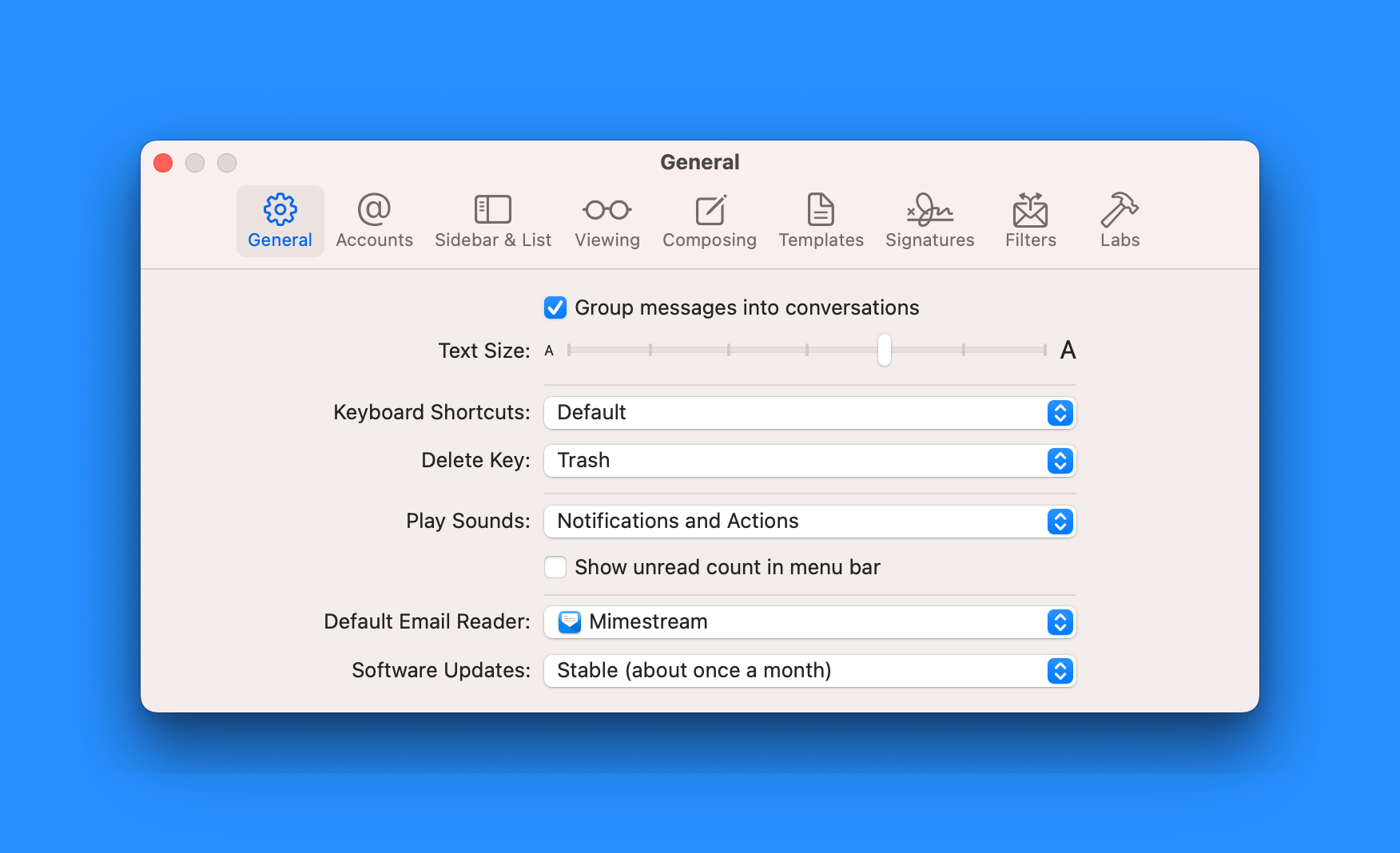 Putting those limitations aside, Mimestream handles everything you'd expect:
Multiple email accounts, whether they're Gmail accounts or custom domains managed in Gmail
Undo send for up to 30 seconds
The ability to organize messages as conversations
Message templates with variables for frequently sent messages
A menu bar app for peeking at your latest messages
Syncing with Gmail, Google Calendar, Contacts, and Gmail's settings
Gmail message categories: Social, Promotions, Updates, Social, and Forums
A vacation responder
Tracking prevention
Customizable signatures for each account that can vary for new messages and replies
An experimental client-side message snoozing feature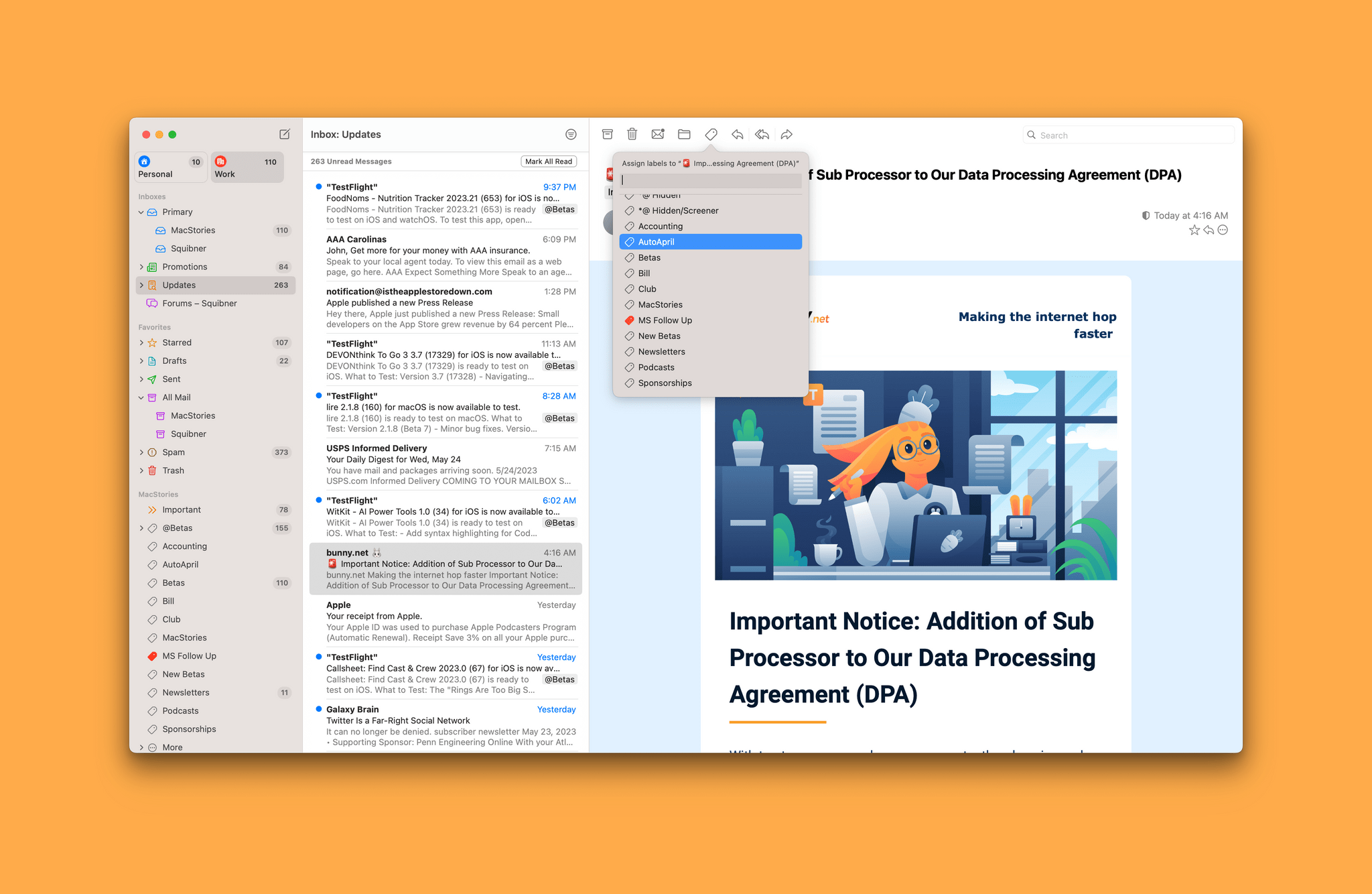 The app also includes labels, another staple of Gmail that I don't use much but which are so easy to apply and edit in Mimestream that I've begun experimenting with them for messages requiring follow-up. Messages can also be starred and marked as important.
The app is organized into the sort of three-pane window you're probably already familiar with from other email clients. The leftmost column organizes your messages by inboxes, including unified inboxes, categories, and labels.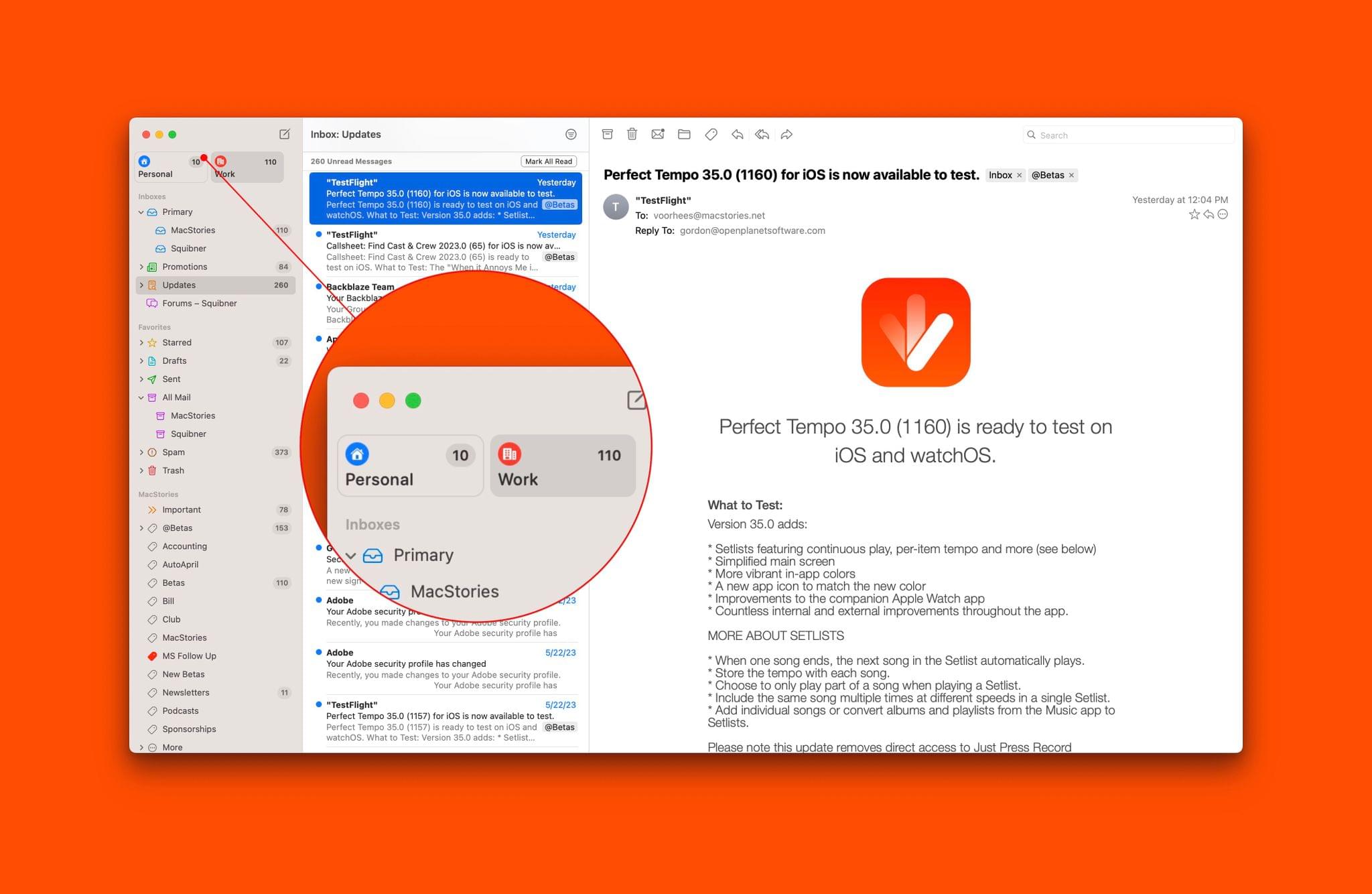 There's also a top-level, account-based organization scheme that lets you create profiles that appear as buttons with their own icon, label, and message count at the top of the left sidebar. I've set up a personal profile for my personal Gmail account and a Work one for my work-related addresses. I've found it to be an excellent, lightweight way to separate work and personal messages, but you're not limited to two profiles, so you can set them up any way that makes sense to you. You can also set up notification schedules for each profile, so you won't be bothered by personal messages during work hours, for instance. Also, profiles tie into macOS's Focus filters, allowing you to completely hide a profile's messages based on a Focus mode you've set up.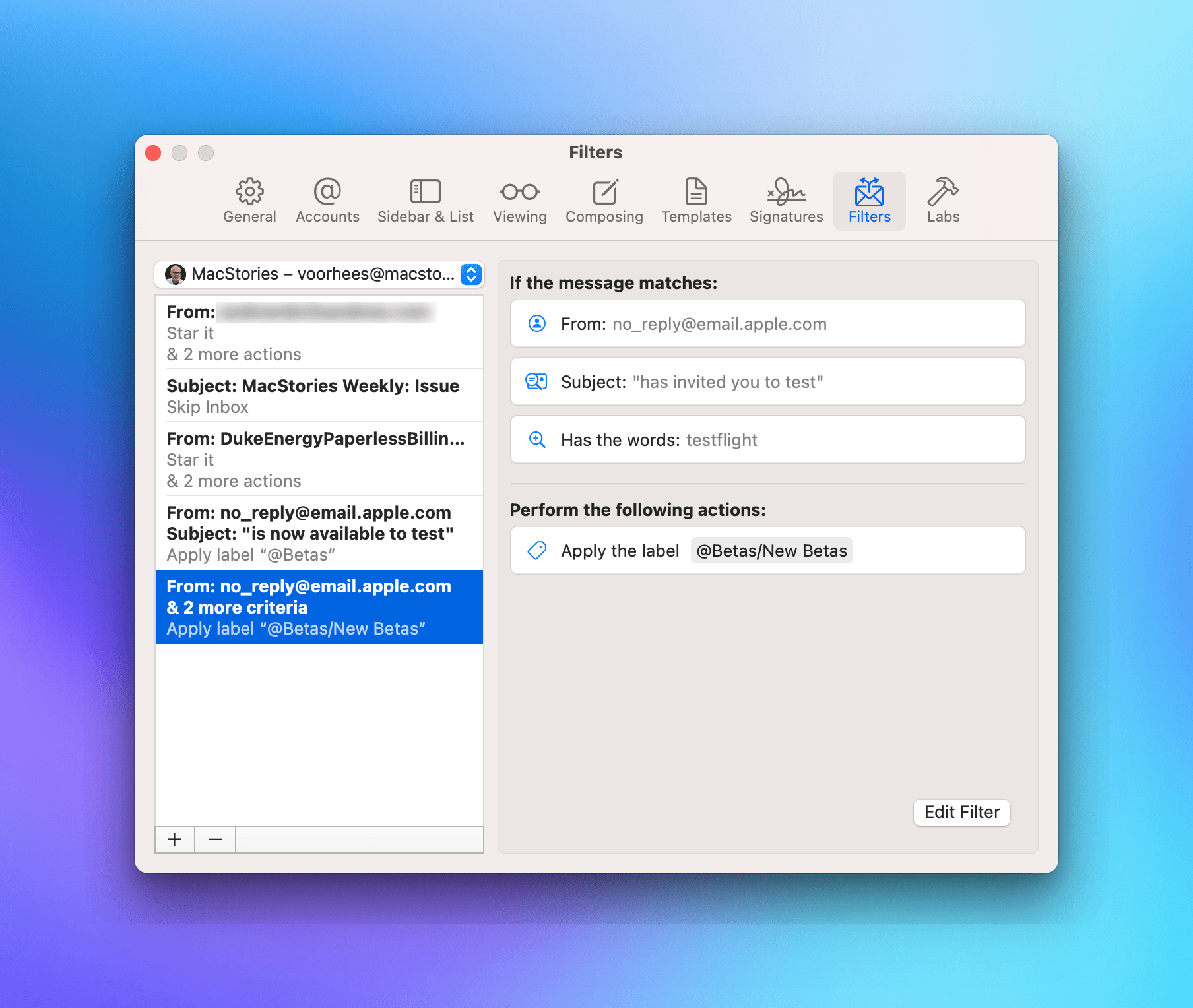 The middle column of Mimestream is the message list, which can be viewed in a compact or expanded format. Mimestream supports customizable swipe gestures too. Swipe left or right on an item in the message list, and it will reveal an action you've assigned in the app's Settings. The options include the following:
Unread/Starred
Archive
Trash
Trash/Spam
Move to…
Label…
Snooze
None
The message pane includes a customizable toolbar with options for the most common actions you can take on messages, plus a search field for searching your messages. Because Mimestream uses Google's Gmail APIs, search is fast and reliable, in my experience.
The heading of messages includes a star and reply button, along with a three-dot 'More' button with other options. I particularly appreciate the ability to copy the Gmail URL for messages, which I often drop into tasks in Things when I think a task will require referring back to a message I received. That's handy, but I'd prefer a deep link directly into Mimestream because the Gmail URL opens Gmail in my browser instead.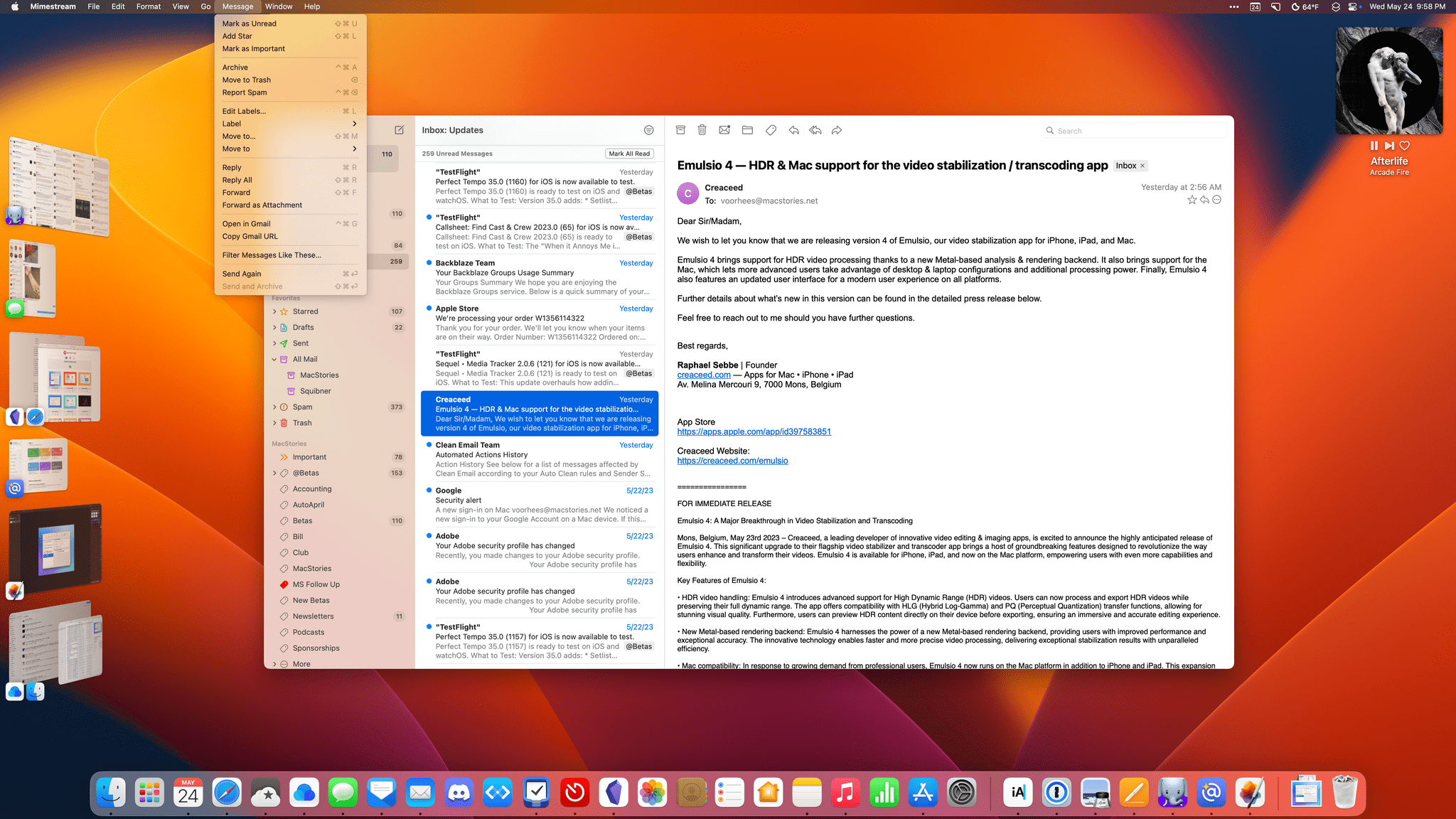 Mimestream has its own extensive set of keyboard shortcuts, but you can use the standard Gmail or Apple Mail ones if you prefer. The app also implements Gmail's filtering system. In Settings, you can apply actions based on metadata. Triggers include the following:
From
To
Subject
Has the words
Doesn't have
Size
Has Attachment
Don't include chats
As for actions, if a message meets all of the criteria you've chosen, you can do any of the following with a message:
Archive
Mark as read
Star
Apply the label
Forward
Delete
Never Spam
Set importance
Categorize
It's a powerful system that has helped me keep on top of messages by doing things like starring or marking as important messages from certain people or about certain topics.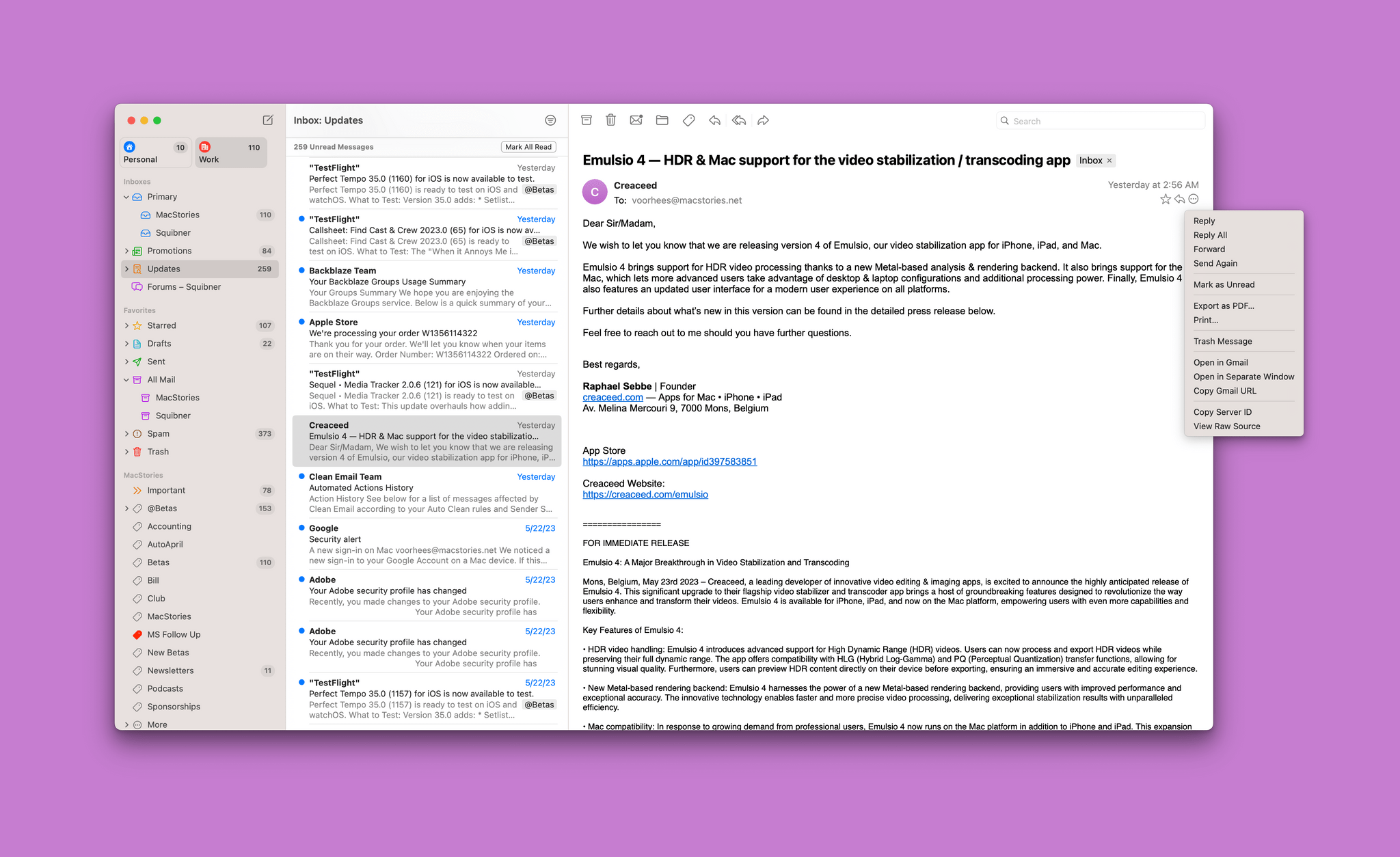 As useful as Mimestream's filtering is, though, the system only works within the four corners of the app. I'd also like the app to adopt Shortcuts support, so it can be used more gracefully with other apps and workflows. Actions allowing users to interact with attachments, save PDFs of message threads, and deep link to Mimestream or Gmail on the web would be a great start, along with actions corresponding to those in the app's filtering system.
---
The perfect email client is the only thing more difficult to find than the perfect task manager. There's a good reason for it too. There are almost as many ways to use email or a task manager as there are people using them. If you've found the perfect email solution for yourself, that's fantastic, but I've resigned myself to the fact that looking for the perfect email app is futile – at least so far.
Despite my wishes for Mimestream, it is heads and shoulders better than any Mac email client I've ever used. I'm still left wishing for an iOS app, Shortcuts support, deep linking, and support for my iCloud email account, but I've chosen to be patient. Mimestream has seen steady improvements and expansion of its core features over the two years or so it's been in beta, and the company has a public roadmap that gives me some comfort that most of what I'd like to see added to the app is planned or at least under consideration. I'm not usually so patient with apps, but Mimestream is that good.
Mimestream is available directly from the company's website for $49.99/year, but there's currently a special launch deal. Through June 9th, you can get the first year of Mimestream for just $29.99.