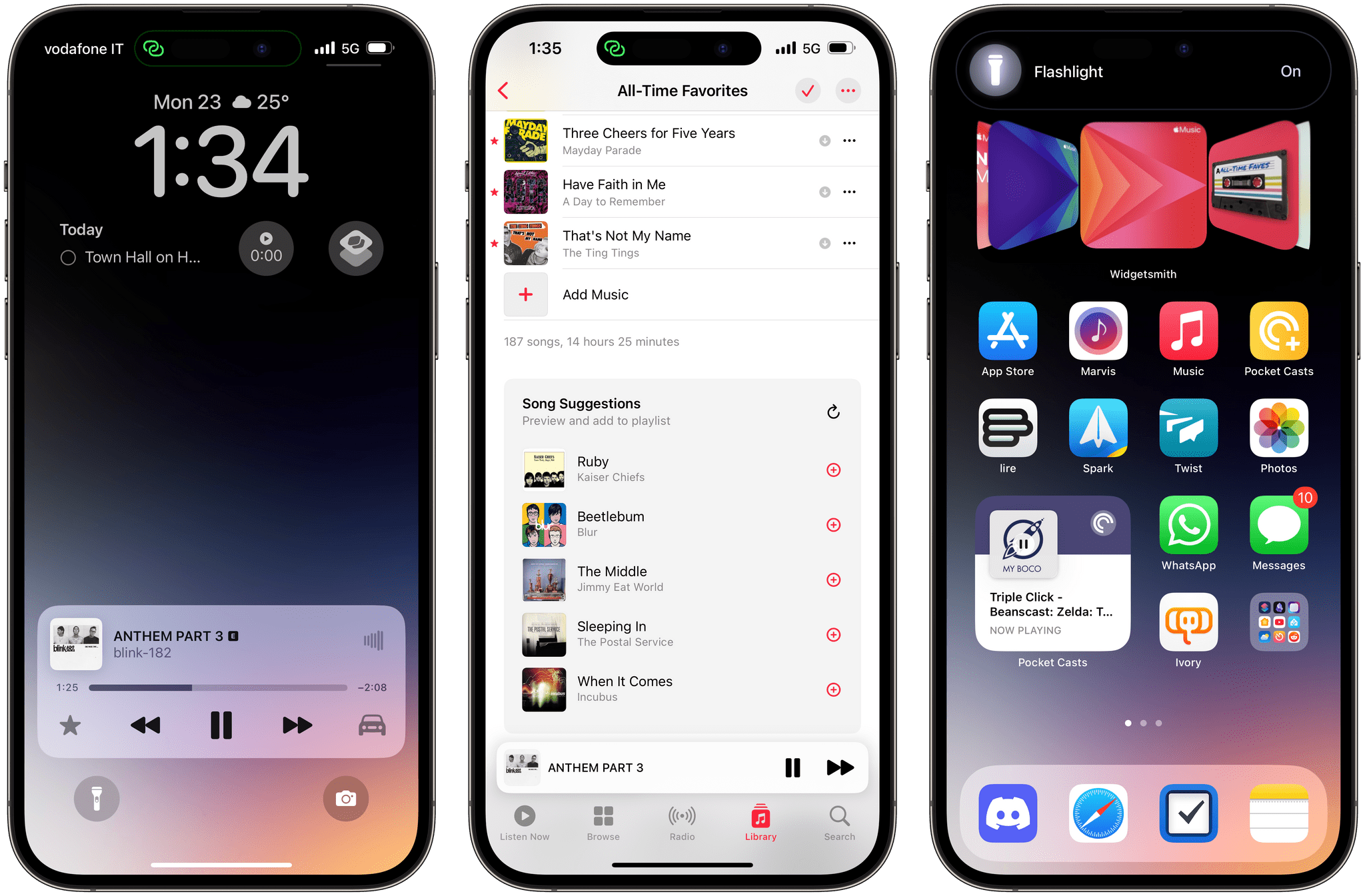 Today, Apple released iOS and iPadOS 17.1 – the first major updates to the operating systems that launched (and I reviewed) in September. I'll cut to the chase: these are not big updates and don't come with new emoji. Instead, iOS and iPadOS 17.1 bring a variety of previously-announced (and then delayed) features such as AirDrop over the Internet and new cover art templates in Music, but they don't address the complete list of functionalities for this OS cycle that Apple originally announced last June.
Let's take a look.
Music
The most important change in Music for iOS and iPadOS 17.1 is that Apple is moving away from the 'Love' terminology for items you like and is instead embracing the more widely industry-accepted connotation of 'favorites'.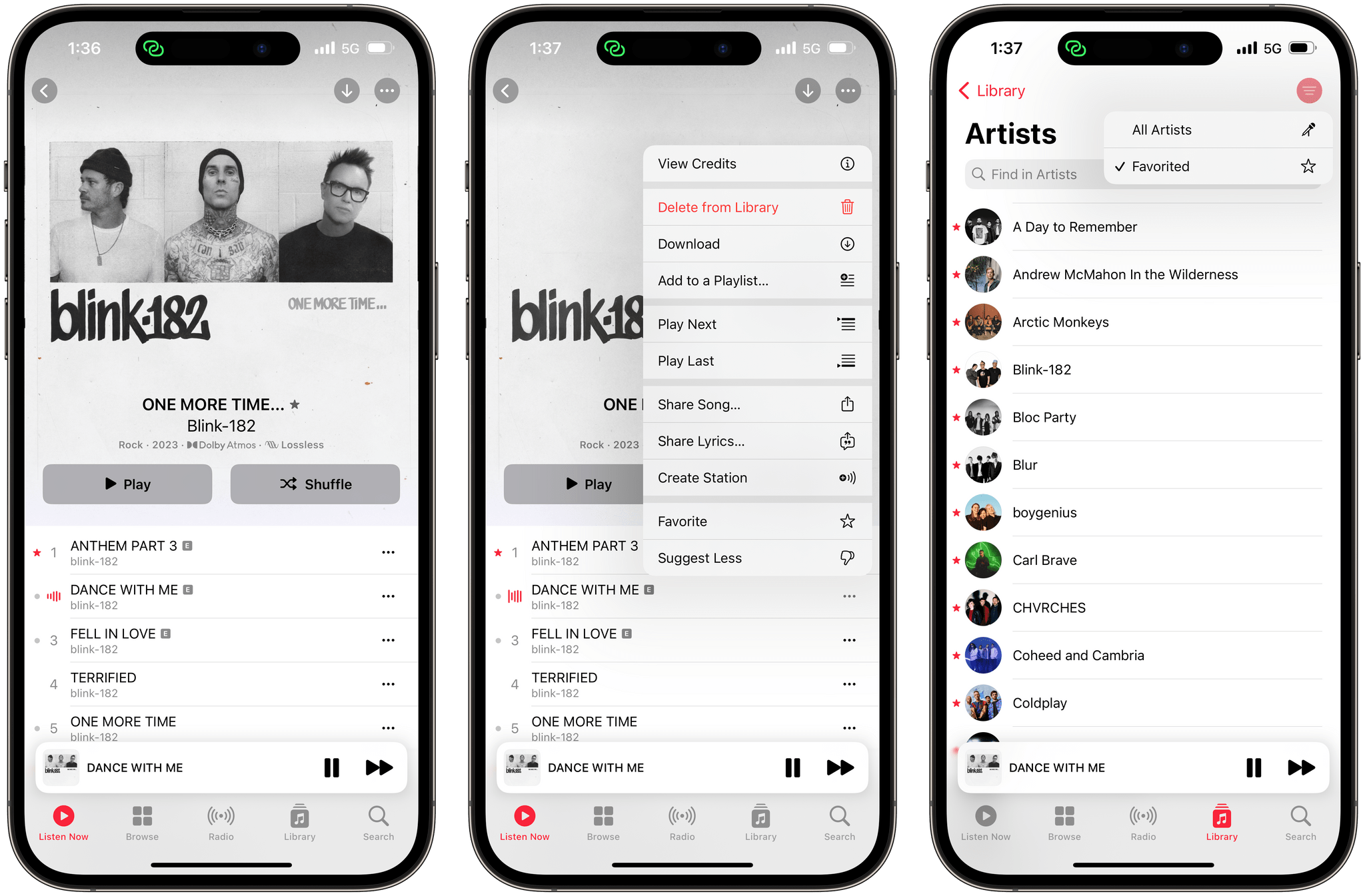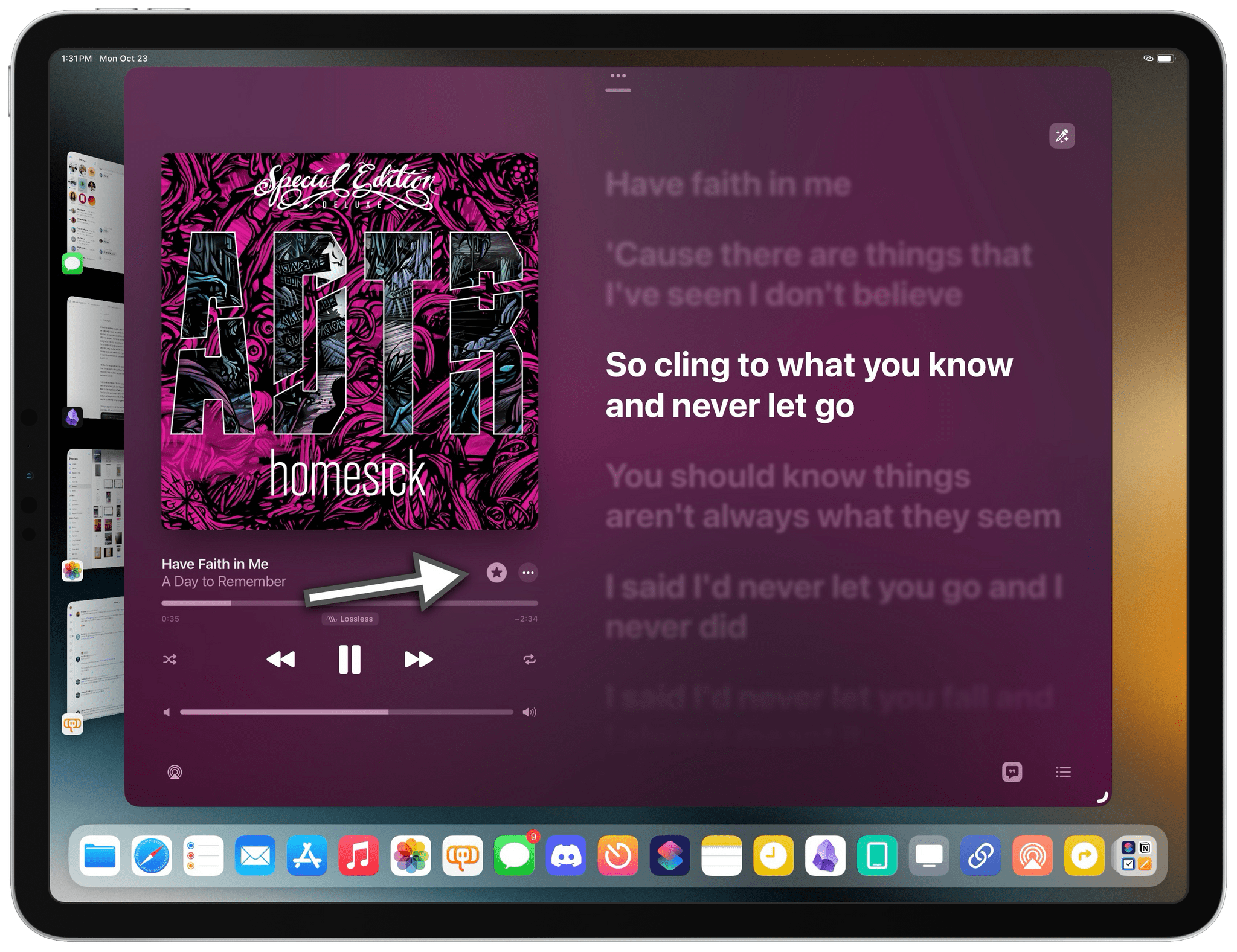 As before, you can mark songs, albums, and playlists as favorites in iOS and iPadOS 17.1. When you update your devices, your existing collection of loved songs will be automatically carried over to favorites so, really, you'll only have to worry about getting used to the new name. You can also filter your library by favorites, which is a nice way to quickly find all favorite albums or playlists.
Although iOS and iPadOS 17.1 don't come with the (also previously announced) dedicated playlist for favorite songs, they do have a couple other enhancements worth noting.
The Music app now comes with templates for playlist cover art: select 'Edit' while viewing one of your playlists, tap its artwork, and in addition to choosing an image as cover, you can now scroll a collection of built-in cover styles.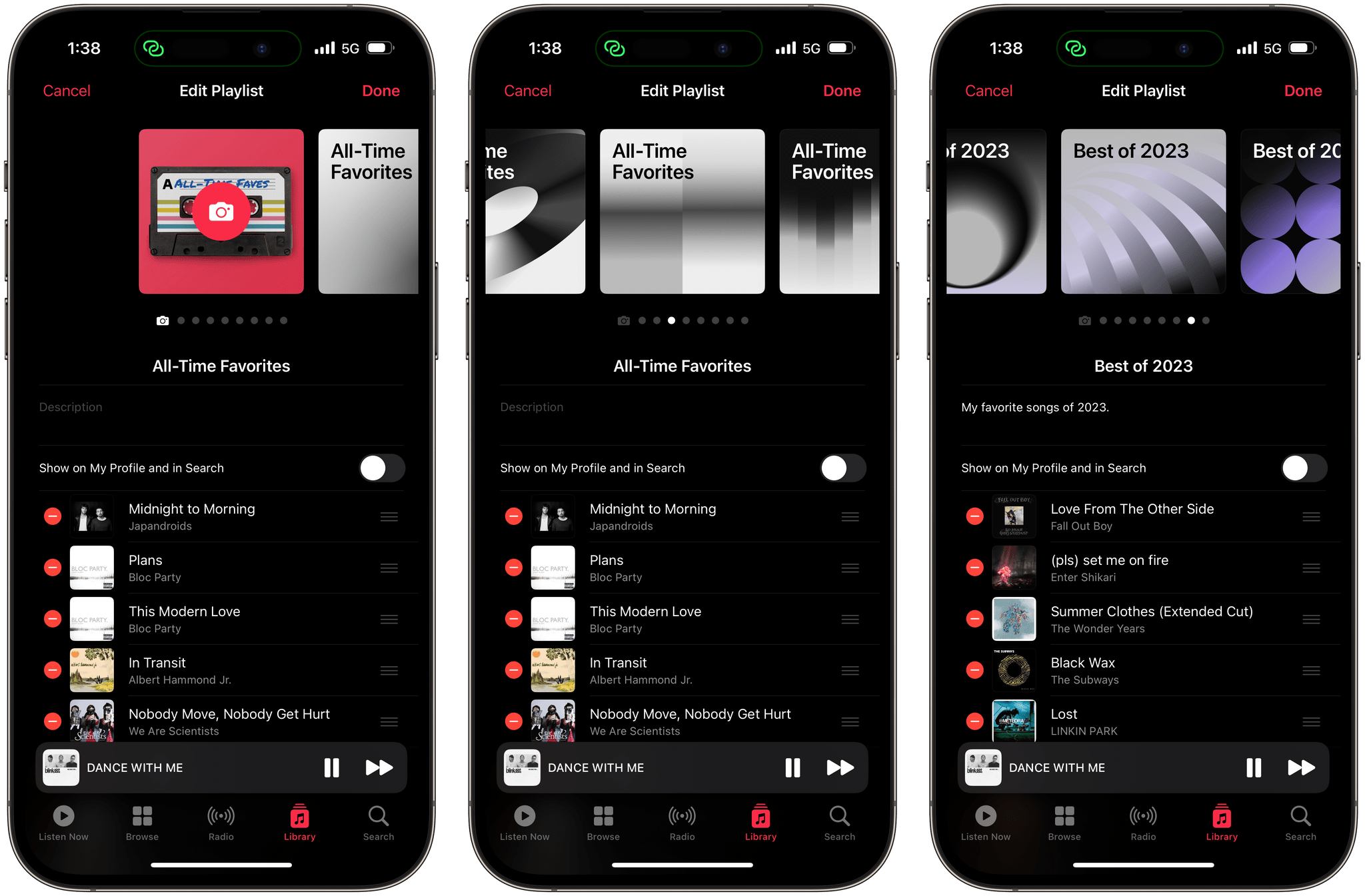 While this feature sounds nice in theory, I find it kind of half-baked. There are only eight fixed templates to choose from, and they're all based on abstract or geometrical patterns with no ability to edit them or choose different shapes. To make matters worse, these covers get randomly assigned a primary accent color that you can't modify. If you don't like the purple and black colors that get picked by the system for one of your playlists, well, you're out of luck. Apple says that these are "designs that change colors to reflect the music in your playlist", but I've been unable to identify a connection between songs in my playlists and colors picked by iOS 17.1.
I do like the idea behind this feature and I hope Apple iterates on it. For now, I'm going to stick with using Denim for my playlist covers. Apple needs to take another pass at this with more templates, a color picker, and more variety.
I was looking forward to the second big addition to playlists in iOS 17.1 and, unfortunately, it also turned out to be somewhat disappointing, at least in my experience. Taking a page from Spotify, which debuted this functionality years ago, Apple Music now offers song suggestions at the bottom of playlists so that, in theory, you can more easily build out a playlist by adding songs suggested by the service.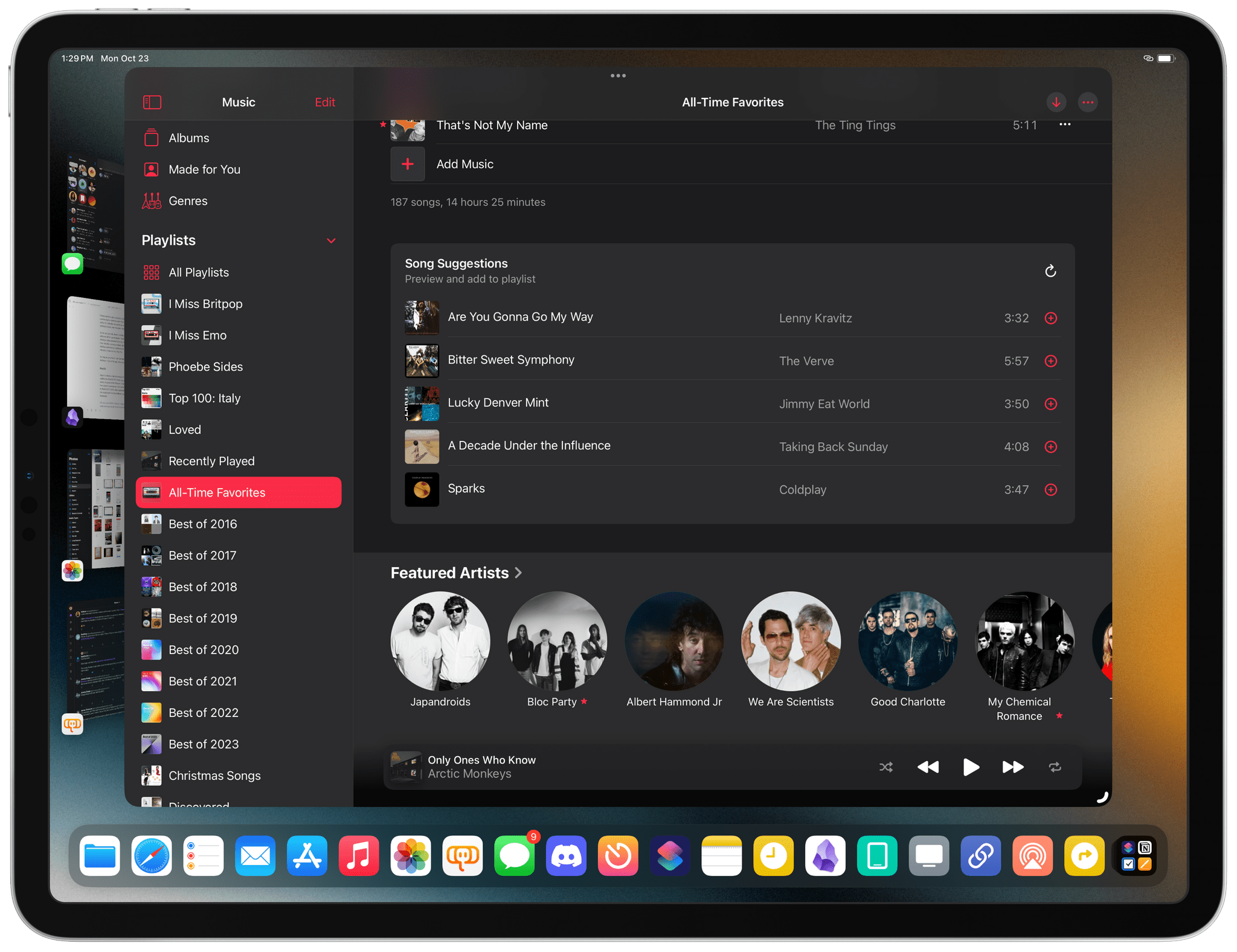 According to Apple, these songs should match "the vibe of your playlist" and make sense as additions to an existing list of songs. In my tests, I can confirm that Apple Music does match the vibe and style of a playlist pretty well – I just wish it had a better sense of context from the playlist regarding time periods.
In a playlist I share with my girlfriend, which is heavily skewed toward pop-rock and acoustic tracks, I did get solid recommendations for Ed Sheeran, Coldplay, Jason Mraz, and John Mayer. Song suggestions are displayed at the bottom of a playlist and, just like Spotify, you can add each song to the playlist with one tap or reload the entire set of suggestions for as long as you want.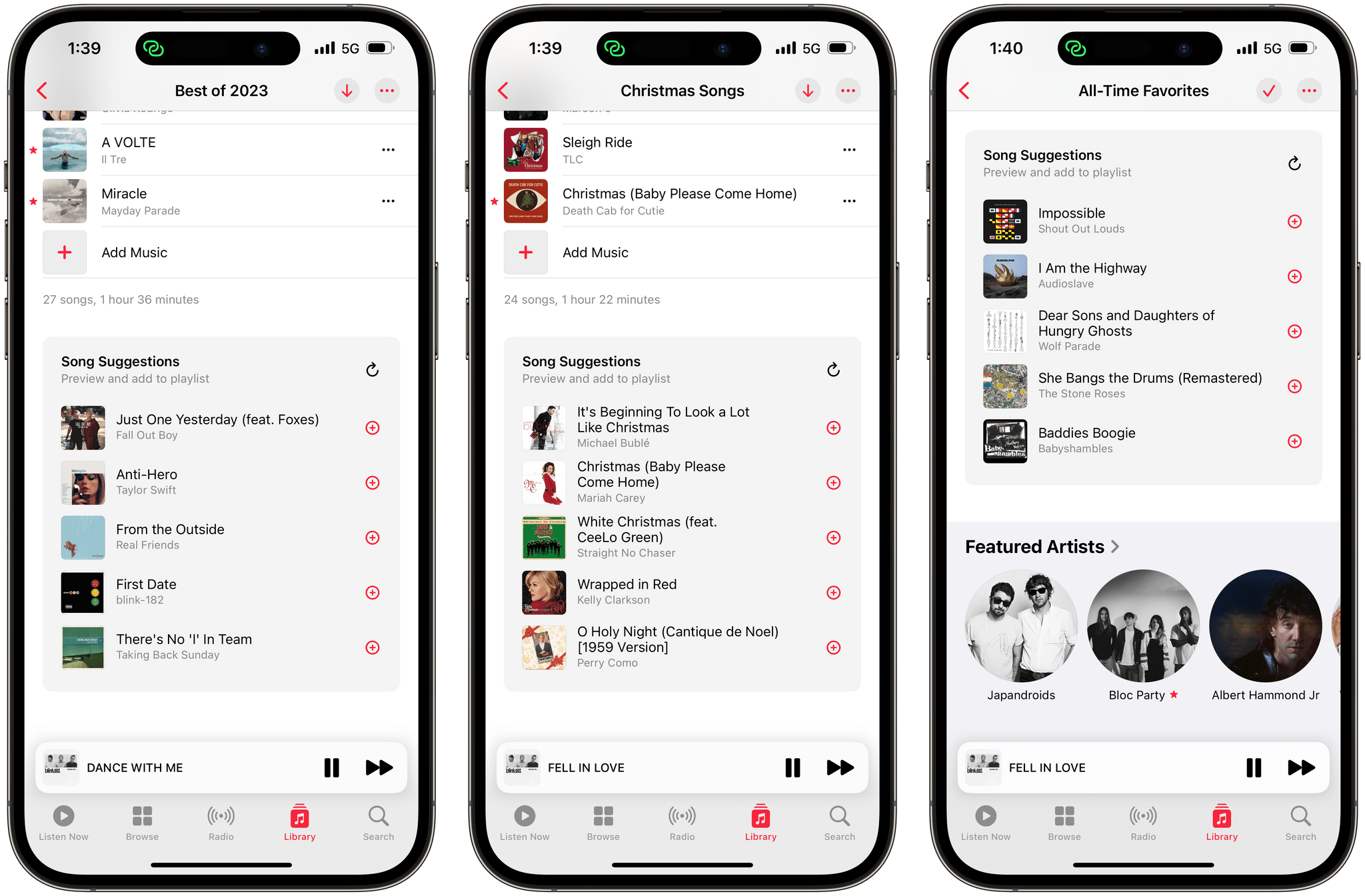 My understanding is that the algorithm favors more songs from existing artists in the playlist and throws in the occasional new artist with a song that should match the vibe of the playlist. Which, as a generale rule of thumb, works for me.
My problem is that this feature is entirely unaware of songs' release dates and different eras. For instance, each year I create a 'Best Of' playlist in which I collect my favorite new songs of the year. In my 'Best of 2023' playlist for this year, Music suggested blink-182's The Rock Show (2001), My Chemical Romance's Sing (2010), Arctic Monkeys' 505 (2007), and Placebo's Pure Morning (1998). Now, these are great songs in their own right and I love them all, but was it too hard to infer that the playlist called 'Best of 2023' that contains all songs released in 2023 maybe wasn't a great fit for, you know, a song from 25 years ago?
Apparently yes, which is why I'm reserving my judgement on the effective utility of this feature in Apple Music. Maybe Eddy should consider getting some help from AI here.
AirDrop Over the Internet
Following the major redesign and expansion in iOS 17, Apple is continuing to improve upon the new foundation of AirDrop with the ability for transfers to continue over the Internet even if you step out of AirDrop's local, peer-to-peer range.
As far as I can tell, there's nothing special you need to know here and no different UI for you to learn. I tried to test this feature by initiating an AirDrop video transfer from my iPhone 15 Pro Max to my iPad Pro and then literally running outside, about 30 meters away from the iPad; AirDrop seamlessly continued to transfer the file and, after a few minutes, it was on my iPad Pro.
As long as you have 'Use Cellular Data' enabled in Settings ⇾ General ⇾ AirDrop ⇾ Out of Range, this should work.
iPadOS
Apple is slowly chipping away at Stage Manager for iPad with another addition in iPadOS 17.1 that I requested in my review last month: the ability to press Shift-Return in Spotlight to add a selected app result to the current workspace. As I noted last month, this option joins the (new in iPadOS 17) Shift-clicking behavior for adding apps to a workspace, but this keyboard shortcut allows you to do so without lifting your hands off the keyboard.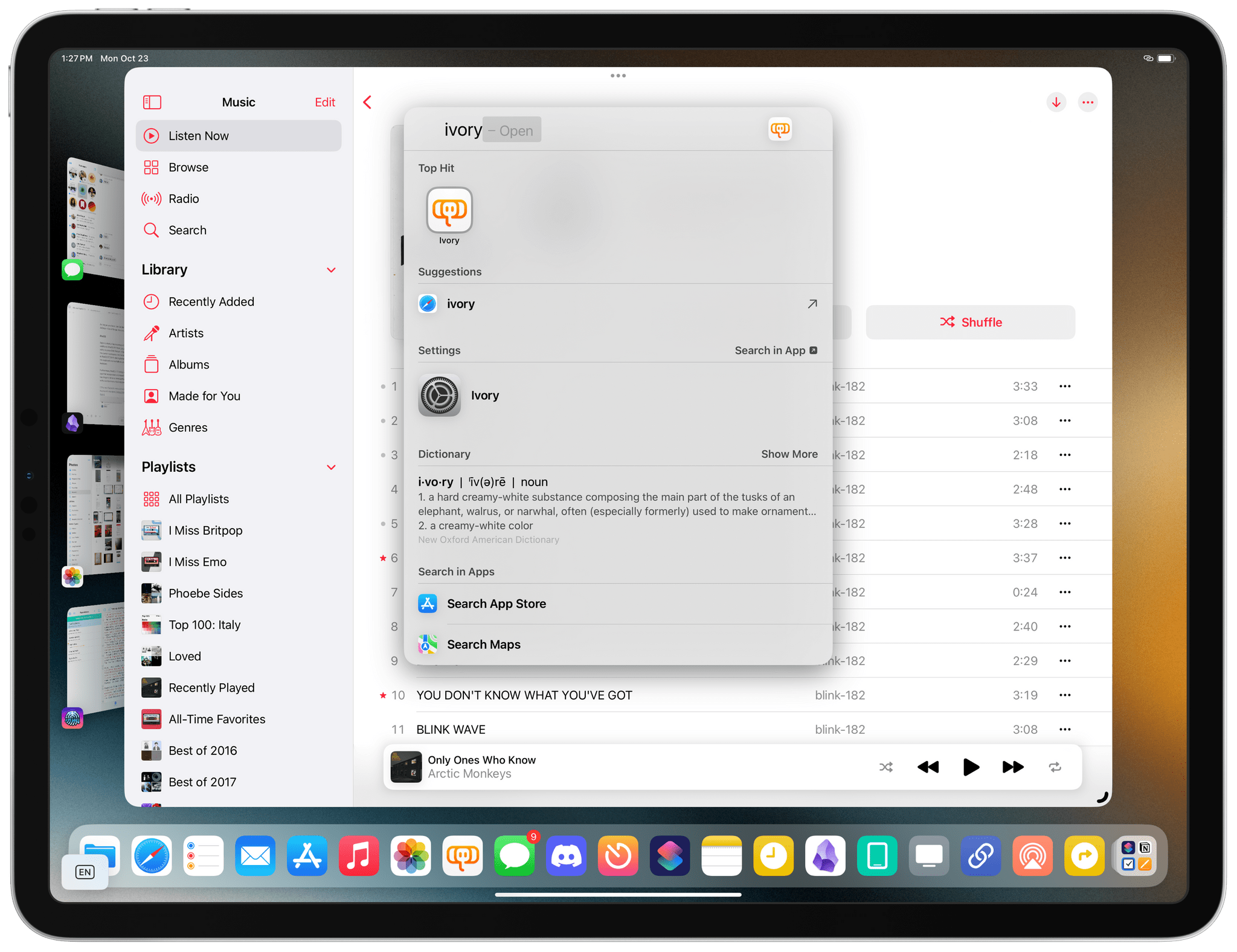 Furthermore, iPadOS 17.1 brings a new contextual menu in the Messages app that incorporates a compact Tapback menu. When you perform a two-finger click on a message bubble in iPadOS 17.1, you'll be presented with a context menu that includes Tapback options at the top: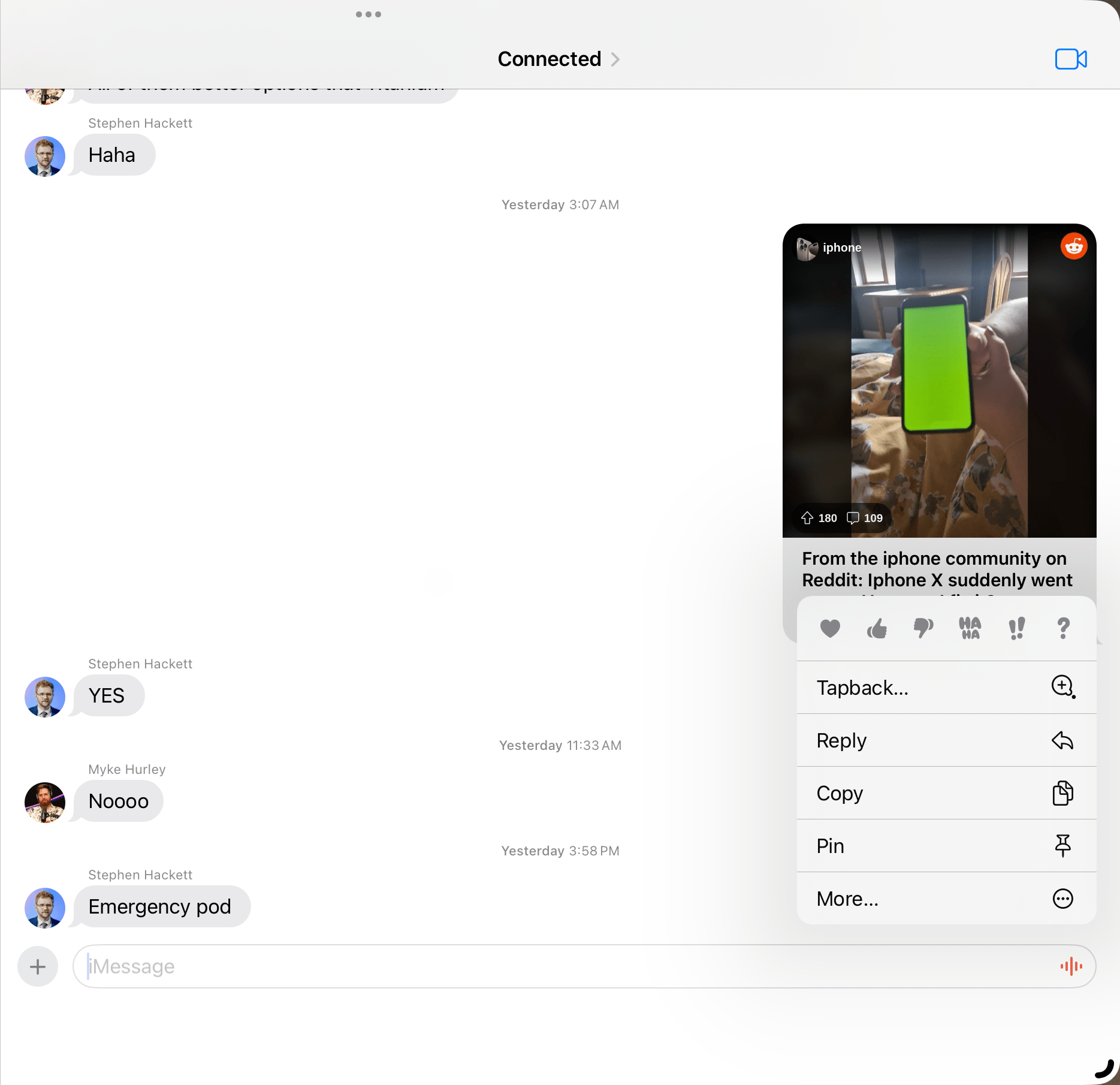 Apple still hasn't rolled out the ability to attach any sticker as a Tapback reaction, but this redesigned menu is a nice time-saving tool for iPad users who no longer have to long-press on messages to add a Tapback reaction.
Everything Else
Here's a rundown of other changes and fixes in iOS and iPadOS 17.1:
The Shortcuts library is back to a regular view. Remember how I noted in my iOS 17 review that Apple ruined the default 'All Shortcuts' view of the Shortcuts app to only show a subset of top shortcuts per folder? The company recognized the mistake and the view is back to normal now. When you want to see all your shortcuts, you now see all your shortcuts at once. As it should be.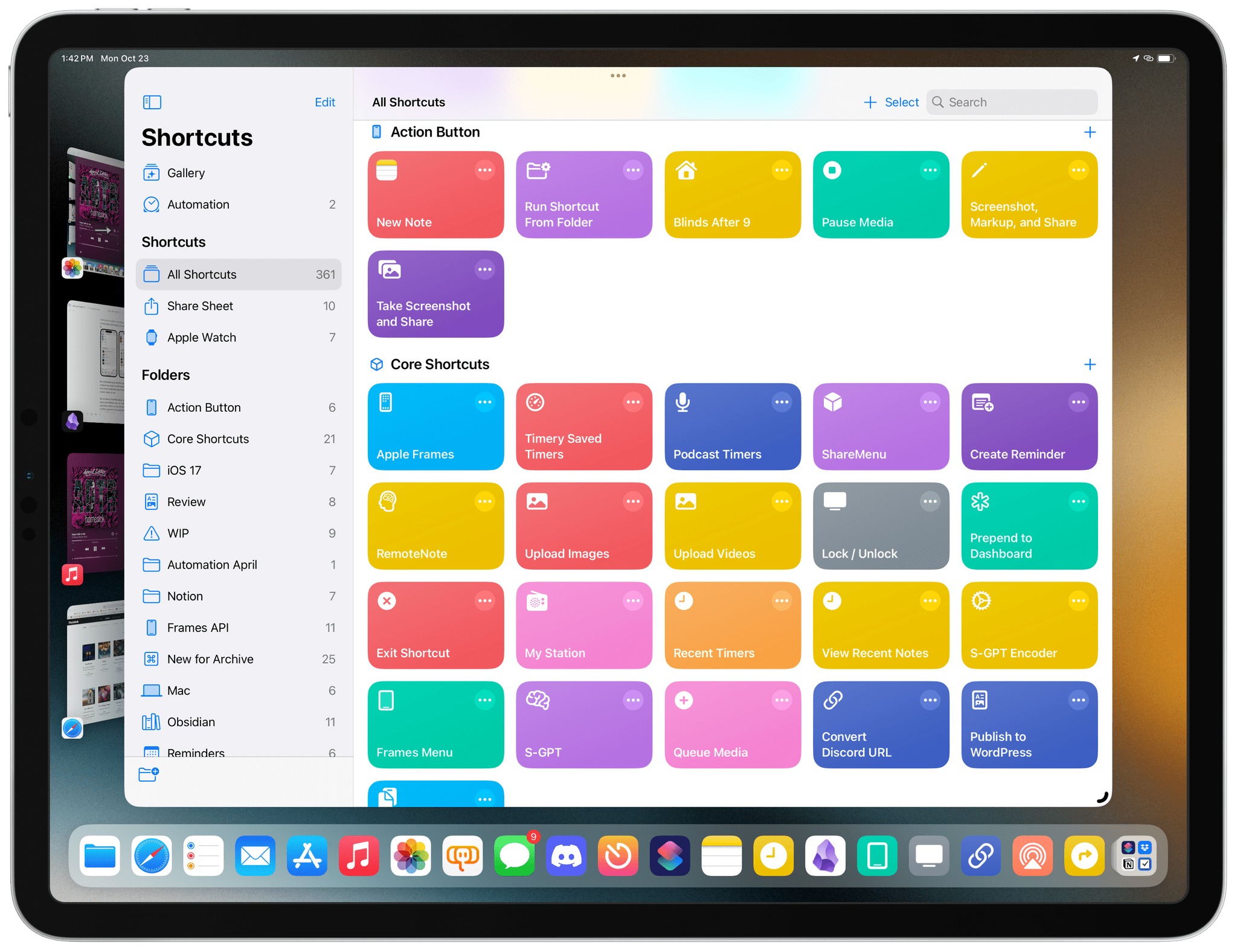 You can now choose specific albums for Photo Shuffle on the Lock Screen. I asked for this feature last year when Apple unveiled the new Lock Screen in iOS 16, and I'm glad it's here in iOS 17.1. When selecting the Photo Shuffle wallpaper, you can now pick a specific album as the source of photos that will rotate on the Lock Screen.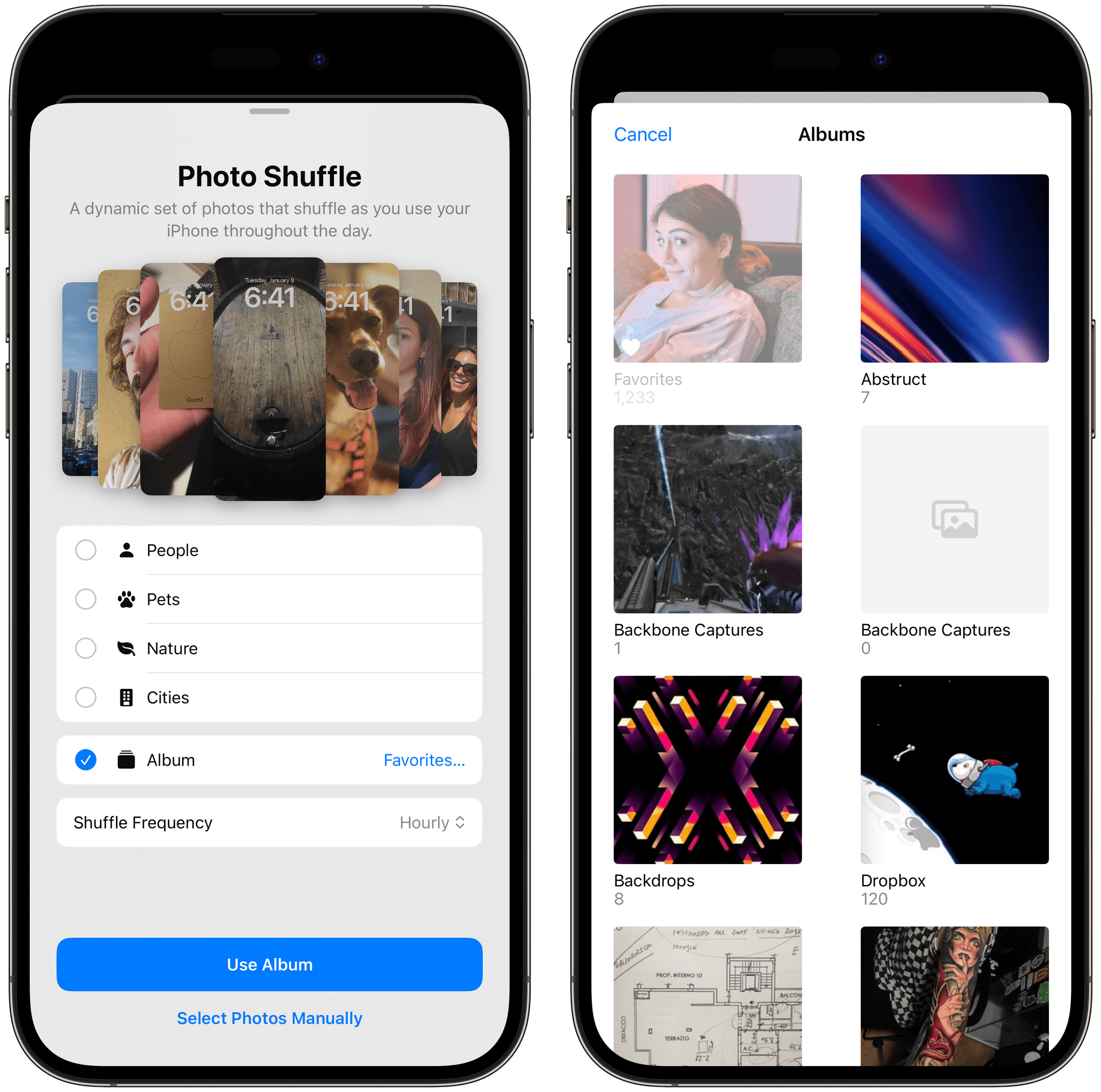 The system defaults to shuffling your Favorites from Photos, which is the right approach and the option I think most people will end up using. However, if you want to shuffle photos from album of your dogs, partner, or kids, you can now do that.
StandBy gets new display options. Exclusively for iPhone 14 Pro and 15 Pro devices with the Always-On display, there are new options in Settings ⇾ StandBy ⇾ Display to control when the display should turn off. You can choose between an automatic behavior that intelligently turns off the display when your iPhone is not in use and the room is dark (the default behavior), after 20 seconds, or never. I left mine set on automatic and it's been fine.
---
As you can see, iOS and iPadOS 17.1 are not huge releases: they're mostly about enhancements to Apple Music, a notable addition to AirDrop, and a variety of small enhancements across the board. While we wait to find out what Apple will bring to iOS 17.2 (the Journal app is still missing, for one) and whether or not we're going to see new product launches at the end of the month, you can find iOS and iPadOS 17.1 in Software Update now.
And in case you missed it or set it aside for later, you can find my iOS and iPadOS 17 review here and re-download an improved version of the EPUB if you're a Club member.