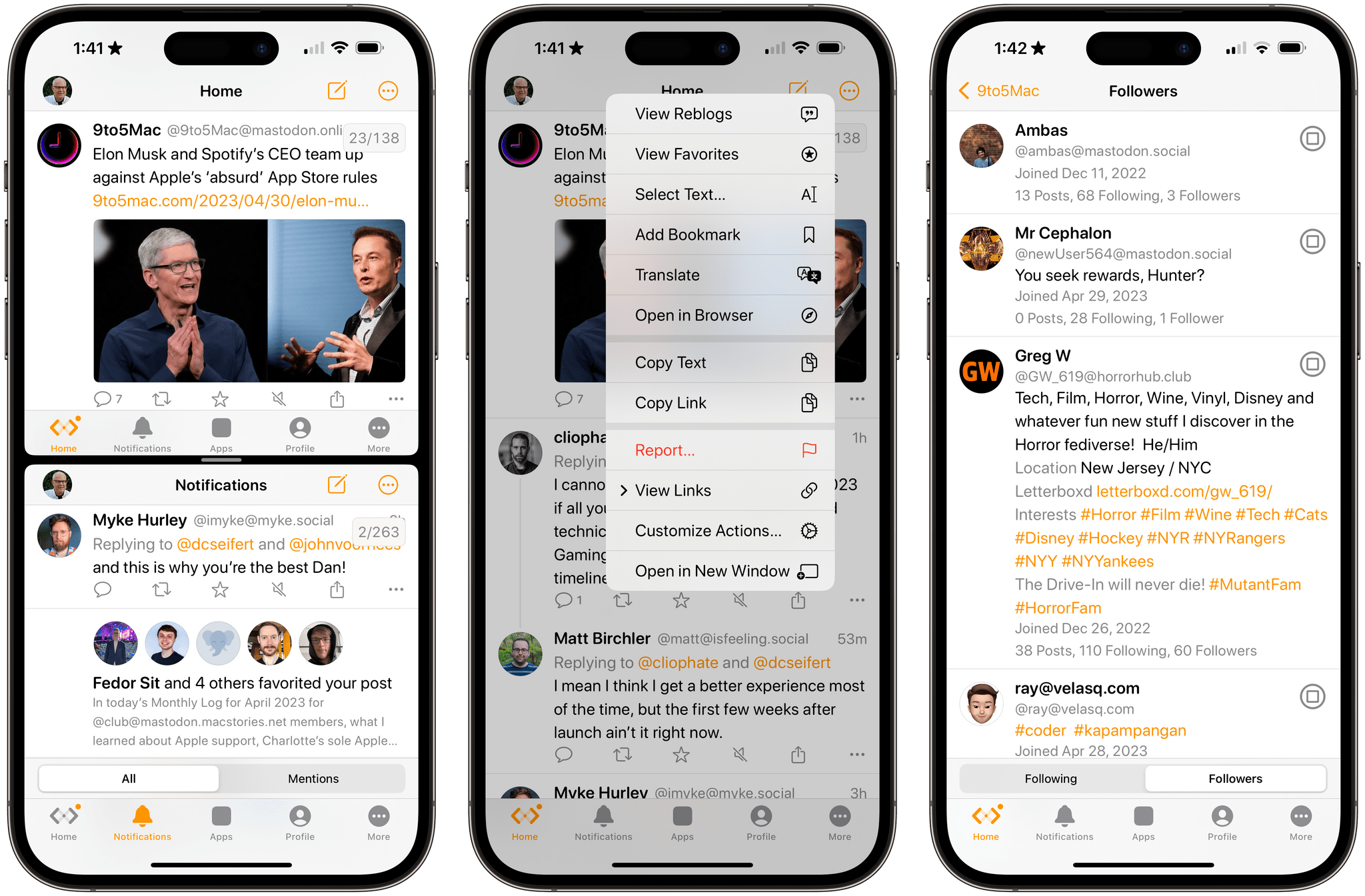 Mona is a brand new, highly customizable Mastodon client from Junyu Kuang, the developer of Spring, which is one of the few remaining third-party Twitter clients that still works and pioneered many of the features found in Mona. Mona, which is available on the iPhone, iPad, and Mac, is a power-user app through and through. The app has a dizzying array of settings for customizing the entire Mastodon experience. If, like me, you enjoy the sort of tinkering that Mona enables, you'll absolutely love this app.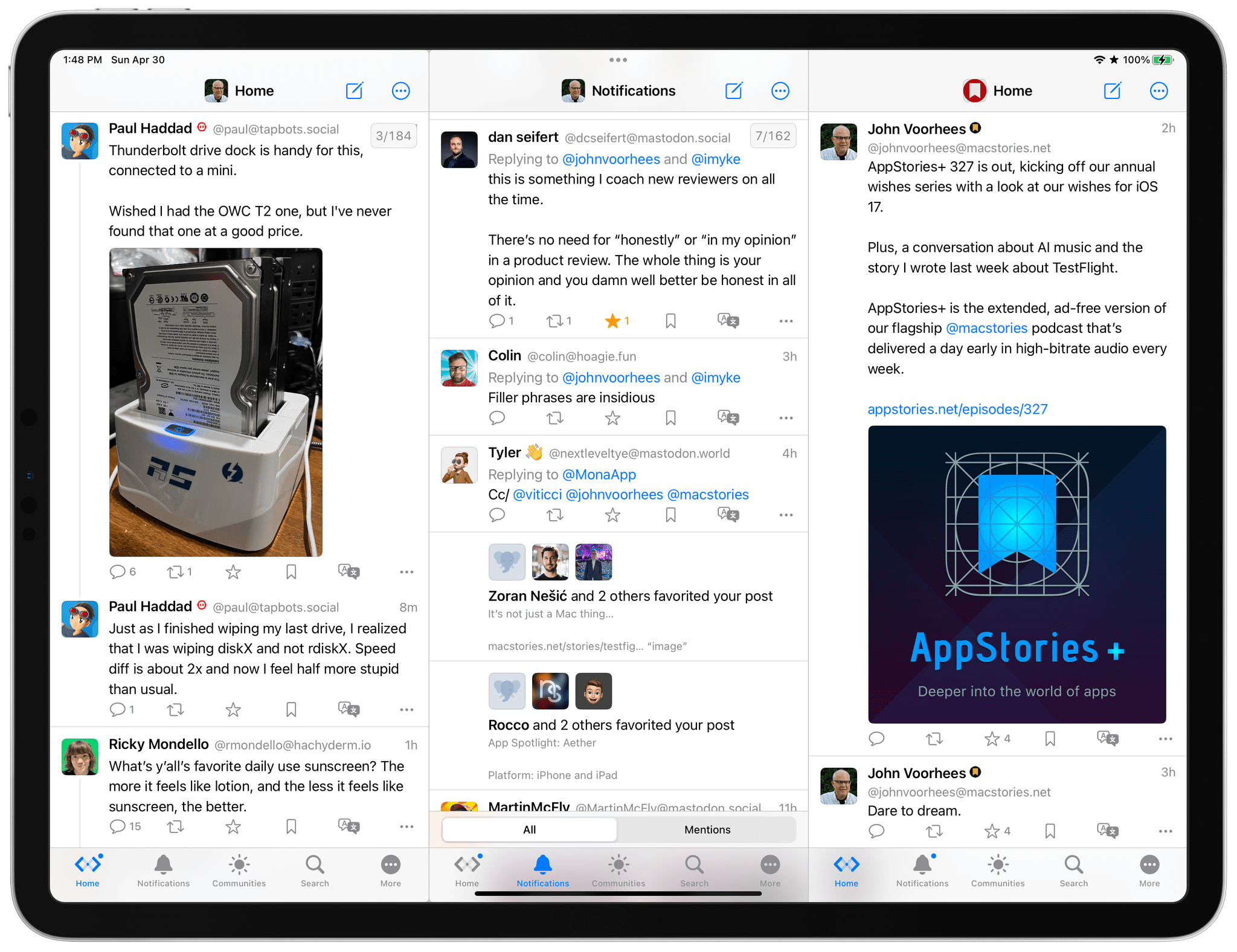 A lot is going on with Mona across three OSes. It's a lot of ground to cover, so I'll focus on what makes it unique on each platform, leaving some of the details for readers to explore on their own.
First, though, it's worth noting that all of the features you've come to expect from Mastodon clients are here. You can add multiple accounts, view your timeline, which syncs across each version of the app, view your local server, follow other server instances, monitor all notifications or just mentions, search for users and posts (subject to the search limitations inherent to Mastodon), reply, repost, star, bookmark, and edit your profile. Of course, you can also mute, block, and report accounts too. I consider all of that functionality table stakes for a Mastodon client, but it's worth noting that Mona handles it all well because not all apps do.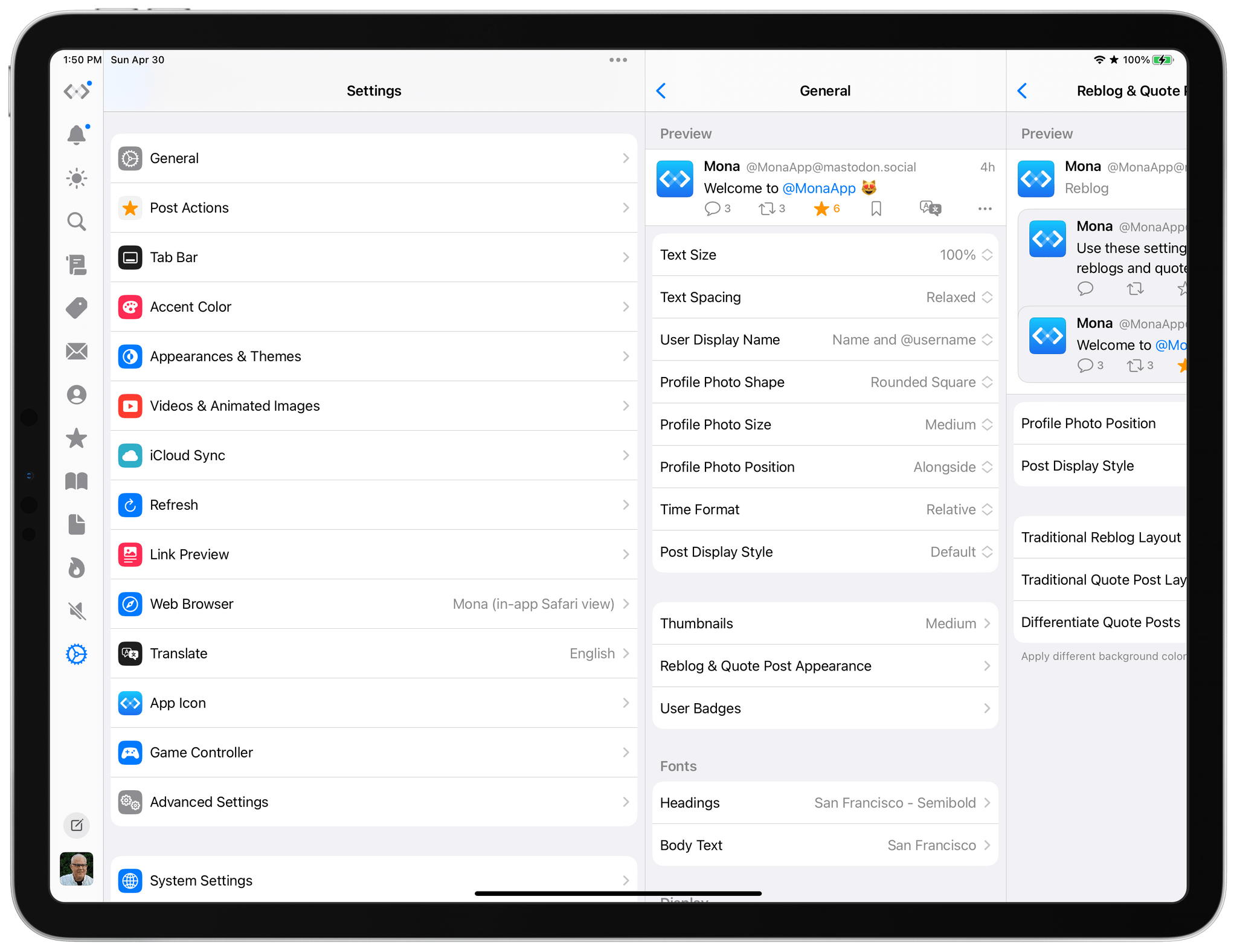 What makes Mona unique, though, is the degree to which you can customize the experience. No two people use social networks the same. Some people are readers, relying on their home timelines or lists to read every post. Other people use Mastodon as a way to find and collect links or follow everyone on a server that caters to a specific community or topic. With Mona, it's simple to set up the app the way that suits you best.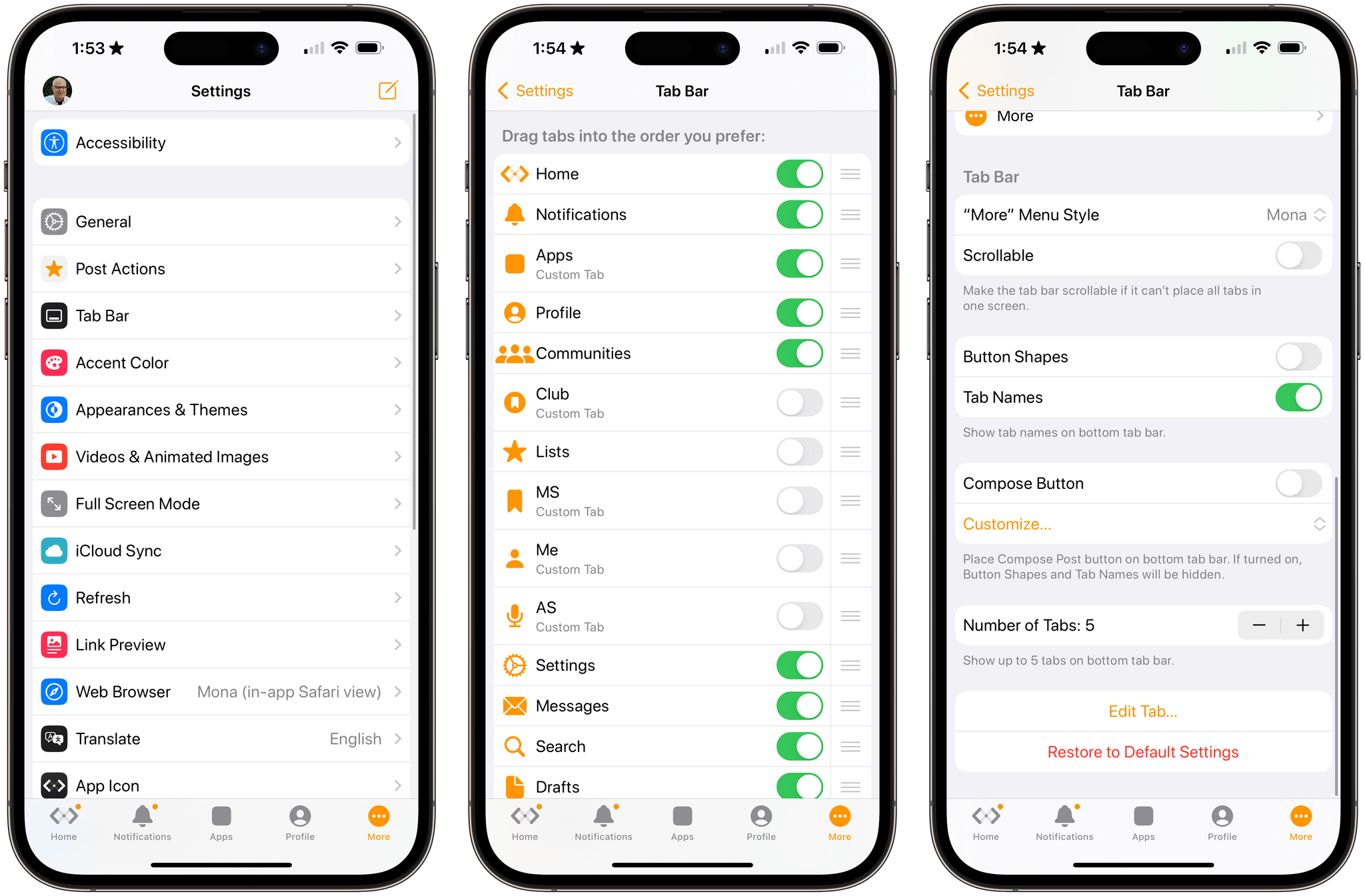 Customization starts with the tab bar along the bottom of the app. There are 14 different tab options that can be arranged in any order you want and turned on and off at will from the app's settings. You can even create custom tabs. I've got one for the indieapps.space server, which is a handy way to check up on what's happening with some of my favorite apps. There's even a separate tab for private, direct messages, which I prefer to deal with separately from public messages.
The tab bar's customization options run even deeper. You can pick the number of tabs and whether the ones that don't fit are accessed by swiping horizontally on the tab bar or by using a 'More' button. There are a handful of other visual options too. That's a lot, but it means you'll always have exactly what you want at your fingertips. The same sort of deep customization is available for the actions available beneath each post, which can also be assigned to swipe gestures.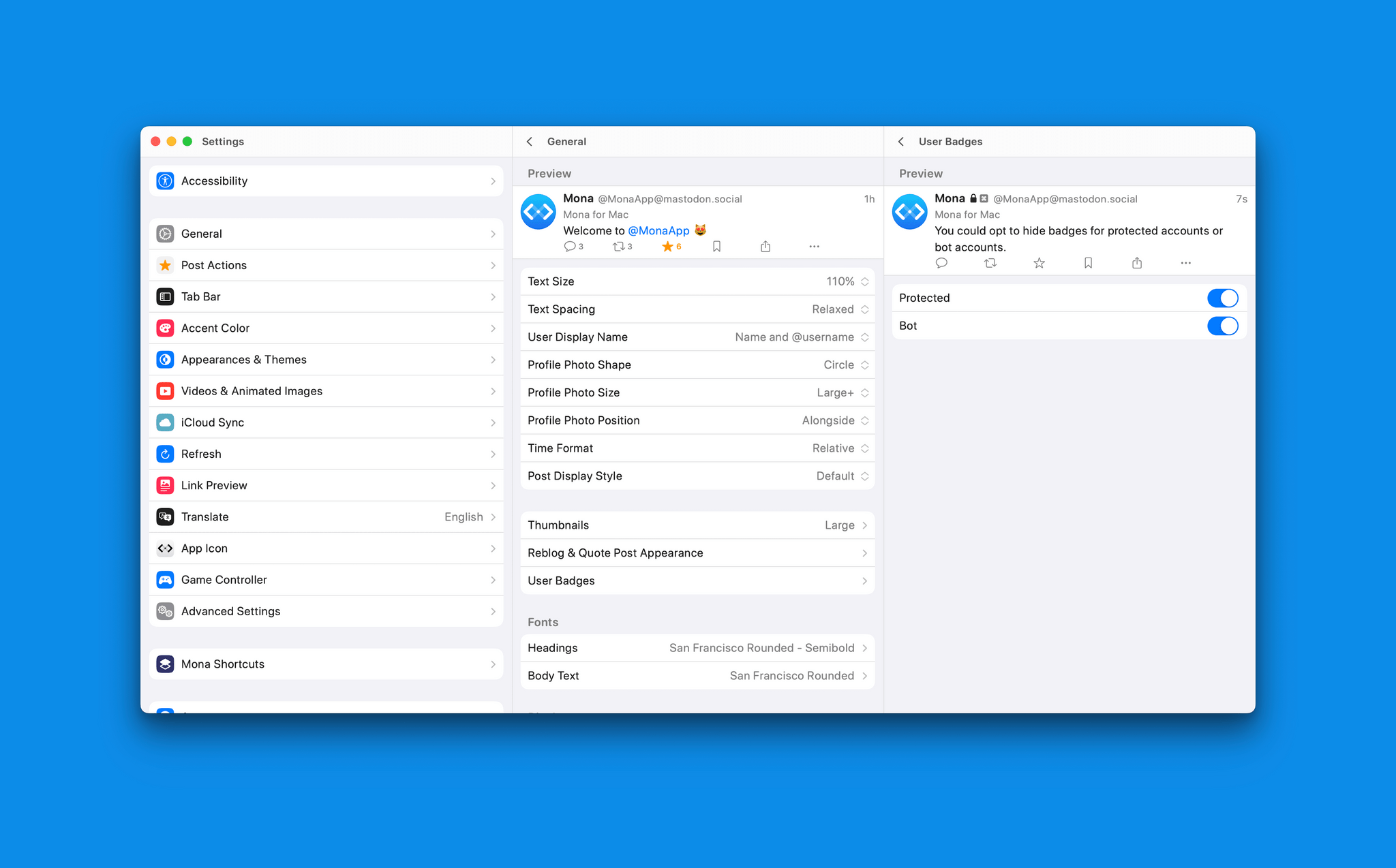 You can also endlessly tweak the look of posts. The text size and spacing, shape and size of profile pictures, the size of thumbnails, the display of user names, fonts, and more can be adjusted. The app also has a wide variety of accent colors from which to choose, a theming system, and multiple alternative icons.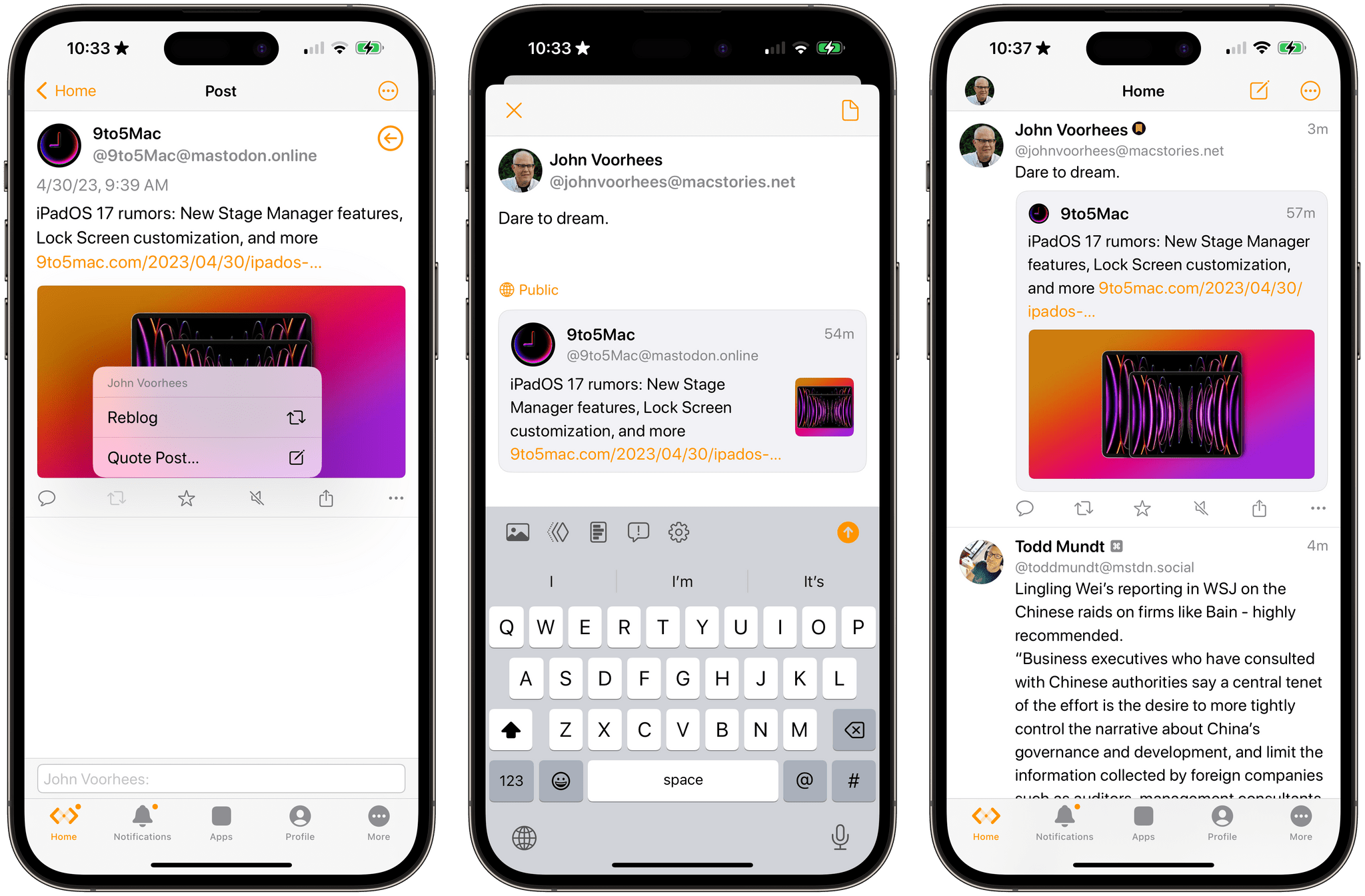 Mona has built its own quote-posting system, too, which looks a lot what you are probably familiar with on Twitter. There are a few options for how quote posts are displayed, but it's worth keeping in mind that this is not a feature that's supported by the Mastodon API. As a result, people who view your quote post on other Mastodon apps will only see your comment and a link to the original Mastodon post instead of the content of the original post.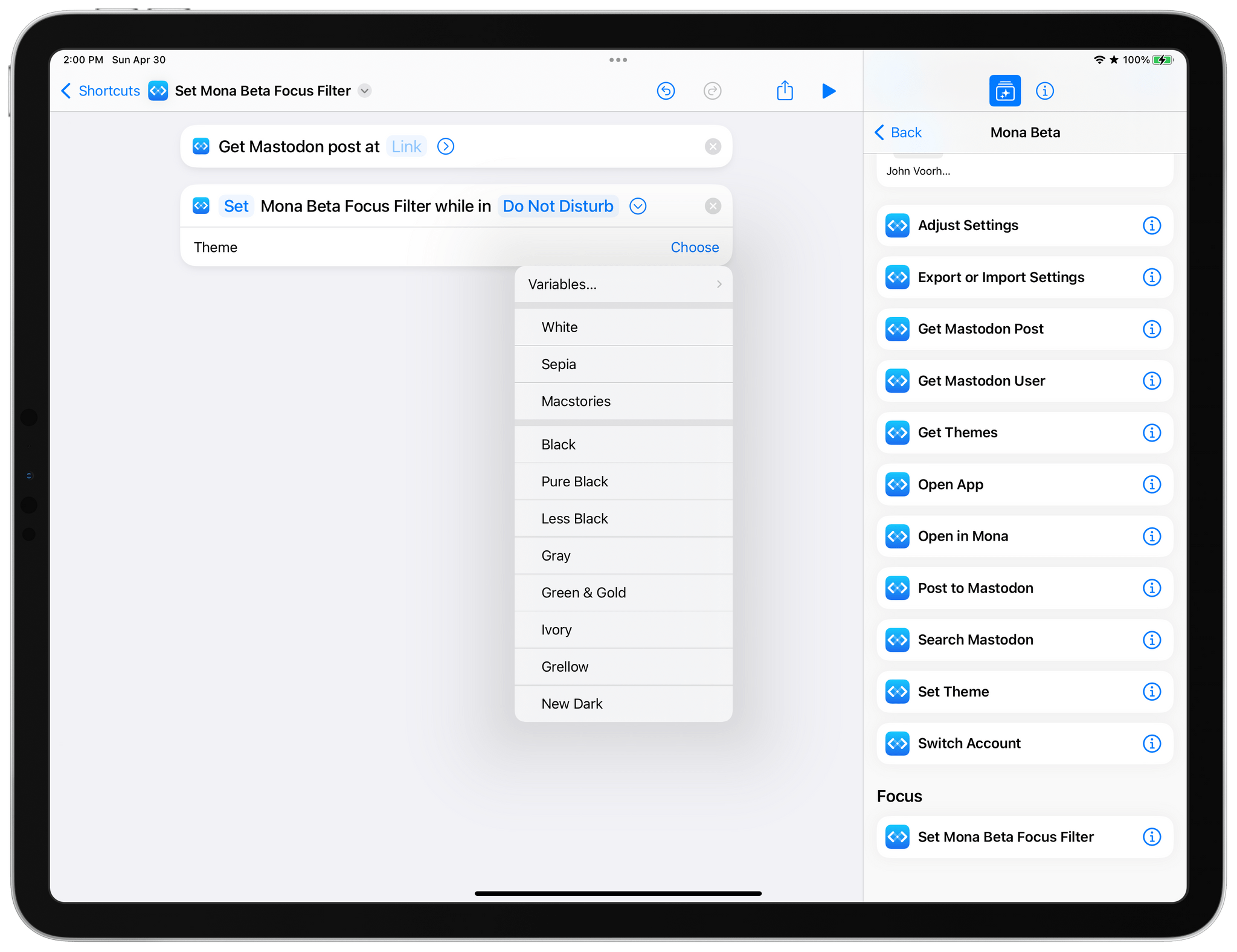 Mona has deeper support for Shortcuts than any other Mastodon client I've used. You can adjust settings, import and export them, get posts, users, and themes, publish posts, set themes, switch among accounts, open the app, open Mastodon links in Mona, and set a theme using Focus filters. The breadth of options opens up a lot of room for creativity that I expect will be especially handy for managing multiple accounts.
Other features include:
The ability to view someone's followers even if they use a different server, which isn't possible with most Mastodon apps
A full-screen view that hides UI elements
Syncing of reading position, drafts, search history, themes, accent colors, and muted items
Timeline search, which few apps offer
Timeline filtering by a long list of criteria, which can even be saved as custom tabs
Creation of a settings backup
Post translation
Giphy support
Integration of the native iOS photo picker
Polls
Content Warnings
Turning repost viewing on and off per account
Per-account notifications
Navigating the app with a game controller, because why not?
There's more, and I could go down a rabbit hole of minutiae, but part of the fun is to explore, poking around in Mona's settings to see what's possible. If you're into that sort of thing like I am, you know who you are. Enjoy.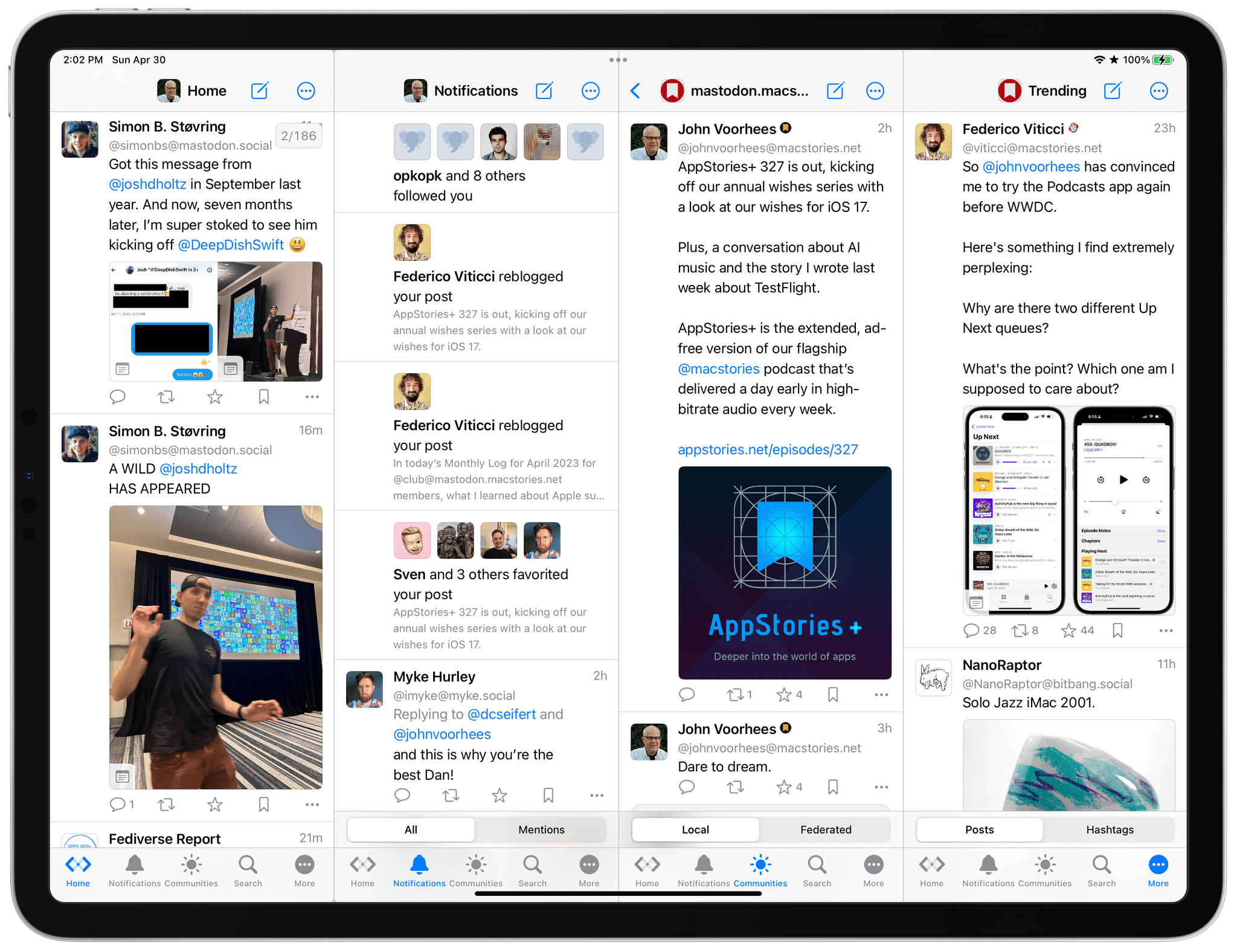 Okay, there's actually one more thing to cover that spans all three versions of Mona: divide views, which are easiest to think of as in-app split views. iOS doesn't offer Split View, but in Mona, you can tap on the three-dot More button in the top corner of the screen and add a divide view that splits the screen horizontally into two parts allowing you to open two different views on your phone. For example, your home timeline and notifications. It's not a view that will appeal to everyone, but on a Pro Max model phone, a divide view is surprisingly useful.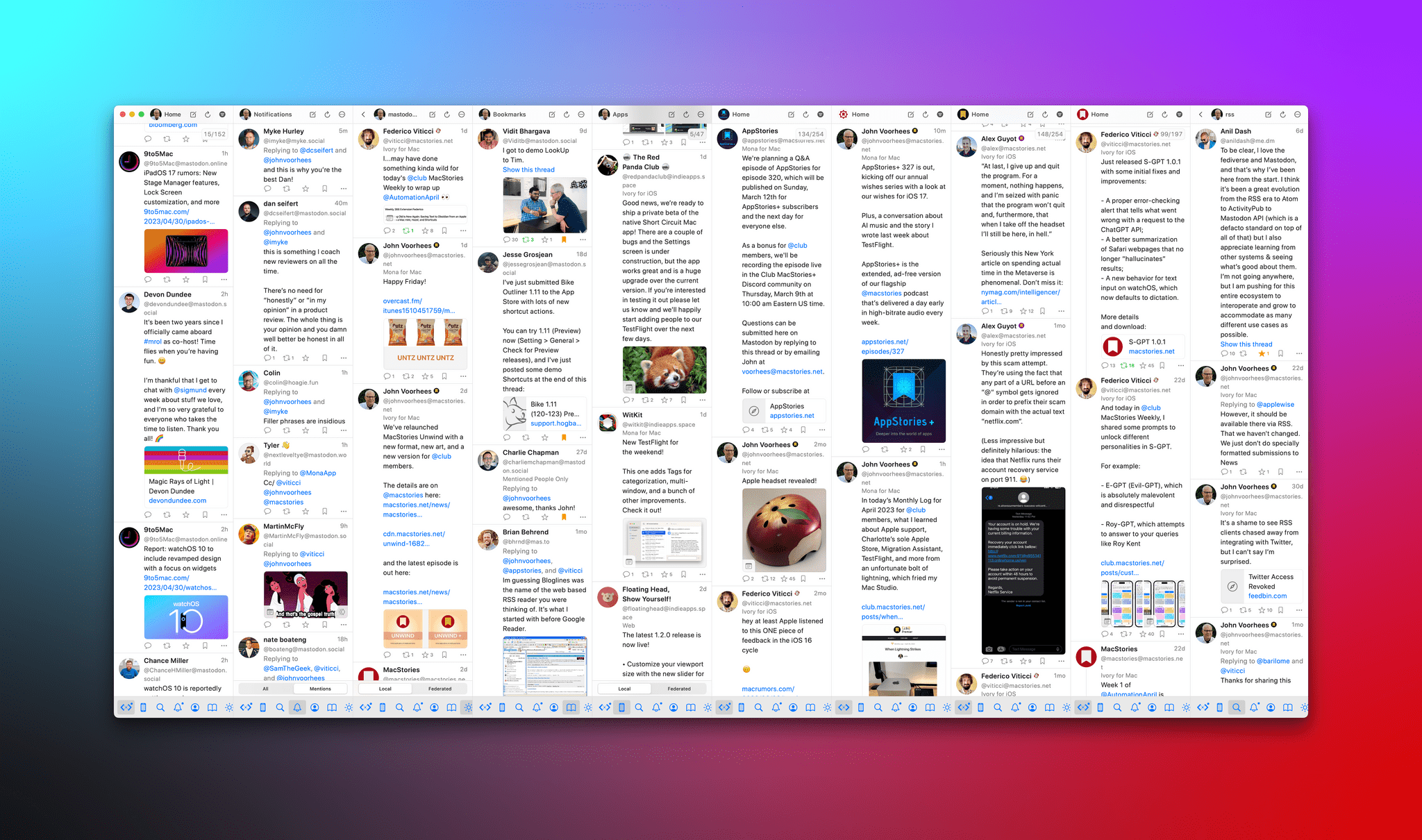 The iPad and Mac versions of Mona use divide views too. The iPad supports up to four vertical columns, each displaying a different view of any combination of the accounts you've set up. The Mac version goes even further into TweetDeck territory, allowing for 10 separate columns. That's a lot, even for a guy who has 200 TestFlight betas. With Mona, I draw the line at a more modest five columns on my 27" display.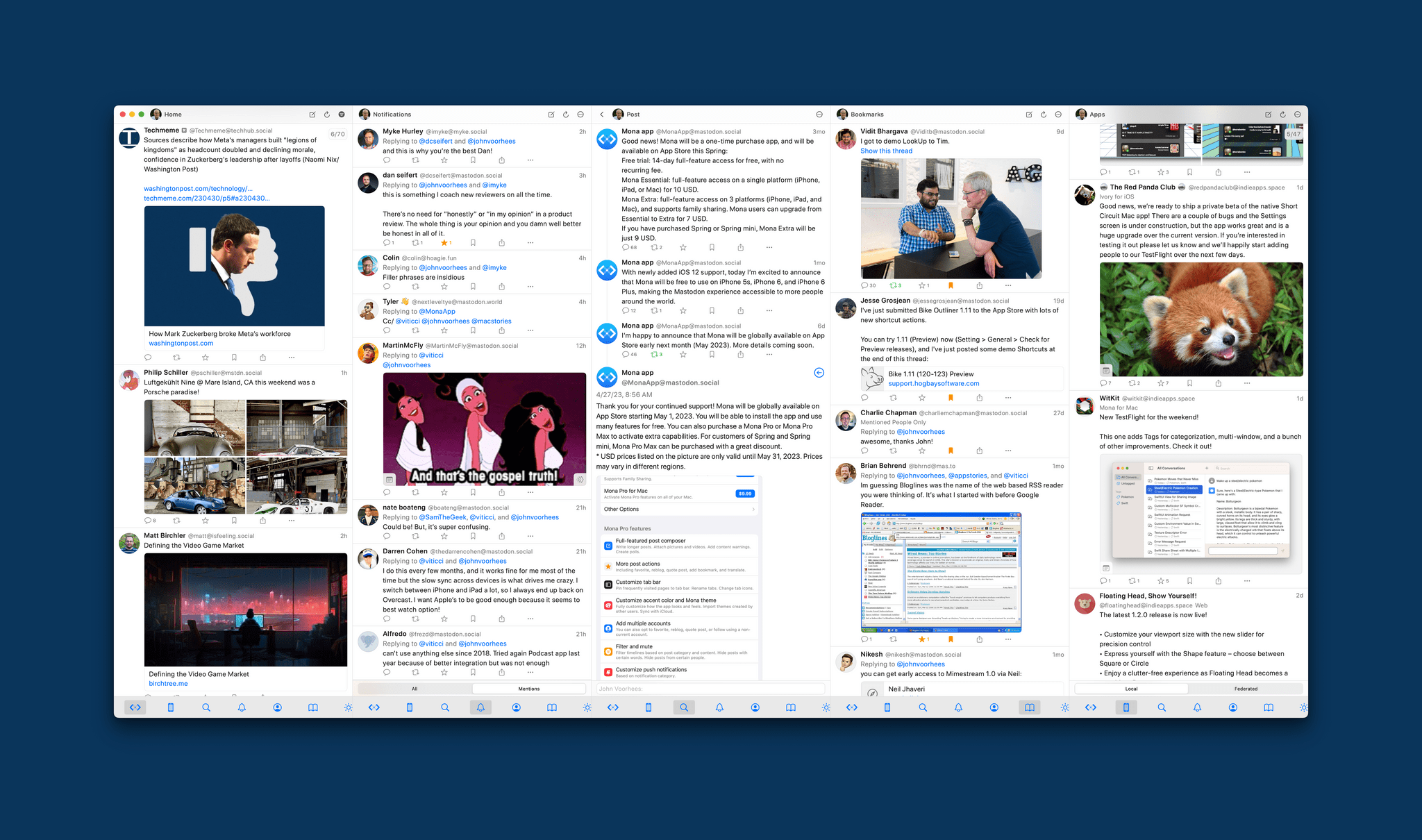 Just because you can pop open so many columns in Mona doesn't mean you should, but I'm glad I can. Most days, all I need is a single column to periodically browse what people are talking about and publish a post or two. However, I manage four MacStories accounts in addition to my own, and when something big is happening on the site, it's great to be able to keep tabs on all of them at once.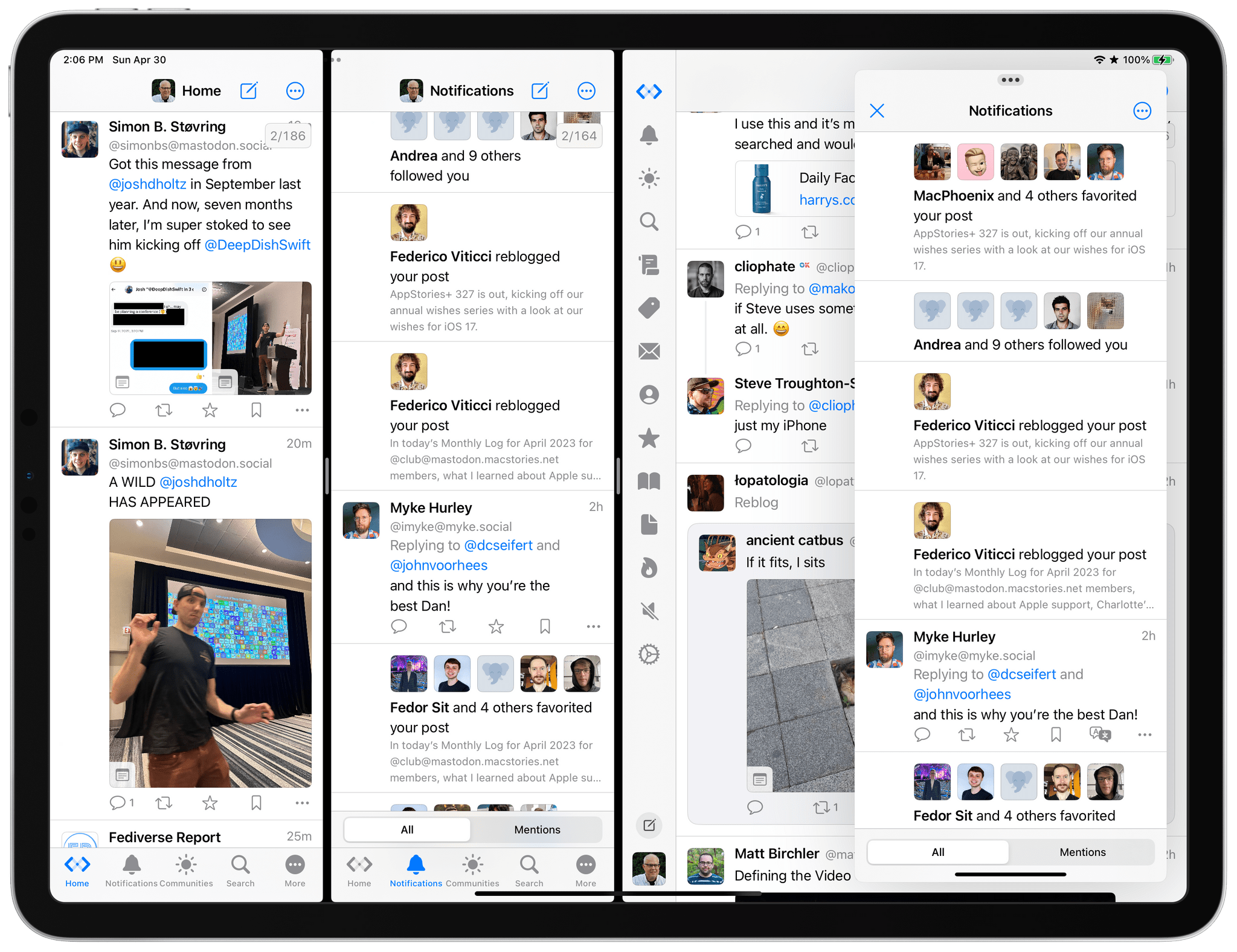 The iPad version of the Mac supports other modern iPad technologies. In addition to divide views, you can open two instances of the app in side-by-side Split Views along with Slide Over. The compose window opens as a separate window, similar to how Apple Mail works on the iPad, but individual posts can be opened and interacted with in a separate window too.
Mona also makes good use of the iPad's support for keyboard shortcuts. You can compose, filter, and find posts, navigate between a dozen views, and manage windows. Mona's iPad and Mac versions also support scrolling your timeline in either direction by tapping the spacebar on your keyboard. Just visit the app's Advanced settings to turn it on. Mona also extensively uses context menus on the iPad and iPhone, including nested context menus, which are supported by relatively few apps.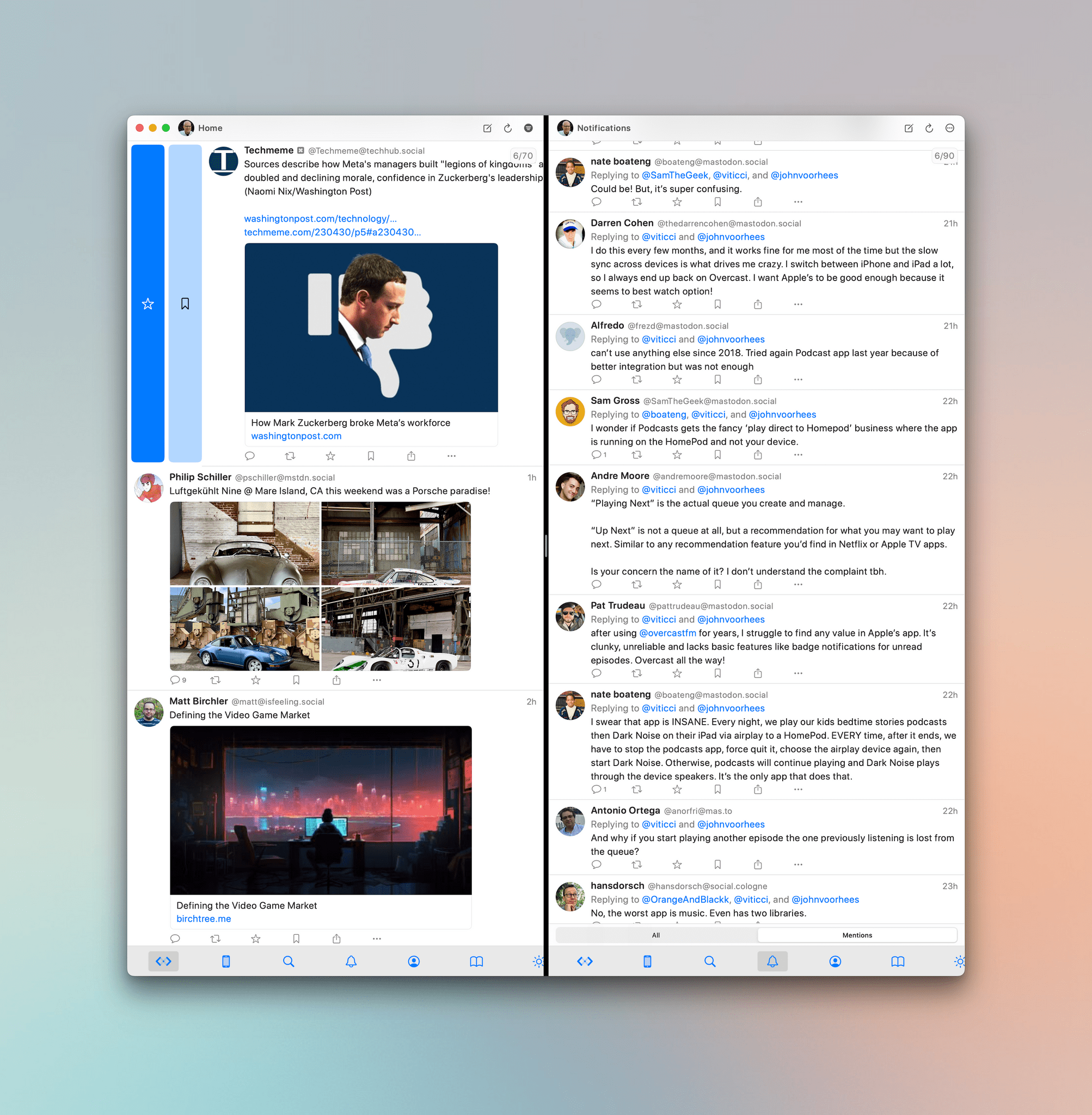 On the Mac, any view can be opened in a separate window if you prefer that to divide views. Mona's macOS app also supports the system share menu and the same extensive list of Shortcuts actions. My biggest criticism of Mona is that it's too easy to trigger the swipe gestures when scrolling with a trackpad on the Mac, making the Mac app's scrolling the clunkiest of the three versions.
And that's really my only criticism of Mona. Sure, I like the design of Ivory more, and there are other Mastodon apps with features like AI post composition that Mona doesn't have, but Mona more than makes up for those differences with the extent to which it can be customized and a long list of features that you just won't find anywhere else.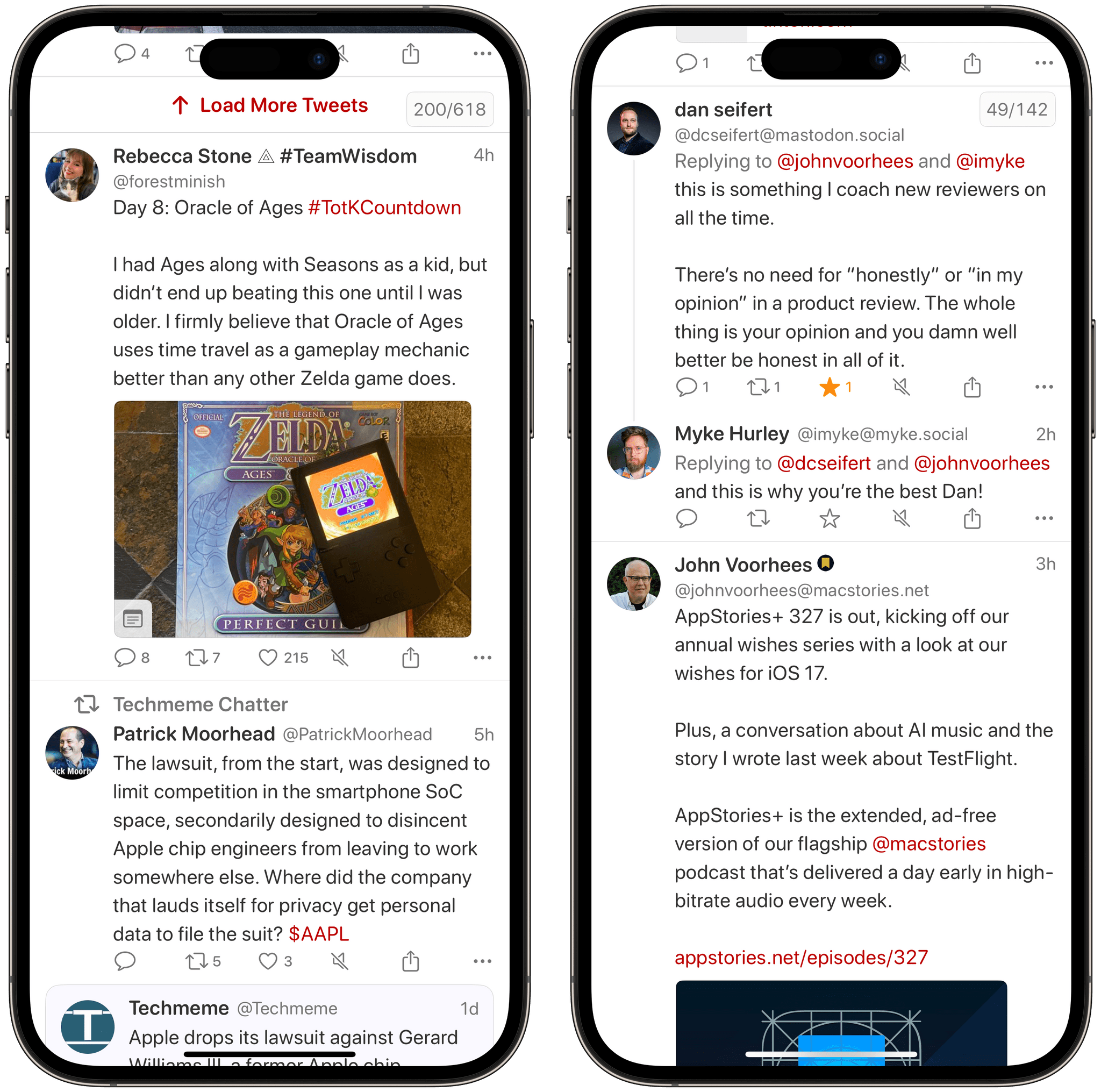 In many ways, the story of Mona parallels Ivory's. Both owe a lot to their developers' Twitter clients and share a common approach to social media. Before the MacStories team abandoned Twitter, Spring had become my TweetDeck. I also used the official Twitter app to casually browse my timeline, but Spring, which Federico covered for Club MacStories, was where I'd go to research and managing our many MacStories accounts.
The same is true of Mona. I really like casually browsing Mastodon with Ivory. However, Ivory isn't out on the Mac yet, and Mona has enough additional features and customization options that I've found myself increasingly drawn to it as I've spent more time exploring its settings. Mastodon's open API has allowed clients for the service to flourish. There are many good choices, but just a few great ones, and Mona is right up there with the best.
Mona is free to download on the App Store, but many of its advanced posting and customization options require Mona Pro, a one-time payment of $9.99 for each version. Mona Pro Max includes the same pro features for all platforms, plus Family Sharing for a one-time payment of $15.99.
If you previously purchased Spring, you can get Mona Pro Max for a one-time payment of $8.99. Mona Pro for iPad, iPhone, and Mac are available for $9.99 each too. Also, if you purchased Mona Pro for iPhone, iPad, or Mac, you can upgrade to the Pro Max version of any of them for $6.99.