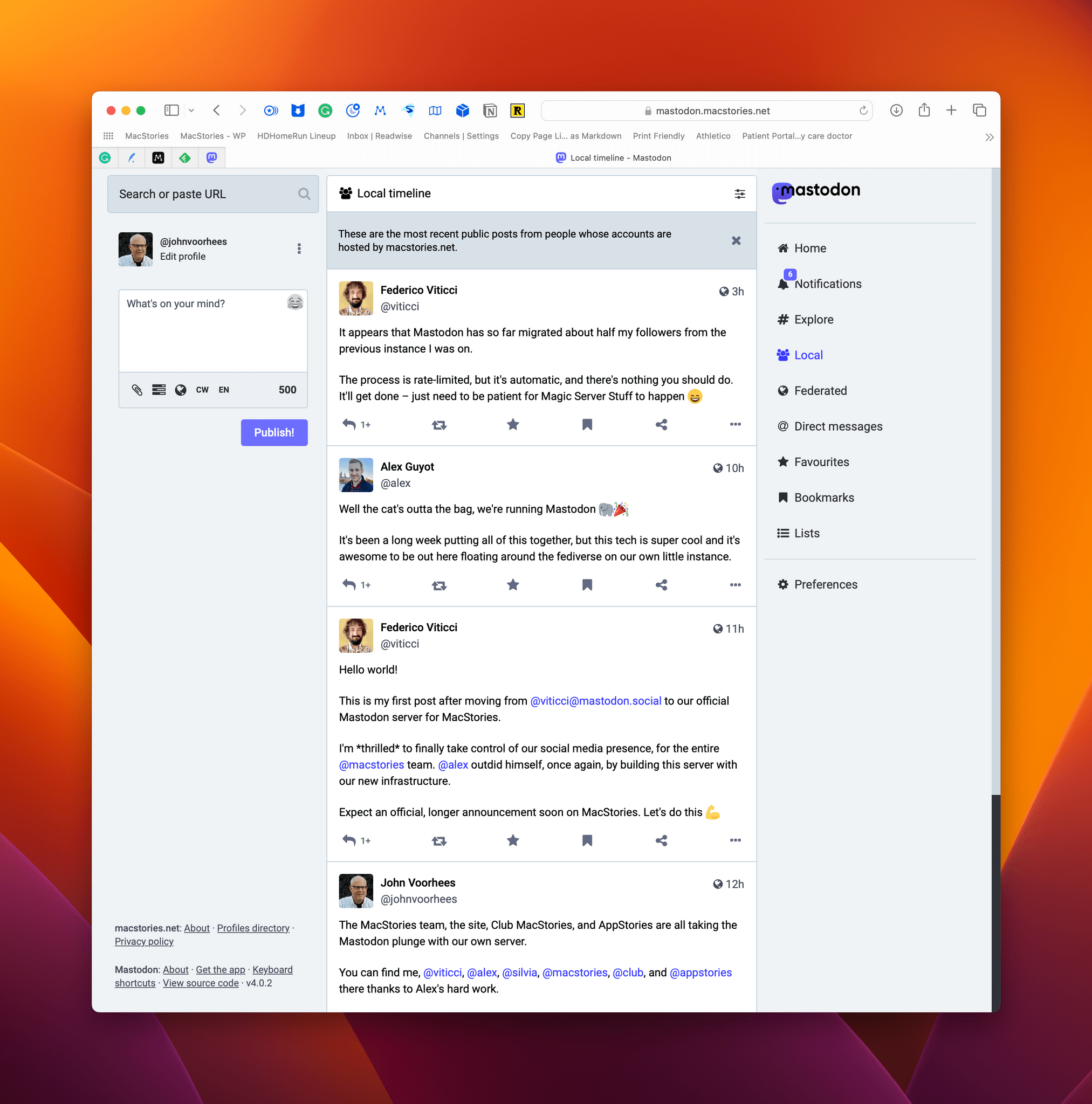 As of today, MacStories is officially on Mastodon with its own server for each of its properties and team members. You can find us here:
MacStories Accounts
MacStories Team Accounts.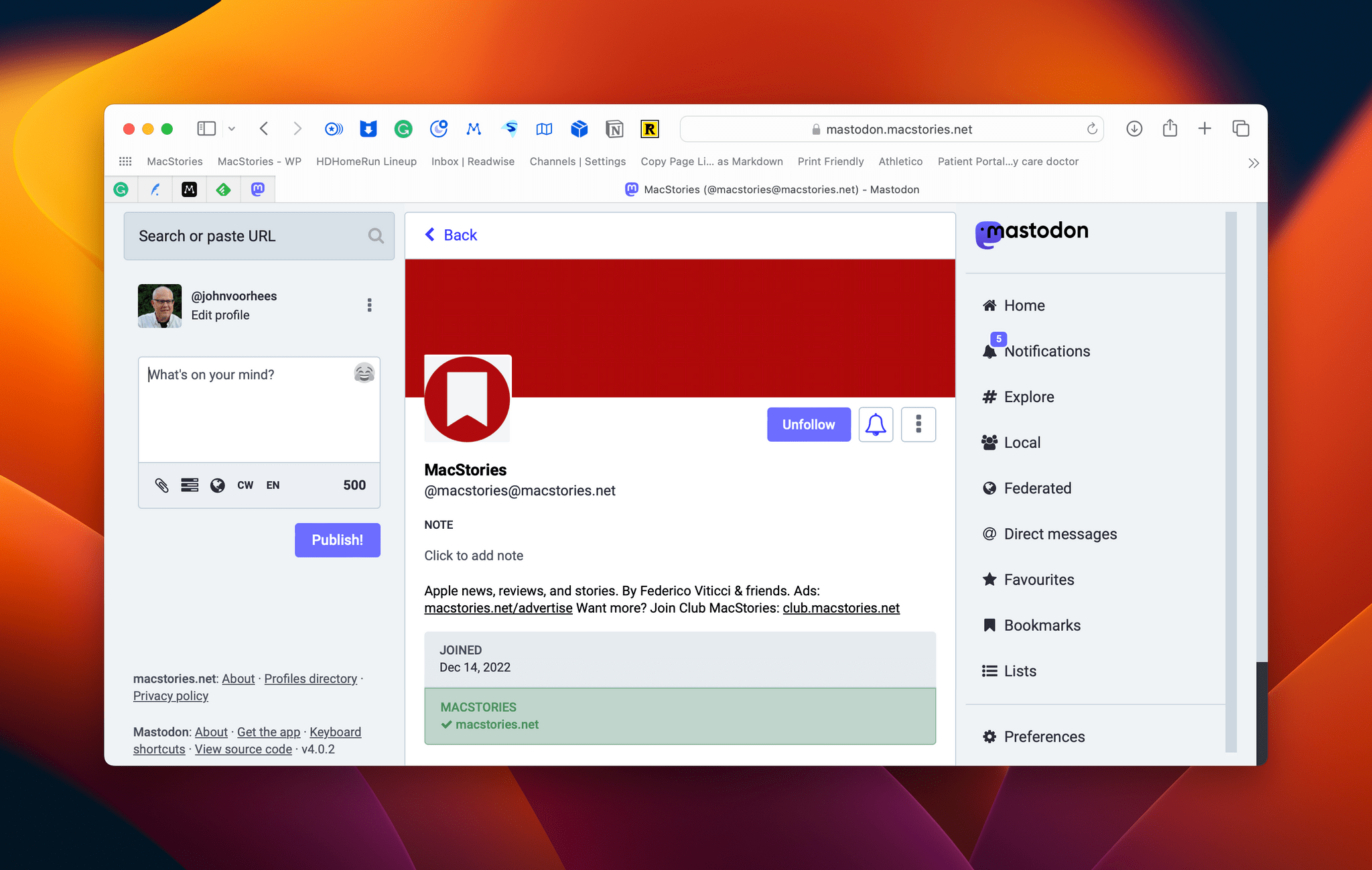 We're not closing down our Twitter accounts (yet), but as you may have noticed, they haven't been active lately and won't be going forward. That's because we've grown increasingly uncomfortable with the direction the company is heading. If you've been keeping up with the news, you know what I mean. If you haven't, I highly recommend Casey Newton's recent piece on Platformer. Casey's perspective and reasons for winding down his personal and business presence on Twitter are very close to our own.
Although I'll miss what Twitter was at its best and always remember what it's meant to me professionally, I'm excited to be moving on too. I don't know if Mastodon will be the next big thing, but it doesn't have to be. It gives us a place to experiment and expand the places we connect with the MacStories audience, which we're eager to do.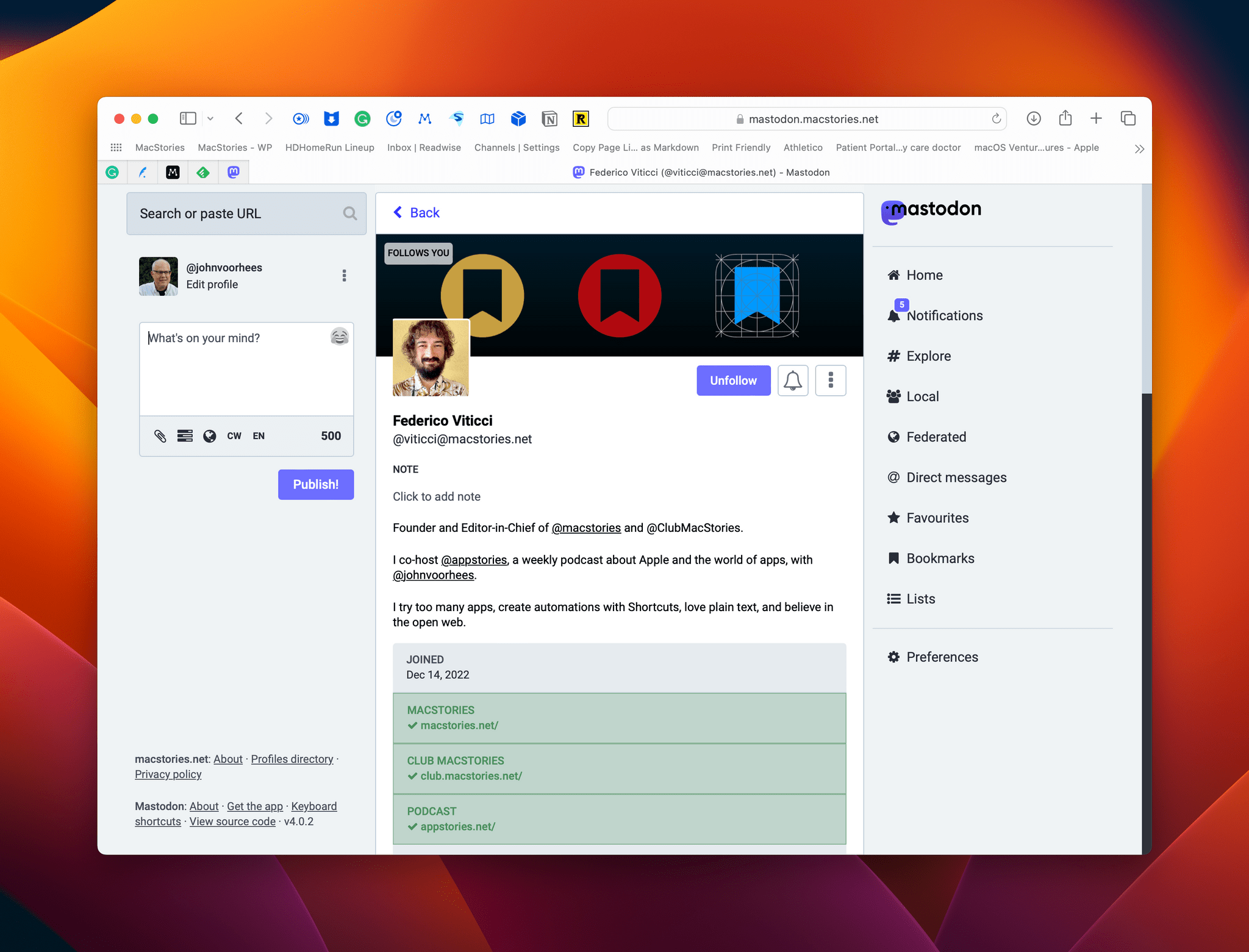 What's more, Mastodon is a good fit with our philosophy that we should own our content and the platforms on which it's published as much as possible. That's why we set up our own server instead of creating company accounts on an existing one. We're fortunate to have the robust infrastructure that Alex built for Club MacStories, which is now running our Mastodon server because it has made this transition relatively painless. We're also curious about ActivityPub, which will let readers access our Mastodon feeds in more places and presents some interesting opportunities for other projects we're working on at MacStories.
The MacStories Mastodon server is just for team members and the MacStories media properties. However, anyone from any Mastodon instance can follow us thanks to Mastodon's decentralized structure. To follow us from the Mastodon server you're on, simply open one of our profile pages and click the button to be redirected to your server; or, copy the link to one of our profiles, search for it, and click the Follow button.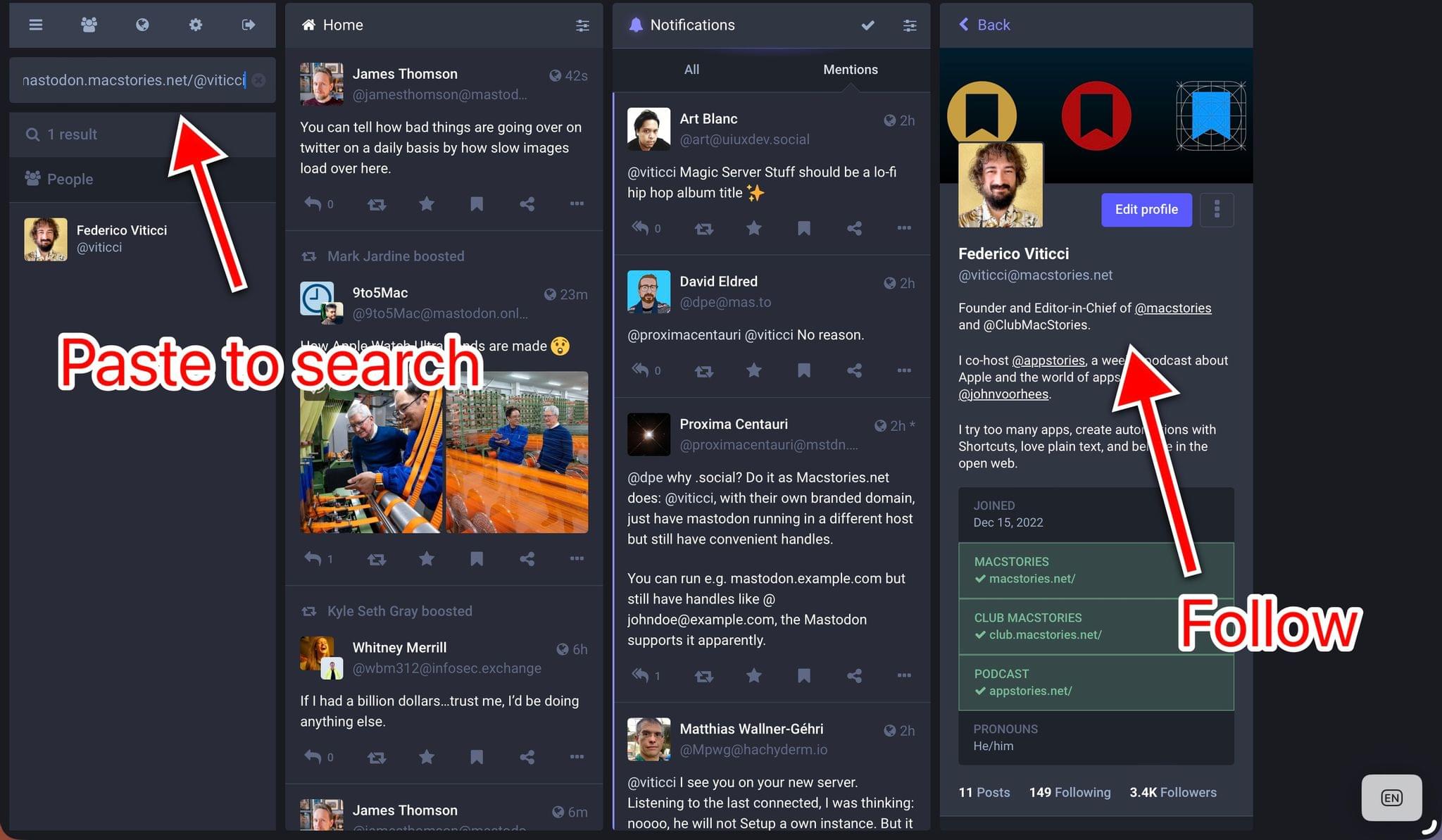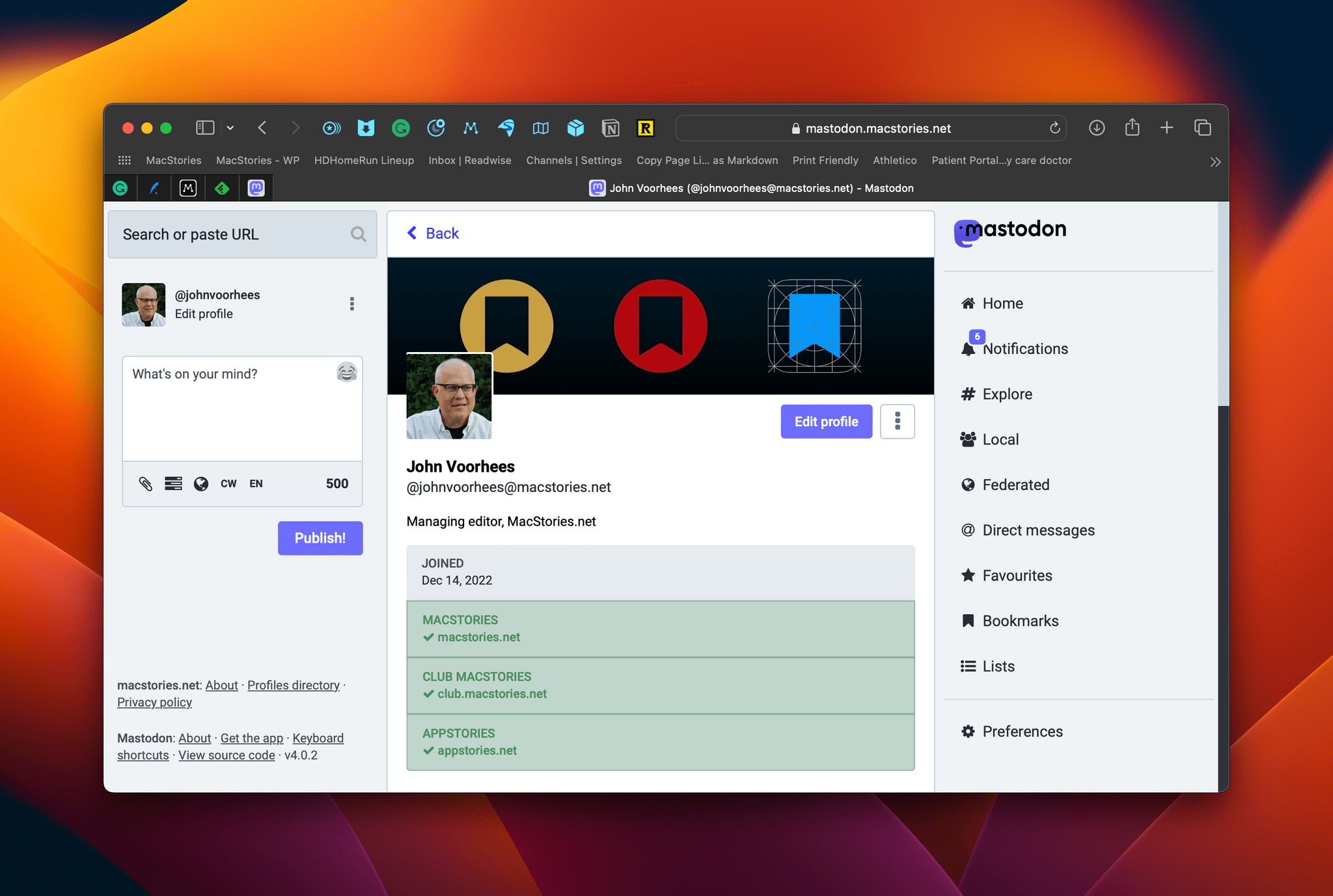 ---
So, as of today, Federico, Alex, Silvia, and I are all moving our Mastodon posting to the new MacStories server. If you already follow us on mastodon.social, you don't have to do anything. You'll follow our new accounts automatically. For everyone else, we'd love to have you join us on Mastodon. We've been ramping up our presence there over the past several weeks, and it's been an active, fun place to get to know the MacStories community better.
The company accounts – MacStories, AppStories, and Club MacStories – will serve a similar purpose to their Twitter accounts, posting links to our stories and new podcast episodes. We'll also be experimenting with ways we can go beyond linking. We're in control of our feeds now, which makes posting original content to those feeds much more attractive.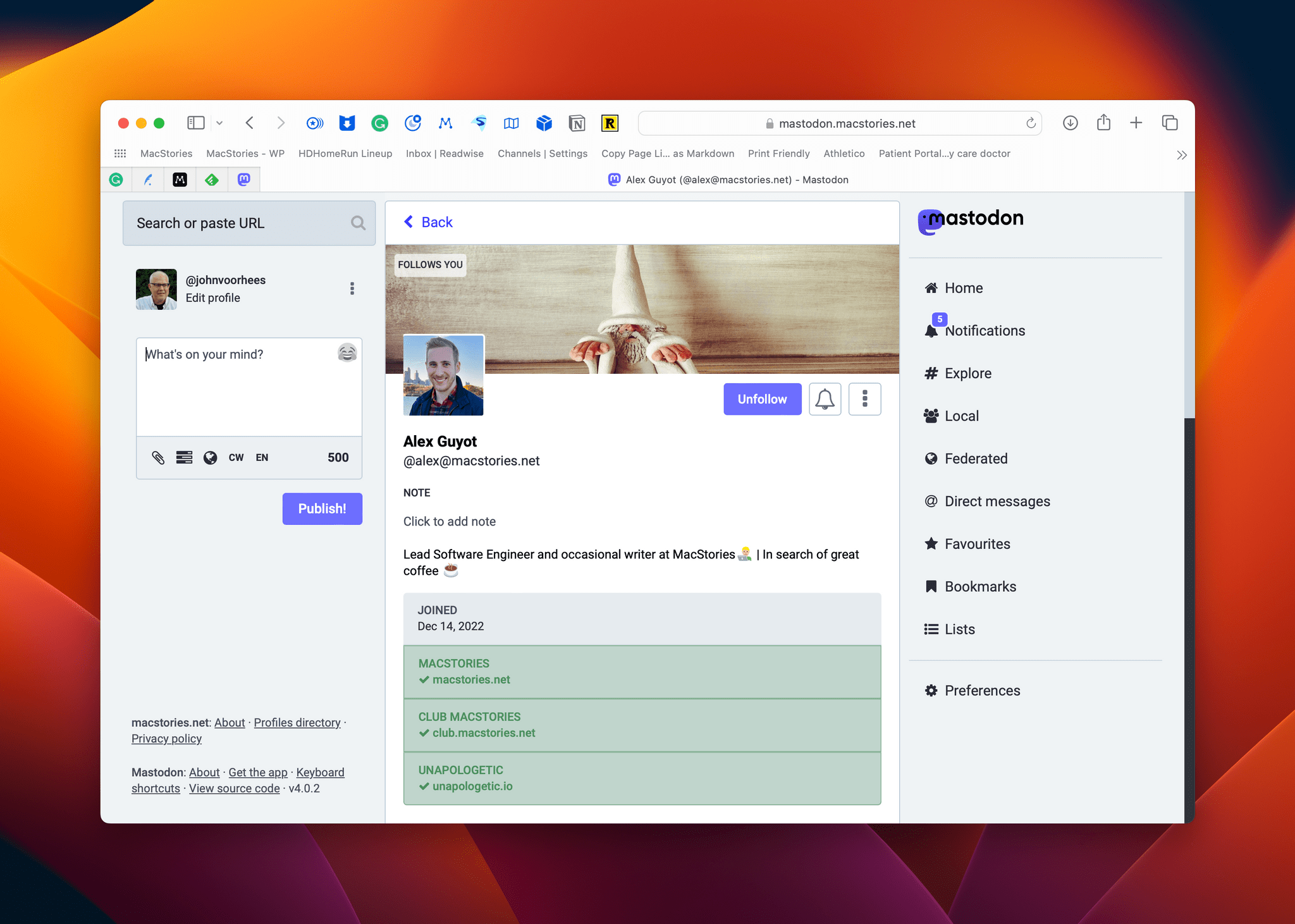 Finally, if you're new to Mastodon and looking for the crowd you followed on Twitter, we've set up a channel in the Club MacStories+ Discord for members to share their Mastodon usernames. You can learn more about the Club and join here. If you're already a member, you know what a great group of people we have in Discord. Many of us drop by every day to share tips, recommend apps, compare notes about new hardware, and talk about movies, TV shows, music, videogames, and more. I've found many of those same people on Mastodon by pouring over lists in its web app, but it's time-consuming and tedious. With the new channel, we hope to help connect members more quickly and easily, so everyone who's giving Mastodon a try has a way to find a core community of people to follow.
Announcing you're leaving Twitter on Twitter has become a tired meme. We're fortunate to have somewhere else to share our plans. That somewhere else now includes our social media posts too. It's a small addition to MacStories now, but it's also an important step for us. We hope you join us by following the new MacStories feeds linked at the top of this story.
See you on Mastodon:
MacStories Accounts
MacStories Team Accounts.