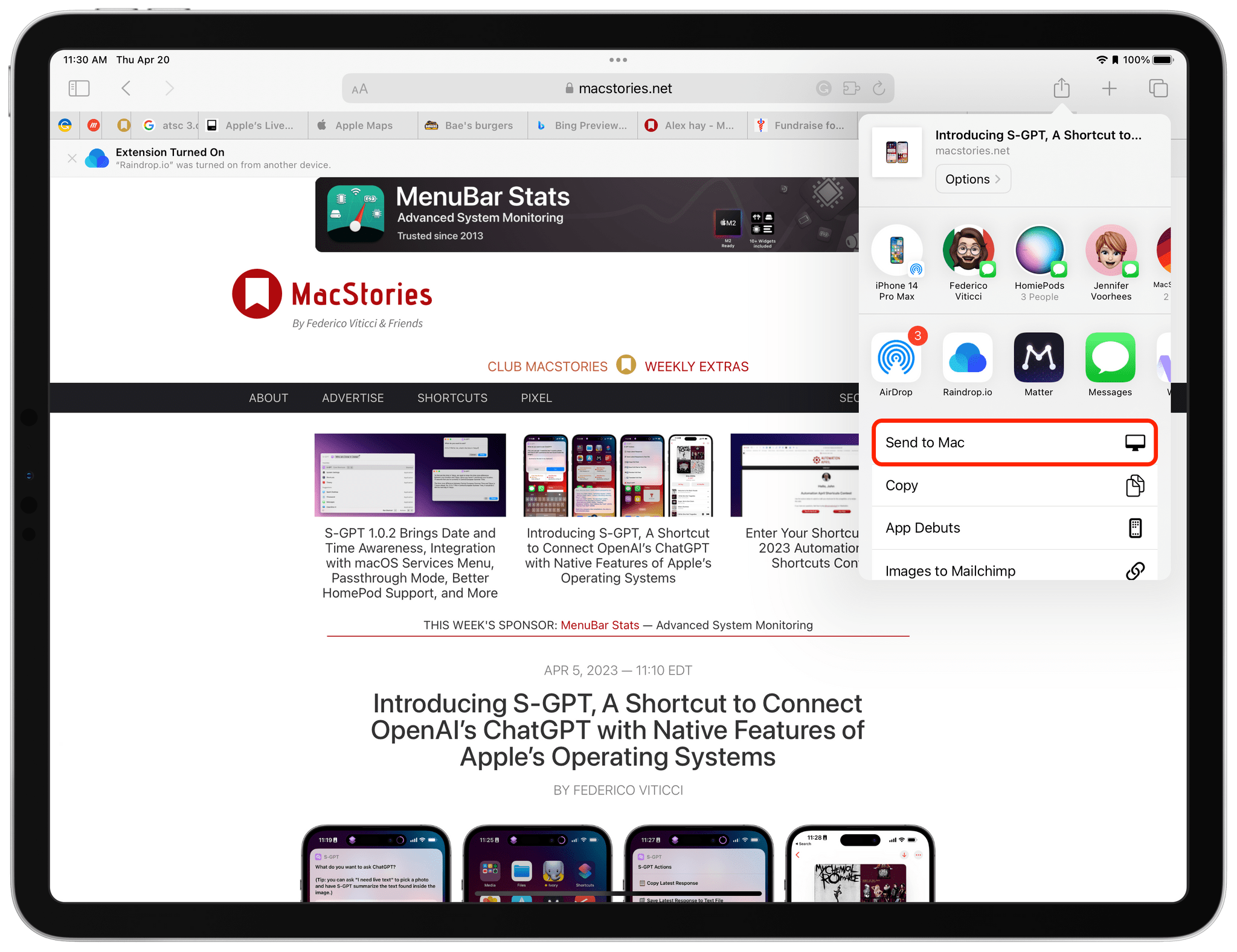 Hyperduck is a recent utility from Sindre Sorhus for sending URLs from an iPhone or iPad to your Mac that has some very interesting applications. Hyperduck hasn't replaced my use of AirDrop, Handoff, and other Apple technologies that move data between devices, but it has extended those features in meaningful ways and has quickly worked its way into my everyday computing life.
Hyperduck does just one thing very well. It sends URLs from an iPhone or iPad to a Mac using iCloud. That's different than how AirDrop works, which has some advantages.
To work, you need to install Hyperduck on both your iPhone or iPad and Mac, where it runs headless. On an iPhone or iPad, Hyperduck is accessed using the 'Send to Mac' action extension from the share sheet or its single 'Send URLs to Mac' Shortcuts action. The action extension sends URLs one at a time from any app that can share a URL, while the Shortcuts action can send multiple URLs at once.
That's about as simple as it gets with any utility, but it's a simplicity that opens up interesting uses that aren't possible with AirDrop. One advantage of Hyperduck is that it's available when AirDrop isn't. Our condo has three floors. If I'm reading on my iPad in bed at night on the third floor, I'm too far away from my Mac to use AirDrop, but with Hyperduck, I can still send a link to my Mac, so it will be waiting for me in the morning. Hyperduck also works if your Mac is offline. Because the app uses iCloud to sync between devices, the links you send when your Mac is unavailable will show up as soon as it comes back online. I don't use Hyperduck this way a lot, but it's a nice alternative to saving a URL in a read-later app or link organizer.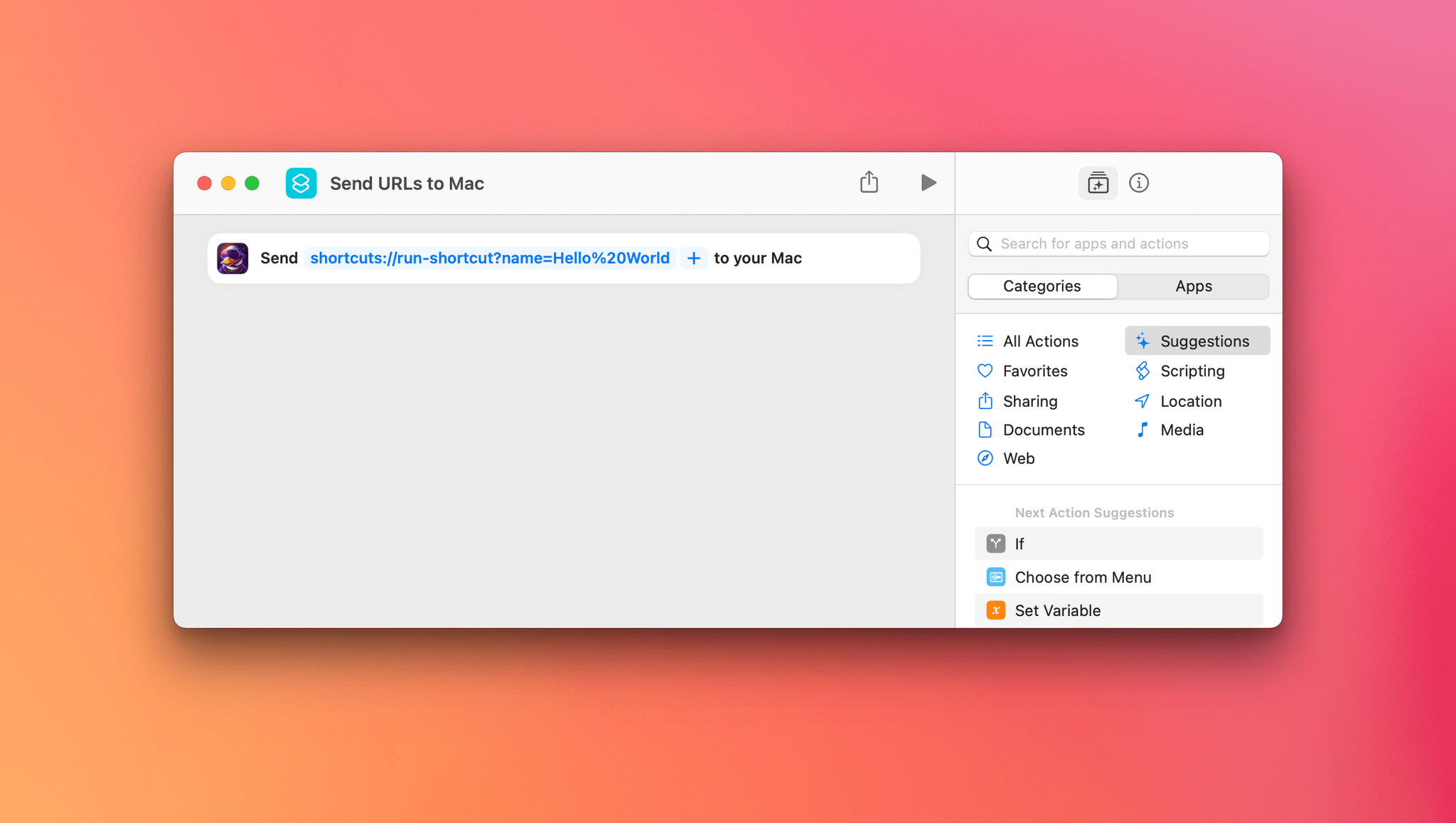 Even more interesting is Hyperduck's ability to send non-http URLs to your Mac, which means you can use URL schemes to trigger actions remotely. The obvious example is shortcuts, which can be run using the following format:
shortcuts://run-shortcut?name=Hello%20World
It's an excellent option for any Mac-only shortcut you've created. Just create a shortcut using Hyperduck's sole action to send the Shortcuts URL to your Mac, and you'll be able to run your Mac-only shortcut from an iPhone or iPad anytime you want.
Lots of apps have URL schemes that you can run using Hyperduck, but another one of my favorites is Raycast. Not long ago, Raycast added deep linking support – its own URL scheme that can execute built-in Raycast commands, plugin actions, and even scripts.
Combined with Shortcuts, you can use Hyperduck to run a URL scheme on your iPhone to trigger another URL scheme on your Mac. That sounds complicated, but it can actually simplify what would be a complex Mac-only shortcut while allowing it to be run remotely. For example, using Open App actions and the URL scheme for Raycast's window management commands via a shell script, you can create a single-action Hyperduck shortcut on your iPhone that's run automatically every morning as a personal automation, arranging your Mac apps to your liking.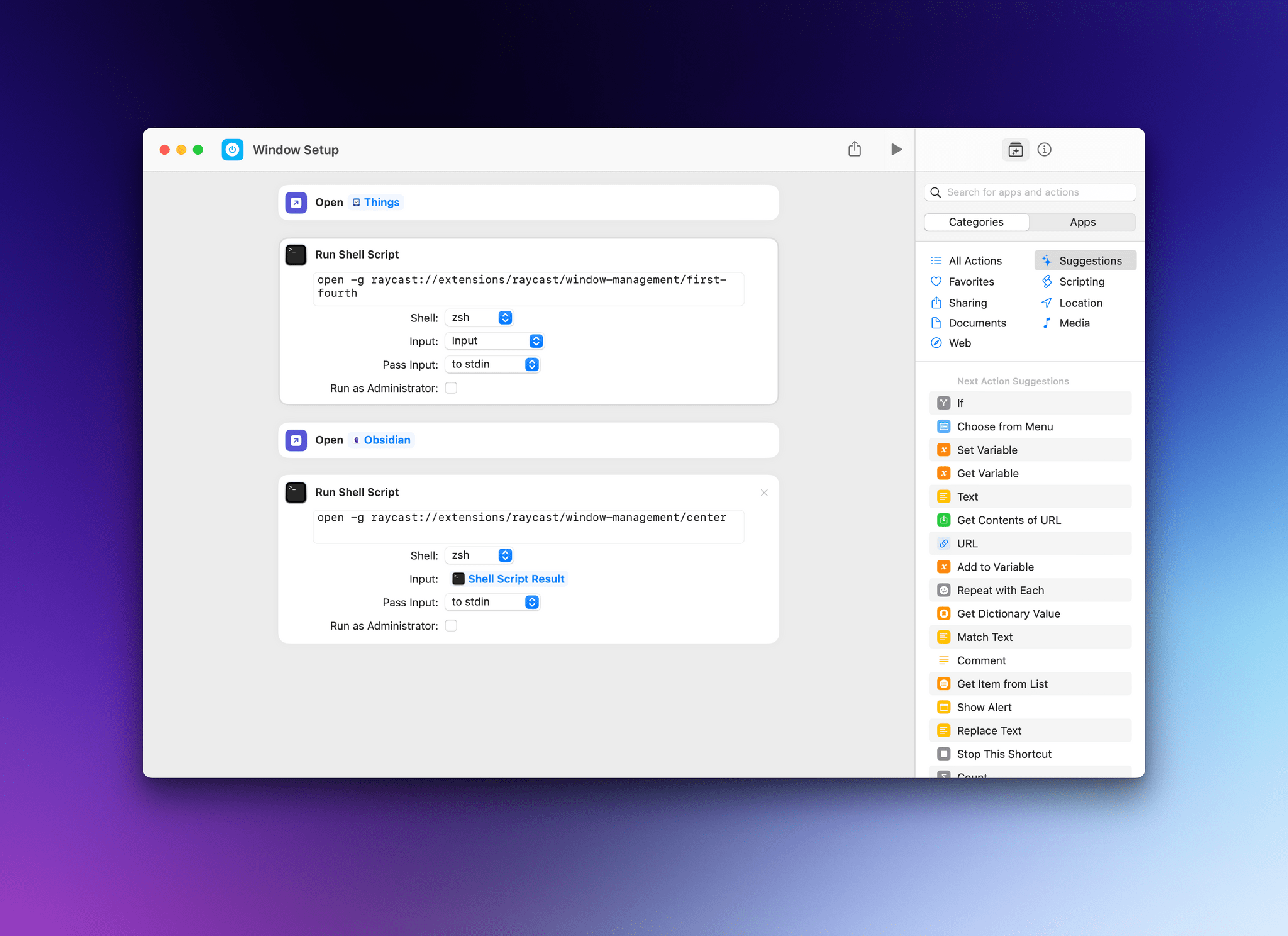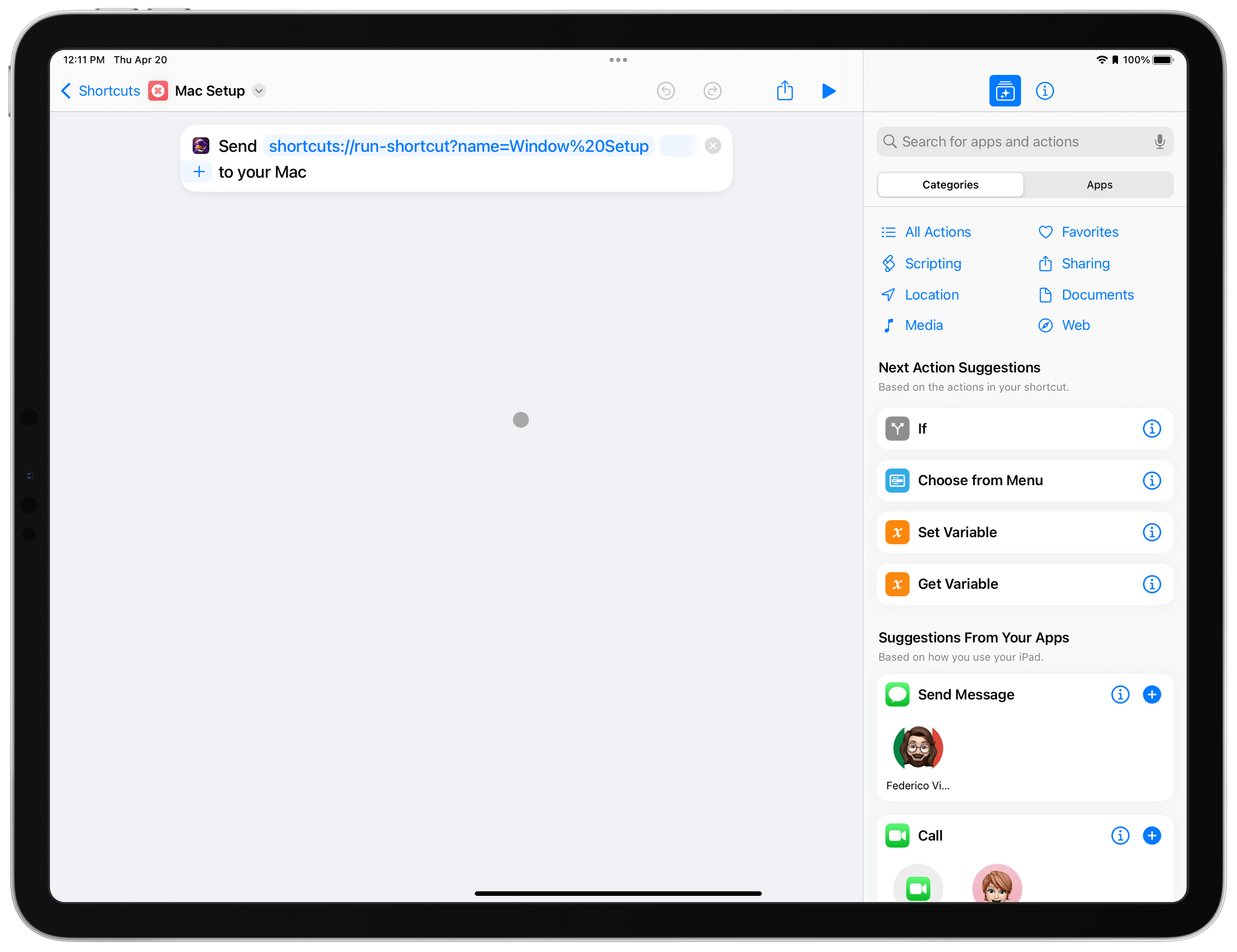 The shell script is necessary because without it, triggering Raycast switches the focus to Raycast instead of the app you want to arrange on your desktop. Using open with the -g option in the script, allows the Raycast URL scheme to do its thing without switching the focus to Raycast's window. However, aside from that minor complexity, the shortcut couldn't be easier. In the Window Setup shortcut above, I've centered my Obsidian window and moved Things to the leftmost quarter of my desktop. Because I'm using Raycast's URL scheme, the shell scripts are super simple. So is the Hyperduck shortcut on my iPhone, which uses Shortcuts' URL scheme to send the command to run the shortcut on my Mac.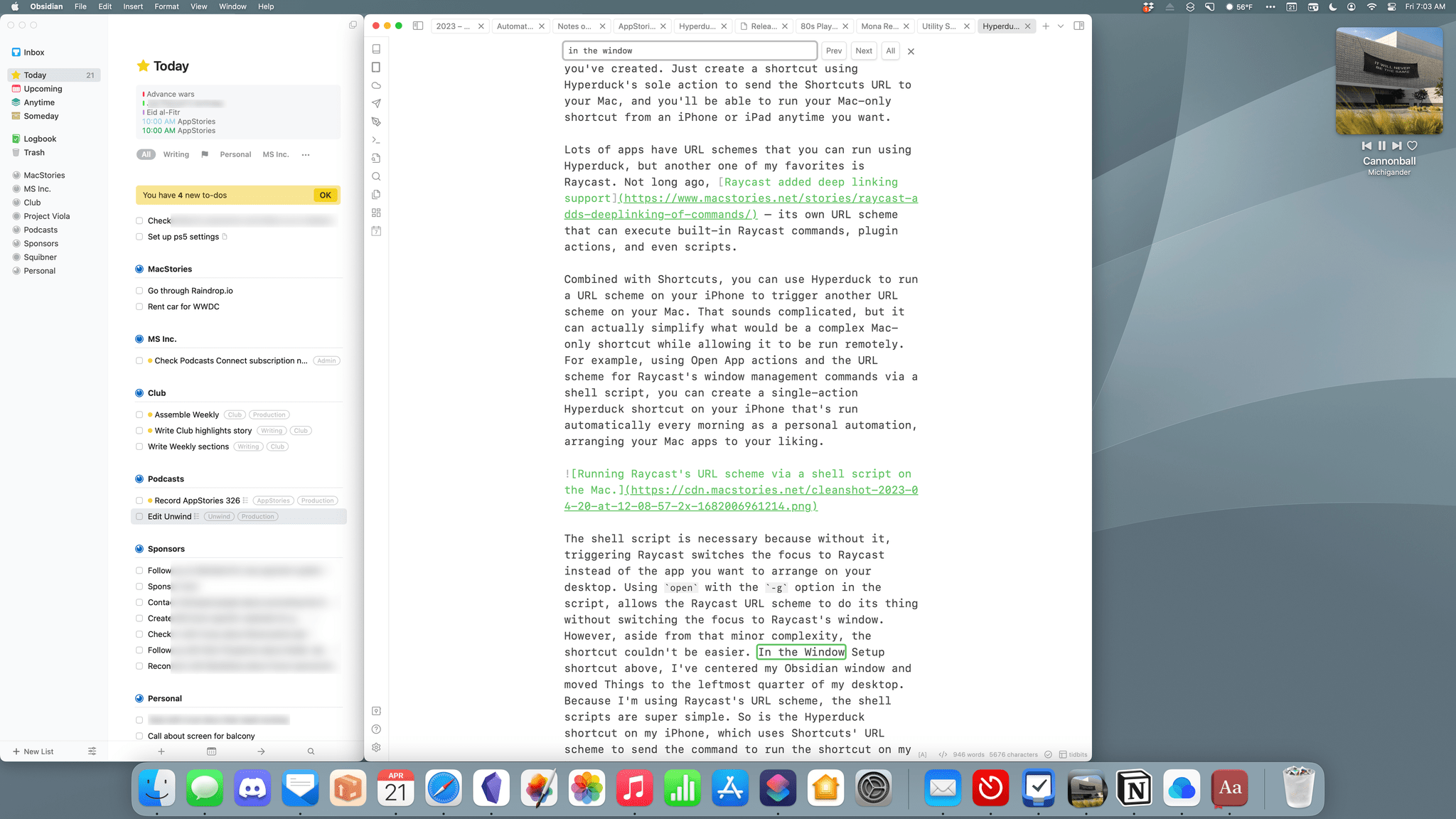 By tying the Mac Setup shortcut to a personal automation, the entire process is automated, but with a catch. There's no way to make sure two or more apps are on the same Stage Manager stage. As a result, this shortcut works best if you don't use Stage Manager or always keep the apps you want to arrange on the same stage, which isn't easy to do. Still, it's a nice demonstration of how URL schemes and third-party Mac utilities can simplify what would otherwise be a much more complicated shortcut.
Overall, I love Hyperduck. I don't use it every day, but it does a great job bridging iOS and iPadOS to macOS, which Shortcuts doesn't do very well yet. It's also handy for setting up tabs in Safari or another browser for the next time you plan to use your Mac. In my testing, Hyperduck has been reliable but sometimes slow when I'm on a weak network connection. iCloud sync can also be erratic at times, too, but despite a few hiccups here and there, Hyperduck has become one of my primary tools for controlling my Mac remotely.
Hyperduck is available on the App Store as a free download.
---
You can also follow MacStories' Automation April coverage through our dedicated hub, or subscribe to its RSS feed.