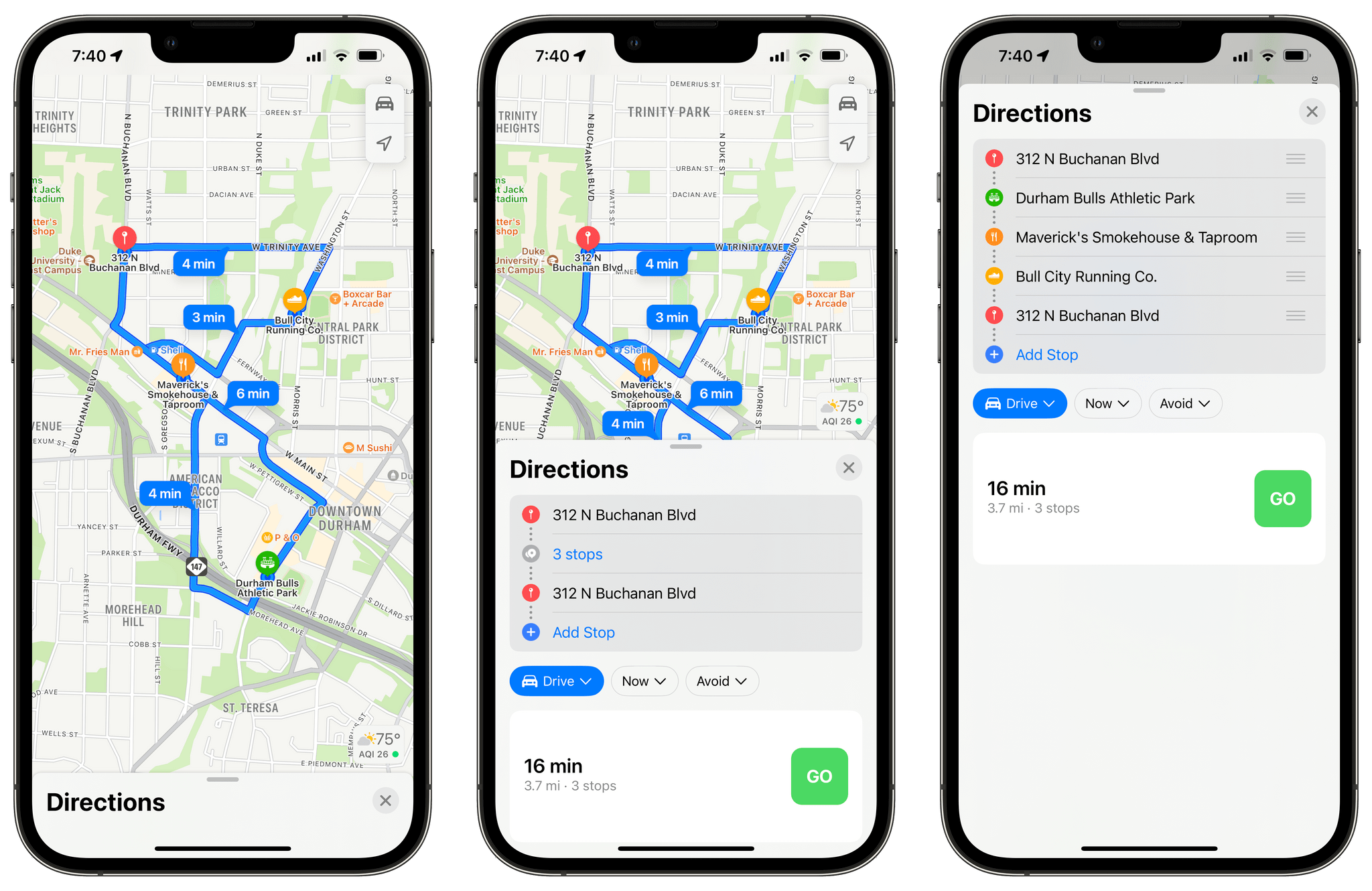 I recently moved from Illinois to North Carolina, and I don't know the area at all. As a result, I've been using Maps and CarPlay a lot since I got here. The new features coming this fall to each aren't as extensive as they've been in past years, but there are several small changes that represent the kind of incremental, 'quality of life' improvements that I expect users will appreciate.
Maps
Because so much of Apple Maps relies on methodically mapping the world bit by bit, many users are stuck waiting for Maps' underlying data to catch up with the app's features. The more detailed maps and 3D models of landmarks introduced last year are good examples. Both came with asterisks because they were only available in certain cities or countries at launch.
This year is a little different. Apple announced new countries and cities where you'll find the company's more detailed maps, 3D landmarks, and other changes, but this year, multi-stop routes and tweaks to Maps' routing UI will be available to everyone at the same time. It's a nice mix of brand-new features and incremental improvements that includes something for everyone.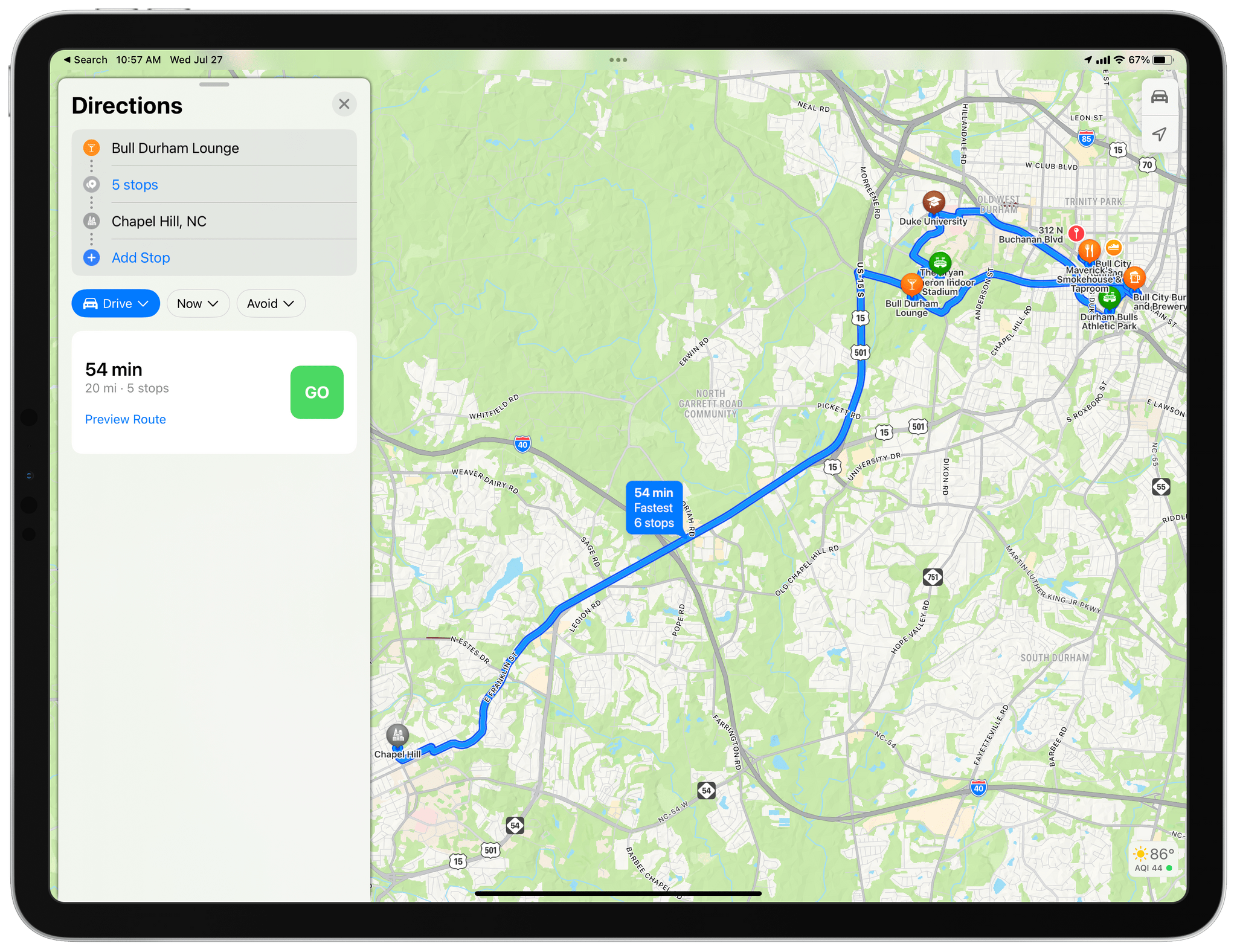 Multi-stop routing fills a big hole in Maps and is really well done, although more limited than I'd like. The new feature is a big step forward in the way Maps currently lets you add a stop. You can already add a stop to a route, but not until you've begun navigating to your destination. Moreover, you can only add one stop and can't add another until you reach the first added stop.
Multi-step routing in iOS and iPadOS 16 and macOS Ventura is a whole new approach because you can add up to 15 stops before you step foot out the door. Whether you're using your iPhone, iPad, or Mac, you can add your stops and pick the time of day you plan to travel to get predicted travel times for each segment of your trip as well as your entire journey. Then, when you're ready to leave, just tap the Go button as always to start navigating to your first stop.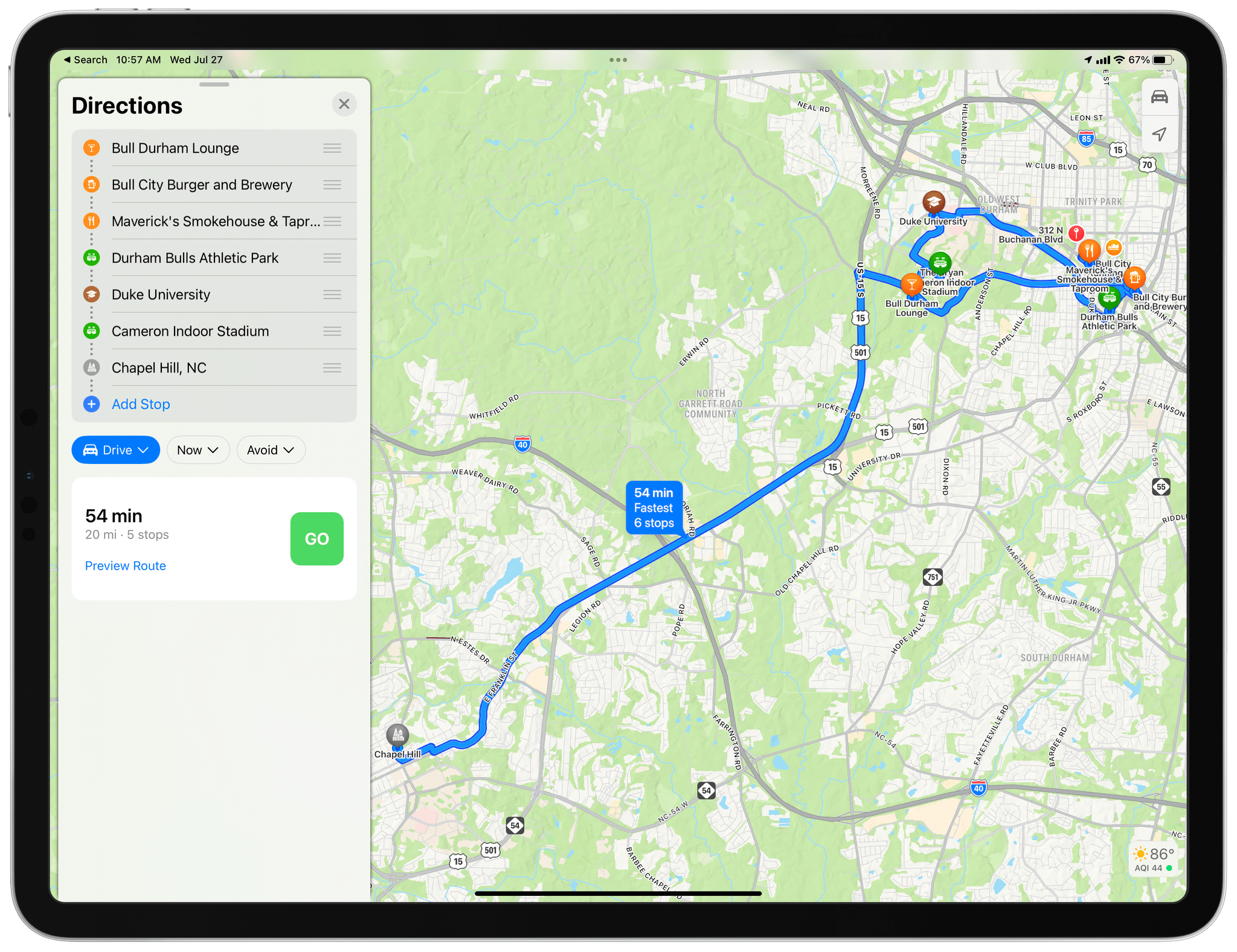 With the upcoming updates, the directions section of Maps' UI takes center stage. Stops are added with the 'Add Stop' button at the end of the list of your destinations. Apple says stops can be added using Siri, too, but I haven't been able to get it to work in the betas yet.
As you add more stops, using search or your recent locations, they're collapsed into a button that indicates how many stops you've added between the start and end of your trip. Tap the button, and the directions expand to show all of your stops. Swipe left to delete stops or use the drag handles on the right of each stop to reorder them.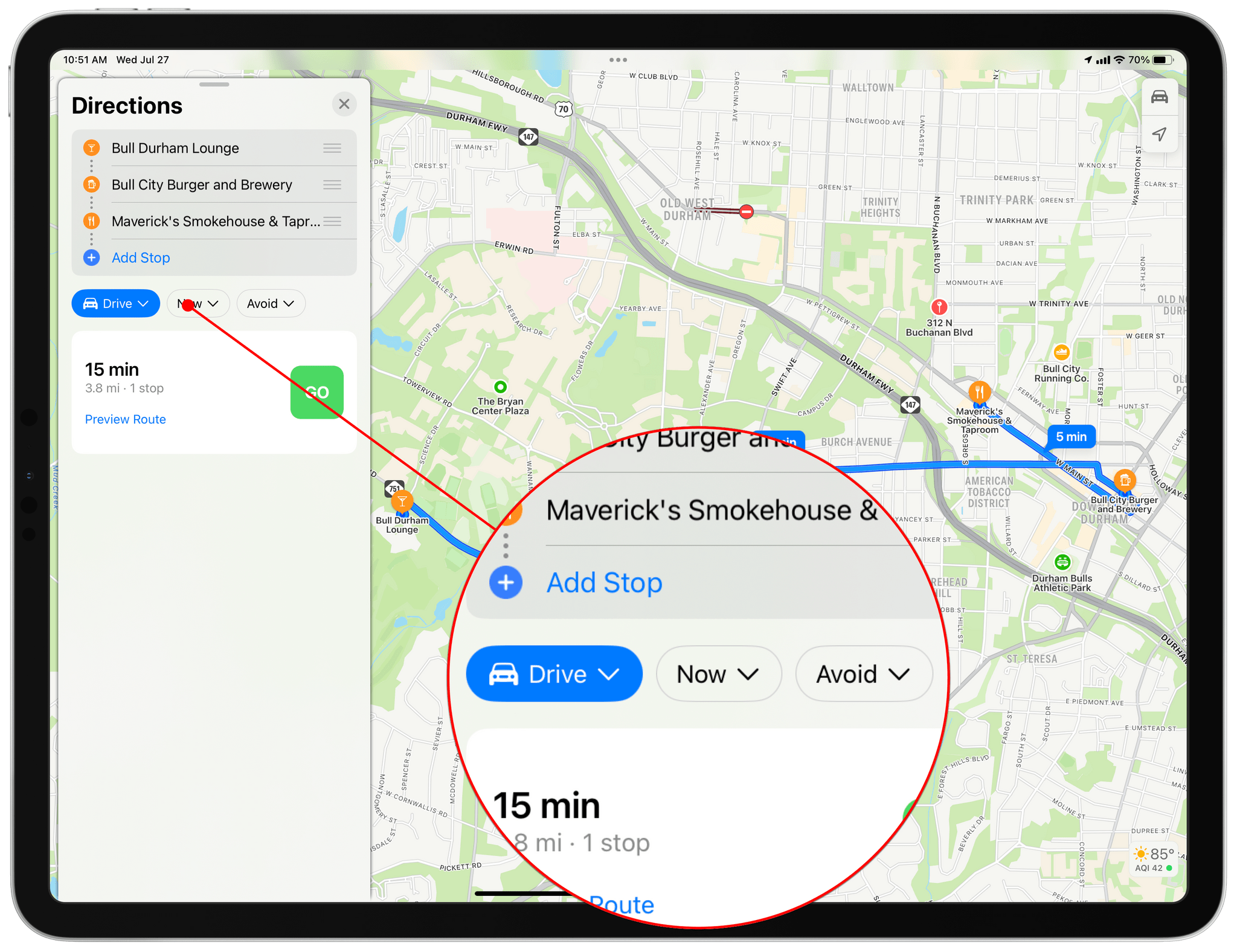 Beneath the directions are the options for your trip that are accessible from a button with a drop-down menu of choices:
Mode of transportation (Drive, Walk, Transit, Cycling, and Ride Share)
Time of departure or arrival, which allows you to indicate when you want to leave or arrive to get predicted travel times based on traffic and other factors
'Avoid,' or in the case of Transit, 'Prefer,' which lets you indicate whether you want to avoid or prefer certain types of routes
This UI is a big improvement over what's available in Maps now. Trip options are together in one line of buttons, making it easy to quickly adjust them all at once. I'm a big fan of the focus on destinations too. Route information is still available on the map itself, but deemphasizing it in Maps' card UI in favor of directions has freed up space for planning your trip in advance.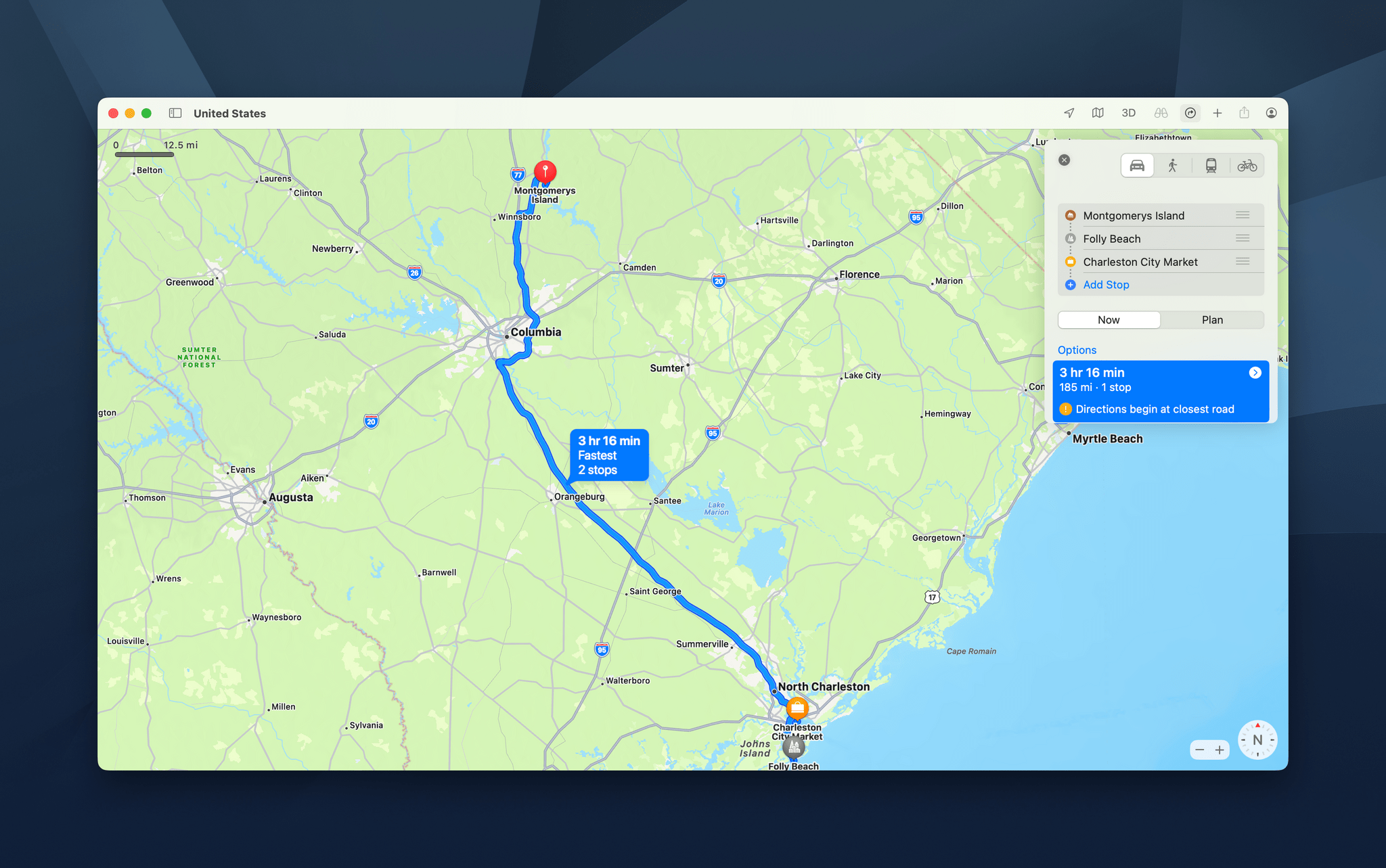 That ability to plan a trip in advance is powerful by itself, but it could be better. Apple Maps includes a growing collection of curated guides. Users can create guides, too, which I've found is an excellent way of creating a list of must-see attractions when I visit somewhere new. Organized in one place, it's easy to pick a destination and navigate there with Maps. However, there's no way to access guides from the Add Stop button in the app, which is a missed opportunity. I'd love to curate a tour of a city I'm visiting and then quickly add several stops at once when I'm ready to start exploring. For now, I can run two instances of Maps in Split View on my iPad to reference a guide and create a route at the same time and then send the route to my iPhone for navigating, but I'd love an easier way to access guides when planning a route.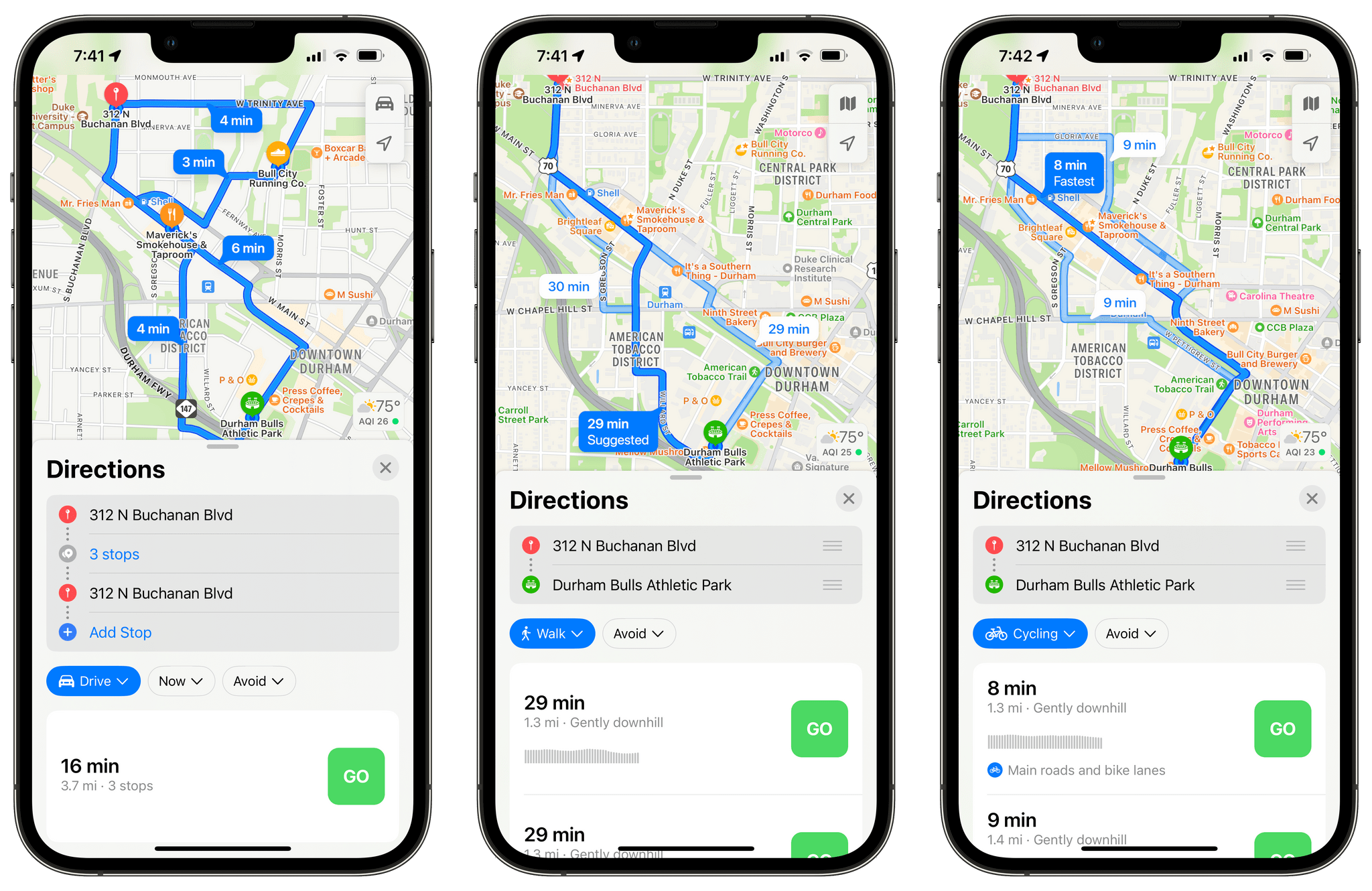 Another disappointing limitation of multi-stop routing is that it only works with driving directions. There's really no reason I can imagine for the limitation since multi-route directions are simply a series of point-to-point directions. That rules out creating walking tours for vacations, something I had hoped would be possible as I explore our new neighborhood and plan some time away with my family. If you create a multi-stop route with Maps' driving directions and then switch to another mode of transportation, your list of directions is shortened to only include the first stop, but the app doesn't delete them. Switching back to driving directions reinstates the other stops.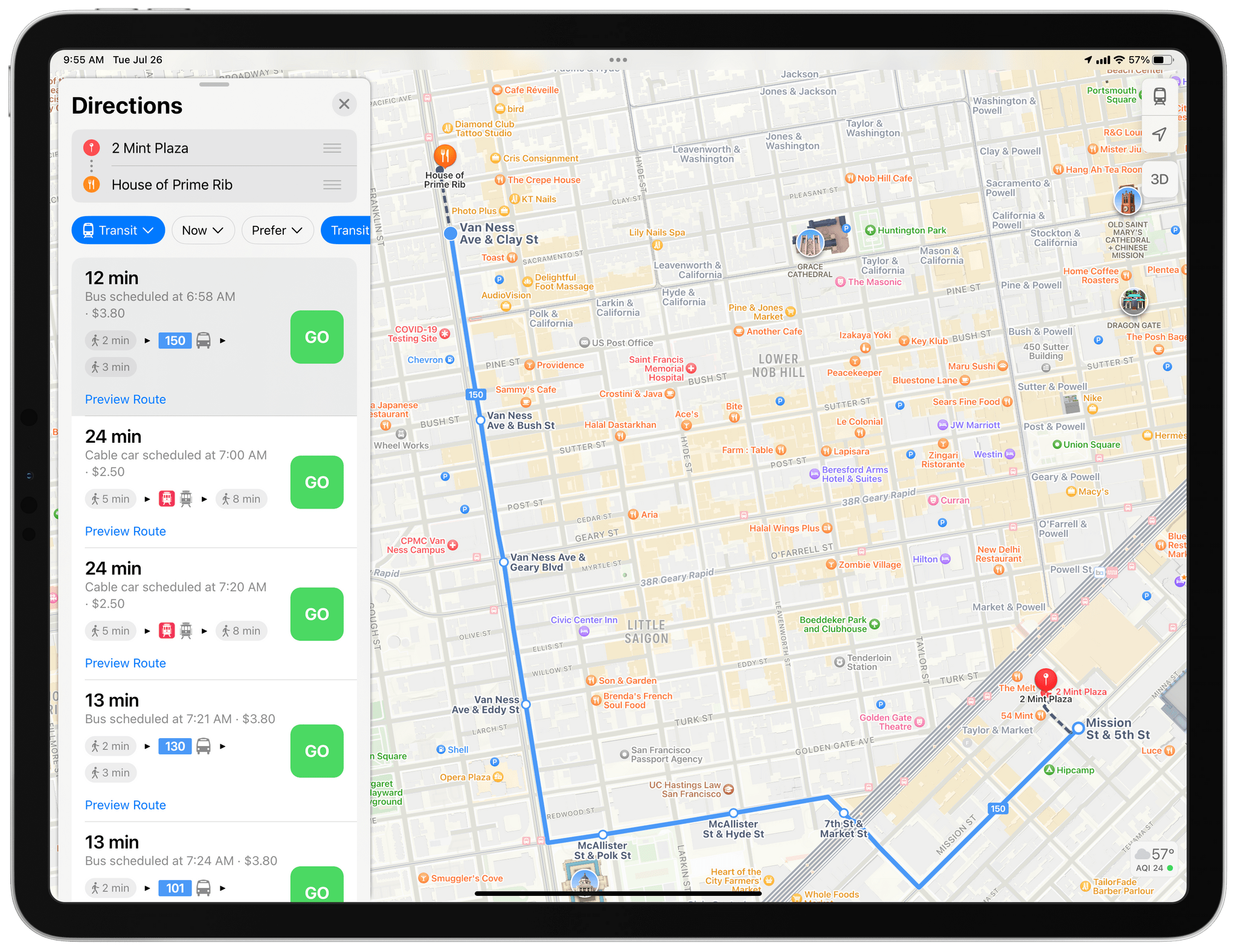 Transit riders are getting a boost in this fall's OS updates too. First, transit riders will begin to see the cost of their routes listed next to the route on the map. So far, I've only seen this in San Francisco, but like other Maps features, I expect it will expand to other cities over time. There's also an option to display transit card versus cash fares for transit routes. Second, if you have a transit card linked in the Wallet app, Maps will alert you when the card's balance is getting low, which is something I haven't had the opportunity to test.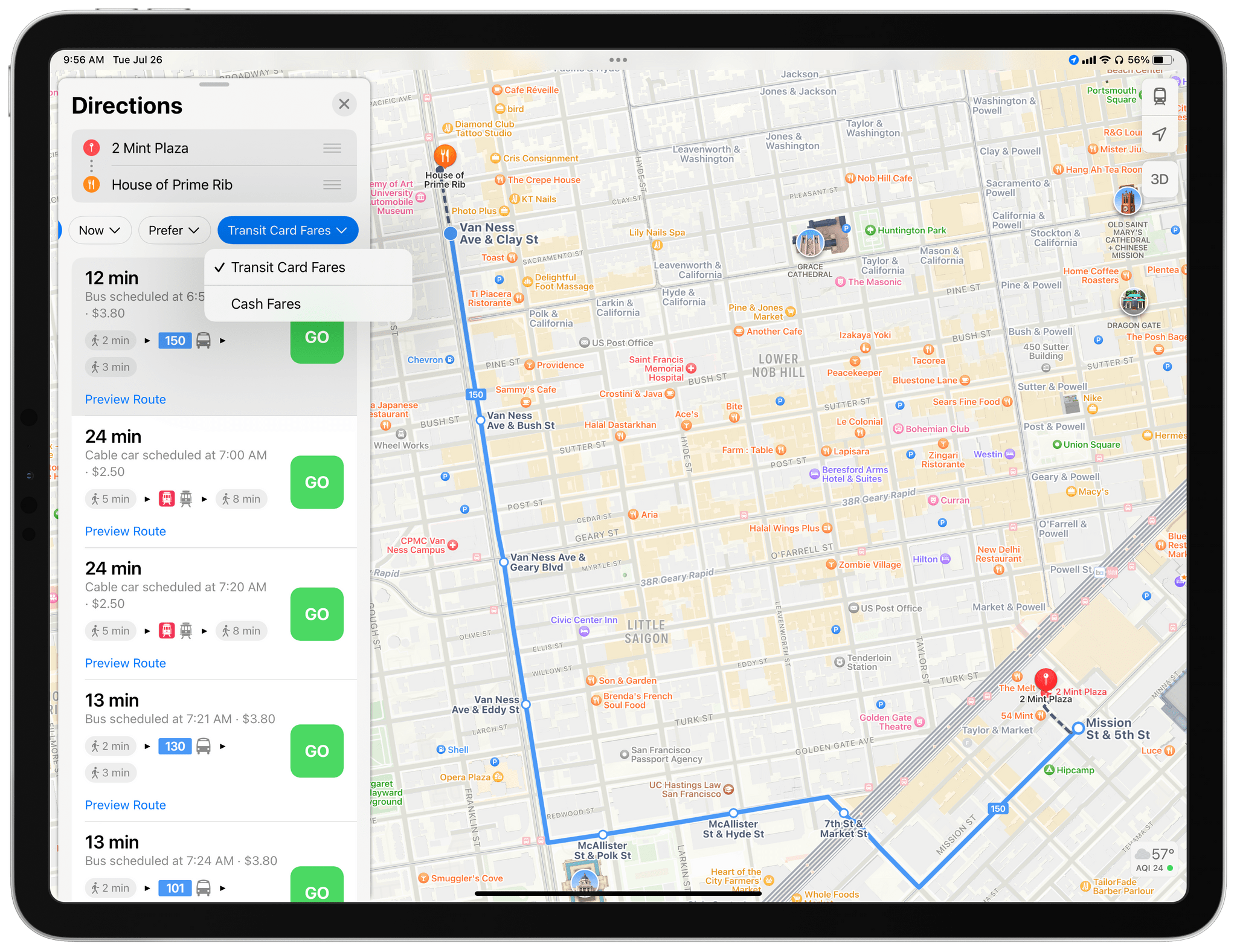 A new VoiceOver feature in Maps will identify the starting point of walking directions for users with sound and haptic feedback automatically this fall. Routes are included in the Recents section of the app's search view too.
The other changes to Maps coming in the fall are the type of incremental changes we've seen rolling out for a while now. The following eleven countries will get the redesigned, more detailed maps that were debuted in the US and other countries beginning last fall:
Belgium
France
Israel
Liechtenstein
Luxembourg
Monaco
The Netherlands
New Zealand
Palestinian Territories
Saudi Arabia
Switzerland
Apple Maps' enhanced city experience features that include 3D models for some landmarks, enhanced navigation elements, and other details will be coming to the following seven cities for a total of 17 this fall too:
Atlanta
Chicago
Las Vegas
Melbourne
Miami
Seattle
Sydney
Finally, developers that use Apple's MapKit framework will have access to Maps' detailed city experience features and Look Around, so those features should start appearing in third-party apps beginning this fall.
CarPlay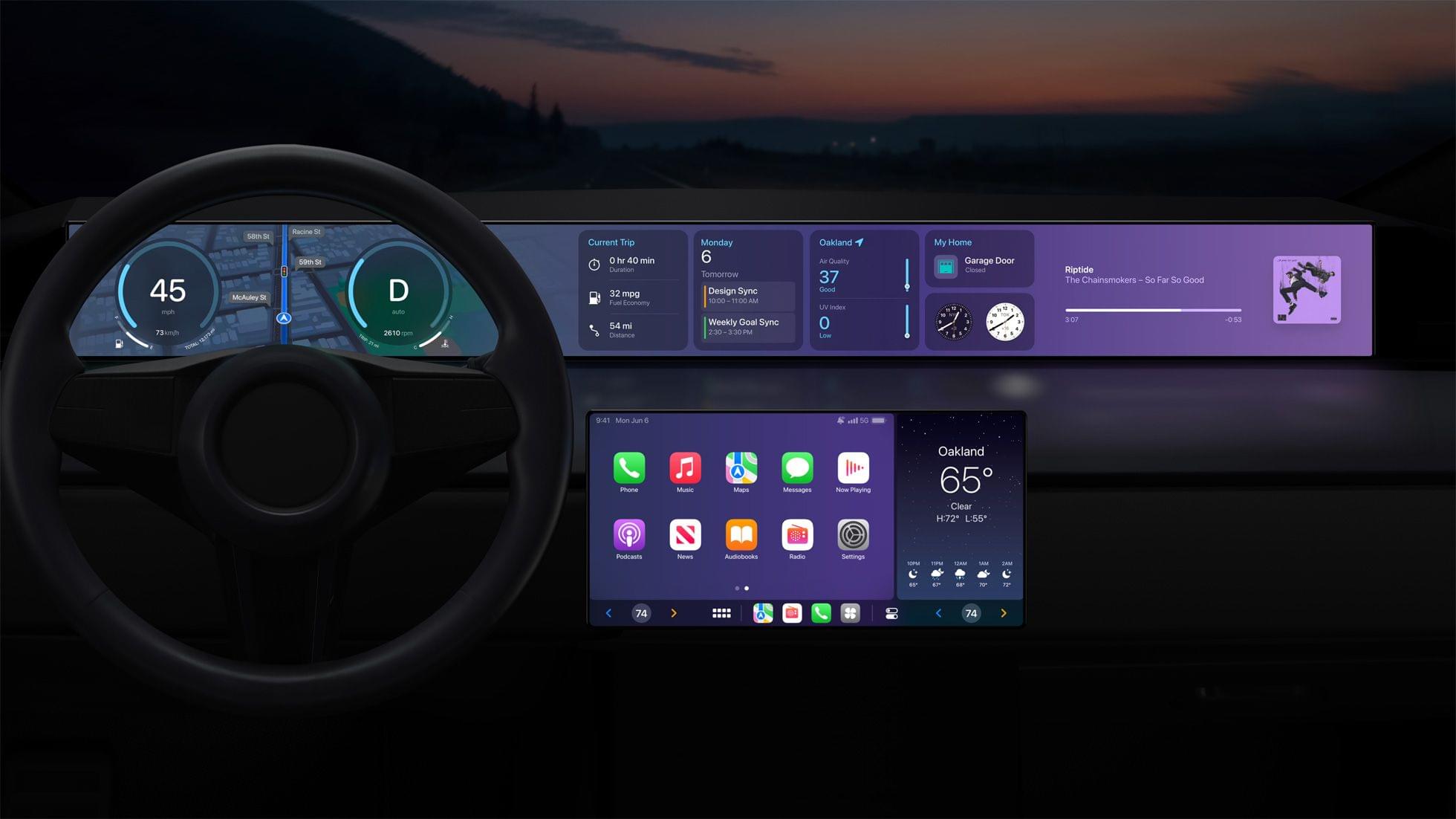 Despite the flashiness of the CarPlay segment during the WWDC keynote, the changes coming to Apple's in-car system this fall are modest. Yes, Apple would like to extend CarPlay to multiple screens of all shapes and sizes across the entire expanse of your dashboard, but no, that's not coming soon.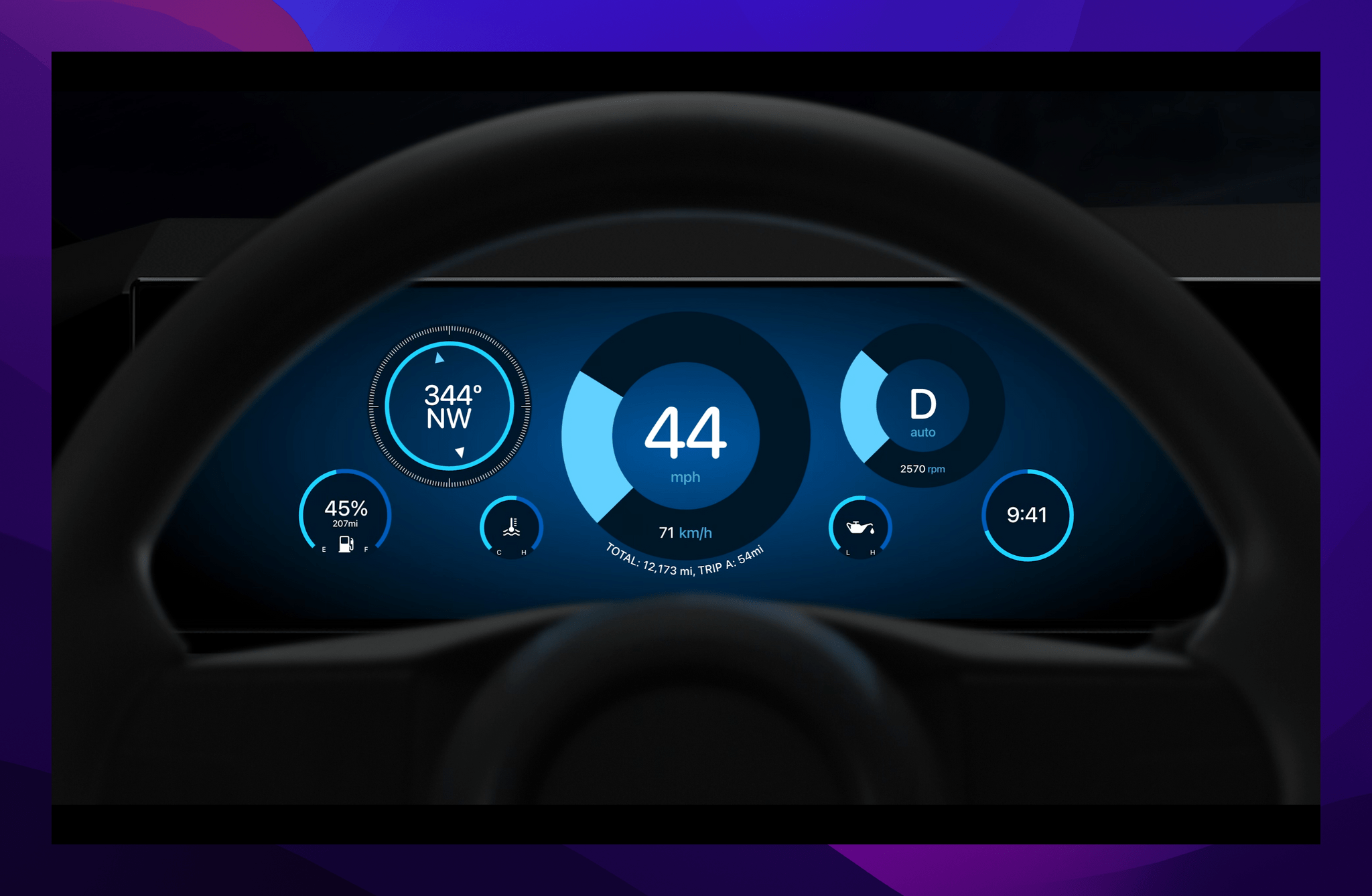 Billed as a 'Sneak Peek,' Apple said cars would begin to be announced in late 2023, presumably for delivery beginning sometime in 2024. That's a long way off, and based on The Verge's reporting, it sounds like discussions with automakers are still in the preliminary stages. That said, if you're curious about what Apple would like CarPlay to become in the future, be sure to check out the story I wrote during WWDC about the company's plans.
If you already own a car that supports CarPlay, the first thing you'll probably notice when you update to iOS 16 is that the Siri chime has changed. The new sound is reminiscent of the iOS 15 chime but more subtle and smoother, which I like. There's also a new wallpaper available that's styled after the iOS 16 wallpaper.
Siri can also automatically send responses to text messages after reading them back to you. Before, you always got a 'Ready to send it?' prompt from Siri that made back and forth text conversations using CarPlay tedious. In group threads, I often found myself with two or three new messages in the time it took me to send a simple CarPlay response with Siri, so this change is very welcome.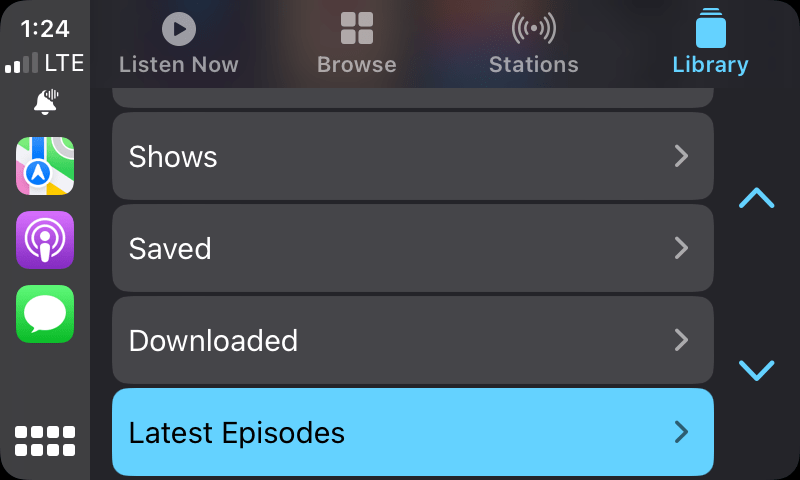 More substantial changes are coming for users of the Podcasts app. The CarPlay version of the app has a new Library tab that houses recent, downloaded, and saved episodes. I don't use the Apple Podcasts app myself, but the addition of the Library tab should make the app a lot less frustrating to use, allowing listeners to access the episodes they've downloaded and saved more easily.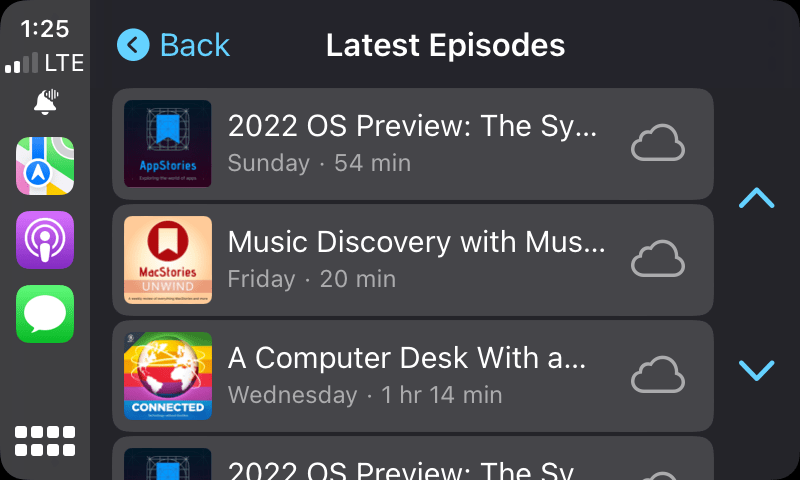 Apple has also opened up two new kinds of CarPlay apps to third-party developers: fueling and driving task apps. Apple says users can expect "apps that help you fill up, give you road information, toll assistance, towing assistance and more." We haven't tested apps in these new categories yet, but I expect they'll start to emerge later this summer and in the fall.
---
The changes coming to Maps this fall with updates to iOS, iPadOS, and macOS aren't radical leaps forward, but they represent the sort of evolutionary progress that is necessary to keep the apps competitive. Multi-stop routing fills a hole in Maps' feature set that has been available in apps like Waze for quite some time, and updates to map data continue to spread around the globe, bringing the latest Maps experience to more users. Those changes, more than any others, will have the greatest impact on the most users, and while I hope multi-stop routing is expanded beyond just driving directions, Maps is a mature enough app at this point that I'd be happy if the next couple of iterations of the app simply focus on refining and expanding the availability of the latest underlying map data as quickly as possible.
As for CarPlay, this year's minor update feels like a placeholder as Apple tries to convince automakers to adopt its vision of the feature's future. Even if Apple fails to get car makers on board, I expect that elements of WWDC's sneak peek will work their way into future versions of CarPlay. Until 'the future of CarPlay' resolves itself further, though, I don't expect we'll see much more than the sort of incremental change iOS 16 will enable.
---
You can also follow our 2022 Summer OS Preview Series through our dedicated hub, or subscribe to its RSS feed.