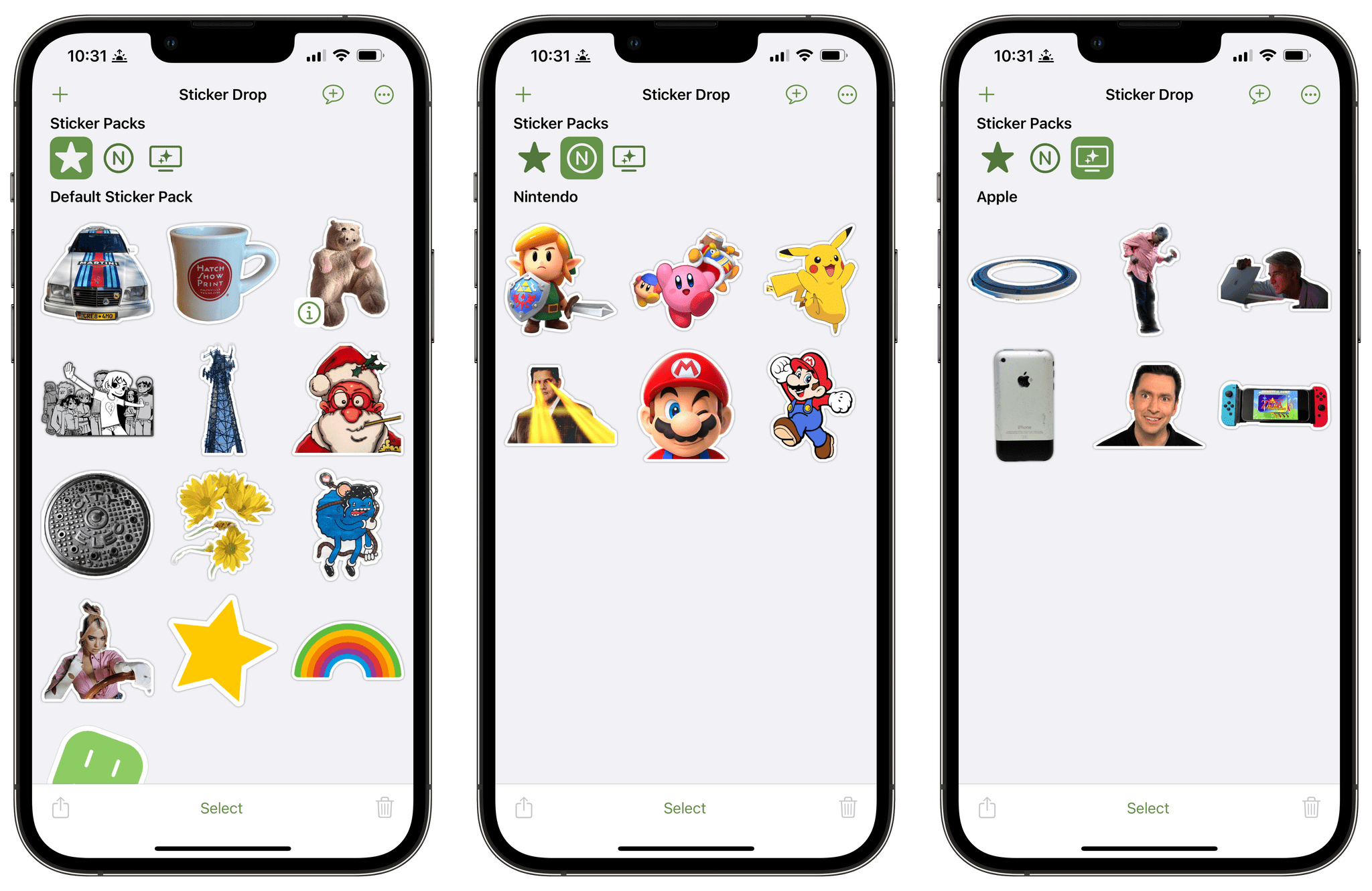 Years ago, when the iMessage Store first debuted, I covered the best sticker packs every week in MacStories Weekly, our Club MacStories newsletter. It wasn't long before I had more sticker packs than Messages could manage. Finding individual sticker packs became a chore, so I gradually stopped using them, except on rare occasions.
One of my favorite categories of sticker apps from those early days was apps that allowed me to make my own stickers from photos. However, the process was too laborious and fiddly to justify making more than a handful of my own stickers.
That's changed with the release of Sticker Drop, a DIY sticker creation utility for the iPhone that leverages iOS 16's new subject isolation technology for images. What sets Sticker Drop apart is how easy it is to make and manage your own stickers.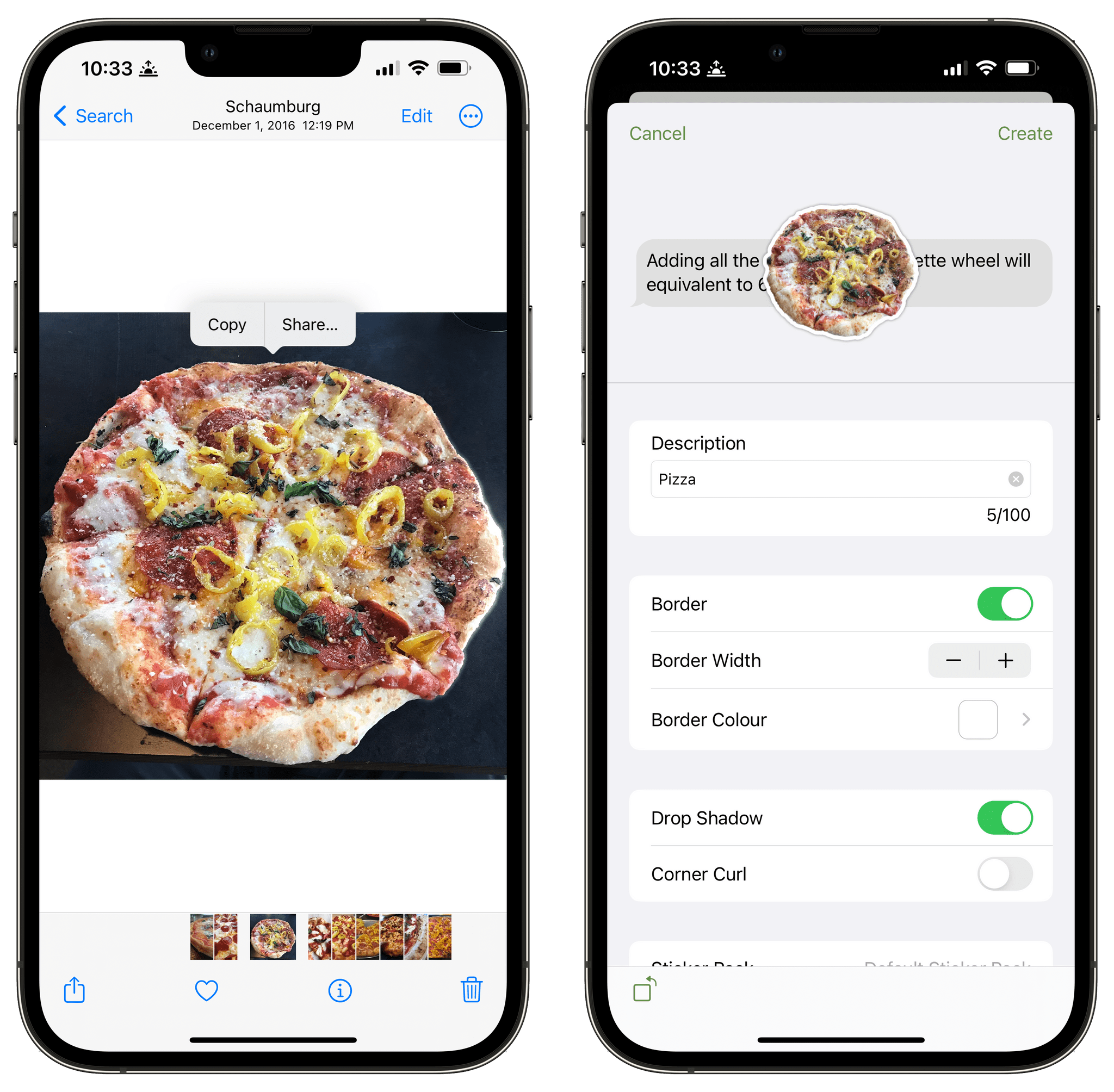 There are multiple ways to make stickers. Perhaps the easiest way is to long-press the subject of a photo and when it's been selected (look for the shimmery animation around the subject's outline), drag and drop it into Sticker Drop. That's all there is to it.
Another option is to use Sticker Drop's share extension. Find an image you want to turn into a sticker in your photo library, Files, Safari, or any other app where you can long-press on an image to isolate its subject. Next, tap the Share button in the edit menu popup above the subject of the image, pick the Sticker Drop share extension, and give your sticker a name. The next time you open Messages and choose the Sticker Drop iMessage app, the sticker you created will be ready to use.
If you want, though, there are even more ways to create stickers and additional editing options. Stickers can be created inside the Sticker Drop app by picking an image from the new iOS 16 photo picker or pasting an image from the clipboard that you copied from another app. Both the share extension and the app also offer options to toggle a border around your sticker on or off, set the border's width and color, and toggle a drop shadow and corner curl on and off. Also, one touch I like a lot is that stickers can be edited any time, which means you can quickly save one and go back later to tweak its options.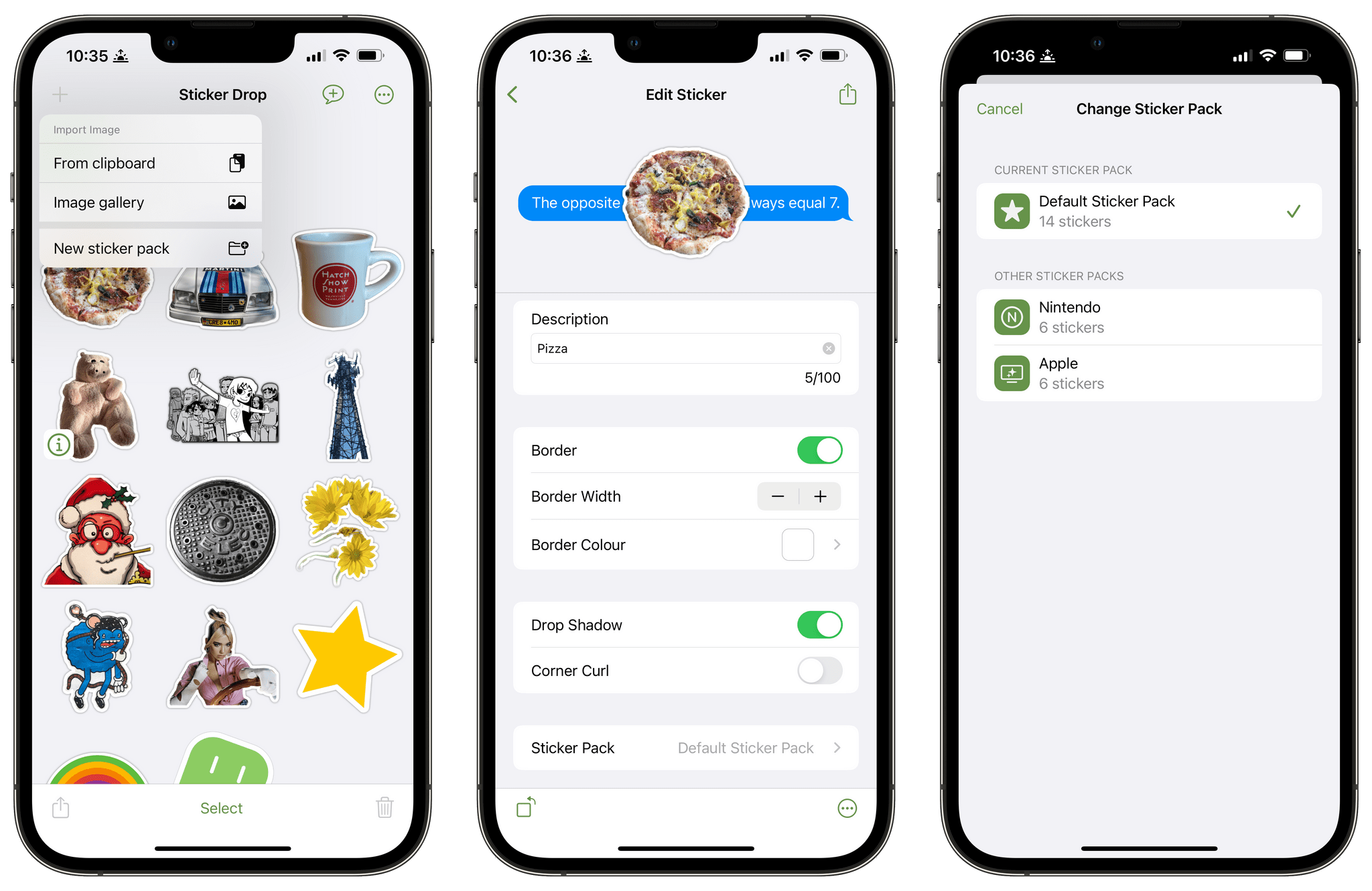 Sticker packs are how you organize your creations. If you don't designate a pack, new stickers get dropped into a Default Sticker Pack, which you can use as a sort of sticker inbox, moving stickers to other packs that you create in the app later. Each pack can have up to 100 stickers, which can be moved between packs in the sticker editor or by long-pressing on a sticker. Long-pressing a sticker also offers options to duplicate it, a nice way to include a sticker in multiple packs.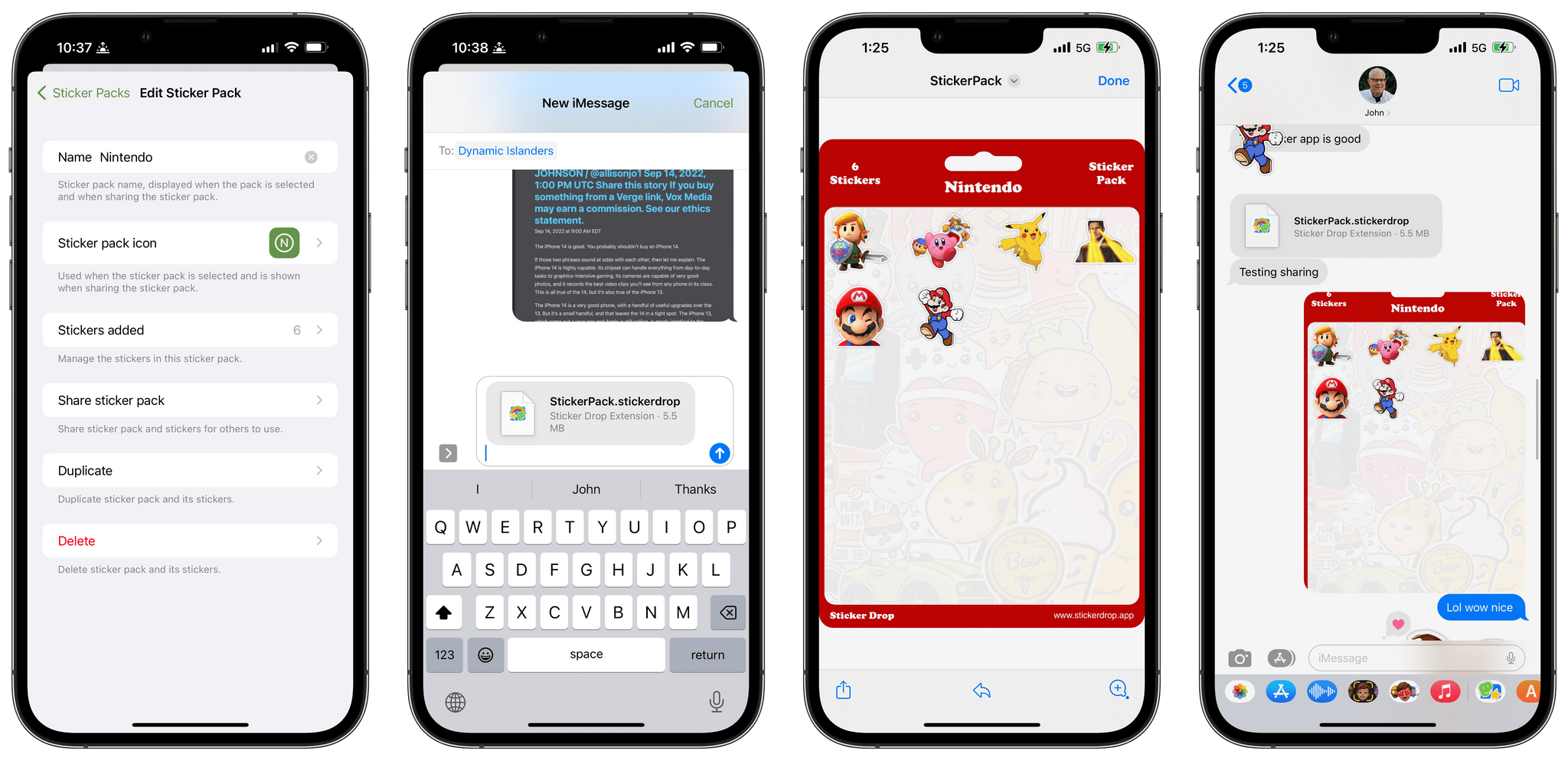 Finally, one of my favorite features is that you can share your carefully curated sticker packs with friends. To do so, start with the More button in the Sticker Drop's toolbar. Once you're in the Edit Sticker Pack view, which also lets you name your pack, manage its stickers, and assign an icon, tap the 'Share sticker pack' button to open the share sheet and send your pack to someone. Sticker Drop uses a custom .stickerdrop file format that your recipient can preview with Quick Look, download, and use to install your stickers if they have Sticker Drop installed.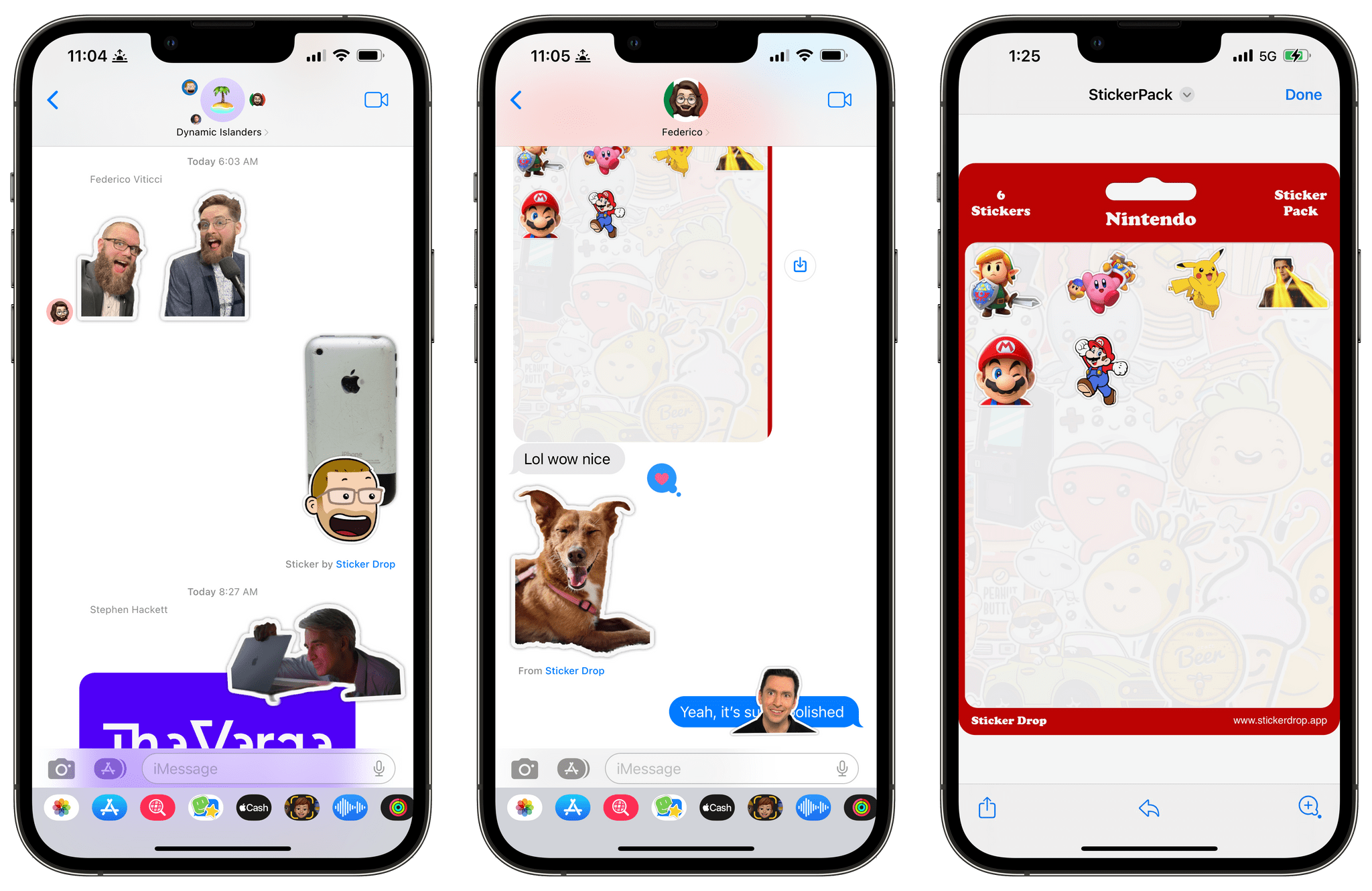 With a dash of new tech and a big helping of solid design work, Sticker Drop has rekindled my interest in iMessage stickers. The steps for creating stickers are simple, thanks in large part to iOS 16's new subject isolation technology, but the app goes well beyond that cool trick with a thoughtful suite of features for editing, organizing, and sharing stickers and sticker packs. My one wish is for an iPad version of the app paired with iCloud sync, so I can create and manage stickers on the iPad's bigger canvas and access stickers made on other devices without having to AirDrop them to my iPad.
Subject isolation may have seemed like a strange addition to iOS 16, but with Sticker Drop, we see again that in the hands of a skilled developer, today's weird API is tomorrow's clever app.
Sticker Drop is available on the App Store for a one-time payment of $2.99.