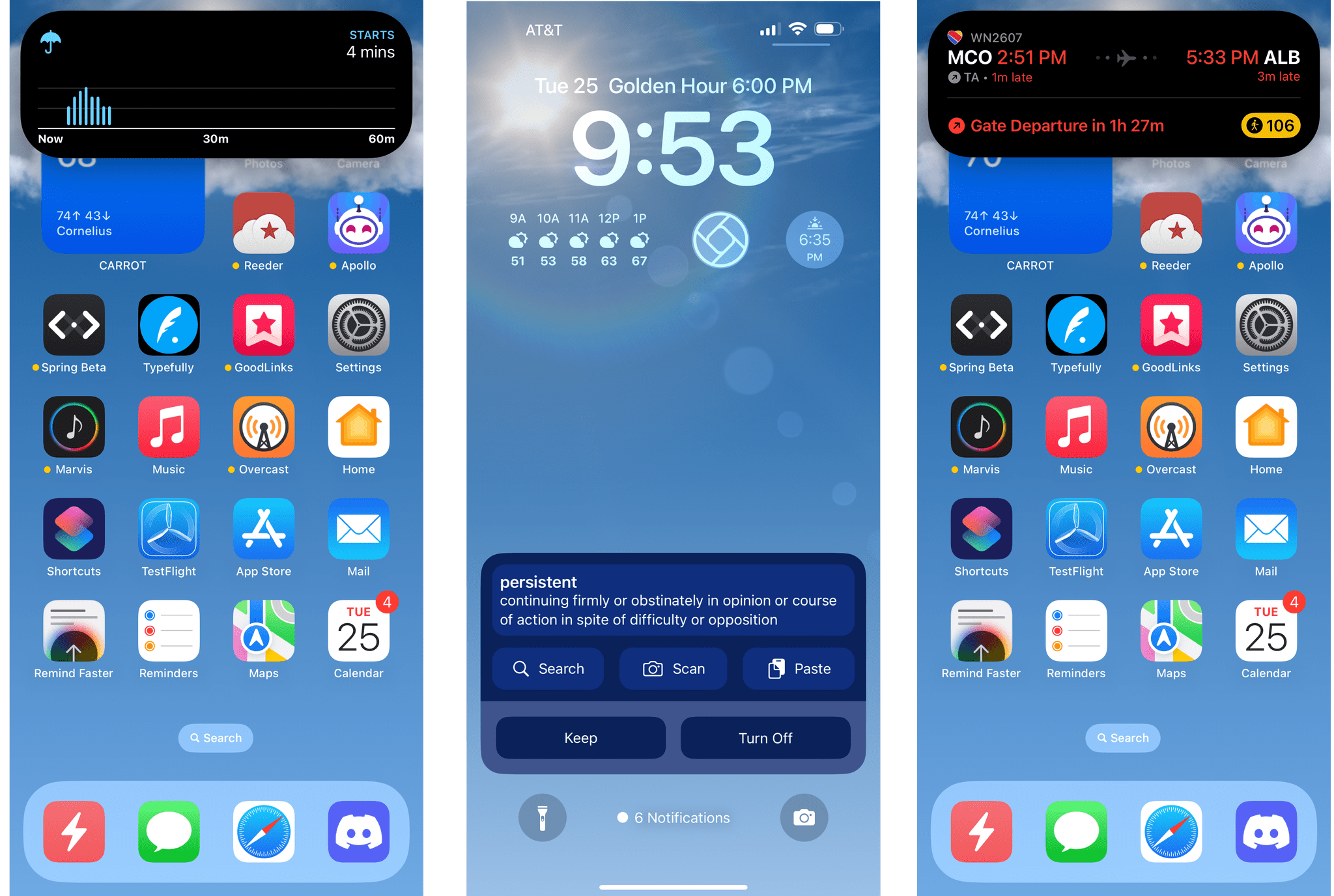 The headlining feature of iOS 16.1 is Live Activities, which allows apps to display status information in the Dynamic Island and on the Lock Screen after a user closes an app. I've looked at over 40 new and updated apps and instead of just listing them, I thought I'd share a collection of the most innovative and useful ones that I've tried so far. This is just part 1 of this story. I'll be back soon with even more as I continue to test the apps I've discovered.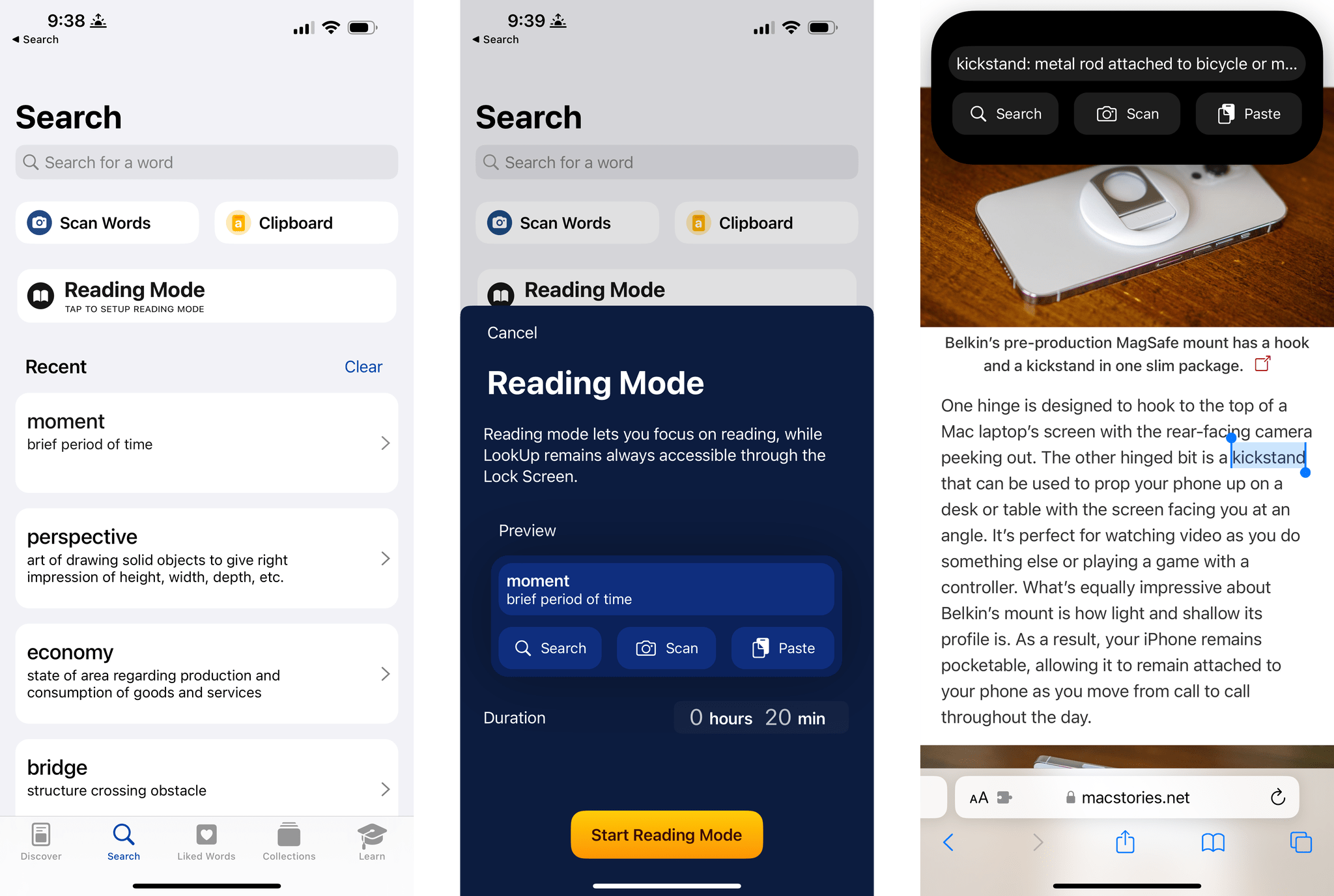 I wanted to kick off this roundup with Vidit Bhargava's LookUp because it's one of the most interesting and innovative uses of Live Activities that I've come across. LookUp is an excellent dictionary app that we've covered many times before on MacStories for looking up and learning words you don't know.
With the app's latest release, Bhargava has added a new feature called Reading Mode. Found under the app's Search tab, Reading Mode lets you set a timer for how long you want to read. When you close LookUp, it's sent to the Dynamic Island. Then, as you read in an app like Books, Apple News, Safari, or any other app, you can copy a word, tap on the Dynamic Island, and LookUp will open, search for the definition and show you the results. It's a brilliant implementation for a specific purpose and a great example of a place where you'll want to go to Settings and enable 'Always' allow pasting from other apps to avoid iOS 16's paste alerts.
If you switch to the Lock Screen or long-press on the Dynamic Island, you'll see the last work you searched for and its definition, along with buttons that take you directly to the Search section of the app, to its camera-based word scanning feature, and to the app's search tab for pasting a word manually. The latest update also adds new App Shortcuts and Shared With You support on the Mac.
If you're the sort of person who frequently looks up words as you read, LookUp is now a perfect companion to whatever app you use to read.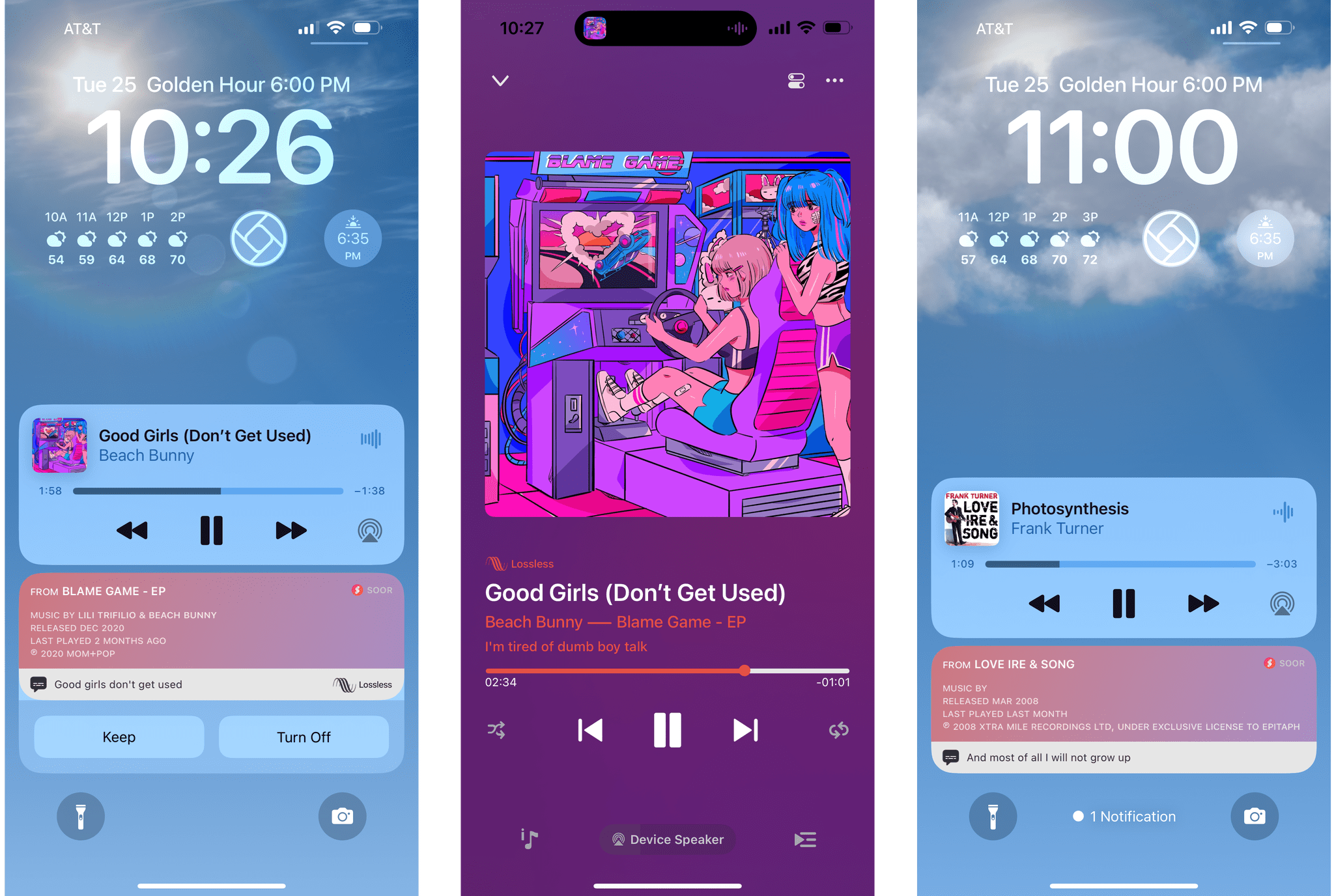 Tanmay Sonawane's Apple Music client app uses Live Activities to add to the listening experience with live lyrics and details about the song you're playing. When you start a song in Soor and leave the app, it takes over the primary spot on the Dynamic Island and Apple's Music app slots in next to it in the secondary spot. Tapping on the Dynamic Island takes you directly to Soor's now playing screen.
That's a nice bit of functionality, but the best part is the Lock Screen implementation. Beneath the playback controls, you'll find more details about the song, like the album it's from, when it was released, the last time you played it, and the label that released it. That's followed by a single line for lyrics that update live in time with the music, including when your iPhone is in Always-On mode. Long-pressing on the Dynamic Island displays similar but more limited song information.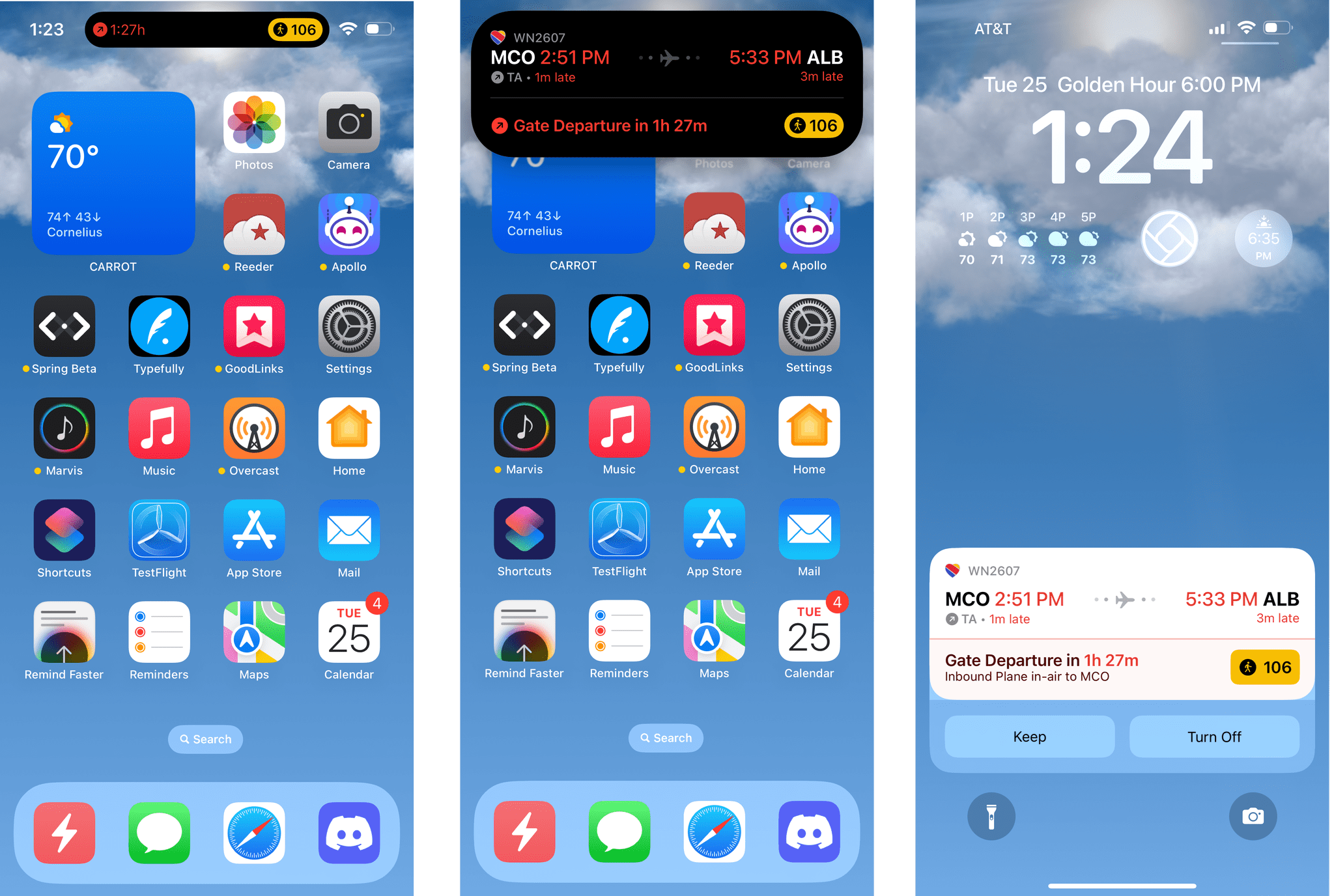 The core use-case for Live Activities and the reason why they are called that is to track the status of something without the need of having to constantly reopen the related app to see what's happening. Flights are a great example. Who hasn't walked through an airport juggling their bags and fumbling with their iPhone to see if their gate or flight time has changed? With Flighty's update, that information will be available on the Dynamic Island and Lock Screen, eliminating that sort of constant checking.
When you close Flighty, the left side of the Dynamic Island shows departure and flight progress data, and the right side displays gate or remaining flight time information, depending on whether your flight has taken off yet or not. You can expand the Dynamic Island or go to the Lock Screen to get more details about your flight.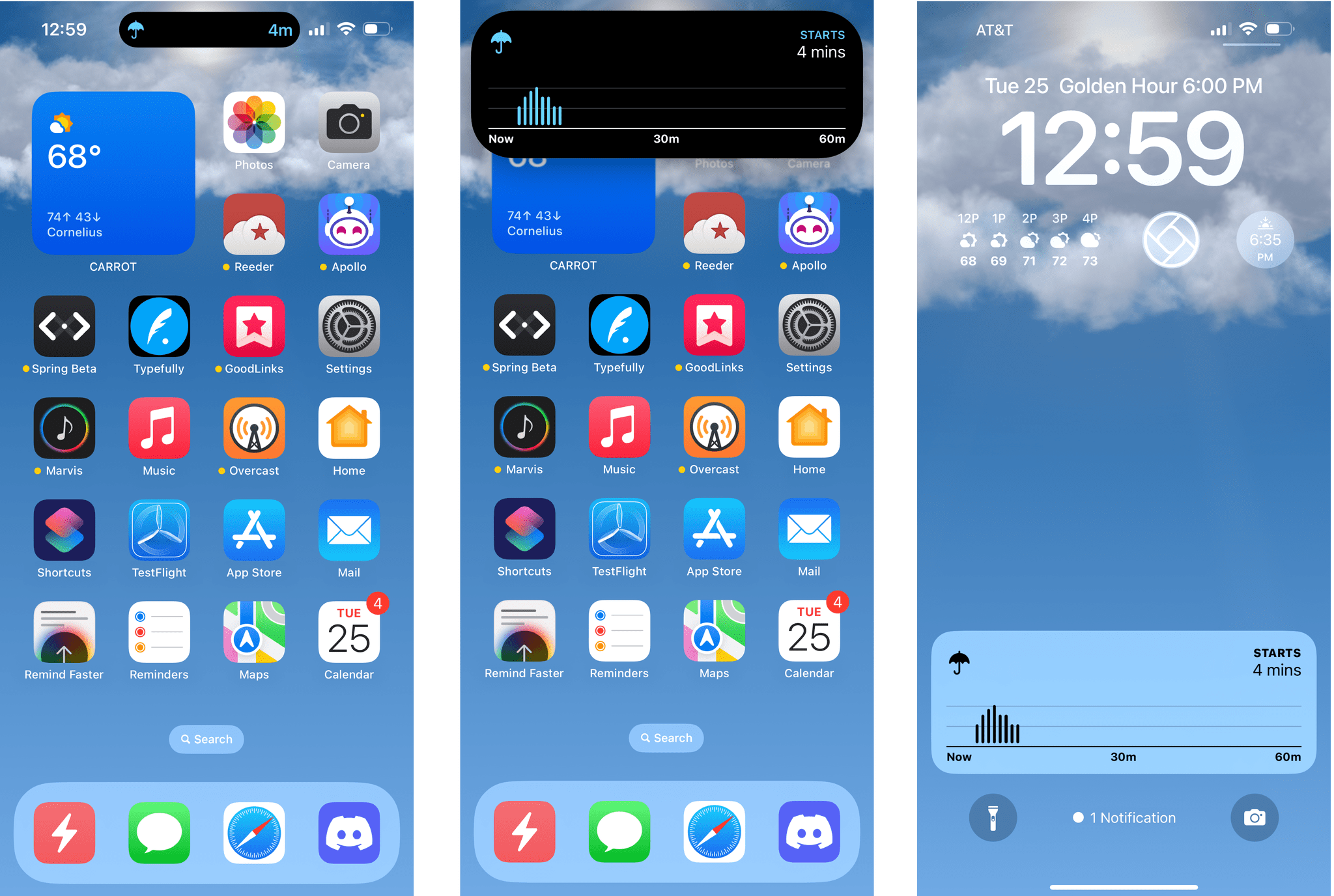 Brian Mueller's CARROT Weather uses Live Activities to keep you up-to-date about approaching storms. If precipitation is predicted within the next hour, CARROT Weather's Live Activity will appear on the Dynamic Island when you close the app, displaying when the type of precipitation that's on the way and when it's forecast to arrive. The expanded Live Activity and Lock Screen versions add a graph that shows the intensity and duration of the predicted storm.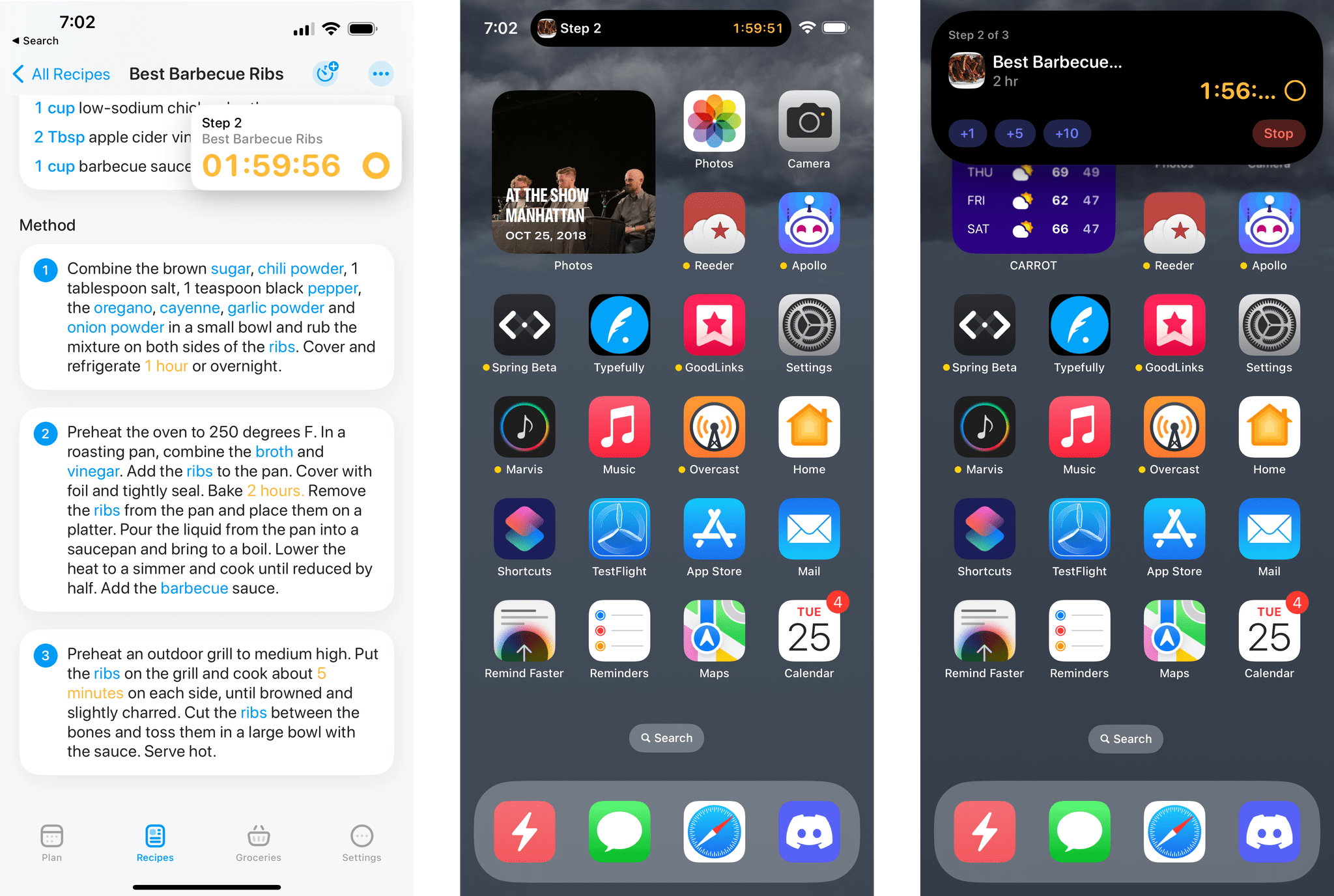 Timers are a natural fit with Live Activities and a staple of cooking apps. Crouton, a recipe organizer and cooking app by Devin Davies, is one of the best available. I especially like how it highlights lengths of time in yellow inside the recipe's instructions. With a tap on the time, a popover appears that lets you start a timer for that step.
Leave Crouton, and the timer appears on the Dynamic Island. Long-pressing the Dynamic Island adds a thumbnail of the recipe and buttons for adjusting the timer and checking off the step of the recipe, but they simply open the app so you can do those things in the app itself due to the way Live Activities work. If multiple timers are running, the second timer appears when the first one expires. The Lock Screen version of Crouton's Live Activity is a little different, offering a stack of Live Activity cards with each step for which a timer has been started that counts down and shows the step to which it applies.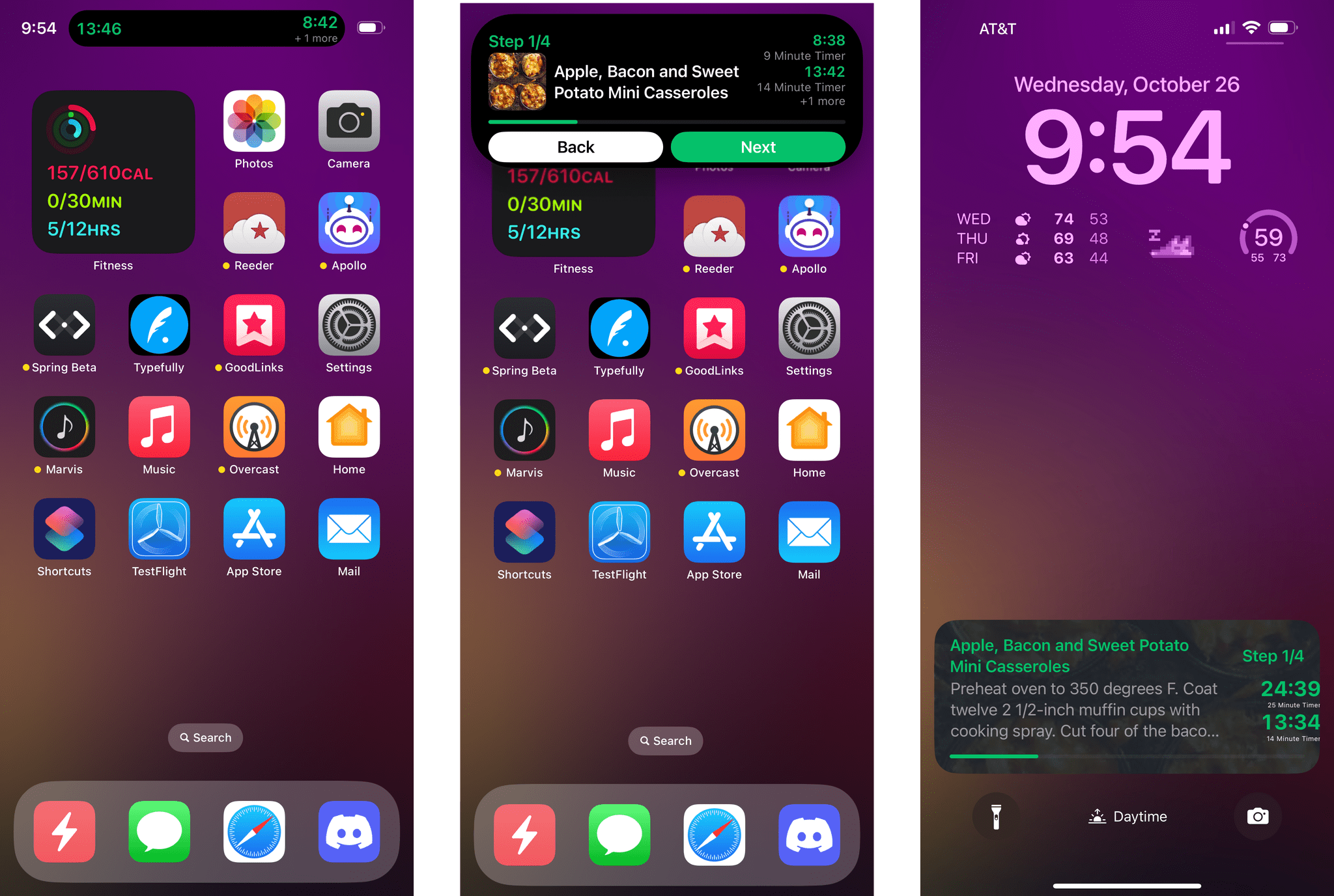 Will Bishop's Pestle is another excellent cooking app that takes a slightly different approach to timers that incorporates step completion too. The app can display up to two timers, one on the left and the other on the right. Expand the Dynamic Island for more details about your timers and dish, along with buttons to move forward or back a step in your recipe. The Lock Screen view goes even further, adding a snippet of the instructions for the current recipe step.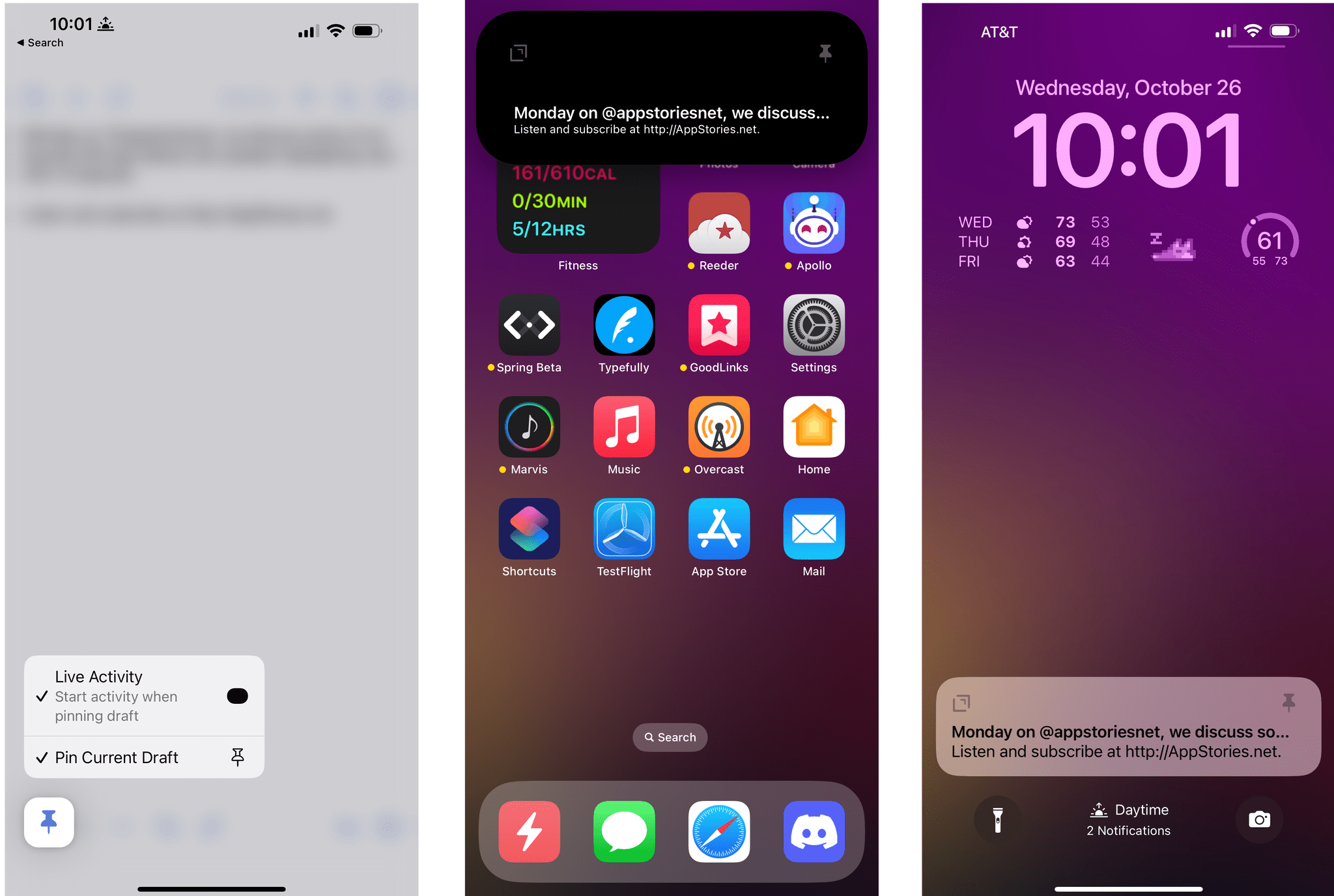 Drafts, Greg Pierce's writing and note-taking app, includes a feature I'd love to see come to similar apps. The app lets you use a Live Activity as a sort of bookmark to get back to a specific document. Drafts has an existing feature that lets users pin a document, making it easy to return to quickly. With the latest update, you can optionally start a Live Activity when you pin a document. Tapping the Dynamic Island reopens the document, and expanding it or going to the Lock Screen view reveals an excerpt of the text of your document. As with the Dynamic Island, a tap takes you back to your pinned note, so you can continue writing.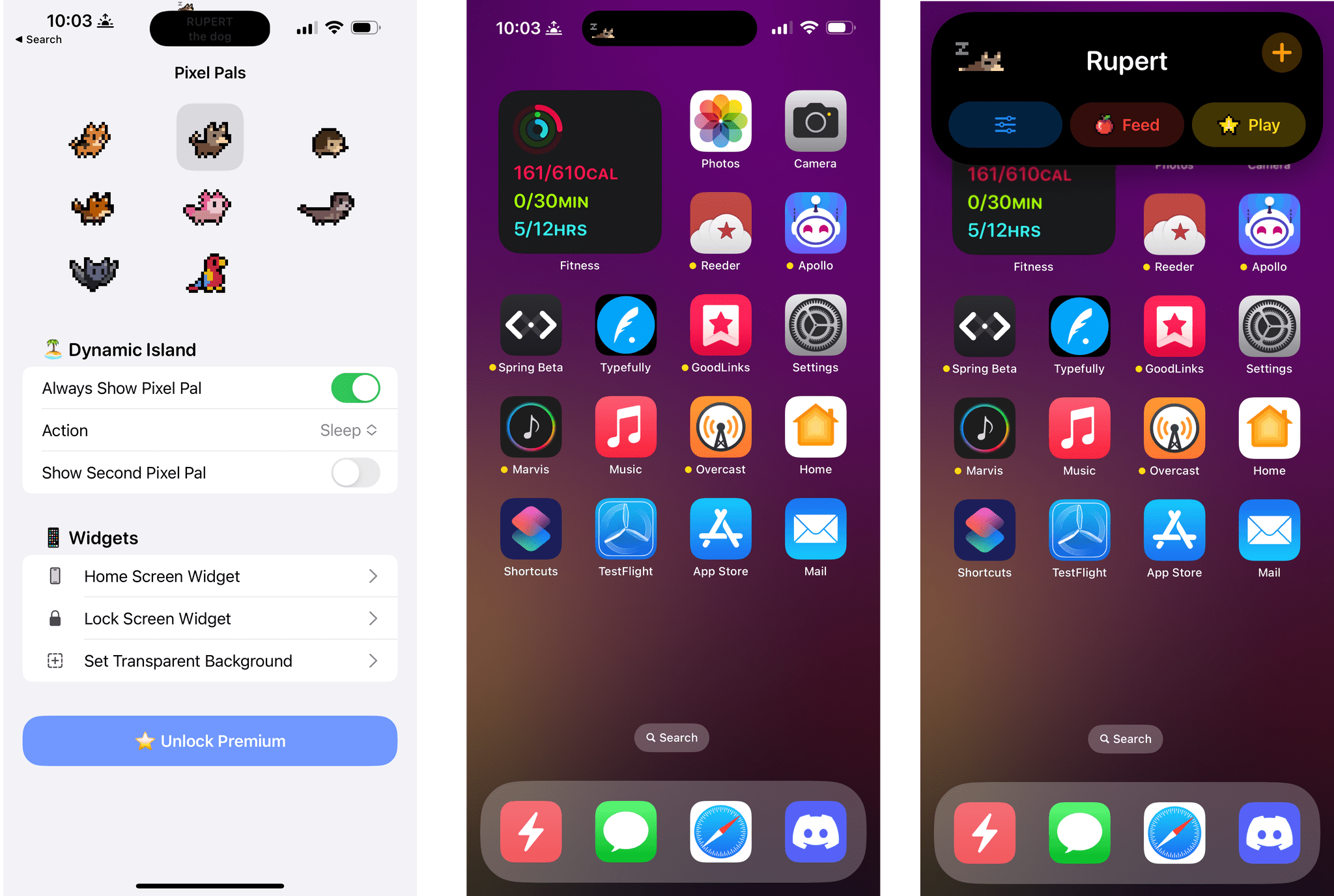 Pixel Pals are pixelated Tamagotchi-style pets from Apollo developer Christian Selig. The app comes with a cat named Hugo and a dog named Rupert, with additional animals available as part of a monthly or annual subscription. The app has a handful of settings for picking your pet, their activity, and a few other options. Once set up, your pet takes up residence on the Dynamic Island running, sleeping, and doing other pet things throughout the day. The same is true for the Lock Screen Live Activity view.
However, if you long-press on the Dynamic Island, you can pick one of three buttons: Settings, Feed, and Play. All three take you back to the main app, which is a limitation of how Live Activities work. Once there, though, Feed lets you feed your pet a variety of foods, and Play lets you pick an activity to do with your pet. Unlike when you're on the Home Screen when you're in the app itself, your pet runs around the outside edge of the Dynamic Island, which is a fun touch.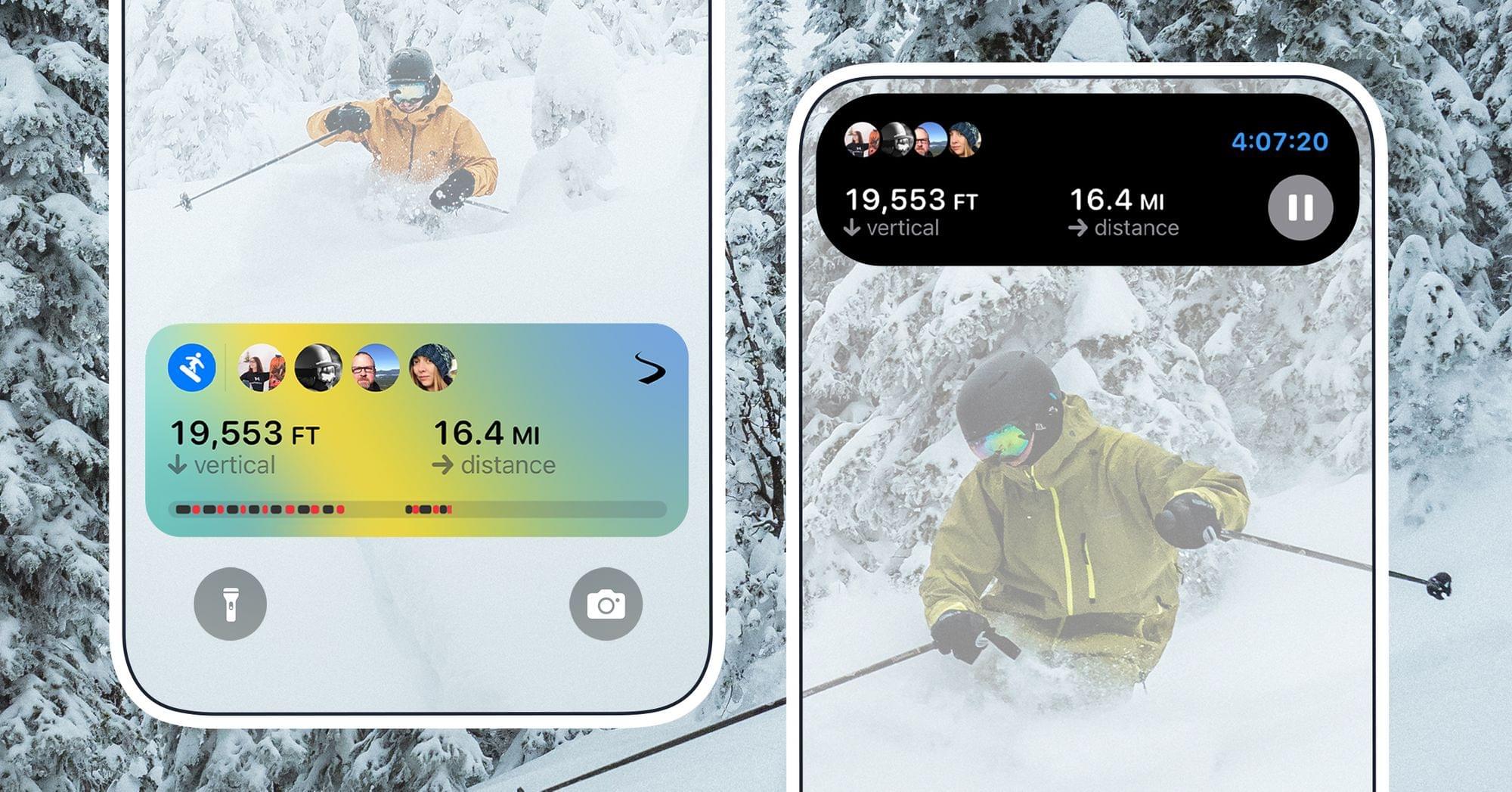 I'm not convinced that Live Activities are a good fit for most fitness apps, but it does seem pretty perfect for skiing, which is an activity that's punctuated by periods of inactivity as you ride back up a mountain on a ski lift. It's not ski season here in North Carolina, so I haven't tried Slopes' new Live Activities, but I wanted to mention it because I love the way Curtis Herbert has made Slopes' Live Activities customizable, allowing skiers to pick two statistics to display. If you're heading on a ski trip this winter, be sure to give this a try and let me know what you think.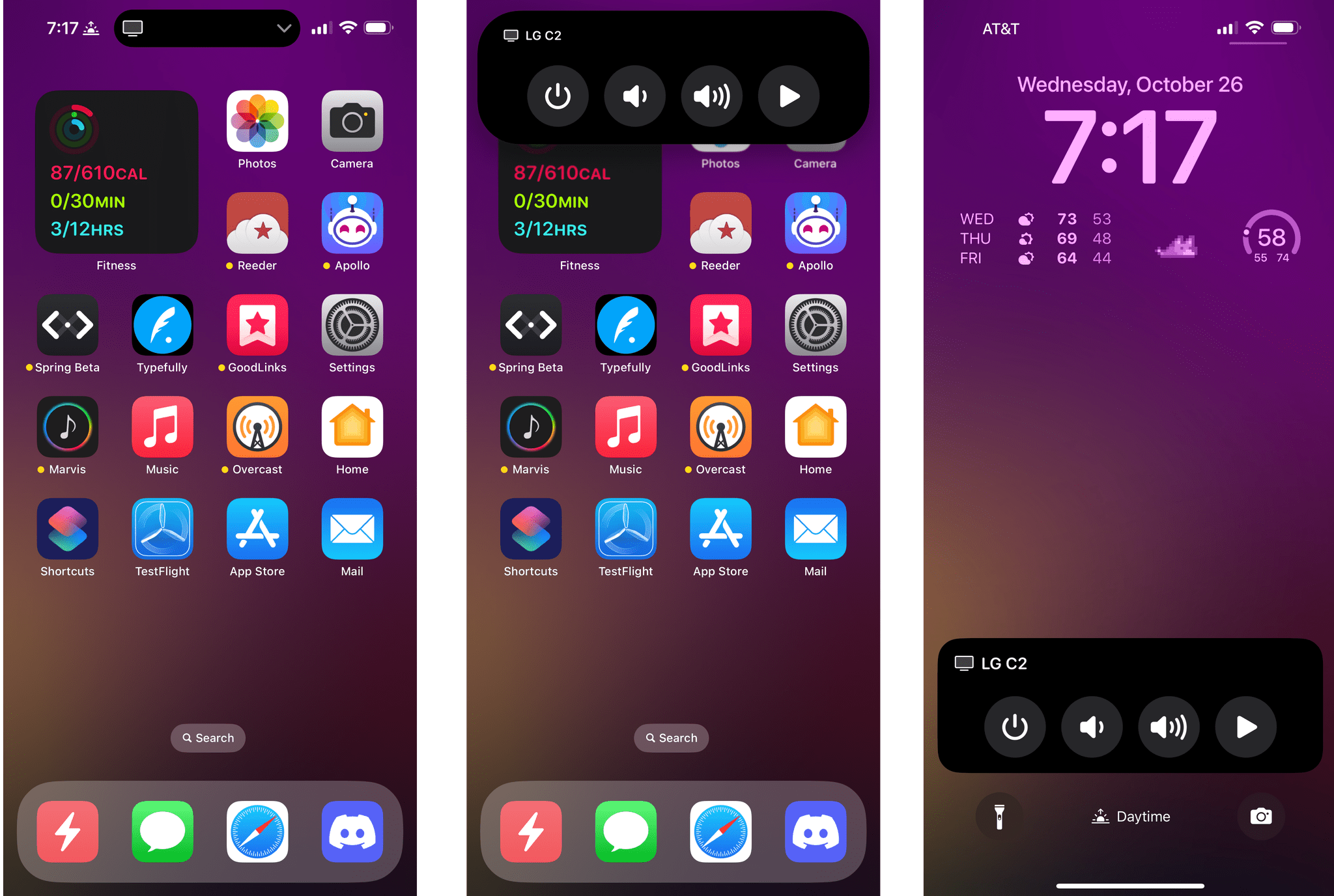 TV Remote does exactly what you'd think. It recreates the buttons for controlling several popular brands of TVs, including LG, Samsung, Sony, and Roku. After you've set up your TV to connect to the app, TV Remote's Live Activities feature is activated with the tap of a play button found in the top right corner of the screen. If you leave the app, a tap on the Dynamic Island will switch you back. Long-pressing the Dynamic Island or going to the Lock Screen reveals buttons to turn your TV off and control volume and playback. Again, because of the way Live Activities work, tapping one of the Live Activity's buttons takes you briefly to the TV Remote app before closing it and returning you to the Home Screen.
This is another very clever use for Live Activities. Who doesn't flip around on their phone while watching TV? With TV Remote's Live Activities, it's easy to do so while keeping the basic controls you need close at hand.