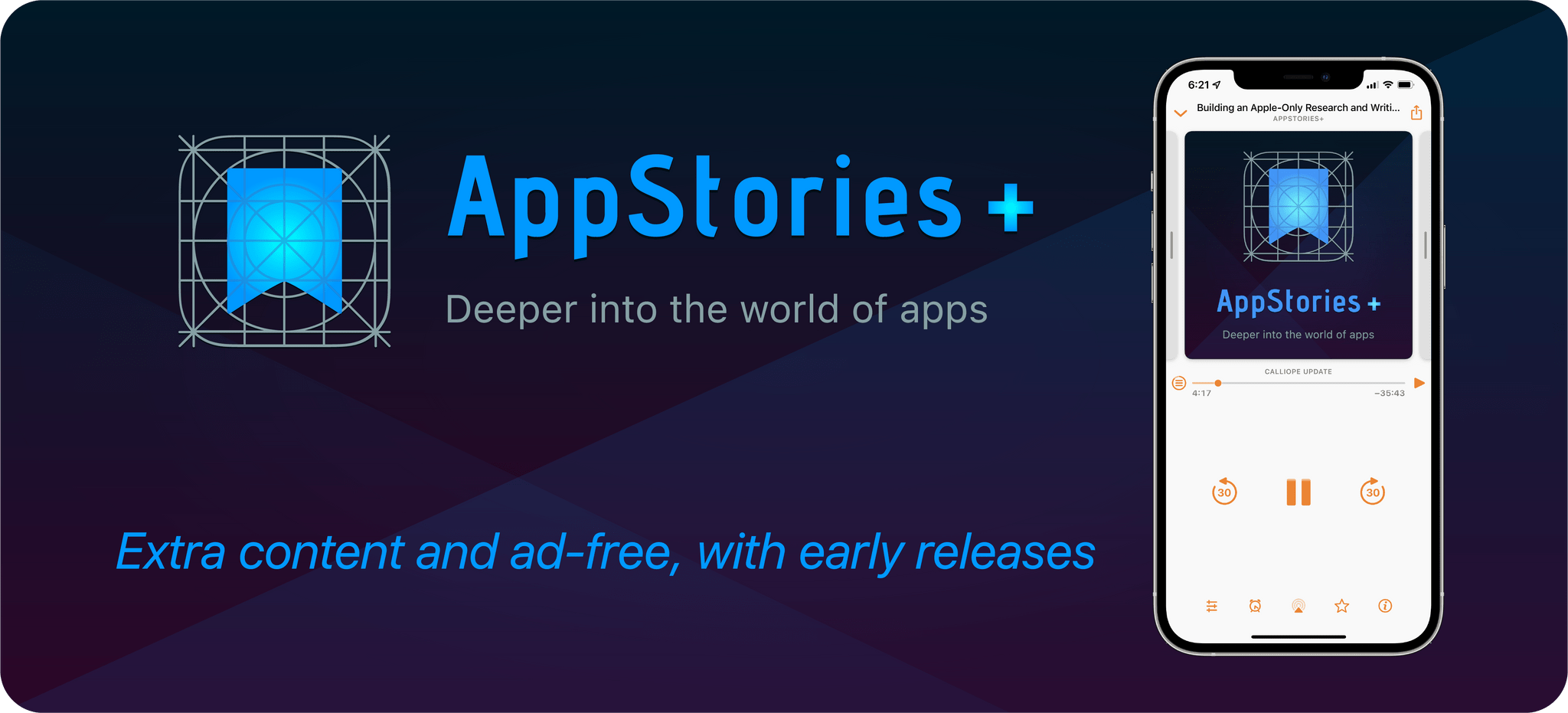 Federico and I are excited to introduce AppStories+, an extended, ad-free version of the podcast we've been hosting together since 2017, which will be releasing a day earlier than usual with higher bitrate audio. AppStories+ is just one part of a series of announcements that we'll fully reveal on Monday, August 23, but we wanted to give everyone a first look at one of the tent pole features we've been building.
We started AppStories for many of the same reasons Club MacStories was launched. Both have provided us with new ways to explore the world of apps and how they impact our culture. Over time, the flexibility that AppStories unlocked has allowed the show to become an integral part of MacStories.
Today, AppStories plays a central role in every big event and project we publish. Whether it's our annual OS reviews, WWDC, our summer OS preview series, or special events like the tenth anniversary of the App Store, the show permits us to provide broader, deeper, and more timely coverage. AppStories has also let us help listeners get to know the developers that make the apps they love and hear from special guests like senior vice president of Software Engineering, Craig Federighi and past Apple Design Award winners.
So, as we began examining where we want to take MacStories over the next decade and beyond, there was never any doubt that AppStories would be a critical component of that plan. On Monday, we'll have more to say about how AppStories fits into our ambitious plans for MacStories' future. Today, however, I want to go a little deeper into what exactly the '+' in AppStories+ is all about.
AppStories+ Perks
First and foremost, AppStories+ is more of the show you already love. Each week, recording AppStories is an exercise in constraint for Federico and me. Left to our own devices, we'd talk endlessly about apps. Before now, those conversations often happened before or after we recorded. With AppStories+, we're capturing those conversations about the apps we're trying and the experiments we're running, along with behind-the-scenes looks at what we're working on and our thoughts on current tech news.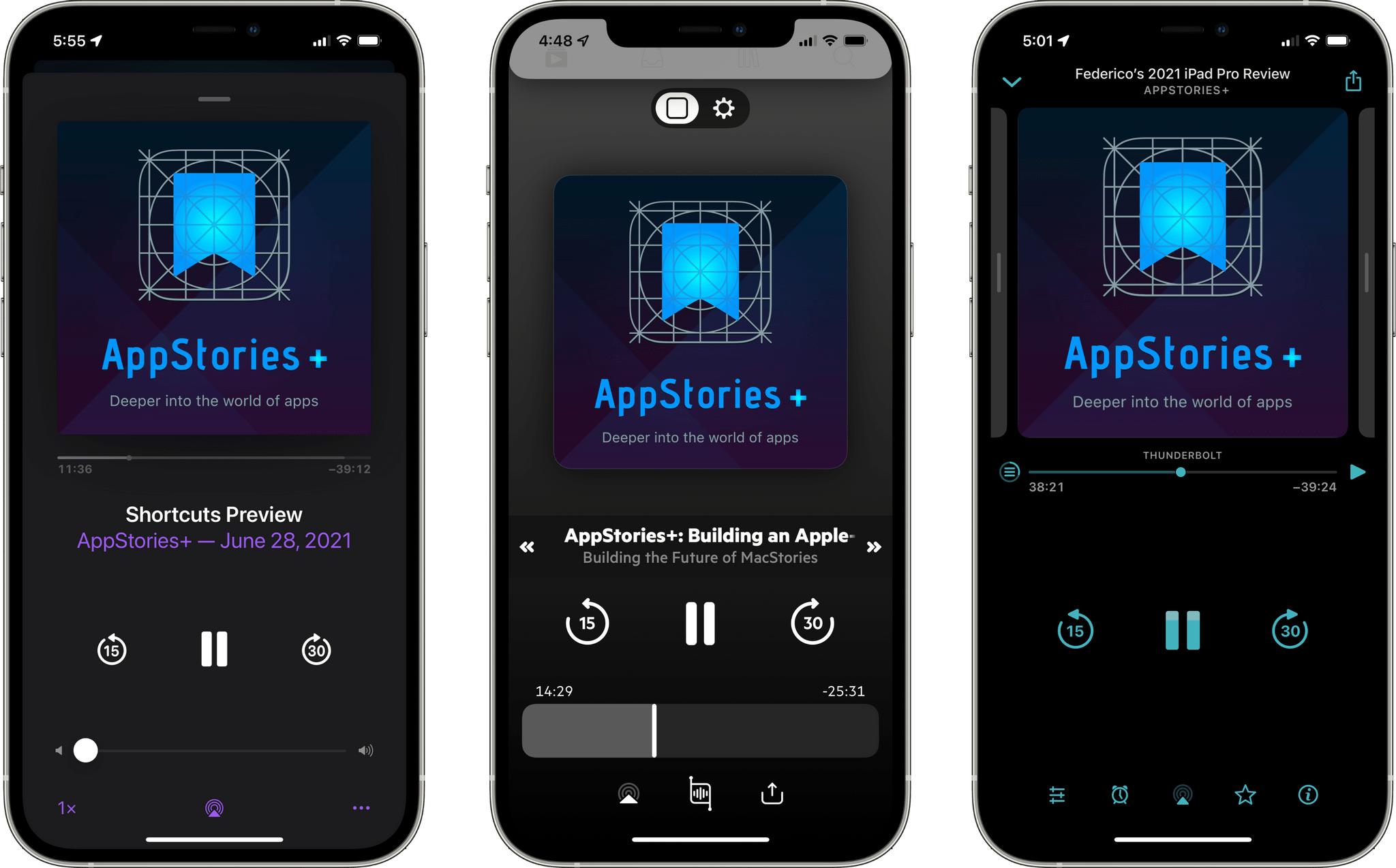 To get subscribers started, we're releasing a back catalog of recent episodes stretching back to mid-May when Federico reviewed the new iPad Pro. That's nearly 20 episodes with extra content covering a busy time at MacStories that included that iPad review, WWDC, our interviews with ADA winners, our iOS and iPadOS 15, and macOS Monterey first impression stories, and more. I've spent time preparing those episodes for our launch on Monday, and it's been a lot of fun to relive the roller coaster of those events and the build-up to announcing AppStories+.
AppStories+ is also ad-free. We work with a lot of great sponsors whose products we love, but ads are still an interruption. With AppStories+, you'll get to listen to the entire show plus the bonus content without interruption.
We're also releasing AppStories+ on Sundays, a day earlier than the free version most weeks. I've pressed the publish button on AppStories Monday mornings at 6 am Central US time 236 times. That's made AppStories the way a lot of listeners start their weekly commute, but with time zones, that isn't true for everyone. By releasing AppStories+ on Sundays US time, you'll get to hear the latest before everyone else and ensure you have the latest episode before you start your week, no matter where you live. There will be times when hardware embargoes and similar limitations preclude us from releasing an episode early, but those times will be the exceptions, not the rule.
We're also releasing AppStories+ at a higher bitrate than the free version of the show. It's still an MP3 file, so it's not lossless, but the higher bitrate means higher quality audio than the free version, which we think you'll enjoy.
Beginning this Monday, you'll be able to subscribe to AppStories+ on appstories.net/plans for $5/month or $50/year as a standalone subscription. We think that's a fair price for what we've got planned for subscribers, and we'll have an even better deal to tell you about on Monday. That's all I can say at the moment, but if you like what you've heard so far and love what we do at MacStories, I expect you'll be really excited Monday.
---
To wrap things up, I want to sincerely thank everyone who has listened to AppStories over the years. Federico and I are very fortunate that the show has been as successful as it has been since day one. It's a show that we look forward to recording every single week, giving us a chance to have the sorts of conversations we love and bring you along for the ride too.
We'd love for you to give AppStories+ a try, but we'll also continue to produce the free, ad-supported version of the show. So, no matter how you enjoy AppStories, thanks again for listening.