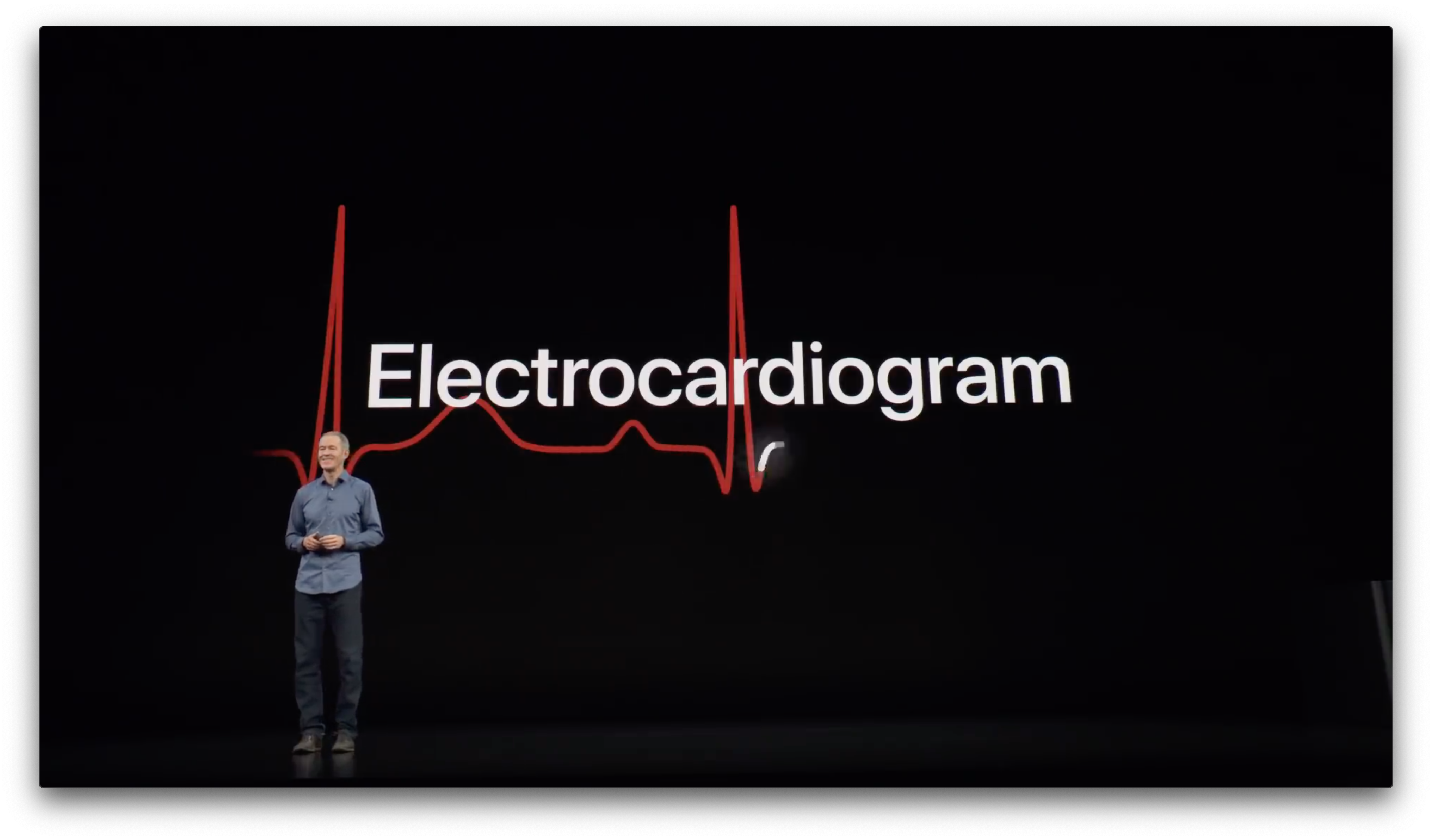 At Apple's September keynote the company introduced the Series 4 Apple Watch. Among the features announced was a preview of the ability to generate an electrocardiogram or ECG within thirty seconds by placing a finger on the Digital Crown. At the time, Apple said the ECG functionality would ship in a software update 'later this year.'
Today, with the release of watchOS 5.1.2, Apple has shipped the ECG app. As we explained in the MacStories Series 4 overview, the ECG functionality is enabled by new hardware including a new titanium electrode built into the Digital Crown:
This electrode pairs with another electrode built into the bottom of the Series 4's new sapphire crystal back. When you place your finger over the top of the crown you form a closed circuit between your finger and the wrist of your other arm – where the back electrode is making contact.
Apple's ECG sensor is notable because it's the first of its kind available over the counter to consumers. ECG results taken with the Apple Watch are stored in the Health app, from which they can be exported as a PDF for sharing with your physician.
According to Apple's press release:
The ECG app's ability to accurately classify an ECG recording into AFib and sinus rhythm was validated in a clinical trial of around 600 participants. Rhythm classification from a gold standard 12-lead ECG by a cardiologist was compared to the rhythm classification of a simultaneously collected ECG from the ECG app. The study found the ECG app on Apple Watch demonstrated 98.3 percent sensitivity in classifying AFib and 99.6 percent specificity in classifying sinus rhythm in classifiable recordings. In the study, 87.8 percent of recordings could be classified by the ECG app.
watchOS has also been updated to notify users of irregular heart rhythms:
the irregular rhythm notification feature will occasionally check the user's heart rhythm in the background for signs of an irregular heart rhythm that appears to be AFib and alerts the user with a notification if an irregular rhythm is detected on five rhythm checks over a minimum of 65 minutes.
The irregular heart rhythm notification feature, which is available for the Series 1 Watch and later, was likewise tested in clinical studies:
In that sub-study, of the participants that received an irregular rhythm notification on their Apple Watch while simultaneously wearing an ECG patch, 80 percent showed AFib on the ECG patch and 98 percent showed AFib or other clinically relevant arrhythmias.
The new Apple Watch ECG app and irregular heart rhythm notification feature are available as part of watchOS 5.1.2, which can be downloaded from the Software Update section of the Watch app on your iPhone.