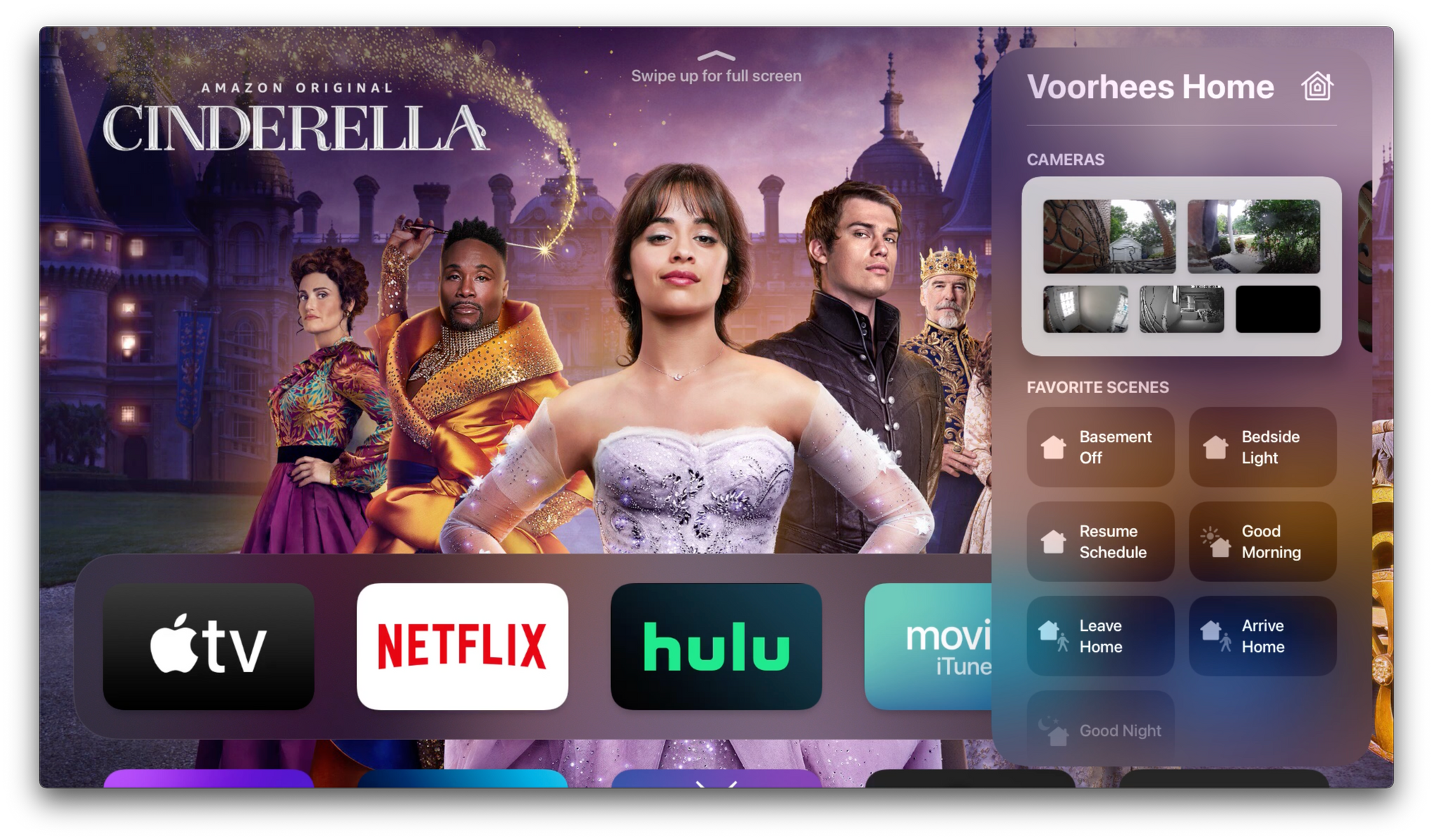 Apple's fall OS updates will include a variety of HomeKit and home entertainment features. Unsurprisingly, some of those changes can be found in the company's Home and TV apps, but this year, those apps only tell part of the overall story. To get the full picture, you need to zoom out from the apps, where you'll find an interesting mix of new smart home device and entertainment features sprinkled throughout each platform.
Let's start with HomeKit devices. This year, many of the changes coming to Apple's OSes relate to two important categories: video cameras and door locks. Controlling both types of devices will become easier this fall, thanks to deeper integration with the upcoming OS releases.
Video Cameras: HomeKit Secure Video and New Apple TV Integrations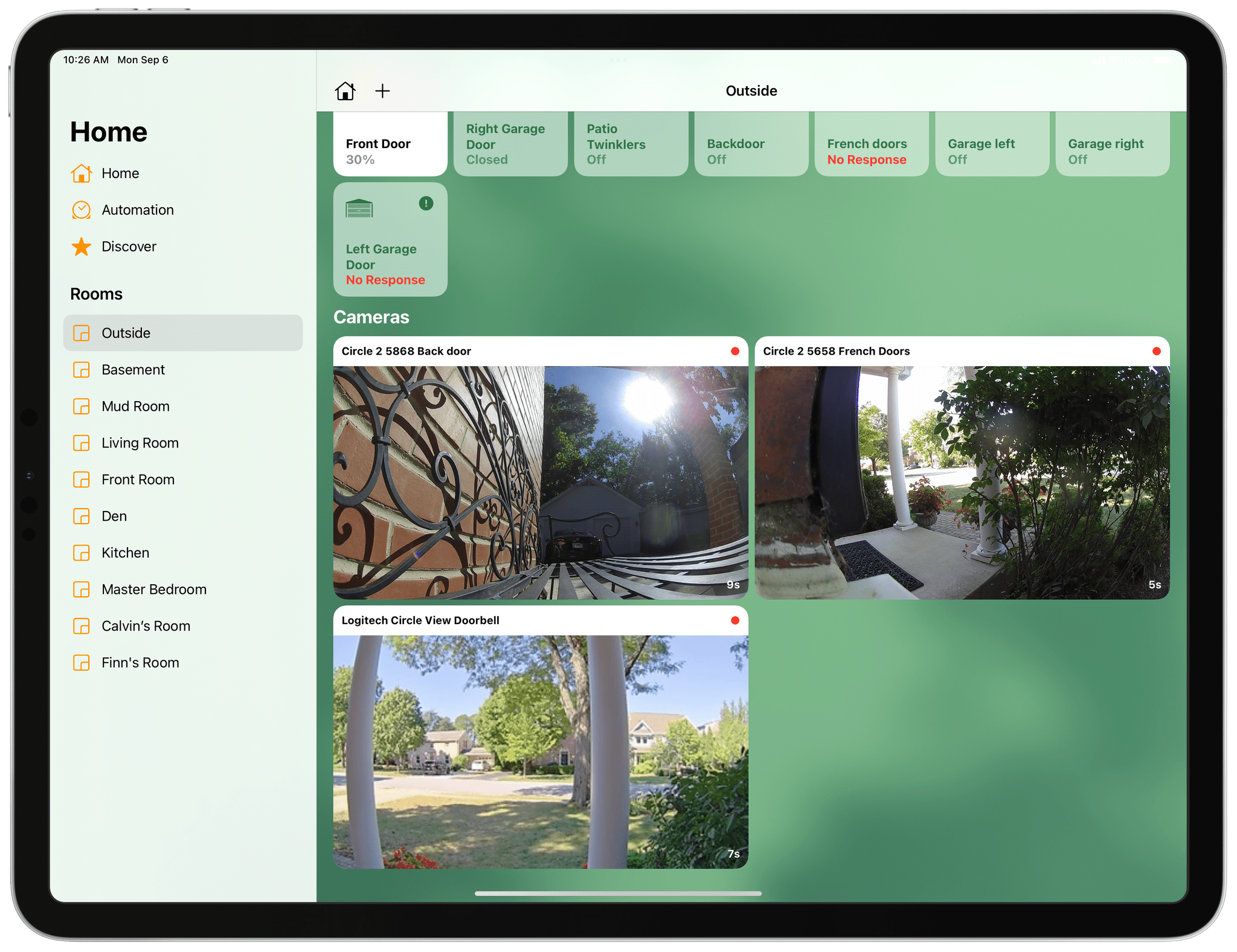 HomeKit Secure Video is Apple's privacy-focused solution for storing, accessing, and sharing video clips recorded by HomeKit-compatible cameras. Instead of sending recordings to a camera manufacturer's servers, they're encrypted and saved to iCloud storage, which is why an iCloud plan is required.
This fall, Apple is introducing iCloud+, which makes existing HomeKit Secure Video features available at lower iCloud storage tiers and adds new ones. Currently, you can use up to five HomeKit cameras with a 2 TB iCloud storage plan. When iCloud+ debuts, you'll be able to use up to five cameras with the 200 GB plan, an upgrade from that plan's current limit of one camera, and the 2 TB plan will work with an unlimited number of cameras. Video footage will continue to be stored for 10 days and doesn't count against your iCloud storage limit.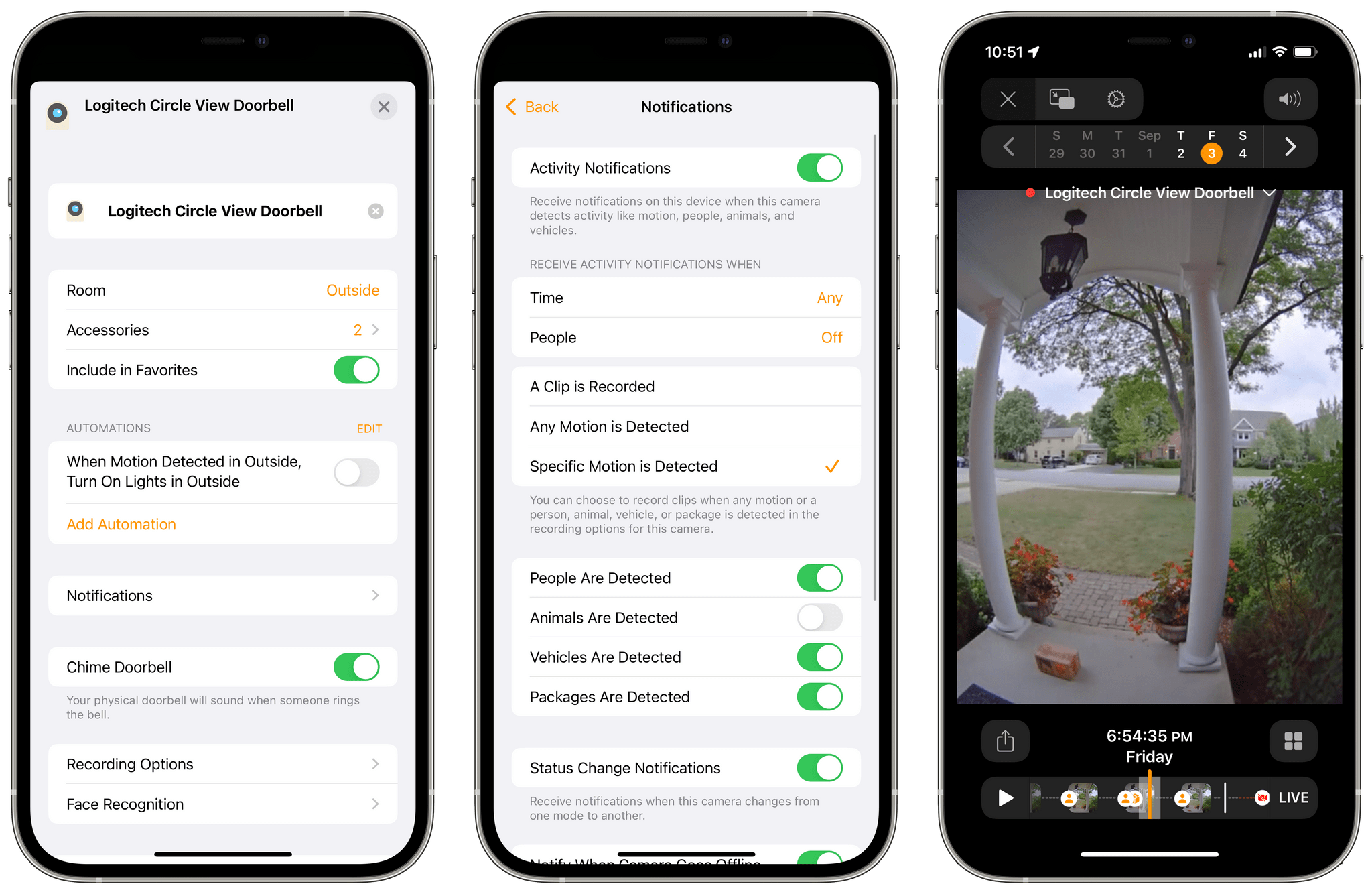 HomeKit Secure Video includes several other features like the ability to set activity zones, detect people, vehicles, and animals, and control when you get notified of events and what gets recorded. This fall, Apple is also adding package detection to the list of HomeKit Secure Video features.
To enable package detection, open the settings for a HomeKit-compatible video camera and pick Notifications. If you enable notifications when 'Specific Motion is Detected,' you'll see options for receiving notifications if people, animals, vehicles, and packages are detected.
Once enabled, package detection will begin sending you notifications when a package arrives at your doorstep. If you scrub through past video recordings using the timeline beneath a camera's video feed, you'll see a package icon for any clips that show a package has been delivered. So far, package detection has worked flawlessly with a variety of packages of various shapes and sizes that I've received.
However, as well as package detection works, I'd like to have more options. Specifically, I'd like to use person and object detection as a trigger in Shortcuts. With four categories of detection, there's often one that is more important to me than others. For example, if a particularly valuable package is being dropped at my doorstep, I'd like to set up a shortcut designed to grab my attention more than a standard system notification might by blinking the lights or changing the color of the lightbulb in my office.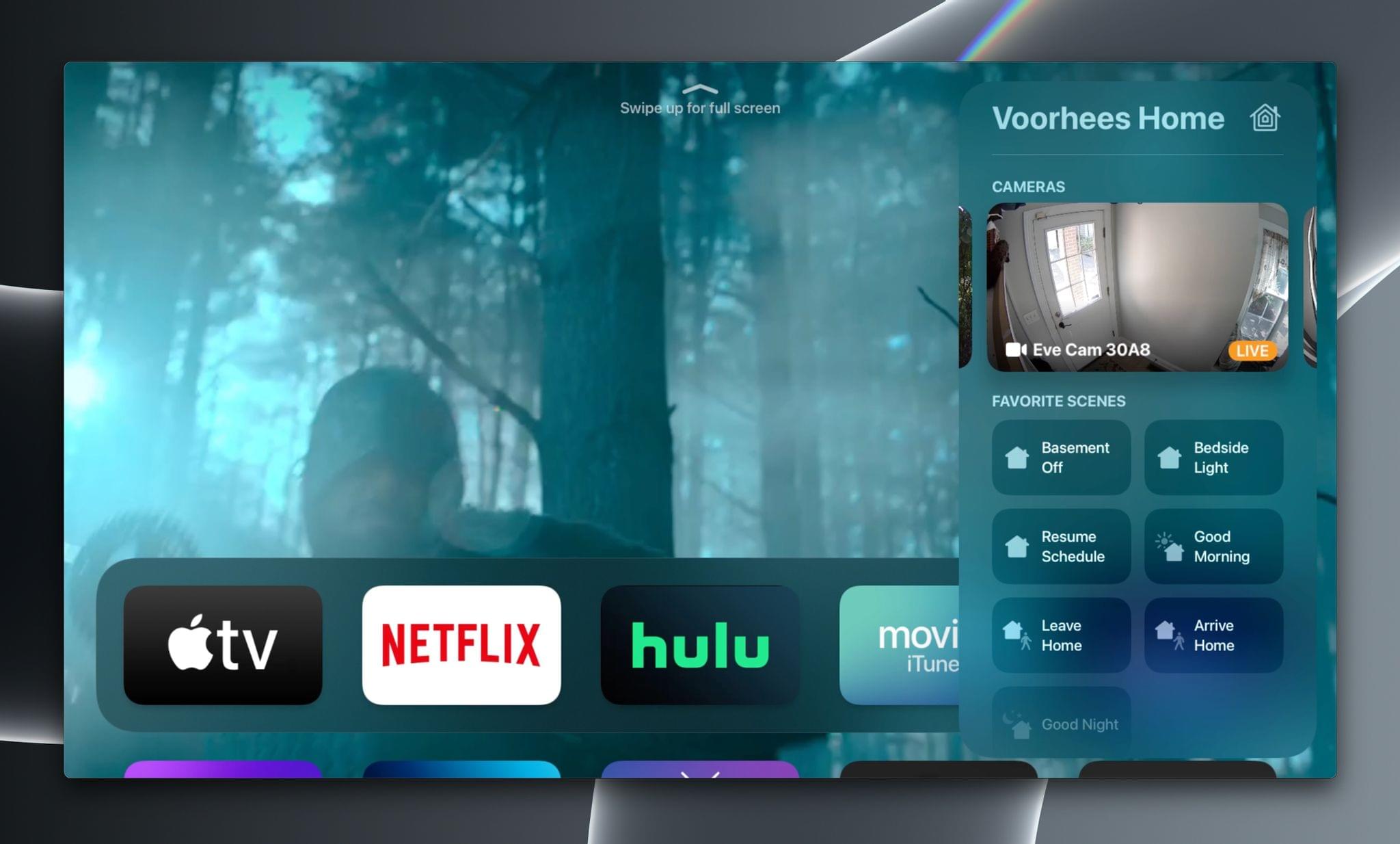 Controlling HomeKit cameras on tvOS 15 and watchOS 8 is significantly improved too. I'll leave the changes to the Home app in watchOS 8 for Alex to cover in his watchOS 8 review and focus on tvOS here. The Apple TV is a natural hub for controlling HomeKit video cameras. This year, tvOS is introducing new features that significantly improve the integration of cameras with the Apple TV.
Camera notifications can be enabled in the AirPlay and HomeKit section of the Apple TV's Settings app. There, you'll find a section for Cameras & Doorbells that will list any HomeKit-compatible video cameras and doorbells you've installed. For each camera or doorbell, you have the option of turning notifications on or off and picking the types of notifications you want to get alerts for on your TV. For example, I've turned on people and package notifications for my Logitech Circle View doorbell, but not notifications for animals or vehicles, which I would rather not be interrupted by when watching TV.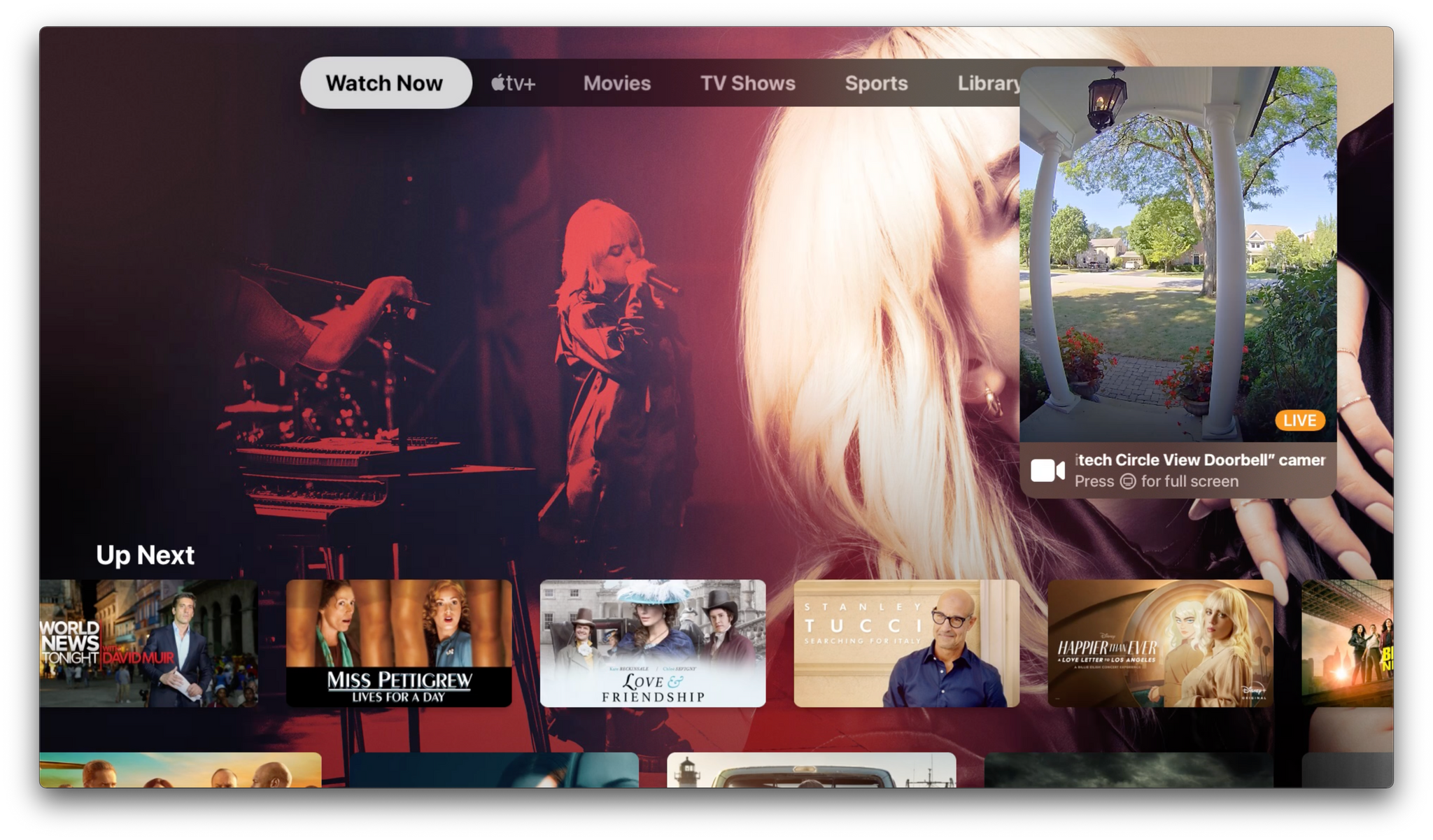 Camera and doorbell notifications appear as a Picture-in-Picture overlay that appears in the top right corner of your TV's screen. Press the TV button on your Siri Remote, and the video expands to fill the screen. If you'd rather dismiss the notification, hit the remote's back button instead.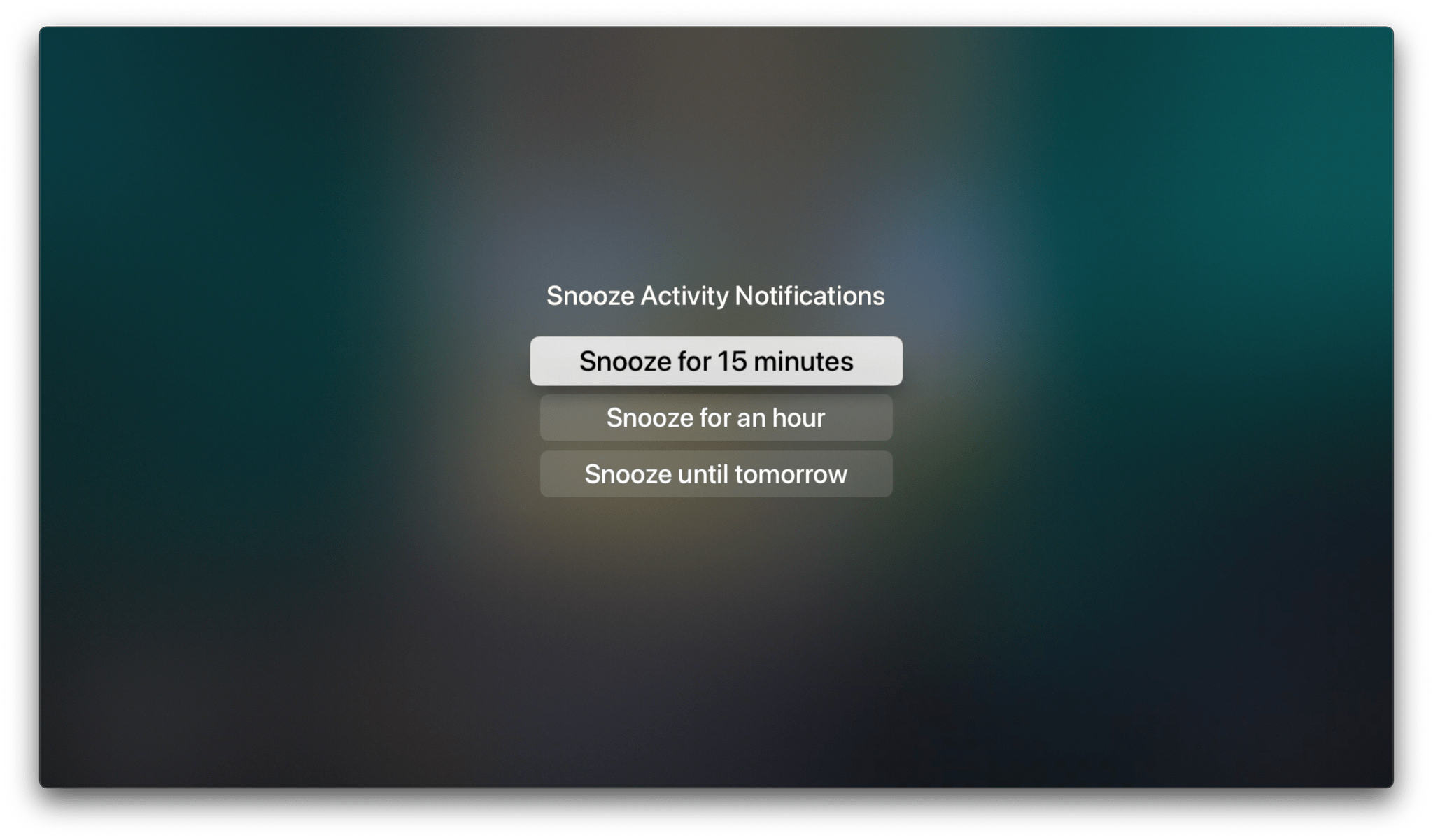 When expanded, there are three icons in the lower right corner of the screen. The first is a snooze button. Select it, and you can snooze camera notifications on your Apple TV for 15 minutes, an hour, or until the next day.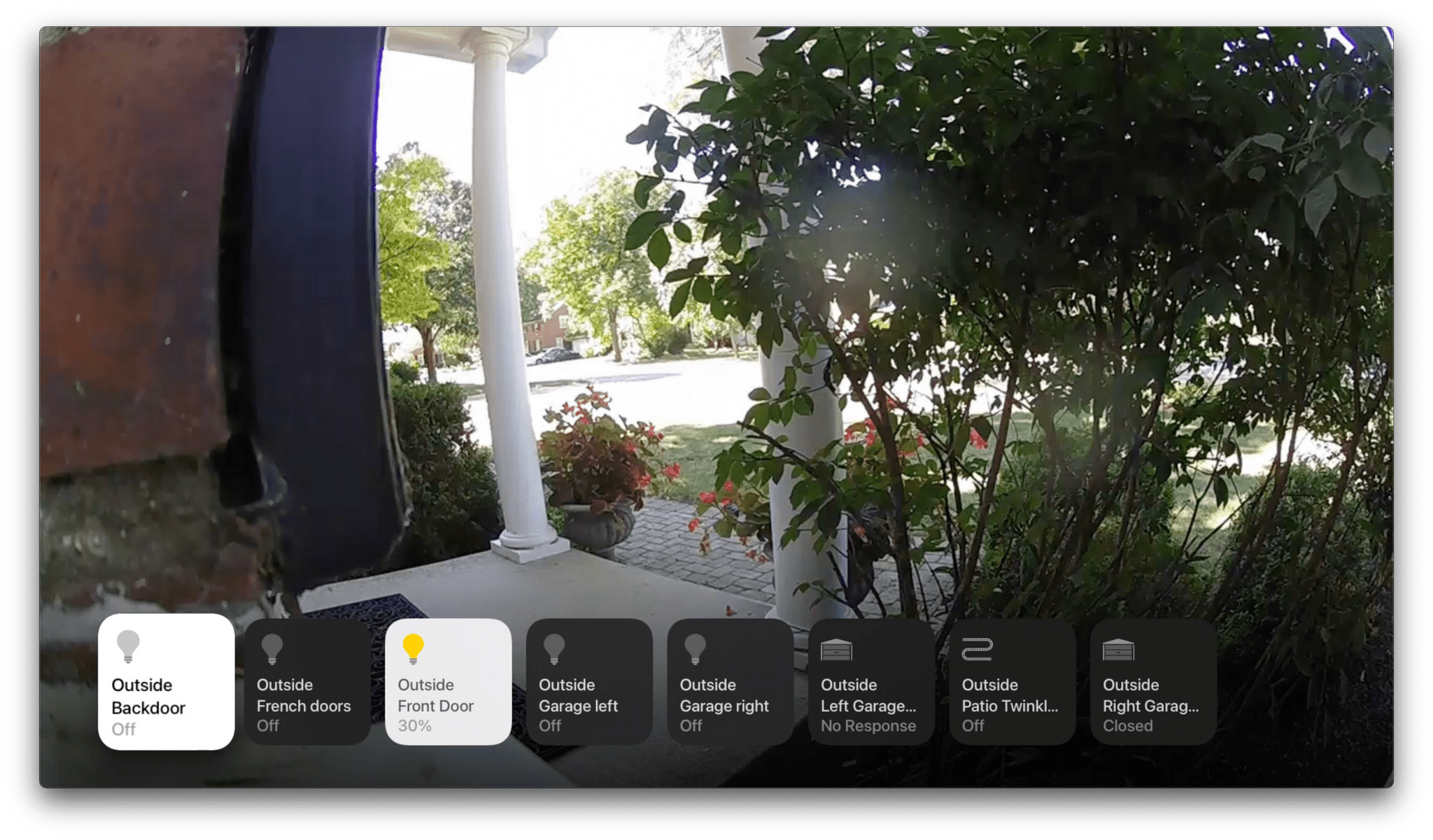 The second icon is of the familiar Home app tile. Select it, and a row of tiles appears at the bottom of the camera's video feed showing nearby HomeKit devices. For example, when I opened the feed for my Logitech Circle View doorbell, the tiles include several outdoor lights and my garage doors.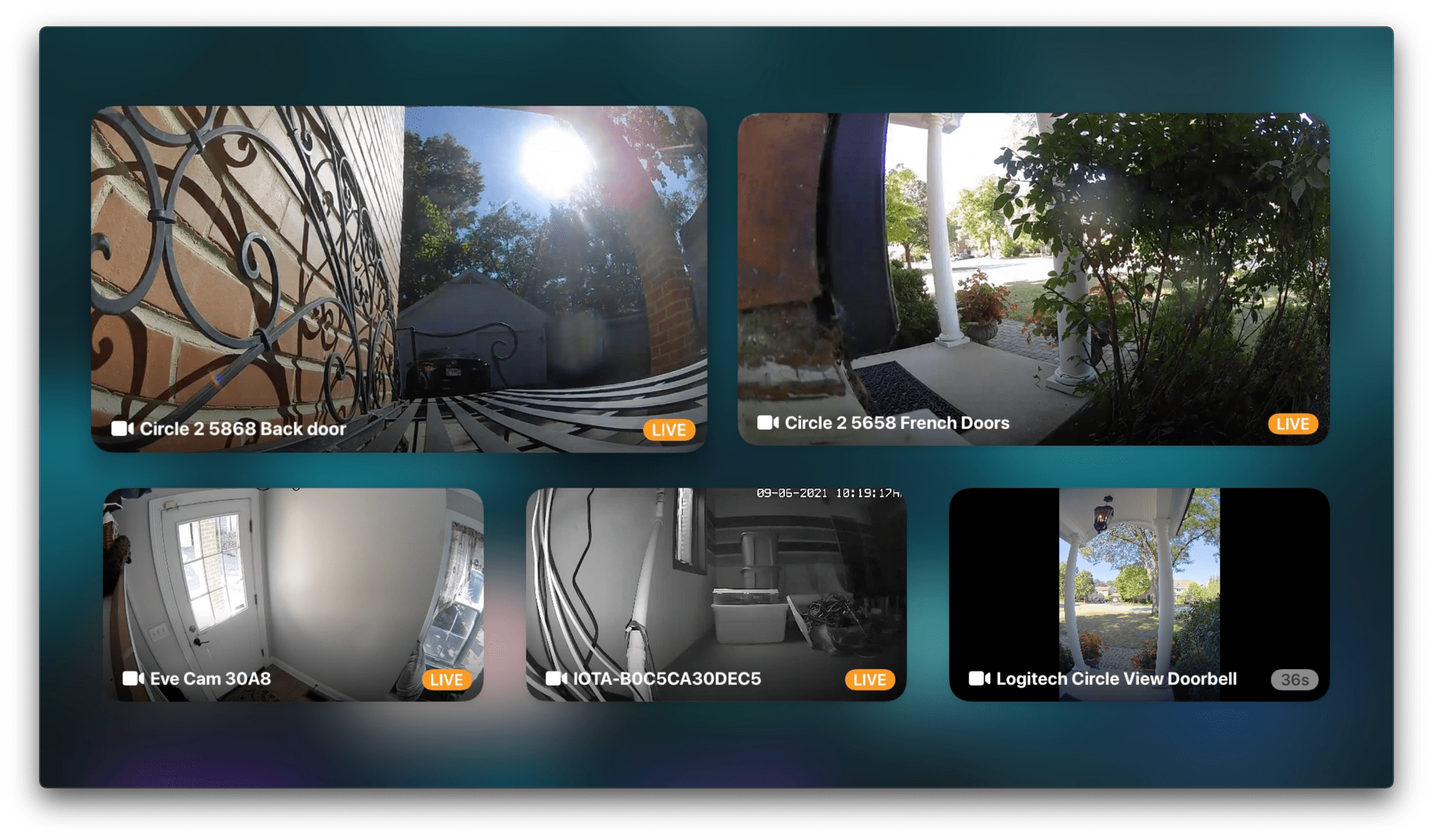 The third icon opens all available HomeKit cameras in a grid when it's selected. Each camera indicates whether its feed is live and includes the name of the camera. I like this feature a lot. With just a couple button presses, I can go from a notification that a camera has detected something to viewing the cameras that monitor my front and back doors, as well as a basement window. The update is an excellent balance of convenience and functionality that makes camera notifications far more useful than before.
Your HomeKit cameras are also available from the tvOS Control Center where you can swipe between thumbnails for each camera or the grid of all your cameras. Control Center provides access to your favorite HomeKit scenes too. Combined with access to individual devices from the camera notification UI and Siri control, the integration of HomeKit devices with the Apple TV is deeper than ever before.
There isn't a dedicated Home app on the Apple TV, but I haven't missed it with the improved integration of HomeKit devices this year. In fact, I prefer that I don't have to navigate to an app to manage devices. Instead, I have access to the devices I need most of the time, and anything more is easily handled by an iPhone or iPad.
I've been using HomeKit Secure Video since it debuted in the fall of 2019, when it got off to a bit of a rocky start. Notifications were buggy, and the original feature set was sparse. That's changed significantly, and with the updates this year, the integration between HomeKit-compatible cameras and HomeKit Secure Video is worth another look by anyone who was frustrated when it was first released. I'm currently using five cameras by three different manufacturers and have been extremely happy with how well they work as an integrated set thanks to HomeKit Secure Video and the upcoming OS updates.
Home, Office, and Hotel Keys in Wallet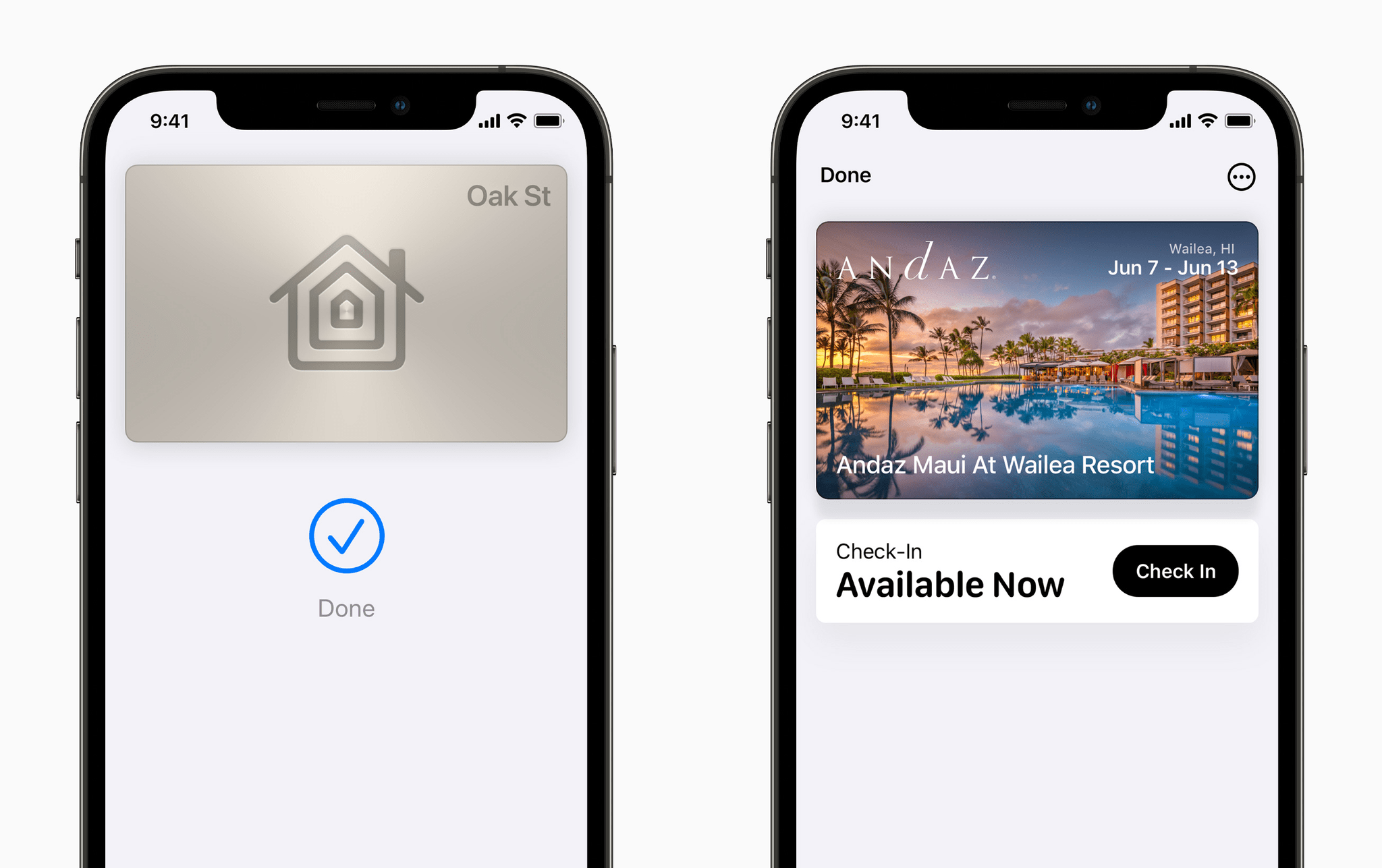 The makers of HomeKit-compatible door locks will have the option to store home, office, and hotel keys in the iPhone and Apple Watch's Wallet app, allowing users to unlock doors by holding their devices near a door lock. The feature appears similar to the way you can unlock the doors of some car models that was introduced with iOS 14, which requires you to hold your iPhone or Apple Watch close to the lock to unlock the door. Apple has also said that, like car Keys and Transit Passes, home, office, and hotel keys will work in Power Reserve Mode when your battery is otherwise too low to operate your iPhone, and keys will be shareable, so you can let people into your home when you aren't available.
As of the publication of this story, keys aren't available from lock manufacturers yet, so I haven't been able to try the feature. However, I did review the Level Touch smart lock late last year, which came with a card the size of a credit card that could be used to unlock the device. The card is convenient if your wallet is more accessible than your iPhone. Still, I imagine that having the option to simply hold your iPhone or Apple Watch up to your door to unlock it will be even more convenient than using a dedicated card.
Siri

Siri is getting a HomeKit-related update this fall too. Apple's digital assistant will be able to handle time-based requests like "Turn the lights off in 5 minutes." What happens behind the scenes is that Siri creates a simple Home automation that you can see in the Automations tab of the Home app and the the Automations section of Shortcuts after you've created one. After the automations run, they're deleted.
These are very simple automations, but it's exciting to Apple moving in the direction of allowing users to create automations verbally, even if they are transient in nature. I'd love to see this expanded to more complex requests like "Play a notification sound if someone is at my door in the next hour."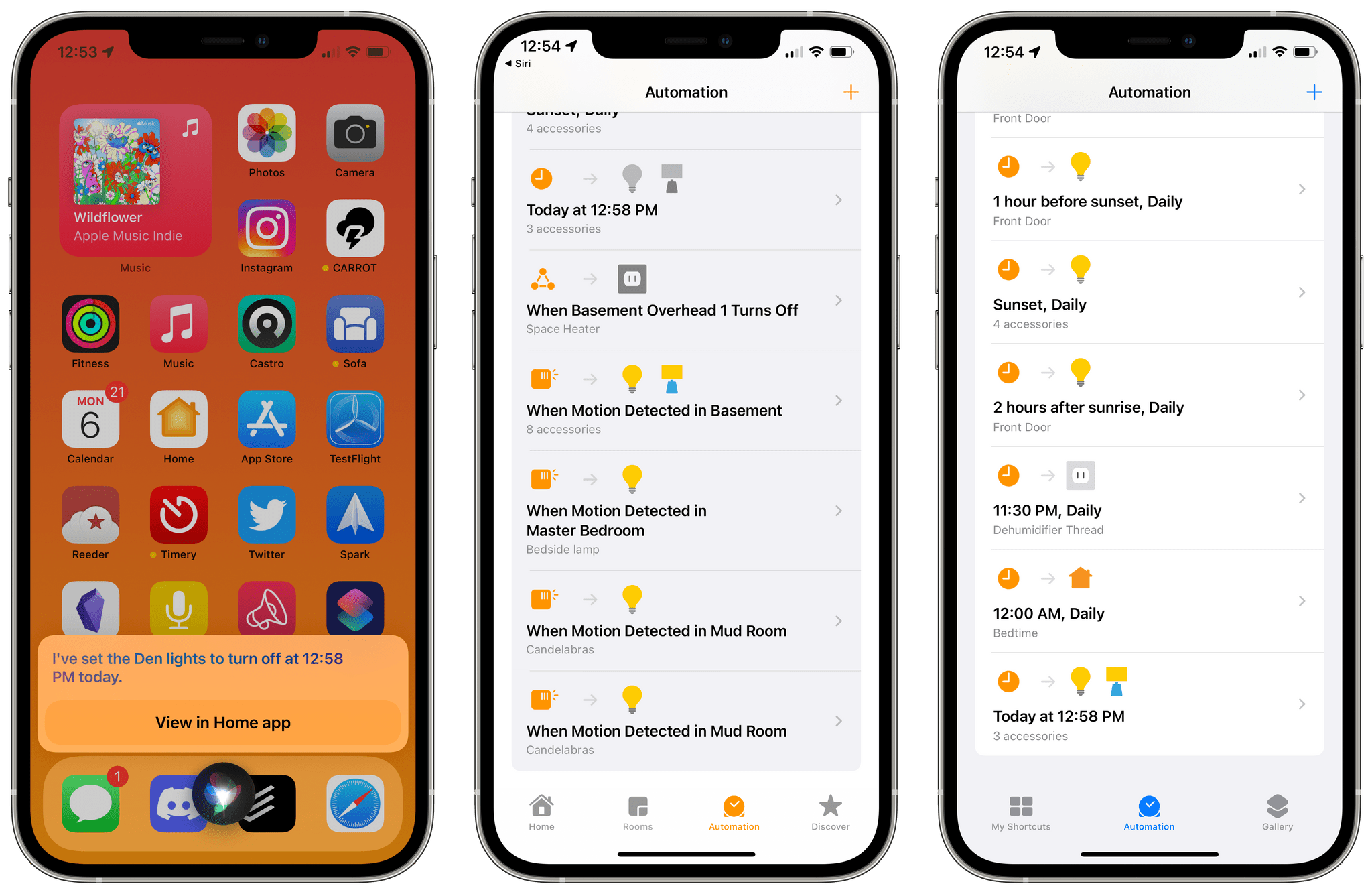 Siri is also coming to third-party HomeKit devices, although as of publication, no devices are available for testing. The way Apple has said it will work, though, is that the request will be routed from the third-party device to a HomePod for execution, so your voice data won't leave your local HomeKit/Siri environment.
Audio and Video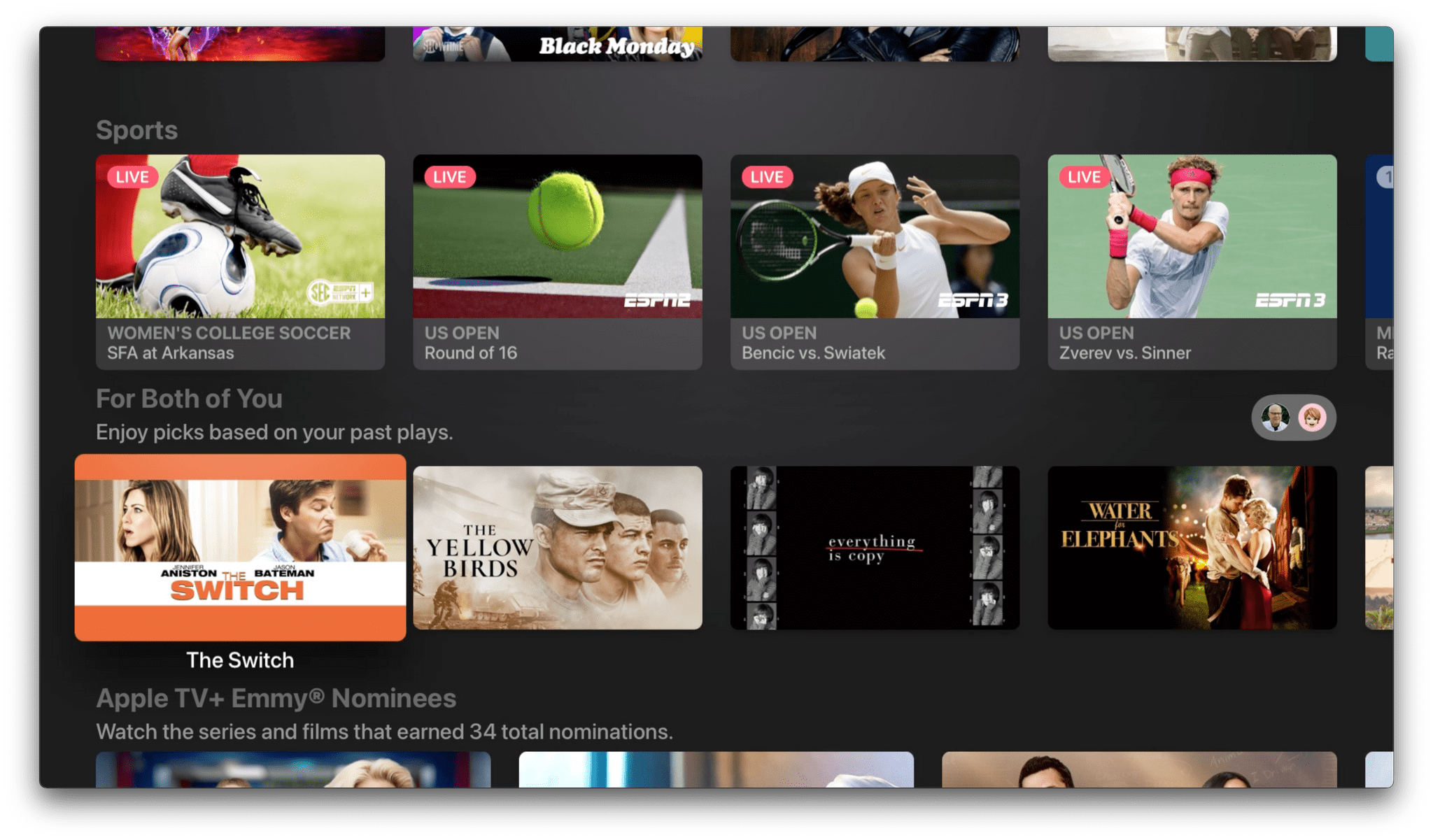 On the entertainment and audio side of things, tvOS, AirPods, and HomePods are adding a grab bag of functionality too. On tvOS, there will be new aerial screensavers for the Grand Canyon, Iceland, Patagonia, Scotland, and Yosemite. Logging into apps and services on the Apple TV will get easier this fall, too, with support for Face ID and Touch ID.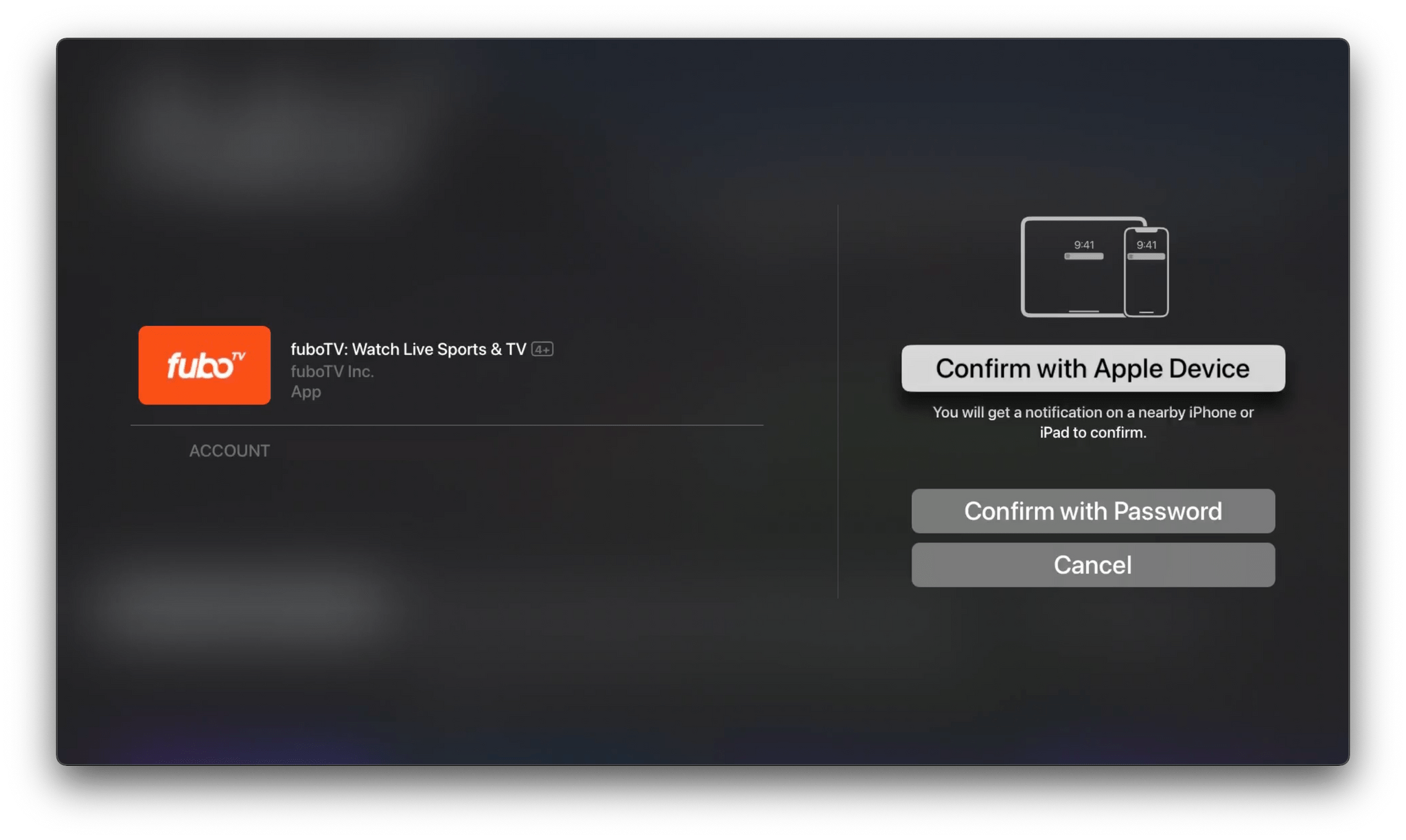 tvOS is also adding new ways to recommend content. If you have profiles set up for multiple family members on your Apple TV, you'll also see a little button between rows of content in the TV app. Select it, and you can add as many of the profiles as you'd like to create a row of 'For All of You' recommendations.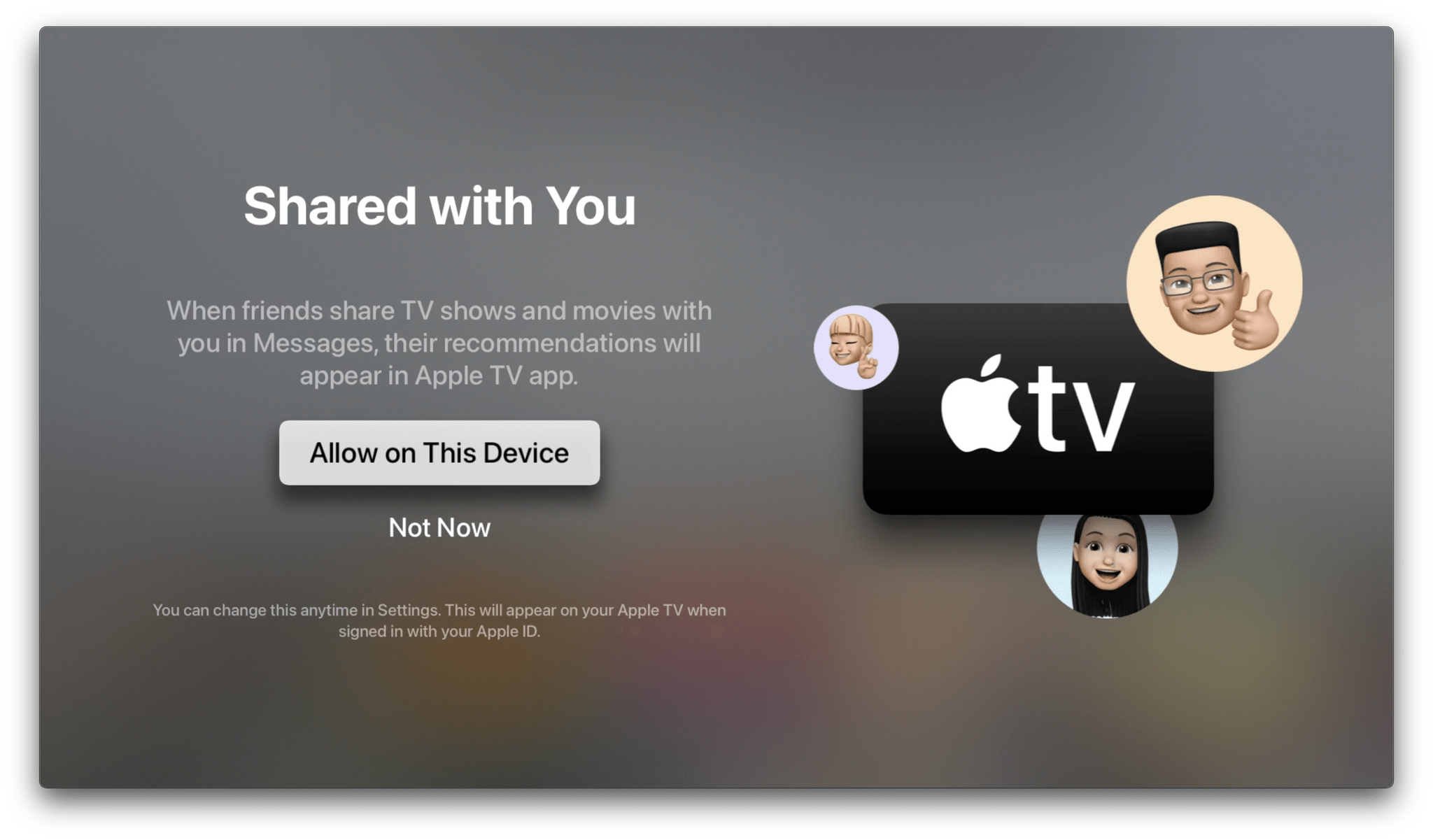 Shared With You is another feature that spans multiple Apple services, consolidating links to content it finds in the Messages app. Apple said that this feature will work with the Apple TV's TV app, but so far, I've only seen Shared With You suggestions in the TV app on my iPhone and iPad, even though the setting appears on my Apple TV, and I enabled the feature.
AirPods and HomePods are being integrated more deeply with the Apple TV too. The Apple TV is gaining the same sort of smart audio routing that you've seen on iPhones, iPads, and Macs. When the Apple TV senses a nearby pair of AirPods, it offers to connect to them with a press of the TV button on the Siri Remote.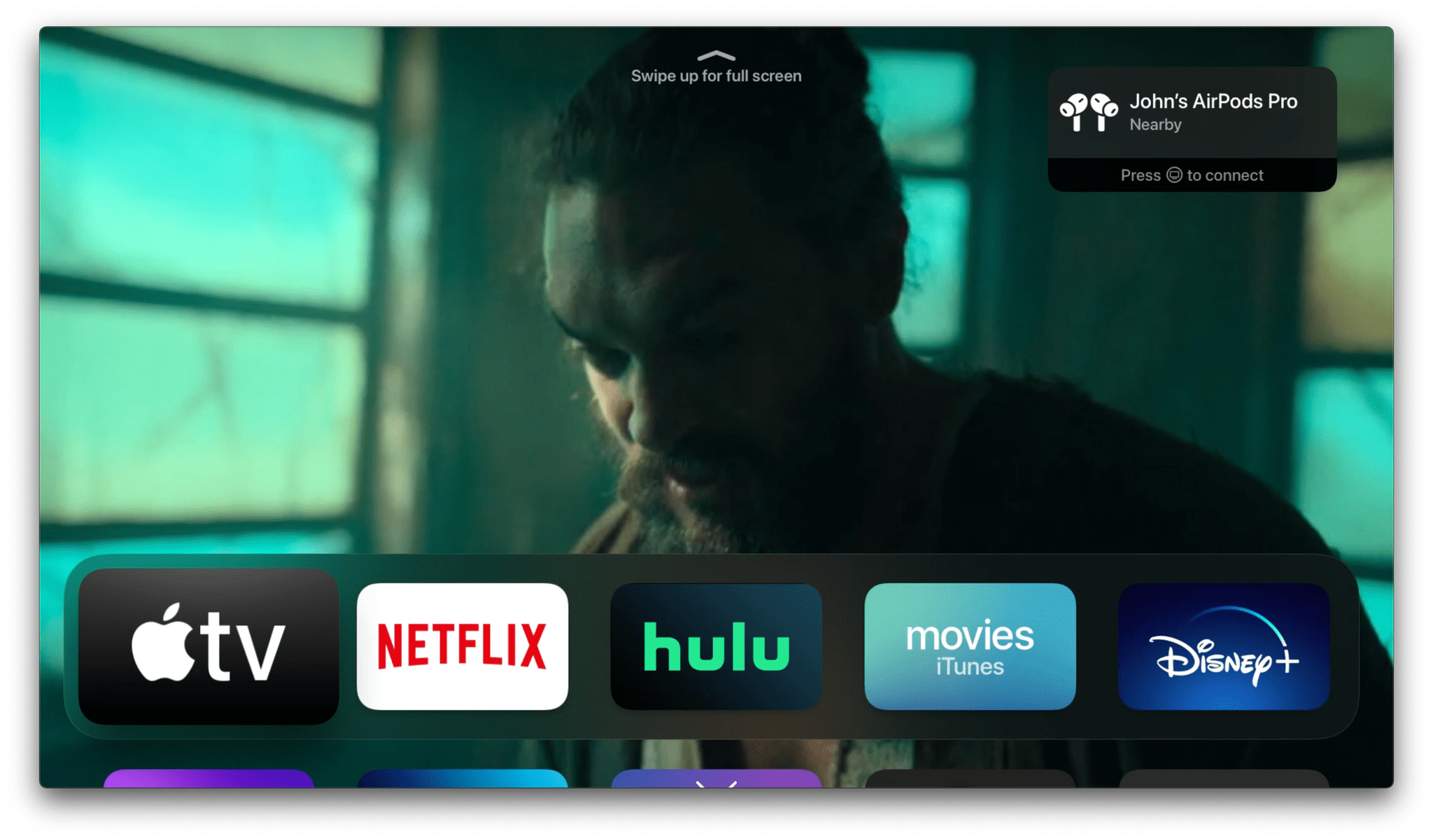 The Apple TV is also adding support for Spatial Audio playback via AirPods Pro and AirPods Max. The feature widens the sound stage of the video you're watching using the gyroscope and accelerometer to determine where your TV is located. If you get up and walk away, the directional effect is disengaged. I rarely watch TV with headphones, but in my limited testing with AirPods Pro and AirPods Max, both sounded great while watching movies and TV shows.
The update to tvOS will also allow two HomePod minis to act as a dedicated stereo pair for audio playback when coupled with an Apple TV 4K. This isn't something I've tried because I don't have an Apple TV 4K, but it promises to make using the HomePod mini with the Apple TV easier than pairing them temporarily, which is something I've done occasionally with my Apple TV HD in the past.
The HomePod paired with an Apple TV 4K is slated to get Dolby Atmos support, and both HomePods are expected to gain lossless audio playback this fall. The latest HomePod beta does not include a toggle for lossless streaming in the HomePod and some users have not seen the Dolby Atmos option yet. Although I don't have an Apple TV with Dolby Atmos support, I hope the lossless option is re-enabled soon because it would be an excellent addition to my stereo pair of original HomePods.
What's Missing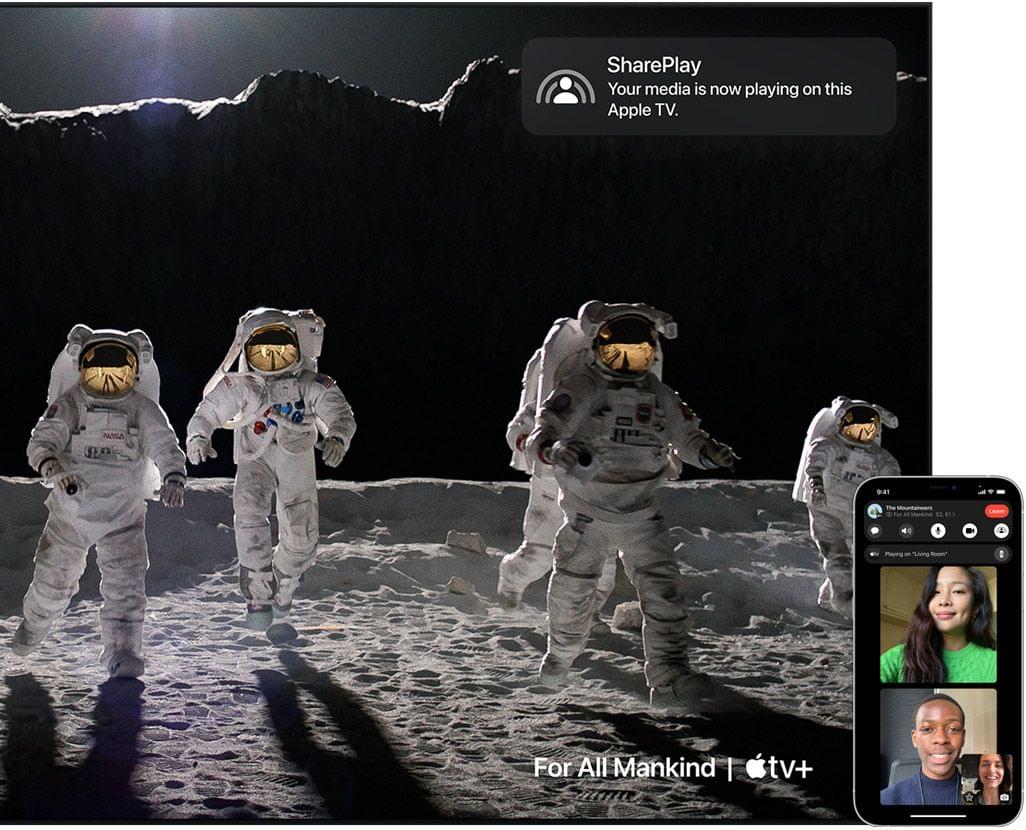 The main feature that's missing in action that I haven't mentioned yet is SharePlay, which Apple has said won't be included in the initial release of its OS updates. The feature, which allows multiple users to do things like watch a movie or listen to music together in sync, has been delayed. When it's released, though, Apple has said it will work with the Apple TV via the device's Control Center UI.
Also missing From HomeKit is Matter (formally called Thread), the open-source technology that promises to make smart home devices from multiple companies work better together on platforms like HomeKit. The industry group developing the Matter standard and SDK has said that it will be available sometime in 2022.
---
It's taken quite a while, but the Apple TV is finally becoming the entertainment and home control hub I've always wanted it to be. The emphasis on apps has been de-emphasized, and instead, Apple is building aspects of the Home app's functionality into different parts of tvOS where it makes sense to access it. The update also brings new purpose to the HomePod as an Apple TV companion. Although I still wish the original HomePod hadn't been discontinued, integrating it and the mini more tightly with the Apple TV is a nice addition to both smart speakers.
However, what I've found most useful day-to-day is the deeper integration between HomeKit cameras and the Apple TV. tvOS 15 includes a collection of new features and refinements of existing functionality that makes accessing my cameras fast and simple to the degree that I no longer find myself digging in my pocket for my iPhone to view them. Instead, with a couple of button presses and a swipe or two of the Siri Remote, I can quickly see who is at the door and what is happening. It's an intuitive design that makes the cameras feel like a natural extension of the Apple TV.
---
You can also follow our 2021 Summer OS Preview Series through our dedicated hub, or subscribe to its RSS feed.