Developers have come up with endlessly clever uses for interactive widgets. I love testing them all, but one type is beginning to stick more than others. It's the widgets for apps that require quick interactions when you're in the middle of something else. Turning off the lights in my home office when I'm finished working for the day, toggling work timers as I switch from task to task, and then checking off those tasks as I complete them are all perfect interactions for widgets that require minimal switching away from whatever I'm doing. Hopefully, that means fewer distractions and, in turn, a more productive day.
But not everything is about peak efficiency and checklists. Sometimes, you just want to relax, which widgets can help with, too. One of my favorite apps to help with that, which recently added interactive widget support, is TV Remote by Adam Foot. Foot's app is one I already used with my LG C2 TV, but it's the app's new widgets that have graduated it to a regular part of my TV routine.
TV Remote is an iPhone, iPad, and Apple Watch app for controlling your TV. It doesn't work with every TV out there, but it works with a lot, including smart TVs from makers like LG, Samsung, Sony, Roku, and TCL. The app, which is free to download, with some features requiring a subscription, has a full list of supported TVs in its settings.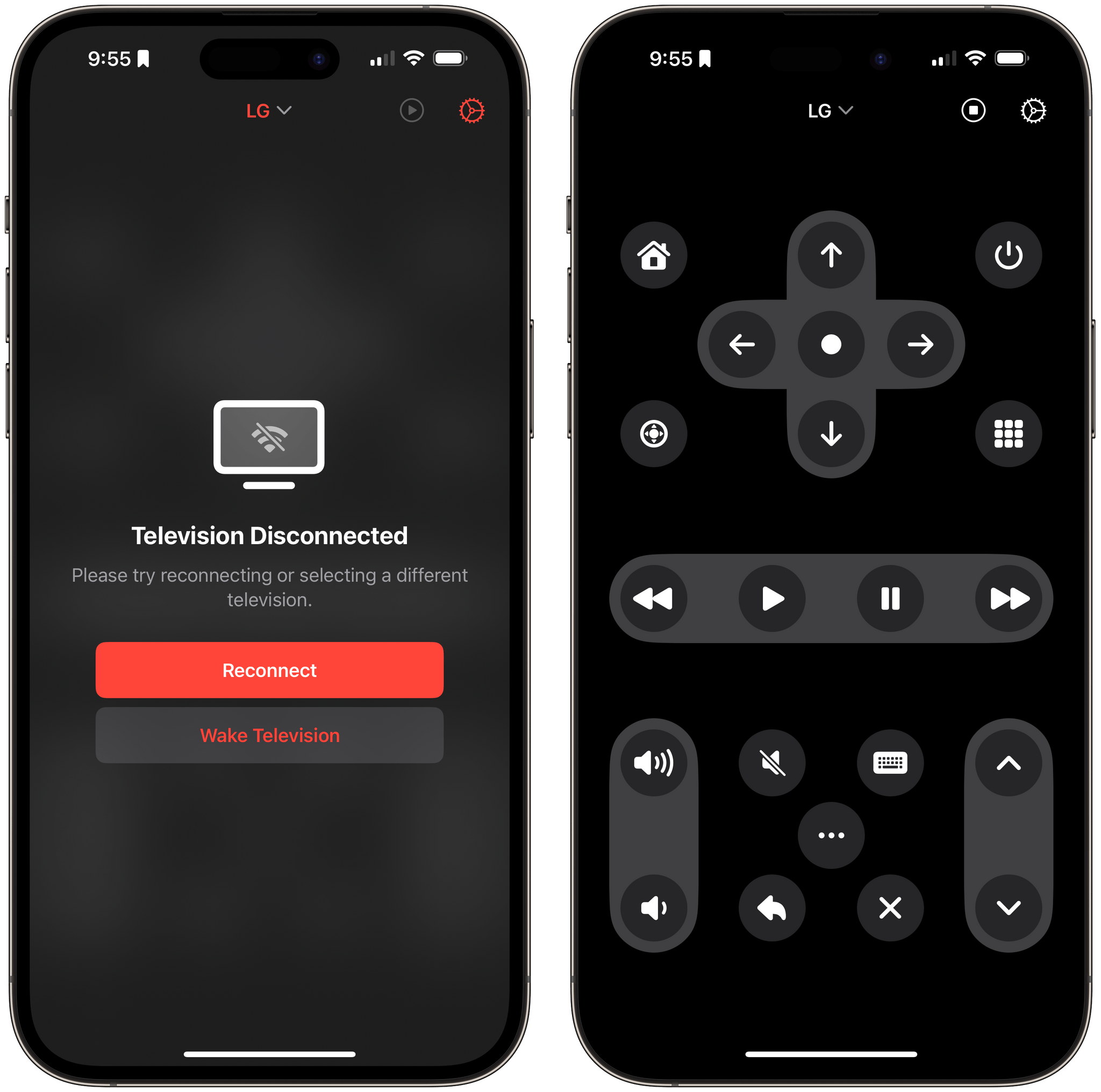 Adding a TV is easy if it's connected to the same Wi-Fi network as your iPhone or iPad. Pick 'Discover Televisions' from the drop-down menu at the top of the screen, and the app will look for supported TVs. If you want to control turning your TV on and off, which is a subscriber-only feature, you have to add the TV's MAC address, too, which can typically be found by digging around in your Wi-Fi router's app or web control panel.
Once you're set up, TV Remote provides a default set of controls tailored to your TV with on-screen buttons to navigate your TV's UI, switch channels and sources, control volume, and everything else your physical remote can do. The defaults are well done, covering the actions that people probably use most, but because it's an app and not a hunk of plastic, it's fully customizable. For example, most of my TV watching happens through an Apple TV, to which I have connected a pair of original HomePods. As a result, I don't need to control much on TV itself, so I deleted everything in the TV Remote app except the essentials that work with the Apple TV's UI and allow me to switch HDMI inputs when I use my videogame consoles.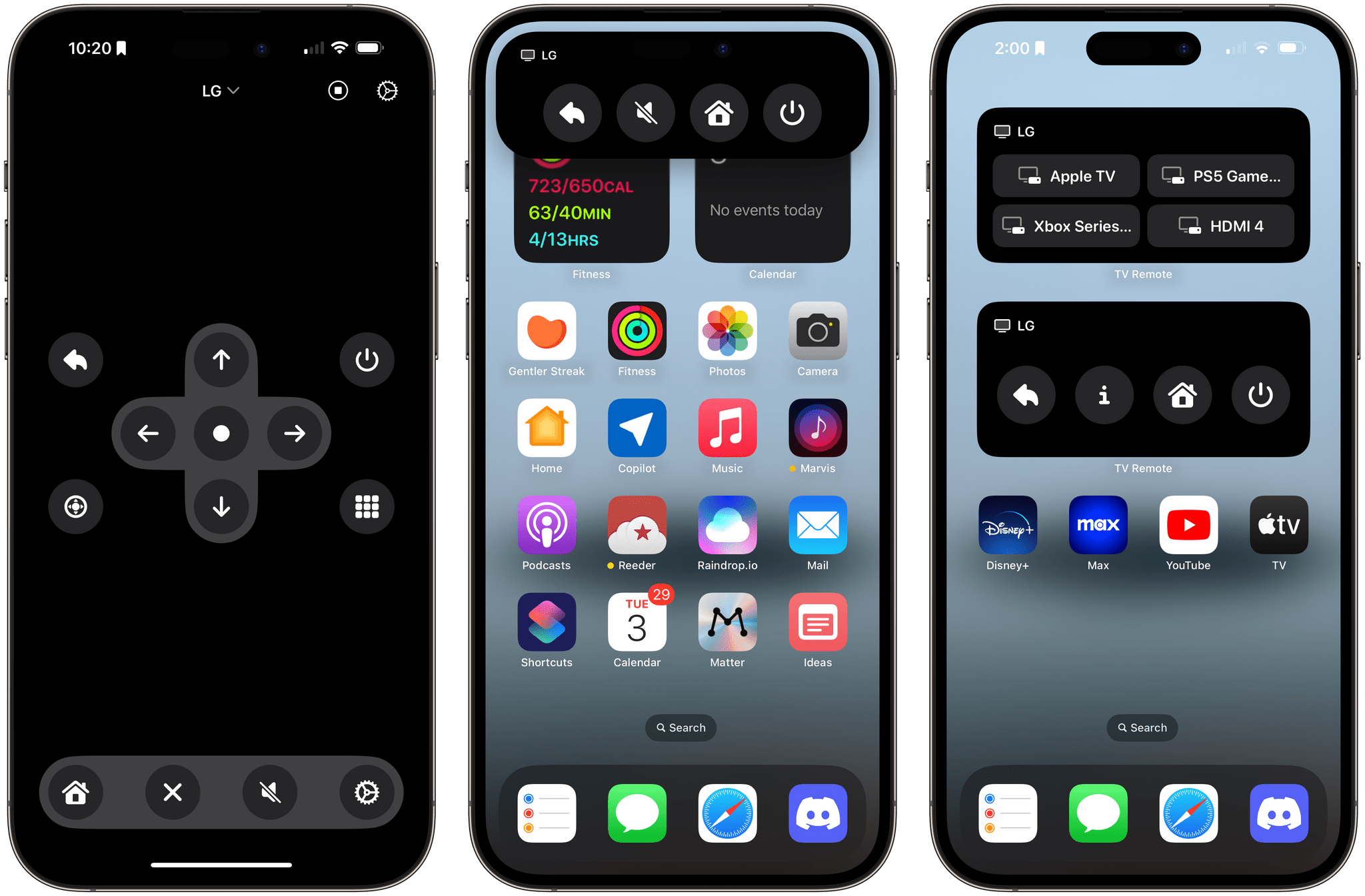 I can (and do) use the Siri Remote and Apple Remote app to control my Apple TV, but it's TV Remote's widgets that add that little bit of extra functionality that makes the app indispensable. The first thing I did was set up a medium-sized widget for switching among the HDMI inputs that I use with my Apple TV and consoles. You can set up buttons for any of your TV's functions, but I find that switching HDMI inputs is one of the few things that I have to grab my LG remote for regularly, and I don't like navigating the TV's UI. Now, I'm just one tap away from switching from the Apple TV to playing a game.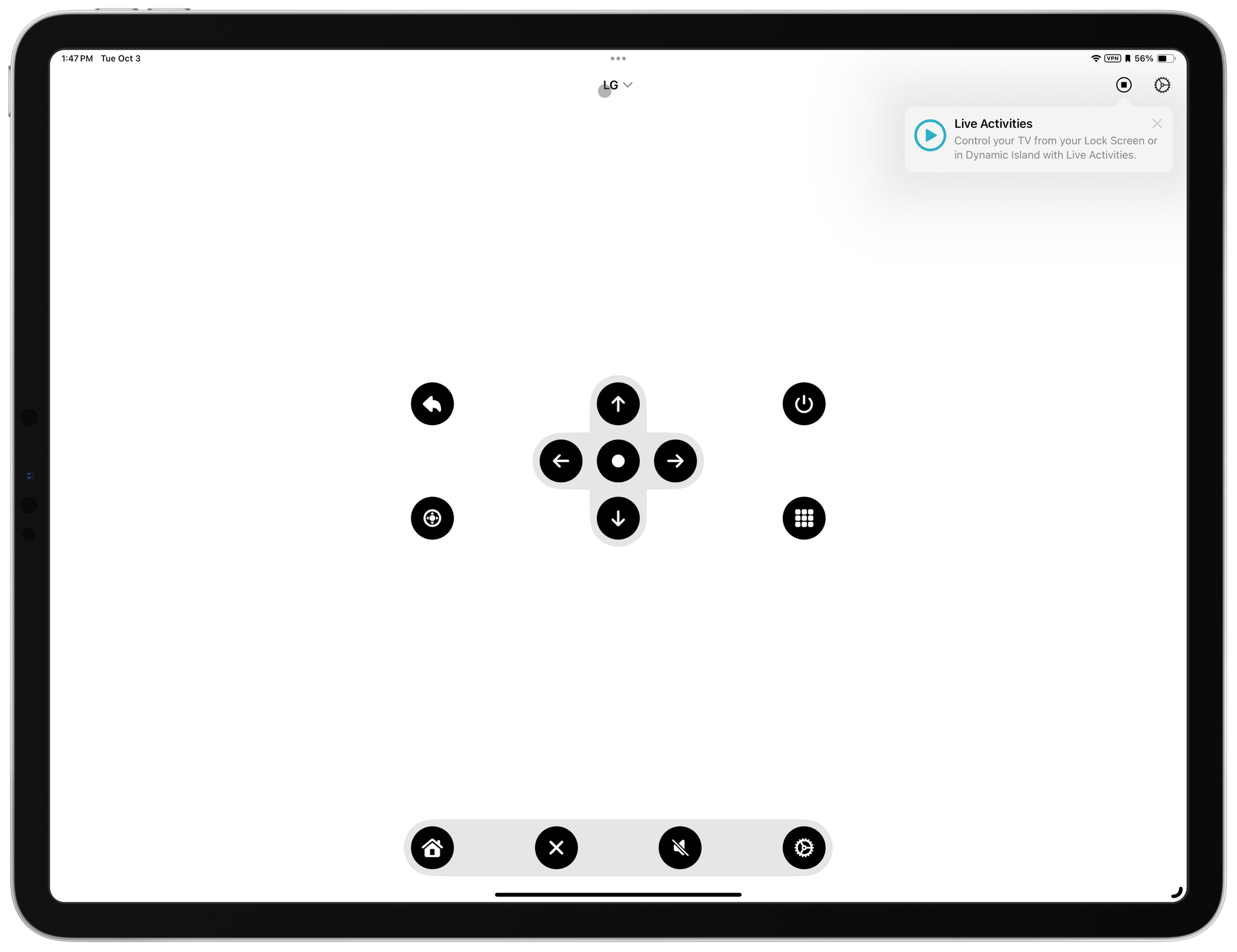 One reason I haven't set up other buttons in a Home Screen widget is that TV Remote also supports Live Activities, which can be turned on with a tap of a button at the top of the app's main screen. The app sits on your Lock Screen as a Live Activity by default, but you can also add it to the Dynamic Island so that a long press reveals a set of four controls that you can define in the app's settings. I've got mine set to back for navigating the TV's UI, an Info button for confirming the source that I'm using, a Home button for opening the TV's UI, and a Power button for turning everything off.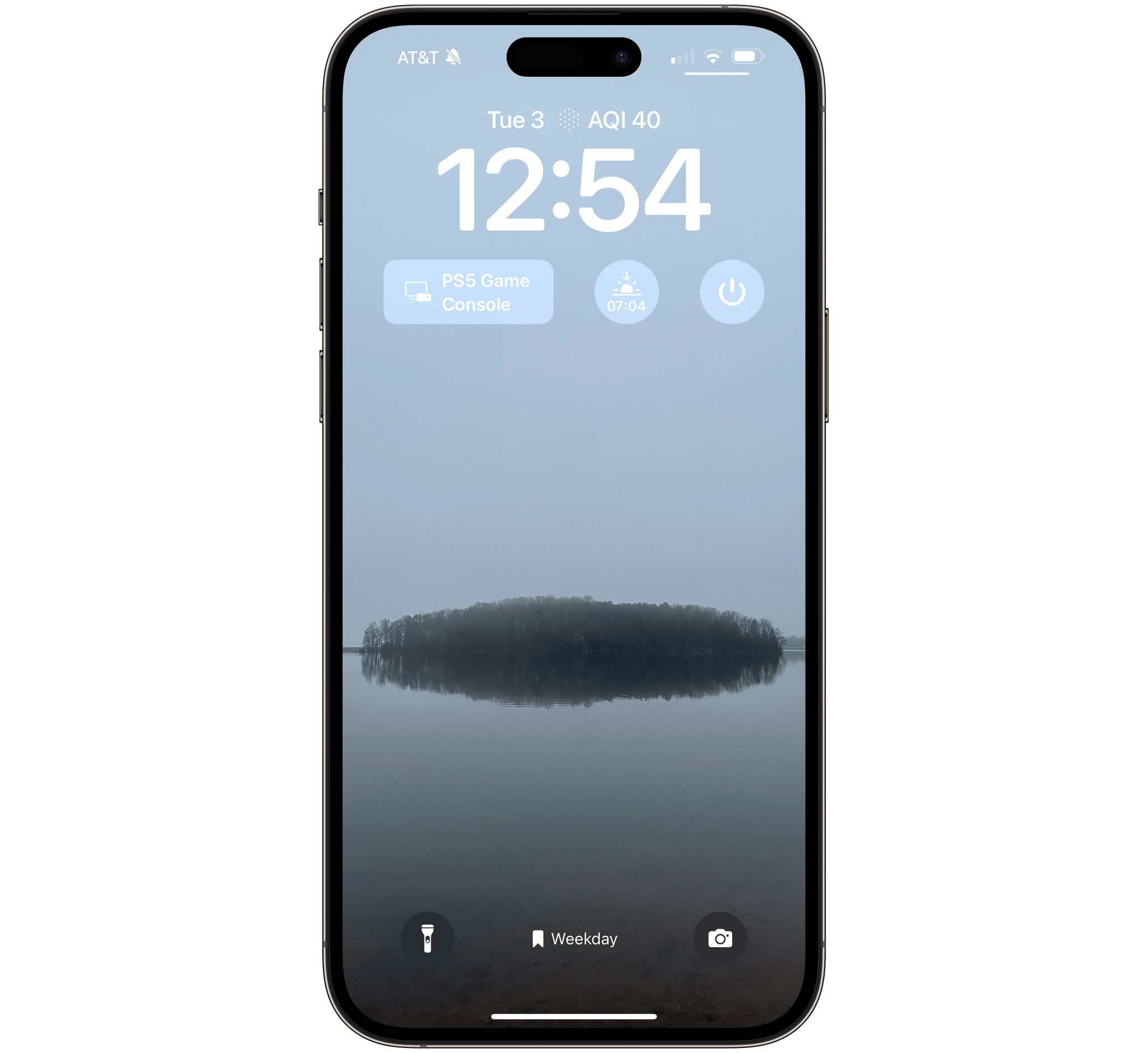 I've also added Lock Screen widgets that I'm going to tie to a Focus mode. One turns the TV on and off, and the other lets me switch sources. They duplicate the functionality I have elsewhere, but if I'm at the kitchen table out of reach of my remotes, tapping my Lock Screen is a handy way to start up the TV before Jennifer and I sit down to watch something.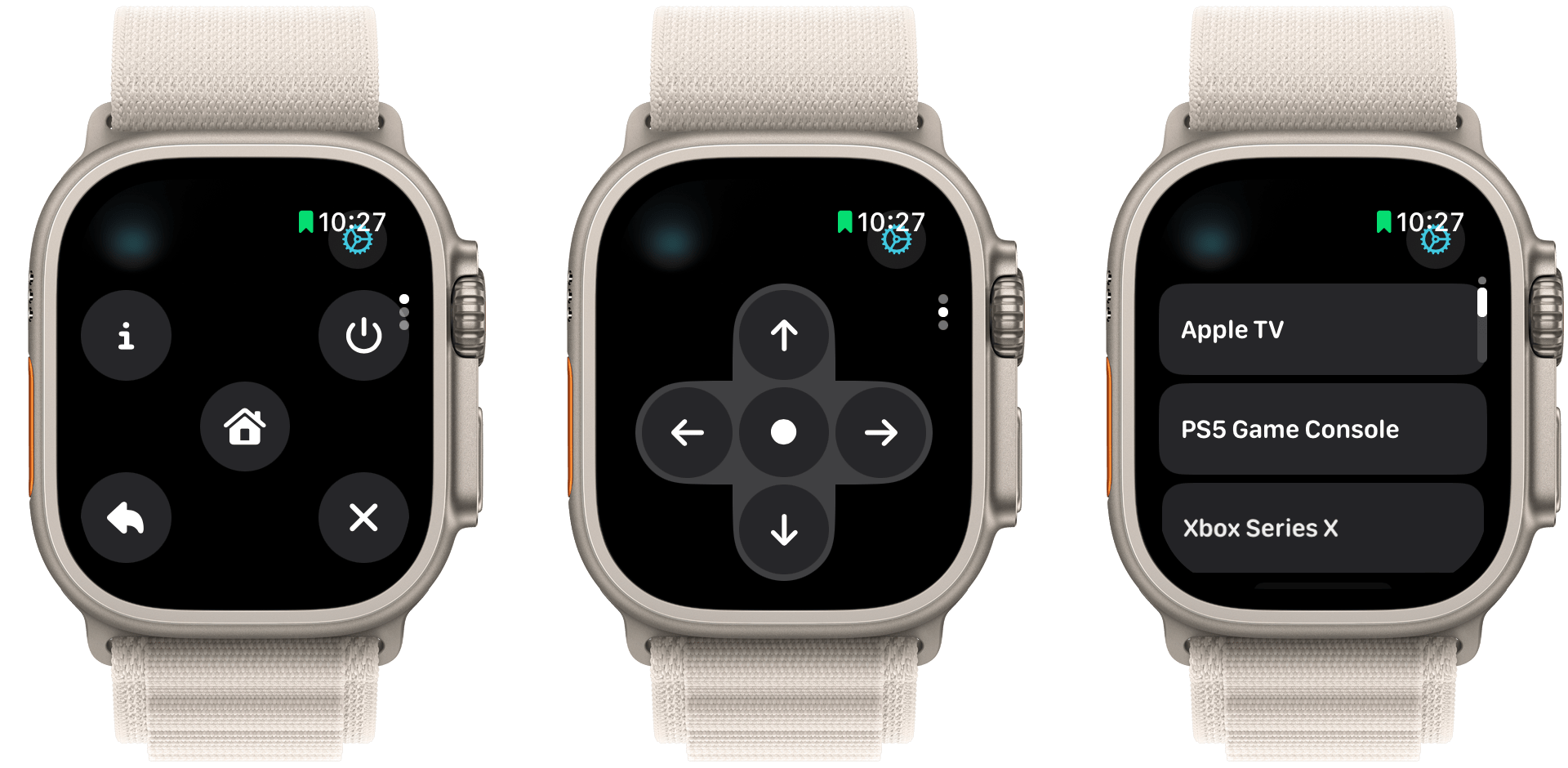 I don't use TV Remote much on the iPad, but the Apple Watch app is very useful because it, too, is customizable. The app uses watchOS 10's card UI metaphor for switching between sets of controls. As with the iPhone app, I didn't need most of the available functionality, so I headed to the app's settings and removed all but the three I use, making it faster to get at those controls from my Apple Watch Ultra.
It's worth noting, too, that TV Remote includes a wide array of alternative app icons, themes, and customizable tint colors. The app also has a toggle in its settings for turning off haptic feedback if you don't like it, but I love it because it makes the app feel more tactile, like a physical remote control. Plus, the app supports light and dark modes, App Shortcuts for common functions, and Shortcuts for automating your viewing.
---
I covered TV Remote as part of a roundup of the most clever widgets and Live Activities we saw last year, and Adam Foot has done it again with a thoughtful implementation of interactivity that makes the app far more useful than if you had to open the underlying app every time. It also demonstrates how simple widget interactions can be deployed by developers to accomplish a wide range of tasks. If you haven't checked out TV Remote before, I highly recommend taking it for a spin.
TV Remote is available on the App Store as a free download. Many of the customization options, support for multiple TVs, widgets, Shortcuts actions, the ability to power a TV on and off, and other features require a $1.99/month or $.9.99/year subscription or a one-time payment of $24.99.