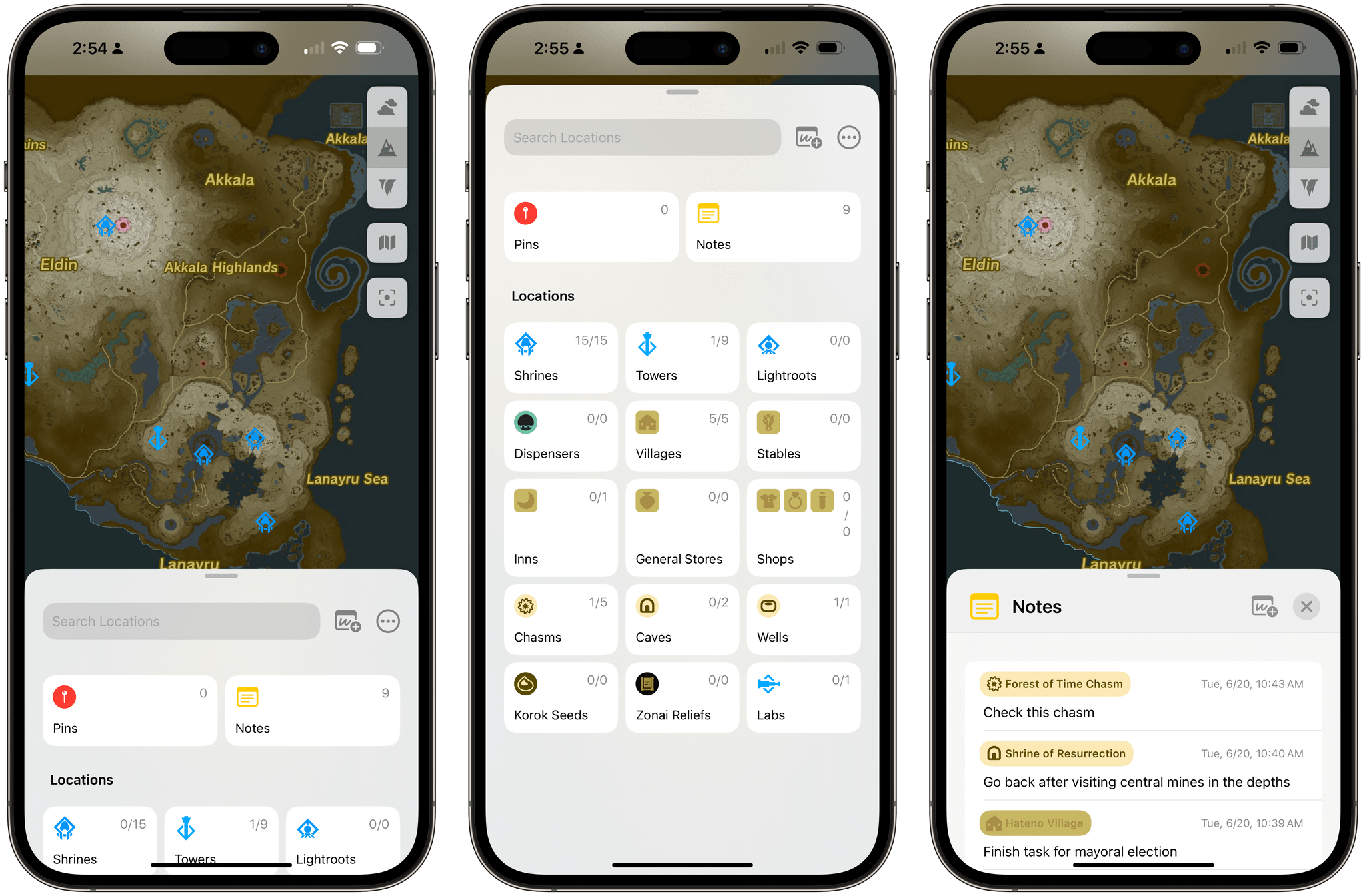 If your summer's going to be anything like mine, some of these things should sound familiar: you're going to play around with the iOS and iPadOS 17 betas and get on some TestFlights for third-party apps; you're going to spend some time at the beach or perhaps even travel abroad; and you'll still be playing through The Legend of Zelda: Tears of the Kingdom, which is a ridiculously massive game well worth waiting six years for. If the latter scenario applies to your life right now and in the near future, you'll want to install TotK Travel Guide, which came out earlier this week for iPhone and iPad.
TotK Travel Guide was created by indie developer Jeffrey Kuiken. You may be familiar with Jeffrey's work since he won a MacStories Selects Award in 2021 with Noir, a Safari extension, and, more importantly, previously released another Travel Guide app for Animal Crossing: New Horizons. Jeffrey is back with TotK Travel Guide, which I've been able to test for the past month alongside other members of our Club MacStories Discord as part of our 'Beta Beat' invitational program for upcoming apps. And since I'm 45 hours into Tears of the Kingdom and still far from seeing anything even remotely resembling an "end" for this game, I thought I'd highlight how I'm taking advantage of TotK Travel Guide so far.
The key concept to understand about TotK Travel Guide is that it's both an interactive map and a note-taking system rolled into one. The lack of a powerful map with filters and more browsing options is my only criticism of Tears of the Kingdom; TotK Travel Guide addresses that with a set of features that is flexible enough without unnecessarily spoiling the game for you.
One of my concerns with most Zelda-based apps and online tutorials is that, inevitably, they ruin the surprise of playing the game or otherwise diminish the sense of discovery that is intrinsic to a game like Tears of the Kingdom. Travel Guide's approach here is both elegant and clever: by default, the app hides locations – including whole regions of the map, towers, and shrines – until you specifically mark them as discovered. This way, you can open the app for the first time without being shown all the regions of Hyrule at once (let alone every single shrine location); as you play, you can mark regions as discovered and use a camera button to mark individual POIs as 'discovered'. I love this interaction since it balances the need to fill the map with my desire to keep the sense of discovery intact – which is why I haven't consulted any online map for the game so far. If you don't like this default setting, however, you can tweak the app to always show all locations at once.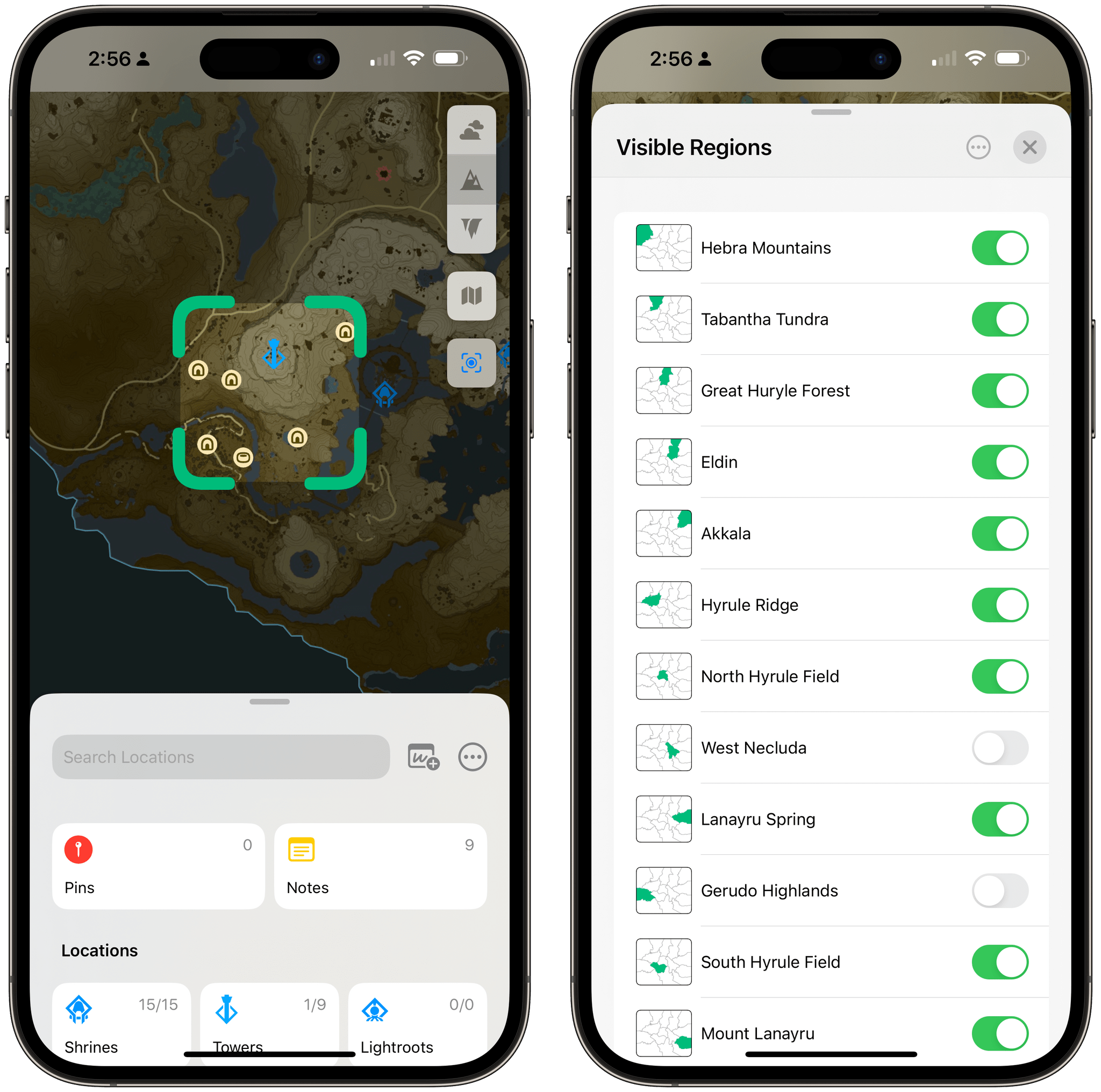 As you start adding locations to Travel Guide, you'll notice that there's a lot to discover in this game. As of its first version, Travel Guide supports the following categories of locations:
Shrines
Towers
Lightroots
Dispensers
Villages
Stables
Inns
General Stores
Shops
Chasms
Caves
Wells
Korok Seeds
Zonai Reliefs
Labs
You can browse individual categories in the app as well as tap on a specific location to view it on the map. There are several visual and functional details worth appreciating here. For starters, you can group locations by discovered or undiscovered, by region, or by notes. One of the key features of Travel Guide is, in fact, the ability to add generalized 'quick notes' or notes tied to a specific location. For instance, if you spot something by a stable but want to come back to it later, you can add a note for that stable's location, which you'll find later in that stable's detail page.
In location pages, you'll also find coordinates (the app also lets you manually navigate to a location by pasting its coordinates) and useful links to open YouTube or Google searches for the selected location. The latter is an especially nice touch if you're having trouble solving a shrine and want to check out its solution on YouTube.1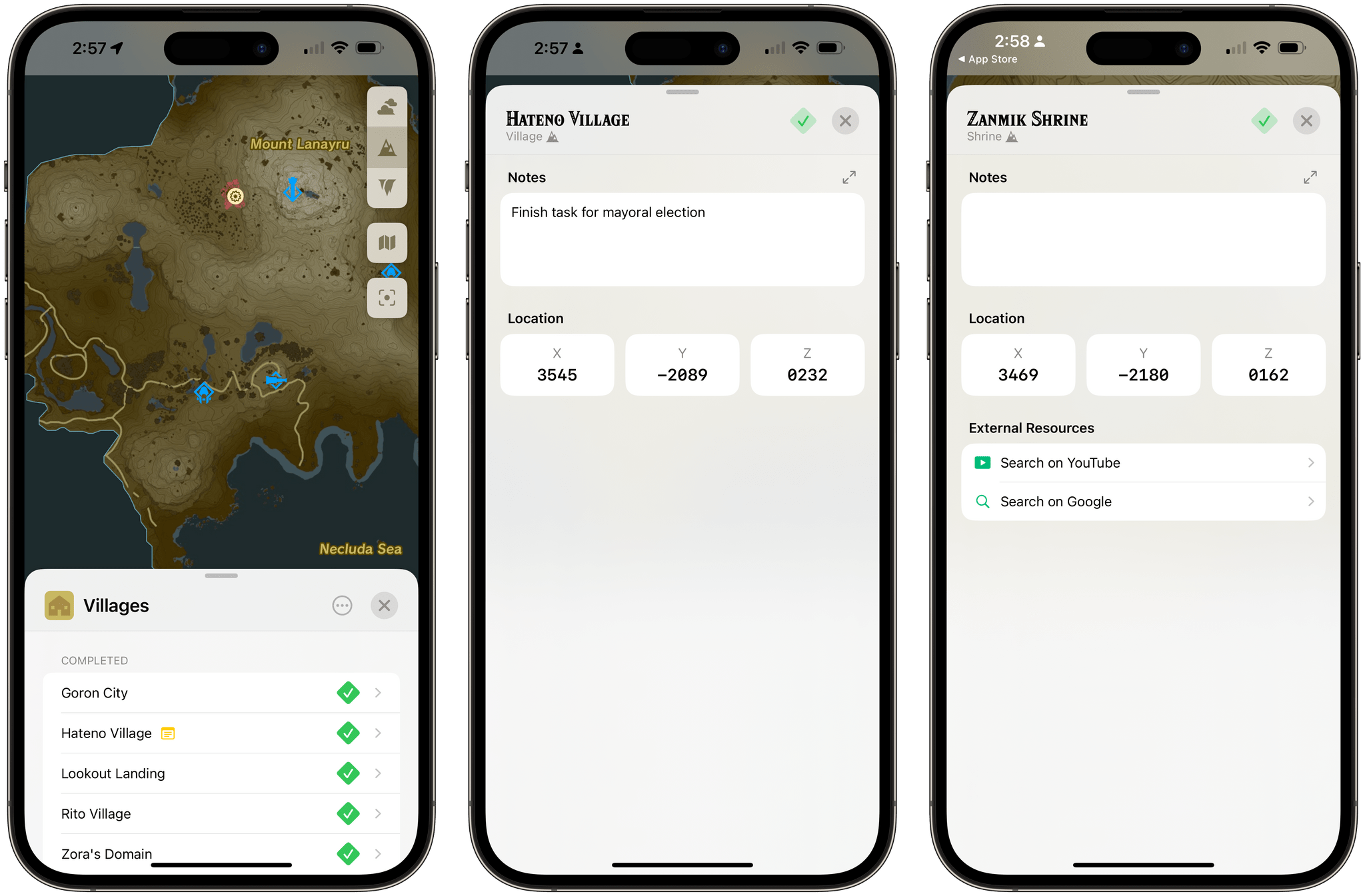 I haven't taken advantage of setting manual pins in the map yet, but that's another option supported by Travel Guide. Personally, I tend to manually discover locations with the camera button and add notes to specific location pages. If I'm playing the game and want to save a note quickly, I use the catch-all Quick Note feature – which is also available as a Shortcuts action – and worry about organizing notes by location later.
In addition to how the map and note-taking systems work, what I like about Travel Guide is the fact that it's a great platform citizen on iPhone and iPad. The whole UI is heavily inspired by Apple's Maps app with a bottom-oriented panel that is easy to operate with your thumb and expands to reveal categories and locations. On iPad, the panel looks just like the Maps one, and I actually find its behavior superior to Apple's app since it supports two expanded states as opposed to Apple's one. The use of pull-down menus, overlays to switch between map layers, and transitions between the different sections of the app are excellent.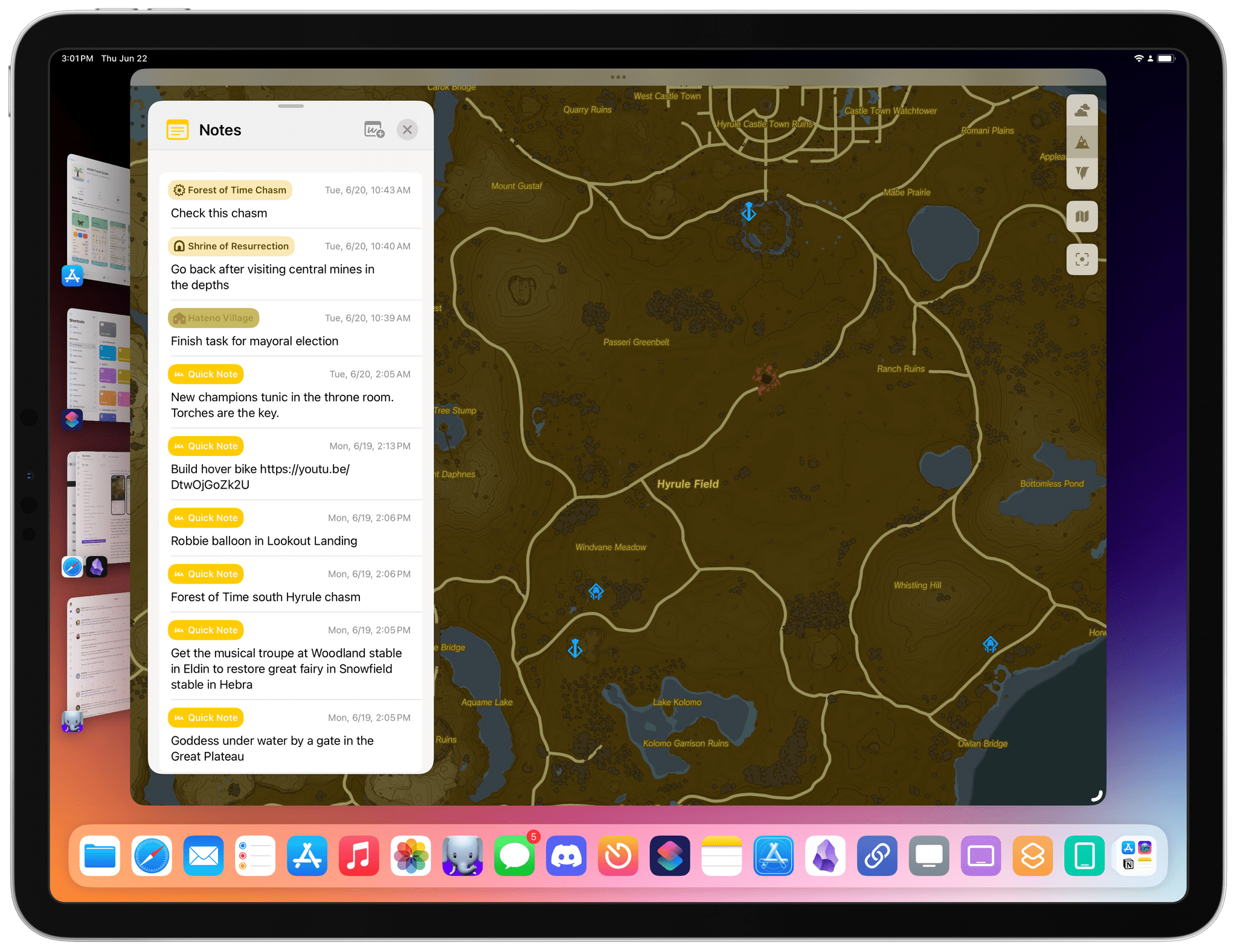 That said, this is a first version of Travel Guide, and there are some aspects of the experience I'd like to see improved. Right now, Travel Guide lacks any sort of database for items and armor, which I hope is something the developer plans to add in a future update (it's a big effort, so I understand it may take a while). I'd like to see native support for images (sometimes I want to save a screenshot someone shared online for future reference) as well as the ability to format my notes in Markdown. I often find myself saving videos about interesting Zonai builds from YouTube, but when I paste those into Travel Guide, they're not formatted as rich links. Lastly, I'd like the ability to pin specific notes to the top of the Notes view, like I can in Apple's Notes app.
Based on Jeffrey's track record with the Animal Crossing Travel Guide, I'm very optimistic about the future of TotK Travel Guide, which has replaced my rudimentary note-taking system in the Notes app for Tears of the Kingdom. If you're loving the game as much as I am and plan to keep playing it for hundreds of hours this year, I can't recommend the app enough.
TotK Travel Guide is free to download on the App Store; a $3.99, one-time In-App Purchase unlocks all features of the app.
---
I do think, however, that YouTube links should open in the YouTube app if installed rather than Safari. I hope the developer fixes this. ↩︎