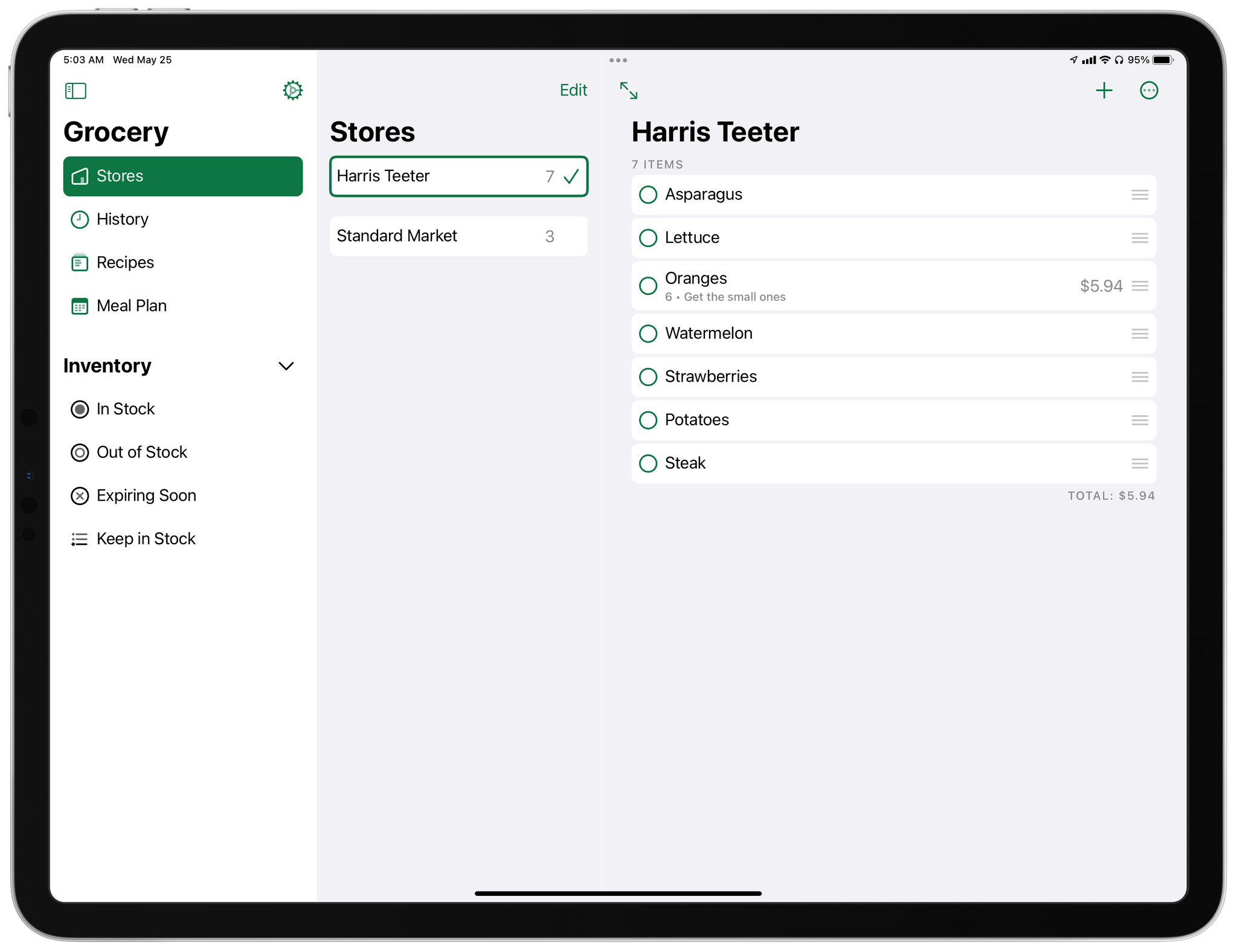 It's been fun to watch Grocery by Conrad Stoll evolve over the years. The app started as a relatively simple shopping list app on the iPhone but has transformed into something much deeper. Today, Grocery is available on the iPhone, iPad, Mac, and Apple Watch and offers a comprehensive feature set that also covers meal planning, recipes, and inventory tracking. This week's release of version 3.0 of Grocery takes the app's formula further with a fresh, modern design, tighter integration between inventory management and shopping lists, and other new inventory features for better tracking of what you have on hand. It's an excellent update that takes advantage of the latest features of Apple's OSes to offer a broad-based approach to grocery shopping.
I'm going to focus this review on what's new in Grocery 3.0, but you can read more about the app's core features in my past reviews.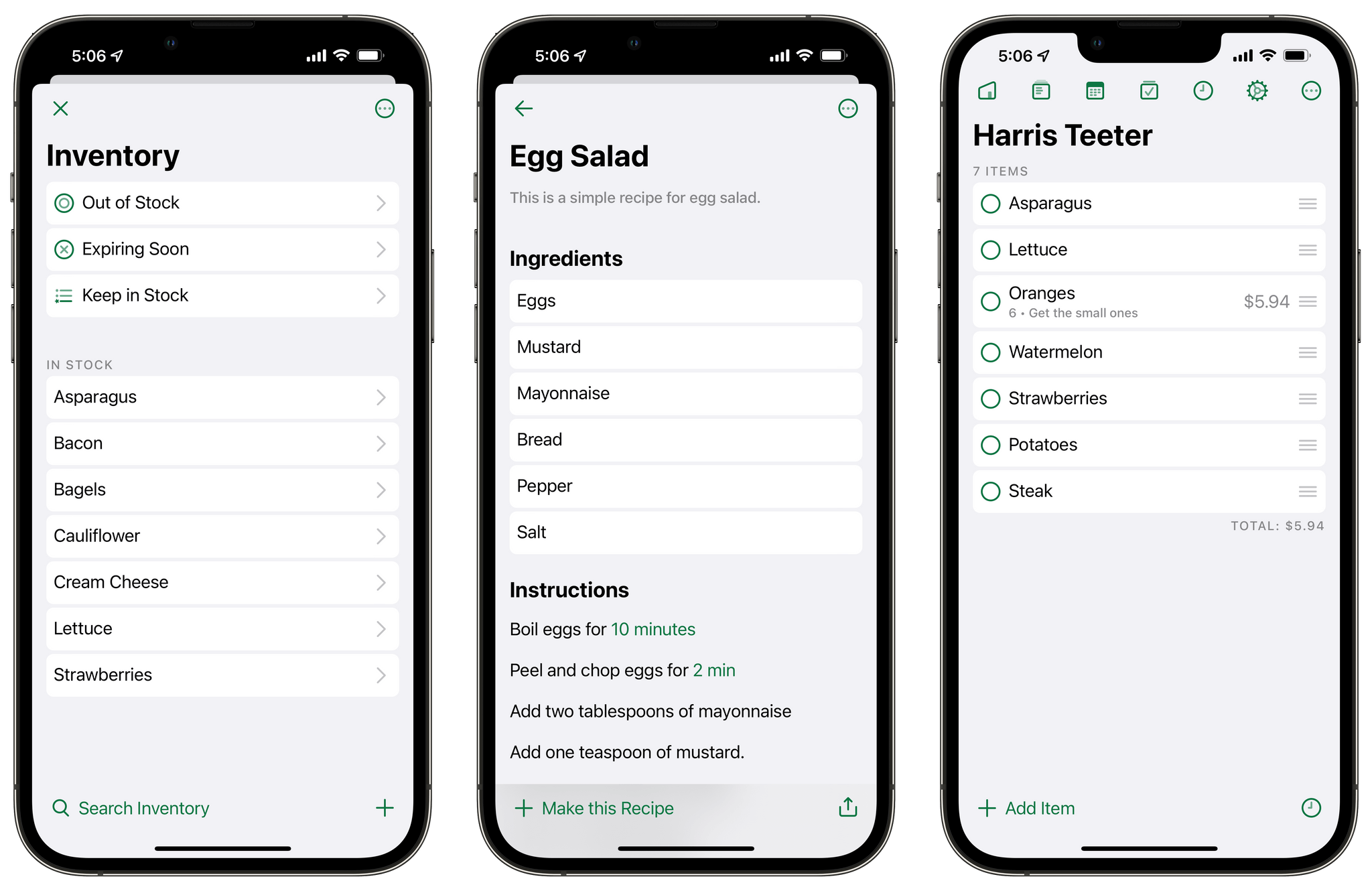 For starters, Grocery's design has been updated throughout the app. The changes aren't radical departures for the app, but they touch nearly every screen. The overall effect of new typography, modern toolbars and navigation bars, along with elements like context menus, give the app a fresh feel that has resonated with me most on the iPhone.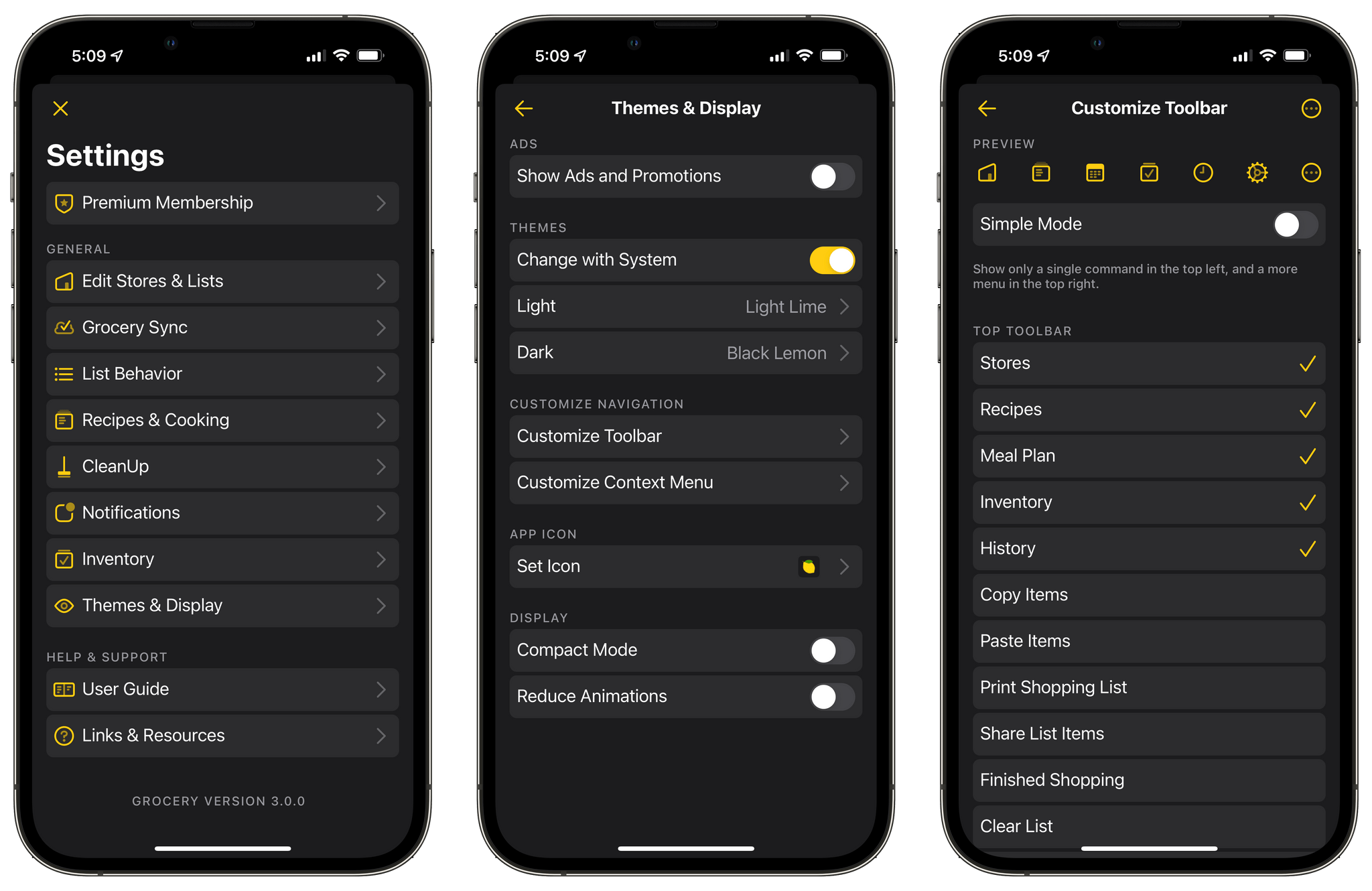 My favorite iPhone-only design touch is the ability to customize the app's top toolbar. By default, the top toolbar has six buttons for Stores, Recipes, Meal Plan, Inventory, Settings, and the More menu. In the Themes & Display section of Settings, Grocery now lets you eliminate buttons for any features that you don't use and substitute them with other features. As an app that can serve as everything from a simple grocery list manager to a fully-integrated meal planning, cooking, and inventory management system, the new customization features make a lot of sense.
All versions of Grocery also support customization of the app's More menu. There are 10 different actions supported by the More menu when you're viewing your shopping list, with eight displayed by default, but you can pick and choose any of them you want. The button in the lower right-hand corner of the iPhone's screen can be customized with any of the app's core features, too, but is set to your purchase history by default.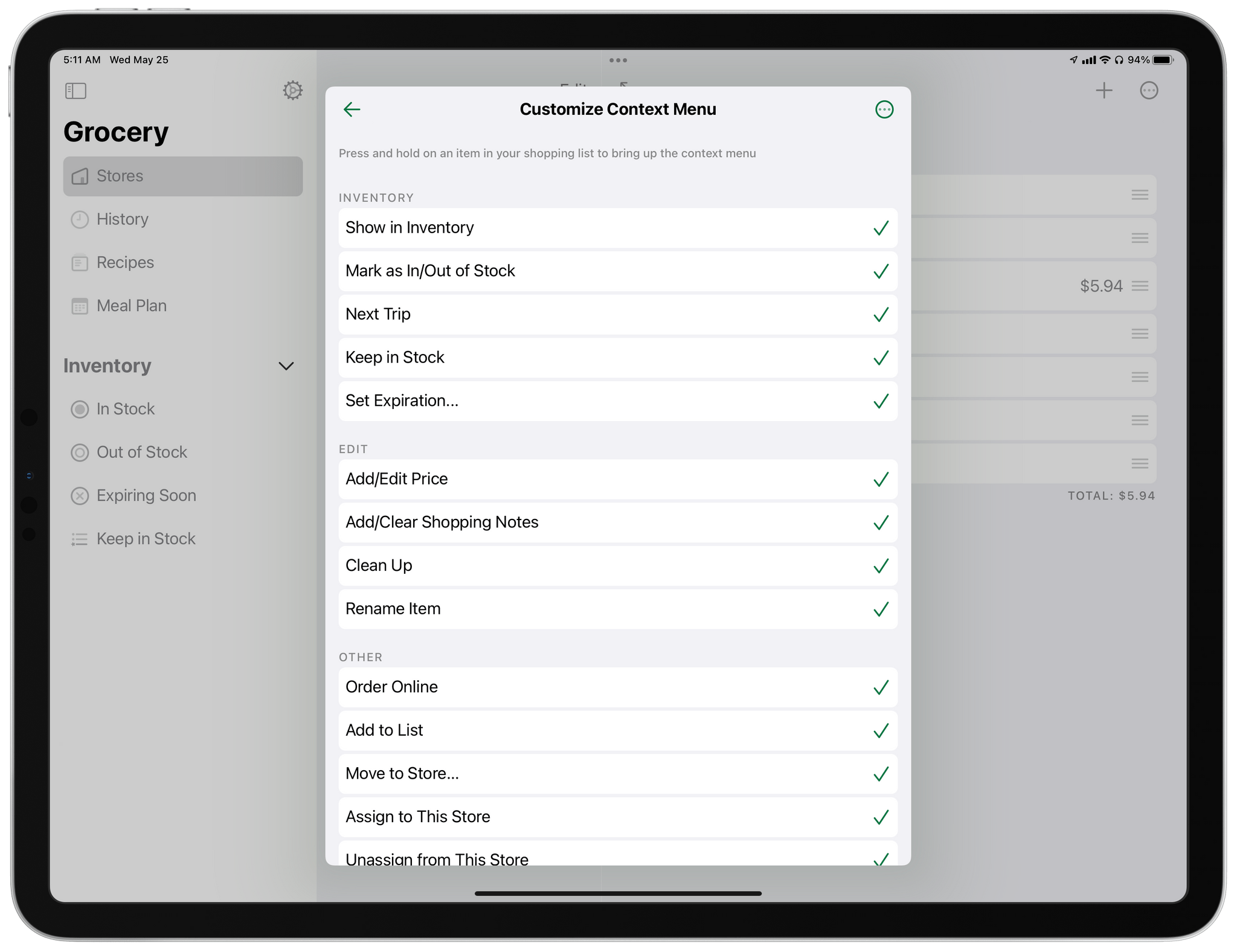 Context menus, which are available by long-pressing or right-clicking on items in a shopping list, are customizable too. Available actions are split into the following categories in Grocery's settings: Inventory, Edit, Other, and Remove, for a total of more than a dozen actions that can be included. On the iPhone, context menus are available for the toolbar buttons too. Of these, my favorite is the context menu for the Store button, which makes switching between lists associated with multiple grocery stores fast and easy.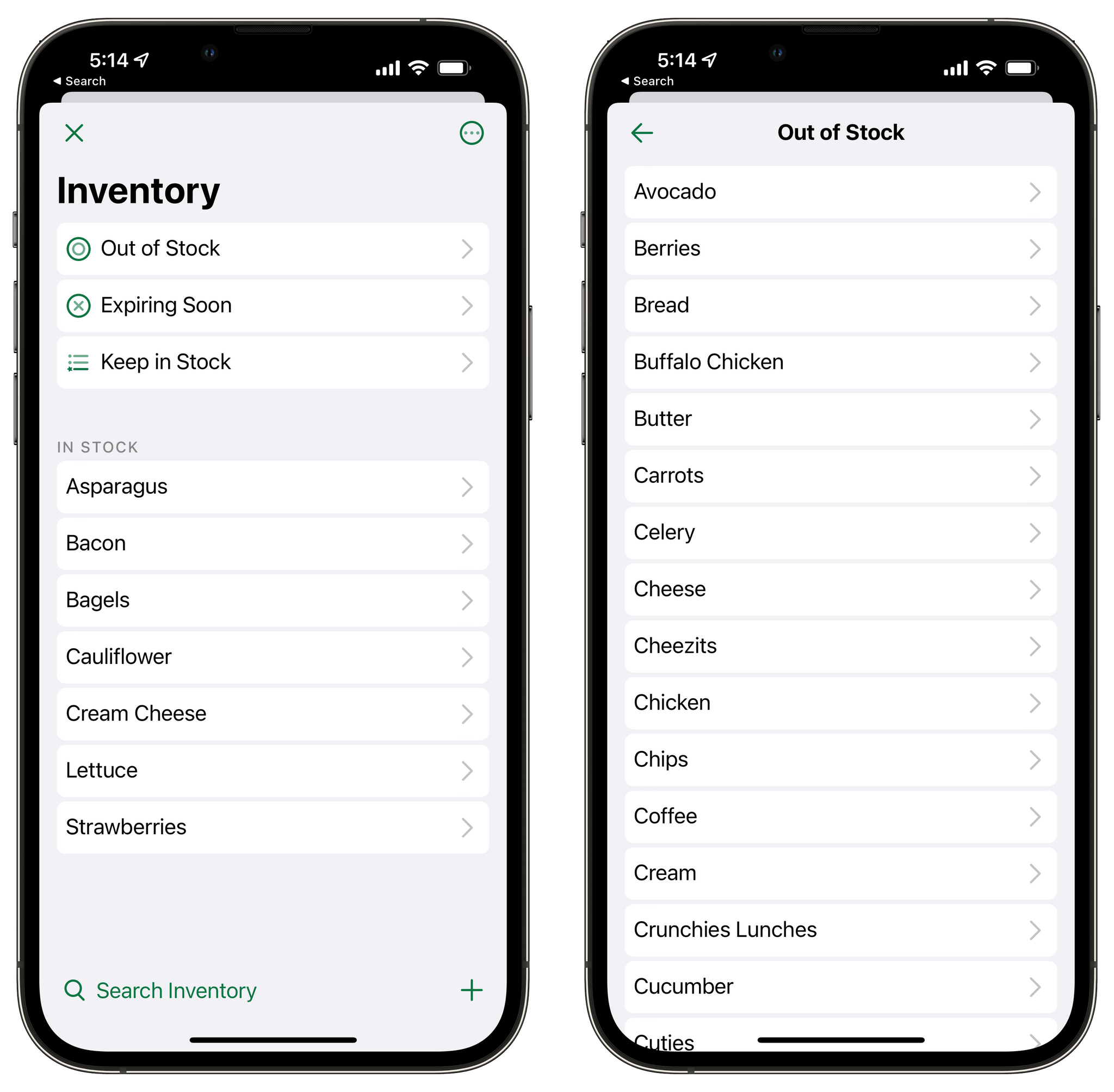 Aside from the design changes and new customization options, the biggest changes to Grocery 3.0 are found in the Inventory section of the app. Inventory is Grocery's system for tracking what you buy on each shopping trip. Your inventory ties into your shopping list, so when you check something off your list, it's automatically added to your inventory. As you use up the food you've purchased, you can mark it out of stock and use that list to build your next shopping list.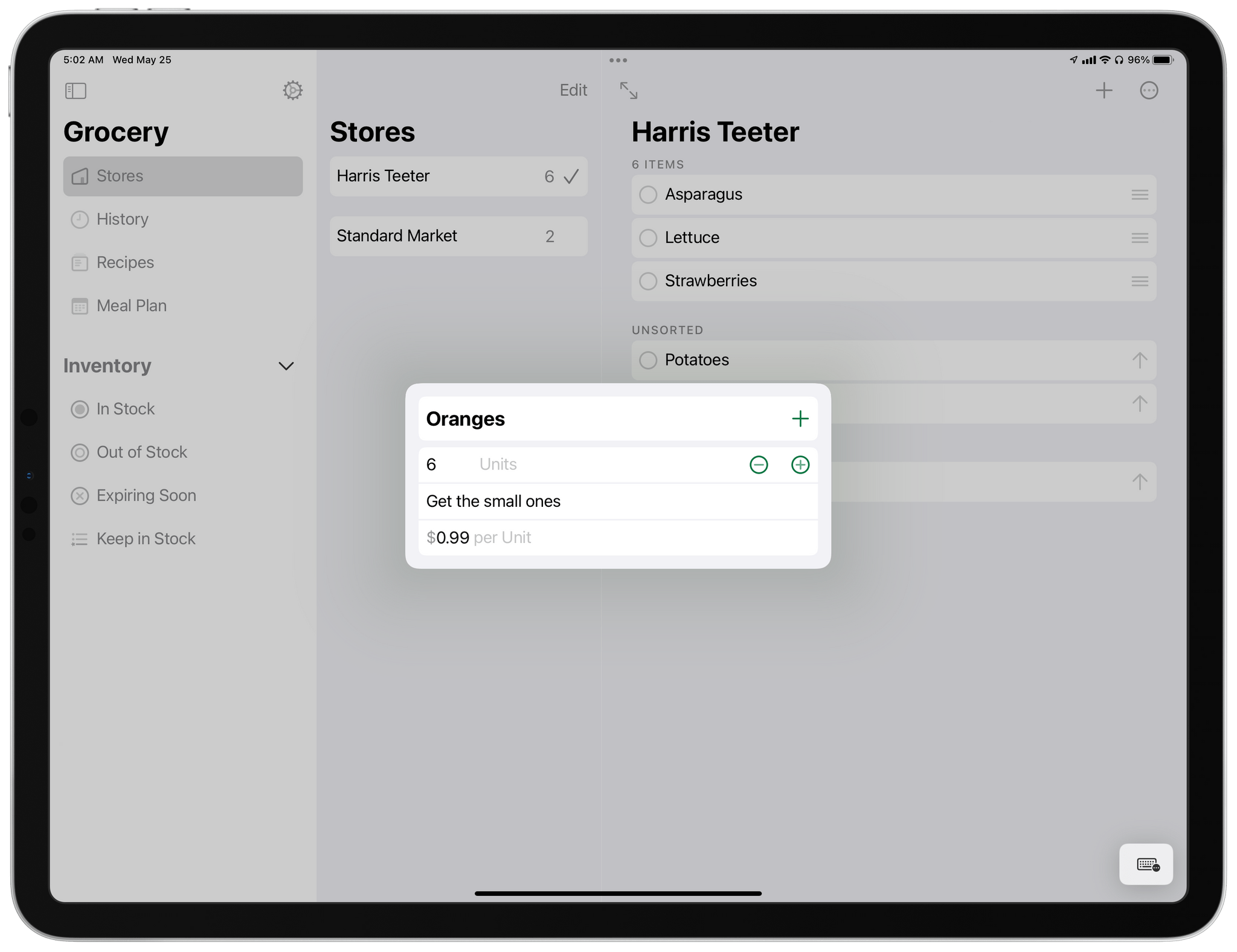 Version 3.0 integrates your shopping lists more tightly with your inventory in other ways too. When you add something to your grocery list, you can specify a unit of measurement, add notes, and specify a price per unit. Each of these details can be set as defaults for an item, too, from the More menu in an item's Inventory details view, which is where Grocery 3.0 also lets you track the quantity of each item you have on hand. The Inventory detail view also supports a description for each purchase. Checked-off items populate that item's history in inventory, so you can view past purchases chronologically too.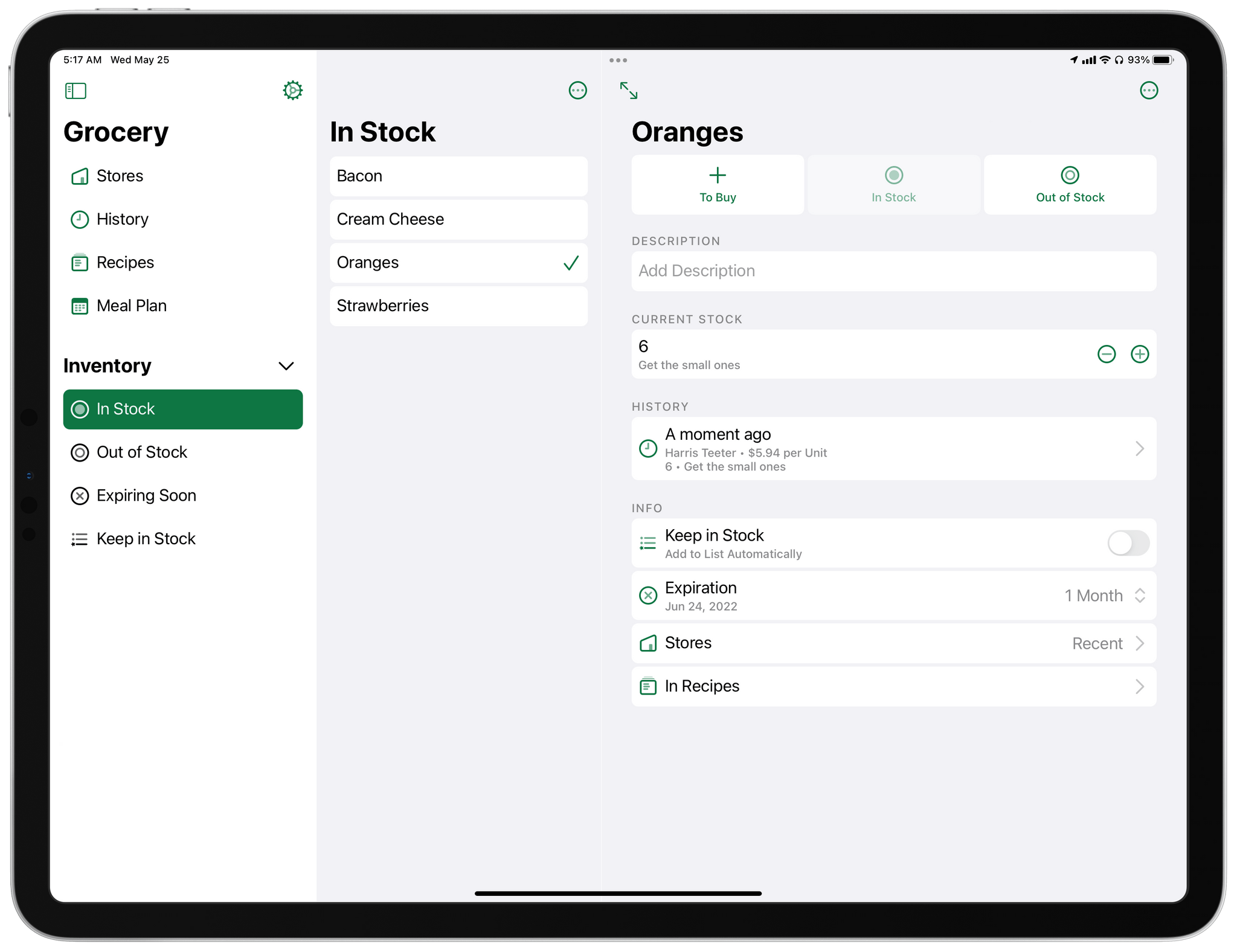 I've played around with Grocery's Inventory features, and with the updates in version 3.0, it's possible to tightly manage what you have on hand and need to buy more than ever before. However, the feature isn't something I plan to use personally because that's a level of detail I've ever felt I need. However, it's a great way to manage purchases, and no other grocery list app I've tried offers this level of tight integration between your shopping list, what you have available at home, and meal management.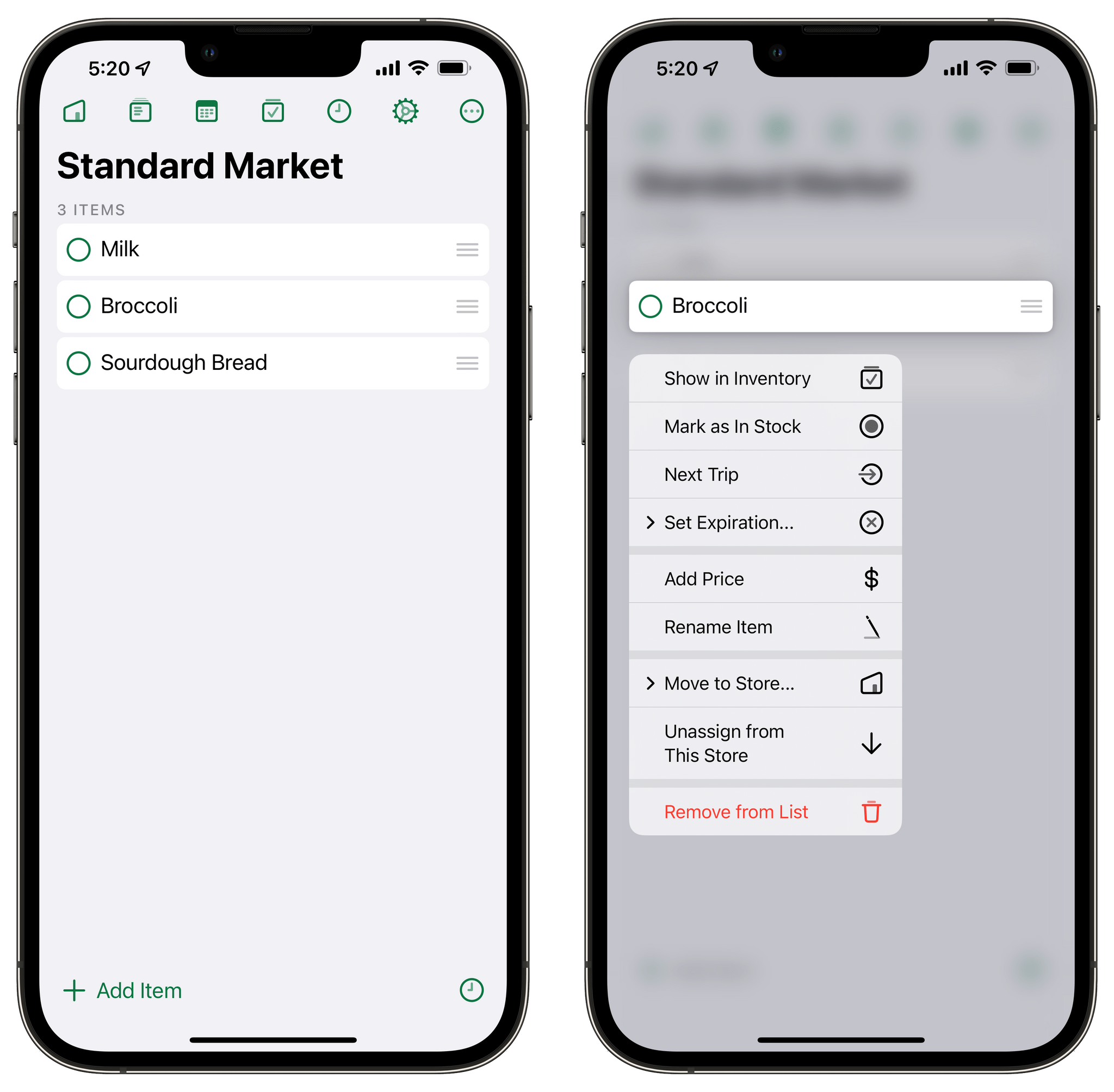 In contrast, another new feature that I expect to use a lot is 'Next Trip,' which is an ingenious way to deal with items on your shopping list that you don't buy because they're unavailable. Instead of checking an item off or deleting it when it's not available, 'Next Trip' skips an item adding it to your next shopping list automatically. Just long-press an item and choose 'Next Trip,' removing the item from your list. When you're finished shopping, tap the More menu and pick Finished Shopping, which clears your list of checked off items and generates a new list with anything you skipped using Next Trip.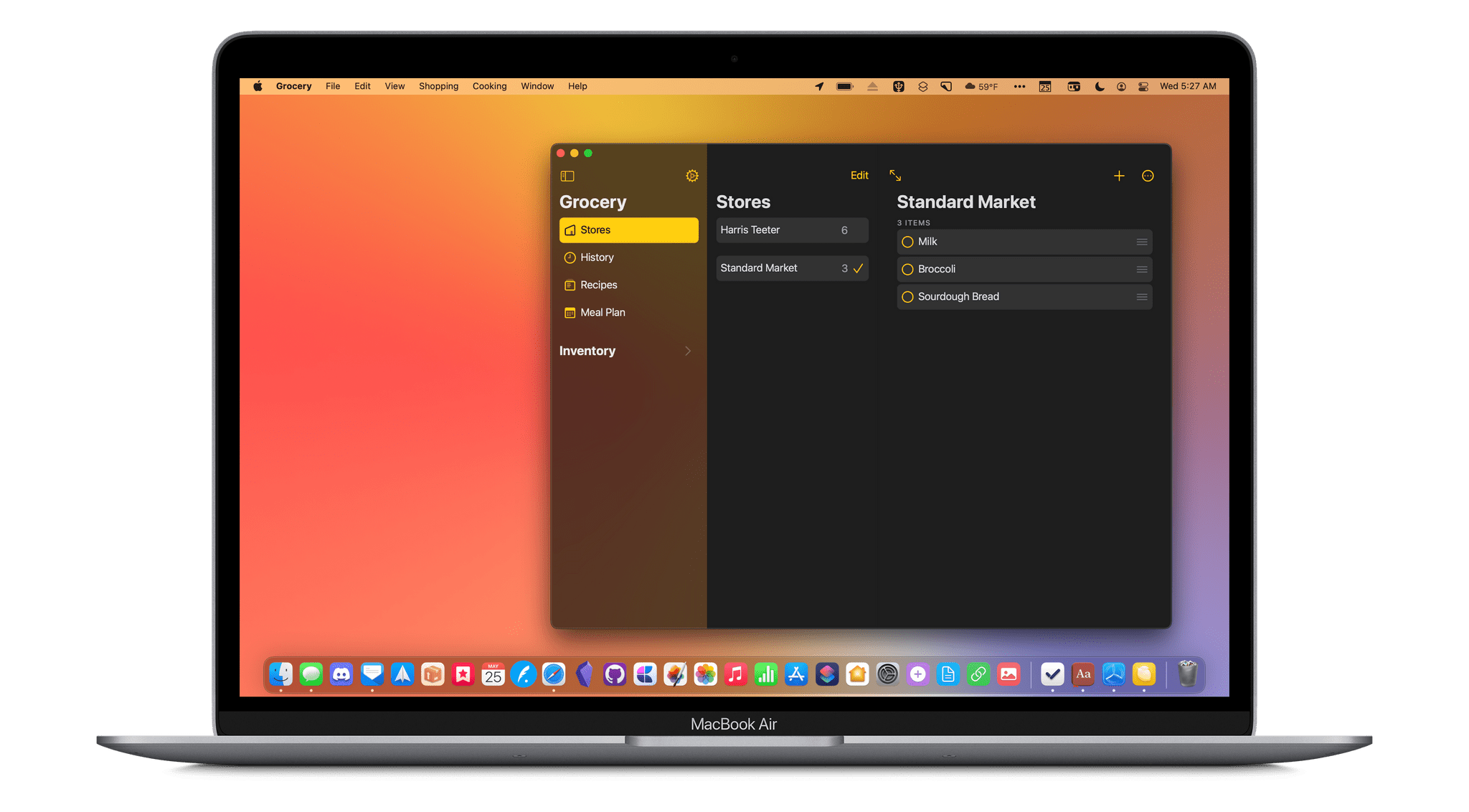 Grocery is one of the most powerful Reminders-based apps I've used on Apple's platforms and the most comprehensive shopping app I've used. The latest update is a fantastic evolution of the app's existing functionality that extends grocery inventory tracking and customization much further than ever before. Coupled with a fresh new design that preserves the familiar Grocery UI but adds a modern feel, Grocery 3.0 is an excellent update to one of my favorite apps that's worth spending some time exploring.
Grocery is available as a free download on the App Store and offers its premium features, including the inventory management and toolbar customization options discussed above as a monthly or annual subscription that is on sale until WWDC for $2.99/month or $7.99/year. There's also a one-time payment option for $24.99.