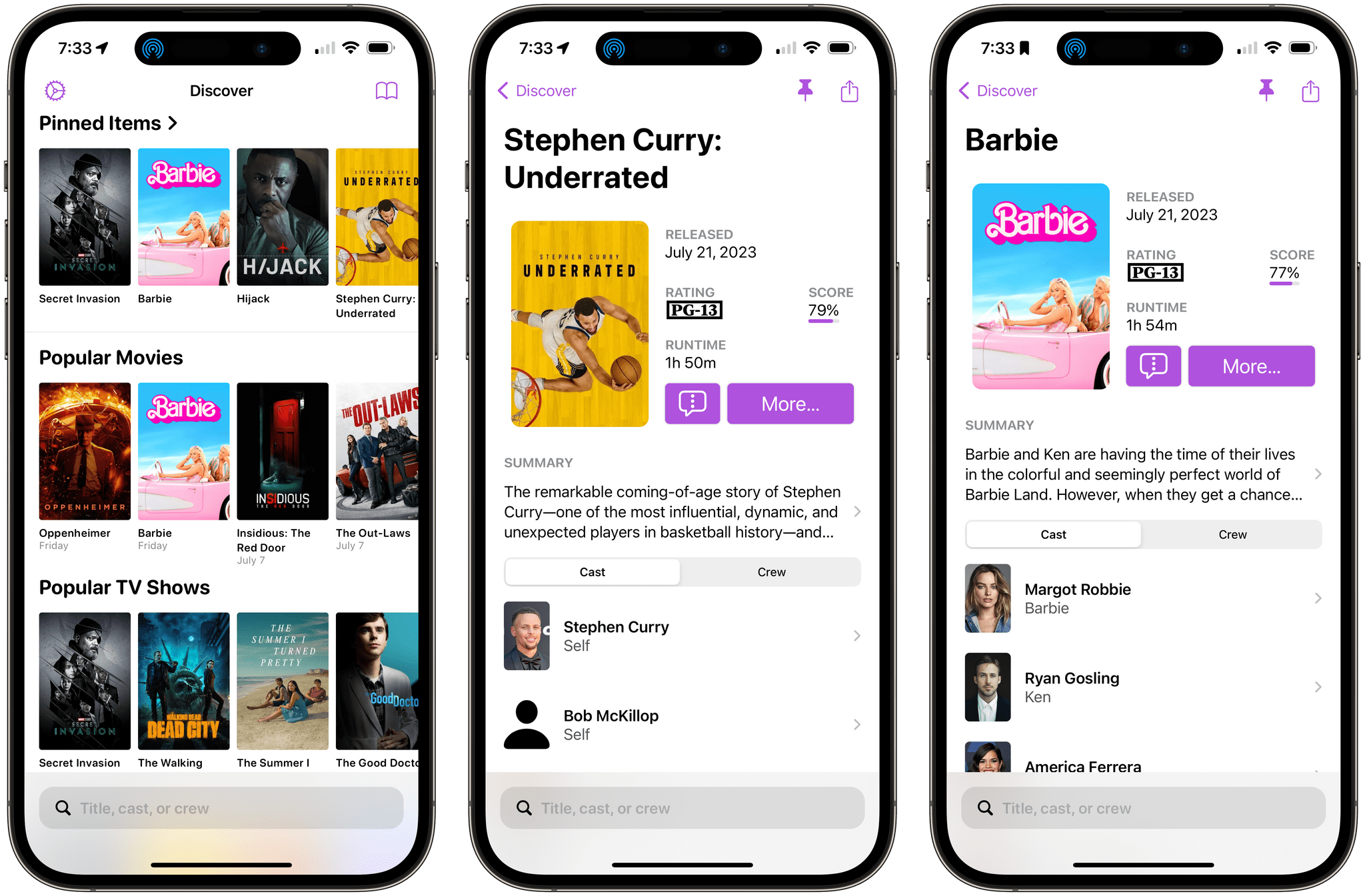 Today, Casey Liss released a brand new app called Callsheet for looking up cast and crew information about movies and TV shows. The app, which works on the iPhone and iPad, has a lot in common with movie and TV show tracking apps that I've covered, except for one very big difference. Callsheet isn't a tracking app. Instead, it's an app front end for The Movie DB, a website that offers a crowd-sourced movie and TV show database and an API for developers.
That's an important distinction to understand. Callsheet is designed for those times that you want to know more about the people behind a movie or TV show but find the ads in apps and on websites, like IMDb, frustrating. If that resonates with you, and you're not interested in tracking what you've watched, Callsheet offers a better experience for finding cast and crew information.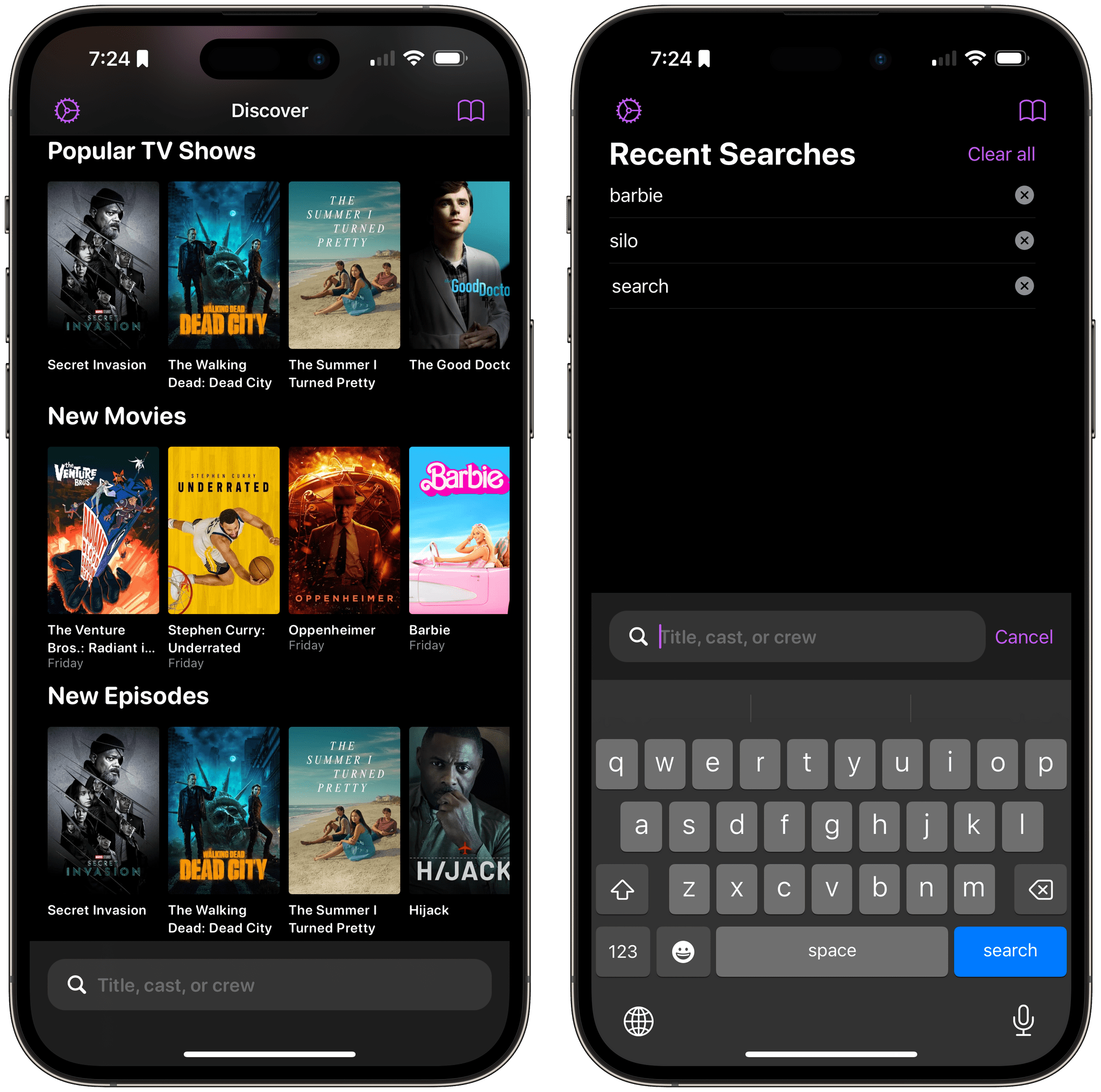 Callsheet's main view is pre-populated with sections for Popular Movies, Popular TV Shows, New Movies, and New Episodes, which scroll horizontally. At the bottom of the view, is a search field for looking up movies and TV shows by title, cast, or crew, and a Subscribe Now button. When you tap into the search field, you'll see a list of your recent searches, but there's also a complete search history available in the top toolbar of the app's main view. Both search histories can be cleared too.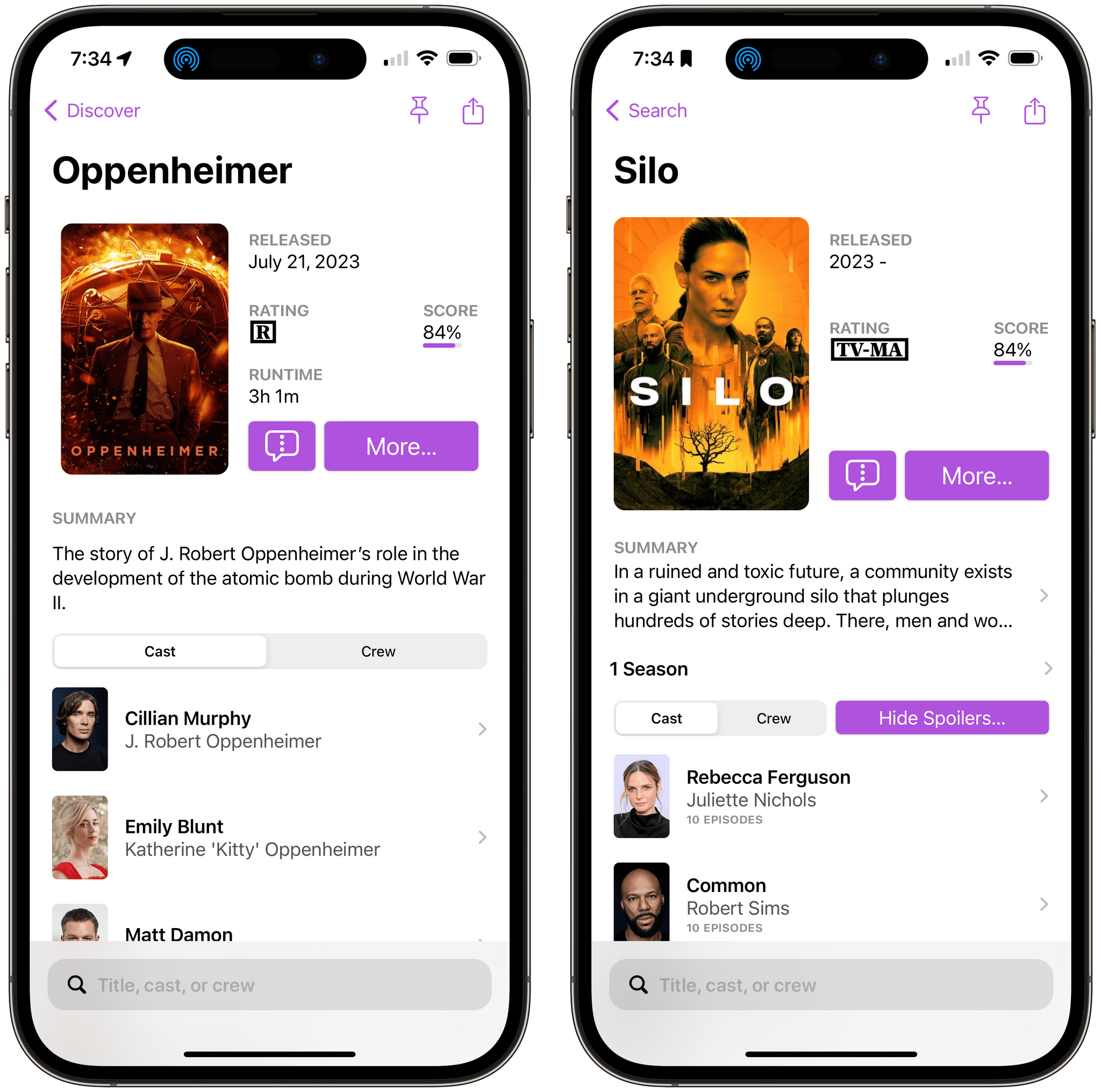 Tapping on a movie or TV show opens a detail view with the kind of information that you're familiar with from media tracking apps like Sequel and TV Forecast, both of which I recently reviewed. From the toolbar at the top of the detail view, movies and TV shows can be pinned in a dedicated section at the top of the app's main view or shared as a link to The Movie DB's website.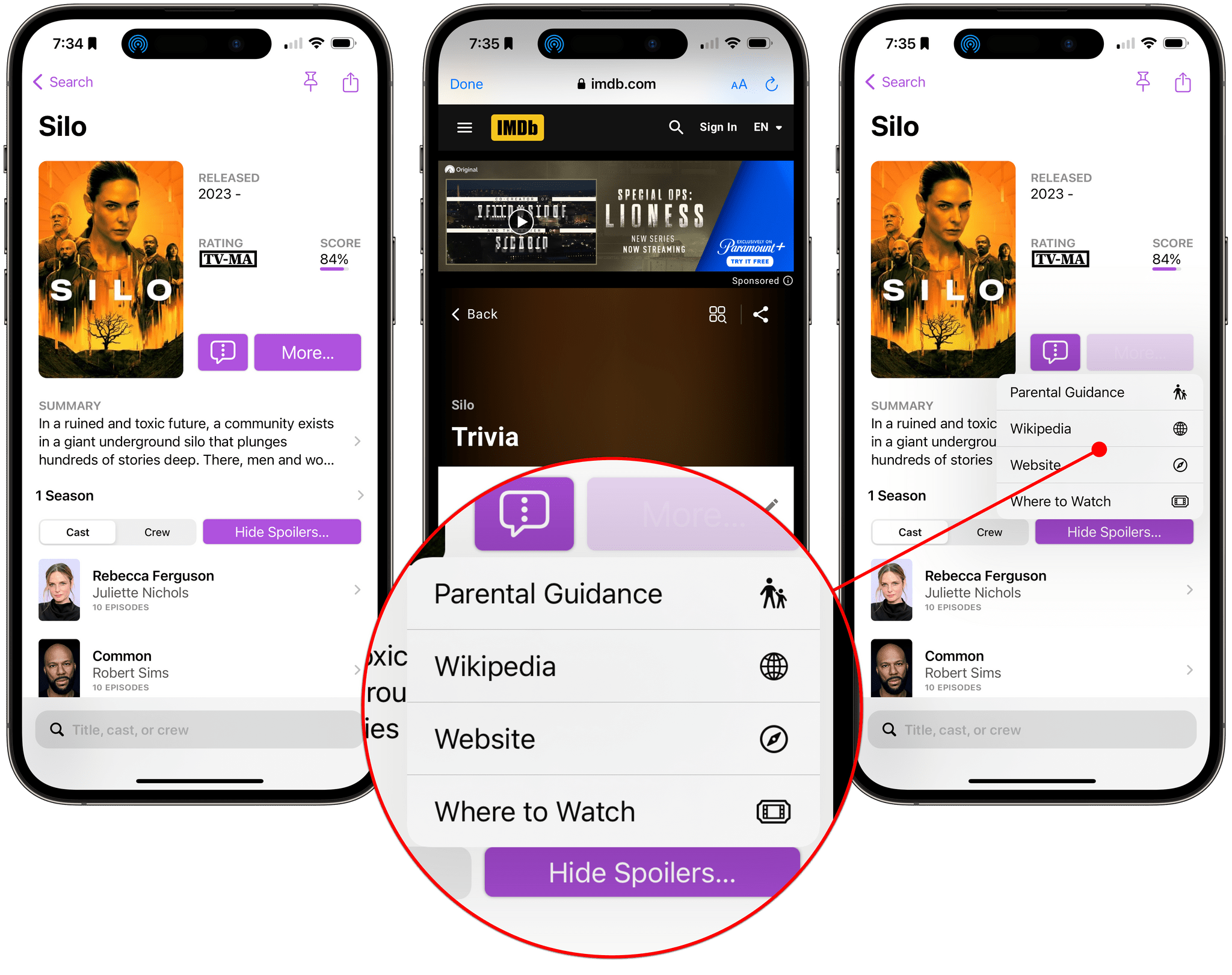 Next to the artwork for the film or show are two buttons for more information. The first button can be customized in Settings to open IMDb's trivia page, IMDb's parental guidance information, Wikipedia search results, the movie or show's website, or a list of services that stream the item. Next to that is another button that opens a context menu with whichever option the first button is not set to open. Of those supplemental sources, the Wikipedia results are a little inconsistent because the app seems to be searching based on title. As a result, if you're looking at the new Barbie movie, the Wikipedia page you'll get is for the doll, not the movie, for example.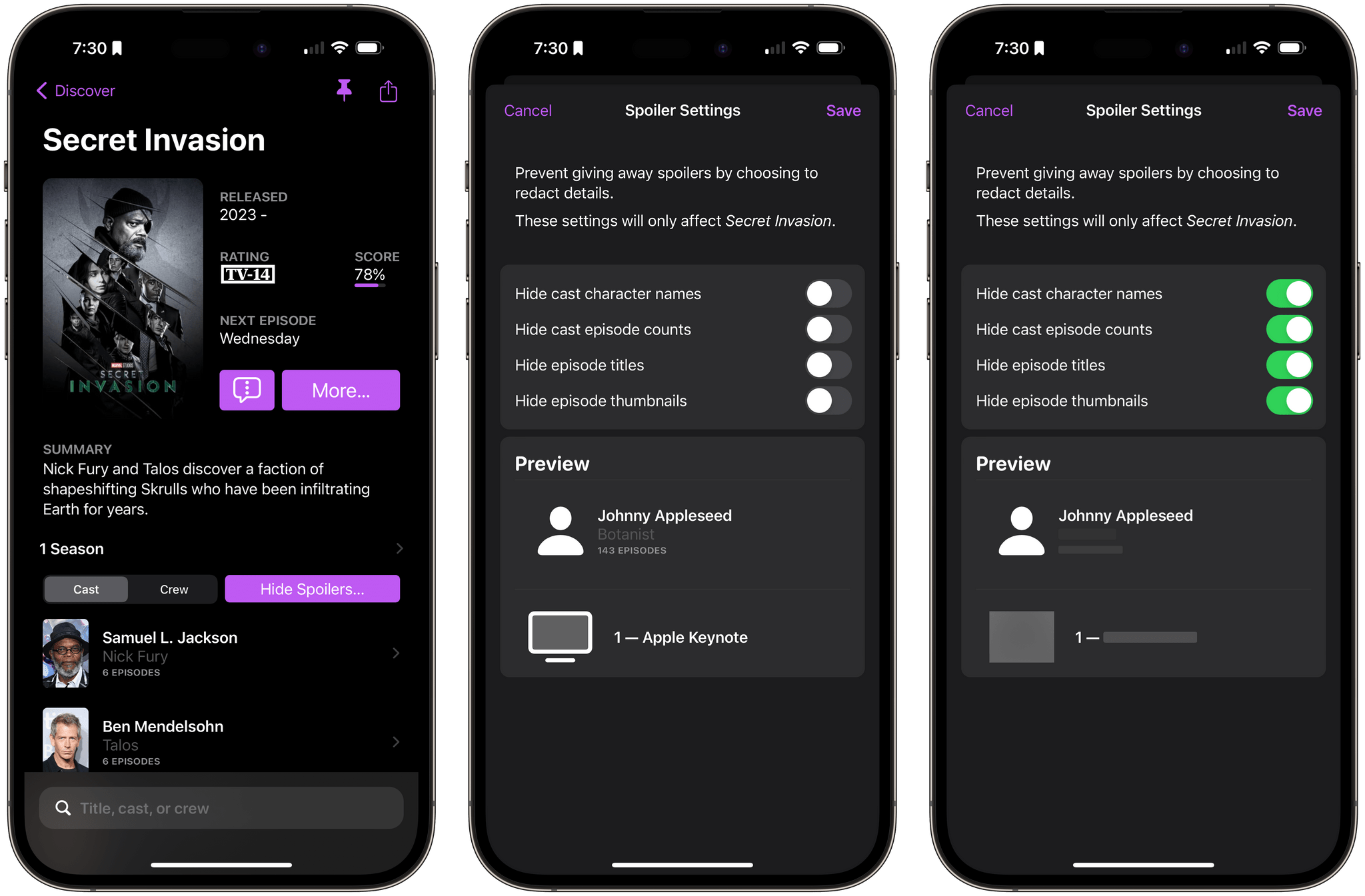 For TV shows, there's an additional button on a show's detail page to hide spoilers, which includes options to hide cast character names, cast episode counts, episode titles, and episode thumbnails on a per-show basis. Callsheet has a handy preview at the bottom of this setting that demonstrates the information that will be hidden when each toggle is activated. Callsheet is the only app I've seen that lets users precisely dial in the amount of information it reveals about a TV show.
Each movie or TV show's detail view also includes a list of all the cast and crew. Tap anyone listed, and their biography and credits are listed, allowing you to trace actors and crew members across multiple movies and TV shows, discovering new connections and things to watch.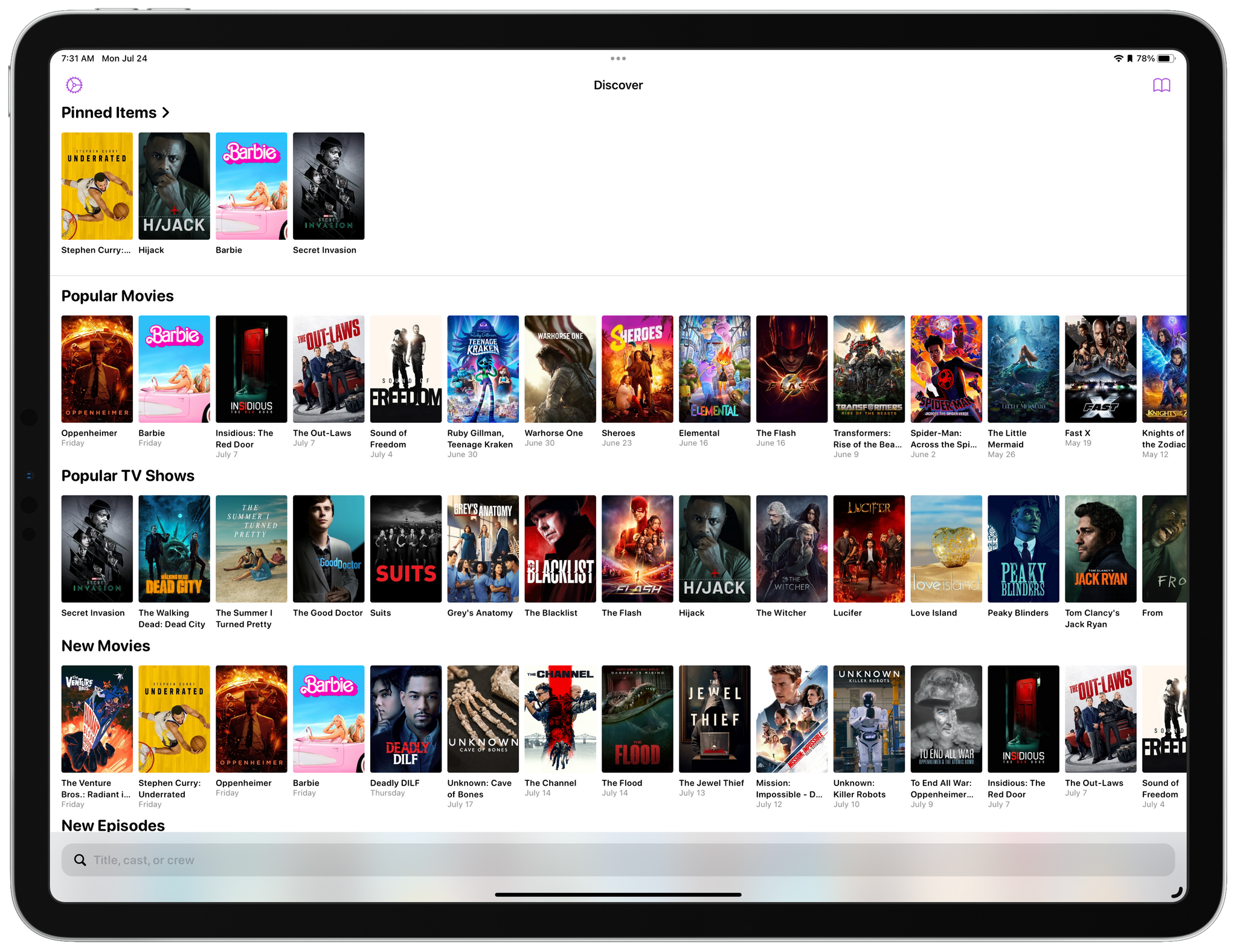 In addition to the iPhone version of the app, Callsheet is available on the iPad. On the iPad, the artwork is too small. If I don't pin any items, I can see 60 items on my iPad Pro's screen at once when it's set to Full Screen, which is a lot to take in at once. For context, my iPad Pro is set to More Space in the Display Zoom settings because I use Stage Manager. The app would also benefit from a dedicated sidebar, which could be used to eliminate the giant search field and Subscribe Now button at the bottom of the app's window.
Callsheet is free to download from the App Store with the limitation that you can only do 20 searches for free. After you use half of your free searches, a Subscribe Now button will appear at the bottom of every view except the Search History and Settings until you subscribe. Subscribing for $1.00/month or $9/year unlocks unlimited searches, the app's search history, and pinning items, although I was able to pin things and could see my search history in the beta whether or not I was subscribed, but that may have ben unique to the beta build.
Callsheet is a useful app for learning more about the people behind the movies and TV shows you watch. If you find yourself regularly looking up that kind of information while watching something, Callsheet is faster and less distracting than using an app or website like IMDb. The app's native UI is less distracting than navigating a promotion-filled webpage when you're in the middle of watching something.