Every year, The Omni Group reflects on the past year and provides a roadmap for coming year. In 2018, OmniFocus will play a prominent role along with updates to OmniGraffle, OmniPlan, and OmniOutliner.
OmniFocus for iOS has been around since the earliest days of the App Store. One of the biggest changes that will be debuted in OmniFocus 3 for iOS is the elimination of contexts, a Getting Things Done concept that hasn't aged well. Contexts will be replaced with tags, which can be used like contexts or to indicate other attributes of a task like its priority, location, or time. With tags, Omni is will also introduce manual reordering of tasks within a tag.
The way OmniFocus deals with dates and notifications is being revamped too. With version 3, OmniFocus will add more fine-grained control over repeating tasks. To avoid complexity, The Omni Group's Ken Case says:
we turned to a design principle called progressive disclosure: we ask you to make simple decisions up front (like checking the option "does this repeat or not"), and as you proceed through the interface we progressively disclose more and more options based on what we already know about the task.
Similar flexibility is being added to notifications, which will include more detail in each notification. OmniFocus is also adding the ability to add multiple custom notifications to single tasks and notifications that will continually badger you until a task is marked as complete, as can be done today in apps like Due.
OmniFocus 3's design will also be refreshed. Omni hasn't shared many examples of what the update will look like, but here's an example from the company's blog post: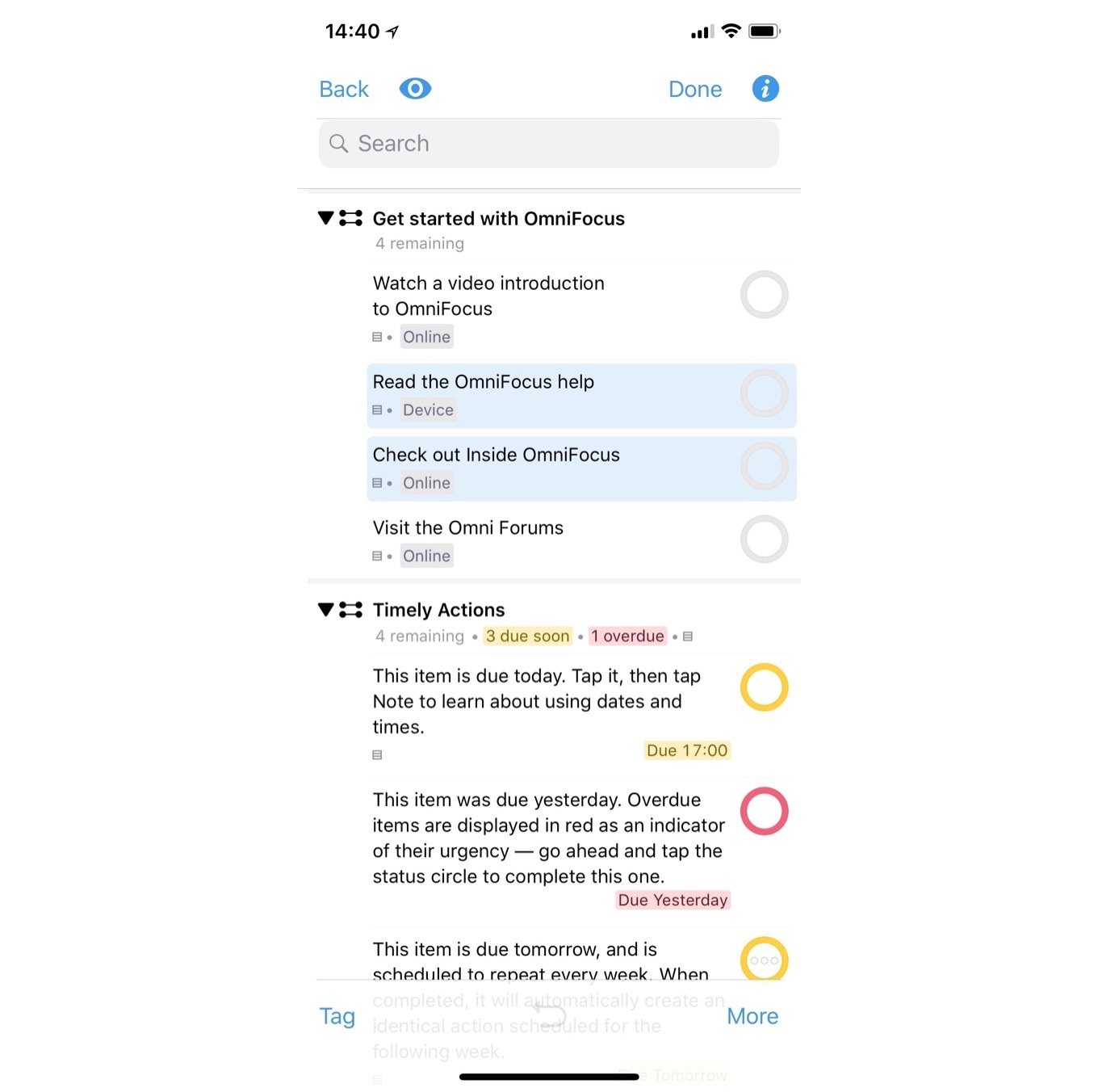 JavaScript-based automation, which is included in some of Omni's other apps, is coming to OmniFocus as is collaboration, which will feature a system that lets multiple people share the same task by linking them. Omni says the system will allow everyone on a shared task to see its status, but place the task wherever they want within their task management setups. Finally, Omni plans a basic web version of OmniFocus that will allow users to access their tasks, though with a limited feature set.
Omni has changes in store for its other apps too. The first 2018 update to OmniGraffle for Mac will focus on the Stencil Browser, which users will be able to place in the left-hand sidebar. A later update will add improvements to SVG import and export support. Later in the year, another update is planned to improve diagramming.
OmniPlan for Mac will add a Project Summary Inspector that provides summary information about a project like its total cost and duration. OmniPlan Pro users will get a new timescale feature for customizing Dashboards too. Improvements to OmniPlan Pro's publish and subscribe sync feature are planned for later in the year.
OmniOutliner 3 for iOS is scheduled for release in February 2018. The update will introduce Essentials and Pro versions of the app. Essentials offers a simplified outlining environment, while Pro includes advanced features like saved filters, encryption, and JavaScript automation.
It looks as though 2018 will be a busy year for Omni. Updates to apps like Things have raised the bar on task management apps, so it's good to see Omni rethinking and redesigning some of the fundamental aspects of OmniFocus. I'm also looking forward to the OmniOutliner, an app that I've used on and off since it was first introduced on iOS.