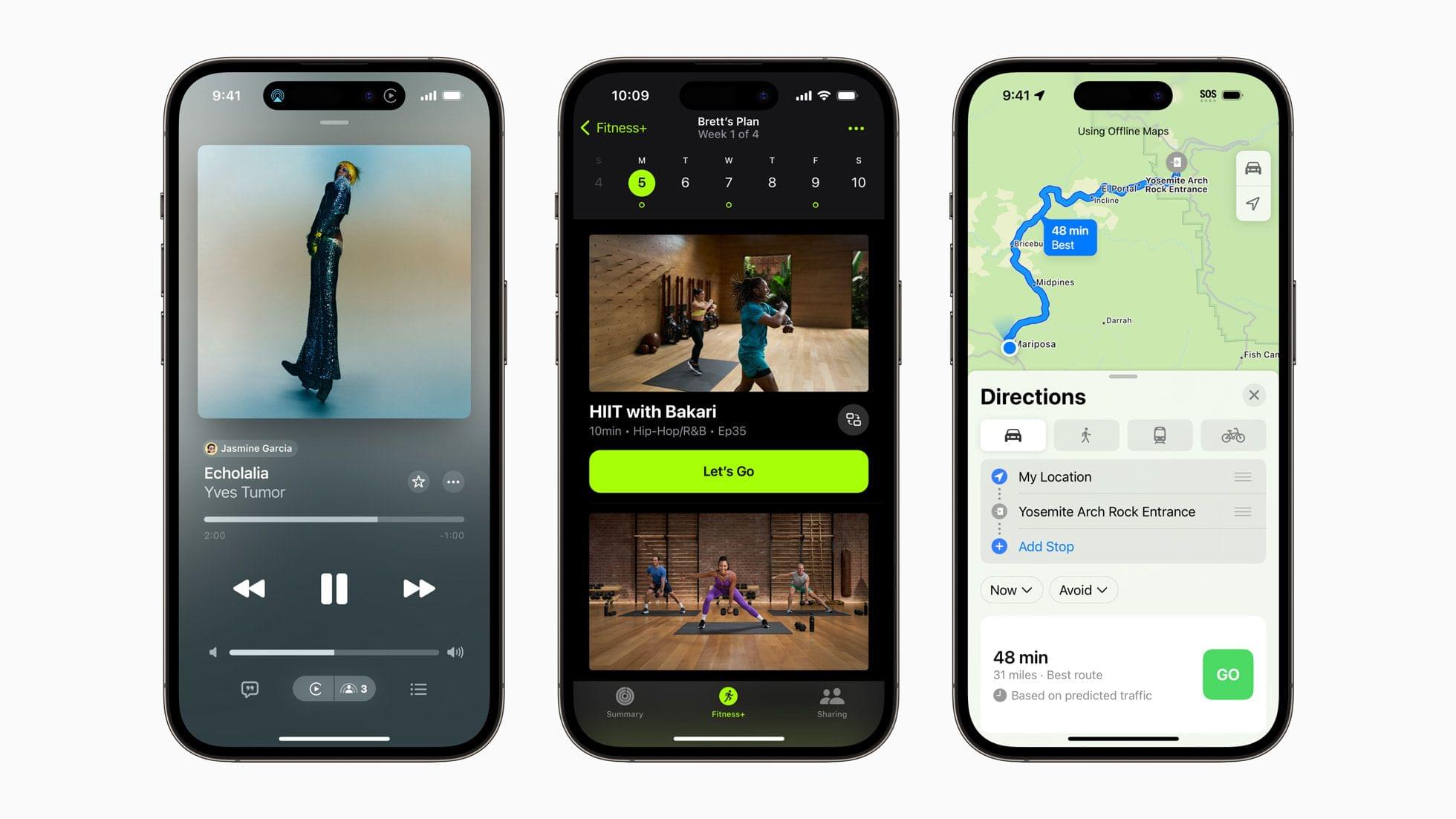 Apple's services have become an increasingly important part of the company's product lineup, but they didn't get a lot of time at WWDC this year. However, that doesn't mean there aren't some interesting new features coming with OS releases and beyond. There are a wide variety of updates coming that promise to better integrate services, allow for greater user customization and sharing, plus provide other day-to-day enhancements.
Apple Podcasts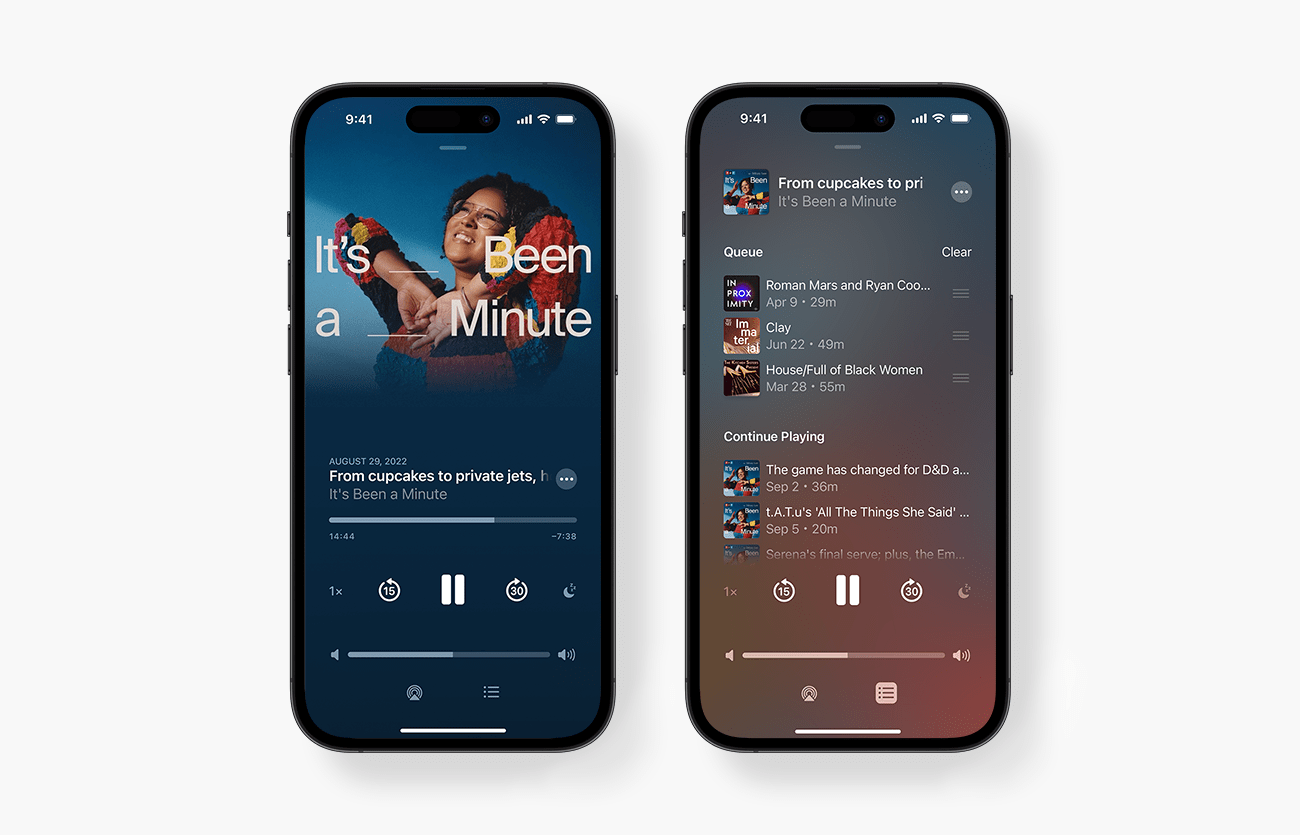 Perhaps the best example of Apple's approach to services this year is Apple Podcasts, which will add new software features and act as the glue that integrates other services. My favorite upcoming feature is Podcasts' new queueing system. Episodes of shows can be added to a listening queue from any list of episodes by long-pressing on an episode or using the More menu and choosing 'Add to Queue,' which appends the episode to the bottom of your queue.
Tapping the queue button from the Now Playing screen reveals the Playing Next screen, which includes the current episode at the top, along with any upcoming episodes that you've queued for playback with drag handles for reordering the list. If you finish everything in your queue, Podcasts reverts to Up Next, the app's automatically-generated list of suggested next episodes. The Playing Next screen also includes a triangular disclosure button for revealing chapter titles in podcast episodes that include them. Tapping a chapter title skips to that chapter.
Currently, the Playing Next view is available in the iOS and iPadOS 17 betas only, and not macOS Sonoma. I hope later Sonoma beta releases get updated to mirror the experience on the iPad because it's a little jarring to go looking for your queue on the Mac and find only the Up Next list instead.
I've been using Podcasts' new queuing system since WWDC, and it strikes me as a feature that will appeal to anyone who prefers to have control over the order in which they listen to their favorite shows. I also like that the Playing Next view is a separate modal experience that animates into view when the queue button is tapped. Scrolling to the area below the playback controls on Podcasts' Now Playing screen in iOS and iPadOS 16 was less discoverable. It should also help that the system works a lot like Apple Music's Playing Next view.
Podcasts is also adding Search filters. Podcasts' search returns channels, shows, episodes, and top results. With search filters, you can narrow results to just one of those categories. For example, if you search for 'MacStories,' your results will include our channel, shows, and individual episodes. By picking one of those categories, it's much easier to zero in on what you want.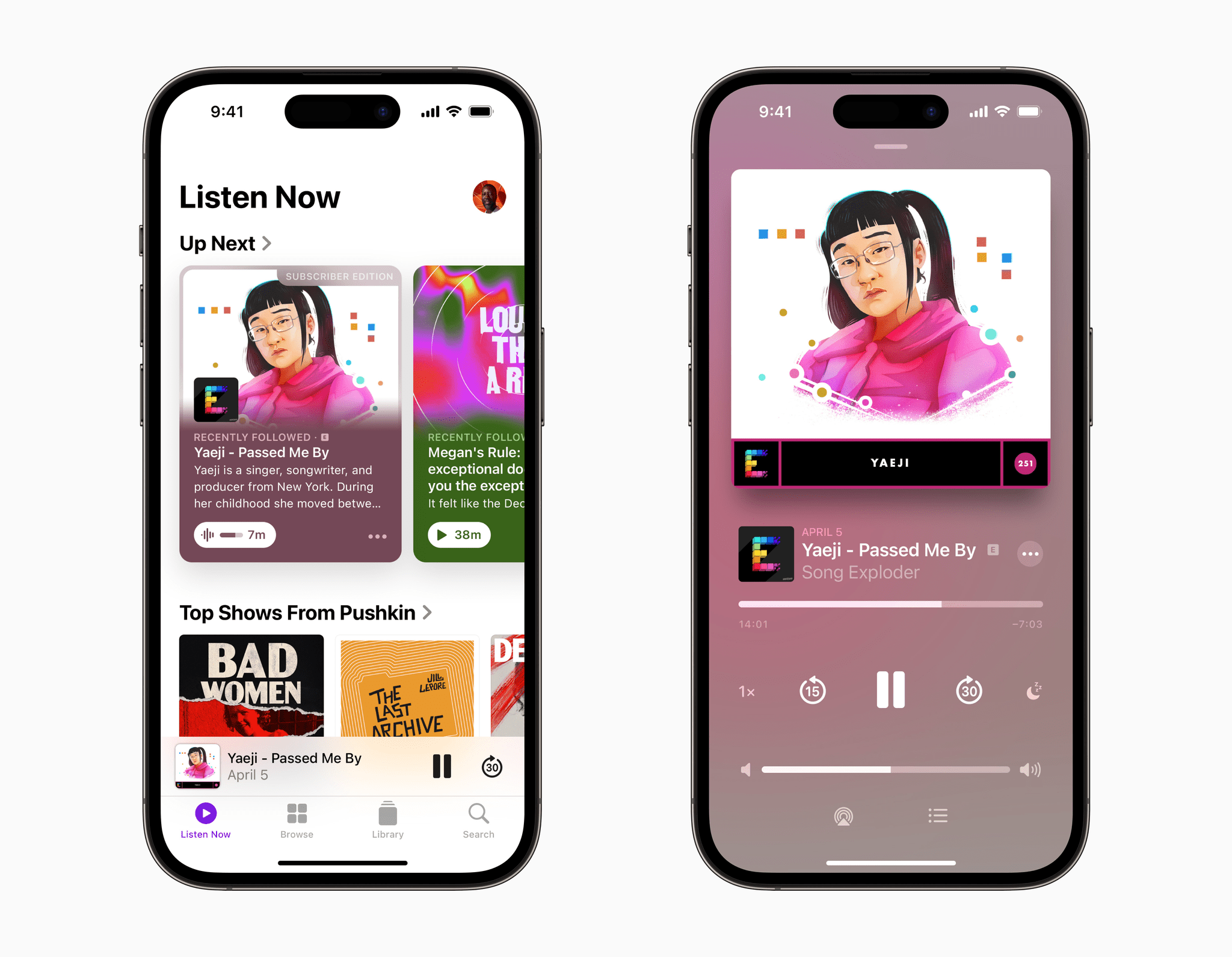 Podcasts is also getting a refreshed look throughout, with the most noticeable change being the addition of episode artwork. Podcasters have been able to add custom chapter artwork to podcast episodes for quite a while, but the addition of episode-specific art is new and will show up throughout the OSes this fall.
Podcasts is increasingly serving as the glue between Apple's services too. We've wished for a better way to discover when new episodes of Apple Music Radio shows begin for a long time. With an update this fall, Apple Podcasts will provide the solution, treating episodic radio shows like podcasts, allowing listeners to subscribe to their favorite shows and receive notifications when a new episode is available.
Podcasts is doing something similar with Apple News+ audio content, the audiobook-style versions of longform magazine and newspaper content available to subscribers. I've often listened to News+ stories on long car trips and am looking forward to subscribing to News+ in Podcasts and using the app's new queuing system to pick and choose the stories I want to hear.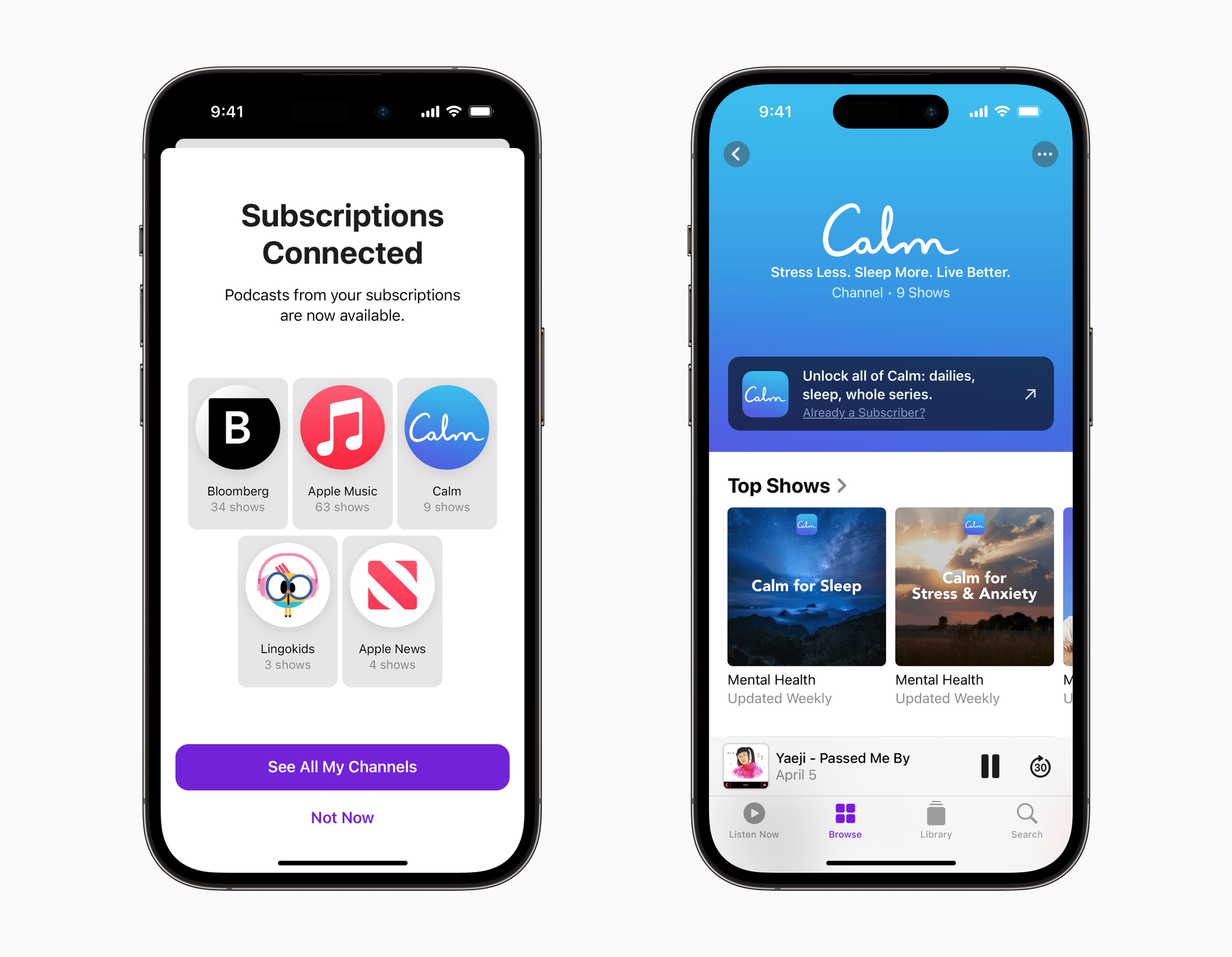 As part of subscription services, Apple Music Radio shows and News+ audio stories will undoubtedly be exclusive to Apple Podcasts. That means it's very unlikely they'll be available to third-party podcast players. As a result, I'm sure there will be podcast purists who chafe at the mixing of traditional RSS-based podcasts with other episodic audio content, but as a user, I welcome it. I've wanted easier access to Apple Music Radio and News+ services for a while, and I would much rather listen to this sort of content in Podcasts than either Music or Apple News.
Finally, Apple Podcasts is integrating with the App Store. If you subscribe to a publication like Bloomberg or The Washington Post, certain health and fitness apps like Calm, or kids and family apps like Lingokids, Podcasts will recognize the subscription and add the related channel to your Podcasts Library. I expect the participants in this program will be limited at first, but there's a lot of potential for supplementing app experiences with audio content, so I'm sure the catalog will grow.
I like where Apple Podcasts is heading a lot. Managing what to listen to will get easier this fall, which is something the app has sorely missed in the past. Plus, I was pleasantly surprised by the announcement that episodic audio content from other Apple services is coming to the Podcasts. It certainly makes more sense than trying to cram podcasts into a music player.
Most of all, I'm encouraged by the ongoing tweaks to Podcasts, which have steadily improved the app, making it welcoming to new users but with many of the features that podcast fans expect. There are still features like a skip silence and vocal boosting that I'd like to see added in the future, but this year's upcoming changes are a solid step in the right direction for Podcasts.
Apple Music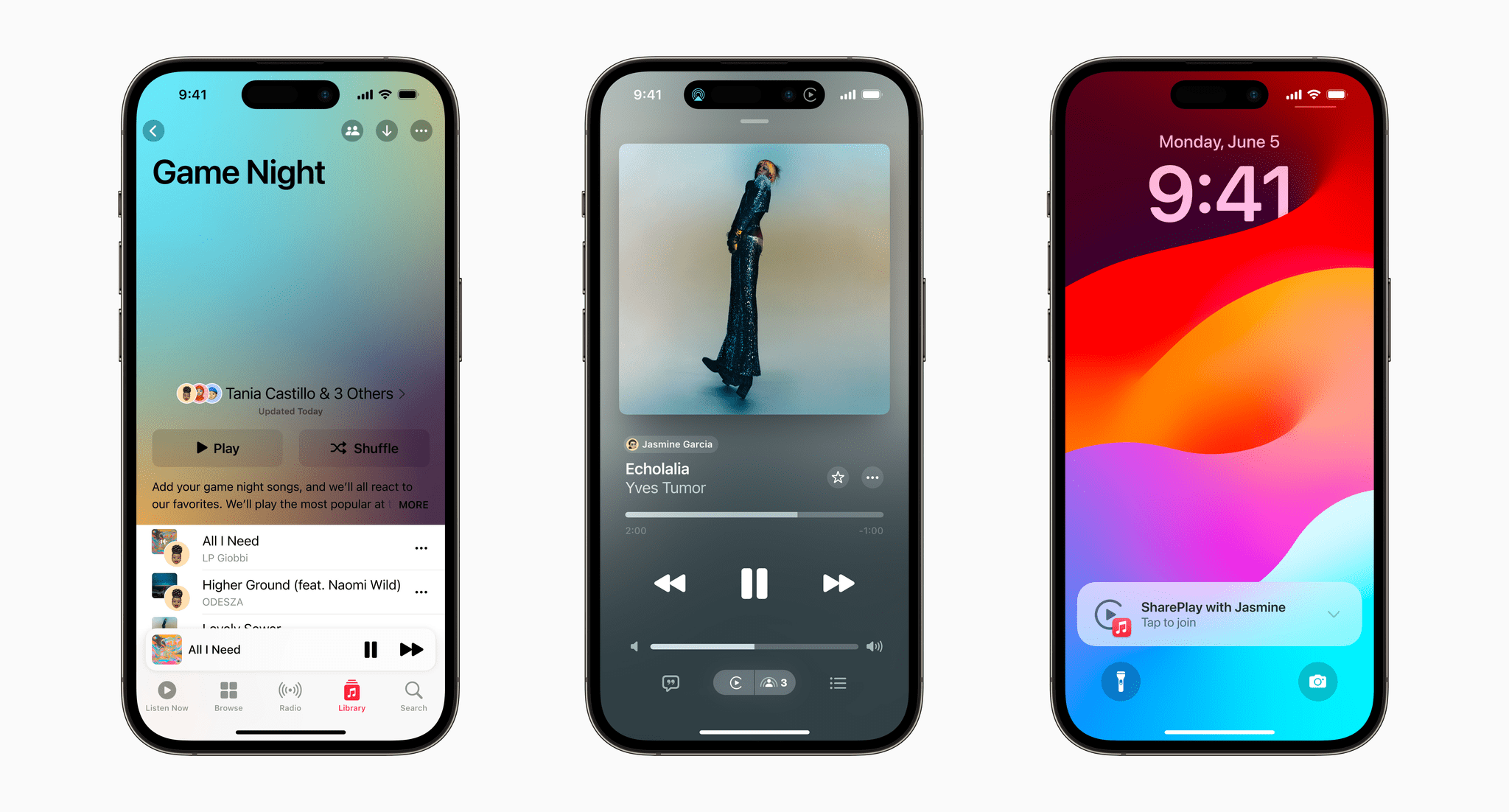 This fall, Apple Music will add several new features too.
I'm most excited about collaborative playlists. The feature, which Apple says is coming later this year, isn't in any of the OS betas yet, so it's not likely to be in the initial fall releases. There's scant information on how the feature will work yet and nothing on whether jointly-created playlists can be shared on your Apple Music profile or by URL, but I hope that's the case. All that Apple has said so far is that users will be able to select and edit tracks and react with emoji to songs. Music is more fun when it's shared with others, and collaborative playlists are one of those features that music fans will be able to enjoy with their friends without having to schedule a set time to do it, which is great.
SharePlay is coming to the car too. Music's Now Playing UI will include a SharePlay button this fall. Tap it, and a QR code is generated that passengers can use to join, making changes to your playback queue.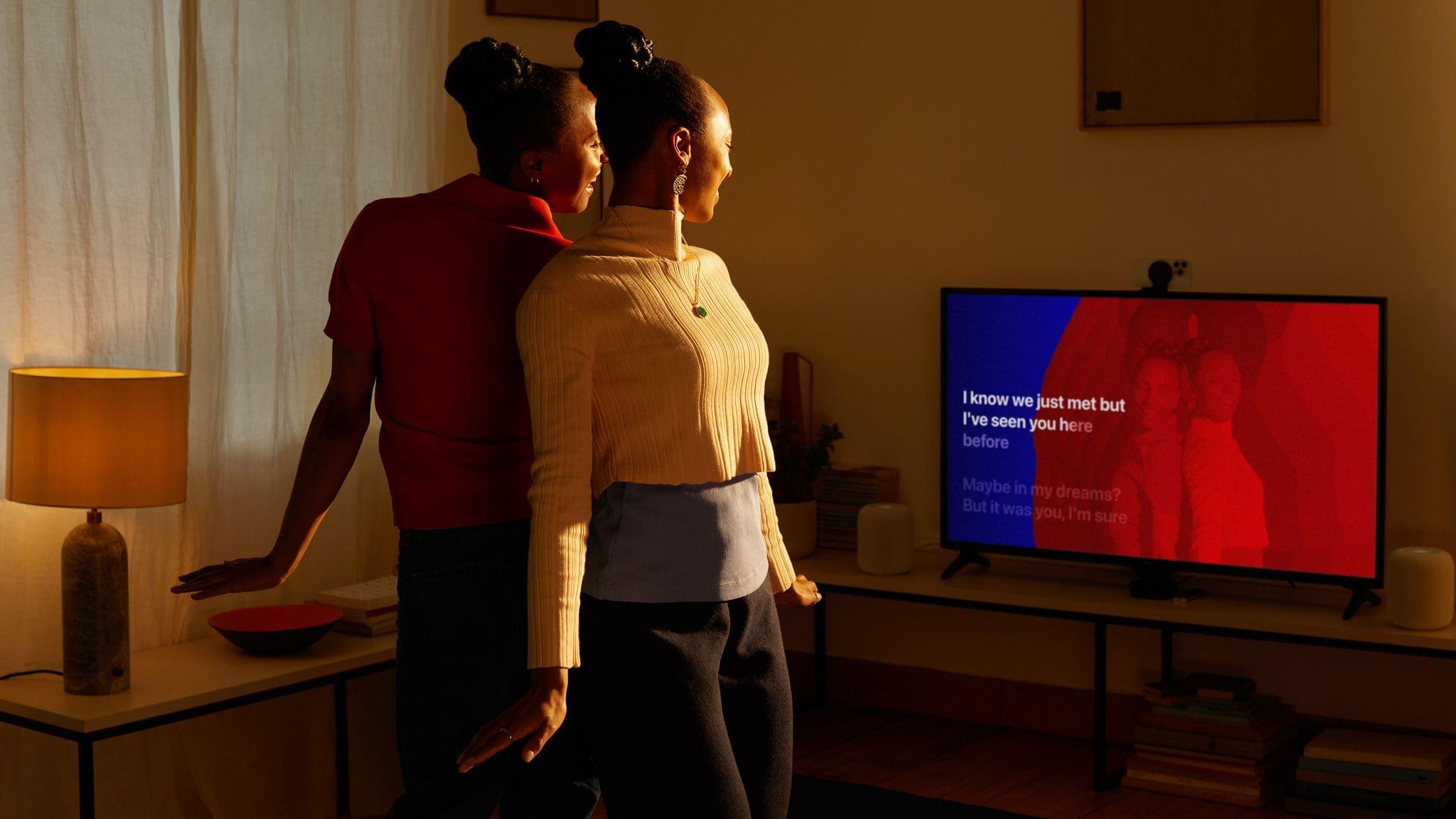 tvOS's Apple Music Sing will integrate Continuity Camera with Music this fall too. The addition of camera support and filters will enhance the karaoke-like feature by displaying singers on your TV.
Apple Music is also planning to add more extensive music credits to the app this fall, although the feature is not yet in the betas. Plus, if you are a fan of Music's crossfade feature on the Mac, it will be added to the iOS and iPadOS versions of the Apple Music app's settings this fall too.
Maps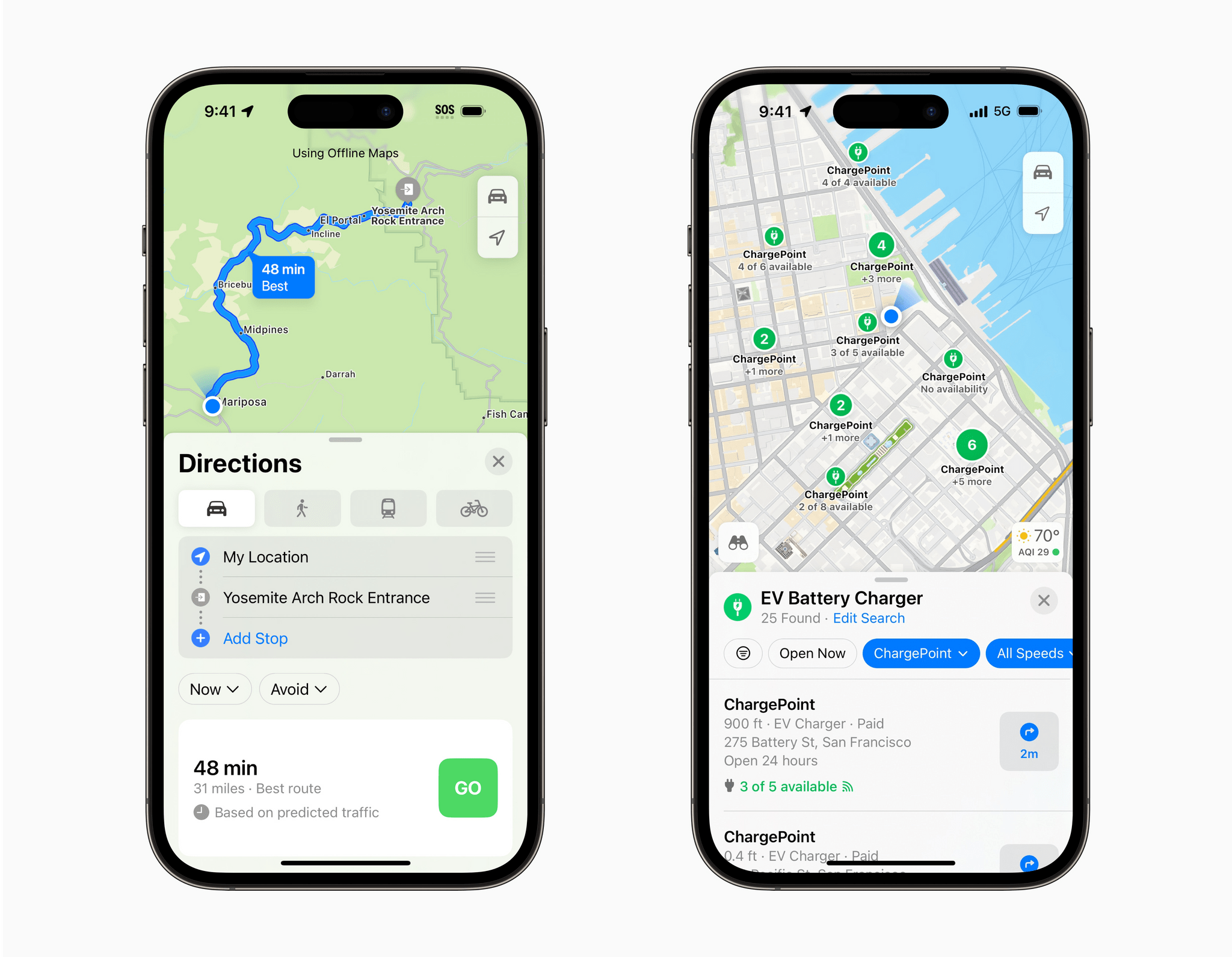 This fall, Apple Maps is getting fewer new features than in recent years, but there are a few handy things coming that are worth keeping a lookout for. First, you'll be able to select an area of Maps and download the area with a tap. I tried it with my local area, and it worked as expected, but I don't expect to use it much personally. However, if you live in an area with spotty mobile coverage or hike into the backcountry, downloadable maps will be a terrific addition.
The process of downloading a map is simple. Tap on your profile picture in the corner of the Maps app and choose 'Offline Maps.' A sheet will slide into view showing any maps you've already downloaded, which you can rename or delete. To download a new map, tap the 'Download New Map' button and search for a location. Maps will open to that location with a selected area around it for downloading and information about how big the download will be. Adjust the bounds of the area you want to download and tap 'Download.' The Offline Maps sheet also includes options to only download maps over WiFi or WiFi and cellular and toggles to keep your maps updated automatically, optimize map storage, and use offline maps exclusively.
Another Maps feature that will come in handy with those offline maps is support for new trail information, including the length of the trail and type, its difficulty, and elevation information. I'm looking forward to trying this feature, but so far, the data hasn't turned up in Maps search results in my area.
Finally, Maps will add real-time electric vehicle charging data this fall. Maps has been adding charger information for a while, but the update this fall will also show drivers how many chargers are free at each charging station. I've checked a few stations in my area, and they're already reporting how many open slots are available to charge your EV.
Fitness+
One of the things I like about Fitness+ is also one of its drawbacks. I love that Fitness+'s workouts are self-contained and offer a variety of lengths, which makes it easy to find something that fits into your schedule. However, if you want to combine multiple shorter workouts, it can be a pain to switch among them. With Stacks, the Fitness app will allow you to associate multiple workouts into a Stack. From the Fitness+ tab's menu button or by long pressing on a workout, you can choose 'Add to Stack.'
Whatever you add to a Stack will appear behind the Stack icon at the top of the Fitness app's main screen as well as at the top of individual workout screens. Tap on the Stack icon, and you'll see a 'Let's Go' button to start the workouts in the Stack as well as information on the total number of workouts and time to complete them. At the top of the screen, there's also a Menu button that lets you delete the Stack or save it with a unique name to your workout Library. Any Stacks you save to your Library are accessible with a tap of the Stacks button near the bottom of the Fitness+ tab. Saving a Stack to your Library causes it to disappear from the temporary Stack button that appears at the top of all Fitness+ screens.
Fitness+ will also add Custom Plans, a way to build a fitness schedule. For each day of the week, the feature will allow users to set a total daily time for exercising, the number of weeks for the plan, and the types of activities for the plan. You'll also be able to choose preferred trainers and music genres for your plan. Then, with the tap of a 'Create Plan' button, Fitness+ will generate a plan that matches your criteria.
Fitness+ subscribers will also get the option to prioritize instructors' voices or music during a workout. That way, if you've done a workout several times and don't need the prompts of the instructors, you can enjoy the music instead. Likewise, you can enhance instructors' voices if you find them fading into the music or aren't a fan of a workout's musical selections.
Grab Bag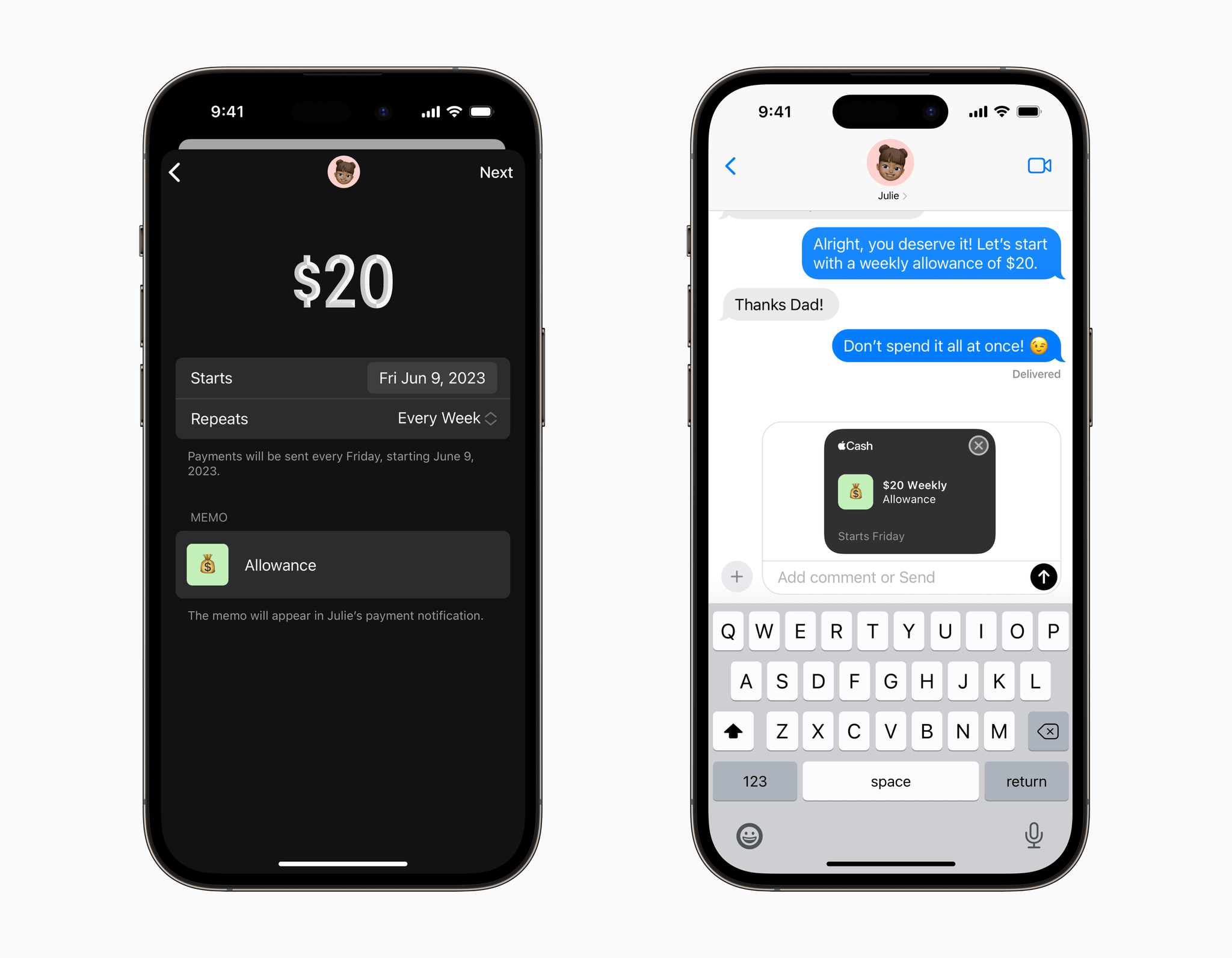 There are several other smaller features coming to Apple's services this fall that are worth mentioning:
Apple News will gain crossword puzzles in a deal struck with The Puzzle Society
Apple Books will add new series pages to make it easier to see all books from a series
Apple Cash will let users set up recurring payments on a weekly, biweekly, or monthly basis, which could be used for kids' allowances and other periodic payments
Apple Wallet IDs will be accepted by businesses to prove things like age at age-restricted concert venues
AirTags and Find My network devices will be shareable with up to five people, so they will be able to locate items and won't be notified that an AirTag or other device is traveling with them
Users will be able to send or request someone's location using Find My directly from an option in the Messages' Send menu.
---
All told, there are more services-related updates coming this fall than you might have expected, given the brevity of their appearances in the WWDC keynote. Although Apple Podcasts and Apple Music are getting the most extensive set of new features, Maps, Fitness+, and other services are getting excellent enhancements too. With only some of the new features already in the OS betas, it's too early to assess them, but with the exception of collaborative playlists that Apple has already indicated are coming later this year, most of what's been announced should appear this fall, so we'll be covering everything in more depth in our individual OS reviews.
---
You can also follow our 2023 Summer OS Preview Series through our dedicated hub, or subscribe to its RSS feed.