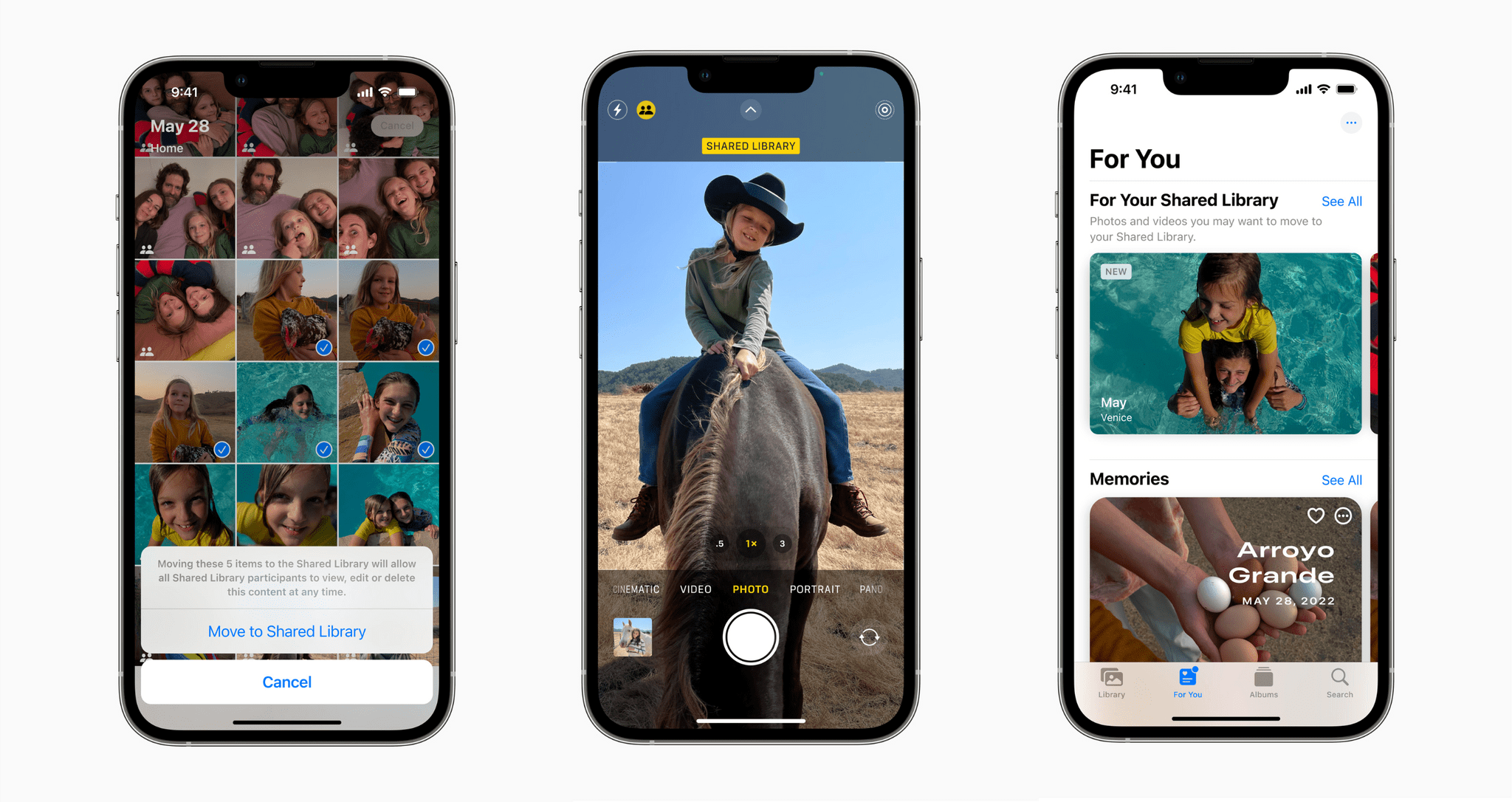 Sharing photos among family members has never been easy on Apple's platforms. Photos and albums can be shared individually or in batches, but it's a manual process that too often, I, and I'm sure many others, don't bother to do. The result is that members of the same household often end up with different collections of images from the same events. iCloud Shared Photo Library is designed to solve that problem with a single, shared photo library to which each participant can contribute.
iCloud Shared Photo Library allows you to share your photos with up to five other people. Your shared iCloud photo library is separate from your own library, and you're in control of what you contribute to the group library. If you want, you can share everything in your personal photo library. You can also pick and choose individual photos or share everything after a particular date or shots of a certain person.
Apple has also built in smart features to make contributing to your shared iCloud photo library easier. There will be a switch in the Camera app that will send any photos taken to the shared library when activated. iOS and iPadOS 16 will also be able to use Bluetooth proximity to automatically add to your shared library when you're near the other members of your shared library, the assumption being you're enjoying a group experience. For You sharing suggestions will also suggest images you might want to add to the shared library.
Everyone who joins a shared photo library has equal rights to contribute, edit, mark as favorites, caption, and delete the photos in the library. Your shared library will also be integrated with other Photos features like Memories, Featured Photos, and the Photos widget.
As my kids have gotten older and moved away from home, my wife has become the clearing house for shared photos. She's the one who reminds them to send pictures and then sends them to others in our family. iCloud Shared Photo Library may not help my kids remember to send pictures, but it should make it a lot easier for them to do so and eliminate the multistep process my wife goes through every time she's sent new photos from them, so I'm looking forward to setting up a shared photo library. Unfortunately, the feature was not shipped in the developer beta 1 of iOS or iPadOS, so I don't have any hands-on experience with it yet.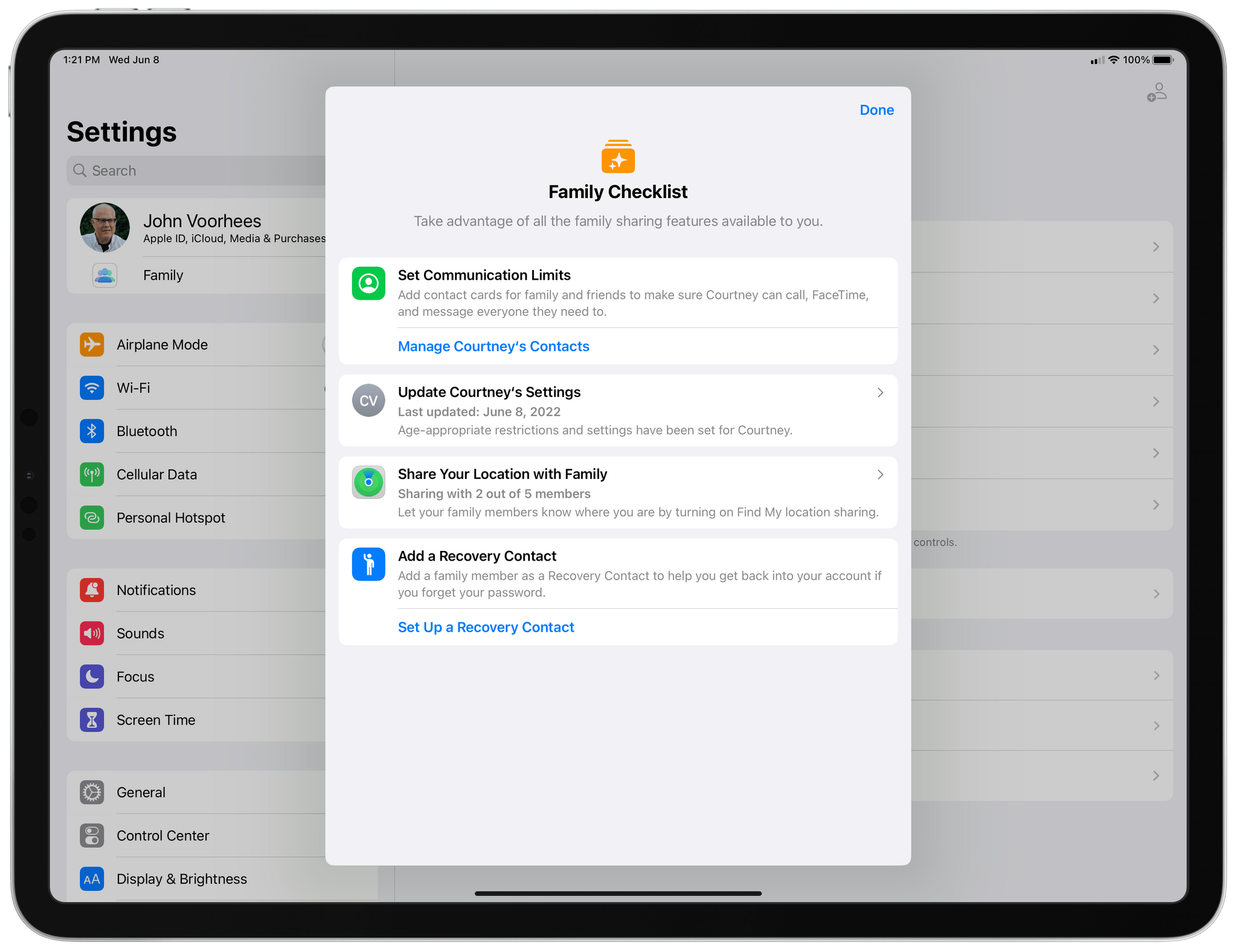 It's been a while since my 'fake child' has made an appearance on MacStories, but with the introduction of new family sharing features coming to iOS and iPadOS 16, it's time to get reacquainted because Apple is adding new Family Sharing features to iOS and iPadOS 16. Found under Family in the iCloud section of Settings is a new Family Checklist that is designed to make managing kids' access to iOS and iPadOS features easier for parents. In developer beta 1, there are sections for setting communications limits, updating age-appropriate content restrictions and settings, sharing your location with other family members, and adding a recovery contact if a family member needs help with a forgotten password.
I really like how easy Apple has made it to adjust these settings in a single location. If I think my imaginary 3-year-old is mature enough to handle something more appropriate for older kids, I can simply drag a slider, which is age-based, to give her access to content suitable to an older child. You can also set up whether a child has to ask a parent before buying something and whether you can access their location. Communications combines managing contacts with limits on when communications can happen using Screen Time. Screen Time requests will come via Messages as well as the notifications the feature previously supported.
With so many settings on an iPhone and iPad for parents to grapple with, it's nice to see Apple streamline the setup process by collecting the relevant settings in one place with the Family Checklist. My kids are grown, but I would have appreciated having easy access to these settings when they got their first iPhones.
---
You can follow all of our WWDC coverage through our WWDC 2022 hub or subscribe to the dedicated WWDC 2022 RSS feed.