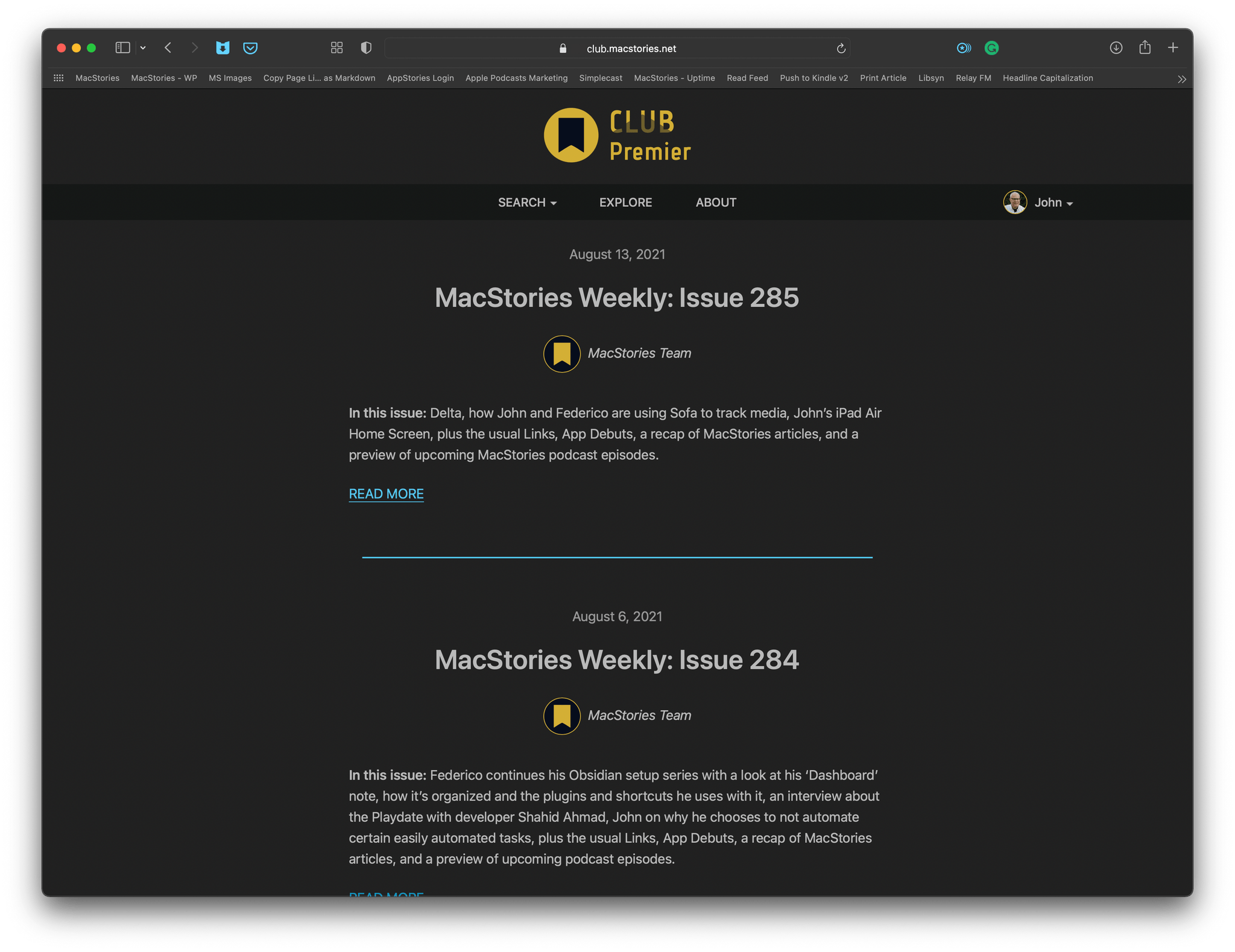 Before I dig into the details about all the new perks we're offering as part of Club MacStories, here are some handy links where you can see everything summarized and find answers to questions you may have:
Alright, let's get into the details.
Club MacStories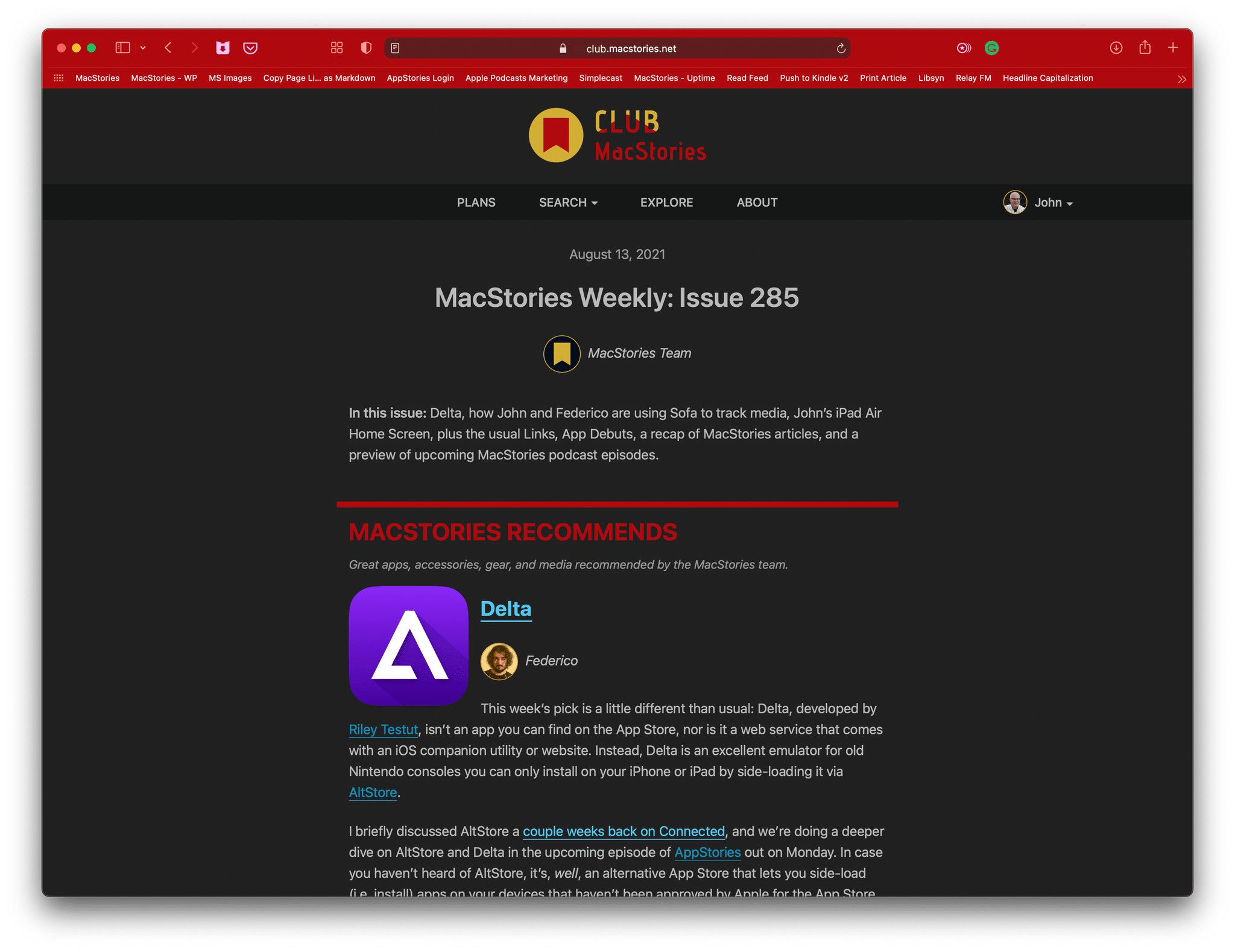 The perks we offer for Club MacStories members aren't changing. We will continue to produce our newsletters, MacStories Weekly and the Monthly Log, our monthly podcast, MacStories Unplugged, and eBooks of our longform writing, plus offer app giveaways and discounts periodically throughout the year.
Club MacStories members are also be able to read complete issues of MacStories Weekly and the Monthly Log on the web for the first time, which is a big upgrade from our previous link list of past issues. With our new web app, Club members can also switch between light and dark mode versions of newsletter issues manually or set the mode to correspond with the device they're using.
Club MacStories+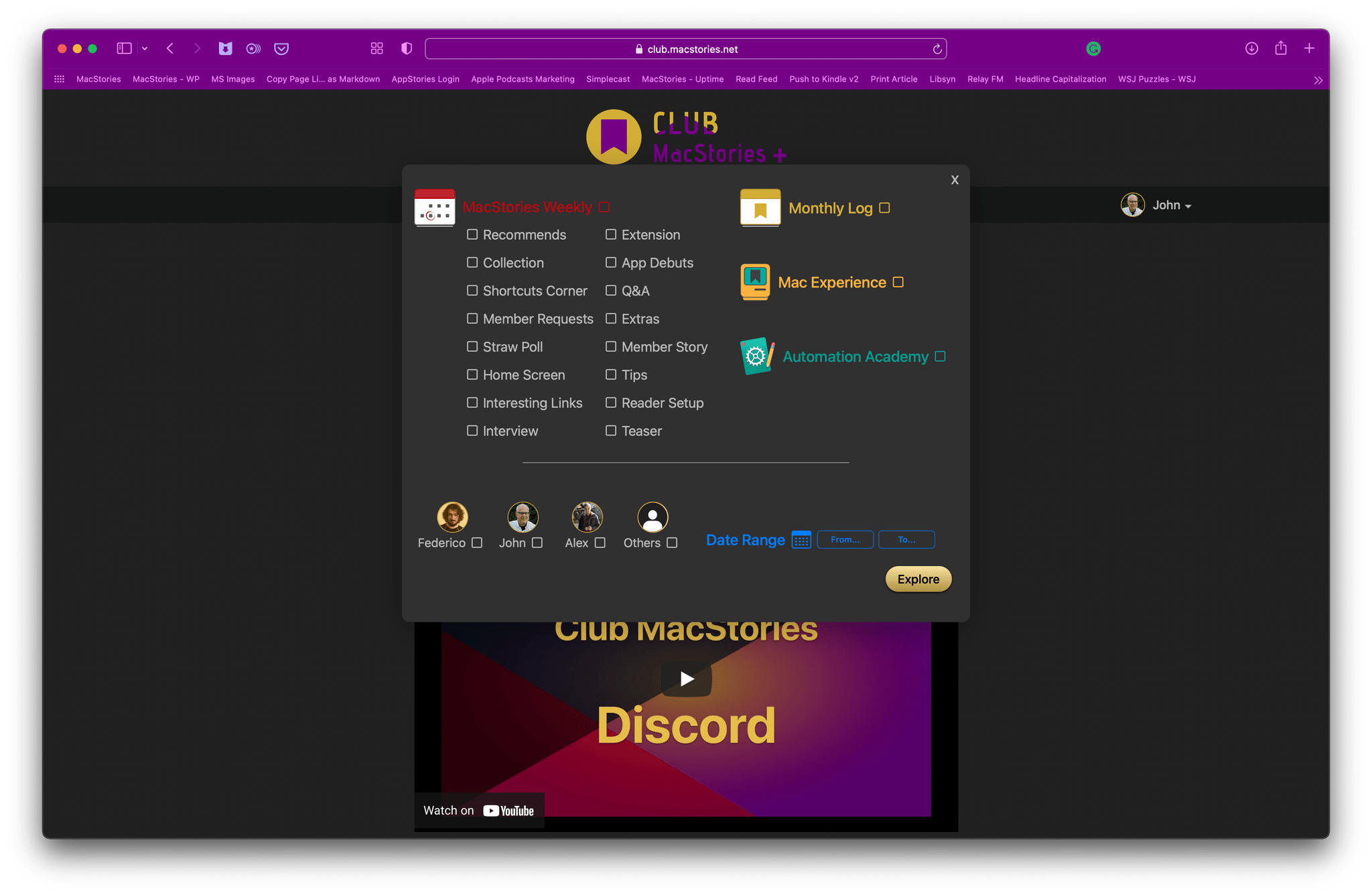 Calliope, the web app built by our own Alex Guyot, is the foundation on which every new feature of Club MacStories and AppStories+ is built. As Federico explained earlier this week, Calliope is a flexible technology stack designed to allow us to publish a wide variety of media while managing multiple membership tiers, with as little reliance on third-party services as possible. Without Calliope, the mix of benefits we're offering wouldn't be possible.
Advance Search and Filtering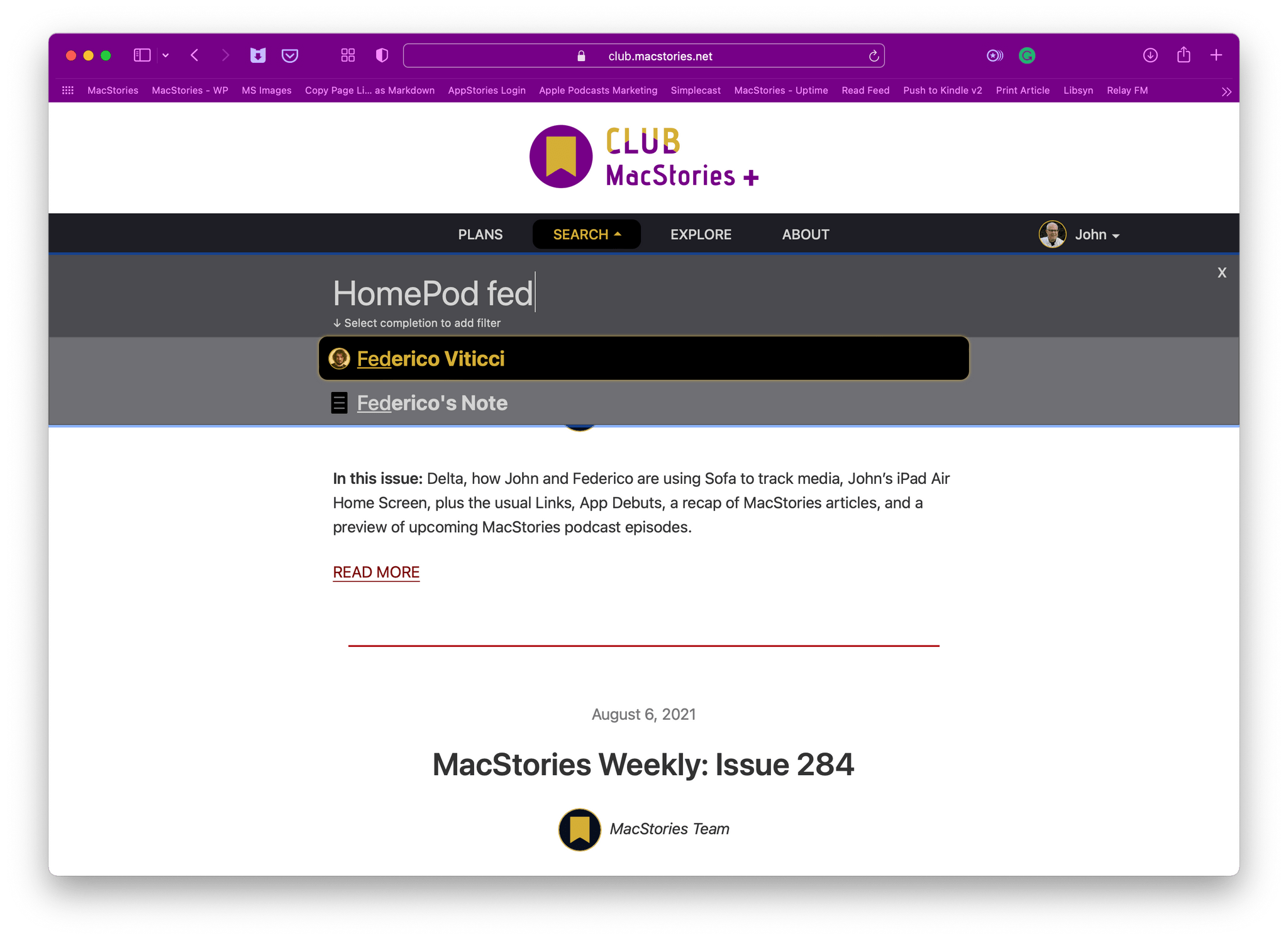 As part of the migration to Calliope, we imported every issue of MacStories Weekly and the Monthly Log from Mailchimp, separating each issue into its individual sections like 'MacStories Recommends' and 'Shortcuts Corner.' We still use Mailchimp to deliver newsletters by email, but all past and future newsletters exist as separate standalone webpages managed on our servers too.
That migration has permitted us to build advanced search and filtering into club.macstories.net for the first time. There was never a good way to search past Club content before, but now Club MacStories+ and Club Premier members can search the complete catalog by keyword and filter by each section of our newsletters, the new columns Federico and I are publishing, AppStories+ show notes, author, and date range. Members can click on 'Explore' in the navigation bar to give it a try for themselves. If you want to refine your filters further, there's a 'Refine' button to do that too.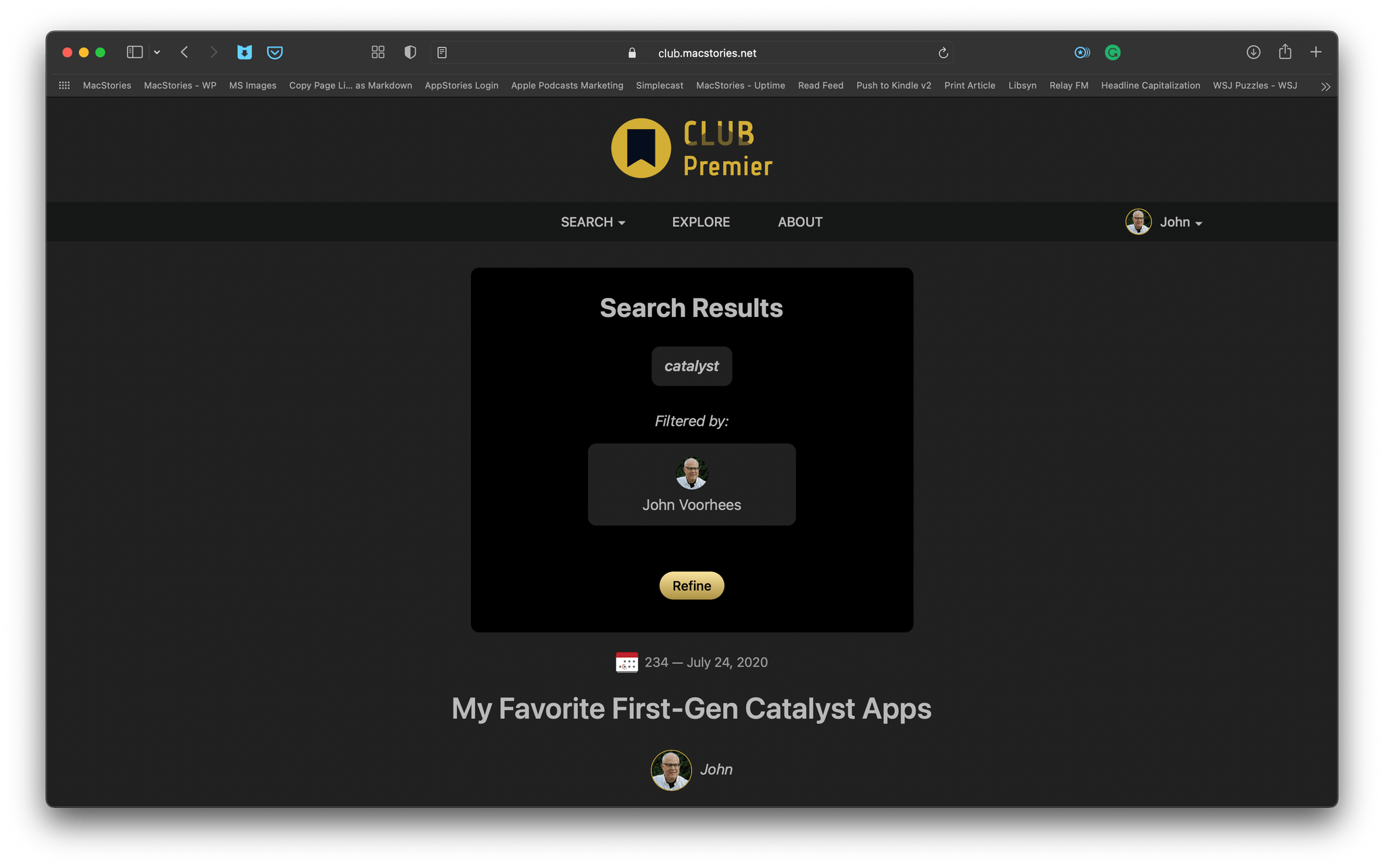 Moreover, search and filtering can be combined to refine keyword searches. You can add any of our filter parameters to a keyword search to narrow the results, whether that's by date range, author, or some other criteria.
Custom RSS Feeds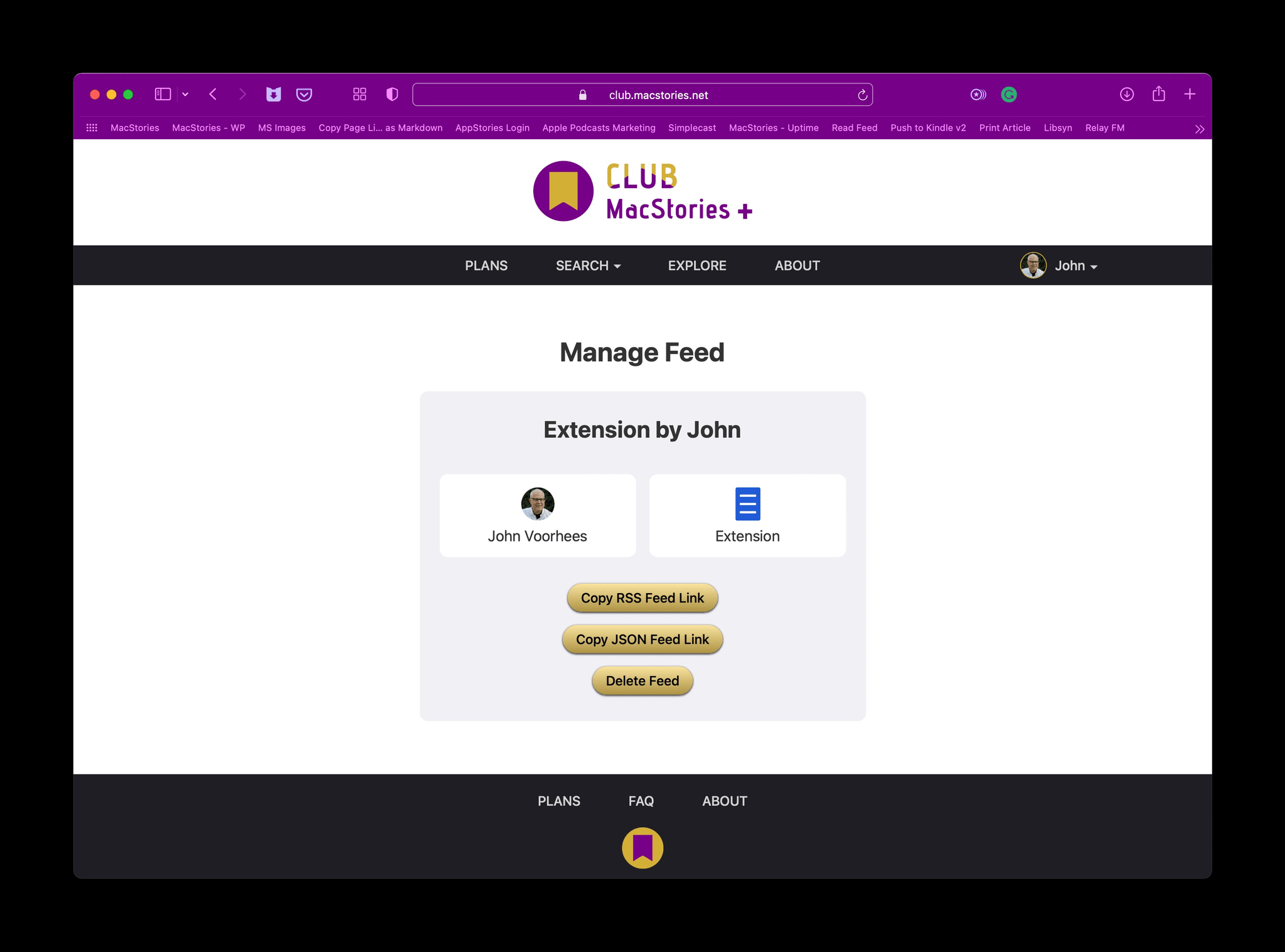 As an RSS nerd, I'm incredibly excited about this feature because it lets you turn filters that you create in Explore into RSS feeds. Say you're only interested in hearing about apps we recommend and App Debuts, or maybe you only want to read Shortcuts Corner stories Federico has written. Set up the filter you want, and after you click the 'Explore' button, you'll see an option to 'Create Feed.' That generates a unique RSS feed you can copy as a standard RSS feed or JSON feed if you prefer that. You can delete the feed from here too.
After you copy the feed you want, you can add it to any RSS feed reader you'd like and read it like you would any other news feed. Later if you want to find your feed to add to a different app or delete it, visit your Feeds page, which you'll find under the drop-down next to your Club profile picture. Choose whichever feed you want to copy or delete, and you'll see a Manage Feeds results box to take care of those actions.
Discord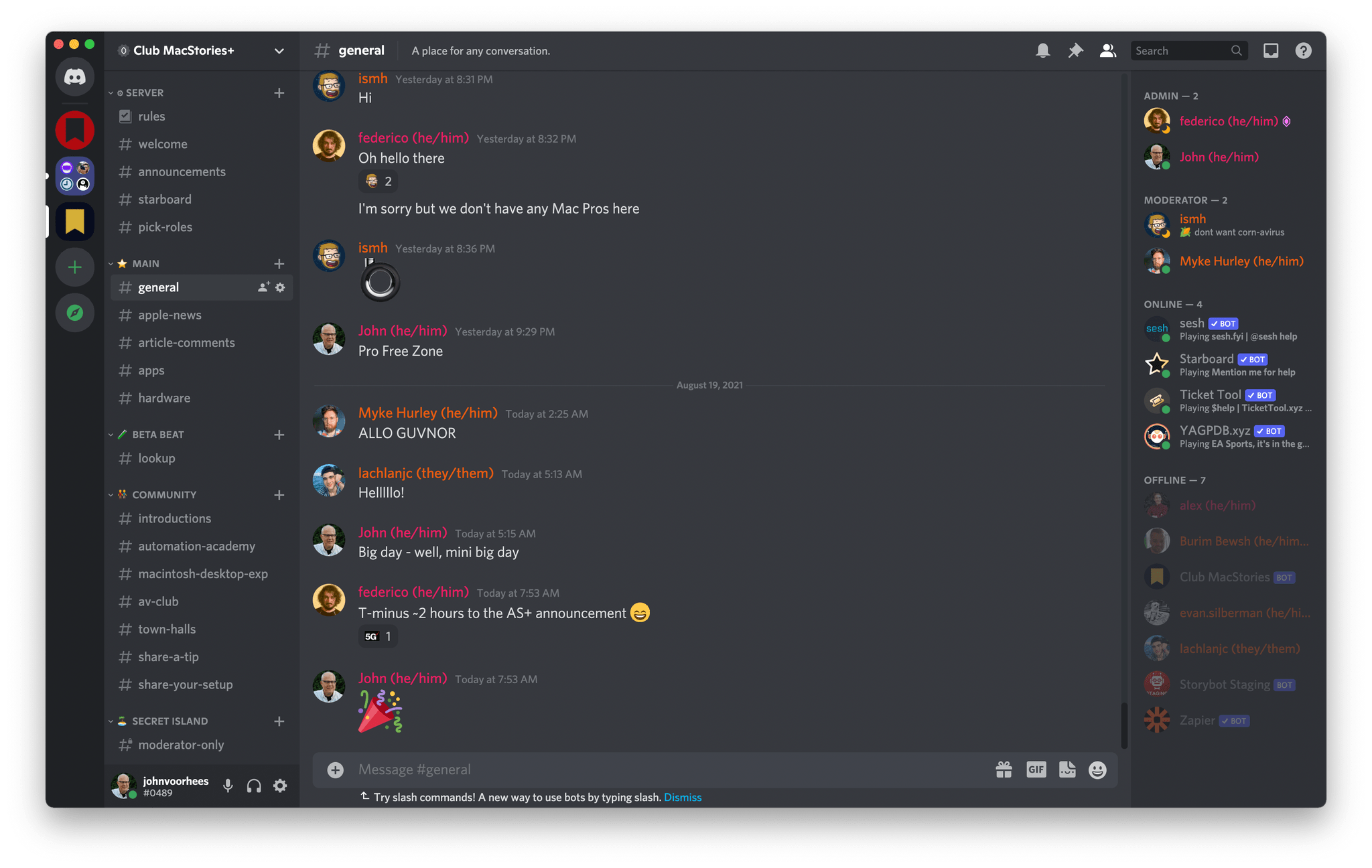 A Club MacStories community has been something that readers have requested for a long time, but something we didn't want to do until we could integrate it with the full Club experience, which is what we're doing with Club MacStories+ and Club Premier. We also wanted to be sure to think through how to manage the community carefully and find a group of moderators willing to volunteer to help us in creating a welcoming, safe environment for everyone. We've captured the core values that guide the Club Discord in a Code of Conduct that is available for everyone to read.
The Club MacStories Discord server is a place for members to get to know and chat with each other and the MacStories team, who is actively involved in the community. In addition to channels to discuss the latest Apple news, apps, hardware, and what's going on at MacStories, you'll find channels dedicated to events we'll be hosting:
Town Halls: Every month, we'll be hosting an audio town hall for members to update everyone on what's going on at MacStories, take questions from members, and more.
A.V. Club: Think of A.V. Club as a book club but for all sorts of media: movies, TV shows, videogames, books, music, and more. We'll be announcing new picks periodically and then use the A.V. Club channel to schedule a time to get together to chat about them.
Beta Beat: We're inviting developers of some of our favorite apps to join us in the Club Discord to offer their latest betas and get feedback from members. The first app is LookUp from Vidit Bhargava, who is currently working on version 8, which is slated to come out this fall.
Of course, we'll also have channels dedicated to Federico's Automation Academy lessons and The Macintosh Desktop Experience, the column I'm writing for Club MacStories+ and Club Premier members, which I wrote about yesterday.
There are many other topical channels, and, of course, we expect the Club Discord to evolve with the interests of members, but we're excited to kick things off with a deep menu of topics and events. All of us here at MacStories are looking forward to getting to know Club members better, so please feel free to drop by and say hi when you log in for the first time. The Discord is where you'll find all of us.
New Exclusive Feature Stories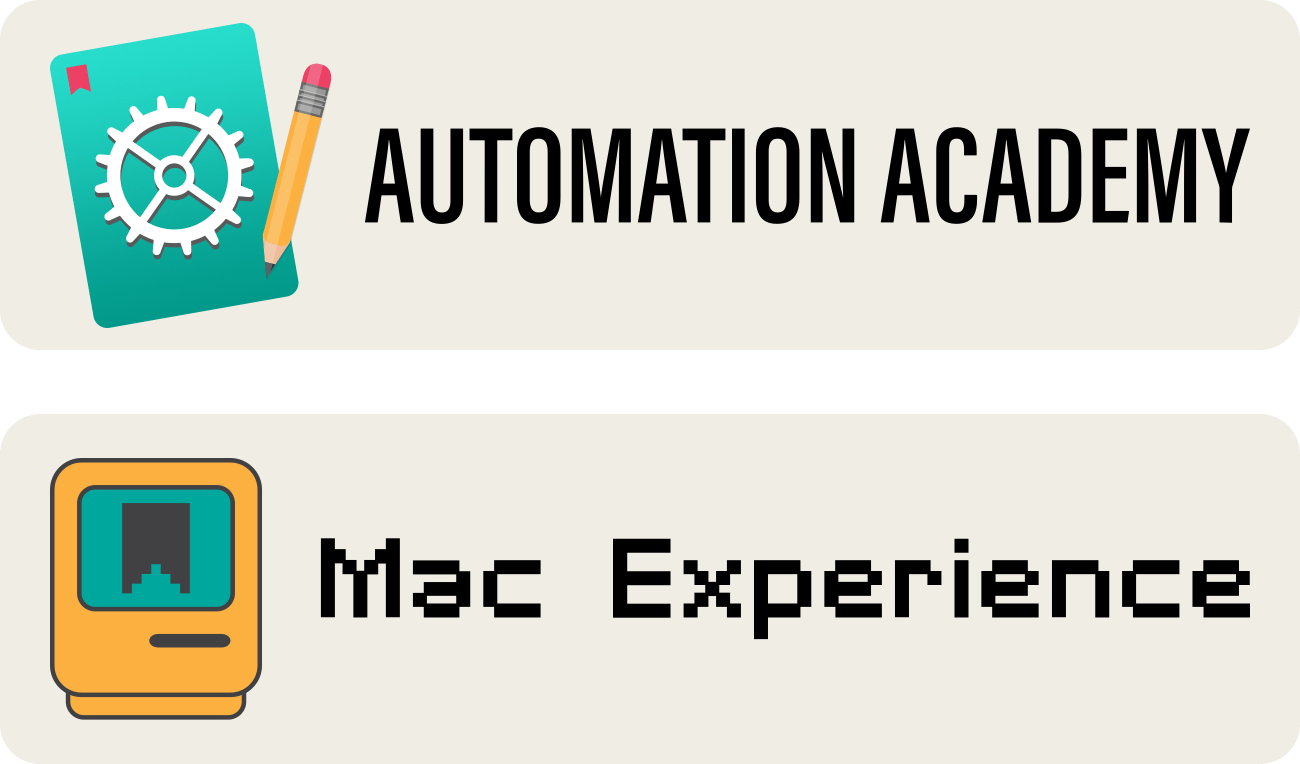 An important pillar of Club MacStories+ and Club Premier is the new columns that we're rolling out, which also incorporate our Discord community. Federico will be leading monthly Automation Academy lessons beginning September 9th, while I have already begun exploring the modern Mac experience and the foundational transition the platform is experiencing. I wrote about both features in-depth yesterday, so I won't repeat that here, but if you're interested in learning more, be sure to check out that story.
Discounts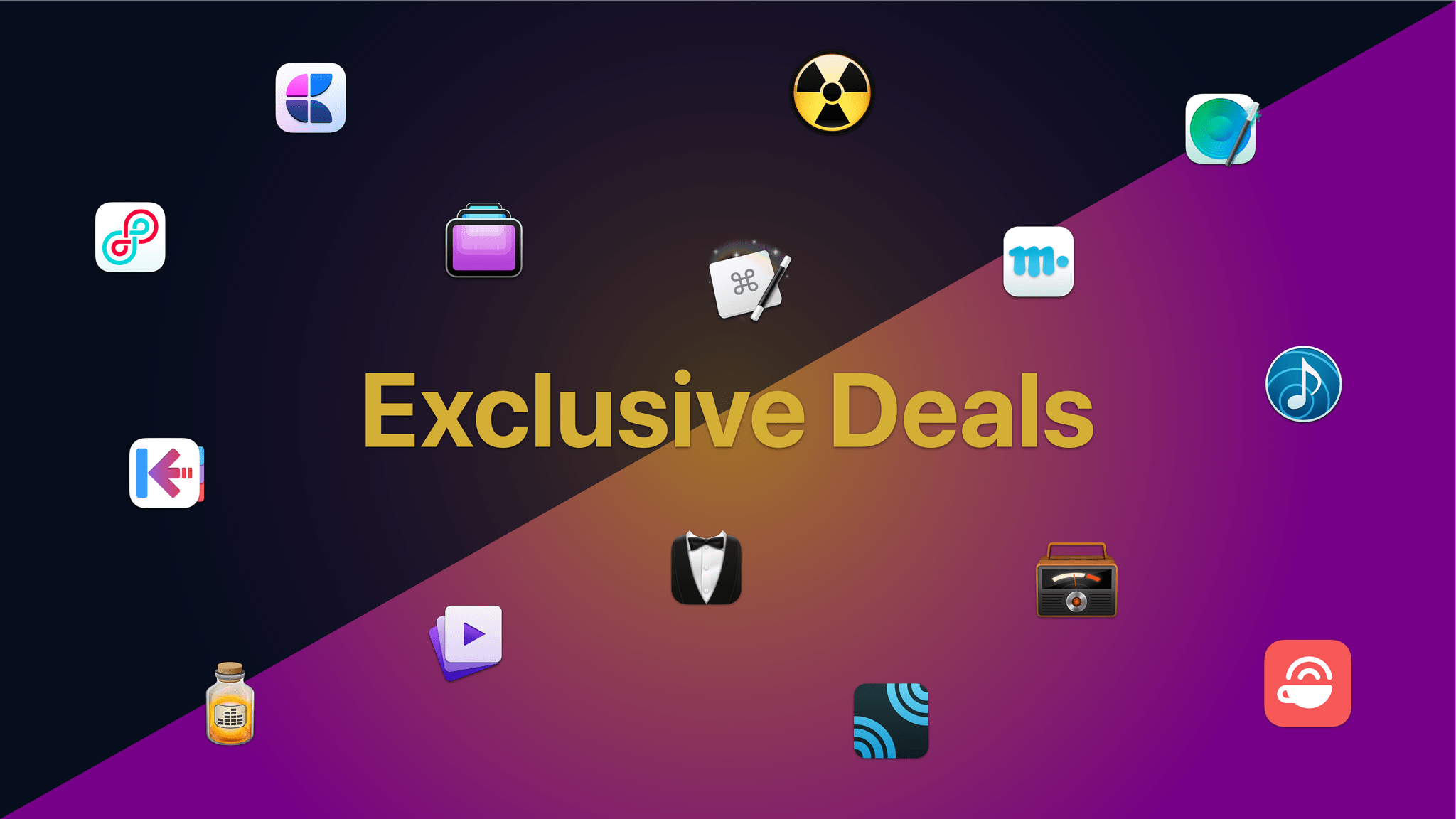 Discounts and giveaways have been part of Club MacStories since its inception, but with Club MacStories+ and Club Premier, we're doing something a little different. With Club MacStories+ and Club Premier, we have an ongoing list of discounts from some of our favorite apps. The roster will rotate throughout the year, so there's always something new and different for members to try.
The collection at launch includes Audio Hijack, SoundSource, Loopback, and the rest of Rogue Amoeba's lineup, Bartender, Craft, Keep It, Keyboard Maestro, Mailbrew, Marked, Screens, and Todoist. As in the past, we also have ongoing discounts available for every Club plan for the MacStories Pixel icons sets created by our own Silvia Gatta and 1Password.
Visit club.macstories.net/discounts for the details on the discounts. Grab them while they're available and keep a lookout for new ones throughout the year.
AppStories+ and Club Premier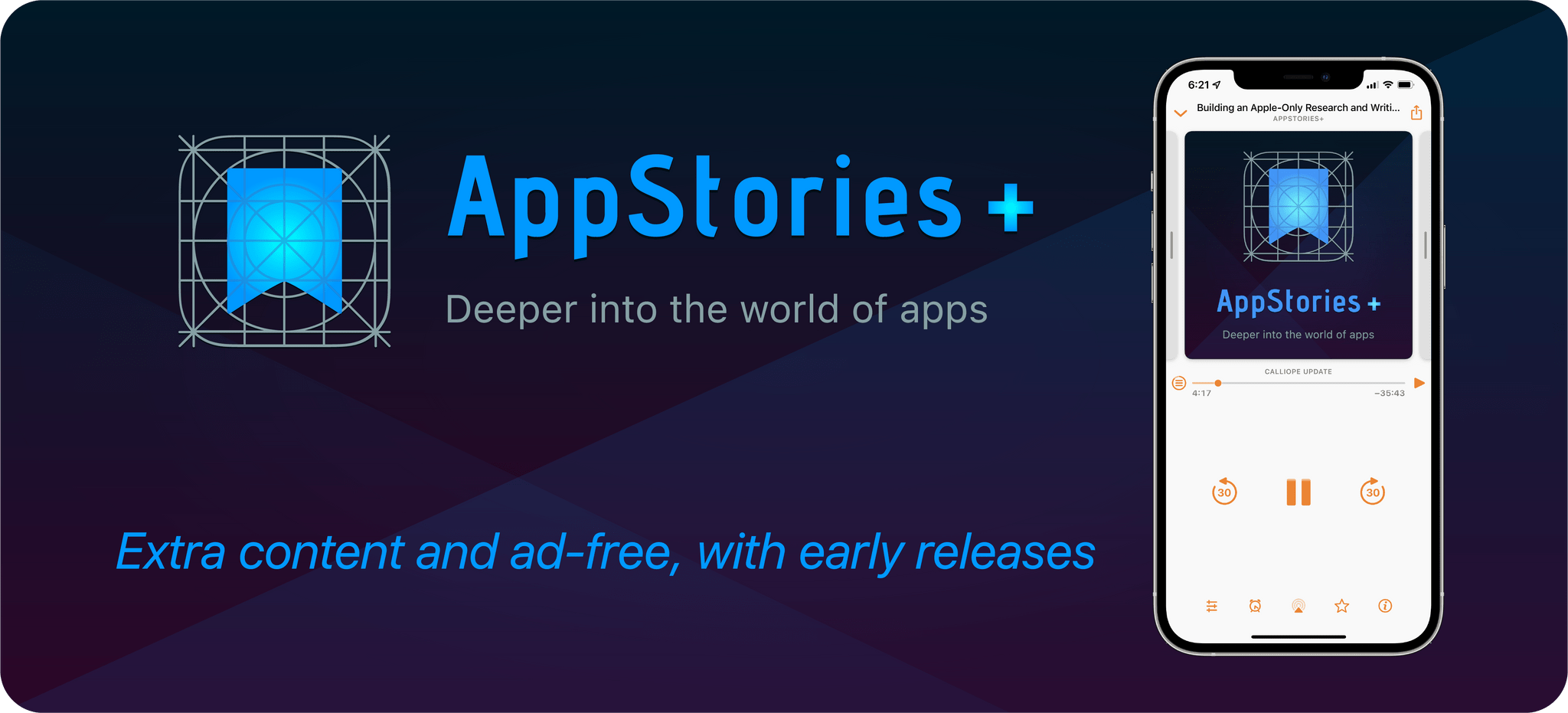 That's a lot, which is why we first announced AppStories+ last week. We didn't want it to get lost in the shuffle. As a standalone podcast, AppStories+ is the best version of the show we've ever produced. Subscribers enjoy ad-free, extended episodes that are delivered a day early with high bitrate audio. For the complete details on AppStories+, be sure to check out my announcement post from last week.
However, what I didn't cover last week was how AppStories+ fits into the bigger picture of Club MacStories. That's what Club Premier is all about. Club Premier members enjoy all the benefits of Club MacStories and Club MacStories+ as well as AppStories+ for $12/month or $120/year. It's the best deal we offer, effectively adding AppStories+ to Club MacStories+ for just $2/month or $20/year more.
It's worth reiterating, too, that we're also offering AppStories+ as a standalone subscription for $5/month or $50/year. If you're a fan of the show, but the Club is not for you, this is your best option.
Finally, we're offering AppStories+ through Apple Podcasts Subscriptions too because a large part of the audience uses Apple Podcasts and many people prefer to use Apple's payment system. Please keep in mind, though, that it costs more at $8/month or $80/year, you'll be limited to the Apple Podcasts app for listening, and because it's not affiliated with our subscription program in any way, we won't be able to upgrade those listeners to a Club Premier account, which is something we can do if you subscribe to AppStories+ directly through us.
---
We've announced a lot this week. It's the culmination of an enormous amount of planning and work and a team effort in the truest sense. Every member of the team has played a critical role in making this a reality, and I feel very fortunate to work with such a talented group.
A lot of what we've shared so far this week is about what you can expect to get if you subscribe to one of the three Club MacStories tiers. That's as it should be. We don't ask you to part with your money lightly. We want everyone to feel like they are getting a good deal no matter which subscription they pick. I think we've accomplished that, so allow me to digress a moment as I wrap up.
As much as we announced this week, it's actually part of something much bigger. Calliope is the first step in re-imagining MacStories as the best version of what it already is: truer to our belief in open web standards, more focused than ever on bringing MacStories' audience thoughtful, in-depth coverage of apps, Apple, and their impact on society, and built for long-term sustainability. Time has shown us that there's an audience for MacStories' unique personality and approach to the tech world. The tools we've built won't get us where we want to go on their own, but with your continued interest and support, I'm confident we'll be here doing what we love for a very long time.
Thanks for reading, listening, and being a part of what we do. It means so very much to all of us, and it's been wonderful to finally get to share our excitement and optimism for the future with everyone this week.