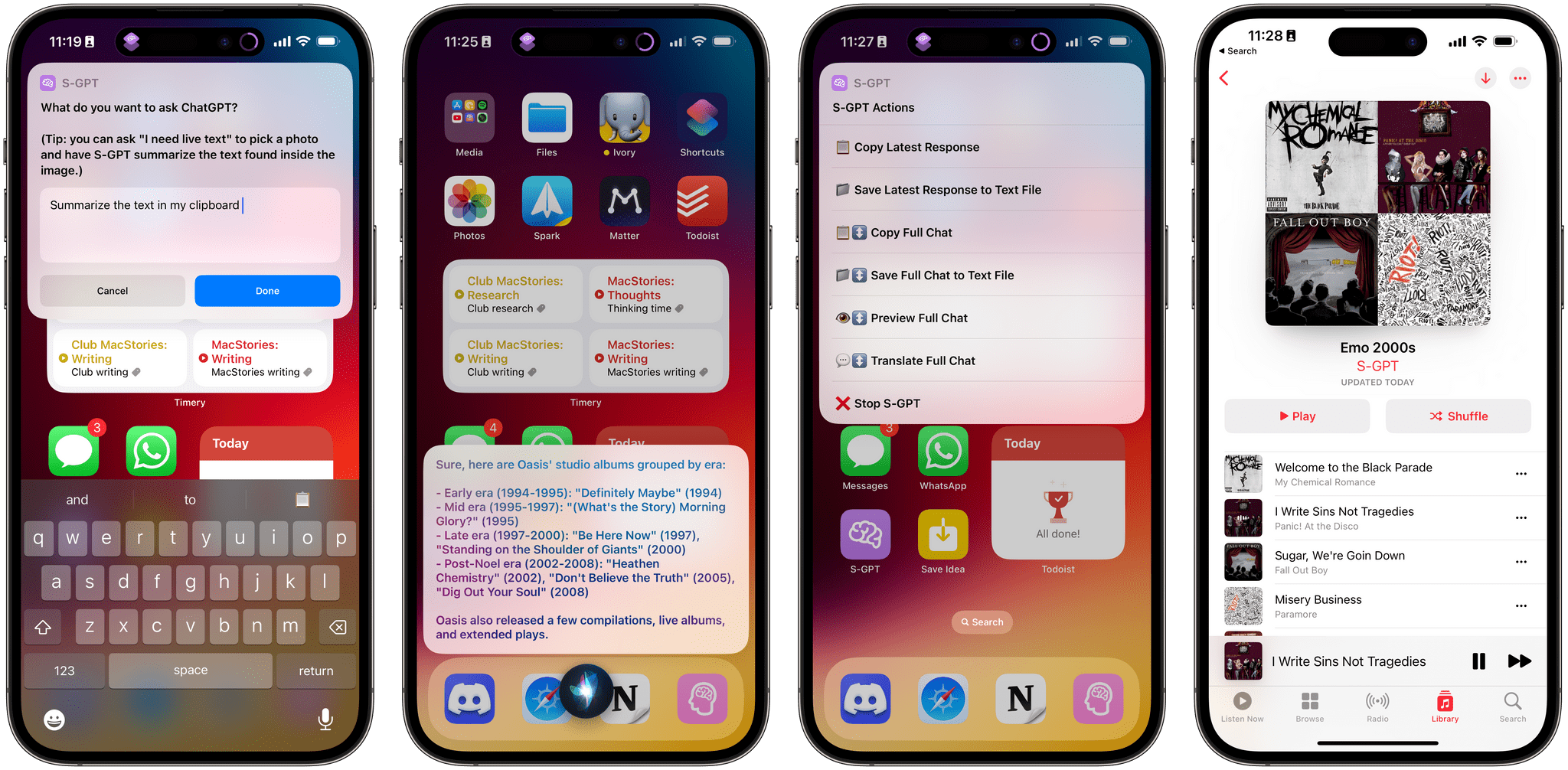 Update, April 13: I've updated S-GPT to version 1.0.2. You can read the full changelog here. All download links have been updated.
Update, April 13: For Club MacStories+ and Premier members, I've published Part 1 of an extensive 'Making Of' series about S-GPT. This is a technical deep dive for my Automation Academy series. You can find it here and sign up for or upgrade to a Premier account using the buttons below.
Update, April 7: For Club MacStories members, I've shared some optional prompts to add different personalities to S-GPT, including two inspired by Roy Kent and Steve Jobs. You can get the prompts and read more here; the main S-GPT shortcut is and will remain free-to-use for everyone, of course.
Update, April 7: I've updated S-GPT to version 1.0.1. You can read more details here. All download links to the shortcuts have been updated to the latest version.
---
It's the inaugural week of the second annual edition of Automation April, and to celebrate the occasion, I've been working on something special: today, I'm introducing S-GPT, an advanced conversational shortcut for ChatGPT that bridges OpenAI's assistant to native system features of iOS, iPadOS, macOS, and watchOS.
S-GPT (which stands for Shortcuts-GPT) is free to use for everyone, but it requires an OpenAI account with an associated pay-as-you-go billing plan since it takes advantage of OpenAI's developer API, which has a cost. S-GPT was built with the latest ChatGPT API, and it can be used both with the existing ChatGPT 3.5 model or – if you have access to it – the ChatGPT 4 API.
While the shortcut is free for MacStories readers, I will be publishing a detailed, in-depth Automation Academy class soon for Club MacStories Plus or Premier members to explain the techniques and strategies I used to build this shortcut. I genuinely think that S-GPT is, from a technical perspective, my best and most advanced work to date; I hope my Academy class will help others learn some useful tips for Shortcuts and, in return, make even better automations for our contest.
With that said, let's look at what S-GPT is and what you can do with it.