We are back with another edition of Automation April. Last year's kickoff event was a big success. We published a wide variety of automation stories, released special podcast episodes, held online automation events, and capped off the month with a Shortcuts contest. But best of all, we saw tremendous excitement and participation throughout the automation community. It was amazing to see the community come together to share their love of automation and learn from each other all month long.
Great automation is about more than efficiency. It's also about making your devices your own, so they suit your needs better than off-the-shelf apps can by themselves. The spirit of tinkering, customization, and building something better is what Automation April is all about, which is why we're pleased to be spending April showcasing automation on Apple platforms alongside developers and MacStories readers again this year.
If you joined us for Automation April last year, you've got a head start on what to expect this year. For everyone else, you can expect special Automation April stories on MacStories.net, special episodes of AppStories, themed issues of our Club MacStories newsletters, and events in the Club MacStories+ Discord community. Along the way, MacStories will turn 14 on April 20th, which makes this month all the more special for us. We've got a lot planned, so let's dig into things in a little more detail:
The Contest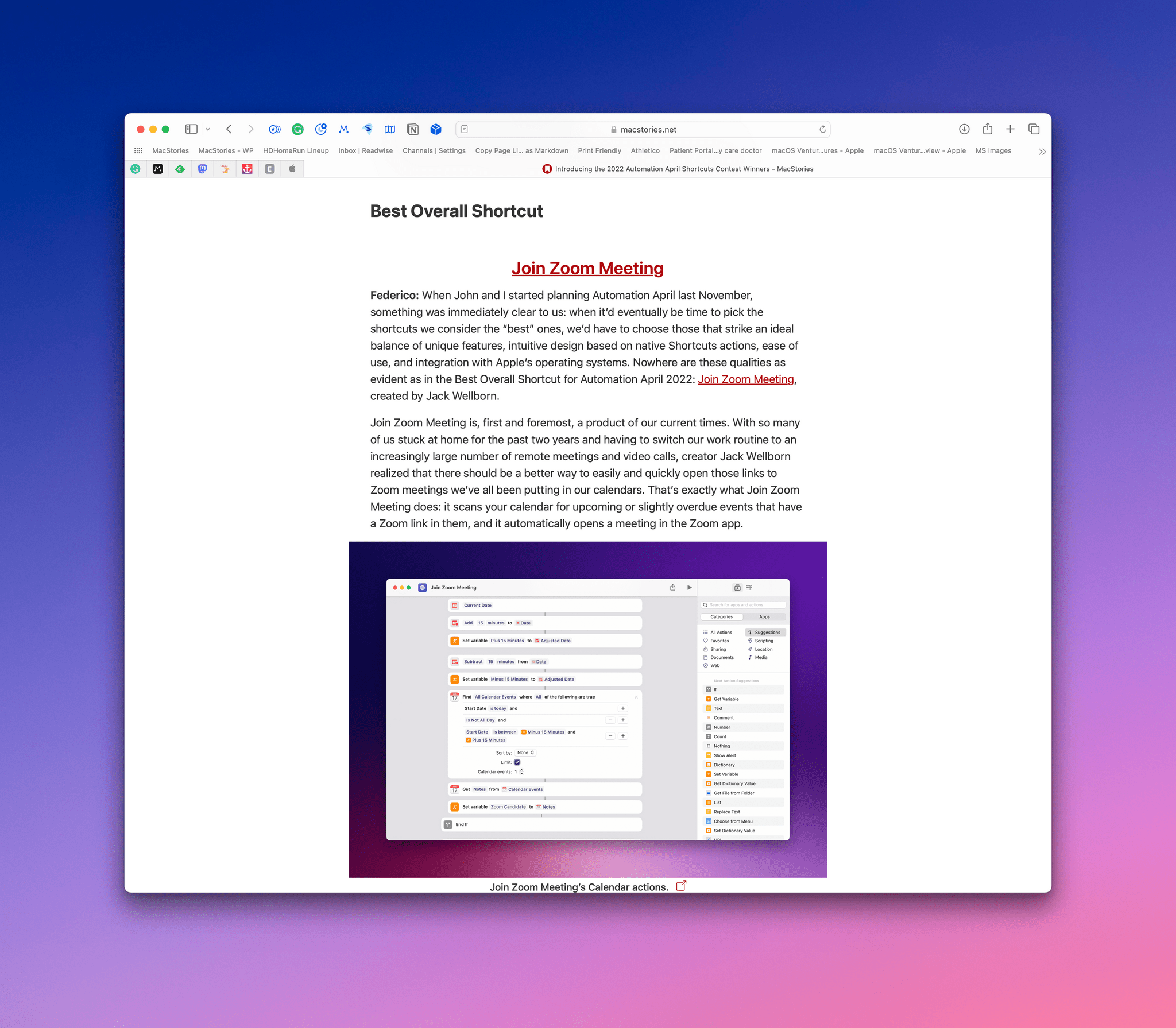 Last year, we started the Automation April Shortcuts Contest as a way to showcase the best shortcuts from the automation community. Shortcuts creators bring unique ingenuity and passion to all corners of the automation community. Over the years, we've had the privilege to get to know many through MacStories, Reddit, social media, and elsewhere. With the Automation April Shortcuts Contest, we're excited to bring everyone together to show off the very best this thriving community has to offer.
We'll post the full set of rules and instructions on how to submit your shortcuts when the contest kicks off on April 3rd, but here's an overview of what to expect:
Like last year, submissions are open and free to all and will include four slightly reworked categories:
Best productivity shortcut
Best media shortcut
Best HealthKit shortcut
Best Mac-specific shortcut
There will be prizes for winners of each category that we'll reveal on April 3rd.
Our judges will also pick a Best Overall Shortcut winner for the shortcut that impresses our panel the most. Like last year, we'll have a special set of prizes for the winner of the best shortcut too.
We have an excellent lineup of judges to help us with the contest again this year, all of whom bring unique perspectives and strengths to the panel:
We're especially excited to welcome Jack Wellborn to the panel for this year's contest. Jack is the creator of Join Zoom Meeting, the shortcut that last year's panel of judges picked as the Best Overall Shortcut for the inaugural Automation April Shortcuts Contest.
Like last year, you'll be able to submit your shortcuts from our dedicated Automation April web app, which is built on the same Calliope foundation as Club MacStories and AppStories. Because the technology underlying the Club and AppStories is the same, Club members and AppStories+ subscribers will be able to use their login credentials to sign into the Automation April website.
But the contest is open to everyone, whether you're a Club member or AppStories+ subscriber, which is why we launched a new free MacStories account for last year's contest. If you signed up for a MacStories account last year, you can use those credentials to submit shortcuts to the contest again this year. If you're new to the contest, you'll be able to set up a free account on the Automation April website for the contest and upgrade it to a Club MacStories account at any time if you want.
MacStories and Club MacStories
Throughout April, Federico and I will be publishing all-new shortcuts and stories on every aspect of automation. I won't spoil everything we have in store, but you can expect stories from us about home automation, email and writing automations, app and hardware reviews, and more.
Of course, we've got special stories and events planned for Club MacStories too. We'll have special automation-themed issues and columns for members throughout the month. We've also teamed up with indie developers for giveaways each week during April.
AppStories and AppStories+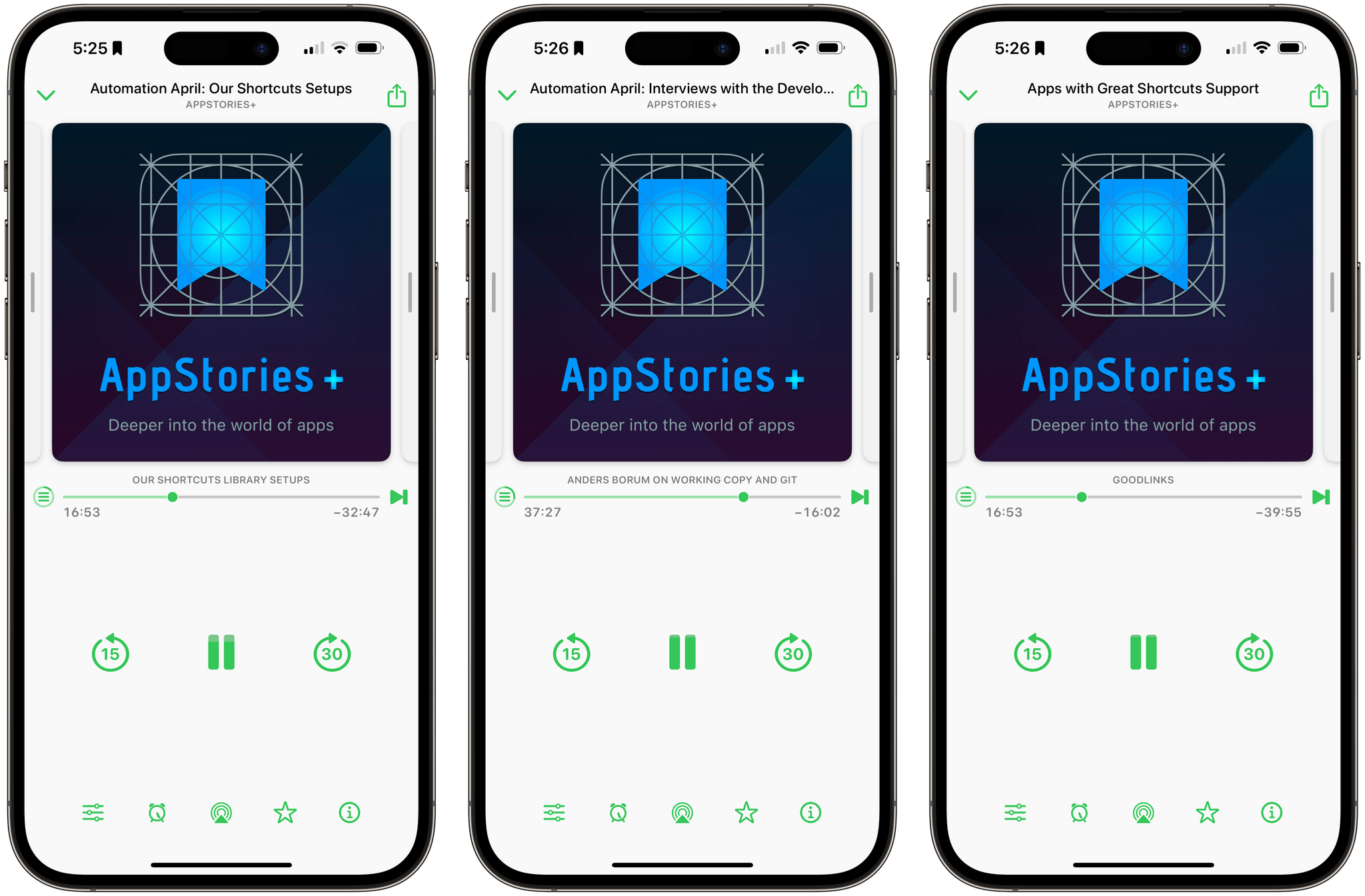 We've also got special episodes of AppStories planned covering Shortcuts and other automation topics and interviews. AppStories will allow us to expand our coverage beyond the stories on the site and update listeners on what's coming up with Automation April throughout the month.
That expanded coverage will encompas the exclusive pre-show segments of AppStories+ too. AppStories+ is a premium version of AppStories that is ad-free, extended, and released in high-bitrate audio one day early for members. You can subscribe to it standalone or get it as part of the all-access pass that is a Club Premier subscription.
Club MacStories+ Discord Community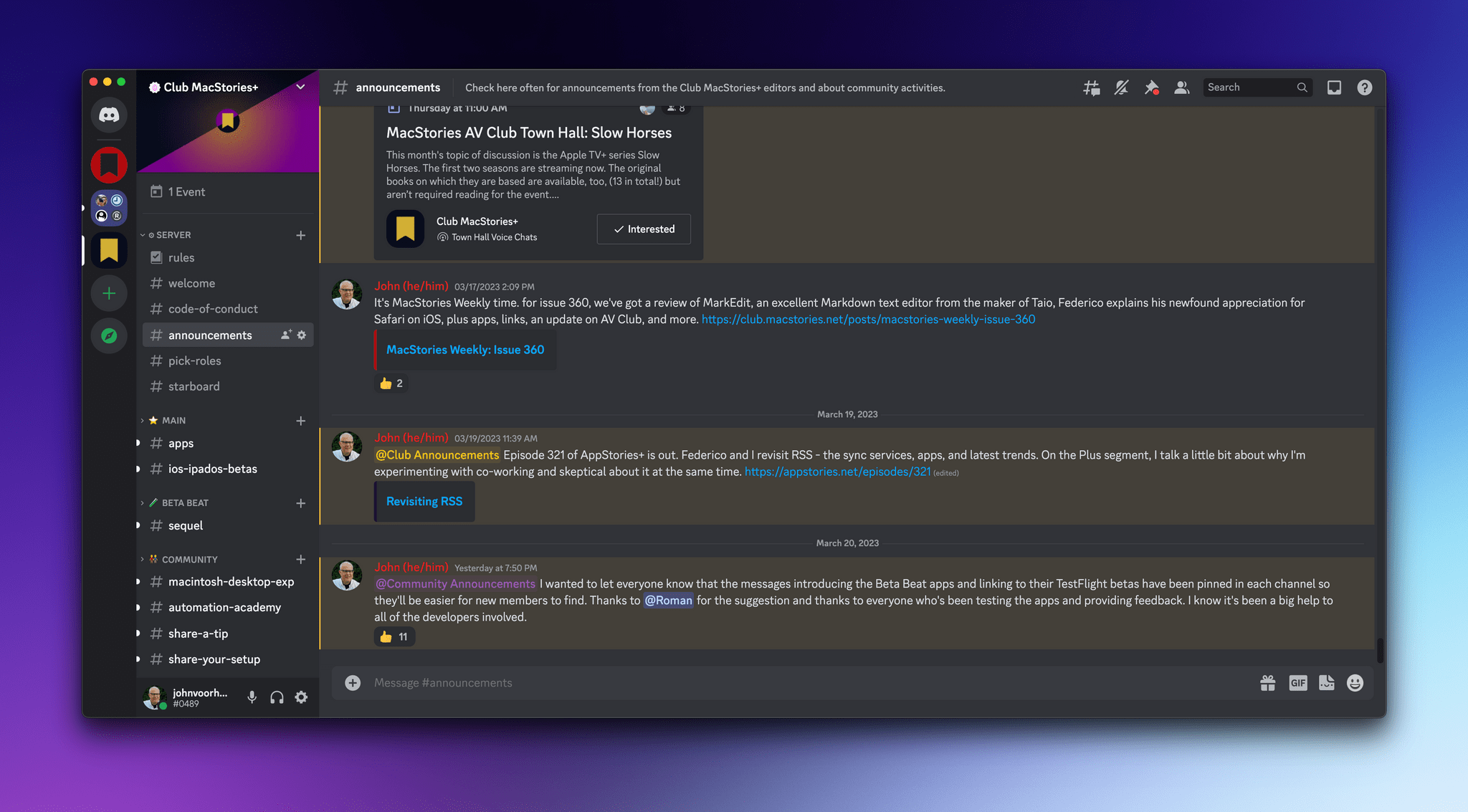 Last year's live audio Town Halls were a big hit with Club members. We'll be doing a couple again during April, where we'll cover our approaches to automation, answer questions, and provide tips and strategies for building your own automations live in our Discord Town Hall audio channel. The Town Halls will also be released as separate podcast episodes in the Club MacStories+ Town Hall podcast feed.
The Discord community will also feature a special Automation April channel. Last year the channel became a hub for members to share tips and shortcuts throughout the contest and help each other with tricky automation problems. It was great to see Club members working together last year, and we're looking to spend a lot of time in the channel ourselves again this year.
Finally, we'll be doing Discord-only app giveaways too. These were a big hit last year, so keep an eye out in the giveaway channel all month long. If you'd like to join and be part of our Discord community, you can sign up for or upgrade your existing Club MacStories account to Plus or Premier here.
---
See You in April
Last year, Federico explained that our goal was to turn Automation April into an annual month-long tradition that celebrates the best of automation on Apple's platforms. Another year has rolled around, and that's exactly what this year is all about. We learned a lot about what worked best last year and are leaning into those lessons for 2023.
It's going to be a big month across everything we do at MacStories, and we're excited to have the automation community, developers, and our esteemed panel of judges along for the ride. Come back on April 3rd as we kick off Automation April 2023 and the Second Annual Automation April Shortcuts Contest.
---
You can also follow MacStories' Automation April coverage through our dedicated hub or subscribe to its RSS feed.