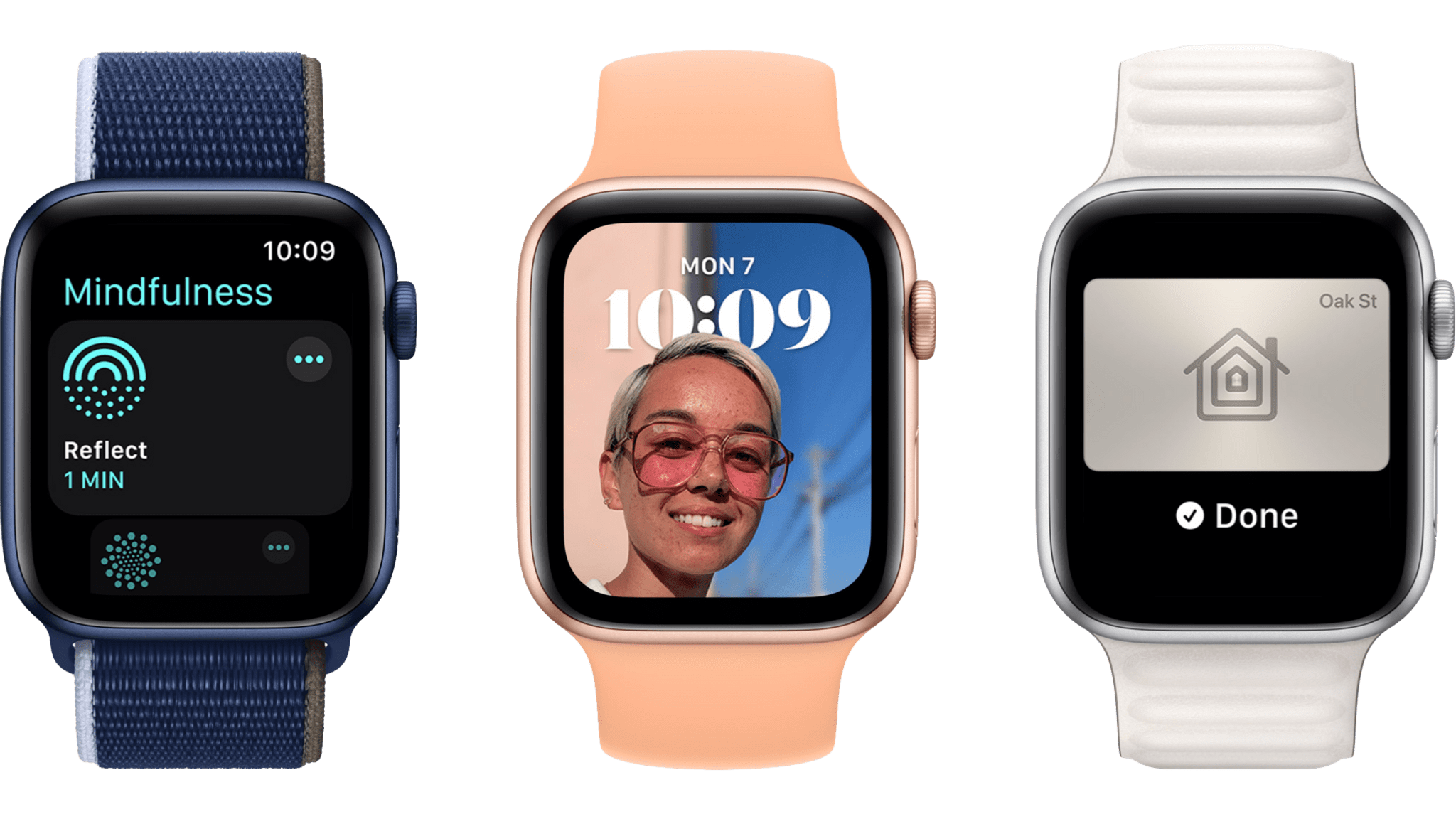 At yesterday's WWDC keynote event, Apple's VP of Technology Kevin Lynch announced watchOS 8. The latest iteration of the Apple Watch operating system includes advancements in health features, a refreshed take on photos, improved text input, and more. Apple didn't spend much time on watchOS during the event, but there are many quiet, new features sneaking into this release. Let's take a look at everything Apple has in store for Apple Watch users this fall.
Health and Fitness
No watchOS update is complete without health and fitness changes. This year, Apple has revamped the Breathe app (and renamed it to Mindfulness), added more sleep tracking features, and provided new workout types.
Mindfulness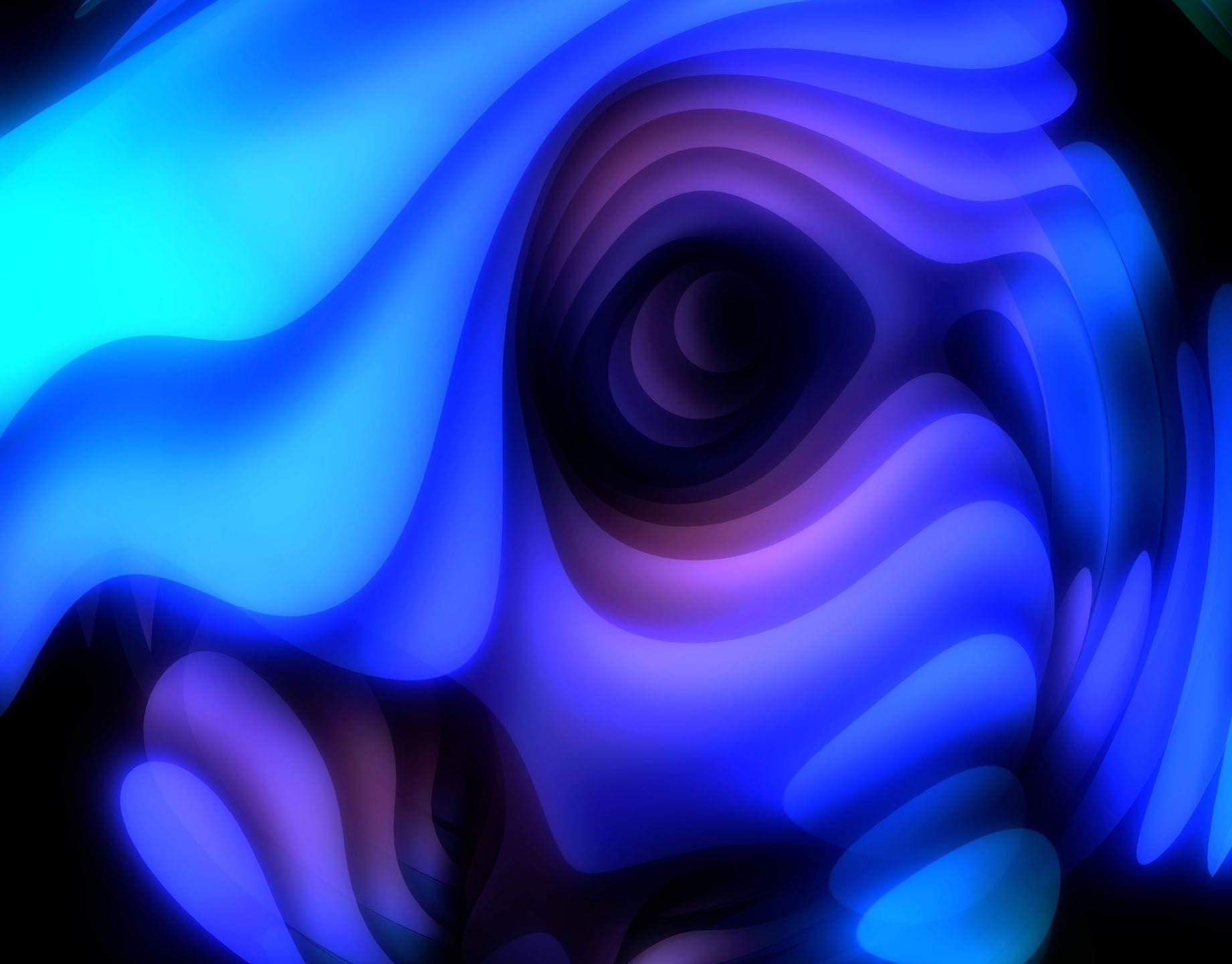 Unsurprisingly, Apple says that the Breathe app's popularity soared over the last year. In response, they expanded it into a new app called Mindfulness, which packages Breathe alongside a new "Reflect" feature. Breathe looks like it will be mostly the same, although the animation has been recreated and looks even nicer and more calming than before.
Reflect presents users with a particular theme statement for them to meditate on. The example statement from the keynote was, "Think about something you love to do and why it brings you joy." When you're ready, you'll tap the 'Begin' button to enter into a Reflect session. This receives its own beautiful animation and the app times how long your session lasts.
The Mindfulness app will track both your Breathe and Reflect sessions to keep you appraised of how much time you're spending in meditation. This metric is called "Mindful Minutes," and you can see a summary of it alongside your average heart rate during Mindfulness sessions.
Sleep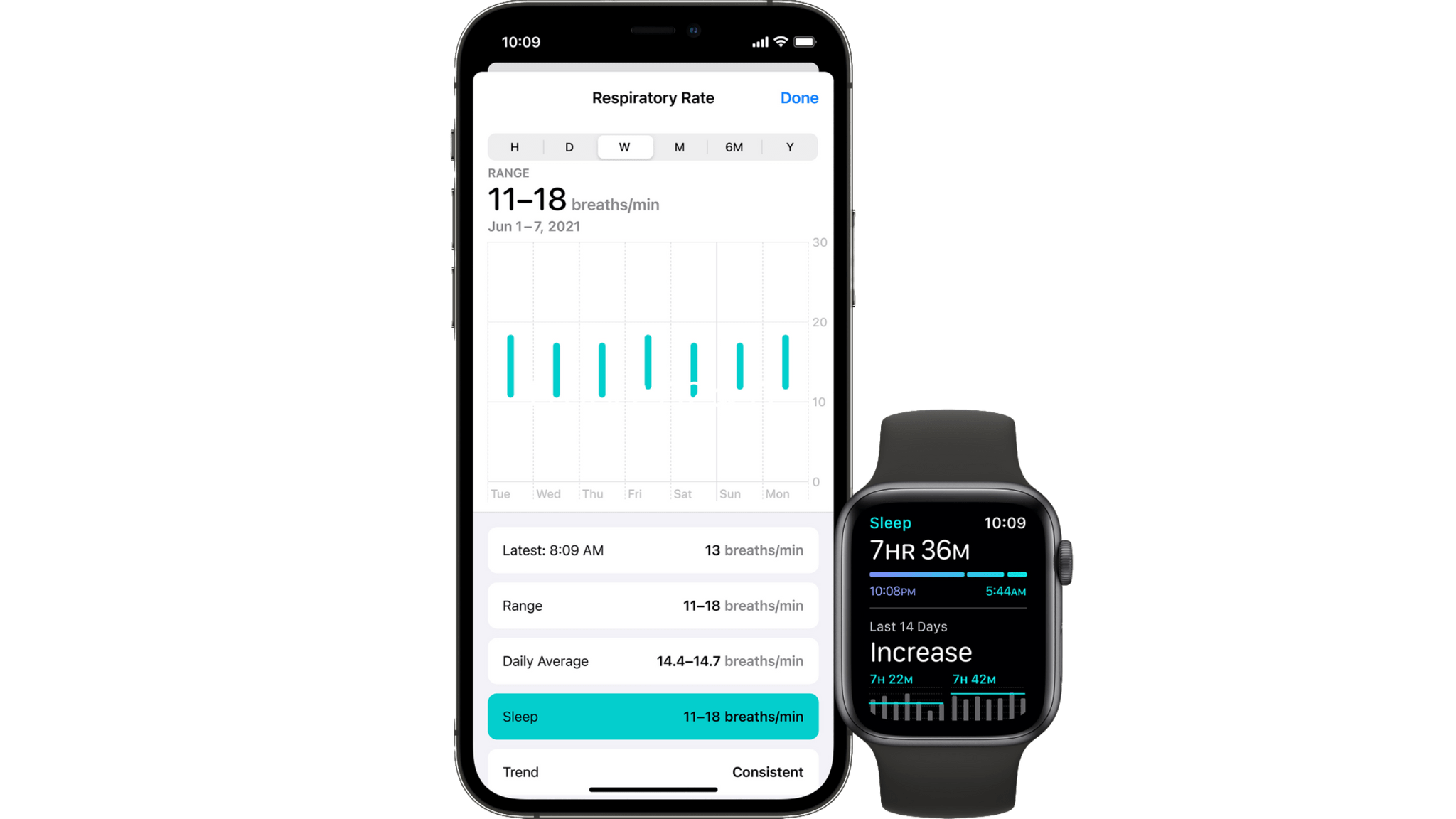 Sleep tracking was a new feature in watchOS 7, and Apple is already expanding it further this year. The Apple Watch is now able to track your sleeping respiratory rate, calculating your breaths per minute and mapping this out over time in the Health app. Interestingly, no new hardware is required for this.
Over time, the Health app will identify trends in your sleeping data, and then will send you notifications when your breathing patterns change.
Workouts
New in watchOS 8 are Pilates and Tai Chi workout types. Each type includes metrics tuned to the movements of these calming activities.
Apple has also announced a new Artist Spotlight feature for Apple Fitness+, which will allow you to play playlists from particular artists over your training videos. They've partnered with celebrity trainer Jeanette Jenkins as well for an all-new set of workouts coming later this month to Apple Fitness+.
Photos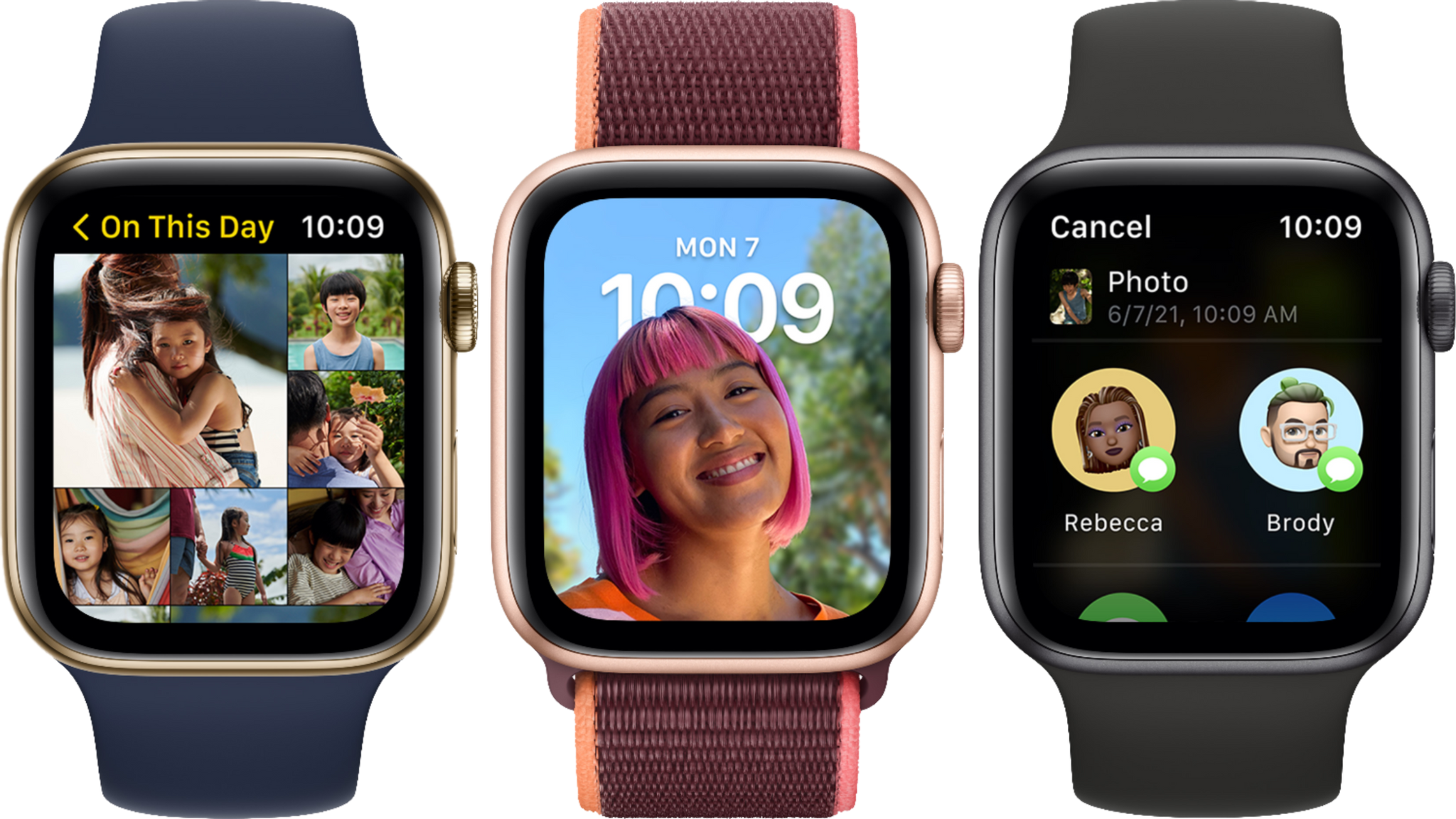 During the keynote, Lynch repeated a metric that we've heard from Apple before: that Photos is the most popular watch face among Apple Watch users. In response to that, Apple has placed a renewed focus on the Photos app and related features throughout watchOS.
Memories from the Photos app on iOS are now synced to Photos on the Apple Watch. You can open these into a new mosaic-style grid view, and scroll through them using the Digital Crown. This grid looks a lot nicer than the current Photos app for Apple Watch, which displays photos in a massive square grid, and wastes the Digital Crown on a zoom feature that takes you all the way back into an unhelpful bird's-eye view.
Tapping into a photo in the new Photos app for watchOS 8 will allow you to share it via Messages or Mail, a feature which was strangely missing before now, so it's nice to see it added.
Finally, a new Portrait watch face introduces specializations for photos shot in Portrait mode. Choose a Portrait photo for this watch face, and it will use depth data to overlay the main subject slightly on top of the digital time. This effect can be made even more distinct by spinning the Digital Crown, which will zoom the Portrait subject further out of the background and over the watch face's text. I'm not sure how practical this watch face is since the time is always partially obscured, but the effect is very cool so I expect users will enjoy it.
Messages and Text Input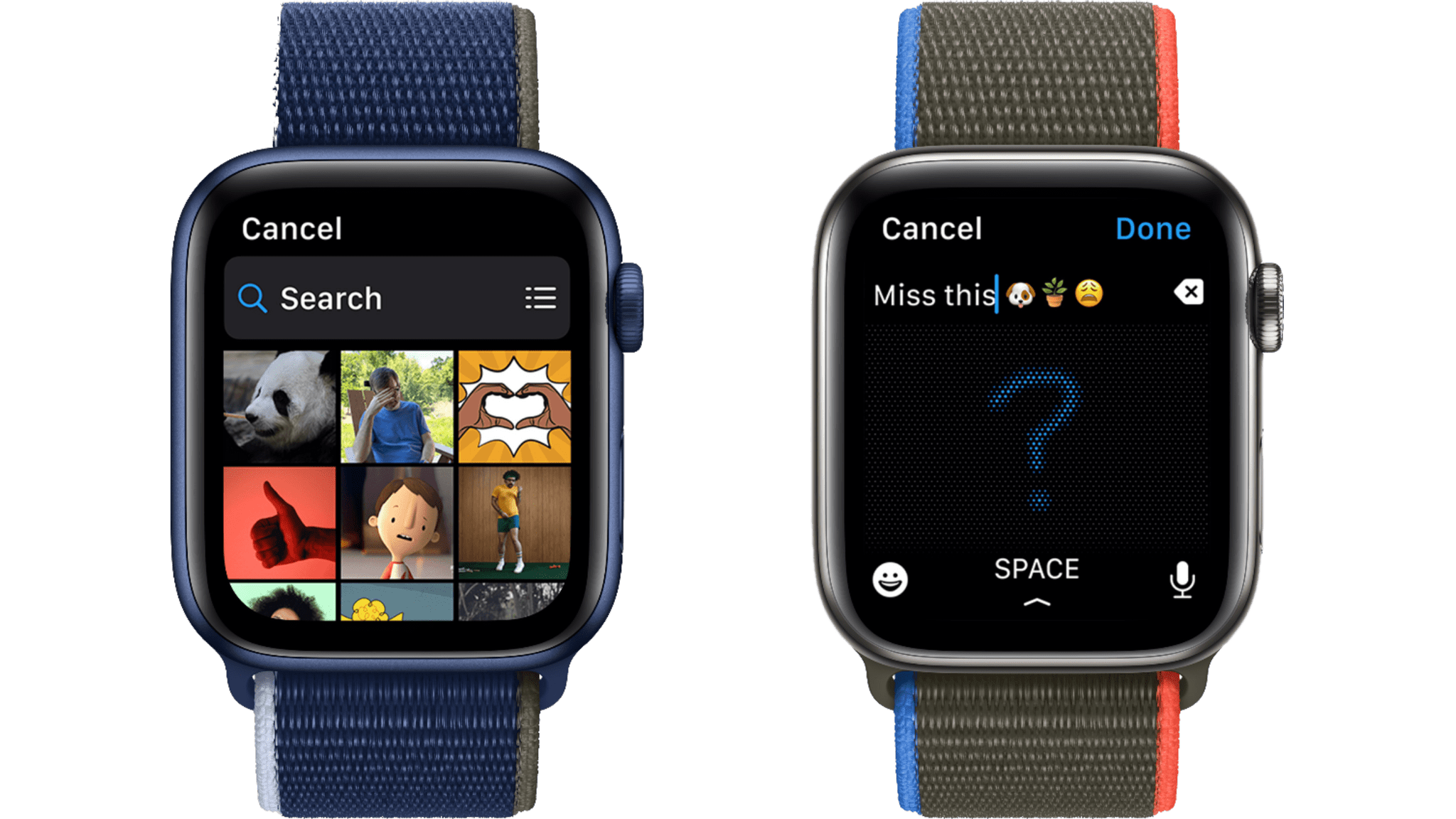 The App Shelf from iOS has arrived on the Apple Watch, so you can respond to messages using GIFs from the #images app, or use Memoji or Digital Touch (yes, that still exists). The Apple Pay Messages app will be present as well, but it's not yet clear whether all other Messages apps will show up or if it's only those made by Apple.
Alongside Messages, apps are the new text input features for Apple Watch. These are available system-wide, and allow you to assemble messages using multiple different input types. Switching between unrelated text input modes has long been a problem on watchOS, but now you can dictate, scribble, and insert emoji all within the same interface before sending your message out. You can even use the Digital Crown to move the text cursor around, which feels so obvious in retrospect that I had to check to make sure it wasn't already possible. Sure enough, this is new, and it's going to result in significantly improved text input in all watchOS interactions.
Home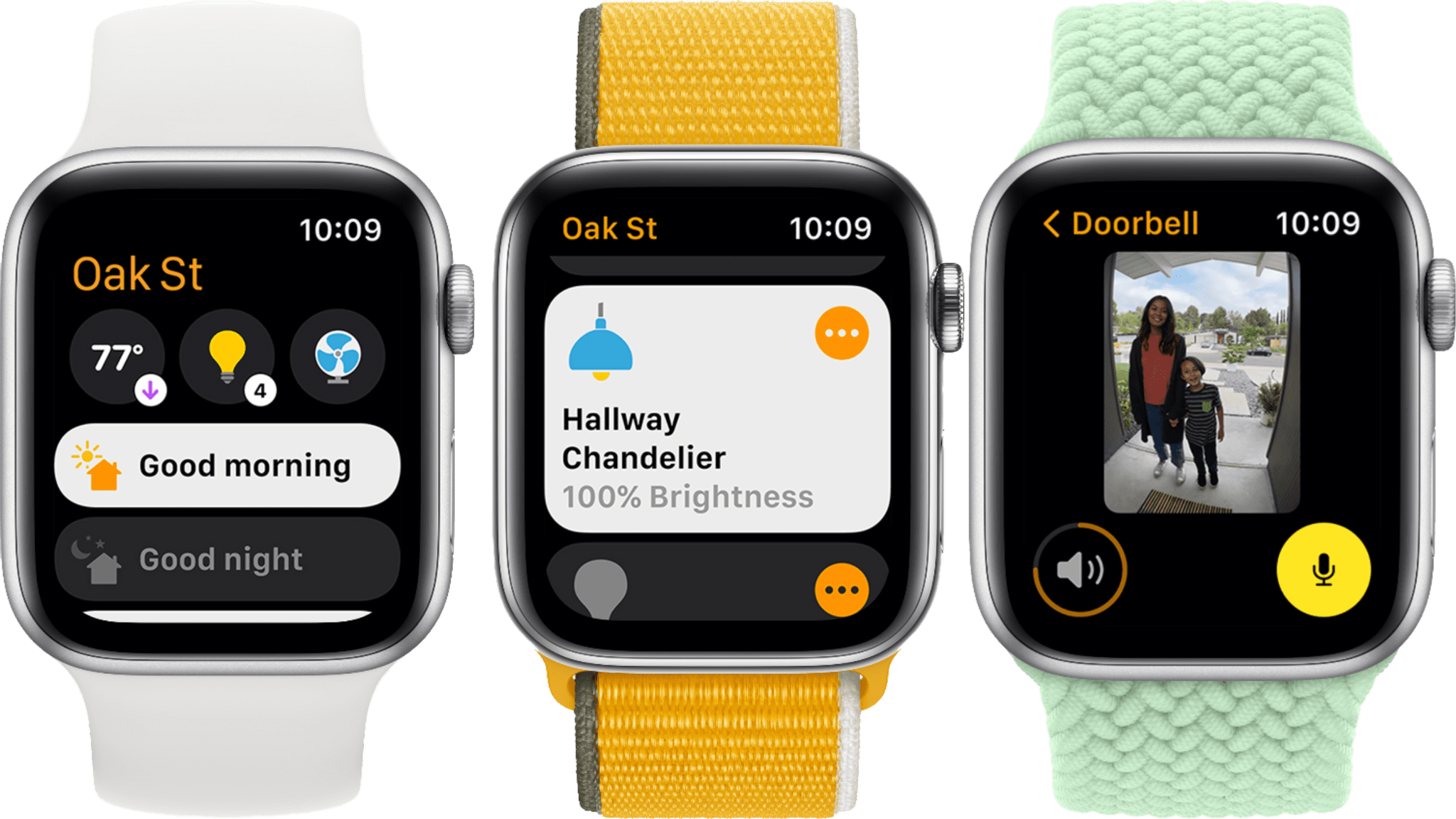 The Home app has been redesigned in watchOS 8 to offer more convenient access to accessories and scenes at any given moment. As I mentioned recently on our watchOS wish list episode of AppStories, I haven't been impressed with Apple's past efforts to use machine learning to show me what I want whenever I want it. They're leaning into this with the Home app though, which is supposed to intelligently surface the scenes and accessories that you want to interact with at the top of the interface.
I'll be playing with these features extensively over the summer, and will report back with how well Apple's machine learning did this time around in my annual watchOS review this fall.
While I feel nervous that machine learning will make the Home app feel inconsistent, I still think the new design looks far better overall. Along the top, there are multiple quick-access icons to toggle HomeKit accessories, and scenes are displayed with a much thinner design so that less scrolling is required to find the one that you want.
The Home app in watchOS 8 will provide easy access to live video streams from any HomeKit Secure Video cameras that you have set up. You can even use a convenient microphone button to talk with whoever is at your door using two-way audio if your camera supports it.
Always-On Display Improvements
If you have an Apple Watch Series 5 or later, you understand the frustration of the always-on display when you're running any app other than Workouts. Rather than showing a minimal version of what you were looking at, the display takes on a full-screen blur with a very plain digital time shown in the top-right corner. With watchOS 8, Apple is taking significant steps to resolve this.
Developers will have access to a brand new Always-On API which will help them specify which areas of their app need frequent updates, which areas will remain static, and which areas may contain private information that needs to be obscured when the display is not active.
Once more apps implement these features, we'll be seeing dimmed views of the actual app interfaces on the always-on display rather than the nebulous full-screen blur. This should be a significant improvement for users of Apple's newer watches.
Miscellany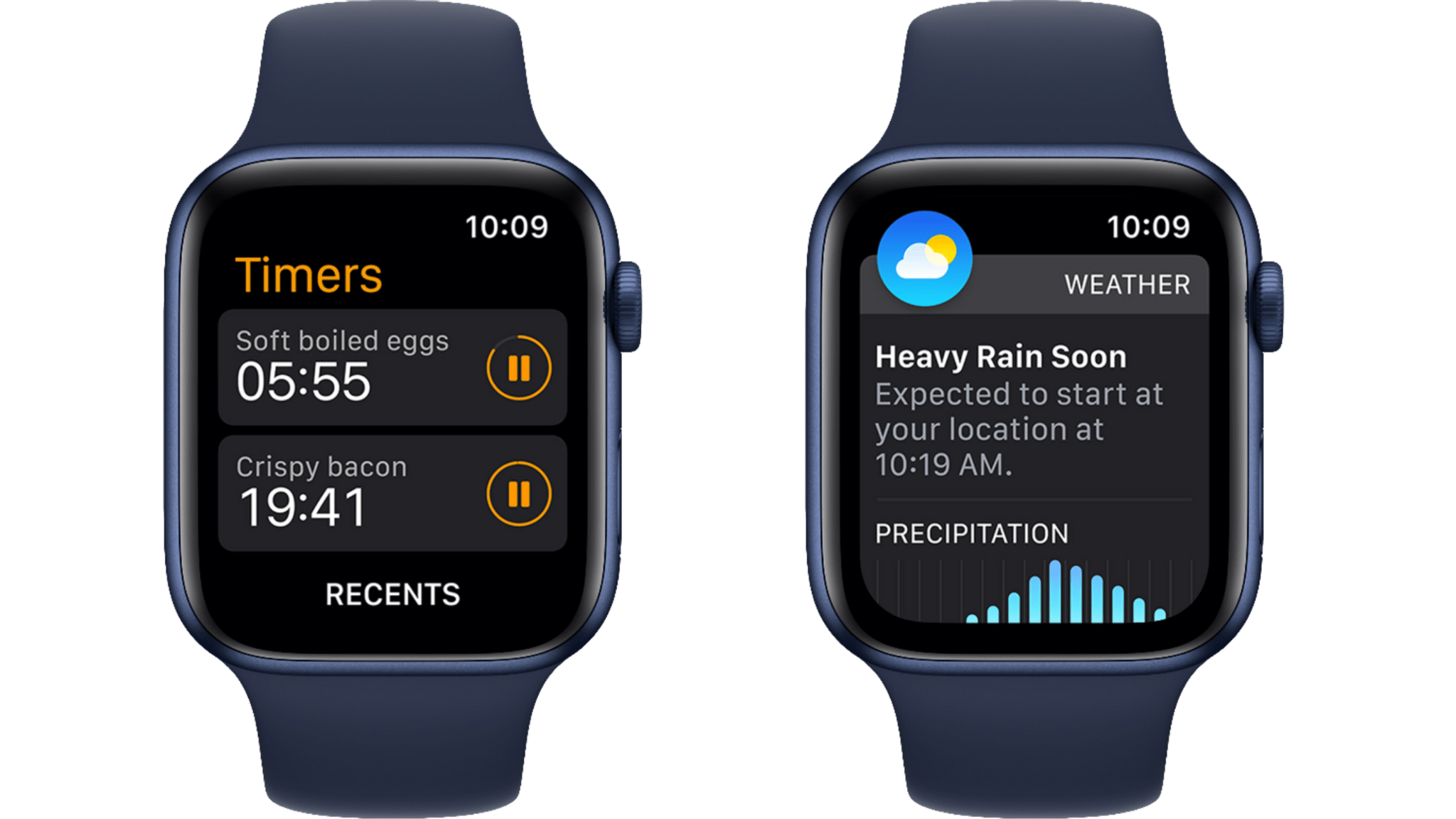 All of the new features announced for Wallet on iOS will also be available on the Apple Watch in watchOS 8.
Multiple times can be created in the Timer app.
You can share songs, albums, and playlists through Messages and Mail from the updated Music app.
The new Focus feature from iOS and iPadOS 15 can be activated from the Apple Watch in watchOS 8.
The Weather app has a new complication design, and can send notifications for impending severe weather conditions.
A new Find Items app in watchOS 8 allows you to locate items using the Find My network, such as Apple AirTags.
If you've lost an Apple device, a separate Find Devices app will help you locate those via Find My. It's unclear why this app is separated from Find Items on watchOS when both of these features are part of the Find My app on iOS and iPadOS.
Complications can now connect to Bluetooth devices, making a new class of rich complications possible via real-world data.
watchOS apps can now send location-based notifications, such as flight notifications being delivered when you arrive at the airport.
Critical HealthKit data can now be delivered immediately instead of the usual periodic updates, allowing apps to quickly respond to situations such as falls or dangerous swings in heart rate or blood oxygen.
Conclusion
watchOS 8 is on the smaller side of Apple Watch operating system updates, but everything included seems welcome. In particular, the overhauled text input system should make message composition on the Apple Watch actually feasible for really the first time ever. The previous system was just too restrictive to properly get across the small quirks that we all have when texting, which made it hard to sound like ourselves when texting from the Apple Watch. This still isn't the most convenient use case for a wrist-worn device, but I think these updates will make it a better option in more cases.
In many watchOS iterations, Apple makes small changes to huge numbers of its first-party watchOS apps. This year it seems to have taken a different approach, with most apps staying the same while a select few got significant refreshes. I think I prefer this approach because the new Home and Photos apps look like massive improvements over their previous versions. I'll need to get my hands on the betas before I can form a proper opinion on the new Mindfulness, Find Items, and Find Devices apps, but these certainly sound nice from a feature perspective.
All things considered, watchOS 8 is a lot deeper than its seven minutes of WWDC stage time made it feel. We'll be digging further into the changes to watchOS — as well as Apple's other operating systems — throughout the summer, so make sure to stay tuned to MacStories to find out more as we do.
---
You can follow all of our WWDC coverage through our WWDC 2021 hub, or subscribe to the dedicated WWDC 2021 RSS feed.