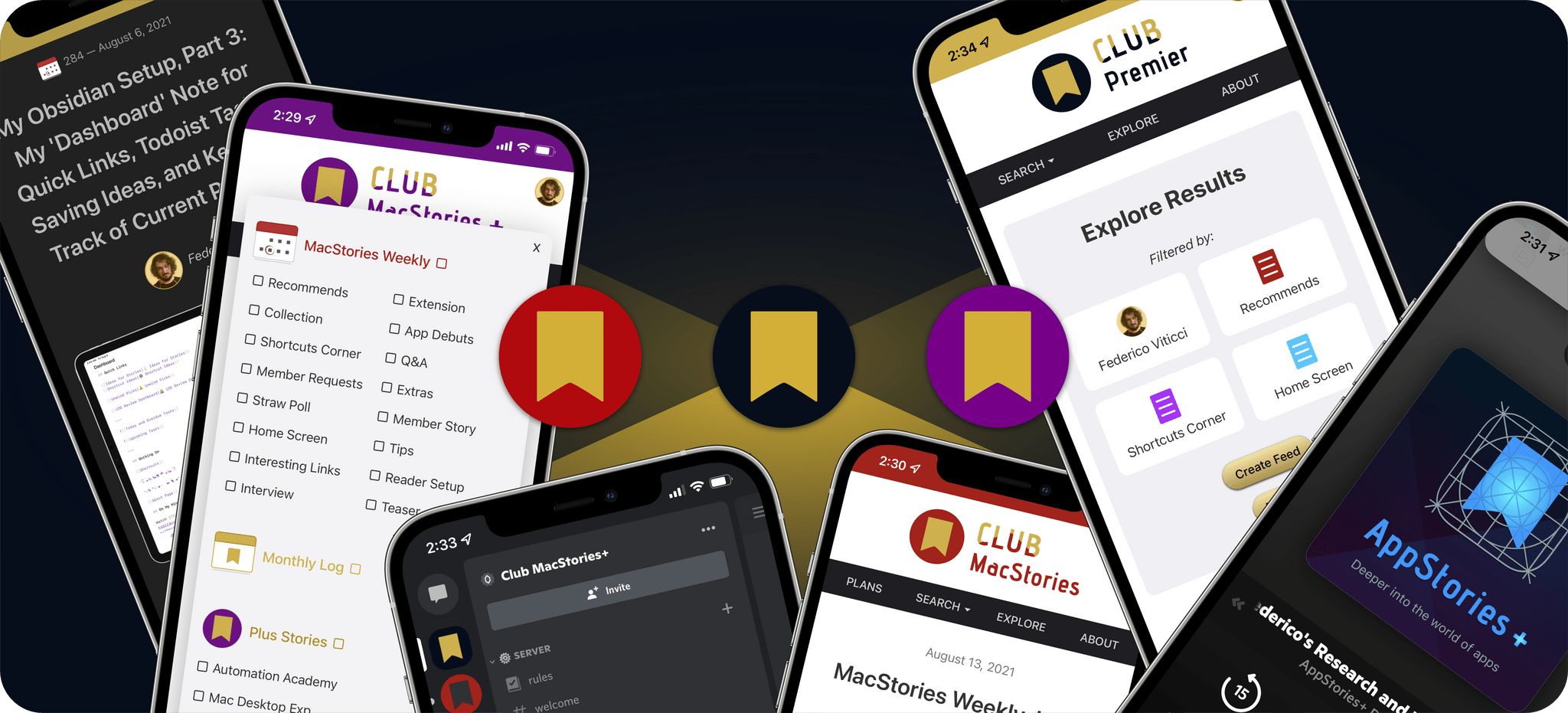 TL;DR: Today, we're announcing the all-new Club MacStories featuring two additional tiers: Club MacStories+ and Club Premier. The new plans offer extra content, a brand new, powerful web app to read Club articles on the web with advanced search and RSS features, exclusive discounts, and a new Discord community.
Club Premier is the ultimate plan that includes all of Club MacStories, Club MacStories+, and the new extended, ad-free AppStories+ podcast in a single, $12/month package. It is the best value and the easiest way to get access to everything we do. It is, effectively, the MacStories all-access pass.
You can find out more on our new Plans page and sign up or upgrade there. Nothing is changing for the regular Club MacStories tier; in fact, we're giving existing members access to our new web app at club.macstories.net as well. Existing Club members can choose to upgrade their existing accounts to the new tiers.
Today, we're launching the future of Club MacStories and MacStories itself. Read on for the full announcement below.
The Evolution of Club MacStories
Six years ago, we introduced the original Club MacStories. It offered exclusive access to two newsletters – MacStories Weekly and the Monthly Log – plus occasional giveaways and app discounts. Over the years, the Club has grown immensely, and it has become a pillar of MacStories, which has been operating – and will continue to – independently since 2009. The Club has given us the freedom to expand, focus on our in-depth reporting and reviews, and build a relationship with readers who trust us. Given how the web publishing industry has changed over the years, I know we wouldn't be here in 2021 without Club MacStories and our members.
Today, we're ready for the next step of Club MacStories and MacStories as an independent company. We're introducing an all-new Club MacStories, which is welcoming two new tiers for new and existing members:
Club MacStories+ is available at $10/month or $100/year, and it offers access to the standard Club MacStories, plus the new Automation Academy (by me) and Macintosh Desktop Experience (by John) columns, a new web app at club.macstories.net that supports advanced filters, full-text search, and RSS feeds for anything, exclusive app discounts, and – for the first time – a Discord community with the MacStories team. You can read more and sign up here.
Club Premier is available at $12/month or $120/year, and it's our premium tier for the ultimate MacStories experience. With a Club Premier account, you'll have access to everything from Club MacStories, Club MacStories+, and AppStories+, which we announced last week. AppStories+ is an extended version of the free AppStories podcast that has longer, ad-free episodes released one day early at higher bitrate. As we wrote last week, AppStories+ can be purchased standalone at $5/month or $50/year; with a Club Premier subscription, you can get everything at $12/month or $120/year. You can read more and sign up here.
And here's how you can visualize the three tiers of Club MacStories, as seen on our new Plans page: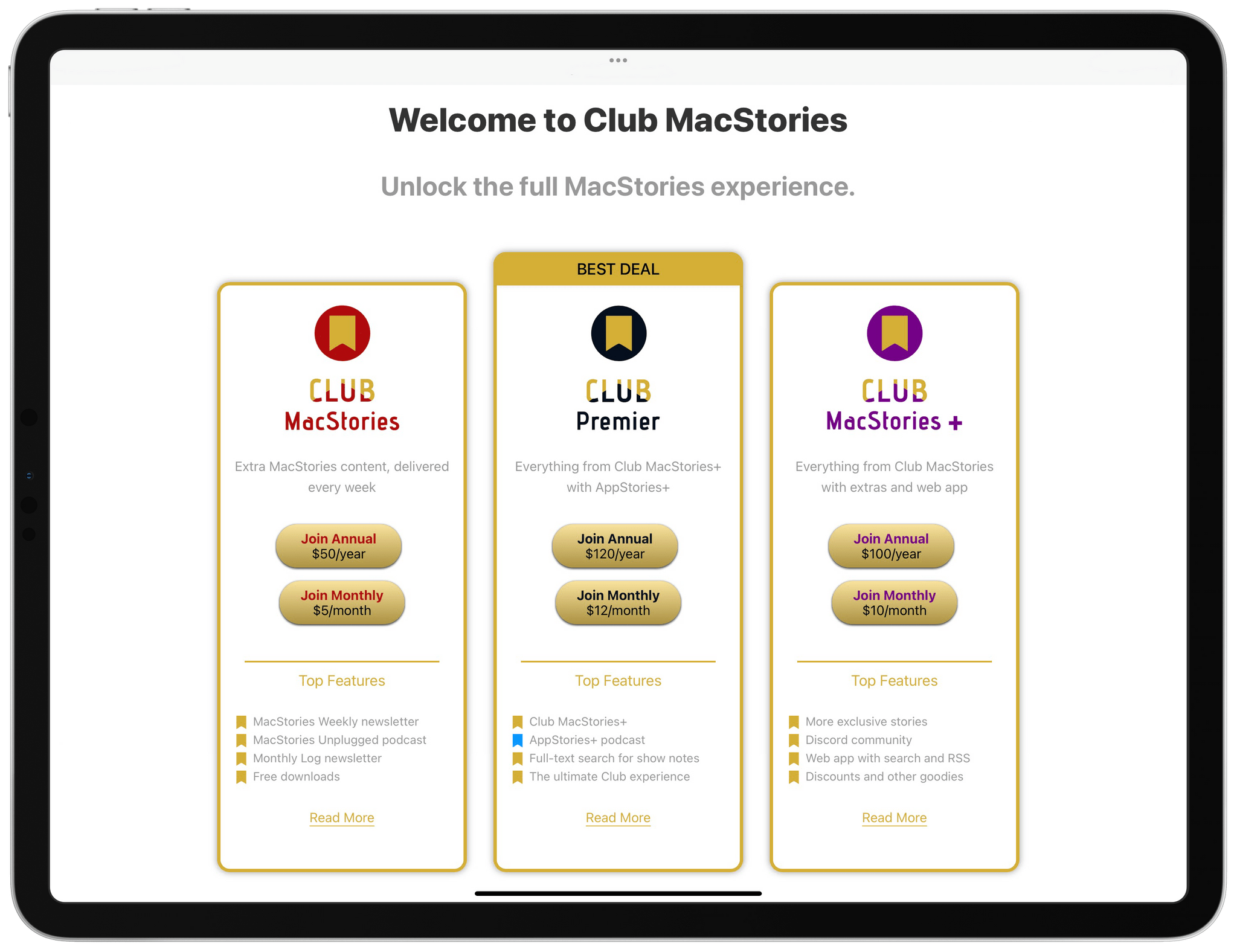 That's the gist of what we're announcing today, and I hope MacStories readers and Club members will join us in this new future for Club MacStories. We even prepared this sweet promo video to showcase the highlights of today's launch:
As I noted above, you can upgrade your existing Club account to Club MacStories+ or Club Premier: just sign in at the new club.macstories.net website and visit the Plans page to get started.
I'm going to dig deeper into the specifics of our plans below, and we're also publishing more stories and video screencasts throughout the week to give everyone a sense of the scope of this launch. However, let me say this upfront:
I've been planning Club MacStories+ and Club Premier for the past two years at least, and I wanted to do this right. So for the past 12 months, I've been working tirelessly with John and Alex to make the new Club MacStories and AppStories+ a reality. What I wanted didn't exist, so we ended up building an entirely custom publishing platform just for us. The same platform, called Calliope, that is going to power MacStories.net in the near future. I am incredibly proud of what we accomplished together as a team in this past year.
For me, today's launch isn't just the rollout of more expensive Club tiers: it represents a new beginning for the Club and MacStories, one that we fully control and allows us to offer more content to readers, new tools to search and filter our content based on open web standards, and, at long last, a safe, private community to participate in regular activities and events with us and other Club members.
This is the future of MacStories, and I couldn't be more excited for this new chapter.
Club MacStories+ and Club Premier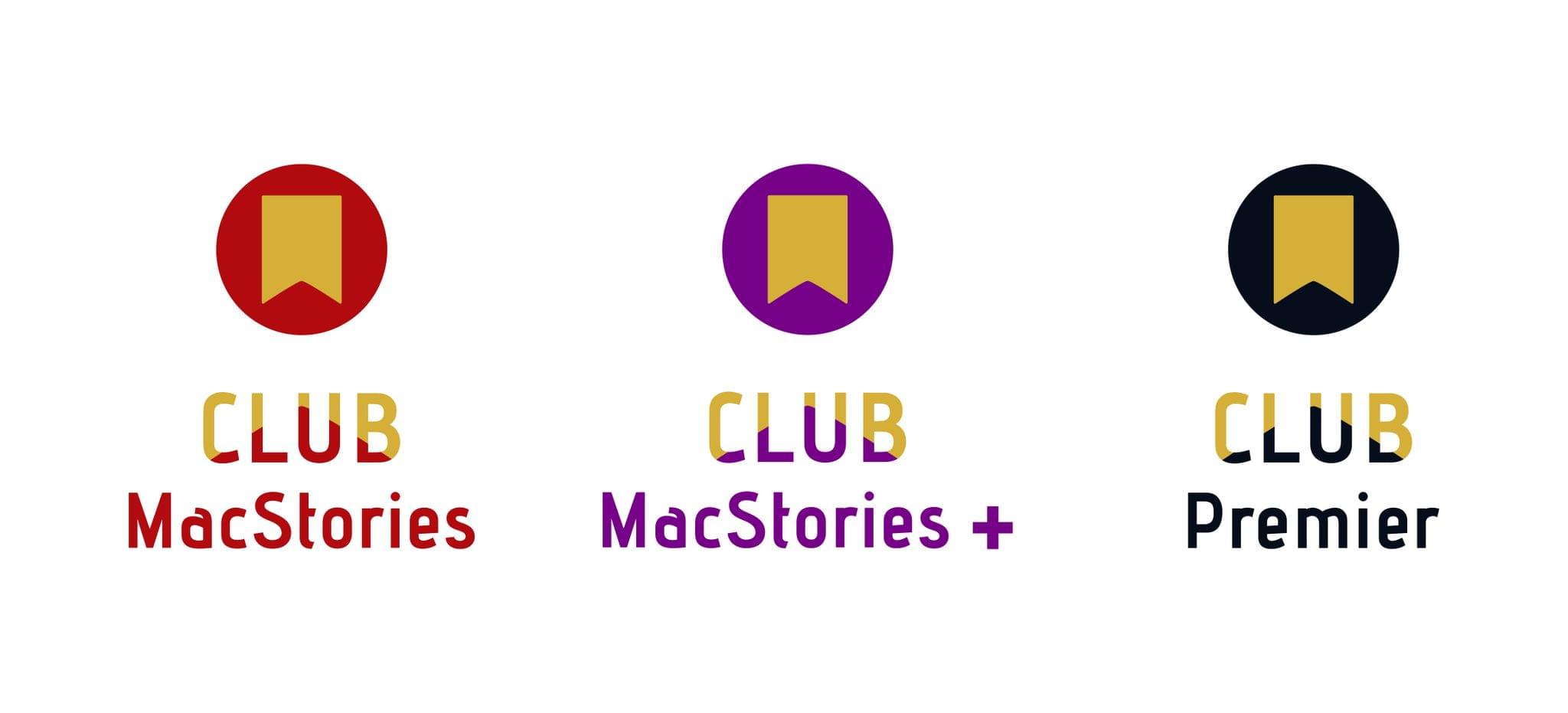 Today's launch starts with our new Club MacStories tiers: Club MacStories+ and Club Premier, available at $10/month or $12/month, respectively.
We had three main goals when we decided to grow Club MacStories beyond its original tier: provide more original content for members; give members new tools to read, browse, and search our content; and launch a community where Club members could discuss and participate in activities with the MacStories team. Club MacStories+ and Club Premier offer all this, and much more.
New Original Content
Let's start with the content. We're rolling out two new original columns for Club MacStories+ and Club Premier members:

Automation Academy. In this monthly series, I'll be sharing advanced, in-depth lessons on how to take your automation game to the next level using Shortcuts and other automation apps. In the Automation Academy, which will be published exclusively on the new Club website, I'll share high-level Shortcuts techniques, post detailed examples of how specific shortcuts work under the hood, and teach Club members how to optimize their shortcuts and other automations to achieve complex goals in an intuitive way.
There will also be a community aspect to the Automation Academy: in each lesson, I'll assign "homework" and exercises that Club members may (or may not!) decide to complete, sharing their results in our new Discord server for others to enjoy and take inspiration from.
Additionally, I will also be sharing previews of the shortcuts I'm working on (for MacStories or the Shortcuts Corner) with Club members in our Discord server.

The Macintosh Desktop Experience. This is a new column from John for the modern Mac user that draws on the platform's rich history combined with the latest apps, services, and hardware to offer new and innovative ways to get the most from your Mac. John has been planning a wide variety of fun and geeky stories for this column, and I'm very excited to see where he takes it. As someone whose interest in macOS has been rekindled by M1 Macs and the arrival of Shortcuts on macOS, The Macintosh Desktop Experience (do you get the reference?) comes at just the right time.
Discord Community
I've mentioned our brand new Discord community, so let me share a few details about that as well.
I've wanted to provide Club members with a safe place to chat, get to know one another, and share interesting things for a long time now. We took some time to get this right for two reasons: we wanted to put together a team of moderators, clear guidelines, and a Code of Conduct that could ensure a safe, welcoming, inclusive environment for all; and we wanted to do something more than just saying "we have a Discord server, you can chat there now, and that's it".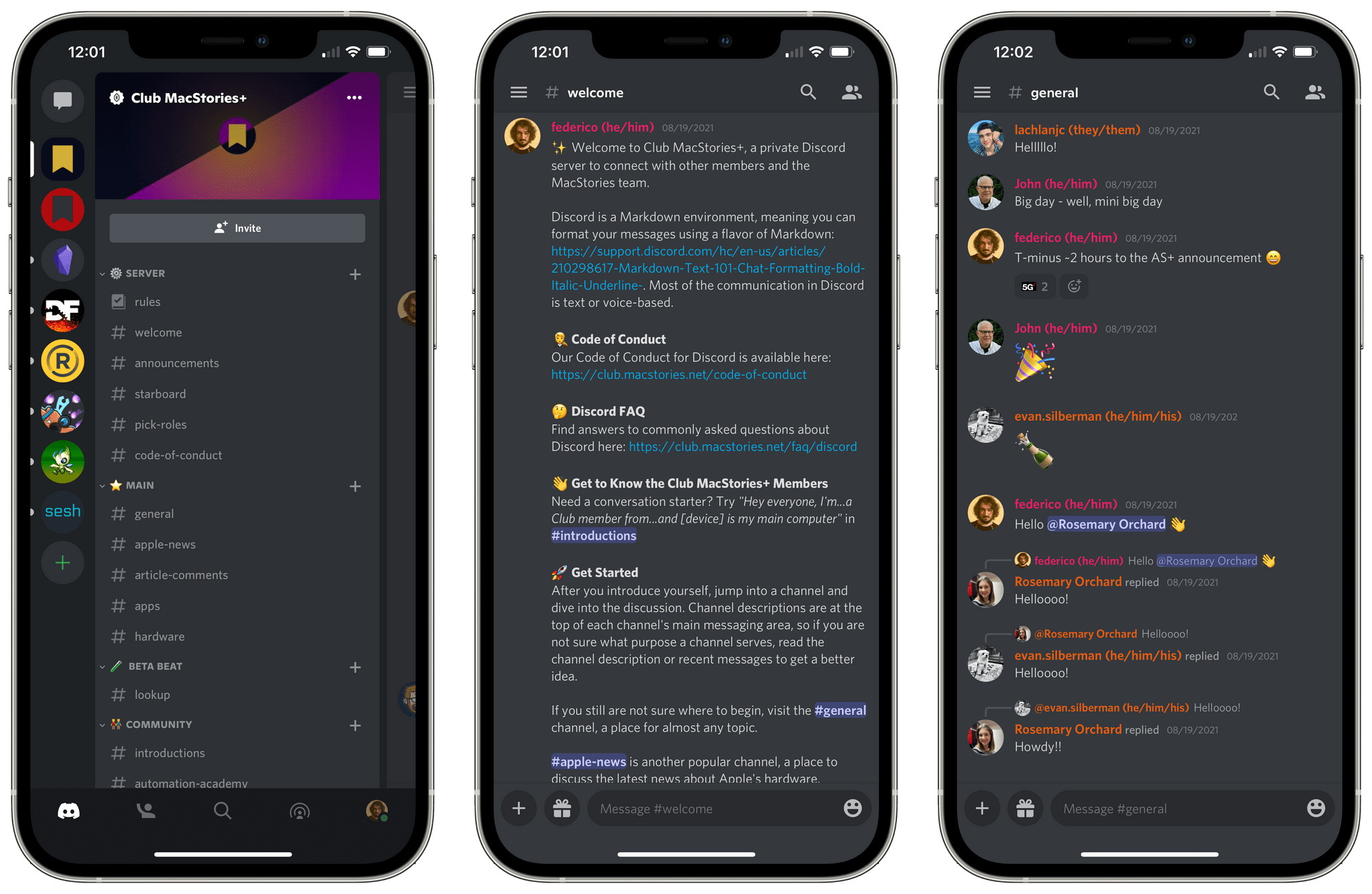 For starters, the Club Discord is available to Club MacStories+ and Club Premier members only. You can find our Discord FAQ here and check out the full Code of Conduct, where you can read about our community values, unwelcome behavior, moderation, and more. We've assembled a fantastic team of moderators to get this Discord server started; we're always looking for volunteers to help us out, so if you want to be part of the moderation team, get in touch with us.
Additionally, what I think makes the Club Discord special is our plan to use it for regular events and activities that will involve both the MacStories team and Club members. I mentioned assignments for the Automation Academy above, but there's lot more we have planned for the Discord:
Town Halls. In this stage channel, we'll host a live podcast / Q&A where John and I will share what's going on with MacStories at the moment, discuss the latest Apple news, and take questions from members. Occassionally, we may also invite members who have something interesting to say or share.
A.V. Club. This is where we'll organize watch/read/play/listen sessions with Club members to pick a movie, show, videogame, book, or other piece of media to enjoy and discuss, together, on a regular basis. Think book club, but for all kinds of media. We're going to decide together with Discord members what the "topic" for the next session is going to be and those interested will be able to participate and discuss it, both in the channel and on a live Town Hall, with us. This is going to be fun, and I have a lot of ideas for the future (I'll have to convince everyone to play Metroid Dread in October, for example). Silvia even made a fun, retro-looking, VHS-inspired artwork for it, which I love: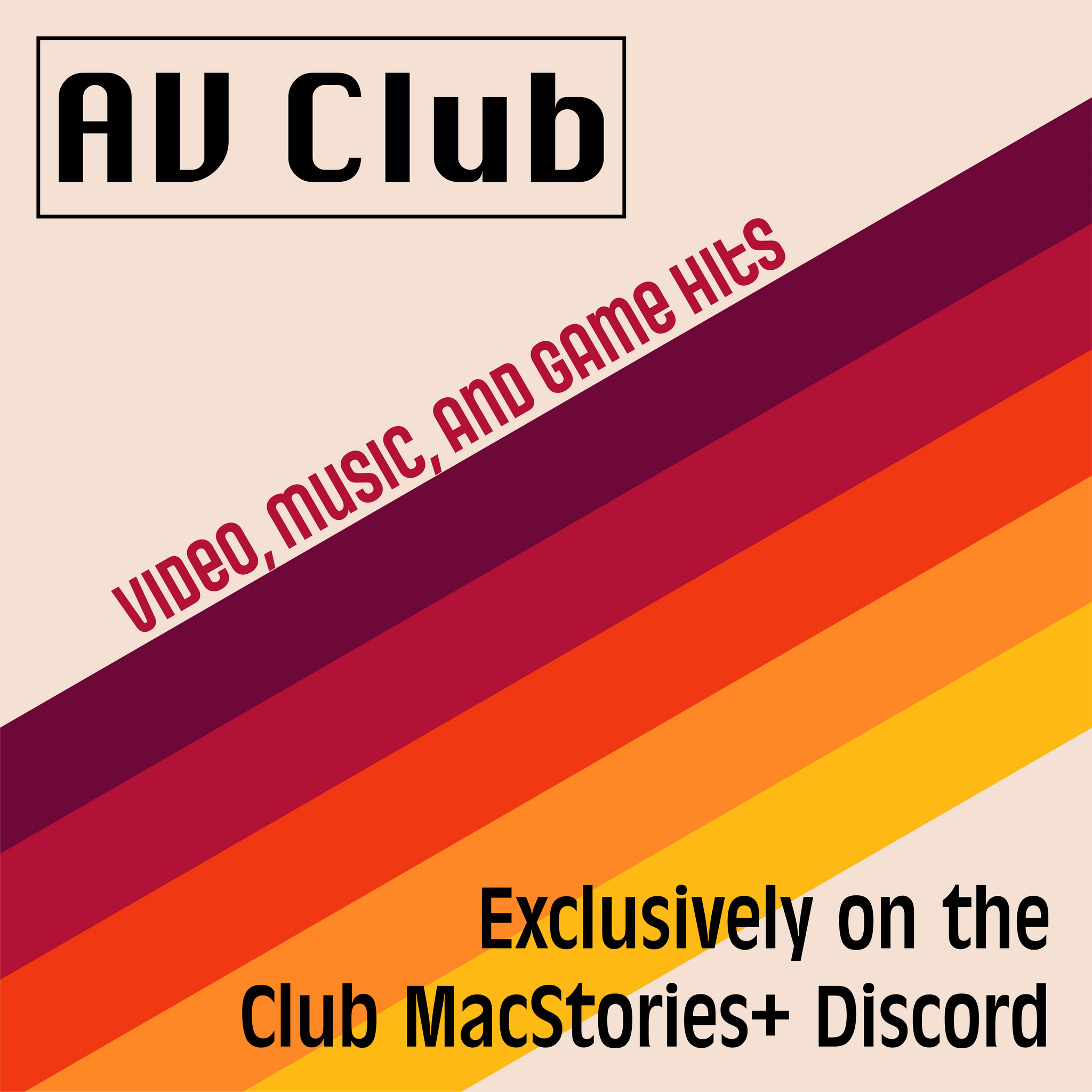 Beta Beat. We're teaming up with developers of some of our favorite apps to give Club members a way to check out TestFlight beta versions of their upcoming updates and discuss them directly with the developers in Discord. At launch, we're offering a Beta Beat channel to test the upcoming version 8.0 of LookUp, the excellent dictionary app for iPhone, iPad, and Mac. LookUp developer Vidit Bhargava will be in the Discord, and you'll be able to share feedback, provide constructive criticism, and report bugs. We think this is a fun way to bring the Club community closer to the apps we love, and it's our goal to grow the list of Beta Beat apps down the road.
In addition to these community activities and events, our Discord server also offers the usual channels to discuss general topics, Apple news, MacStories articles, and off-topic news. Once again, read the Code of Conduct here to get a sense of the rules we've put in place for this community.
We are going to host our first live Town Hall Q&A on Discord tonight (Monday) at 10 PM CEST / 4 PM Eastern. You're welcome to join, listen in, and ask questions in the dedicated channel.
Advanced Web App, Discounts, and More
Club MacStories+ and Club Premier members get access to a large collection of other perks we're rolling out today.
The Club Premier plan, which we consider the ultimate MacStories experience, includes AppStories+, a new premium edition of our weekly AppStories podcast that comes with extra content, is ad-free, and gets delivered a day early in higher bitrate. I'm going to talk more about this in the next section.
Both Club MacStories+ and Club Premier members can take advantage of the advanced filtering, search, and RSS functionalities of Calliope, the new Club web app that just launched at club.macstories.net and appstories.net. Calliope is an entirely custom web app built specifically for Club MacStories, which was years in the making. I have plenty more to say about its features and importance for the future of MacStories below.
Lastly, we're launching a series of rotating app discounts available exclusively to Club MacStories+ and Club Premier members. We've partnered with some of our favorite developers for these discounts; to keep things fresh, the lineup is continuously updated with discounts that will be available from several weeks to several months.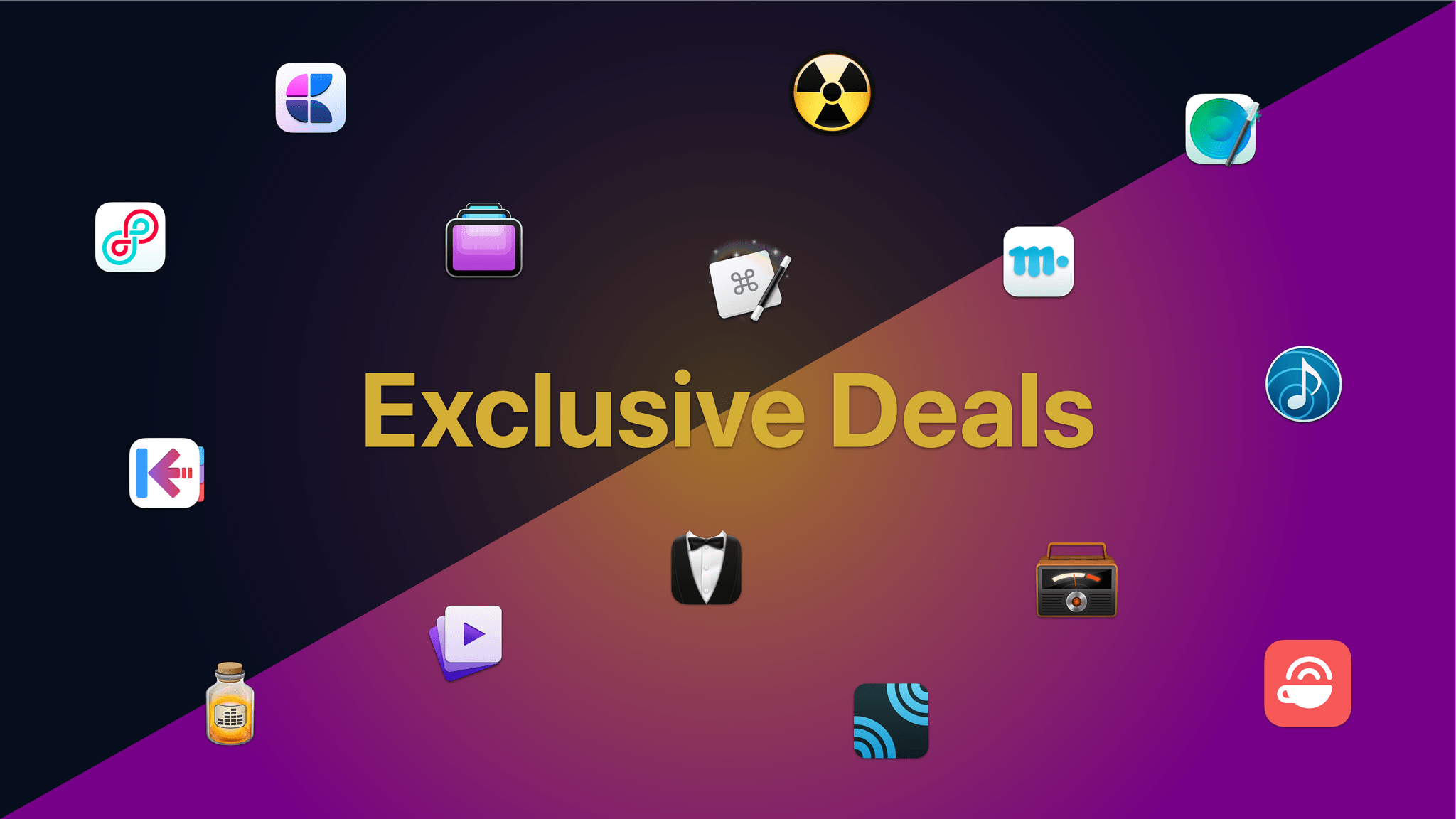 You can find out more about our new exclusive deals for Club MacStories+ and Club Premier on the Discounts page.
---
Now, allow me to share more details about the two other big features of Club MacStories+ and Club Premier: AppStories+ and Calliope.
AppStories+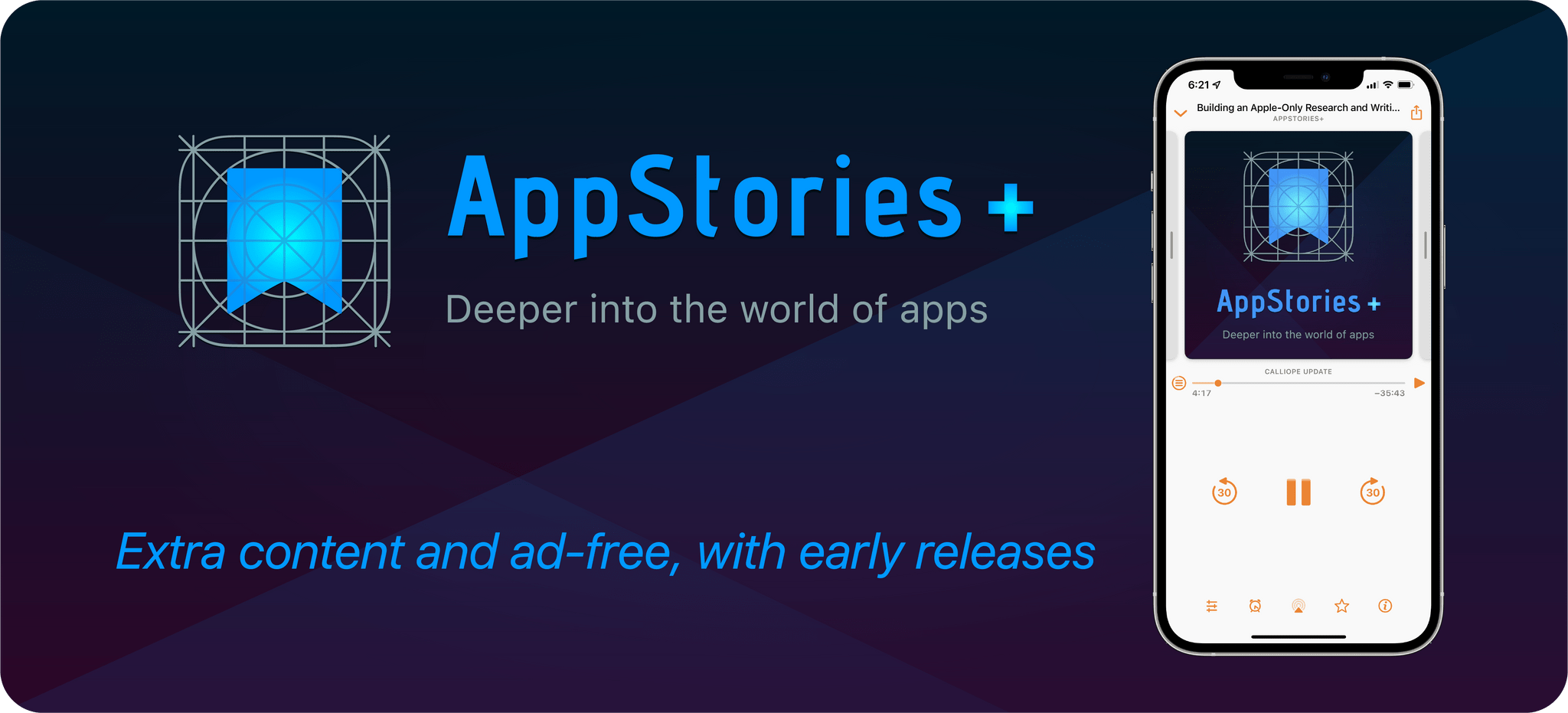 We pre-announced AppStories+, the premium version of our podcast AppStories, last week, and I recommend reading the original announcement for all the details. However, I want to share a few details and thoughts about it too since it is another tentpole MacStories product.
In case you missed the original announcement: AppStories+ is an ad-free version of AppStories that comes with longer episodes featuring extra content, delivered a day earlier than the free show at higher bitrate for superior sound quality. I believe this is a compelling offer since it packs all the perks you'd expect from a premium podcast into a single, $5/month package. Ad-free, longer episodes, delivered early, with higher bitrate: we're doing it all.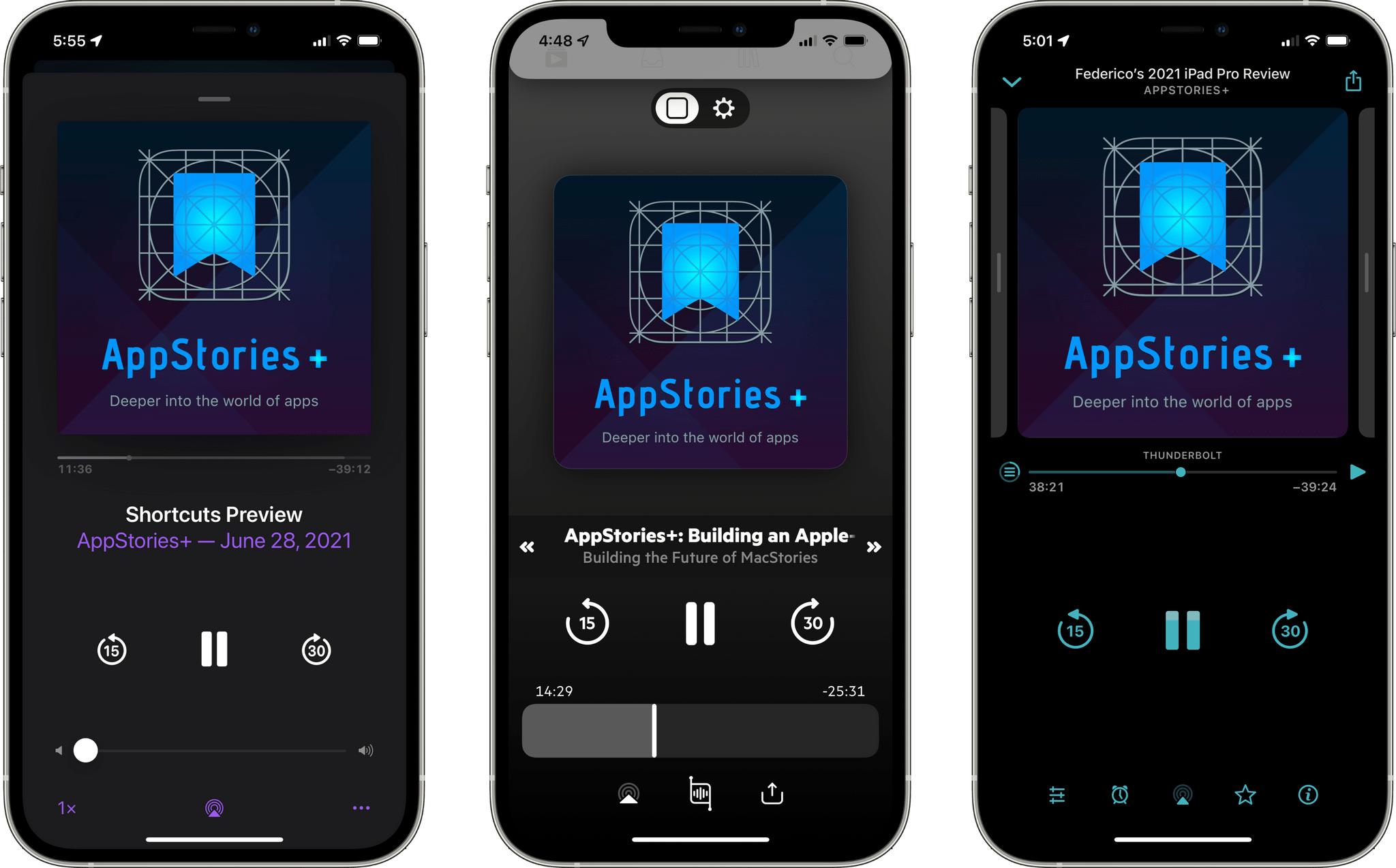 John mentioned this last week, but it's worth repeating it today as well: we're launching AppStories+ with three months of premium content in its back catalog. We started recording AppStories+ in secret back in May, and all those longer, ad-free episodes are available today for AppStories+ subscribers.
We also wanted to give members the ability to choose how to sign up for AppStories+ and listen in their favorite podcast apps. You can get AppStories+ in a few different ways:
Club Premier at $12/month or $120/year. This is by far the easiest, most convenient way to sign up for AppStories+ and get access to everything we're doing at Club MacStories. It's basically Club MacStories+, but for $2 extra each month instead of $5, you're getting AppStories+ too with support for full-text search in show notes.
Standalone AppStories+ at $5/month or $50/year. If you just want to get AppStories+, this is the plan for you. Your account will still be managed by the Club and Calliope, but you'll only get access to AppStories+ without Club MacStories content.
Apple Podcasts Subscriptions. This is the option for all those who don't want to create a Club account with us and prefer to be billed directly by Apple in the Podcasts app. Quite a few of our listeners enjoy AppStories in Apple's Podcasts app, so it was important to offer it as an option. As explained in our dedicated FAQ section here, subscribing through Apple costs more and has slightly different perks. If you're interested in this option, make sure to read the FAQ and check out AppStories+ on Apple Podcasts here.
I started recording AppStories with John back in 2017. Over the past four years, AppStories has allowed us to talk more in depth about apps, interview developers, hear directly from Craig Federighi (twice!) about the latest versions of iOS and iPadOS, and understand the impact of apps on our culture and economy. I'm excited to launch the best version of AppStories ever produced, and I hope you'll join us.
Our Brand New Web App: Meet Calliope
You know the famous Alan Kay quote: "People who are really serious about software should make their own hardware".
Well, allow me to riff off on Kay's wisdom: in 2021, I think independent creators who are serious about publishing should control their own platform. That's what we've set out to do with Calliope, our new web app and CMS now running on the Club MacStories and AppStories websites.
It all started with a seemingly simple request: for the past few years, hundreds of Club members have asked for the ability to search our archives. The idea makes sense: we've been writing MacStories Weekly and the Monthly Log for the past six years; we've covered thousands of apps in over 350 issues of our newsletters; I've created hundreds of advanced shortcuts for the Shortcuts Corner section. And because Club MacStories members get access to the entire back catalog of all our newsletters, it's only natural to seek a way to find a specific piece of content in there.
The only problem: when we started the Club in 2015, it was just a newsletter sent via Mailchimp. And once newsletters are delivered to your email inbox, we don't control anything related to indexing or searching those archives. Newsletters can be opened in a web browser, but there's nothing we can do to offer a proper archive with support for full-text searches based on Mailchimp newsletters. Newsletters aren't indexed by web search engines, and they don't support RSS either.
So a few years ago I had an idea: what if, in addition to newsletters, we also created a web app to read Club MacStories content on the web, recreating our entire archive on a website that supported real archives, search, and RSS?
As we started investigating the possibility to build this, I stumbled upon an even more exciting idea, which ultimately became Calliope. Our newsletters are made of sections, such as MacStories Recommends, Home Screens, and the Shortcuts Corner; those sections are written by someone and have a published date. What if we built a website that allowed people to read a newsletter on the web as a complete "issue", delivered weekly, but also let them browse and search the individual sections that make up those issues? And what if you could search for something specific inside those issues, browse by author or section, and even create RSS feeds for anything you wanted?
That's Calliope in a nutshell: it's a modular, modern web app that lets you read entire "newsletters" on the web but also enables you to filter and search individual sections of them; it allows you to explore content by type, author, and date; it lets you mix and match all kinds of sections and make RSS feeds out of them. Calliope is a static website, which means great performance in any web browser, but it also dynamically adapts to your subscription type, so it knows whether you're a Club MacStories, Club MacStories+, or Club Premier member and renders articles and archives incredibly fast.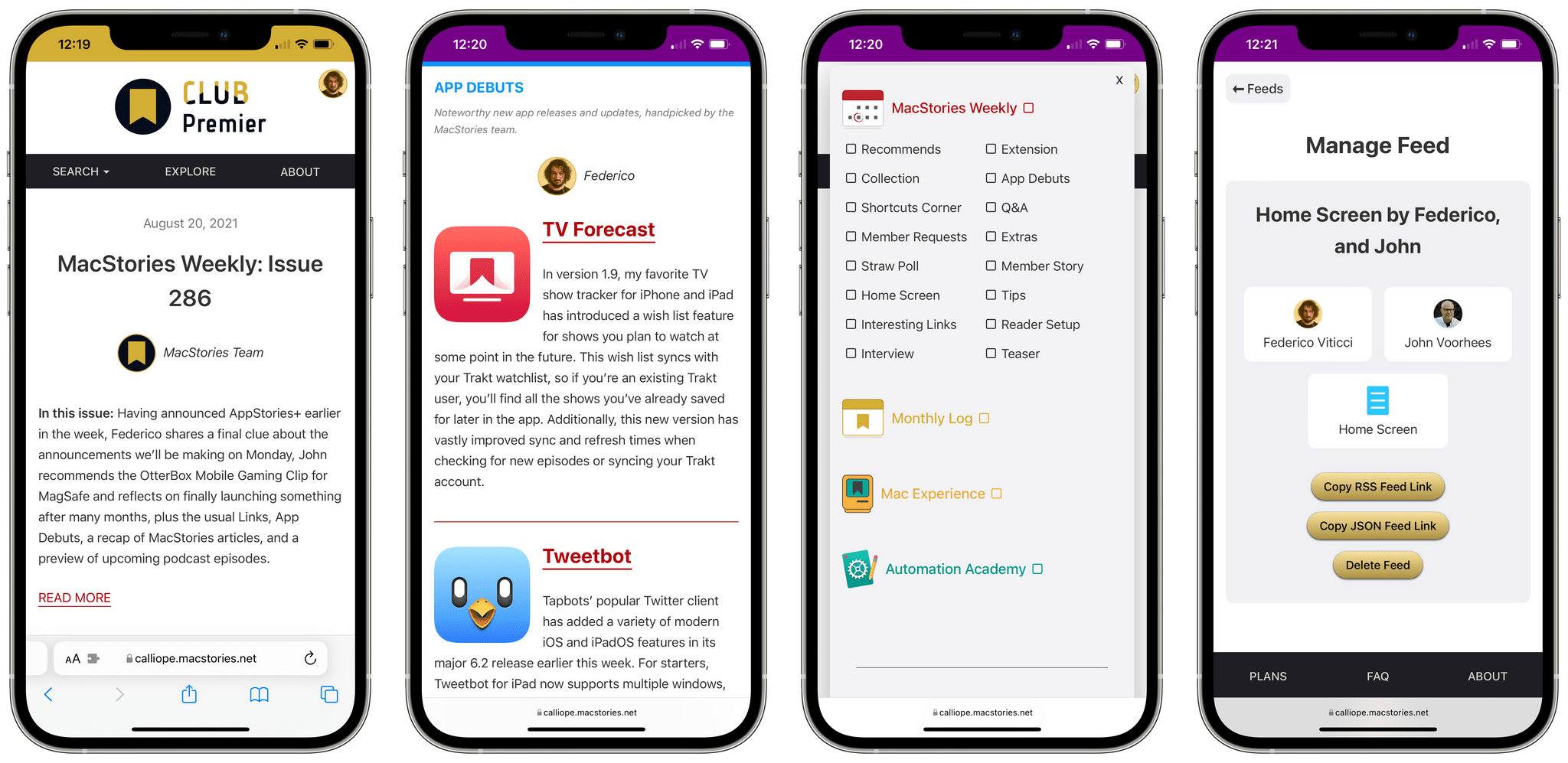 More importantly, you can try all of this today, right now: we have imported six years of Club MacStories content into Calliope, where you can browse our entire archive starting from September 2015. Just visit club.macstories.net to get started. Calliope is also up and running on appstories.net, where it manages the regular show feed (which has existed since 2017) and the new AppStories+ podcast feed.
Explore, Search, RSS, Sections, and More
I'm going to dig deeper into all the features of Calliope in a standalone 'how-to' article tomorrow. But in the meantime, I wanted to give readers a quick tour of all the features supported by Calliope.
Let's start from the obvious ones: Calliope is a fully responsive, modern web app, so for the first time you'll be able to properly read MacStories Weekly and the Monthly Log in a web browser. There's support for dark mode, Dynamic Type on iOS and iPad, compatibility with Safari Reader, and accessible highlights for selected controls such as the Search bar and Explore filters.
All Club MacStories members regardless of their tier can read MacStories Weekly and the Monthly Log on the new club.macstories.net website. With Calliope, we're also giving all Club members the ability to read specific sections of newsletters as standalone posts with their own link.
This is one of the major changes enabled by Calliope: each article exists both as part of a bigger entity – the newsletter – as well as on its own, with its own unique URL. This means each article can be linked and shared with other people on the Internet.
Want to see what I wrote about the Delta emulator? It's available in Issue 285 of MacStories Weekly, but the post can also be read standalone here. Want to point people to John's latest iPad Home Screen? You can find his story here. Now, imagine this, for hundreds of newsletters we've published over six years, and you get the idea.
Also, no need to worry about sharing a link to Club MacStories content with other people who may not be members: Calliope prevents non-logged-in users from accessing articles, so feel free to share links to your heart's content.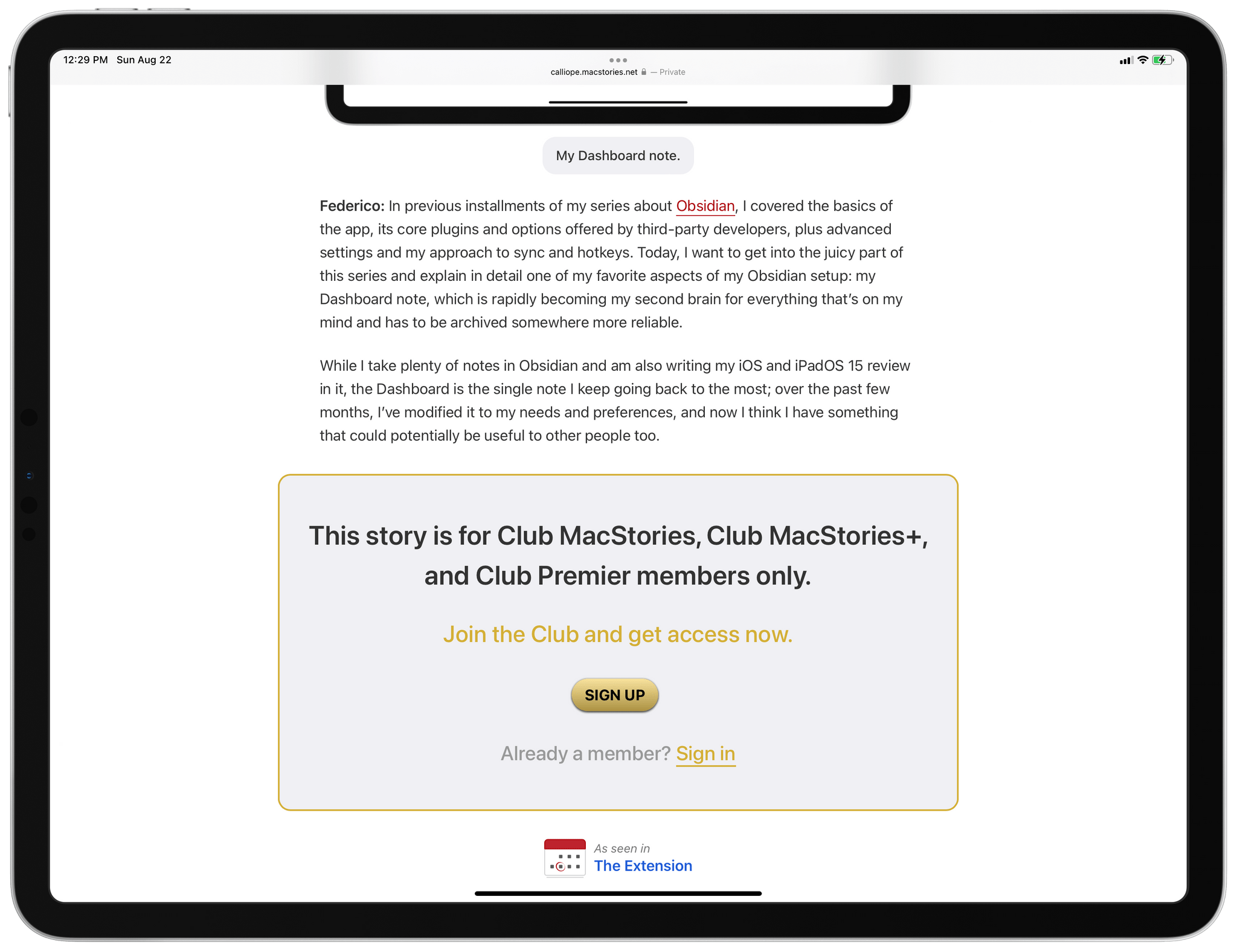 Calliope's ability to break newsletters down into their individual components is also what powers the Explore, Search, and RSS features. These are exclusive to Club MacStories+ and Club Premier members, and they're the advanced functionalities I've always dreamed of being able to offer to Club members someday.
With the Explore panel, you can browse the full Club MacStories archive by any combination of these filters:
Newsletters
Sections of newsletters
New columns for Club MacStories+ and Club Premier (Automation Academy and The Macintosh Desktop Experience)
Authors
Date ranges
The beauty of the Explore functionality of Calliope lies in the flexibility it allows. Want to see all the Home Screens I ever published on MacStories Weekly? You can filter by 'Federico + Home Screen' and find all those individual stories; then, you can bookmark the Explore link for reference and reopen it later. Just need to find all issues of MacStories Weekly? Click the checkbox next to Weekly to find them in reverse chronological order.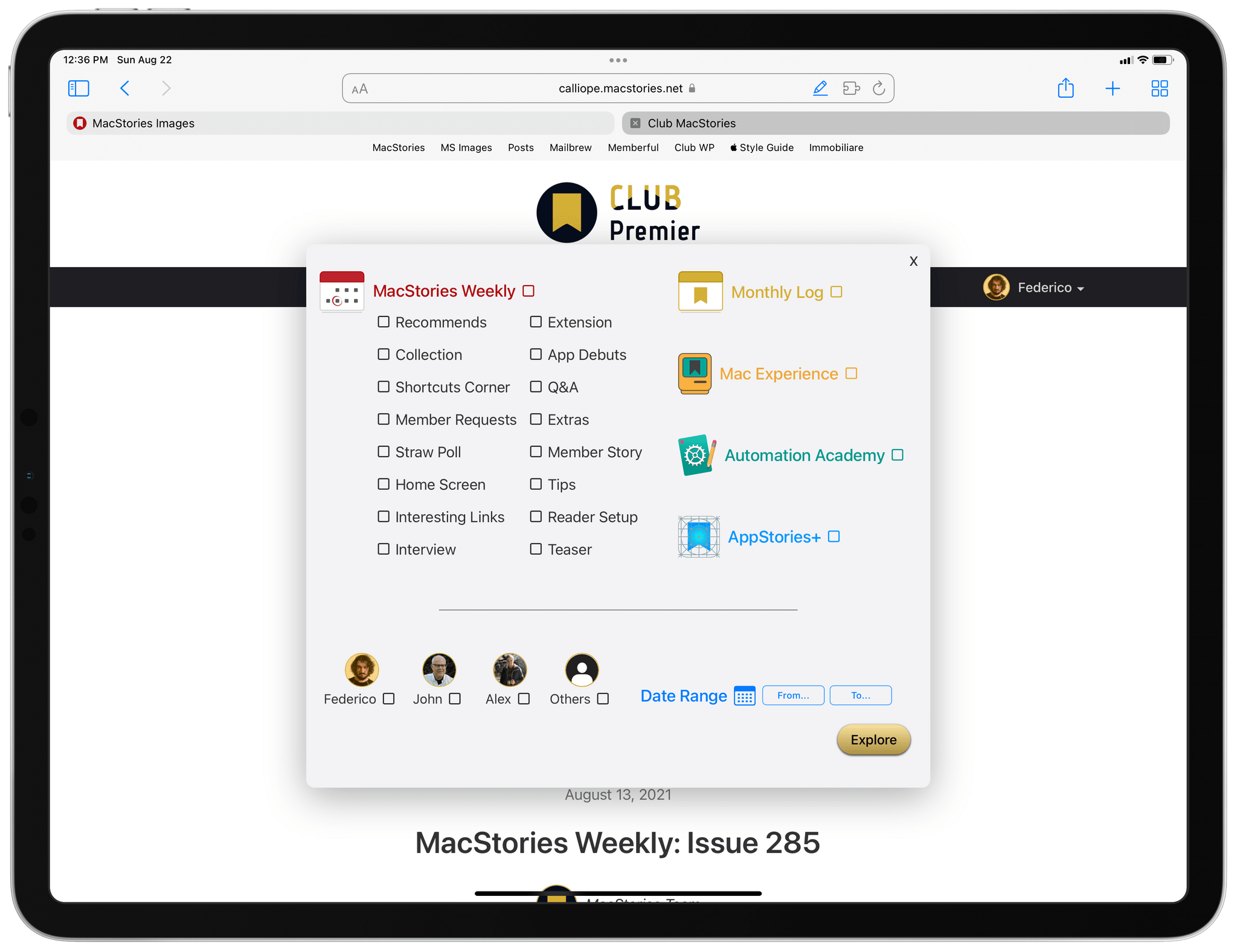 You can get extremely specific with the Explore panel, too. How about all the App Debuts written by John between June 1, 2018 and September 1, 2021? Using native date pickers in Safari (or any other browser), you can find all the apps John covered in MacStories Weekly in over three years. What about Shortcuts Essentials, Tips, and Extension columns written by Federico in 2021? Also possible.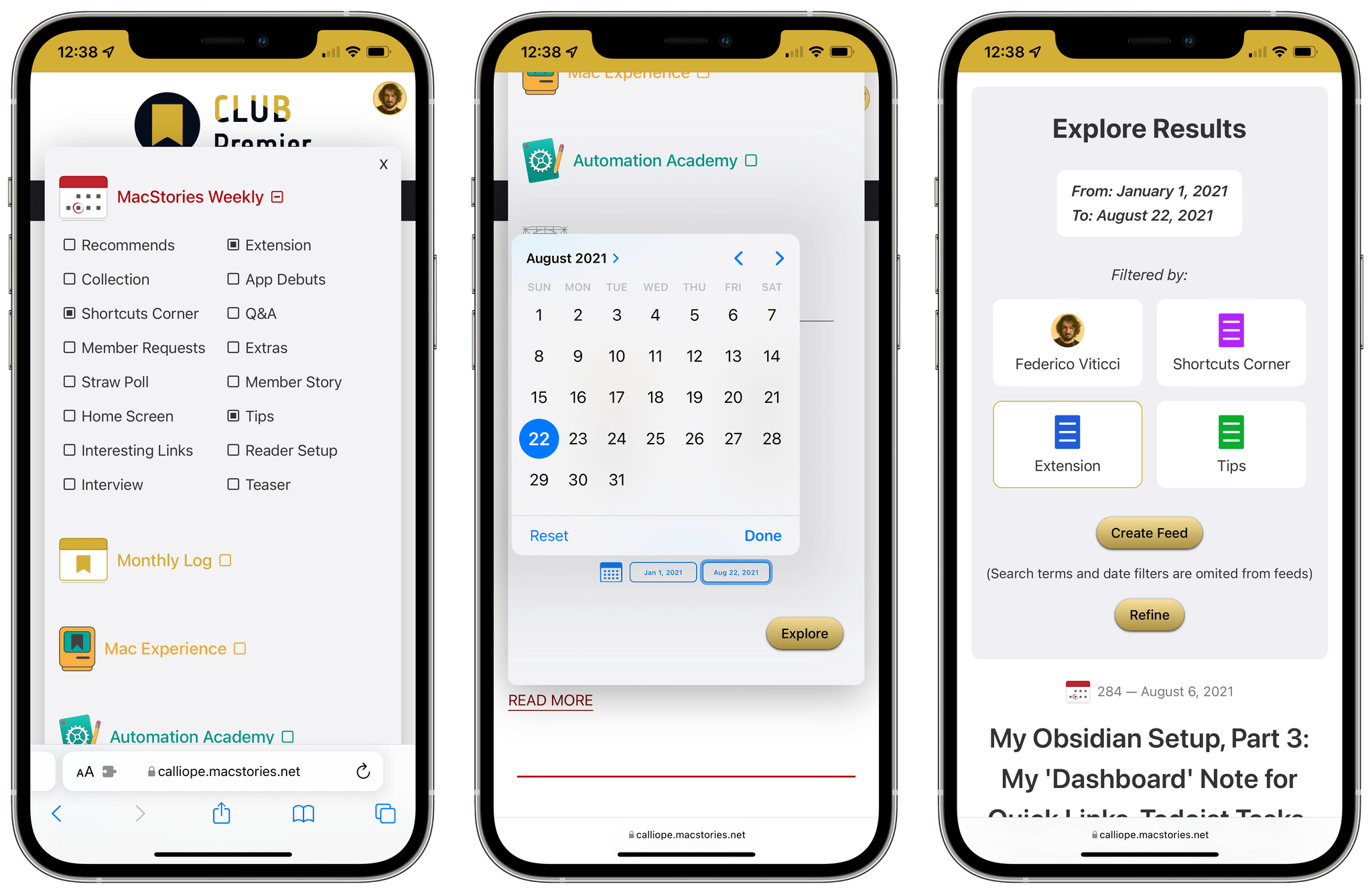 The ability to explore Club content by type and author is directly tied to another feature we're introducing today for Club MacStories+ and Club Premier: RSS feeds for anything.
I'm a big believer in the open nature of RSS, so I wanted to go all-in on the technology with Calliope and allow members to create all the possible RSS feeds they wanted out of our content. Perhaps you want to get an RSS feed for all issues of Weekly and the Monthly Log, or maybe one for Home Screens by me and John, or maybe you just want to get the latest posts from the Automation Academy. Using Explore, you can turn all those filters into RSS feeds, which will be tied to your Club account and made available on the new Feeds page. I plan to write about this more in depth tomorrow.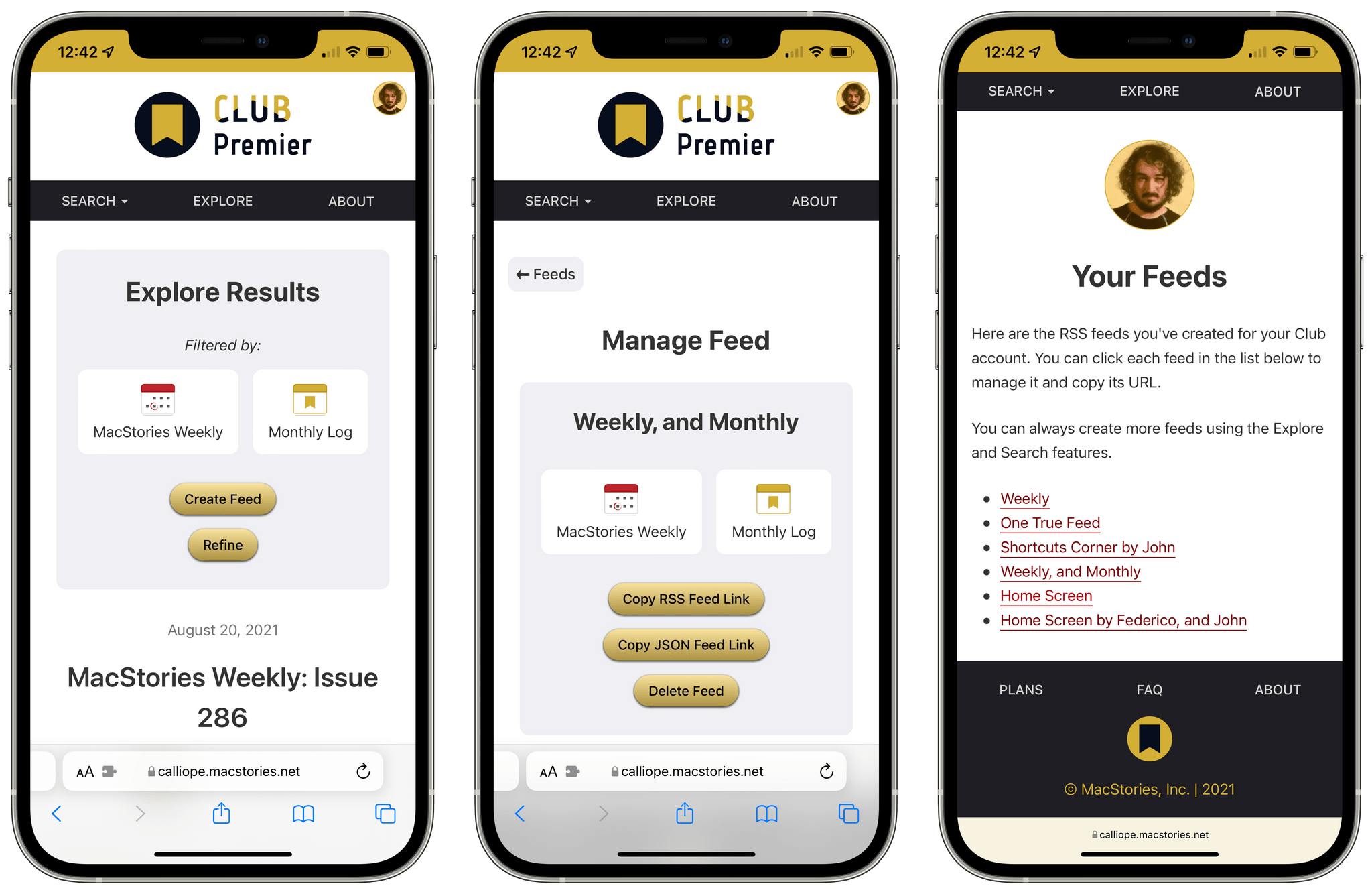 Then there's search. How many times has this happened to you: you vaguely remember you read something about an app or shortcut in MacStories Weekly, but you can't quite remember where or when. With the new full-text search feature, we're providing Club MacStories+ and Club Premier members with a solution to this problem.
Our new search feature supports auto-complete for metadata such as newsletters, sections, authors, and dates. Type in 'App' and you'll see 'App Debuts' and 'AppStories+', for example; click the suggested search result, and it'll be added to your query. You can add as many suggested search filters as you want to refine your query, but you can also type any plain text if you remember, say, a particular app name or sentence you want to find again. Once you're happy with the search you've put together, hit Enter and boom, Calliope will give you instant results from our complete archive dating back to 2015.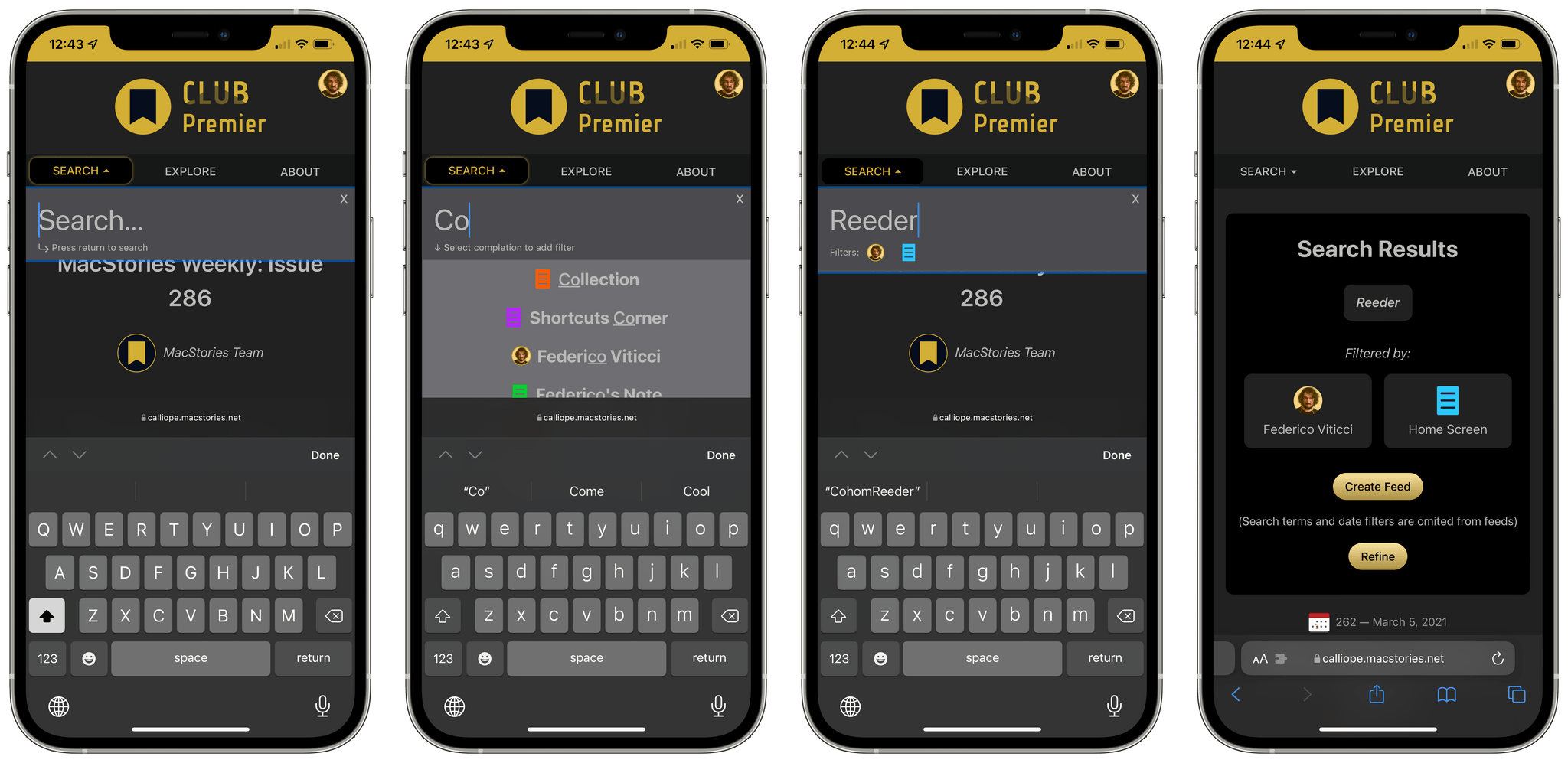 I'm going to dig deeper into search parameters, how to refine Explore and search results, and RSS feeds in tomorrow's story. But for now, if you want to see the true power and flexibility of Calliope, the Club MacStories+ and Club Premier tiers are what you're looking for.
Why Build a Custom CMS?
The reason it took us a while to build Calliope and all its features is simple: what we wanted didn't exist as an off-the-shelf product.
We realized months ago that no existing CMS would allow us to create the modular, fast, private, and flexible web app we wanted, so we decided to create it ourselves. The result is an incredibly powerful club.macstories.net website that all Club members – including existing members of the regular $5/month plan – can use starting today. Calliope handles your Club subscription and identity, manages feeds for Club MacStories+ content and AppStories+, lets you join our Discord server, and ties it all together behind the scenes without you having to manually manage anything. As you may have guessed from my brief explanation above, Calliope does a lot of work behind the scenes – more than you've ever seen from other membership-based publications – and creating that from scratch took a long time.
We believe in the infrastructure underlying Calliope so much, we've already started the process of migrating MacStories – a 12-year old website with over 15,000 articles – to it. In fact, the Club MacStories website powered by Calliope already stores over 3,000 posts that make up the newsletters we've been sending since 2015. And all this is made possible by the principle I shared above: we made Calliope, and we control every aspect of it.
From search, archives, and RSS to the ability to present the same article differently based on a member's tier (also possible with Calliope) and support for articles and podcasts in the same system, Calliope will allow us to offer more diversified content for each tier of Club MacStories. I'm incredibly excited for what this new platform will help us deliver, and I can't wait to bring the same technology to MacStories.
Can You Summarize All This? How Do I Get Started?
Let's round up everything we've announced today:
We introduced two additional tiers for Club MacStories, called Club MacStories+ and Club Premier. Both of them get access to more original content, Discord community, exclusive discounts, and advanced web features (including search and RSS). There is a new Plans page where you can choose your tier;
We launched a premium version of AppStories, called AppStories+, which offers longer, ad-free episodes delivered one day before the free show. You can subscribe here;
Club Premier is the all-access pass that gives you everything at once: Club MacStories, Club MacStories+, and AppStories+ at $12/month;
The existing Club MacStories tier is not going away and nothing is changing for existing Club members. In fact, we're giving them access to our new web app as well;
MacStories Weekly and the Monthly Log will still be delivered as newsletters by default. However, we believe our new web app is the best way to read them now;
Calliope is the new web app that manages Club MacStories and AppStories. You can use it at club.macstories.net and appstories.net.
Here's a different way to visualize all the features of Club MacStories and its tiers:
| Features | | Club MacStories | Club MacStories+ | Club Premier |
| --- | --- | --- | --- | --- |
| MacStories Weekly | | ✅ | ✅ | ✅ |
| Monthly Log | | ✅ | ✅ | ✅ |
| MacStories Unplugged | | ✅ | ✅ | ✅ |
| eBooks | | ✅ | ✅ | ✅ |
| Wallpapers | | ✅ | ✅ | ✅ |
| Periodic Giveaways and Discounts | | ✅ | ✅ | ✅ |
| Web Access to Newsletters | | ✅ | ✅ | ✅ |
| Light and Dark Mode Support | | ✅ | ✅ | ✅ |
| Automation Academy | | | ✅ | ✅ |
| The Macintosh Desktop Experience | | | ✅ | ✅ |
| Discord Community | | | ✅ | ✅ |
| Advanced Search and Filtering | | | ✅ | ✅ |
| Custom RSS | | | ✅ | ✅ |
| Ongoing App and Service Discounts | | | ✅ | ✅ |
| AppStories+ | | | | ✅ |
| | Bonus Content | | | ✅ |
| | Ad-Free | | | ✅ |
| | Delivered Early | | | ✅ |
| | High Bitrate Audio | | | ✅ |
And here are some helpful tips and links to get started:
You can use a single Club MacStories account for both the Club and AppStories+ without creating separate credentials for each;
You can visit the Plans page to upgrade your existing Club account, or read our FAQ here.
You can visit the Account page to connect your Discord account and join the Club Discord server (come say hi!);
Explore, RSS feeds for anything, and full-text search are exclusive to Club MacStories+ and Club Premier members. To use these, click 'Search' or 'Explore' in the toolbar at club.macstories.net;
Welcome to a New, Bigger Club MacStories
So here it is: the new Club MacStories, featuring new tiers for extra content, a powerful web app, a Discord community, and other exclusive perks is now live at club.macstories.net. To get started, you can visit the Plans page, sign in with your existing Club account, and, if you want to, upgrade to Club MacStories+ or Club Premier.
Before we wrap up and begin this new era of MacStories, let me say this: I'm incredibly grateful to everyone who checked out or recommended Club MacStories over the past six years. Some of you have been members since the very beginning, and you've been following our journey as an independent company navigating the complexities of modern publishing so far. Thank you. We hope the content we've produced for the Club since 2015 has been worth your investment. If you liked the Club before, I think you will love the new original columns, web features, Discord community, and premium podcast access we've prepared for Club MacStories+ and Club Premier.
With today's launch, we're kickstarting the future of MacStories: expanding the Club will allow us to grow MacStories, launch other properties, and build the next generation of MacStories.net on a stronger technical foundation that's ready for the next decade. All while, of course, staying independent and true to our editorial values and principles. The Club makes all of this possible, and I hope you'll join us in this new, fun, exciting journey.
Welcome to the new Club MacStories. Let's do this, together. I'll see you on Discord.