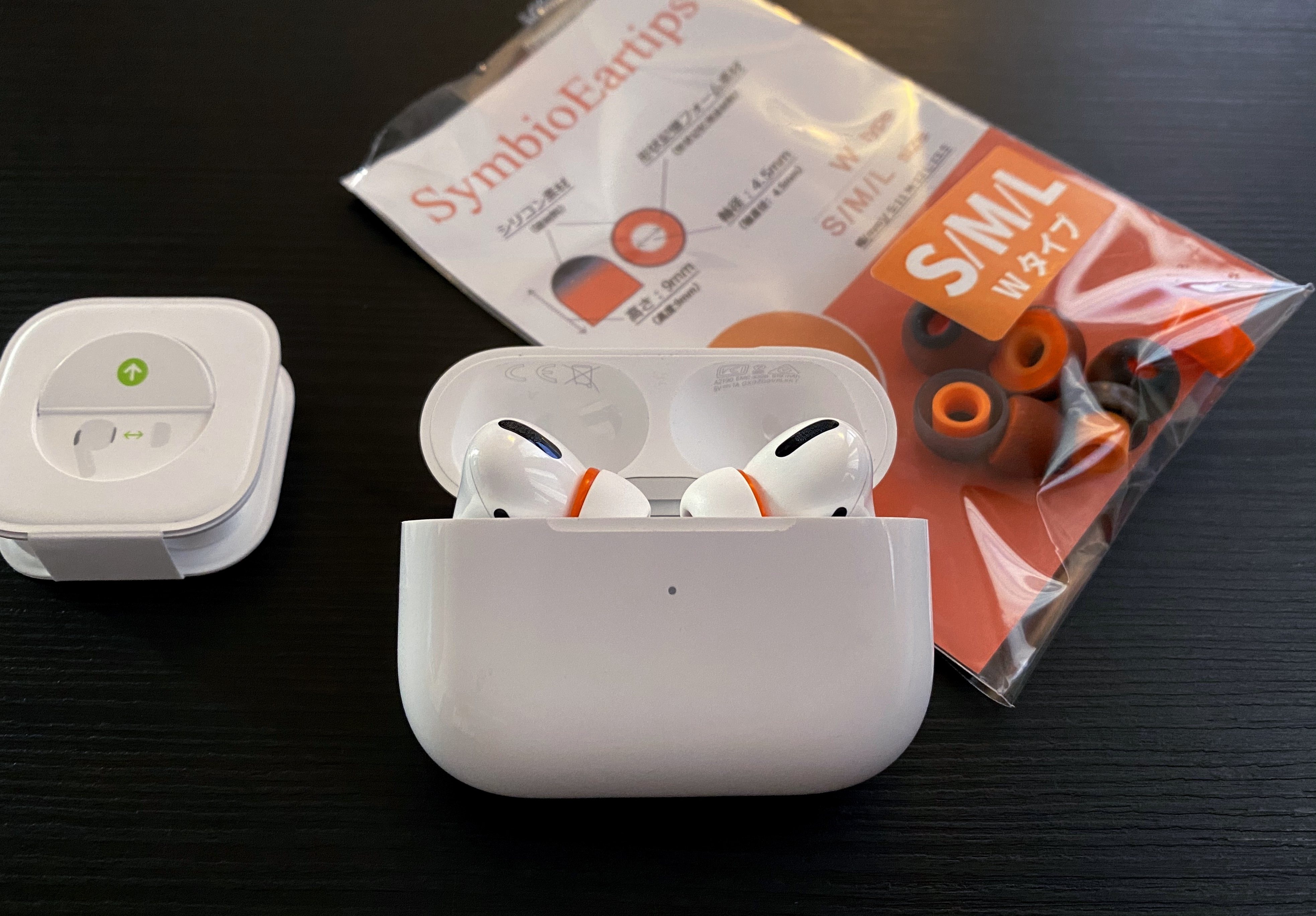 I love my AirPods Pro and, ever since I bought them last October, I've been taking advantage of their noise cancellation technology to use them in more contexts than the original AirPods.1 They sound better than any other wireless earbuds I've tested (obviously, they sound much worse than my Sony IER-Z1R, but that's to be expected) and they cancel almost as much noise as my Sony WH-1000XM3, which is pretty remarkable for such tiny earbuds. AirPods Pro retain all the magic of the non-Pro line, but they bring the additional freedom granted by noise cancellation and transparency mode. There's one thing I don't particularly like about them, though: the default silicone tips.
Unlike others (e.g. my girlfriend), I can use in-ear silicone tips without getting a headache after 20 minutes. It's not my favorite method of listening to music, however, because I know that memory foam tips are a better fit for my ears since they can better adapt to the shape of my ear canal and, as a result, provide better isolation and a more bass-y response. Over the years, I've developed an appreciation for Comply's popular foam tips (right now, I'm testing their Audio Pro and Comfort tips with my IER-Z1R) and was hoping they'd release AirPods Pro-compatible tip replacements made of memory foam.
Much to my disappointment, the only foam tips designed for AirPods Pro I've found so far are these no-brand tips from Amazon US that I can't purchase from Italy (and which do not inspire a lot of confidence). I'm assuming that since AirPods Pro require tips to have a special clip attachment that secures them onto the earbuds themselves, it's taking a while for third-party manufacturers to come up with a compatible design. I really wanted to figure out a way to use foam tips with my AirPods Pro though, so I kept looking for ideas or recommendations on how to make it happen.
The solution I've adopted isn't ideal since I still haven't found complete foam replacements made specifically for AirPods Pro, but, at least for me, what I'm using today is better than using Apple's default silicone tips. As I shared on Twitter a few days ago, I've modded the AirPods Pro's silicone tips with an extra memory foam layer, which helps the tips fit better in my ears, resulting in a warmer sound and overall more comfortable feel. The best part: I didn't have to cut the memory foam layer myself – I simply took the foam layer from a pair of Symbio W eartips and fitted it inside the AirPods Pro's tips. The final result looks like this: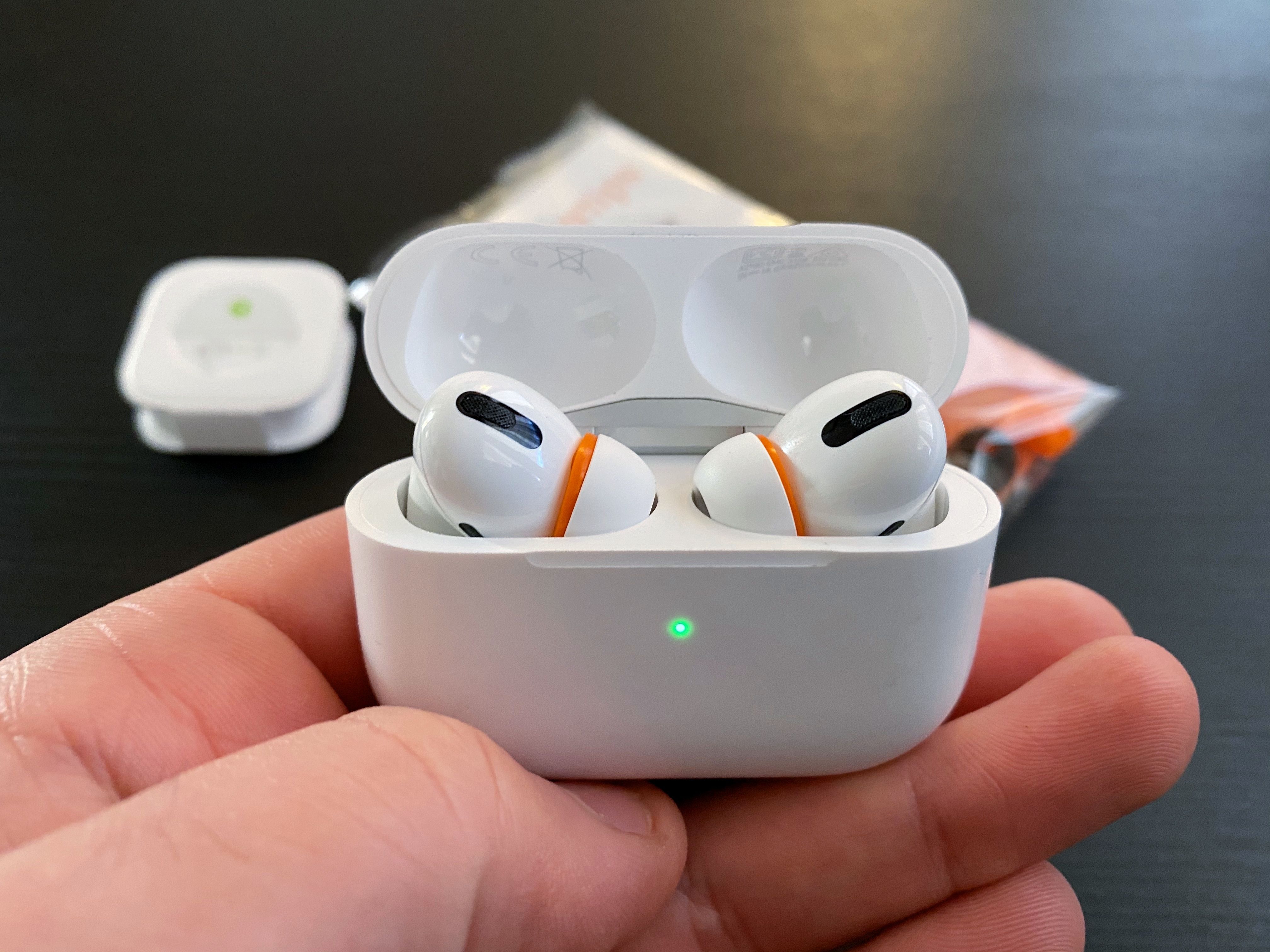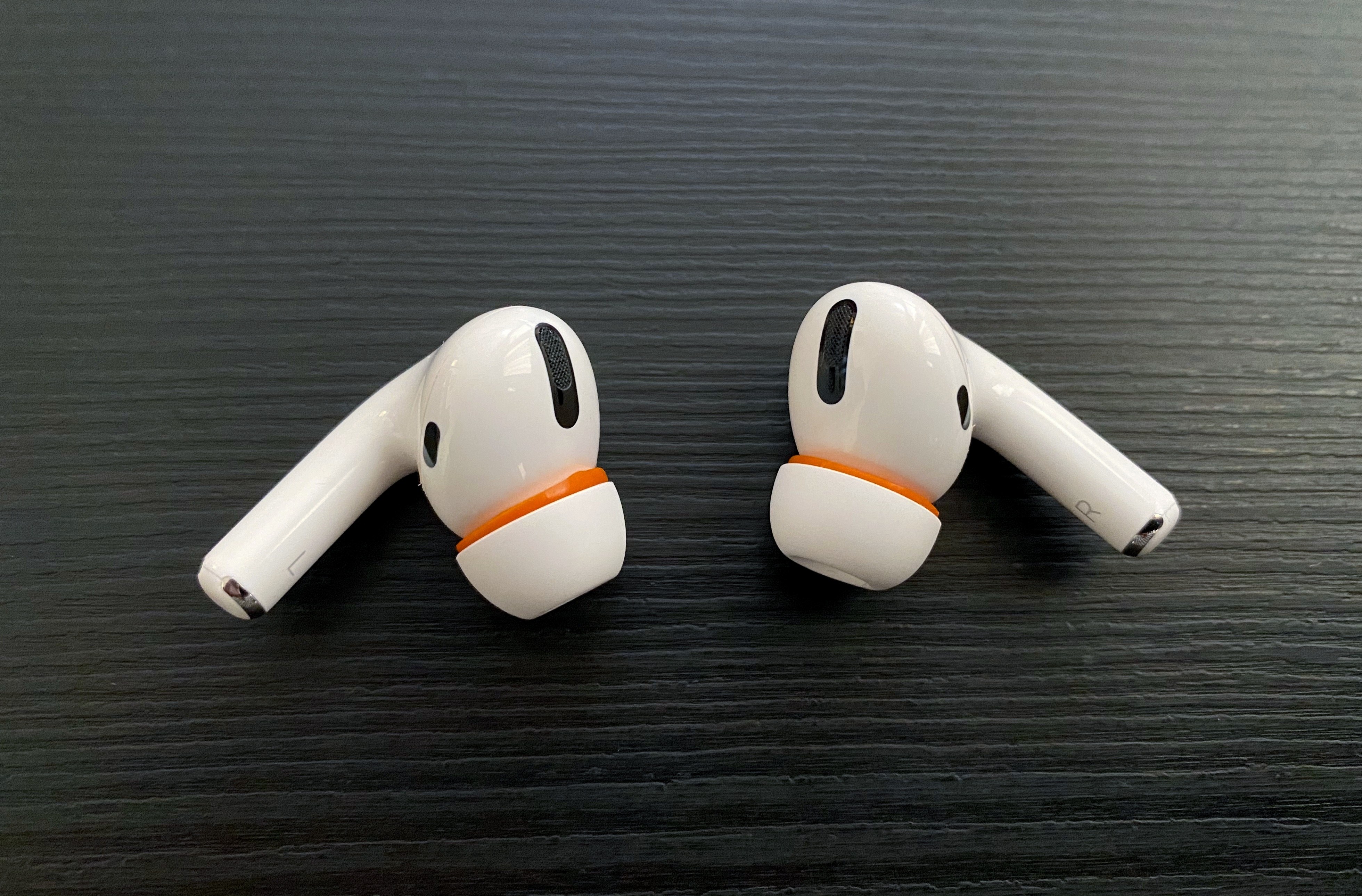 Allow me to offer some context around how I discovered this method and how you can perform this mod yourself with relative ease. I was looking around for discussions related to AirPods Pro and memory foam tips a few weeks back, and I came across this discussion thread on the MacRumors forums where a few users reached the following consensus: until third-party manufacturers come up with a compatible clip that attaches to AirPods Pro and lets you use alternative tips, for now the best DIY mod involves taking a memory foam insert and sliding Apple's silicone tips inside it so that the foam layer ends up sitting between the central plastic "stem" of the tip and its outer layer. This is what I mean: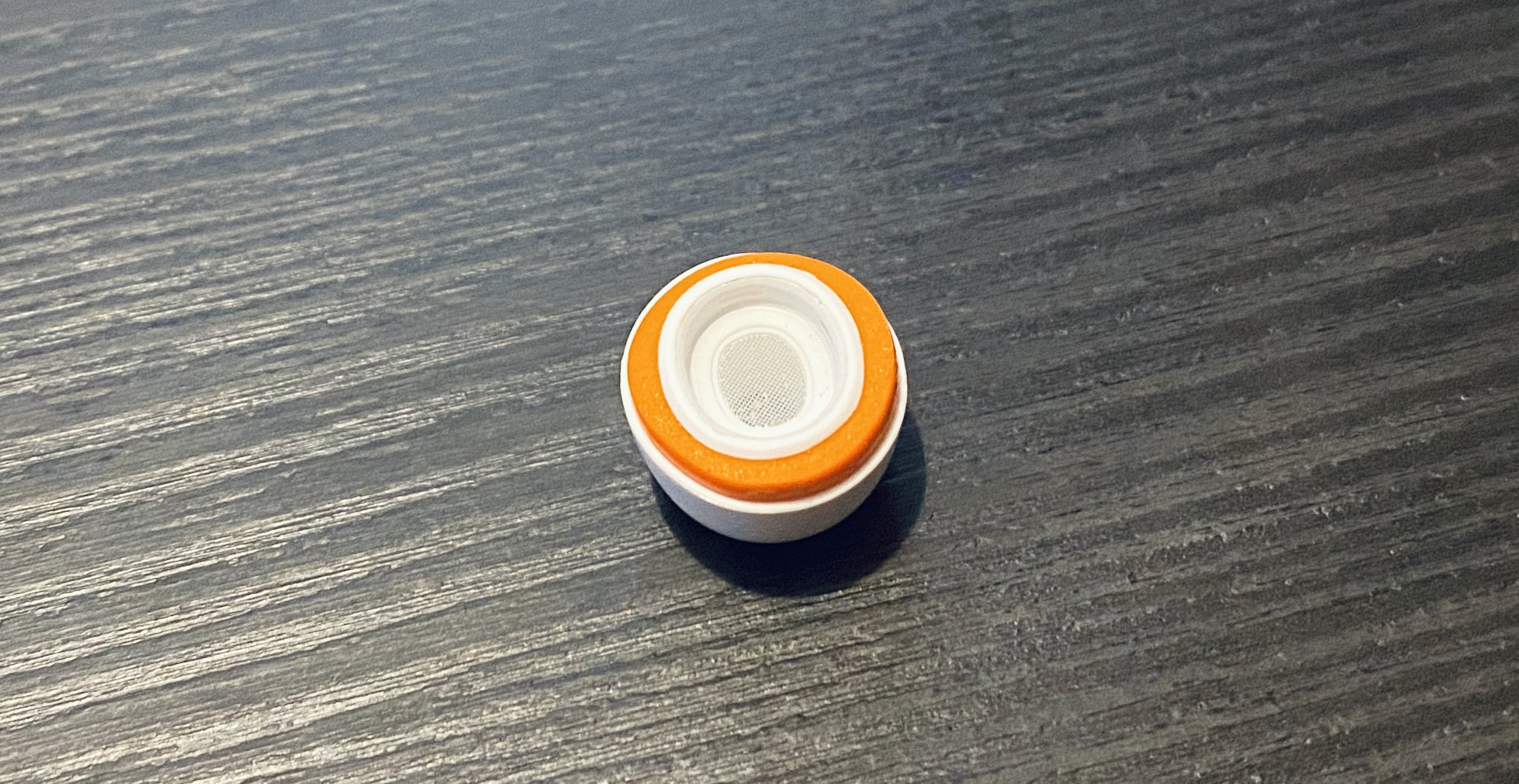 Based on the aforementioned MacRumors thread, I purchased a set of Symbio W eartips from Amazon Japan2 (Symbio also has an official website with worldwide shipping, but I haven't tried it myself). Symbio's in-ear tips are well suited for this kind of mod for a couple reasons. First, they're hybrid tips that feature a silicone membrane with an inner memory foam layer; if you pull out the silicone part, you can access the memory foam "ring" contained inside it and remove it so you can use it elsewhere. And second, the Symbio W's foam layer is thin and short enough that it can fit in the gap between the plastic stem and silicone layer in Apple's tips, while matching their height in all three sizes as well (just like AirPods Pro, the Symbio W eartips come in small, medium, and large sizes). This means that, unlike other mods, applying the Symbio W's foam parts to AirPods Pro's silicone tips will let the AirPods Pro case close just fine.
Now, if you want to replicate this setup yourself, here's how you can do it in less than a minute for each AirPod. Grab one of the Symbio eartips (if you're using the medium tips for your AirPods Pro, use the medium Symbio tip too) and pull out the silicone exterior so that the memory foam portion is clearly visible: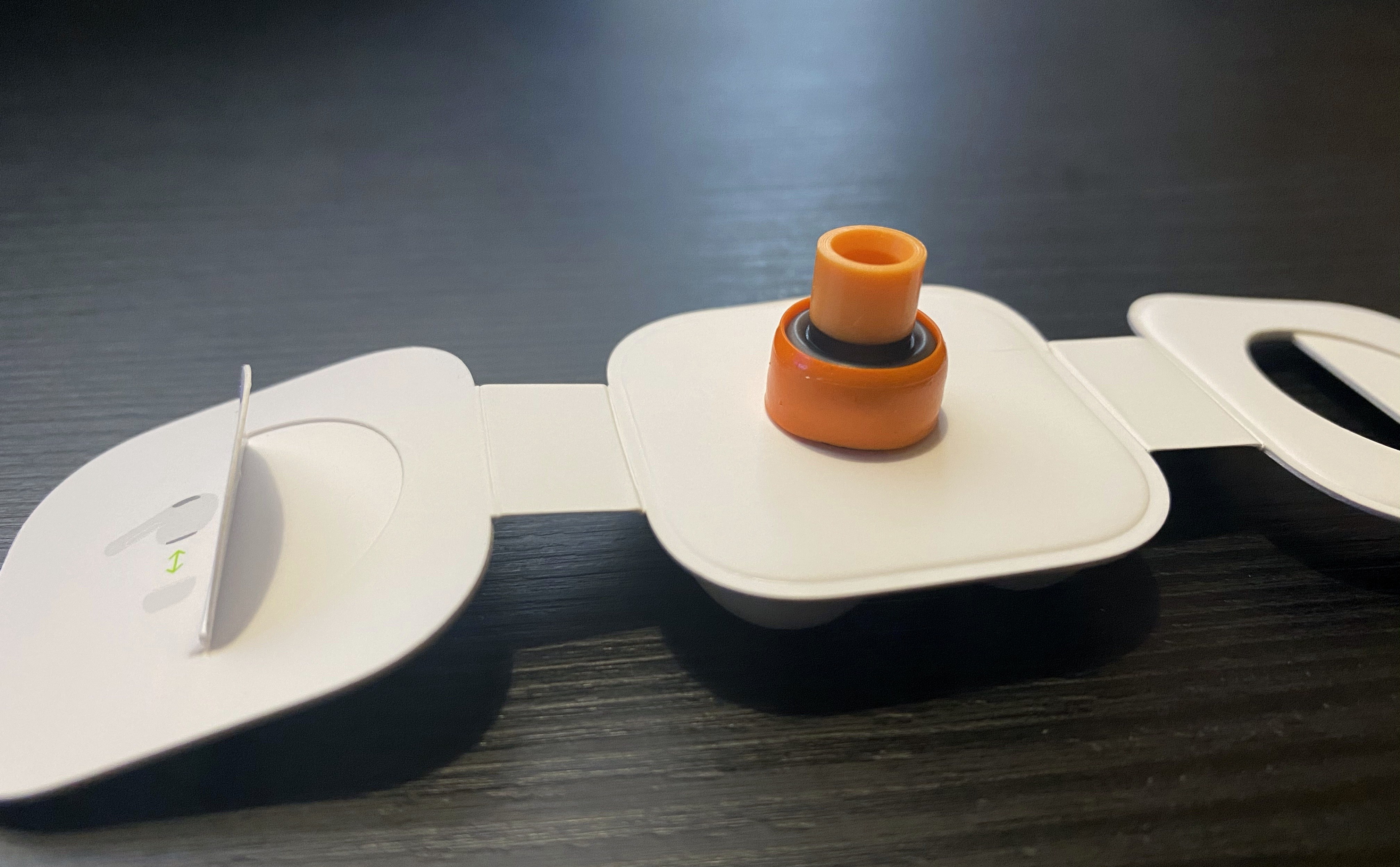 Next, gently remove the memory foam ring from the eartip: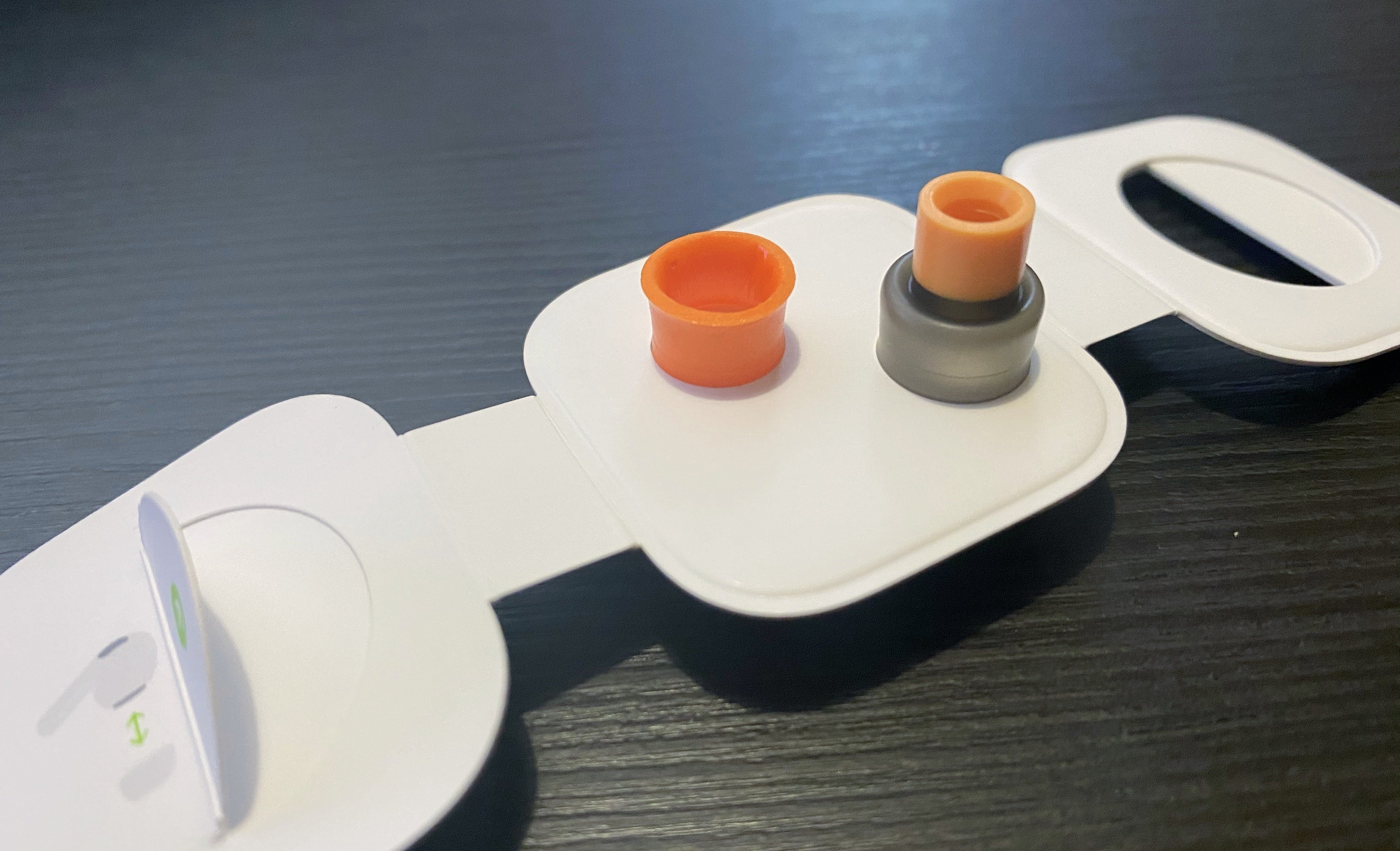 Grab the tip of your AirPods Pro and pull out the soft silicone part – again, don't apply too much pressure because you don't want to break it – so that it looks like this: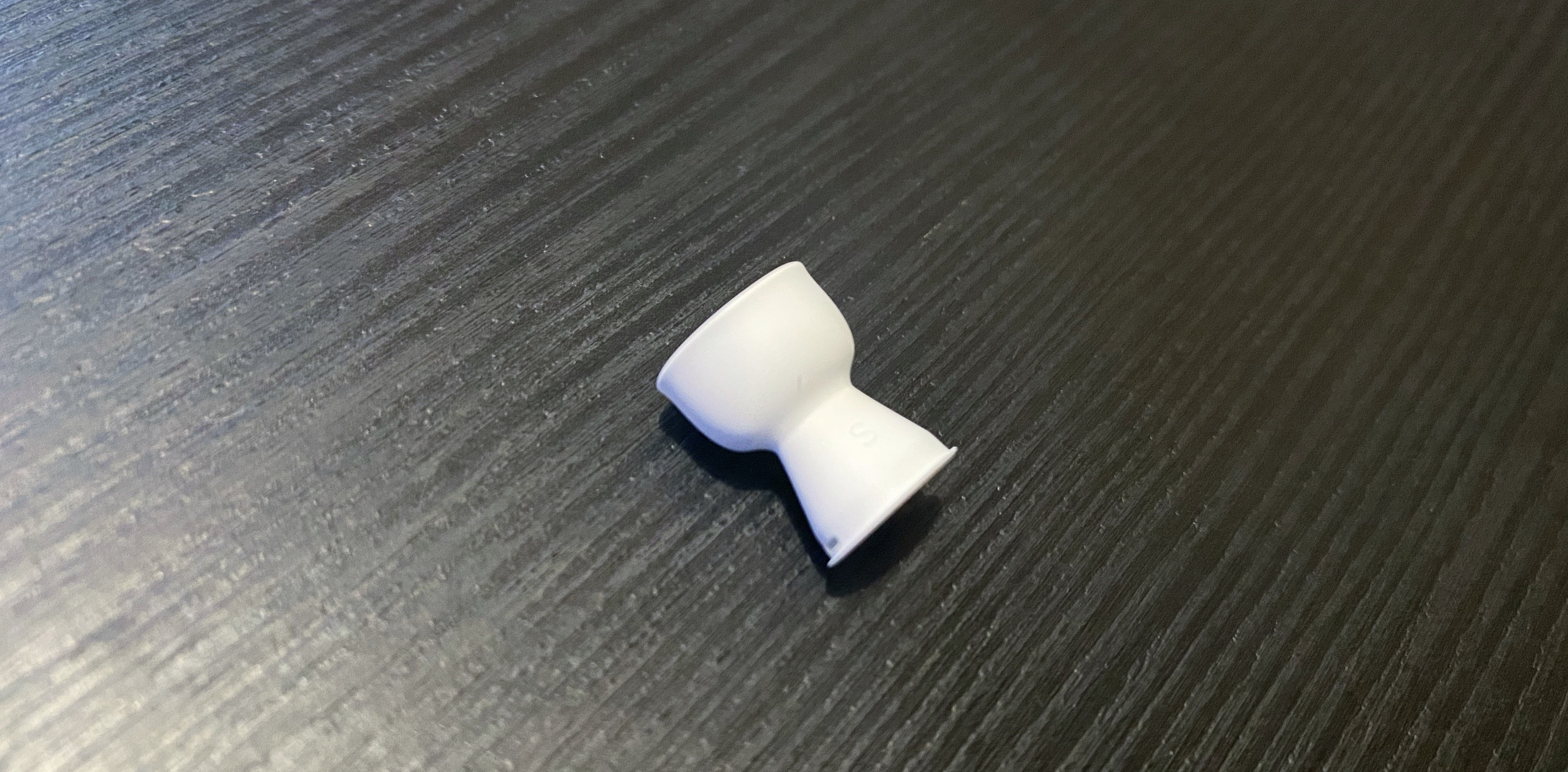 Slide the plastic base of the AirPods' tip into the foam ring, then carefully adjust it so that it doesn't cover the vents (which help relieve pressure in your inner ear), as pictured below: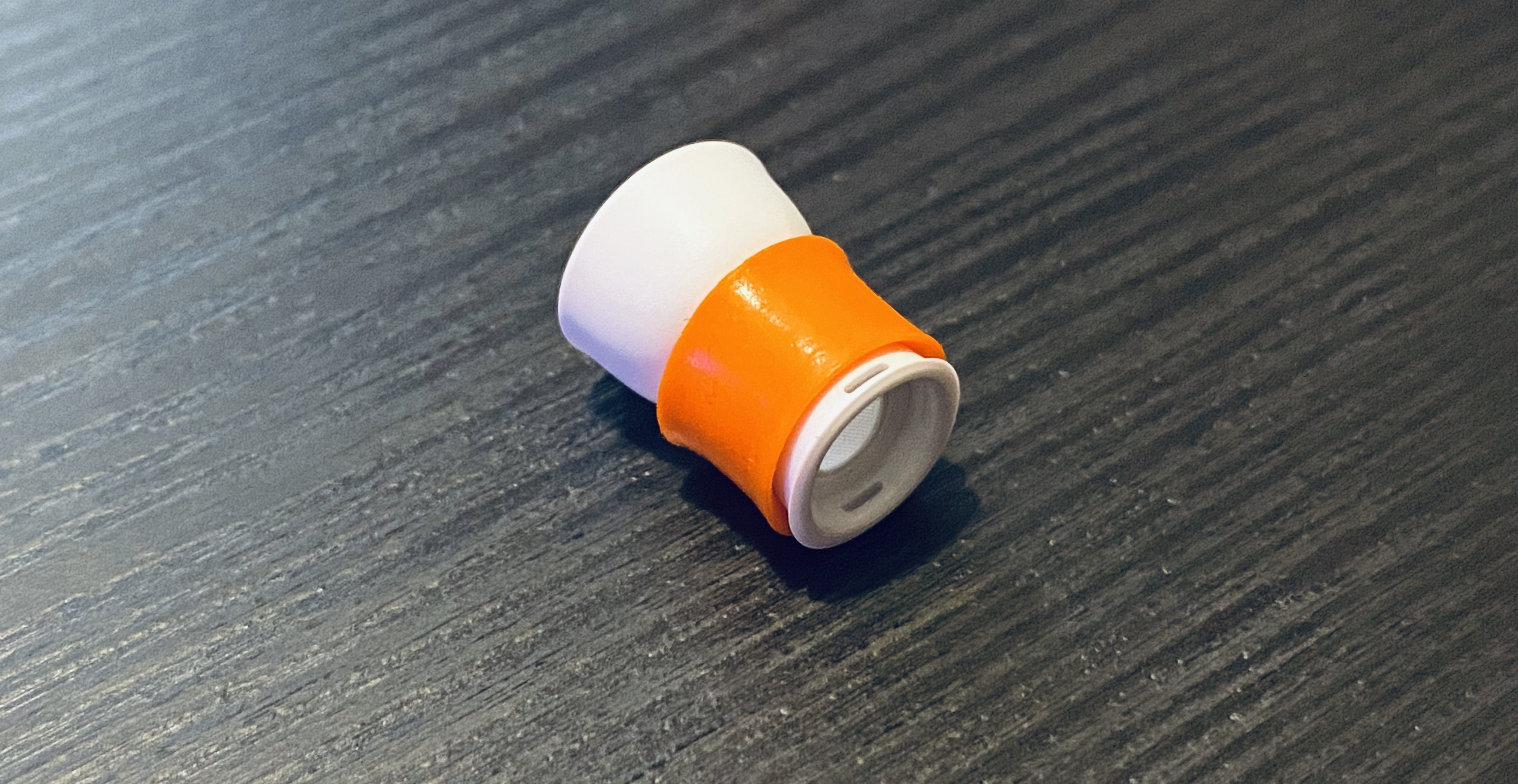 Lastly, pull down the outer silicone layer of the AirPods' tip so it covers the newly inserted foam part, adjust the foam again so it doesn't cover the vents, and voila: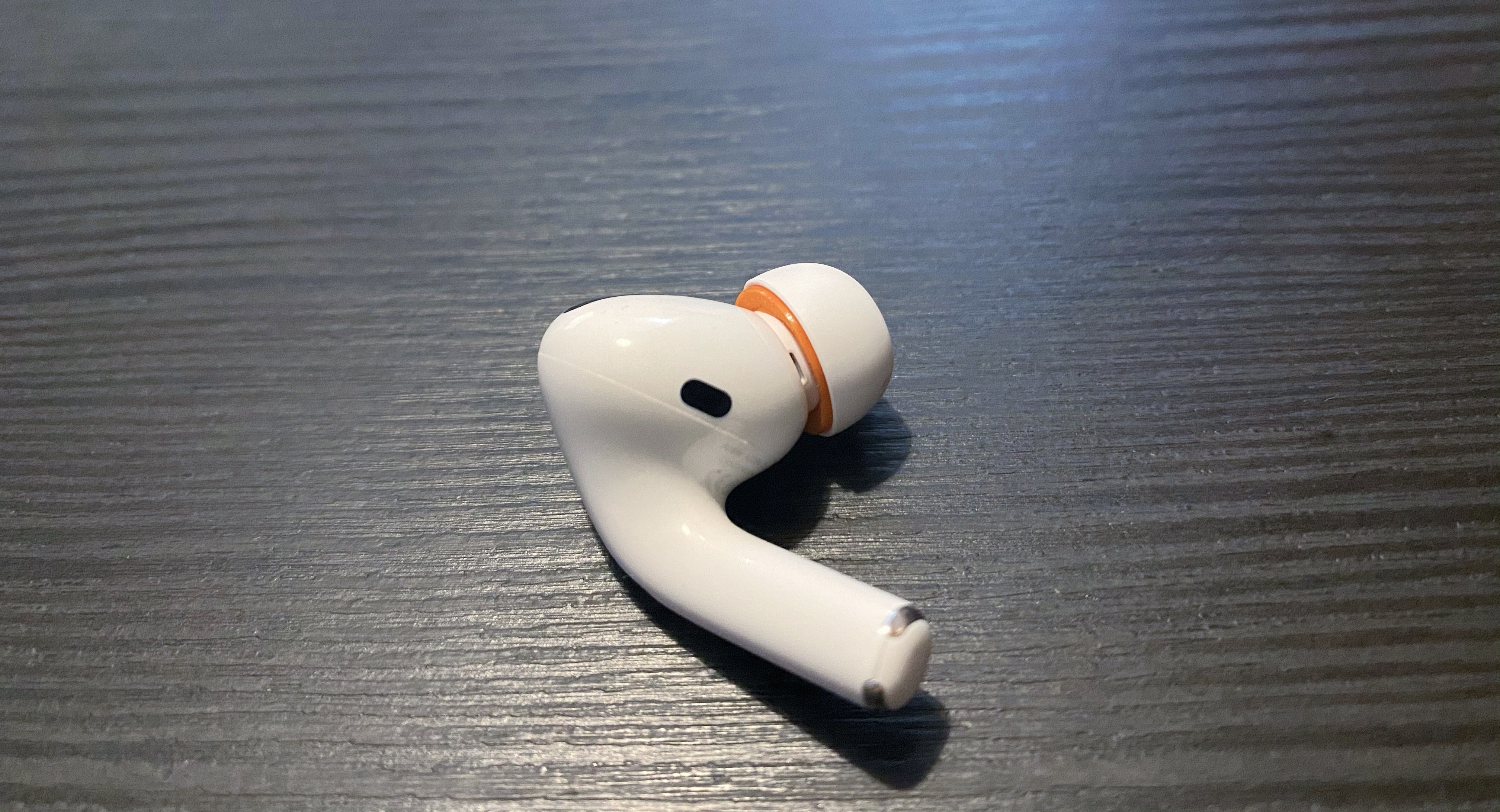 Now, obviously this is a DIY modification and it's by no means an absolutely perfect match for Apple's design – but it's a close approximation that has helped me enjoy some of the benefits of memory foam tips despite the fact that I still have to use Apple's official tips.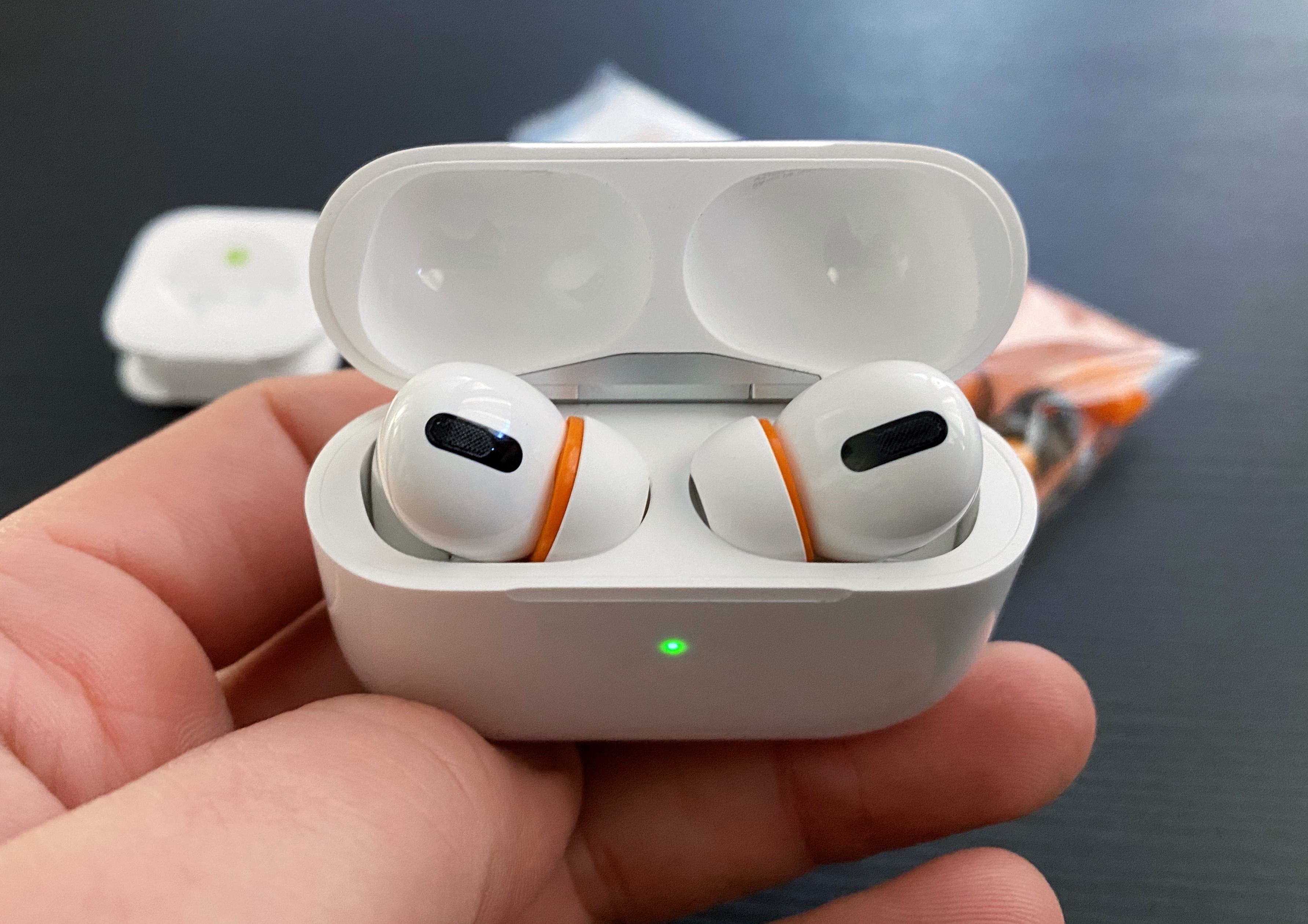 I've been rocking this setup for the past week, and not only do I find my AirPods Pro more comfortable to wear for prolonged listening sessions because the tips fit better in my ears and don't wobble as much as before, but sound isolation is also better (as confirmed by Apple's fit test in Settings). Thanks to the extra foam layer, the modded tips "fill" my ears, creating a better seal and ensuring the AirPods stay in place. As a result of the superior fit, I've also noticed a slightly warmer sound with a bit more bass than before, which I believe is a pleasant addition. Best of all, my right AirPod always stays in place now (which wasn't the case before the mod) and the additional foam layer hasn't been an issue for the case, which still closes perfectly.
I recognize that after spending $249 on AirPods Pro, I shouldn't have to invest roughly $18 (plus shipping) on a mod that only sort-of lets me use foam tips with them. Apple should provide users with more choice in terms of the materials used in the default tips: ideally, for $249 the company should offer a selection of silicone and memory foam tips in the box. But I also like my AirPods Pro a lot, and I use them for several hours every day, and I wanted to make them fit my ears better today. I'm pretty happy with this temporary mod; until a better solution comes along3, Symbio's W eartips have proven to be good companions to Apple's silicone tips, and I recommend them.
---
Train trips, riding the subway in Rome, or writing without hearing surrounding noises. ↩︎
A tip I picked up from Cabel Sasser years ago: you can register for an Amazon Japan account even if you don't live in Japan, use the website in English, and take advantage of fast worldwide shipping. I've spent more money on Japanese videogame and manga imports than I'm willing to admit. ↩︎
For real, Comply: please make memory foam replacement tips for AirPods Pro that match the size and plastic attachment of Apple's default ones. Thank you. ↩︎