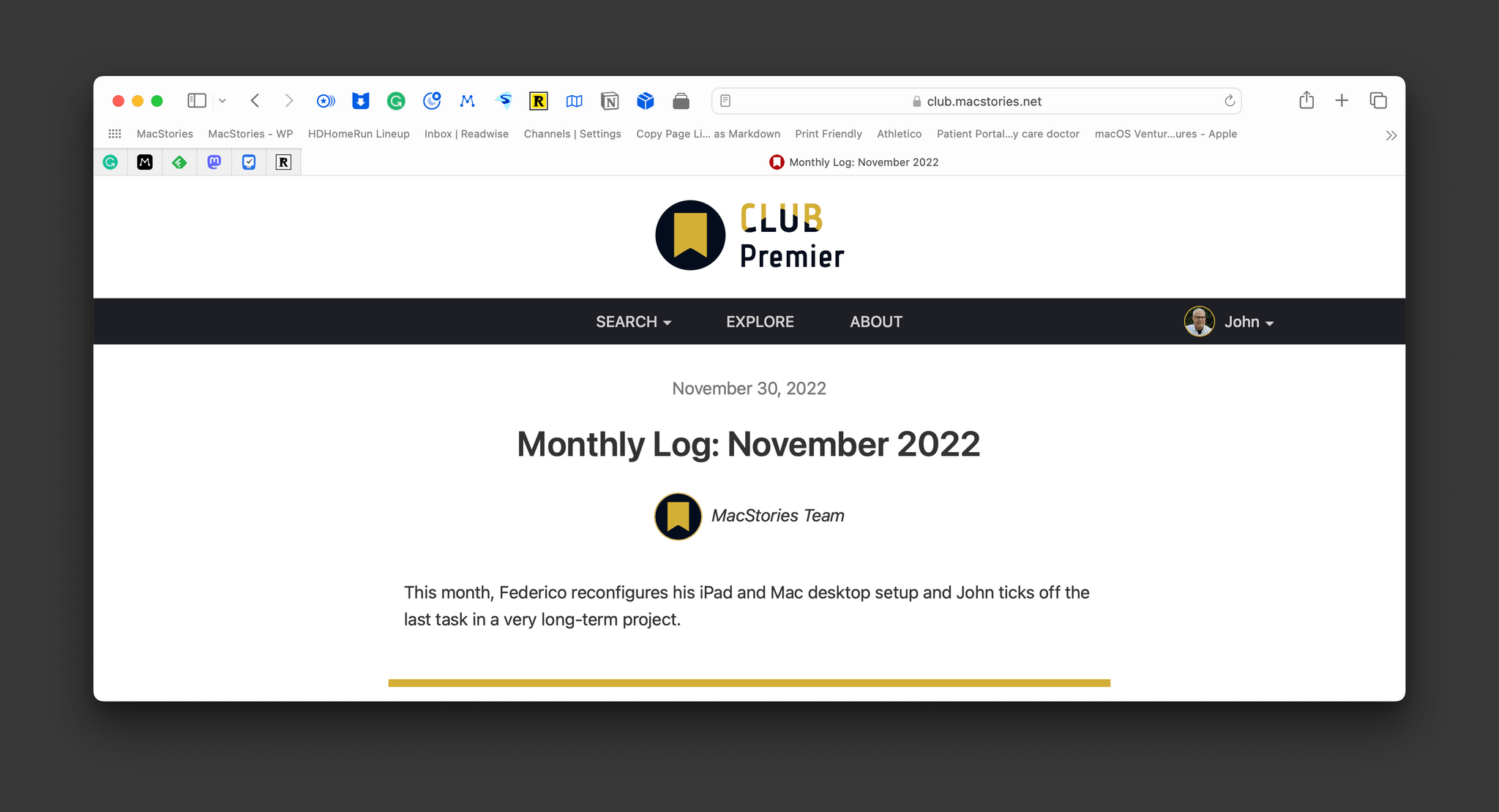 Editor's Note: Every now and then, we like to share some of the writing we've published for Club MacStories members with the broader MacStories community to give readers a feel for what we offer in case they're thinking of joining themselves.
The Club has grown to encompass far more than just our writing. There's the Discord community, AV Club events to discuss community-chosen media, Club-only columns, podcasts, and more.
But, at the heart of the Club are our two regular newsletters available via email and the web. MacStories Weekly, which is packed with new app discoveries, tips, shortcuts, columns, and more, is published roughly 48 times a year, and the Monthly Log, which features longer-form columns, comes out every month for a total of 60 newsletters a year.
Today we're sharing the November 2022 issue of the Monthly Log, featuring two columns. The first, by Federico, is an in-depth look at how he's used Universal Control to achieve the iPad Pro setup he's always wanted. In the second story, John reflects on some lessons he's learned since joining MacStories.
We hope you enjoy these stories and consider joining the Club. MacStories wouldn't be possible without the generosity of its readers, so thank you to all of you who are already members or were in the past, and welcome to those of you just joining now. Your support means a lot to us.
Achieving the Universal Control Dream
By: Federico Viticci
For the past month or so, I've been talking on AppStories and Connected about my new desk setup, which involves an iPad Pro and Apple Studio Display. Here's a quick recap for those who don't listen to the shows and may be new to this whole saga:
After buying a house earlier this year, I was convinced I wanted to find a monitor for my new office that would serve both as a work and gaming monitor. My original plan was to set up my gaming PC in the office, have a single monitor for both work and play, and switch a Thunderbolt cable between the PC, iPad Pro, and MacBook Pro, depending on what I wanted to do. Over the past few weeks, however, I've realized that I prefer playing videogames on my new couch with a 55" (now 65") OLED TV (an LG C2), which in turn helped me understand that I didn't need a gaming monitor for my office after all. I wanted a display that would look nice and easily connect to either the Mac and iPad with as few complications as possible. It became clear very quickly that what I wanted was a Studio Display, so I purchased one.
As I've documented at length on Twitter, AppStories, and Connected, I soon faced another problem: I wanted to use the Apple Magic Keyboard and Magic Trackpad for both my MacBook Pro and iPad Pro, but those accessories do not support multi-device pairing with the ability to switch between them like, say, AirPods do. If I wanted to keep using the Apple keyboard and trackpad instead of third-party options (which I tried and didn't like), and if I wanted to make them switch seamlessly between a MacBook Pro in clamshell mode and an iPad Pro, the only solution was to keep them wired into the CalDigit TS4 Thunderbolt dock I'm using in conjunction with my Studio Display. If you know me and how much I despise visible cables on my desk, you know that it was doable, but not an ideal solution for me.
There was an alternative: using Universal Control to keep the accessories paired to a Mac while retaining the ability to wirelessly move them over to the iPad Pro. That way, I could have kept the iPad plugged into the Studio Display, leave the Mac turned on, and move the keyboard and pointer over to the iPad thanks to Universal Control. That could have worked, as Jason Snell also wrote in a Macworld article recently after running some tests with his Mac Studio. Except I didn't have a Mac Studio – all I had was a MacBook Pro that, when the lid is closed and the Thunderbolt cable is disconnected from it, becomes inaccessible from the iPad Pro. After a conversation with Jason behind the scenes, I realized there was only one way to achieve my dream setup powered by Universal Control.
Last week, I bought a refurbished base model M1 Mac mini. It's the model from 2020 with 8 GB of RAM and 256 GB of storage. I set it up as a "headless" machine that's always accessible via VNC (I like using Screens) and connected it to Ethernet, my new Elgato Stream Deck MK.2 (a compact white model that looks great on my desk), and a 1 TB Thunderbolt drive from OWC I got last year. I enabled Universal Control and, as I hoped, I was able to achieve what I wanted: I can keep using the Magic Keyboard and Magic Trackpad without any wires on my desk thanks to Universal Control. Even better, my iPad Pro can always remain plugged in via Thunderbolt and paired with the Studio Display: when I need to use macOS, I can use my Mac mini "as an app" thanks to Screens.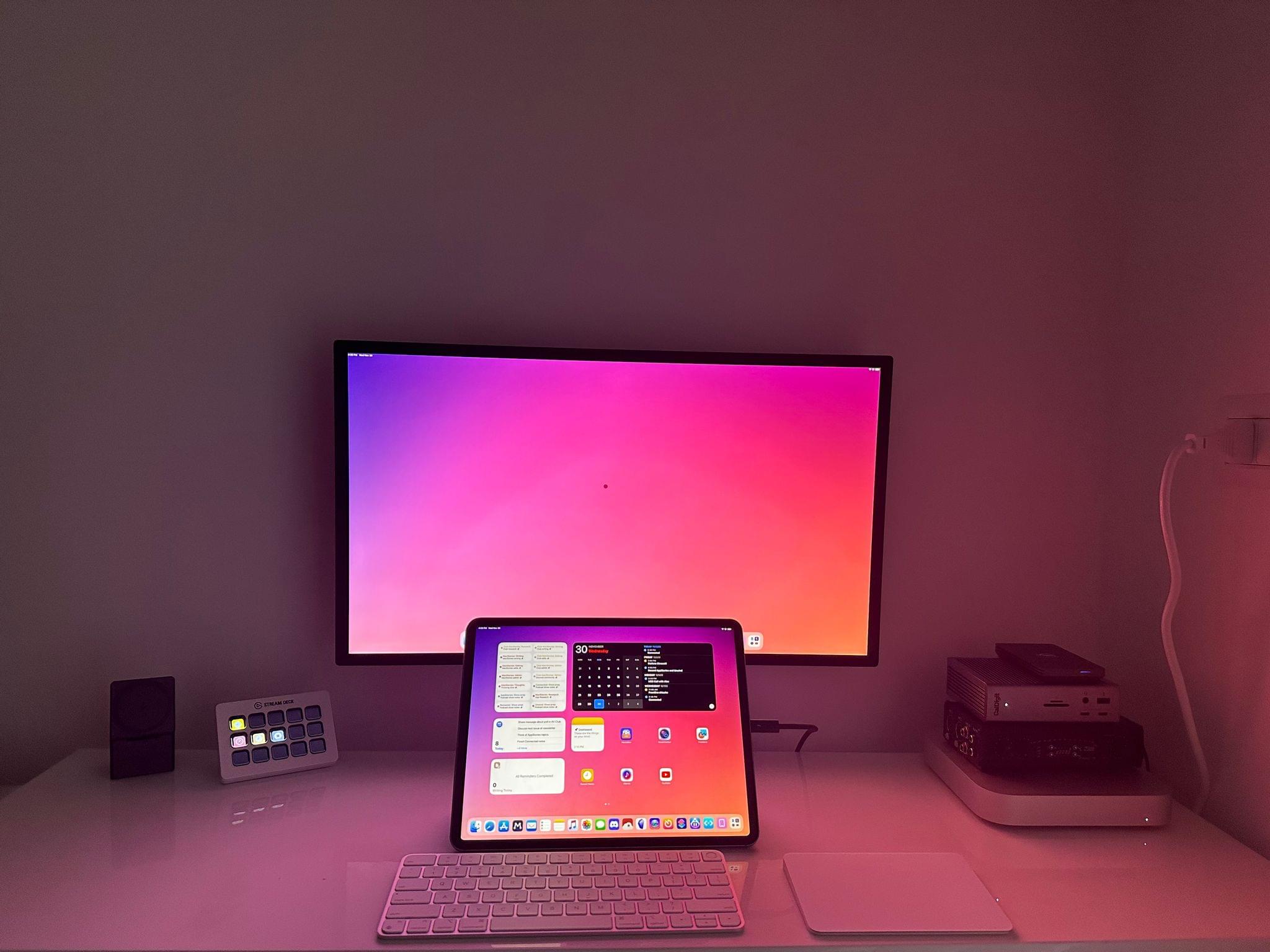 I'm going to have more to say about my new setup over the coming weeks and months, and I know that what I have today is just a first draft of this new approach that I needed to get done in time for this issue of the Monthly Log and this week's episode of Connected. For instance, I haven't done any cable management yet; I still need to actually buy a new desk, and most of this equipment will be hidden and mounted underneath it; I'm not sure I want to keep the USBPre2 audio interface you can see above the Mac mini; I've barely scratched the surface of what I want to do with the Stream Deck (stay tuned for more on this in upcoming issues of MacStories Weekly). However, I can confidently say that this technique works for me and is optimal for the kind of person I am: I use my Mac just a few times a week to record podcasts; I like the freedom of using my iPad as a tablet or desktop workstation by just plugging in a cable; and Universal Control lets me keep using the accessories I like without seeing a mess of wires on my desk.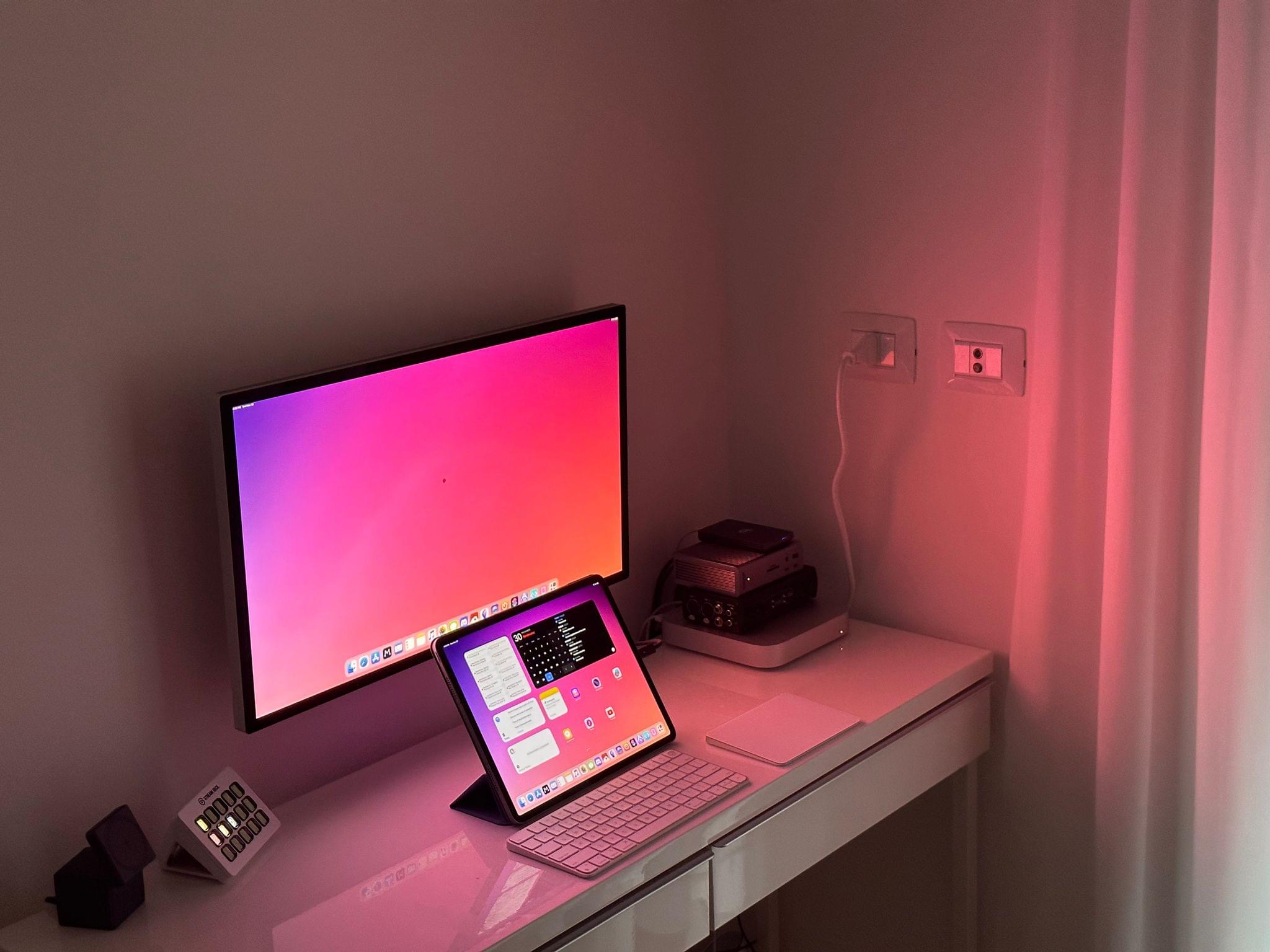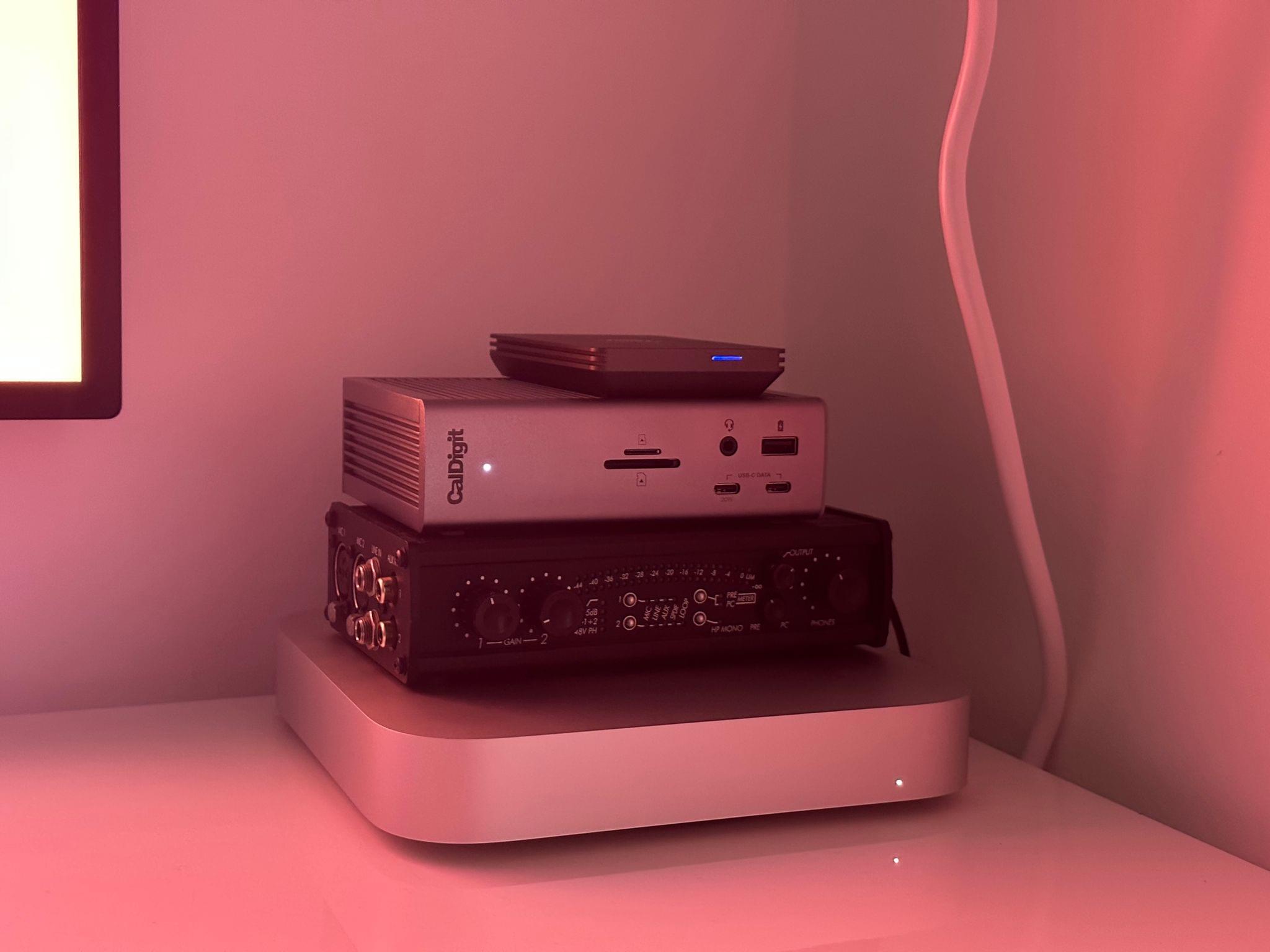 I do have a few notes I can share today about the experience I've had for the past few days running this setup.
With a Mac mini in headless mode, you have to "imagine" you're dragging the pointer toward an invisible edge of a "display" until it appears on the iPad. I positioned the iPad on the left side of the Mac mini in macOS' System Settings, so when I move the pointer to the left from my Mac's desktop, it then appears on the iPad's Home Screen; then, I can move it between the iPad's display and the Studio Display running Stage Manager. It all works beautifully. With Universal Control on my Wi-Fi 6 network, the pointer appears immediately on the iPad Pro, but the Magic Keyboard takes a few seconds to switch; it's not a big deal. In terms of performance, the only difference I've noticed between using a trackpad natively paired with the iPad versus a trackpad via Universal Control is that context menus take a split-second more to appear when I click with two fingers on the trackpad. None of this is a dealbreaker and I've been able to write and take notes and use my iPad Pro with Universal Control without any major problems.
Using macOS via VNC through Screens is obviously not as smooth as using the real thing plugged into the Studio Display, but it's fine for what I do. There is latency, occasional graphical artifacts, and jittery animations due to VNC's compression and wireless communication between the iPad and Mac. I am, of course, open to suggestions if anyone has any tips on how to improve this experience. For now, what I can say is that it's amusing and ridiculous at the same time how I can "use" macOS as any other window alongside my other iPad apps in Stage Manager. For example, here is how I am typing this very sentence right now on my Studio Display: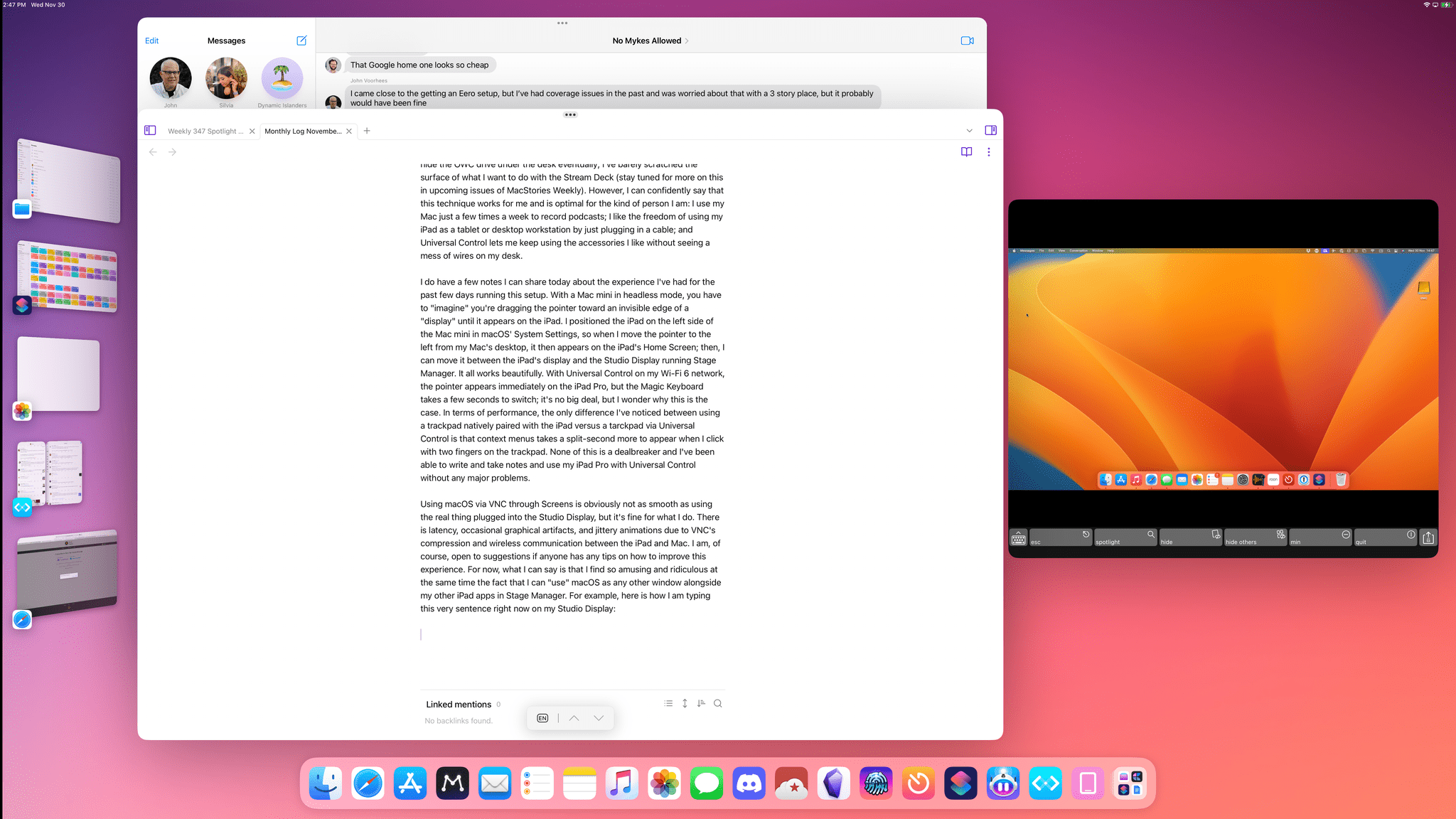 As you can see, due to Stage Manager's preset window sizes, I cannot make the Screens window 16:9 to hide the black bars around the macOS interface. I'm guessing the solution would be to change the aspect ratio of a headless Mac mini from 16:9 to 4:3 or something like that, but I don't know how to do it yet. In any case, I recorded an entire episode of Connected "on my iPad" by controlling macOS as a window in Stage Manager, and it totally worked. It's a bit of a mind trip when you consider how I am controlling a Mac from an iPad that I'm controlling via accessories originally paired with that Mac, but hey: Apple built this technology; I'm simply taking advantage of it.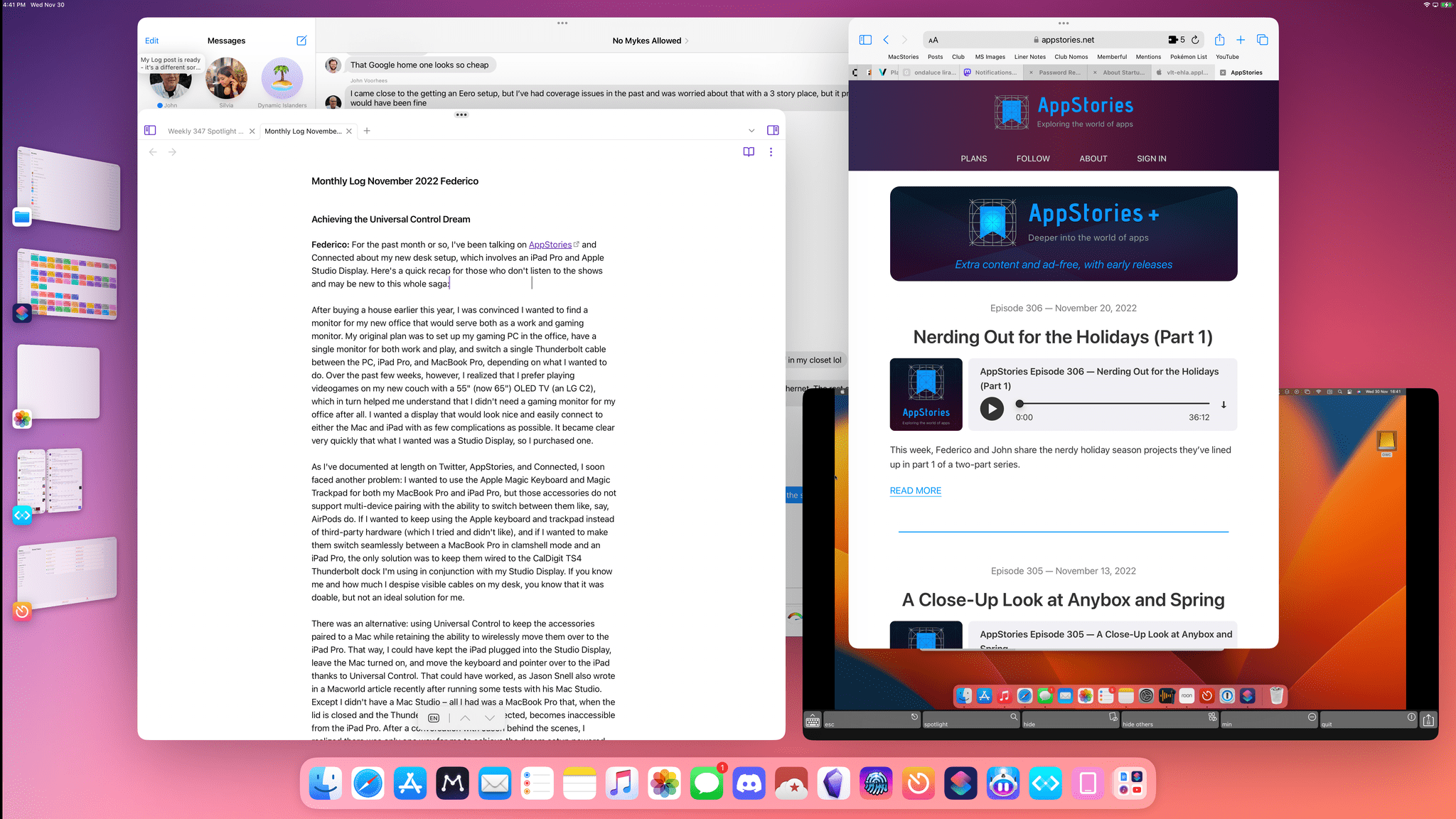 Lastly, I know that I'll need to spend some time thinking about the fact that I have an always-on Mac mini once again in my house. For starters, I've already turned the Mac mini into a Roon core by moving my offline music library from a drive connected to the Intel NUC to the OWC Thunderbolt drive (I can sell the NUC now). I've played around with the new Roon Arc on my iPhone and it worked right away with the Mac mini as a media server and the new Shanling UA5 portable DAC I purchased last week. Given the Mac mini's storage constraints, I've installed Dropbox on the external drive, which is going to be plugged into the Mac mini all the time.
I'm thinking, however, about other things I can do with a Mac mini server in my home now. Maybe I could look into running shell scripts via SSH from Shortcuts on the iPad again? Maybe I could consider running Signals for HomeKit and pair that with executing shortcuts by pressing physical buttons? Since I started MacStories in 2009, I never had the ability to have a Mac mini turned on 24/7 and plugged into Ethernet; I'm very excited about the things I can do with this machine going forward.
So that's how I achieved the dream of Universal Control for my ideal desk setup: by giving Apple more money and buying a desktop Mac instead. It's kind of ironic that in order to have the perfect iPad setup I had to get a Mac mini, which is why I chose to go for a cheaper, refurbished model. I don't know what the future holds for me here, but as I'm typing this in Obsidian for iPad running on a Studio Display controlled by a Magic Keyboard and Trackpad via Universal Control, I finally know this: I love this setup, and I'm happy.
---
Eight Years In
By: John Voorhees
Eight years ago today, I published my first story on MacStories. As anniversaries go, the eighth isn't usually celebrated. For me, though, 2022 has been the year I finally cleared the last item off an important checklist that's been sitting in the back of my head since 2015.
I don't typically spend a lot of time dwelling on the past. It's not in my nature or all that useful to my work. I'm much better off looking ahead to where I should be heading than where I've been. Hopefully, though, there's some benefit to others in sharing my story, even those who have heard parts of it before.
Although the first article I published on MacStories is a good place to start, the beginning really stretches back almost a decade now, when I realized I needed to move on from my career as a lawyer. There were times before that I wanted to move on, but as I explained when MacStories became a full-time endeavor, I knew in my gut by 2013 that I had to make a change.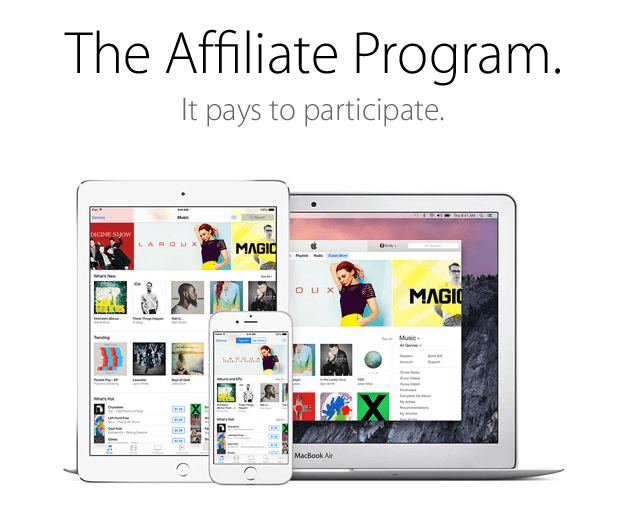 When I wrote my first article for MacStories, I had no idea what I was doing. What I did know, though, was that it was an opportunity I didn't want to screw up, so I worked on that story endlessly, refining it until it felt polished. Then, because I was unsure of myself, I hired a copy editor to review and edit my work, which was the first and last time I did that. The story came back with virtually no changes, but it was money well spent as far as I was concerned because it gave me a bit more confidence that I could make this writing thing work.
I didn't expect to write full-time at MacStories, but it just sort of happened organically over the course of 2016. Then, in 2017, I took over sponsorship sales for the site. I had no experience selling ads, but I knew a lot of developers, kept at it, and over time, got pretty good at it. 2017 was also the year we started AppStories, and, in the fall, I finally left my old job. That was a lot for one year, but necessary to transition my MacStories work from a side gig to full-time.
In many ways, 2022 has been the bookend to 2017. Breaking with my old profession was only part of what I wanted to do. I also wanted to get out of the Chicago area. Jennifer and I don't have family in Chicago, but it's where I got a job after law school, and for the kind of legal work I did, it was better than the alternatives.
Once I began writing at MacStories full-time, the Chicago area looked even less attractive. I could work anywhere, but I was paying the taxes and high cost of living of a big city that I no longer needed. It didn't make much sense, except that I didn't want to disrupt my family by moving on the heels of changing careers. So I waited.
This year, housing prices and my youngest son's graduation from high school perfectly aligned. We knew it was time, so we moved quickly, selling our house within a couple of weeks, discarding the cruft that comes with living in the same place for more than 20 years, and renting an apartment in North Carolina.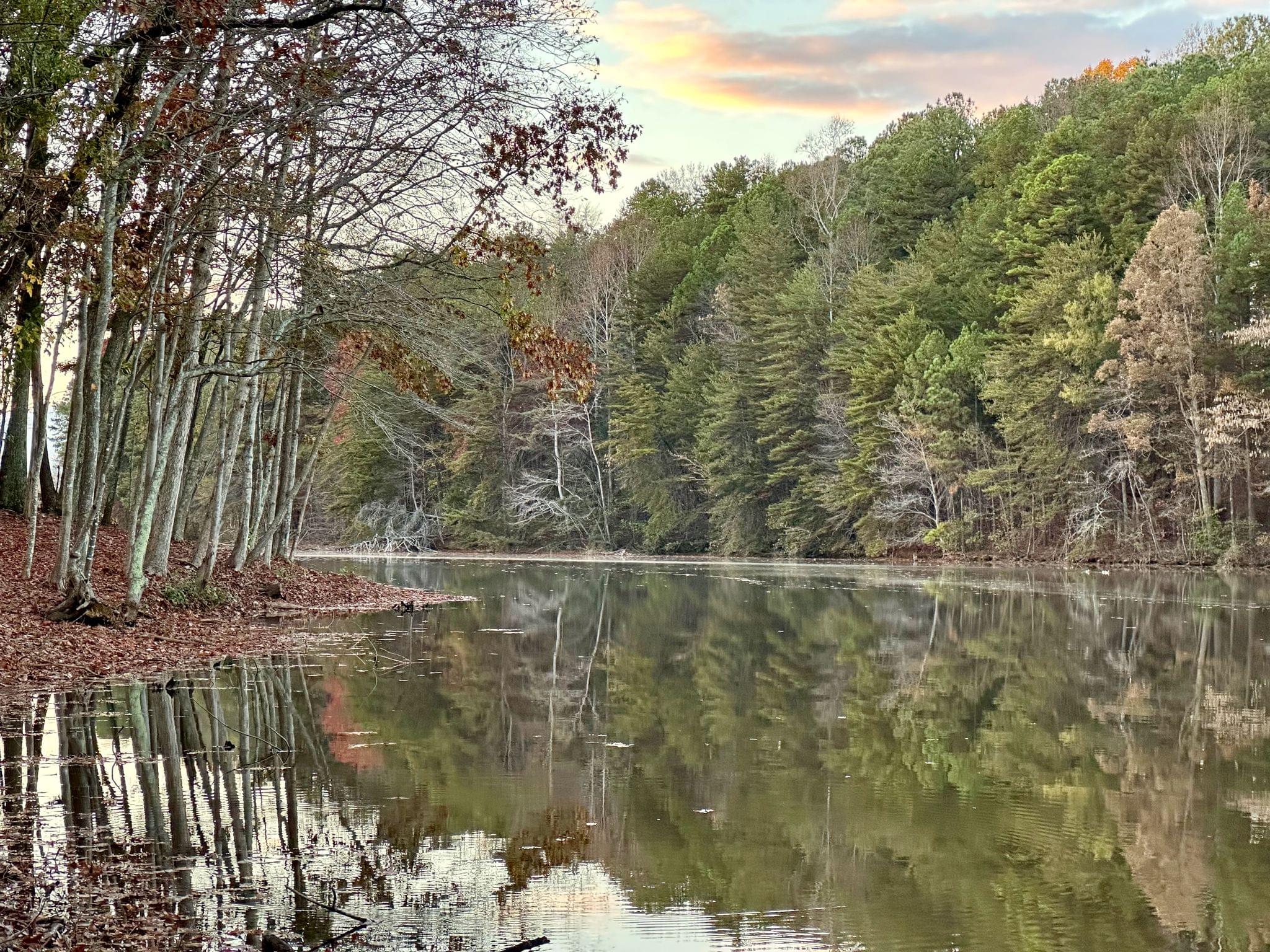 People ask, why North Carolina? It's funny, but it started with a listicle Jennifer found of nice places to live in America. However, we were also familiar with the area because we both went to college here. Plus, we have family nearby, and the Charlotte area is one of the few places with access to an international airport with flights to Europe that are not cold. So, instead of overthinking it, we rented an apartment for a year and spent the summer house-hunting.
Now, we're fully moved into a new house we found after just a few months of looking, and we're exactly where I'd hoped we'd be when I was still casting about for what to do next in 2015. This year has probably been the hardest since 2017, with two moves in six months, and I've spent too much fretting about things that have slipped while my personal life overtook my work, but it's been worth it.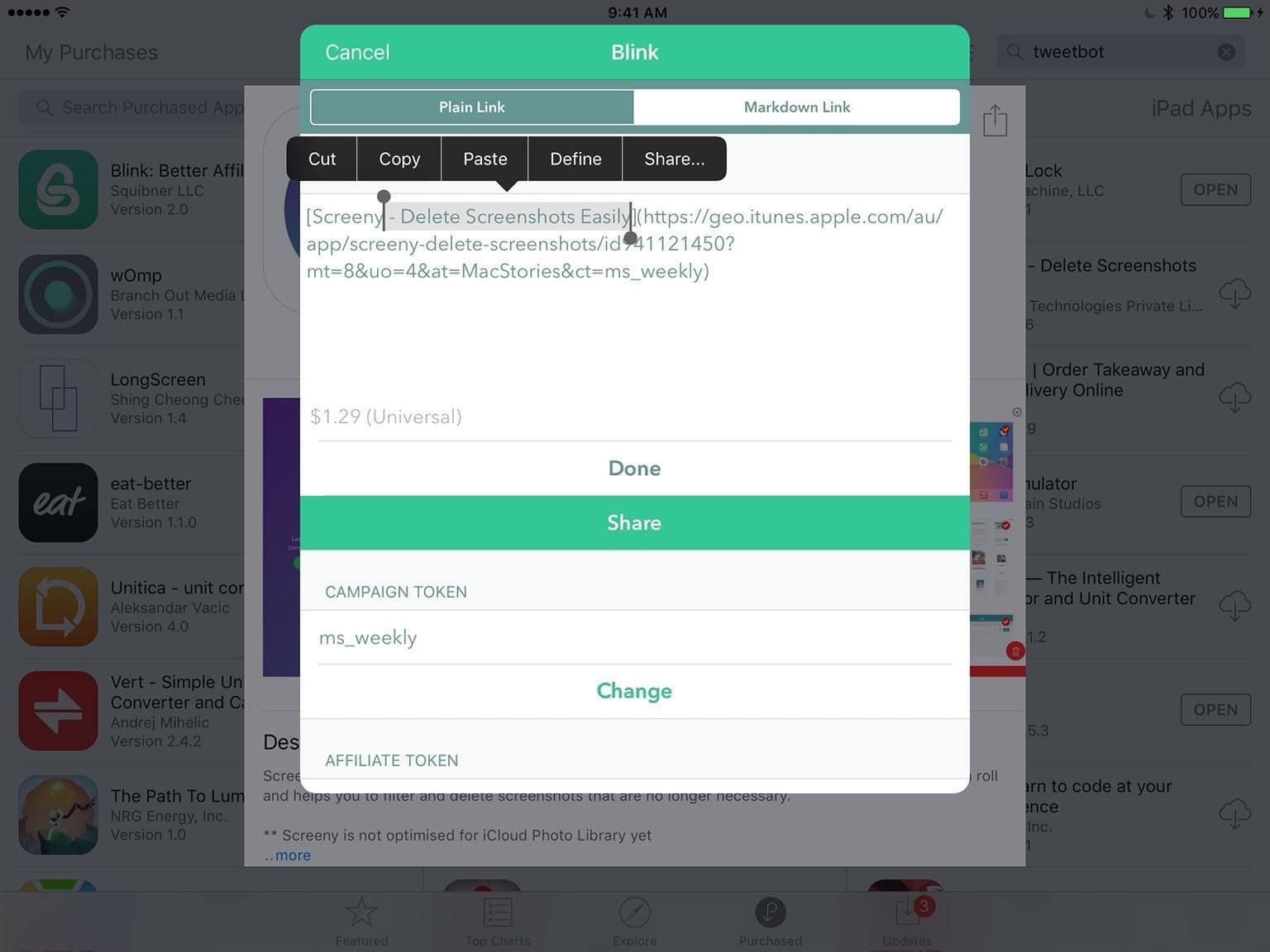 Everyone's story is uniquely their own, but I wanted to revisit mine mainly to pass along a few ideas to anyone in a similar situation. My first bit of advice is to be honest with yourself. When I started writing at MacStories, I had a modestly successful app, but I knew that I'd mostly brute-forced that app into existence. App development wasn't my strength, but writing was, and writing about apps ultimately scratched the same itch and more.
Second, be patient. This is incredibly difficult and doesn't come naturally to me. When I started at MacStories, readers regularly complimented Federico on stories I wrote because they didn't notice the byline and assumed he wrote everything on the site, which he did years ago. Readers didn't know who I was. I wanted that to change, but more than the recognition, I wanted to do and be good at everything immediately, which is unrealistic. Instead of spreading myself thin, I forced myself to focus on one or two things at a time, only taking on new things gradually, which was hard, but the right move.
Ambition isn't bad, but it's not a good look when it comes across as overly thirsty. People can sense that from miles away but will never tell you. You need to prove yourself through your work, and that takes time.
Closely related to patience is keeping at it. I never realized what a bad writer I was as a lawyer. The problem was that I didn't write nearly as much as I thought I did. After publishing hundreds of articles on MacStories, I had made huge strides, and I'm still improving. Whatever you're transitioning to, do it a lot. Practice pays off.
Third, keep learning. I would have thought this would be universal for people writing or making other content for the Internet, but it's not. It's human nature, I guess, so I count myself lucky that I don't have it in me to sit still. If anything, I have to consciously put my curiosity on hold to keep it out of the way of being productive at busy times of the year. Whatever you do, though, keep learning, exploring, and trying new things. Getting comfortable has the benefit of, well, being comfortable, but it's the surest path to obsolescence there is.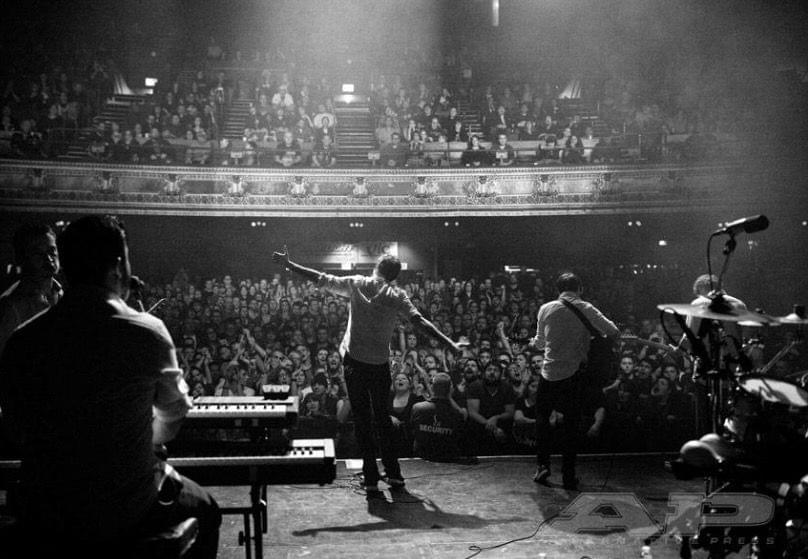 Finally, know who to listen to and who to ignore. When I was starting out, many people told me I was crazy, or at a minimum, I should keep working as a lawyer as a hedge against 'the whole Internet thing' not working out. Much of the noise felt like a version of the 'stay in your lane' attitude common on Twitter. There were more 'you're nuts' people in my life than 'go for it' people, but I'd learned long before who to listen to, and they were the ones saying 'go for it,' so I did. When the stay-in-your-lane crowd was loudest and caused me to second guess what I was doing, my antidote was the chorus of Photosynthesis by Frank Turner:
I won't sit down
And I won't shut up
And most of all, I will not grow up
Stubborn defiance is sometimes a virtue.
I'm not much for giving unsolicited advice, but there you have it: some lessons from the past eight years that I think are applicable beyond my own circumstances. Of course, none of this would have been possible without the support of my family and friends, the backstop of savings from my time as a lawyer, and a lot of other advantages that I've had that others don't. However, whatever your situation is, I hope there's something in my story that resonates with whatever it is that your goals are.