Timers are a staple of productivity systems, which is why there are so many of them on the App Store. My favorite timer apps are the ones that are the most flexible. A little structure goes a long way if you're casting about for a system that works for you, but I prefer timer apps that can be adapted to multiple scenarios. That's why I've enjoyed playing around with TimeWave so much.
The app, which works on the iPhone, iPad, and Apple Watch, plus Apple Silicon Macs in compatibility mode, isn't new, but in a sea of timer apps, its focused black-and-white design and regular updates caught my eye. TimeWave is pitched as a focus timer that can be used with the Pomodoro time management system, which is a good use of it. However, what's best is that TimeWave can also be used as a habit tracker, cooking timer, exercise routine timer, and more.
TimeWave has you covered whether you need a single timer or a multi-step sequential timer. To get started, tap the plus button, name your timer, and pick an icon. Then, add a timer or stack several timers that will run one after the other. Each timer can be named and a time set with a custom keypad-style picker.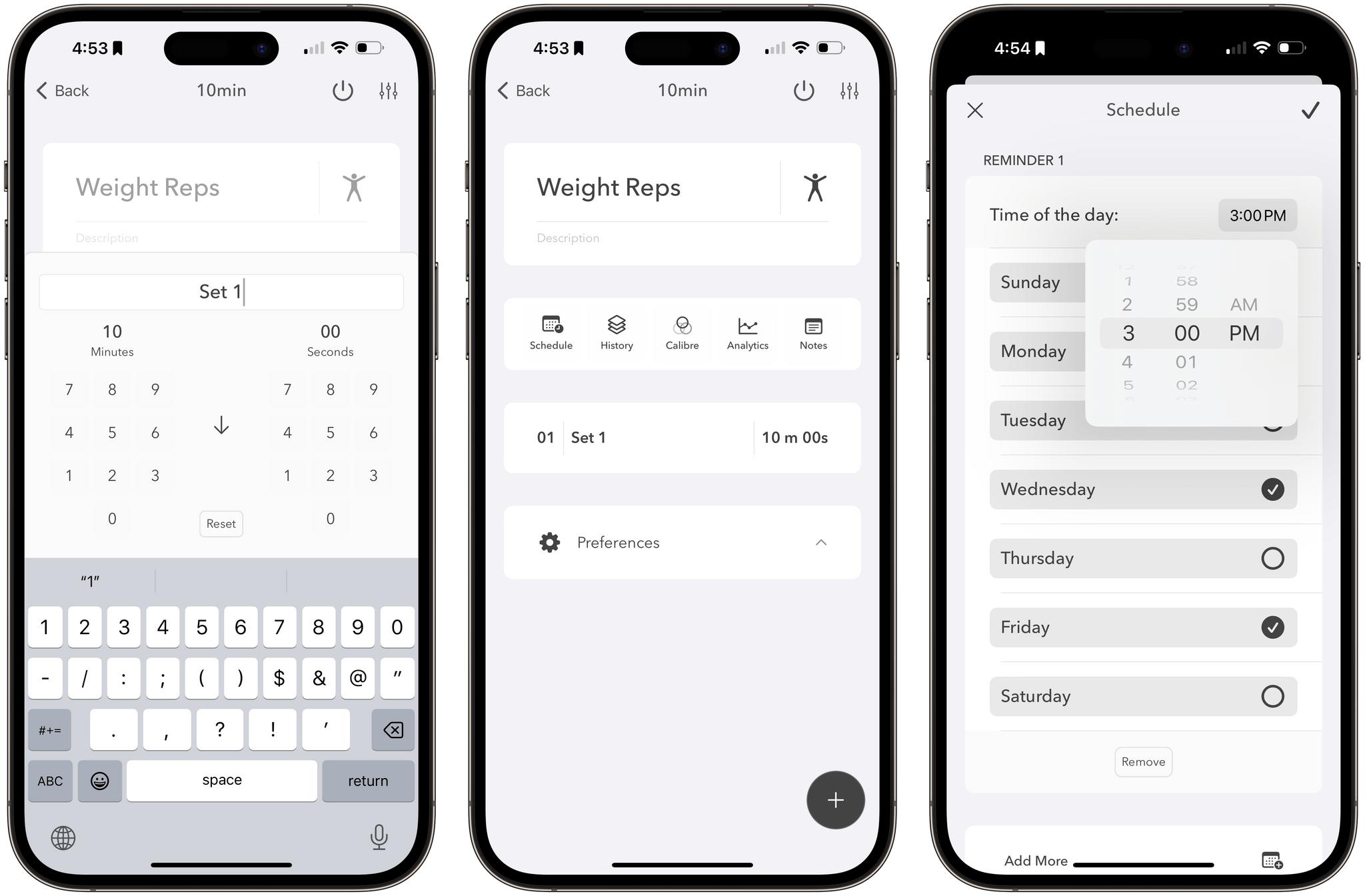 The app allows you to schedule a time and day of the week when it will send you a reminder to run your timer. Plus, TimeWave logs when you run your timers, creating a history that can be useful for staying on task with things like a habit you're trying to form. There are analytics that display your history of running each timer over the past week, four weeks, and year, and a note field for adding free-form, Markdown-formatted text to your timers. The app also includes Calibre, a set of three different visualizations that track the progress of each timer and the total time if you're running multiple timers.
Timer preferences include TimeWave AI, which is a robotic voice that guides you through your timers by reading the title and duration of each and sound effects that can be turned on or off. The app uses context menus throughout to make it easy to start timers and create new ones by duplicating existing timer blocks too.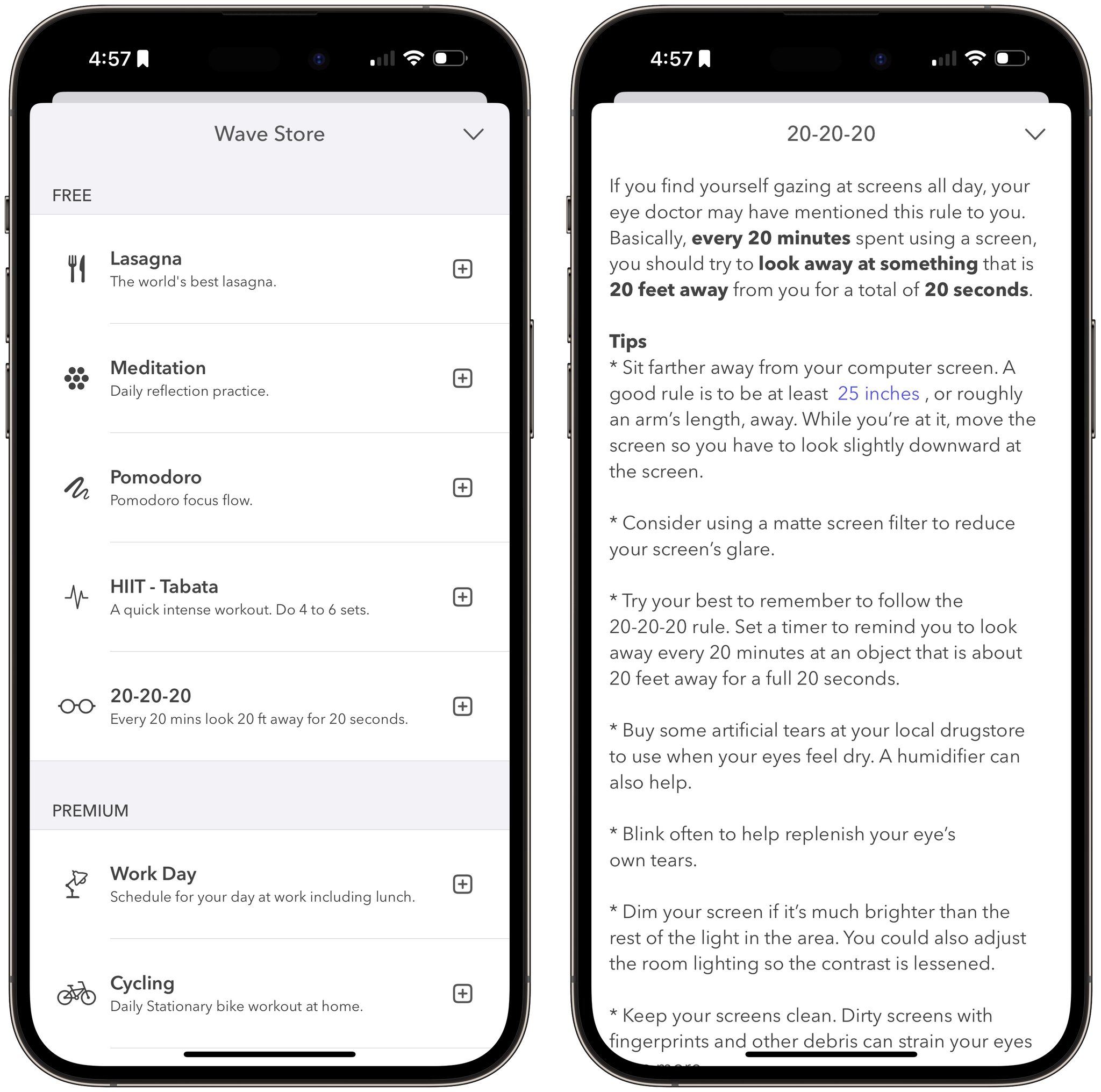 A nice touch that I haven't seen in other timer apps is a Wave Store that offers timers, some of which are free to everyone and others that are for premium users only. The timers are a great way to get a sense of the sorts of timers that can be created. For instance, there's a free timer for baking lasagna that stacks three timers and includes a notes field with instructions and a link to a lasagna recipe. Work Day is a premium timer that combines 14 separate timers for cycling through work sessions, taking breaks, and completing other tasks.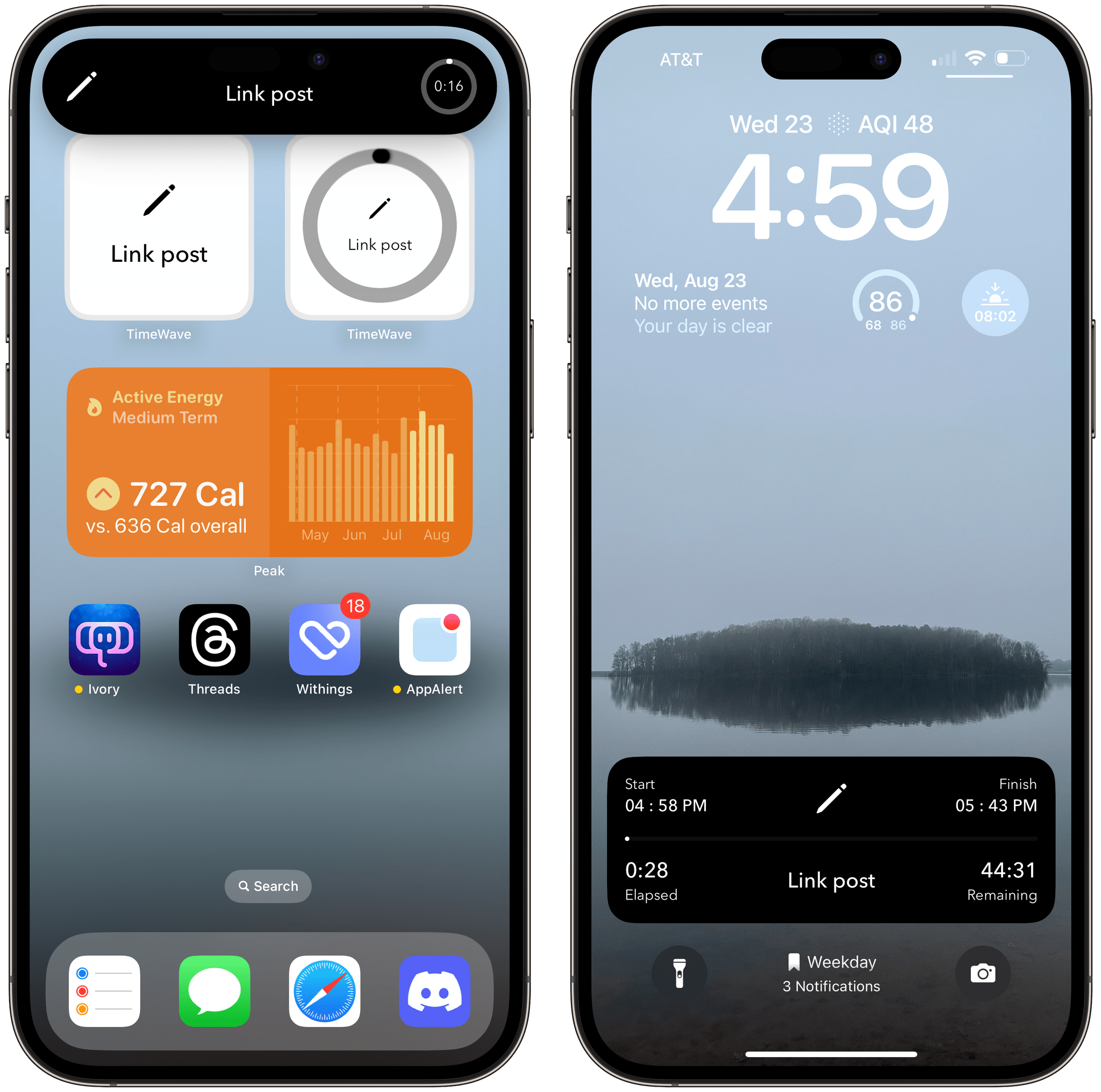 TimeWave offers Home and Lock Screen widgets for monitoring ongoing timers or launching one of your timers. Hopefully, this fall, the app's developer will add interactivity to the app's widgets because timers are a natural fit with the feature. The app also supports Live Activities and includes a Shortcuts action for starting timers.
What I like most about TimeWave, though, is its clean, black-and-white design that adapts nicely to different-sized screens. It works nicely with my preference for using dark mode apps, plus it's very legible and looks nice sitting on my MagSafe charger off to the side of my desk. I also appreciate the visualizations the app uses to show me the status of the current timer compared to the total time elapsed on all timers.
So, if you're looking for a new way to string together multiple timers and appreciate simple, spare design, give TimeWave a try. The app is available on the App Store as a free download with certain features requiring an In-App Purchase.