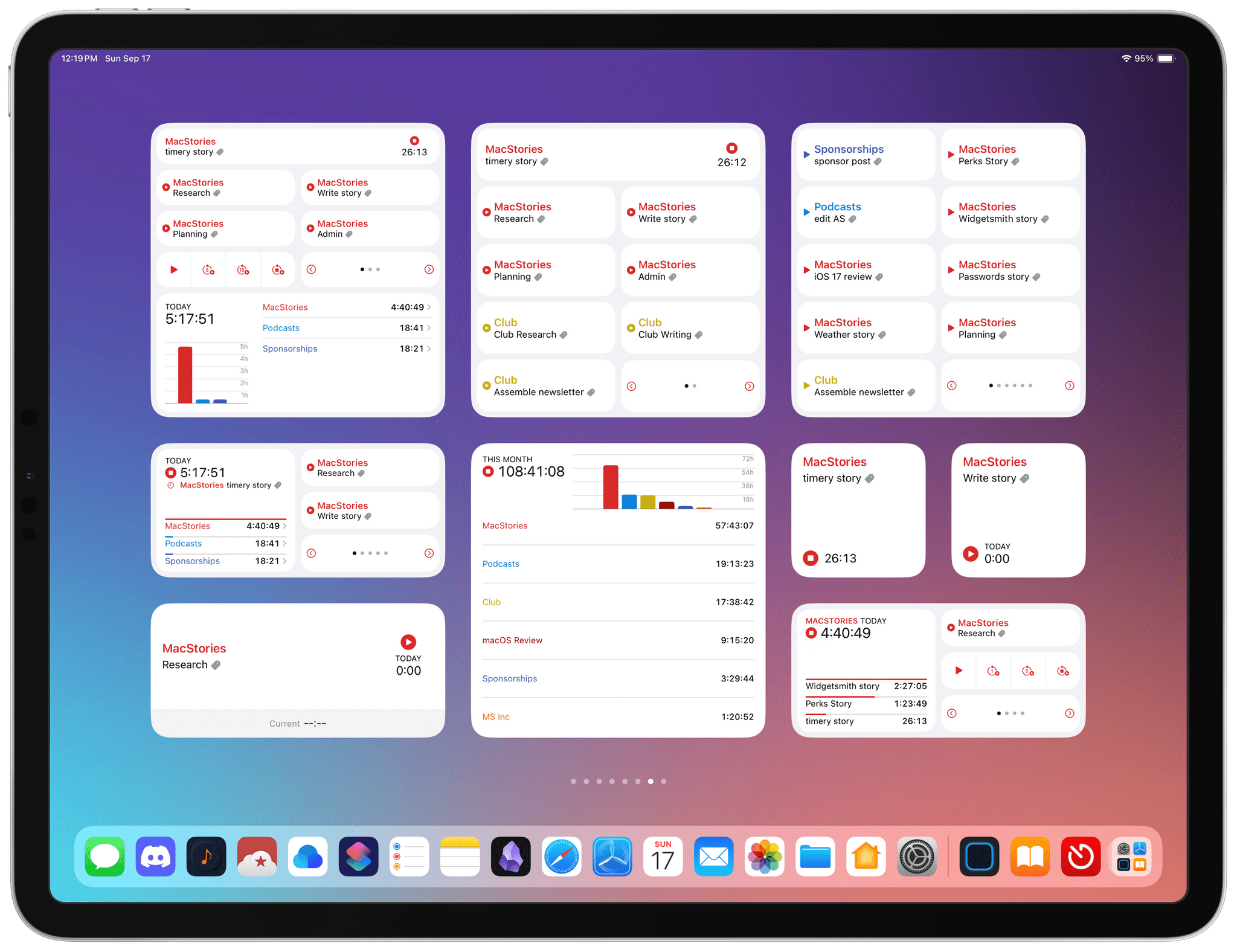 It's interesting to compare Timery 1.6, Joe Hribar's time tracking app for iPhone, iPad, Mac, and Apple Watch, with Widgetsmith. David Smith's app uses interactivity across a wide range of different types of widgets, allowing for a highly personalized approach to your Home Screen. Timery is a little different. It's just as customizable, if not more so, but in a deep, focused way that makes it hands-down the most customizable and useful way to track time from a widget.
If you had asked me how I used Timery in the spring, I would have said I primarily use the Mac app. That's changed drastically over the summer. My answer now is that I'm primarily a Timery widget user.
What I love about the app's widgets is that they allow you to create a set of widgets that work how you use the app and nothing more. One of Timery's strengths has always been its rich set of features that make it valuable to a broad cross-section of users. However, that means there is more to Timery than most people need. But with the app's widgets, it's possible to pare the app down to just the components that are essential to you, which is the ultimate in customization.
That doesn't mean you won't use the main app ever again. Some people may, but I certainly haven't. Instead, it's been more of a focus shift that allows me to continue whatever I'm working on, switching timers as needed on the fly from whichever device I have handy at the moment without opening the app most of the time. Timery's update is a stellar release, which also comes with a new watchOS app that fans of the app are going to love.
Timery, which uses the Toggl Track web service as its back end, offers seven different types of widgets:
Dashboard
Projects
Current Time Entry
Single Saved Timer
Saved Timers
Recent Timers
Time Tracked
Summary Report
The Project and Single Saved Timer widgets are both brand-new with this release.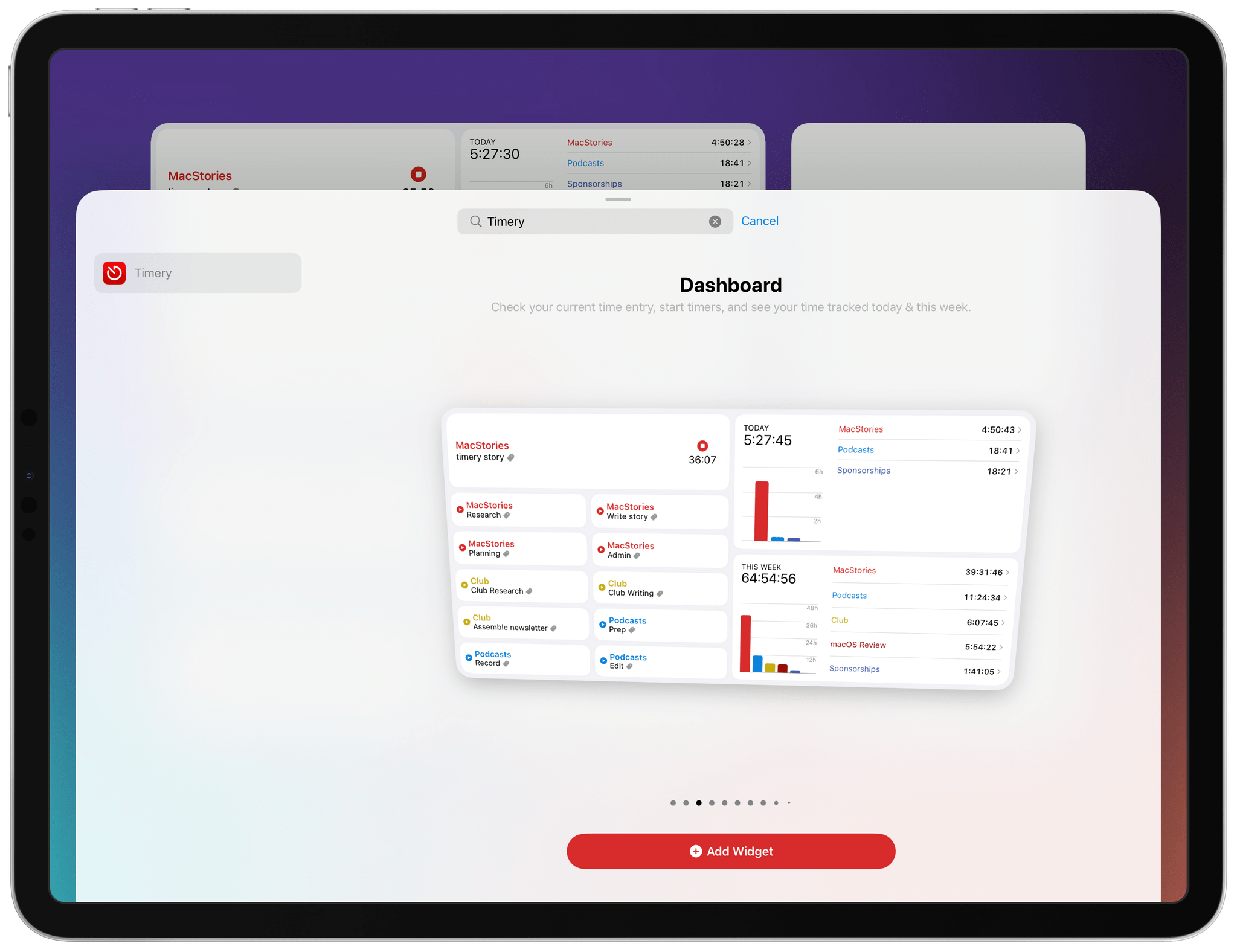 Every widget type is customizable, comes in at least two sizes, and some, like the Dashboard, have over 30 different settings that can be tweaked. Don't worry, I won't cover every one of them. Instead, I'll hit the widget highlights of what's new in the latest update. For more on the basics of Timery, which is a MacStories favorite, be sure to check out our past coverage on MacStories and Club MacStories.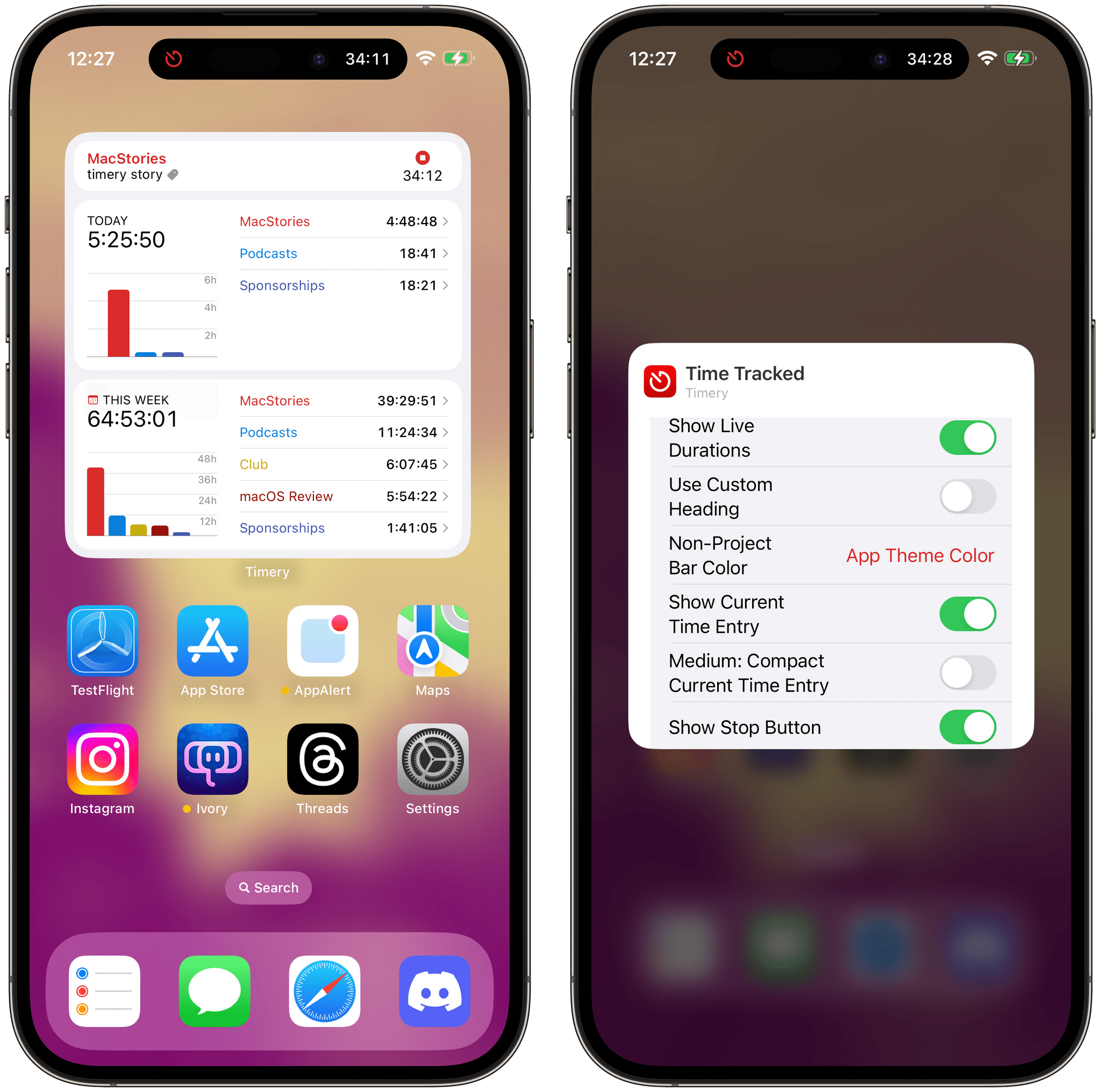 With interactivity, the app's developer, Joe Hribar, has been able to add a laundry list of interesting options to many of the app's widgets. That starts with the ability to start and stop timers right from the widget without the app opening. On the iPhone and iPad, that also starts a Live Activity, allowing you to monitor your timers from the Lock Screen and Dynamic Island, too.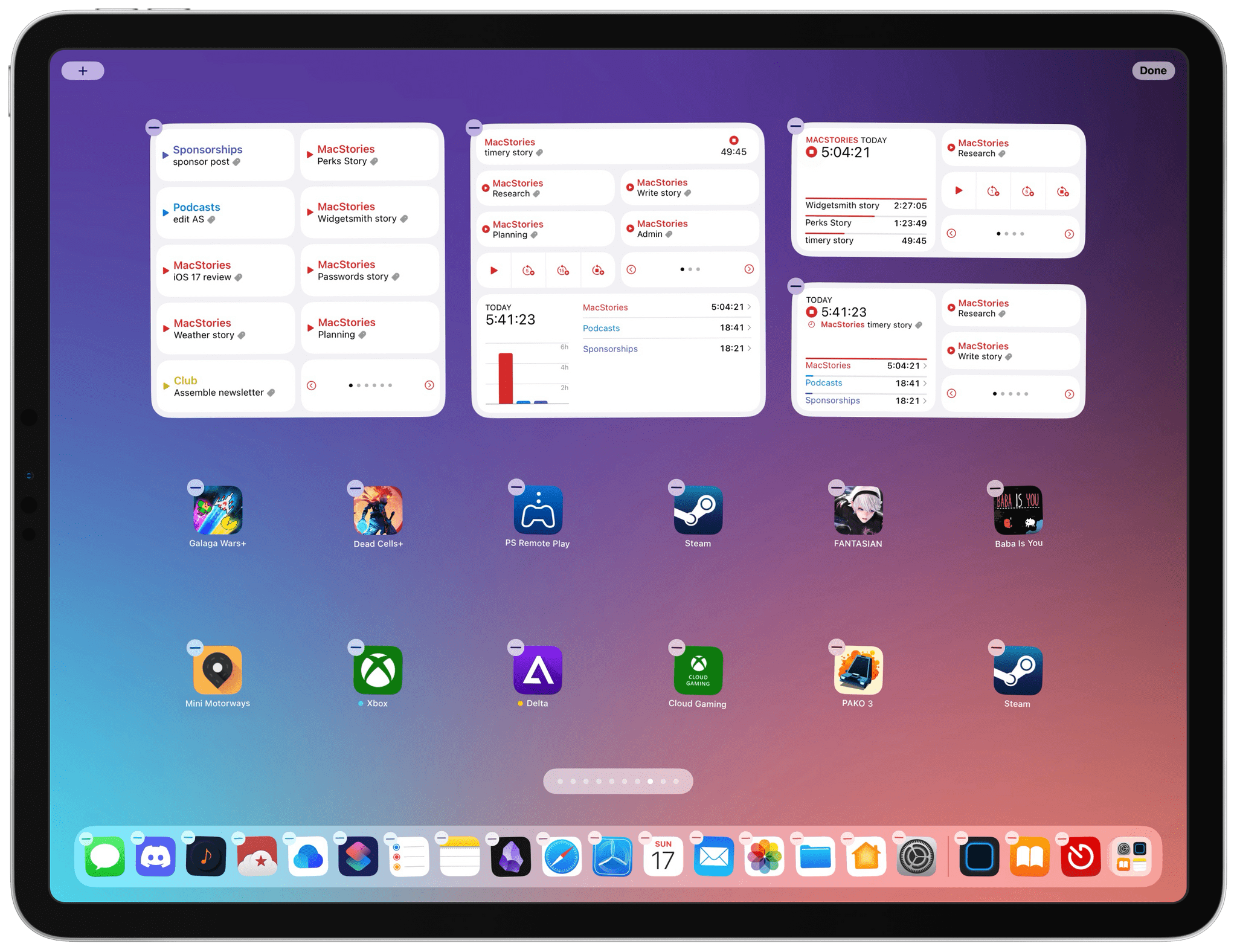 One thing that I've always found difficult to do when setting up Timery widgets is deciding which timers to include of the many I've saved. It's always required a careful balancing of timers versus available space onscreen, which can be especially tough on smaller screens like the iPhone.
With today's update, Timery has added the option to include pagination buttons to some of its widgets. For example, in place of a saved timer, forward and back buttons appear that allow you to page through multiple groups of timers. There's still something to be said for using a large widget that allows you to access more saved or recent timers with a single tap, but if you don't have the space, pagination buttons are a fantastic solution.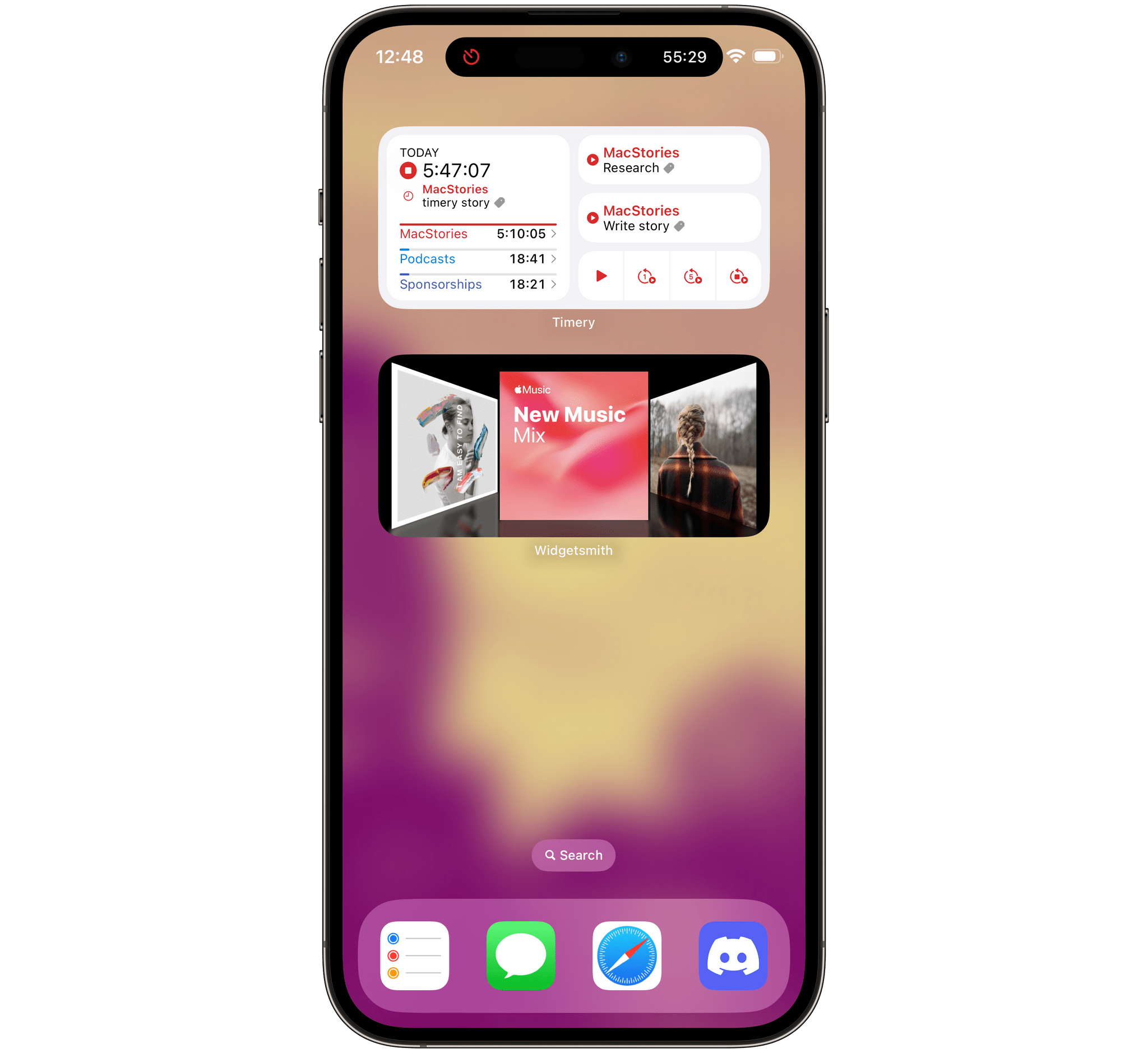 Timery has also added the option to include start controls to its widgets. In place of a saved or recent timer, the app includes a start button as well as customizable buttons that can start a timer a certain amount of time in the past or based on the time you stopped your most recent timer.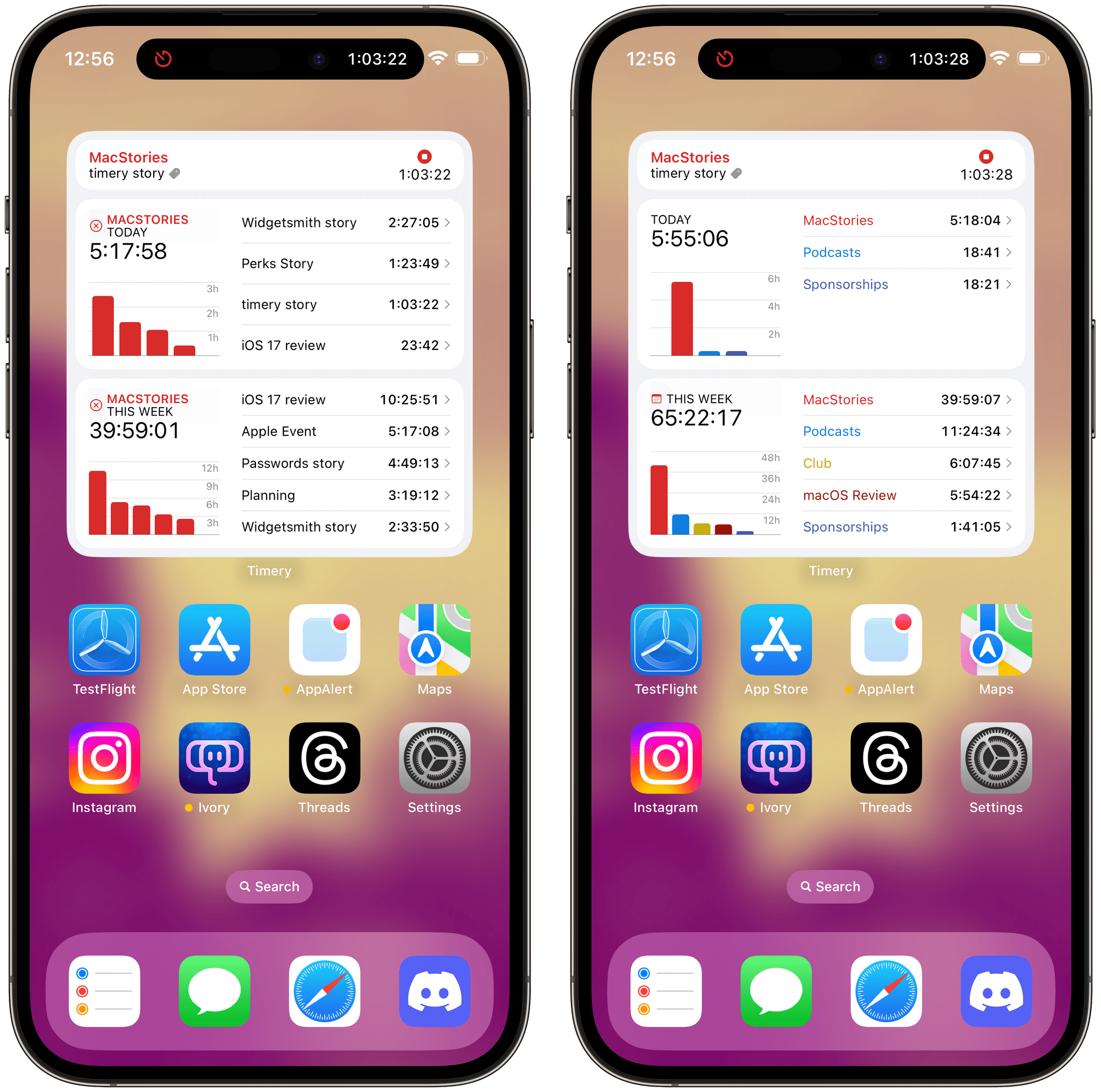 Timery's graphs allow you to drill down into individual projects, too. Wherever you see a caret next to a project in a chart, tap it, and you'll get more details on that entry. A small close button will appear in the top left corner of that section of the widget, allowing you to close the current view and return to where you began.
Also, be sure to check out Timery's updated Lock Screen widgets that have added interactivity, allowing you to start or stop timers from the iPhone and iPad's Lock Screen. On the iPad's Lock Screen, Joe Hribar has taken advantage of the option to offer larger widgets than the iPhone, adding a wide variety of interactive widgets similar to the small-sized Home Screen ones.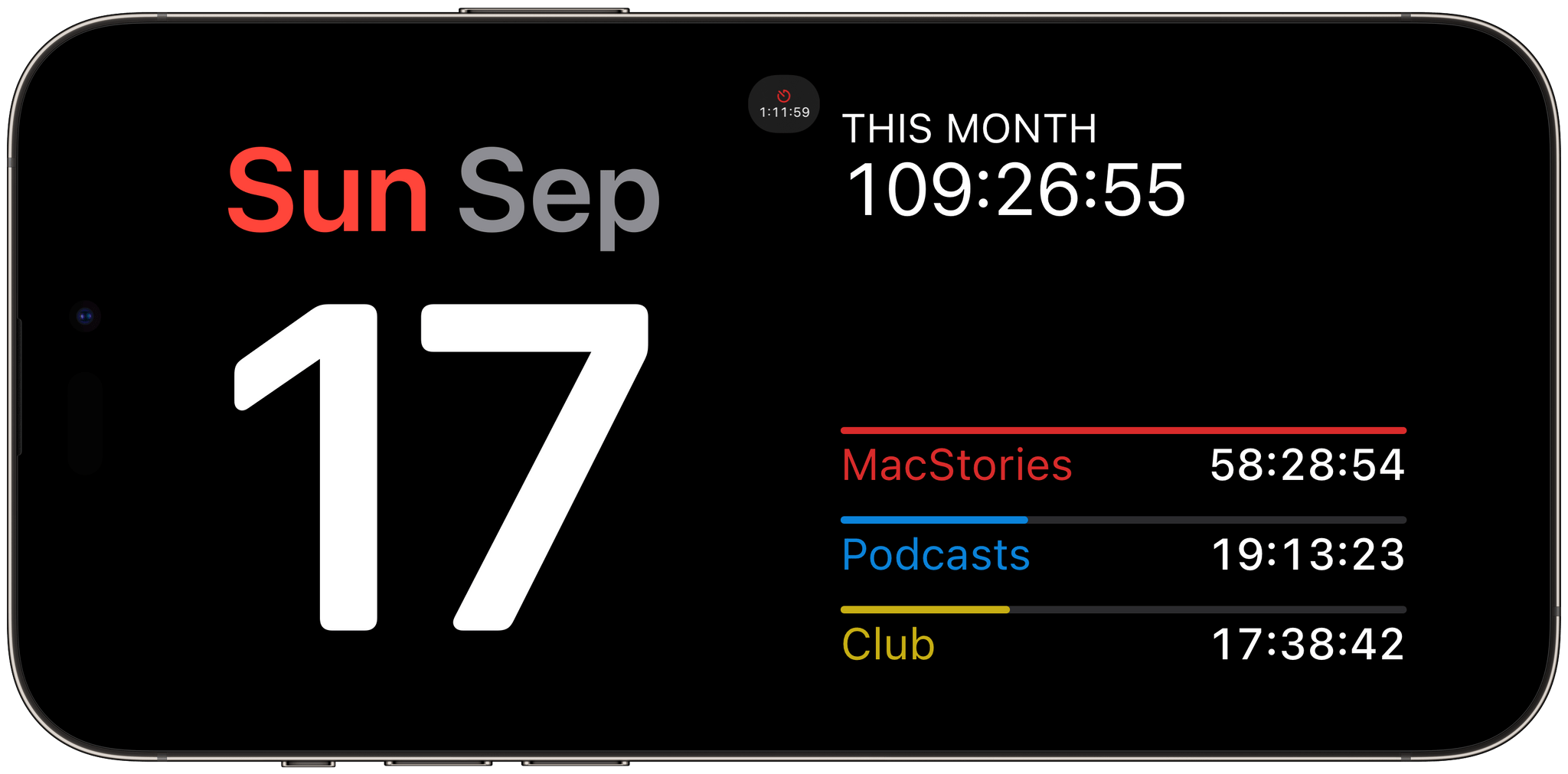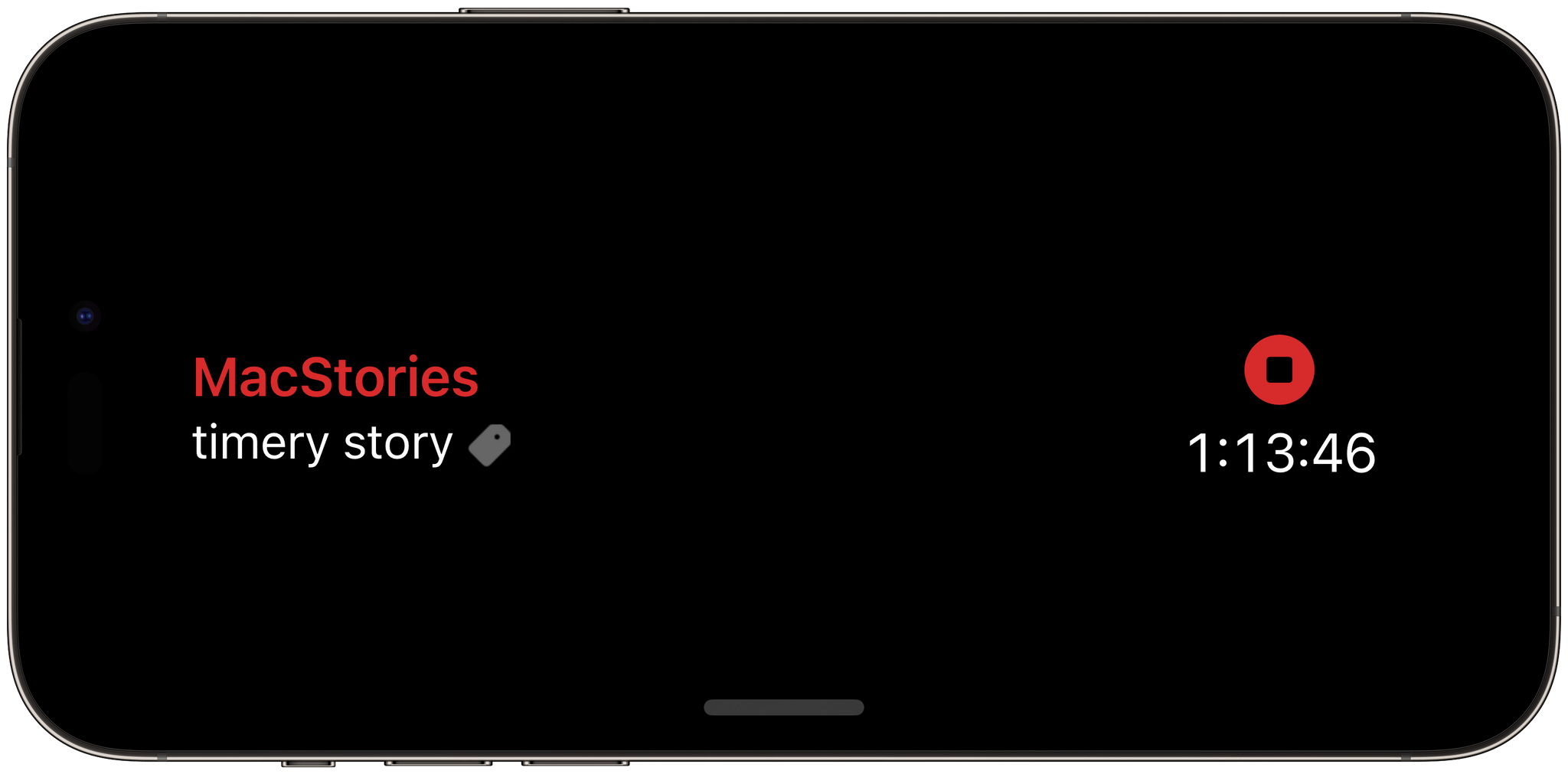 The app has more StandBy widgets than most, too, with seven options that are similar to the app's small Home Screen widgets. Because the app supports Live Activities, you'll see a small oval indicator at the top of any StandBy screen with your counter counting up, too. Tap it, and the name of the timer appears, along with an interactive stop button to end the timer.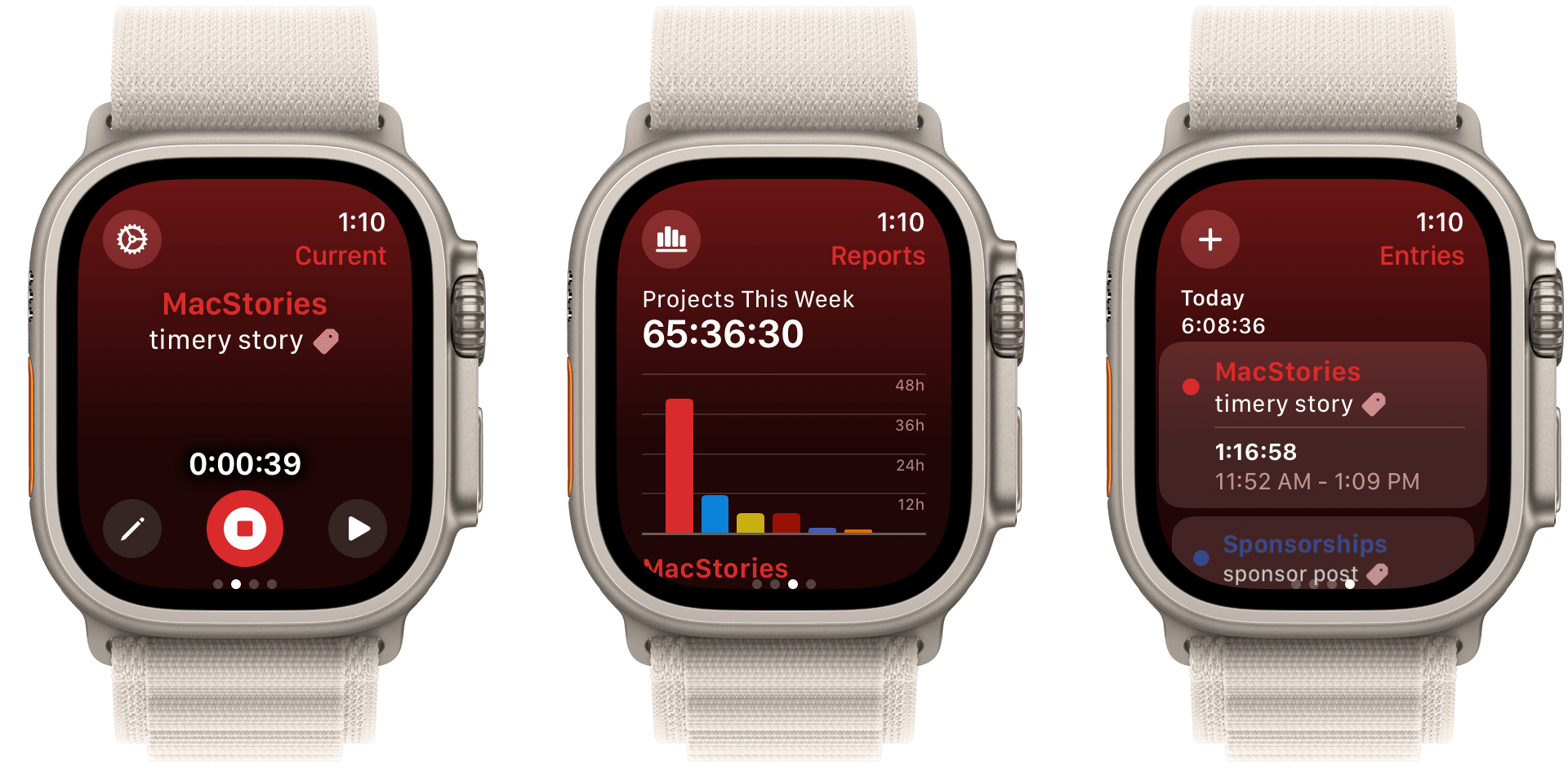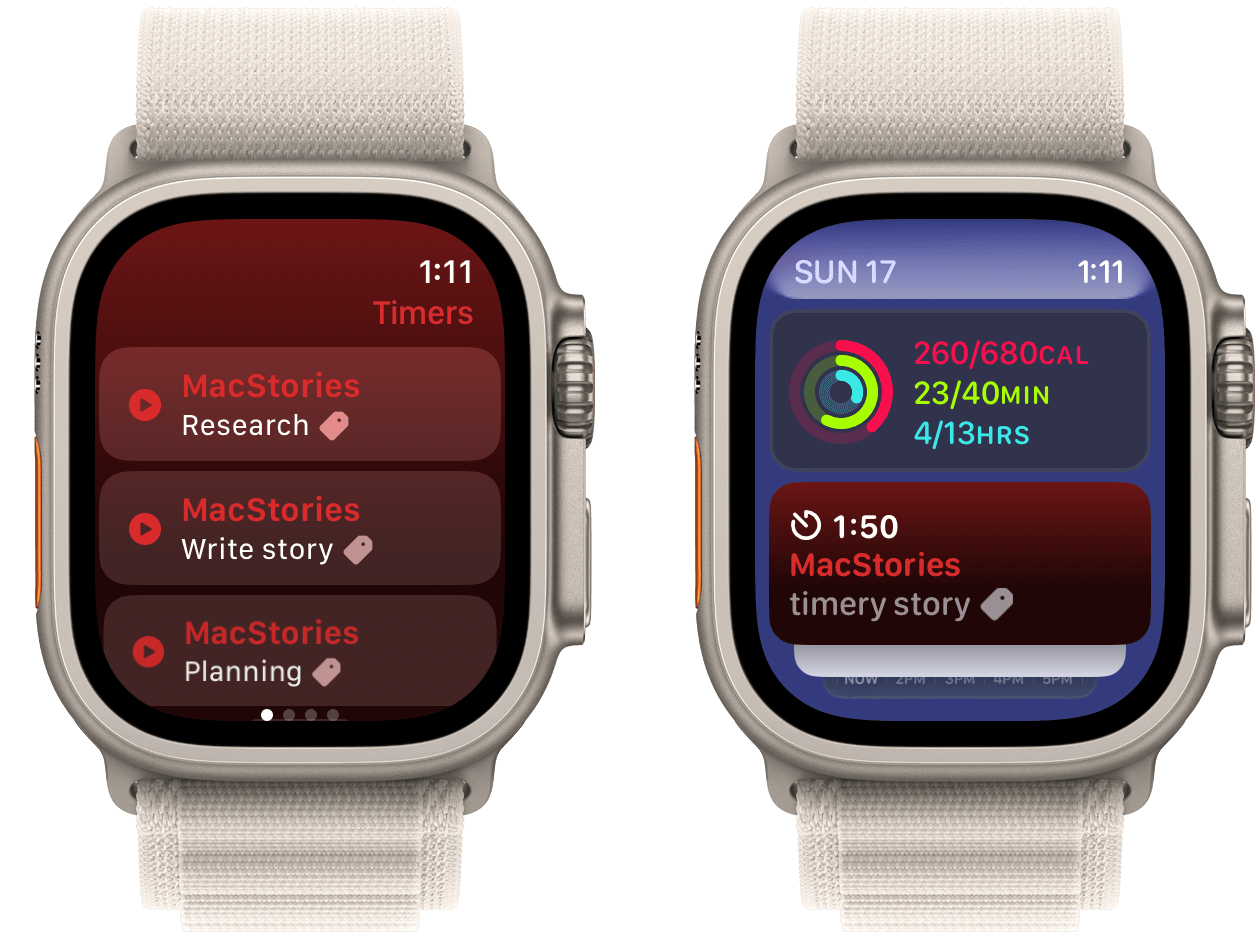 Finally, Timery's watchOS redesign looks fantastic. The main interface looks modern and includes corner controls on most screens, like the one that shows the current timer that's running. The app works with the watchOS 10 Smart Stack, a handy place to pin Timery's widget that makes it easy to stop timers that you may have forgotten about when you step away from your desk. The app's complications have been updated, too.
---
The latest update of Timery is incredibly deep and worth setting aside some time to explore in depth. There's a lot there, but after spending a little time experimenting, I've found the options that make the app work for me, affecting which Timery widgets I use as well as their size and setup. With a little upfront work, I wouldn't be surprised if most readers tweak their Timery setups in some way, too.
Timery is available on the App Store as a free download. Some features require a subscription.