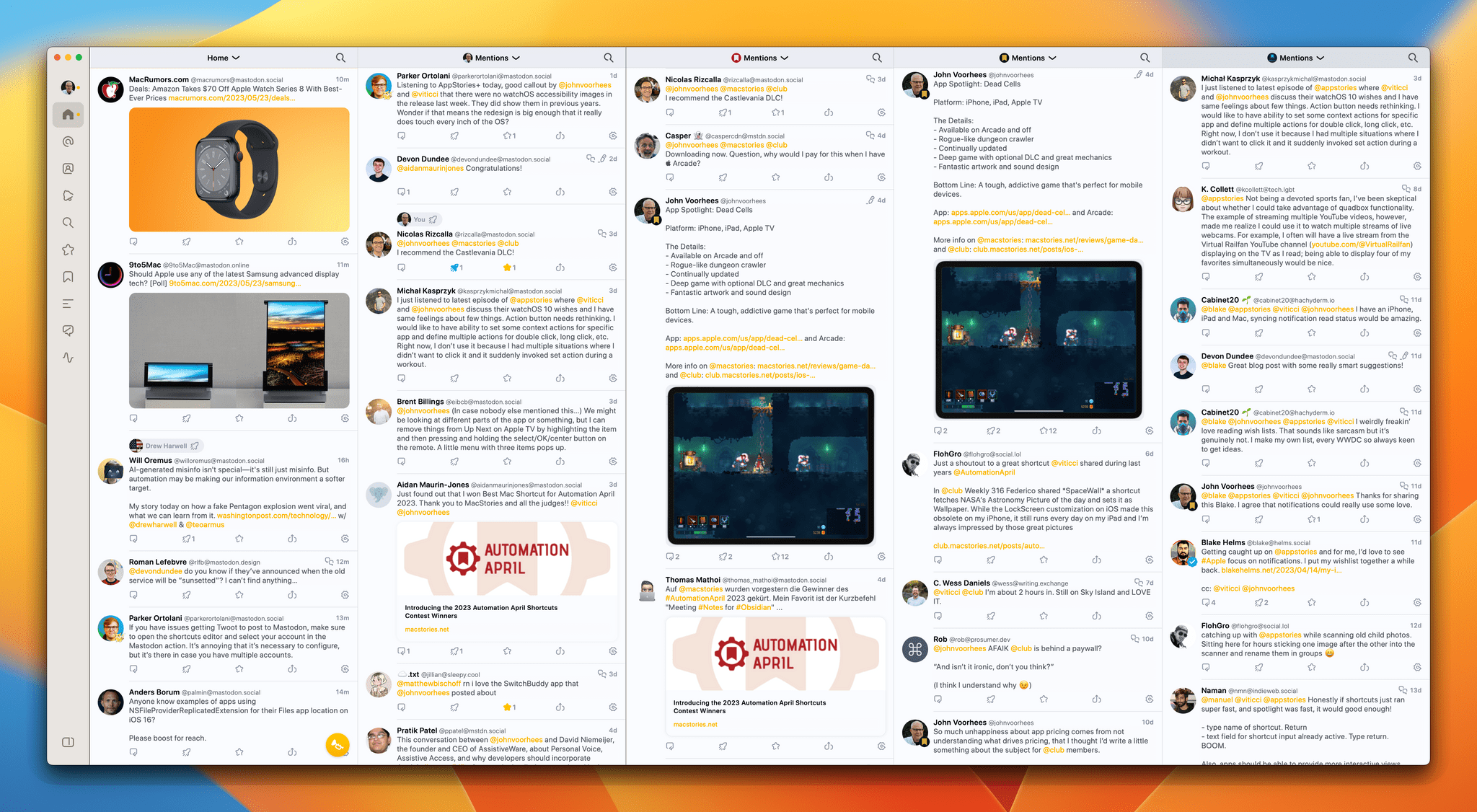 Ivory, Tapbots' Mastodon client, is now available on the Mac, and like its iOS and iPadOS counterparts that Federico reviewed in January, Ivory for Mac is every bit as polished.
A lot has changed since Ivory was released on the iPhone and iPad. At the time, there were hardly any native Mastodon apps for the Mac, so I was using Elk in a pinned Safari tab. That's changed. There are several excellent native apps now, including Mona, which I reviewed earlier this month. What Ivory brings to the growing field of native apps is what we saw with iOS and iPadOS: impeccable taste and snappy performance that few other apps can match.
By now, most MacStories readers are probably familiar with the table stakes features for Mastodon clients. Ivory ticks all of those boxes. Also, if you've already tried Ivory for iOS or iPadOS, you've got a big head start on the Mac app because they're very similar. However, if you're new to Ivory, I encourage you to check out Federico's review of Ivory for the iPhone and iPad because I'm not going to cover that same ground again. Instead, I want to focus on the Mac version's unique features and the details that make it such a compelling choice for Mac users.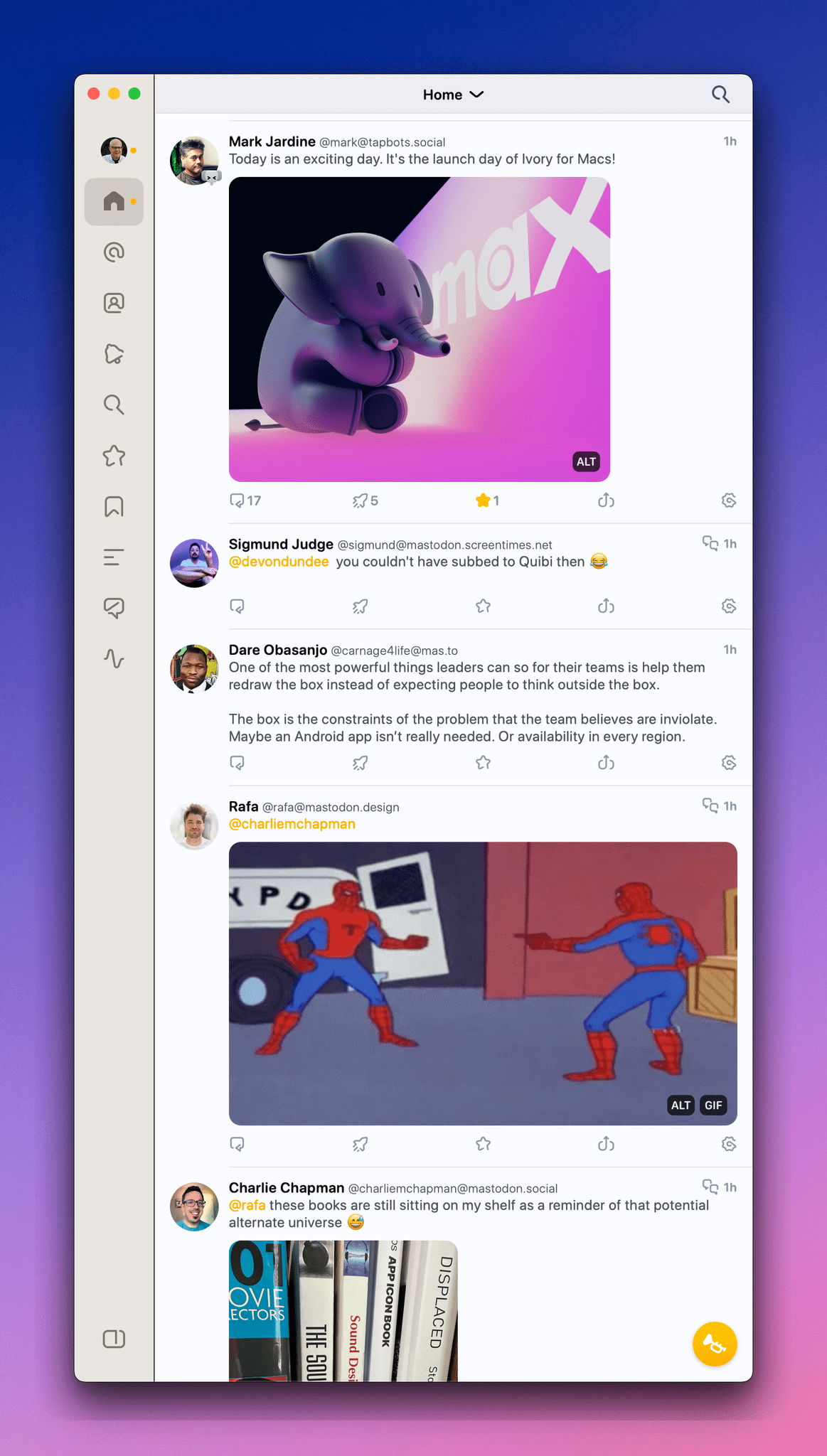 The most apparent difference is Ivory for Mac's multi-column layout. Set to a single, narrow column, Ivory for Mac resembles its iPhone sibling but with the app's tabs on the left edge of the window. However, in the bottom left corner of the window is the button for expanding the number of Ivory's columns. You'll find the same button in the iPad app, where you're limited to a single additional column. In contrast, the Mac app supports up to six columns.
Ivory's multi-column design is the most readable of any Mastodon app I've used. It's easy with multiple columns of text and media for a multi-column window to look cluttered, so it's a testament to Ivory's design that it's as readable as it is. One of the touches that helps a lot is that instead of including a tab bar for each column, Ivory uses drop-down menus at the top of each column to allow users to pick what the column shows. That eliminates a lot of duplicative interface elements you find in other apps like Mona.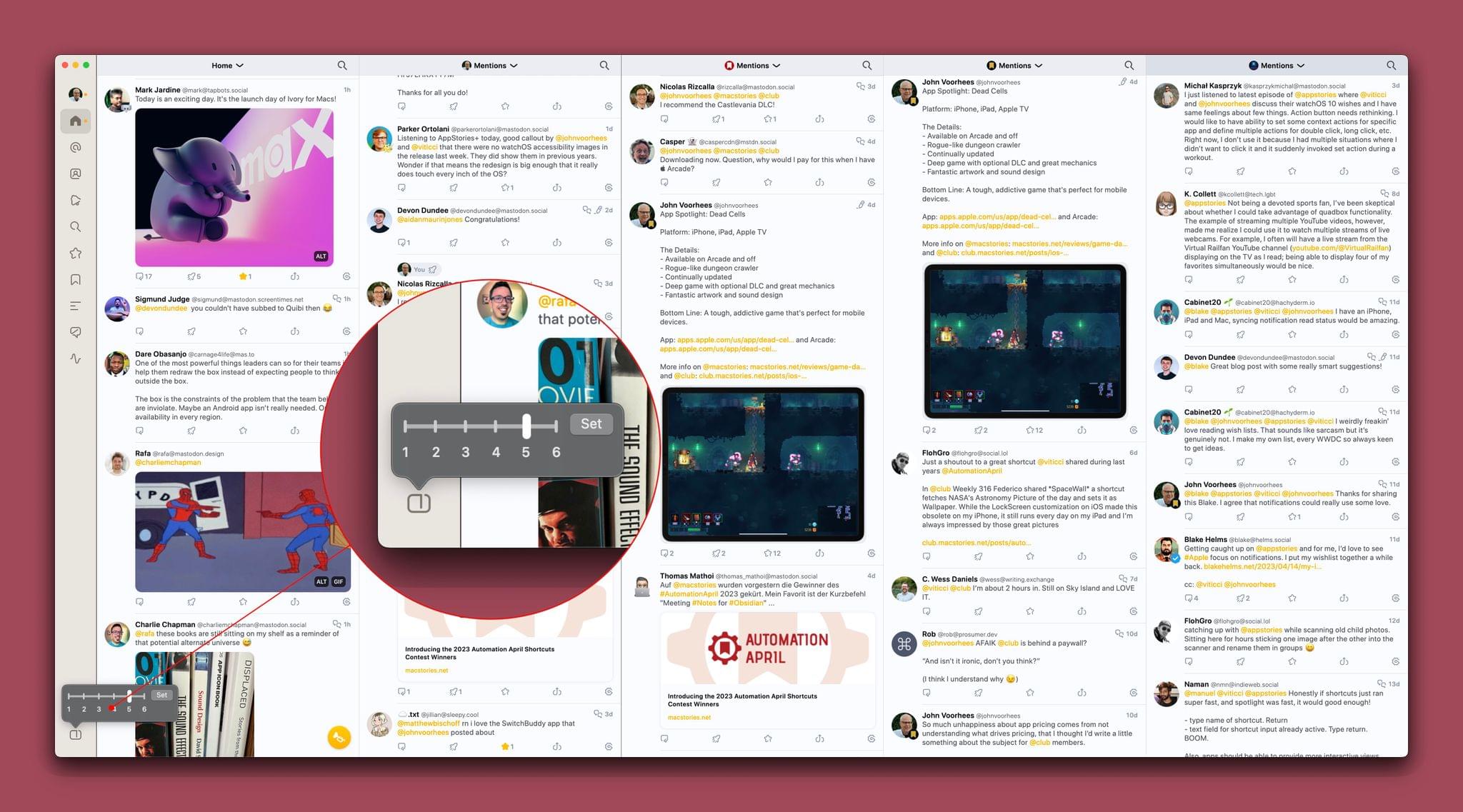 I really appreciate the additional columns I can open on the Mac. When I use Ivory on my iPhone, it's usually to read my own timeline. However, when I'm at my Mac, I'm usually working and want to keep tabs on the mentions coming into our MacStories accounts. With Ivory, I typically open columns for my own timeline and mentions, plus the mentions for MacStories, Club MacStories, and AppStories. If that becomes too distracting, or it's a quiet day without a lot of activity, though, I can easily close the columns and focus on just my timeline.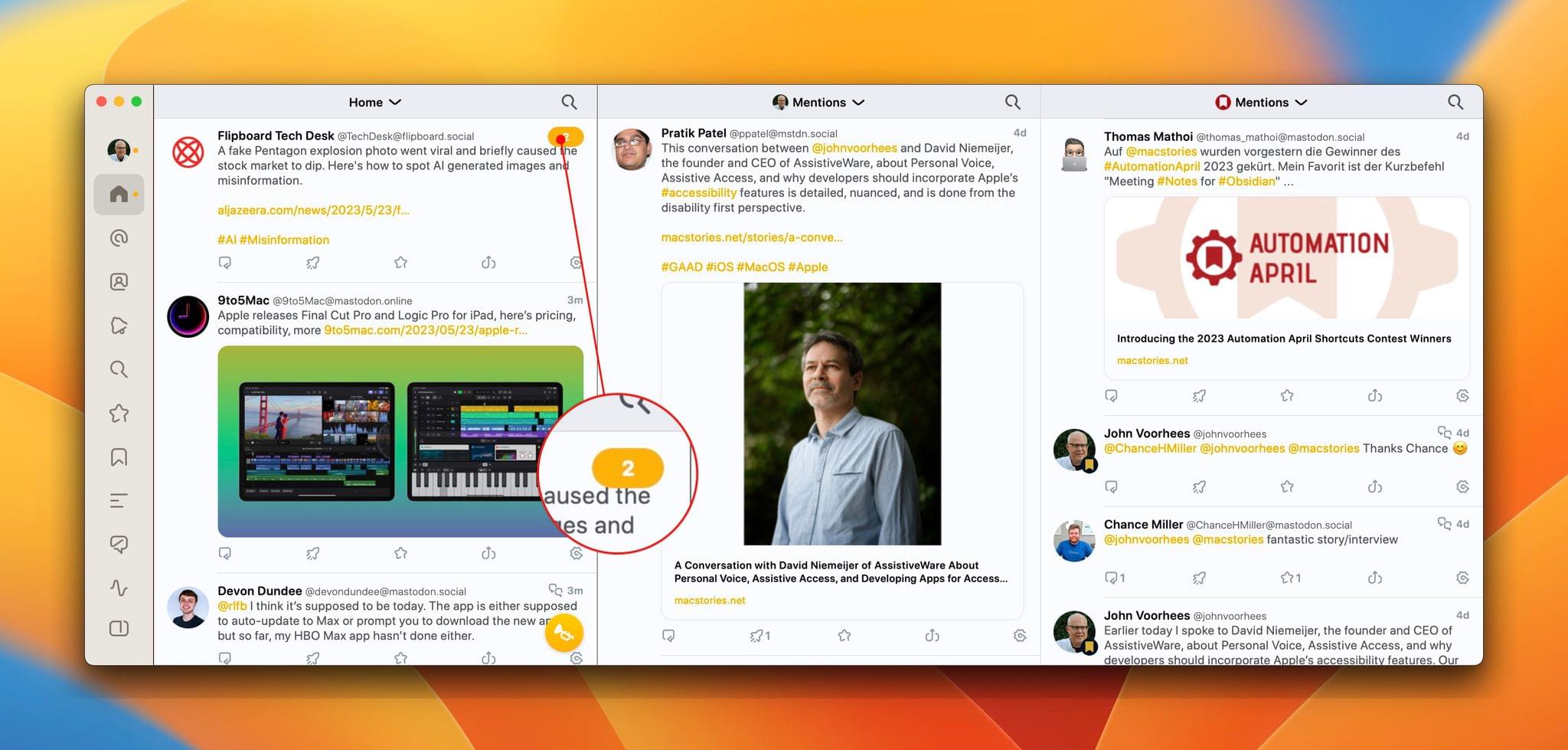 Another design elements of Ivory for Mac that I love are the indicator that shows how many new messages are available in your timeline. It's a small touch, but it's very readable at a glance, especially using the bright yellow accent color that I've chosen. Similarly, I appreciate the clear label for private mentions. I'm not a fan of mixing private mentions in the main timeline, but that's how Mastodon works, so at least Ivory makes those messages stand out as different in kind from other posts.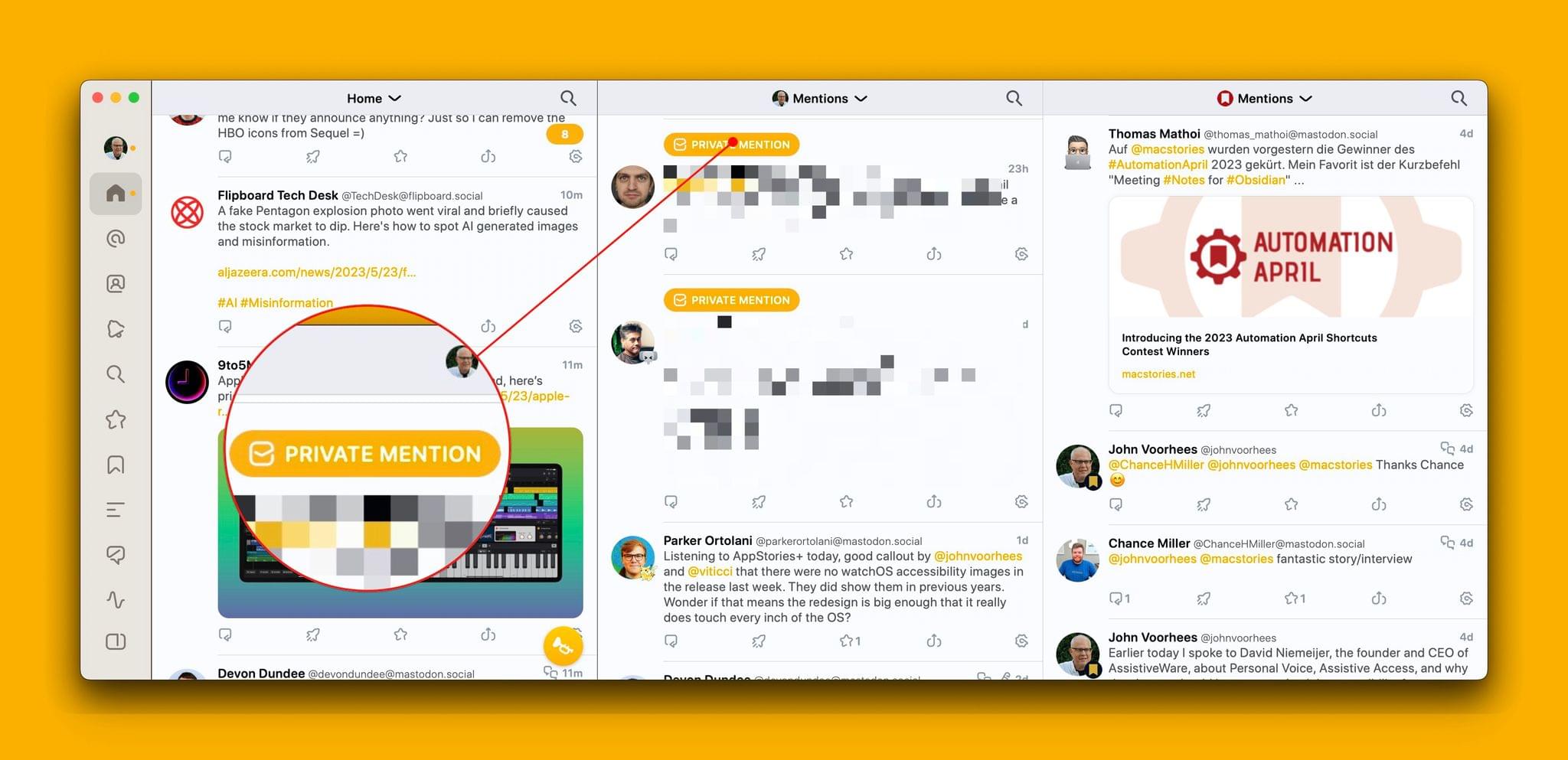 Also, if I mute an account, it only disappears for the account from which it's muted. Mona also hides muted accounts from columns displaying different accounts. I understand the rationale that if you don't want to see a post in one timeline, you might not want to see it anywhere. However, that's not always the case and rarely is for me. It's more work to mute an account in multiple places, but I like that Ivory leaves the choice up to me instead of assuming I don't want to see a post in any timeline.
There are two features I'd love to see Ivory add: saved or recent searches and the ability to save the local views of particular Mastodon instances. I often repeat searches on Mastodon, and having a saved or recents list would eliminate the friction of retyping searches. I also follow a couple of app development servers that I'd love to be able to save as a pinned view in Ivory.
Those small items aside, though, Ivory for Mac is every bit as elegantly designed and performant as Federico described in his review of the iPhone and iPad versions of the app. Thinking back to when I first started using Mastodon, it's incredible how far developers have elevated the options users have. Just a few short months ago, there were hardly any native Mac clients on the Mac. Now there are several, with Ivory right there among the very best.
Ivory is available on the Mac App Store as a free download with many of its features unlocked via a subscription, which is $1.99/month, $14.99/year, or $24.99/year for the iOS, iPadOS, and macOS versions as a bundle.