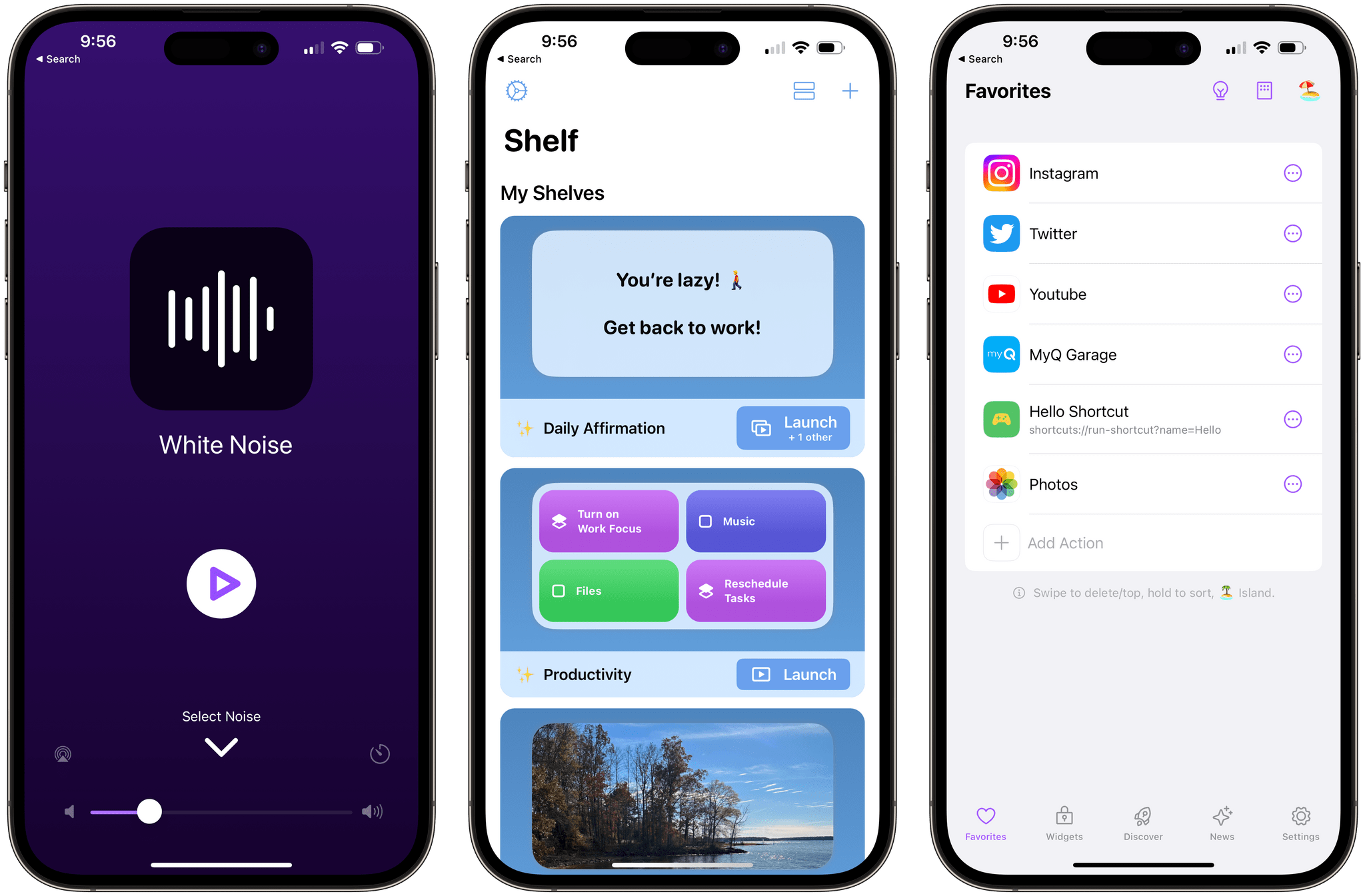 When Live Activities debuted with iOS 16.1, a long list of apps supported the feature. There were some great examples, like the ten apps I covered in October and Timery, which was updated shortly thereafter. Because developers didn't have a lot of time to prepare their apps for Live Activities, I expected a steady stream of updates that take advantage of the feature, but that hasn't happened. Live Activity support is still being added to apps, but I thought I'd have more interesting, innovative examples to share by now, but I don't.
Still, I'd be remiss if I didn't follow up October's story with a few additions to my favorite examples of Live Activities. I'm sure there are some I've missed and others that will be released in the future, which we'll cover in the future, but today, I'm going to focus on Dark Noise, Shelf, and Lock Launcher.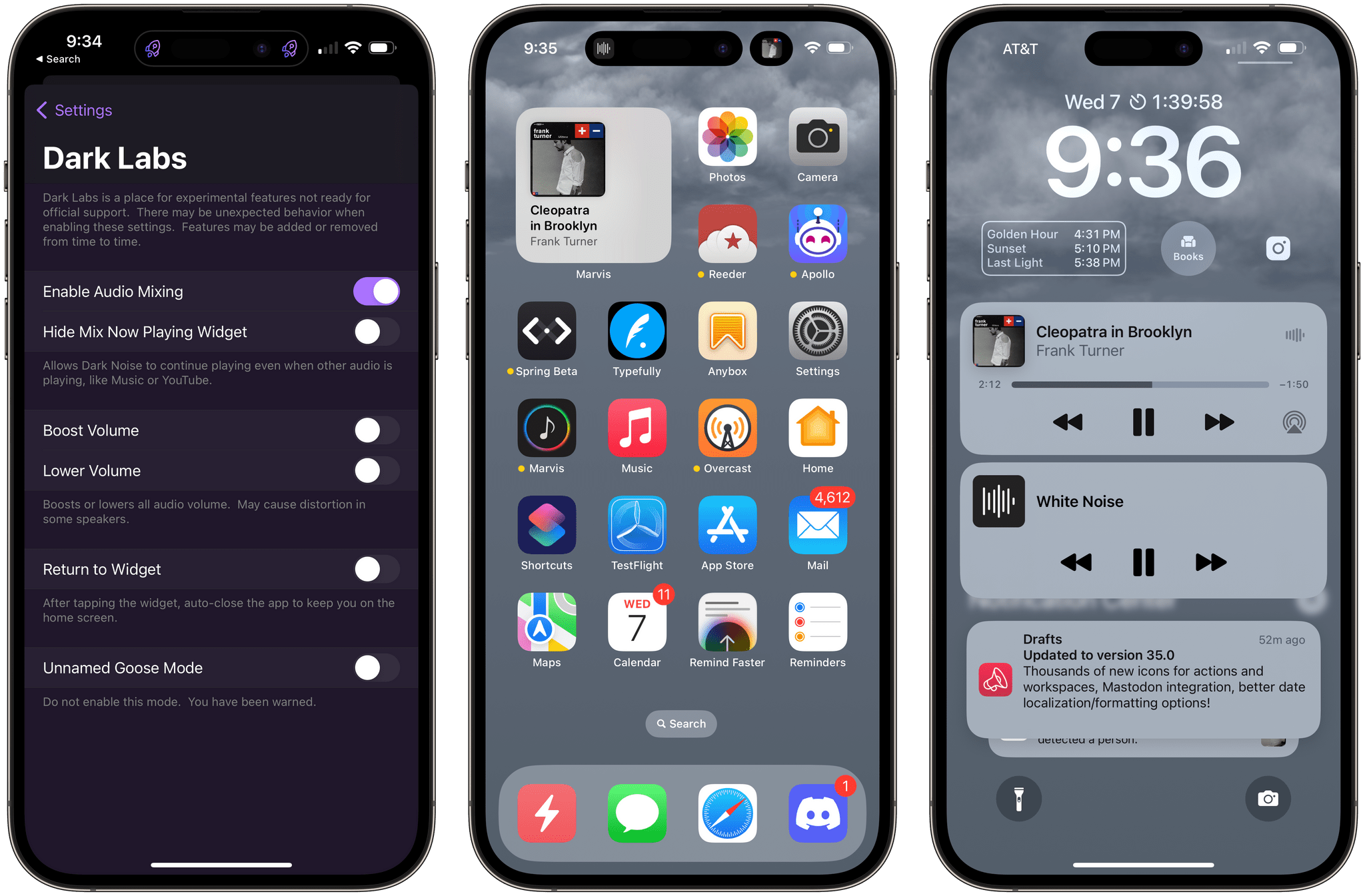 Dark Noise, the ambient noise player from Charlie Chapman, includes Live Activity support that seems pretty simple on its surface. Pick one of the app's 50 sounds or one of your custom mixes of sounds, and when you leave the app, it will appear on the Dynamic Island and your Lock Screen, allowing you to reopen the app or pause playback quickly. That's pretty standard stuff for an audio app.
What's unique about Dark Noise, though, is a setting called Enable Audio Mixing, which requires a little context. You see, normally, if Dark Noise is playing, its ambient sounds are paused as soon as a source like Apple Music or Spotify starts playing, and its Live Activity disappears. That's just how iOS 16 works. Only one app can control the Now Playing widget at a time, and music gets priority over other apps.
What Chapman has done, though, is add a toggle called Enable Audio Mixing in the Dark Labs section of Dark Noise's settings. Once enabled, Dark Noise's Live Activity player controls will persist even if an app like Apple's Music or Spotify starts playback because Chapman has built his own Now Playing widget.
Once enabled, ambient sounds from Dark Noise will play simultaneously with an app like Music, allowing you to control the playback of each separately. Dark Noise will appear alongside an app like Music on the Dynamic Island and stacked Now Playing widgets on your Lock Screen too.
I don't imagine many people will want to play white noise in the background as they listen to their favorite album, but there are other interesting options. For instance, Apple Music offers its own collections of ambient sounds, which would allow you to mix and match your favorite sounds from Dark Noise with Apple Music's.
Dark Noise is available on the App Store for $9.99.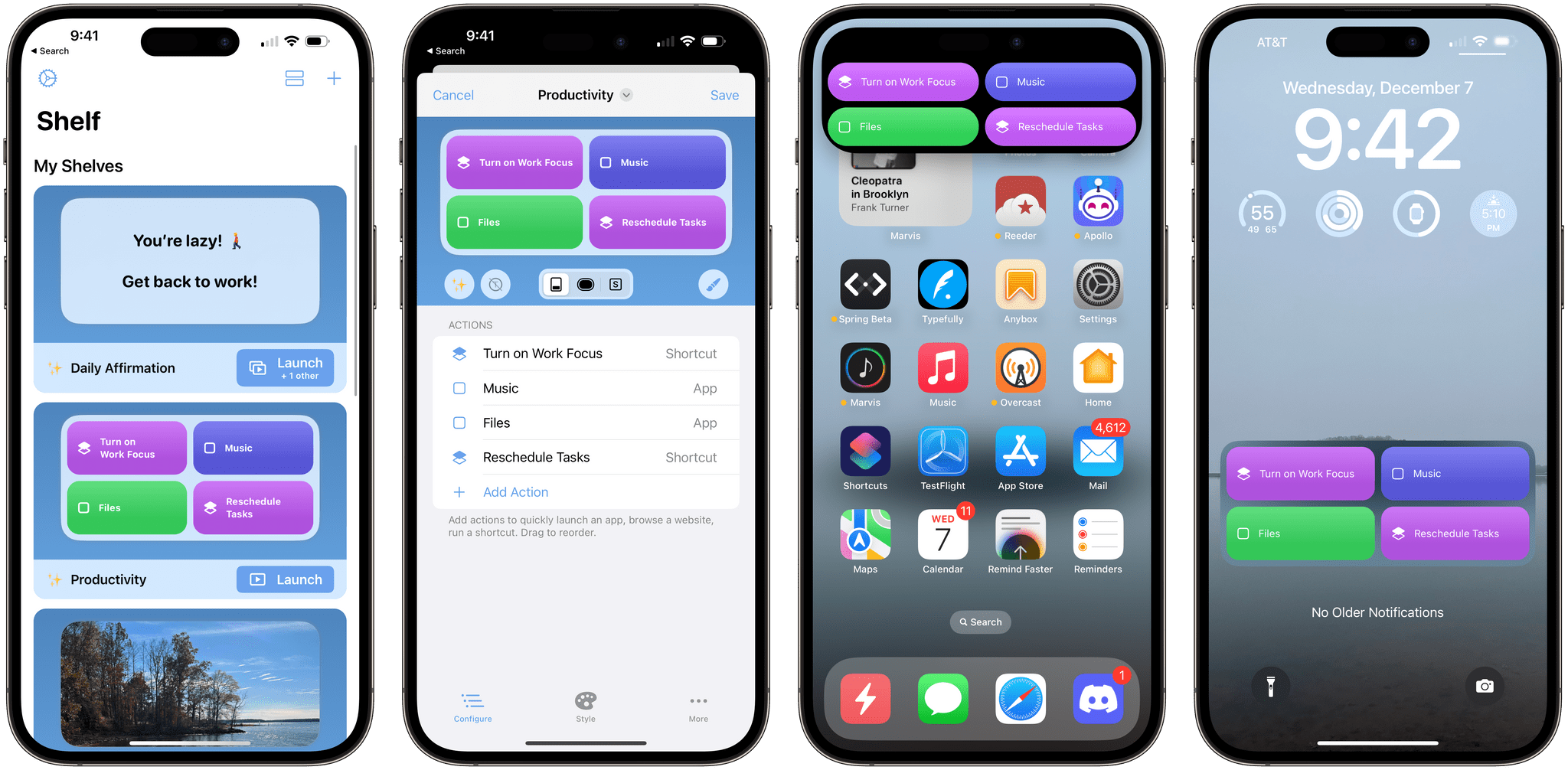 Unlike most apps, where Live Activities are just one of several features, Shelf is a standalone app dedicated to populating the Dynamic Island and your Lock Screen with text, photos, and actions, which can launch apps, shortcuts, and more. Shelf makes the setup of each kind of item simple. For text and photos, just tap the plus button and type some text or select a photo, then activate it by tapping the Launch button. You can launch a single shelf or multiple shelves that you can pick among from your Lock Screen. You can also run shelves as Home Screen widgets and Lock Screen widgets.
Actions are a little different. There are options to tie them to apps, shortcuts, or URLs. Shelf comes with a long list of apps it can open, but don't expect to find every app you have installed on your iPhone. Shelf's URL support is handy for websites you visit frequently or apps that offer URL schemes. Shortcuts are as simple to add as typing the name of the Shortcut into Shelf too.
One limitation of Shelf, which is unavoidable given how iOS 16 works, is that tapping on anything on a shelf opens the Shelf app first. For shortcuts, that means a trip to the Shelf app, which then automatically launches the Shortcuts app before your shortcut is run, although Shelf includes an option to return to your Home Screen after the shortcut is finished running.
Each shelf also comes with type-specific options to style buttons, photos, and text to your liking, and Michael Tigas, the app's developer, plans to add support for weather, checklists, and timers in the future. I'm looking forward to seeing what else Tigas adds to Shelf because there's a lot of potential in having apps, actions, and other snippets of text and images readily available from the Lock Screen and Dynamic Island.
Shelf is available on the App Store as a free download. A $1.99/month or $12.99/year subscription unlocks unlimited shelves, photo filters, premium themes, the ability to launch multiple shelves quickly, and iCloud sync between devices.
Lock Launcher has a lot in common with Shelf, but it's primarily focused on actions to launch apps, shortcuts, websites, and URL schemes. I wanted to include it, though, because it can display up to six apps or other actions on the Dynamic Island and Lock Screen, providing more action density than Shelf.
The app also integrates with more apps without having to resort to Shortcuts and includes icons for each that makes them easy to identify. Finally, SF Symbols can be used when styling its buttons. Those relatively small differences compared to Shelf and are more aesthetic than functional, but the app is worth checking out to see which you prefer. Like Shelf, Lock Launcher also supports Home and Lock Screen widgets.
Lock Launcher is available on the App Store as a free download. A one-time $0.99 In-App Purchase, which the developer says will go up to $4.99 at some point, unlocks more widgets, advanced actions, adding your network speed to the Dynamic Island, and more.
---
With the initial flurry of Live Activity integrations behind us, I expect we'll continue to see the feature integrated into more food delivery, ride-sharing, and other big-company apps as updates are released. Those will be useful additions to the iPhone, but, of course, we'll continue to be on the lookout for new and unexpected ways the indie developer community finds to integrate Live Activities.