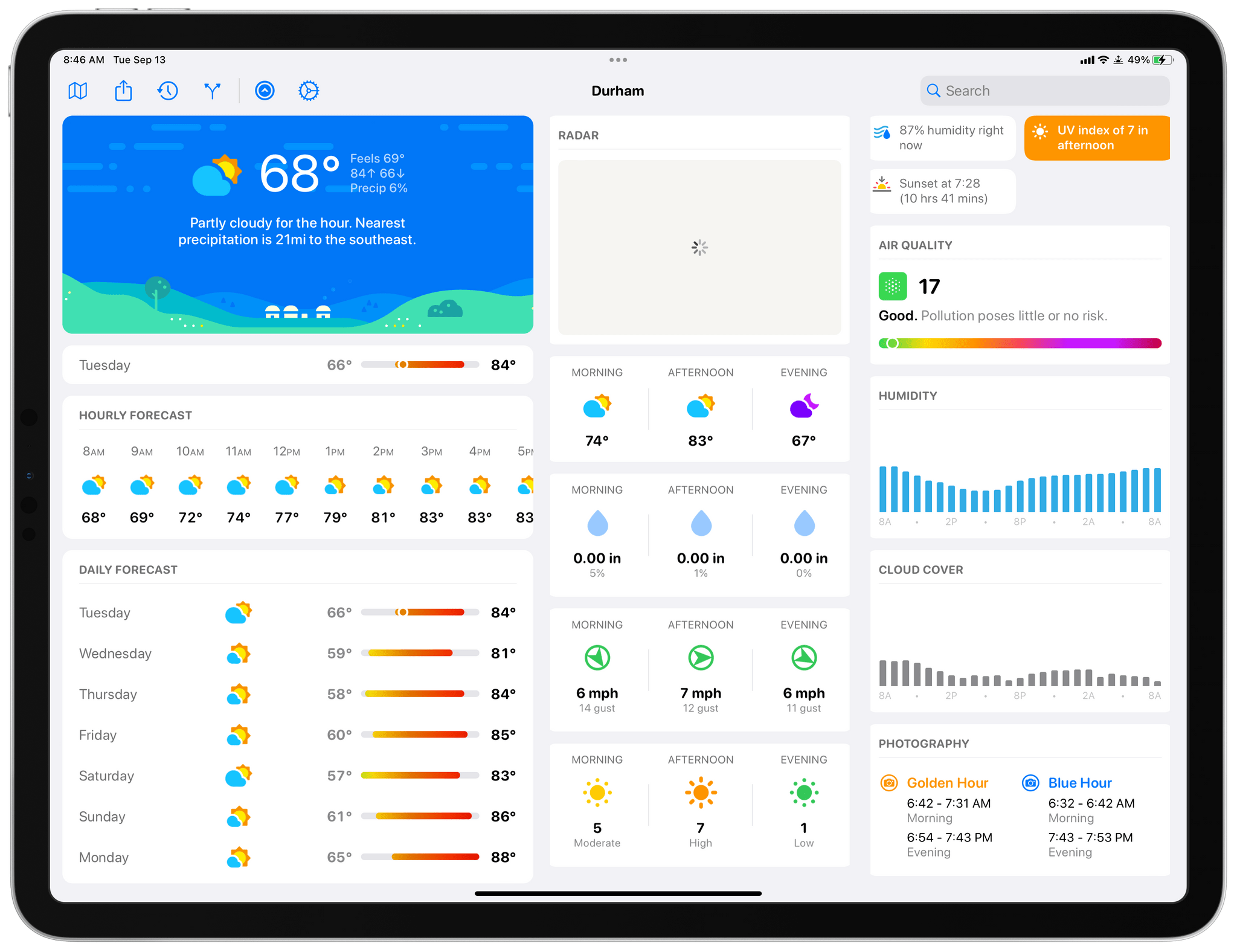 If you use CARROT Weather and have an iPad, stop. Go update CARROT, dig into its Layout settings, and pick the Multi-Column Layout Style before you read any further. I'll wait.
It's good, right? Even if you don't customize it at all, CARROT's new three-column layout will excite your inner weather geek. The layout is a natural extension of the card-like interface of CARROT's iOS app, expanded to multiple columns. It's a terrific update that makes much better use of the iPad's bigger screen.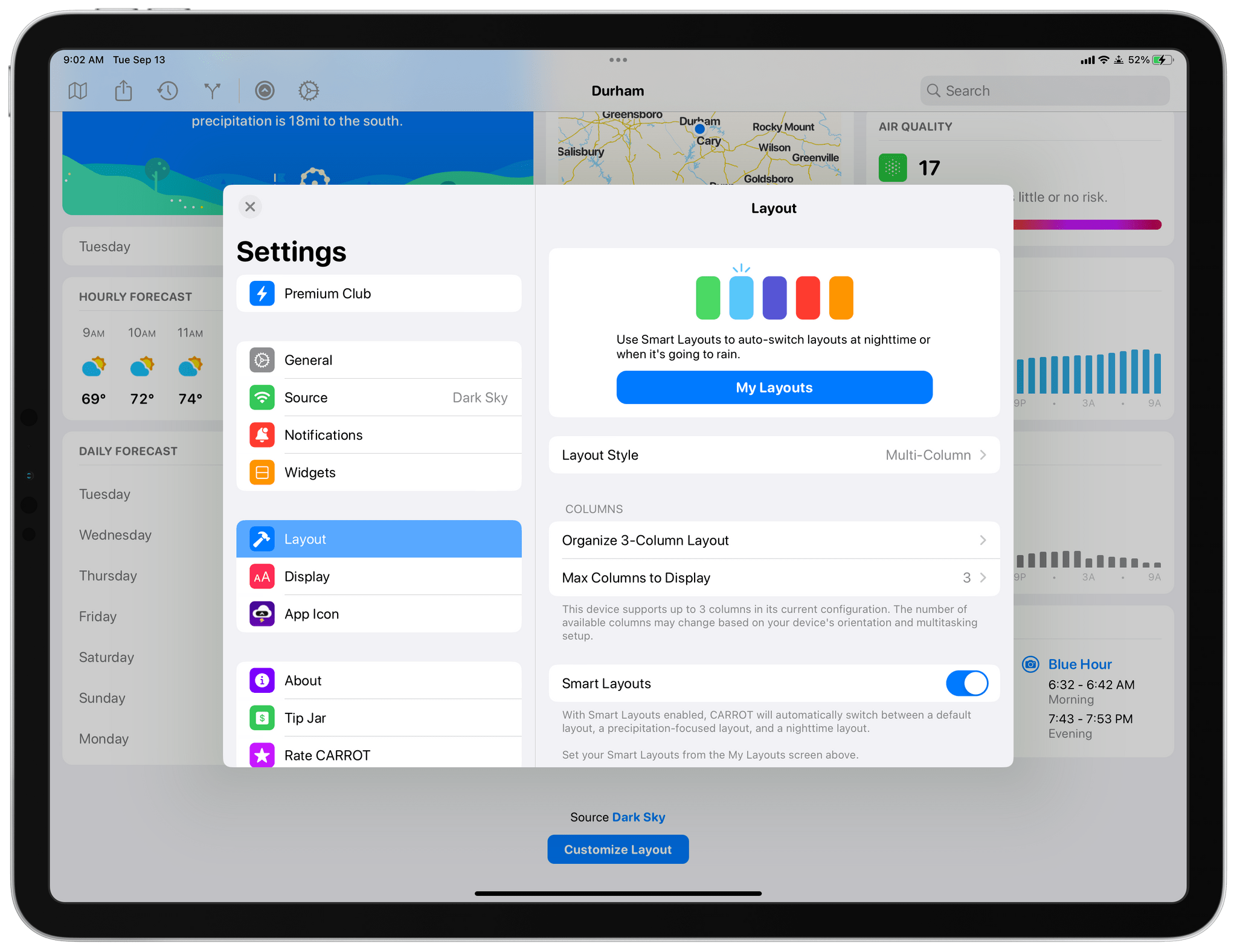 The app's signature card-like customization scheme is the perfect fit with the iPad, allowing users to pick and choose the data that's most important to them, adjusting each component to fit nicely onscreen. In narrower Split View configurations, CARROT Weather falls back to the single-column, Plain style layout.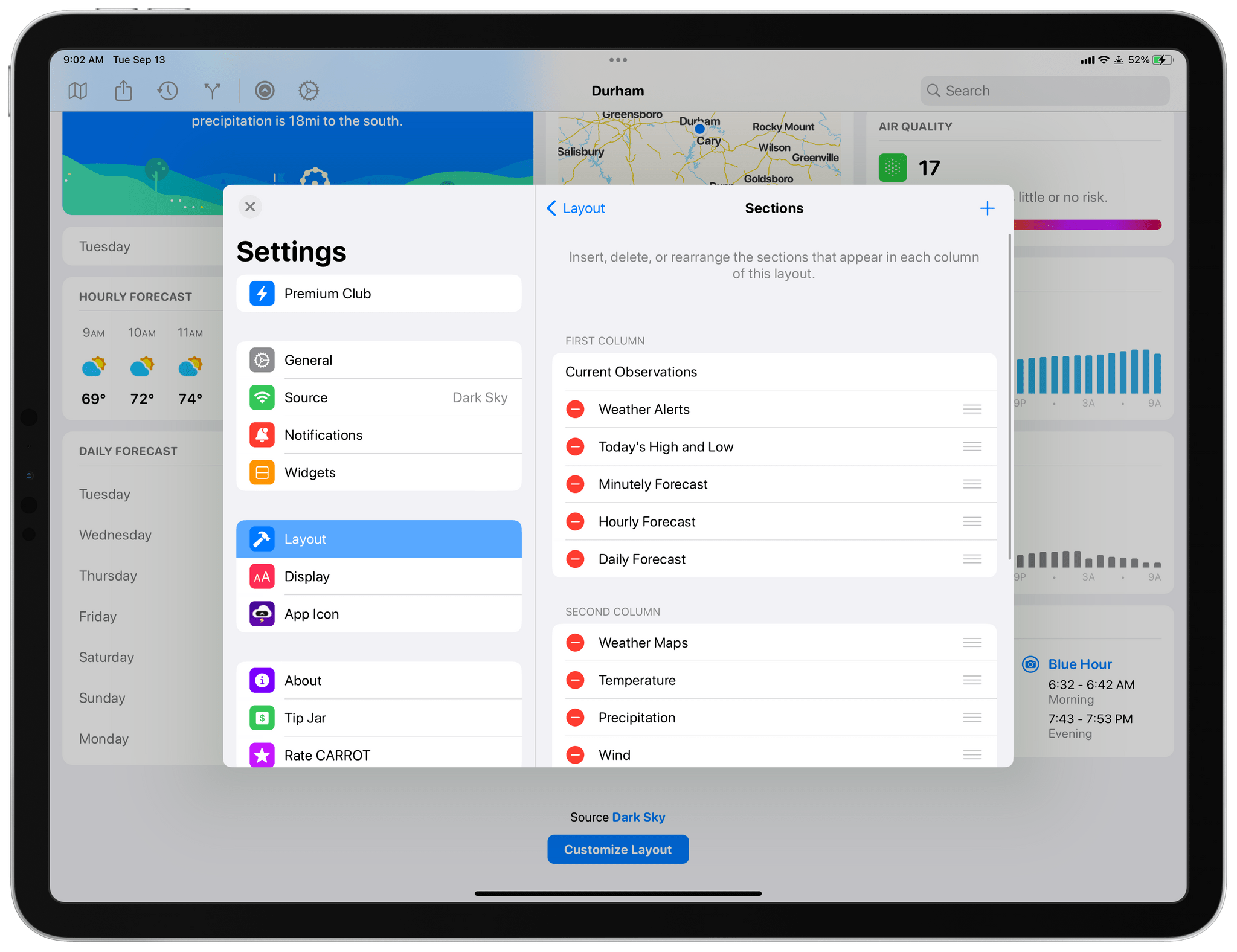 The update also adds another 10 sections of weather data that can be displayed in a variety of ways, including as line and bar charts. With the existing sections, which we've covered before, there are more than enough data points and display choices to fill three-columns to your personal tastes.
Apple itself has headed in a similar direction, designing the new Weather app for iPadOS and macOS as a grid of tiles that offer more details when tapped. However, I prefer CARROT Weather because it lets me choose what to display and where. CARROT also lets me save multiple layouts, which opens up the option to customize layouts for each season or for different activities.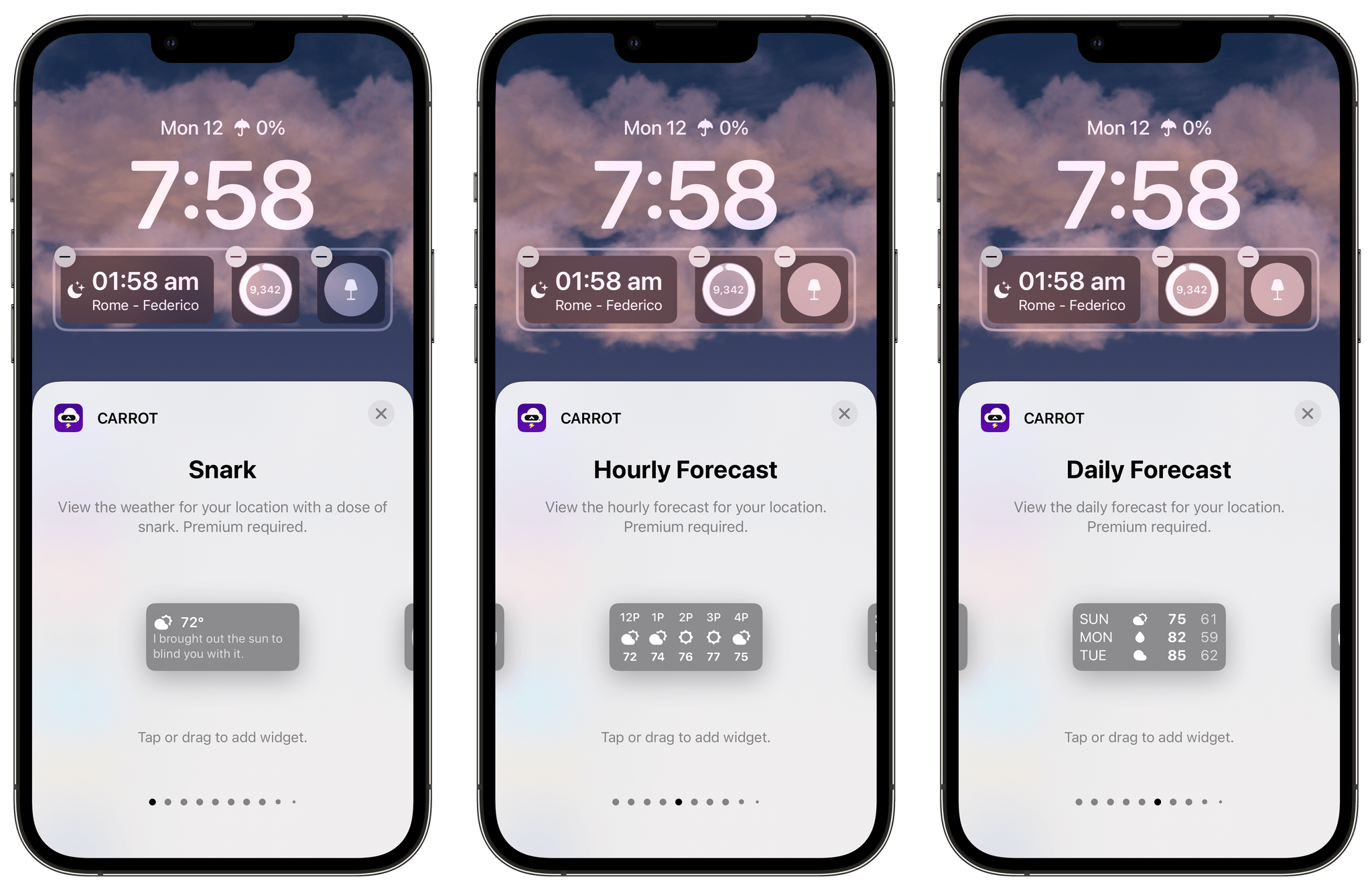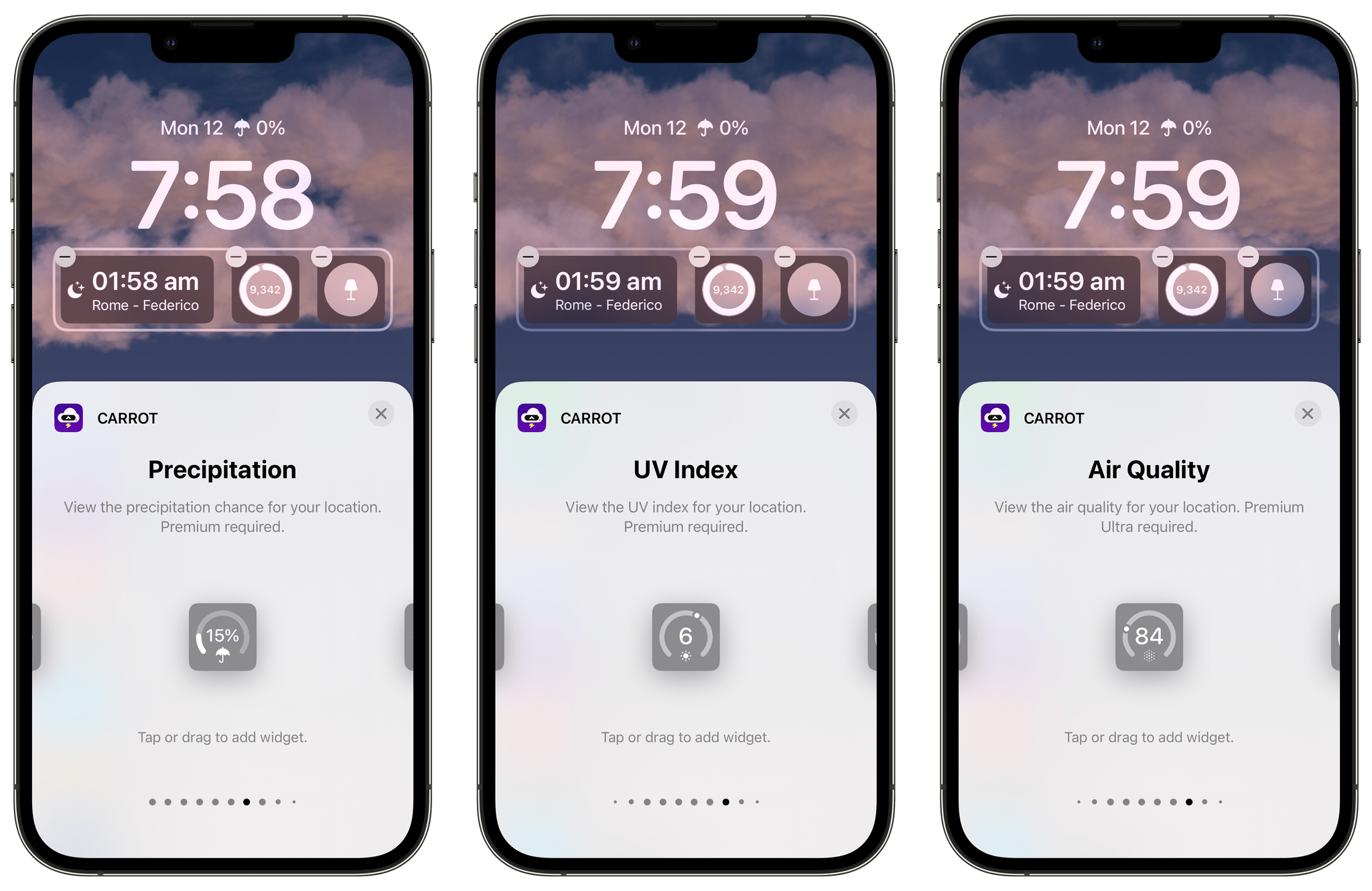 In addition to the new iPad design and new sections available in the iPhone and iPad versions of the app, CARROT Weather now comes with a whopping 20 Lock Screen widgets for the iPhone. Four of those widgets, Snark, Custom Conditions, Hourly Forecast, and Daily Forecast, are the larger rectangular variety. The remainder of the widgets are circular ones that offer a long list of data points like the current conditions, the current temperature along with the forecast high and low, the change of precipitation, wind speed, UV Index, Air Quality, and more. Whatever is most important to you, there's bound to be a widget for it in CARROT Weather.
Finally, CARROT Weather has added another weather data provider: Apple's own WeatherKit service. All weather data providers seem to be strong in some parts of the world and weaker in others, including WeatherKit, but it's good to have another choice, especially since Dark Sky will no longer offer forecasts beginning next year.
I've been spending a lot of time pairing Lock Screens with Focus modes, and CARROT's weather widgets have been a staple when I head out for a long walk or bike ride. Along with the redesign of the iPad app, version 5.8 is another excellent update from CARROT that I encourage everyone to check out.
CARROT Weather 5.8 is available for download now on the App Store. Some of the app's features require a subscription, the details of which you can learn about on the App Store.