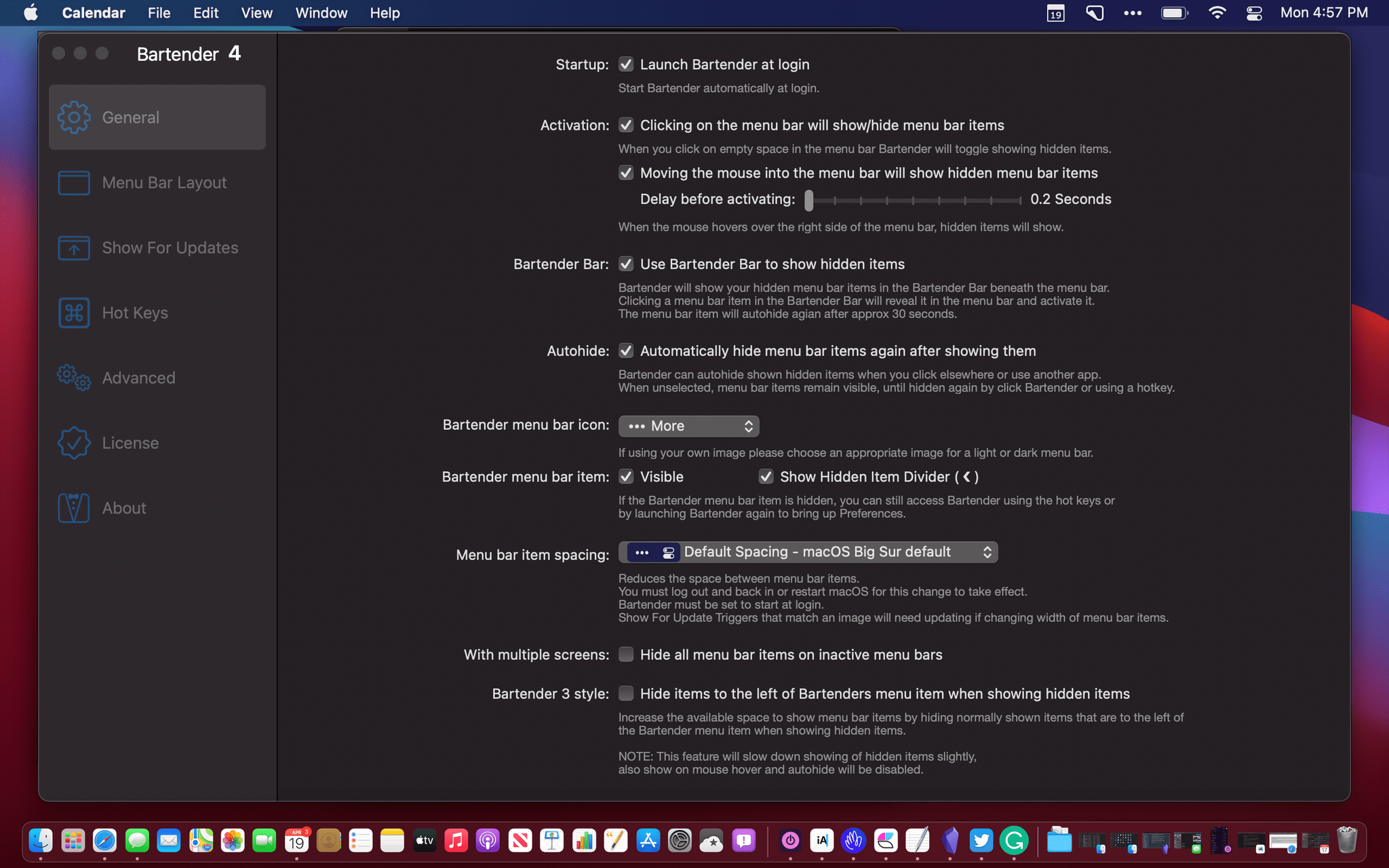 Bartender 4.0 was in beta for a long time, and the time and attention to the details paid off. If you were waiting to update until the app was officially released, now's the time to act because it's out, and the update is excellent.
I use Bartender on all my Macs, but I appreciate it most on my MacBook Air. The updated app, which manages your menu bar apps, retains its core functionality, allowing you to rearrange your menu bar apps and hide the ones you don't need regularly. However, with version 4.0, Bartender does a lot more too.
The app works perfectly on Apple's new M1 Macs. I've been using the beta version since late last year, and it's worked as I expected on my M1 MacBook Air and my older 2018 Mac mini.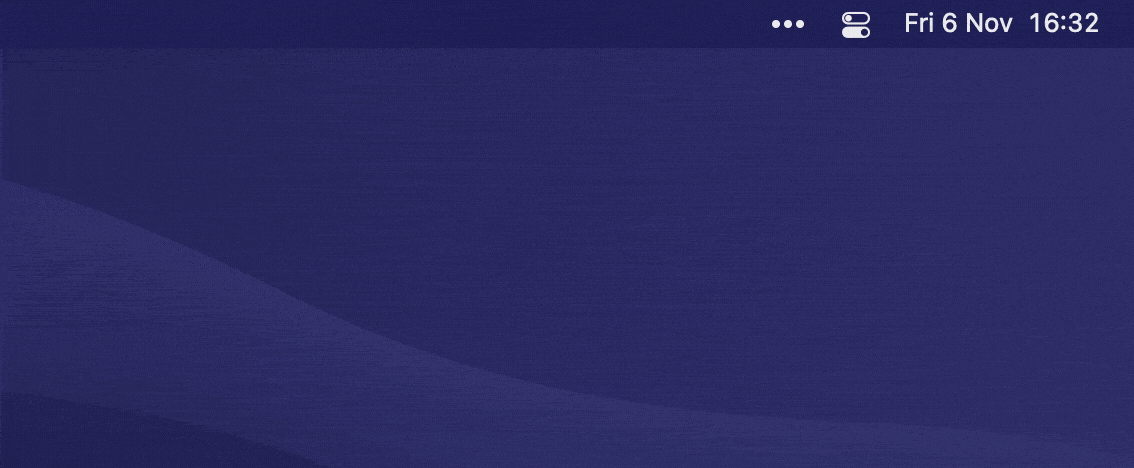 The update includes a new feature called Quick Reveal that reveals hidden menu bar app icons the moment the pointer hovers over an empty space in the menu bar. Of course, you can activate Bartender by clicking on its menu bar icon and set a custom delay before hidden icons appear too.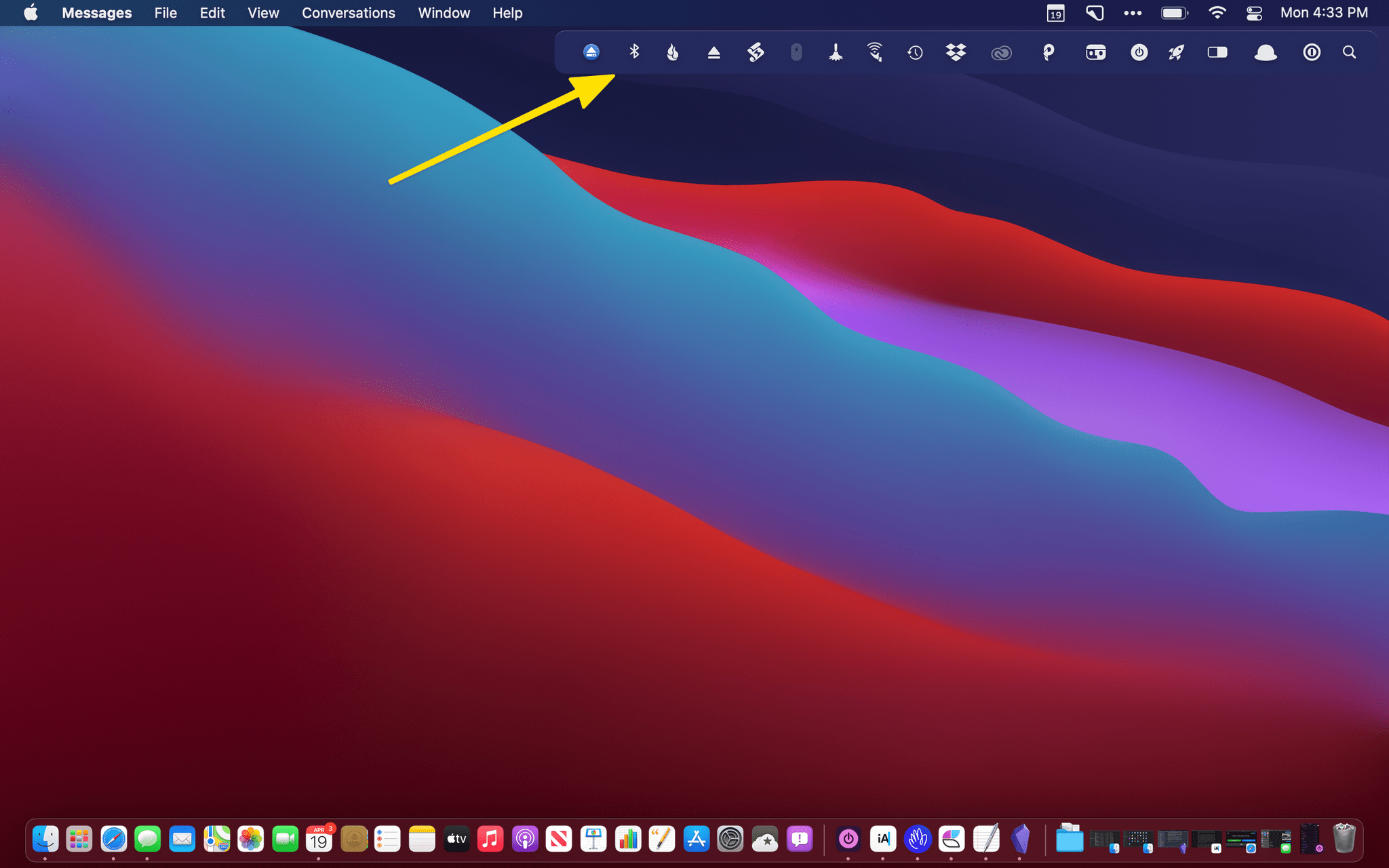 Hidden items can alternatively appear in the Bartender Bar, which is essentially a secondary menu bar that appears below the system menu bar when Bartender is triggered. I don't use the Bartender Bar, but if you have a very large number of menu bar apps installed, it can be a good way to ensure that you can see them all when Bartender is triggered.
Individual menu bar items can also be automatically revealed based on triggers. Version 4 adds new triggers to Bartender's repertoire. The image comparison trigger can be used for menu icons like Dropbox that change their appearance depending on what they are doing. You can also reveal menu bar icons based on scripts, which opens up a lot of potential for tying menu bar icons to the connection of certain peripherals, types of network connections, and more. There are also special triggers for some items like the battery level indicator, which can be tied to how much remaining battery power you have, for example.
The spacing options for menu bar icons are extensive too. Big Sur spaced out the menu bar, which is the default spacing in Bartender, but you can also pick the more compact spacing of prior versions of macOS or smash icons right up next to each other if you want to save as much space as possible. Also, Bartender can insert spacers in the menu bar, which is a handy way to group menu bar apps in a way that makes sense to you. The width of spacers is flexible, and they can be labeled with text or emoji.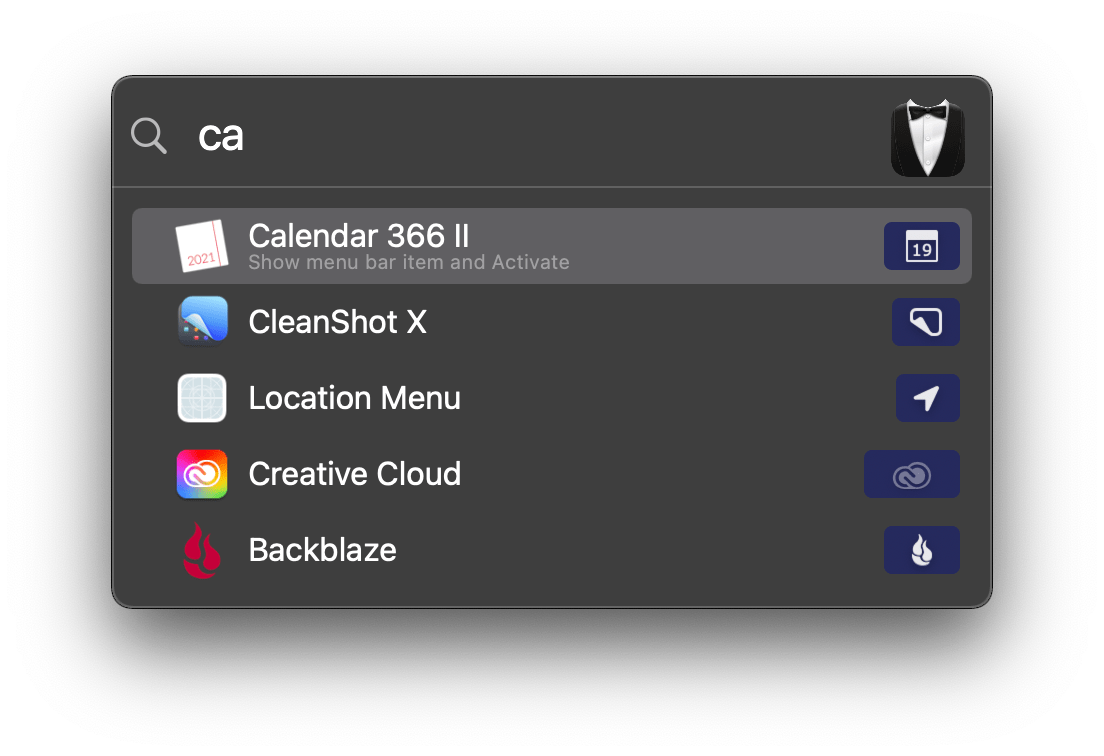 Search has been improved too. Set a keyboard shortcut in preferences, and when it's invoked, a search HUD appears for quickly finding and revealing your menu bar apps. The UI is reminiscent of Spotlight and is extremely fast.
I saved my favorite feature for last. With Bartender 4, you can assign a keyboard shortcut for any menu bar app. A lot of menu bar apps already offer keyboard shortcuts, but not all do, including some of Apple's. One of the most frustrating that I mentioned in my Big Sur review is Control Center, which cannot be activated from the keyboard. With Bartender 4, however, I've assigned a keyboard shortcut to Control Center so I can get a quick look at those setting as I type and another to Now Playing so I can quickly check on the music playing as I work.
I've used Bartender for many years and consider it one of my must-have Mac apps that I install as soon as I get a new Mac. With version 4.0, Bartender feels more like a part of macOS than any prior version. Of course, it isn't, but the app runs so smoothly that it feels like an extension of the system menu bar more than it does a third-party app, which I love. That, along with the new features added with this release, makes Bartender an essential addition to anyone's Mac setup, especially if you're using a Mac laptop.
Bartender 4.0 is available directly from Surtees Studios for $15 if you are a first-time customer and $7.50 for anyone upgrading. Bartender is also available with a Setapp subscription.