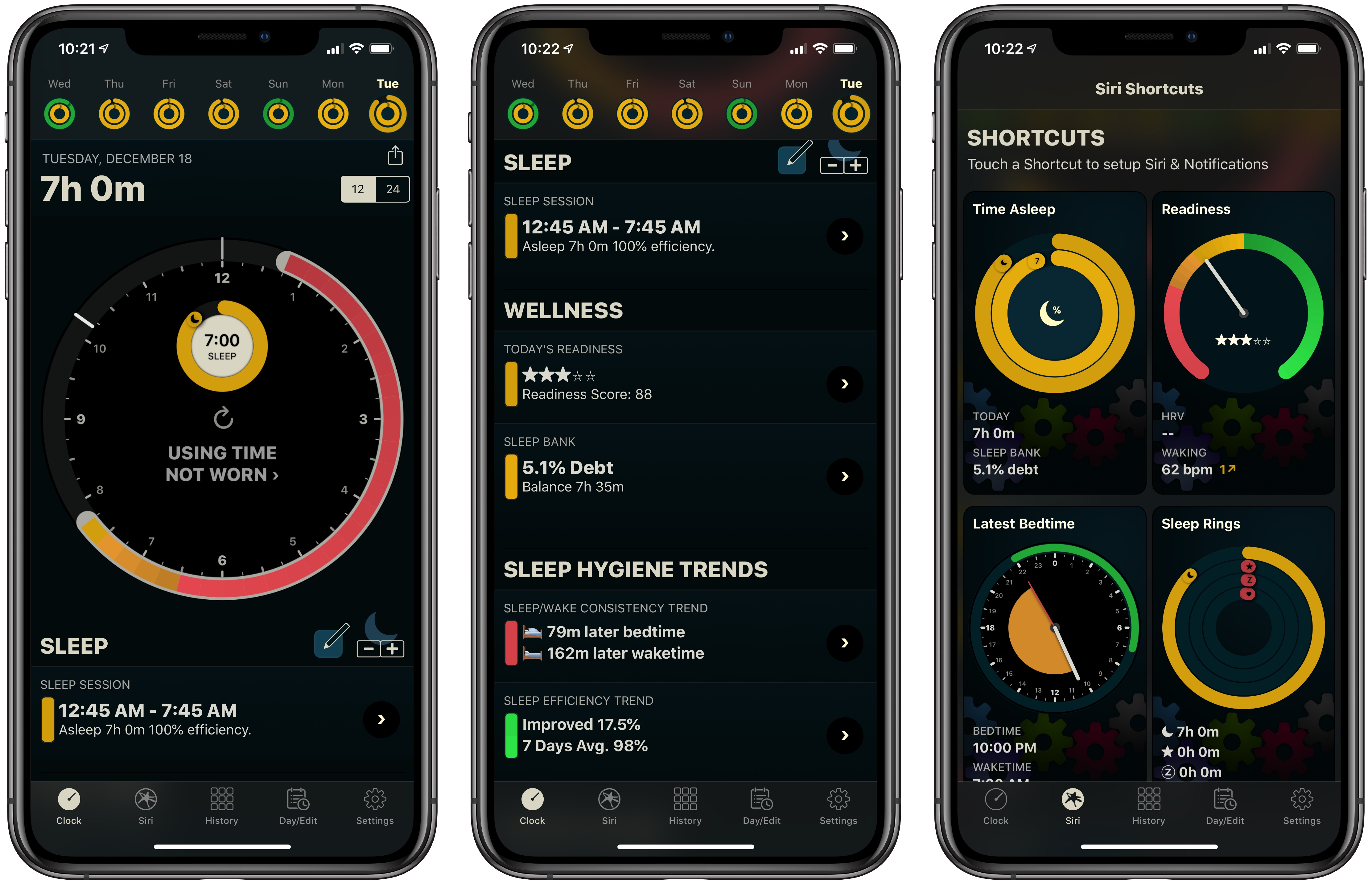 If you've followed MacStories for long, you probably already know that AutoSleep is one of our favorite sleep tracking apps on iOS. The app stands out for offering a frictionless, effort-free experience. Where other sleep trackers may require you to start and stop sleep tracking manually, AutoSleep takes the burden of remembering those tedious tasks off your plate. If you wear an Apple Watch to sleep, the app will automatically detect your sleep patterns even without a separate Watch app installed. If you don't have a Watch, or simply don't wear it to bed, the app will track your sleep through other methods. Whatever your habits are, AutoSleep has you covered.
Today marks the debut of AutoSleep's latest major iteration: version 6.0, which introduces new wellness features, refined graphs and color schemes, sleep hygiene trends, Siri shortcuts, an improved Watch app, and more. It's an extensive update that simplifies some aspects of the app while branching out into fresh, innovative areas of health tracking.
AutoSleep's main navigation tab is Clock, which has long been the go-to destination for your most recent sleep data. In this latest update, the familiar Clock screen is home to a variety of changes. First, the colors used for indicating sleep time and quality have been updated to mimic a traffic light scheme: green is good, yellow not as good, and red is poor. Though it's minor in the grand scheme of things, I think this simple aesthetic change has made the app more accessible to newcomers. Another UI change that makes AutoSleep's data easier to understand is the revamped sleep graph, which is accompanied by new graphs for every important metric the app tracks.
Beyond visual improvements, AutoSleep's Clock screen is now home to two new sections: Wellness and Sleep Hygiene Trends, both of which are particularly interesting. Wellness includes a grade called Today's Readiness alongside a Sleep Bank status. The former helps provide an indication of your physical and mental fitness at the moment, as based on certain heart metrics; Sleep Bank takes into account your last week's worth of sleep and lets you know whether you're in sleep credit or debt (either ahead of or behind on your sleep goals), which can be helpful in indicating how much sleep you should account for getting on any given night.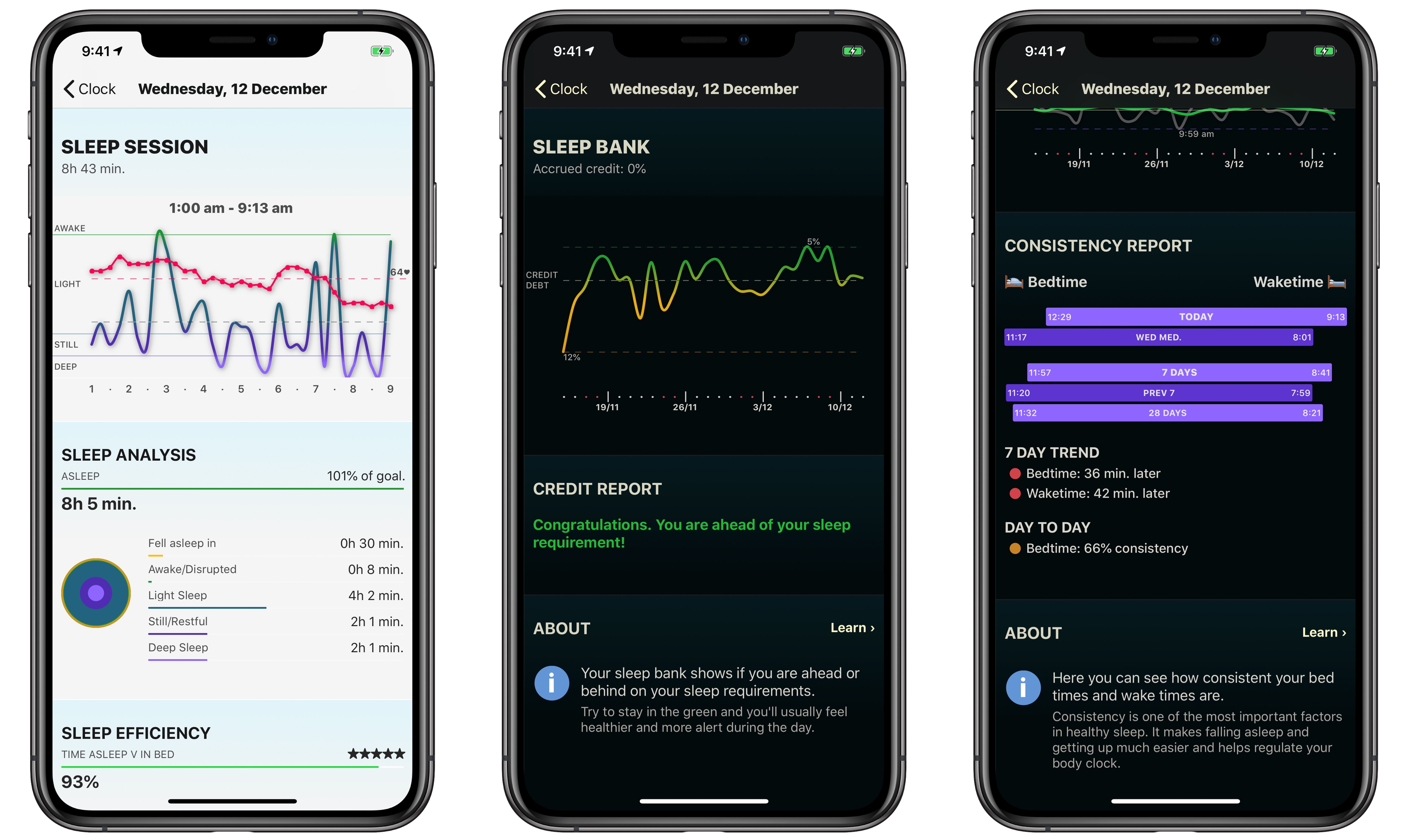 Sleep Hygiene Trends is named as such because it's all about habits. Just as regular habits of brushing teeth and showering are important for overall health, AutoSleep tracks your sleep/wake consistency and sleep efficiency to inform you of your hygiene trends. If you spend a lot of time awake in bed when your body needs sleep, the app can point that out and provide suggestions for helping you sleep better.
I love the additions of Wellness and Sleep Hygiene Trends because both offer very practical metrics that help provide a better picture of your sleep health. I find that some apps, such as Apple's own Health, may offer an over abundance of data without explaining what any of it means. AutoSleep does offer plenty of charts for data types I don't quite understand, but it hides that less useful information out of sight while putting key data points front and center, with detailed explanations to boot.
One important feature update to AutoSleep is Siri shortcuts. Far from just a minor optional addition, shortcuts are taken so seriously by AutoSleep that they've earned their own dedicated Siri navigation tab. In the Siri tab you'll find actions that can be easily set up as shortcuts then used in the Shortcuts app. There are shortcuts that tap into the various metrics provided by the app, like Time Asleep and Readiness; some of this information could be great additions to a morning routine shortcut in the Shortcuts app. The Lights Off shortcut, which tracks how long it takes you to fall asleep after going to bed, is a similarly good fit for running right before bed as part of a broader bedtime shortcut that sets your alarms, activates a HomeKit scene, and whatever other automation you typically activate at bedtime.

AutoSleep's Watch app has also been updated with the updated design and features of its iOS counterpart, but with a couple platform-specific upgrades. First, AutoSleep now integrates with the Siri watch face for sharing data about your sleep and offering suggestions like activating Lights Off mode. Also, the complication for Infograph faces has been redesigned to provide an informative glimpse at your time slept and sleep bank status.
---
AutoSleep 6 feels like a new beginning for the app. Despite so much remaining familiar, there are an impressive number of changes that all serve to make the app more accessible. In addition to the improvements I've mentioned, like a simplified color scheme and relevant wellness and sleep hygiene metrics, the app is now filled with explanatory text everywhere to help users better understand their sleep health.
Based on AutoSleep's frequent ranking near the top of the App Store charts, the app has clearly already been a success. I can't help but think, though, that this update will help propel it even further into the mainstream.
AutoSleep 6 is available on the App Store as a free update for existing users; for new users, it is a $2.99 purchase.