We're hearing interesting rumors about Apple's plans with the new Apple TV (or iTV) these days. Engadget was the first to speculate about the upcoming new device, suggesting a new name and its complete redesign - both in terms of hardware (a very small set-top box) and software (it should run a modified version of iOS).
Then, yesterday we heard that Apple might introduce a .99 cents / TV show rental service and that the new device will be unvelied at a press event on September 7 (which happens to be a Tuesday). The new device should come at $99, equipped with an ARM processor and App Store access - the latest reports claim.
But it turns out, Steve Jobs isn't really excited about this new Apple TV.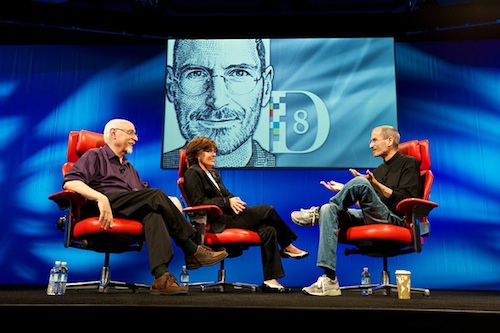 Peter Burrows, reporting for Bloomberg:
"But that's not the big video news Apple wants to impart.
Rather, look for CEO Steve Jobs to focus on the ability for customers to watch their favorite TV shows and movies on their iPads, iPhones, and iPod Touches, says a person familiar with the plan.
And Jobs will also show off a new iPod Touch that features a high-resolution screen like the one in the iPhone 4. That's important, because the company can now say that all of its products are capable of near-HD quality video.
Even with the refresh, Jobs isn't convinced the new version will be a mainstream hit, says the person familiar with Apple's plans. Most consumers aren't ready to cut the cord to their cable company, or put up with the tech-nastics required to stream content from the iTunes collection on their PC to their living room big-screen TV. In other words, it's a product that at best will delight some of the "hobbyists" that have always been interested in the product."
I'll tell you what, this makes sense. Steve Jobs never believed in set-top boxes, the Apple TV has always been marked by Apple as a "hobby" and even at D8 conference (a few months ago) Steve said:
"Subsidized set-top boxes have squashed innovation because no one wants to pay for separate boxes…ask TiVo, Roku, us, Google in a few months. The set-top box needs to be torn up and redesigned to get people things they way they want them. And there's no go-to-market strategy for that. With the iPhone, and now the iPad, we could partner with carriers, but television is very balkanized…everything is local."
Also, it's pretty obvious that "iTunes in the cloud" is way more important for Apple, so I wouldn't be surprised to see iTV becoming the "end-tail".
The speculation has begun, but the whole truth isn't that far now.