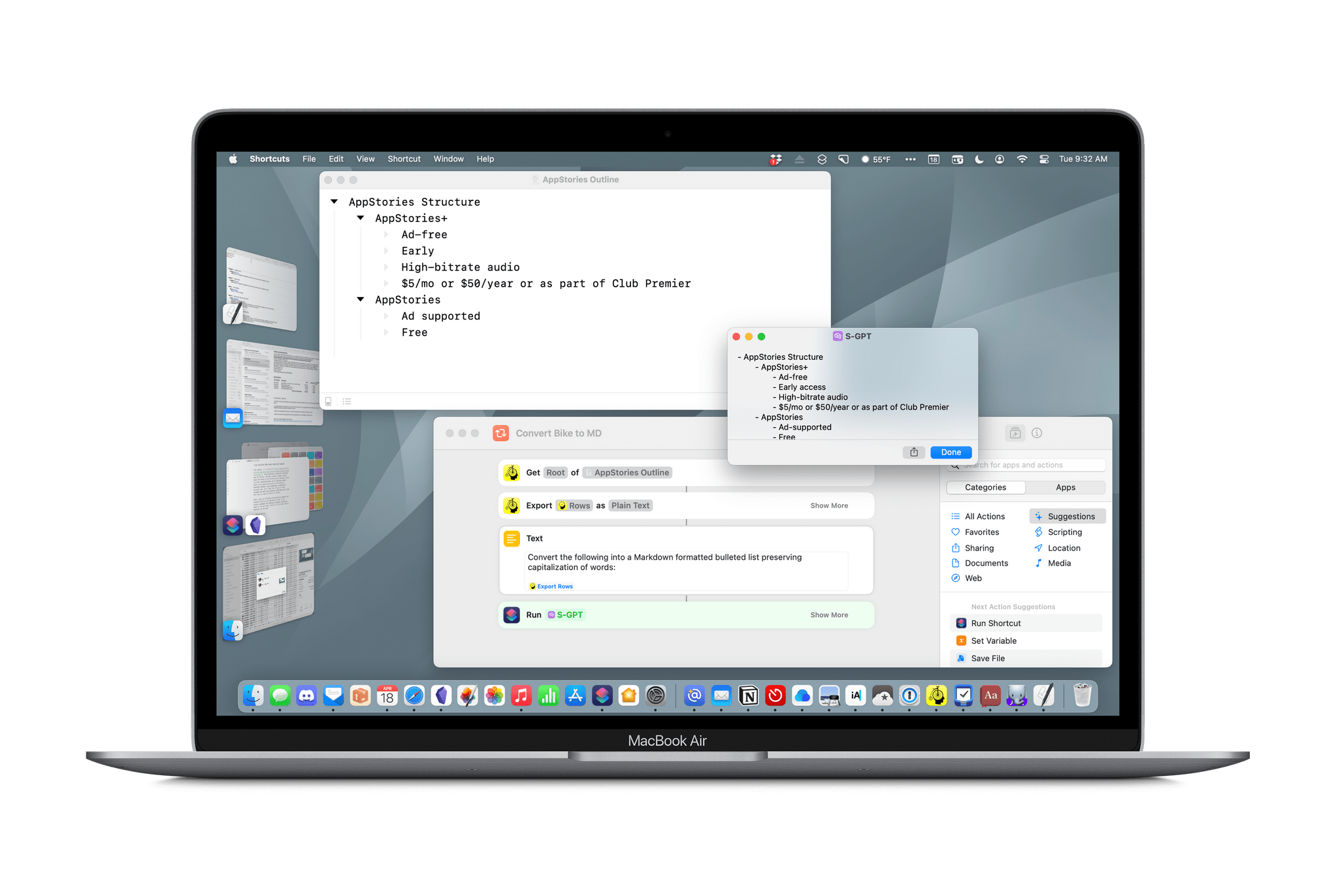 Last spring, I reviewed Bike, Jesse Grosjean of Hog Bay Software's excellent outlining app for the Mac. The app's simple, elegant design keeps the focus on the outline you're creating, while its rich, keyboard-driven set of features enable ideas to be organized quickly and efficiently. Advanced features, like versioning, linking and grouping rows, and a long list of ways to view, navigate and edit your outlines, make Bike one of the best ways to create outlines on the Mac.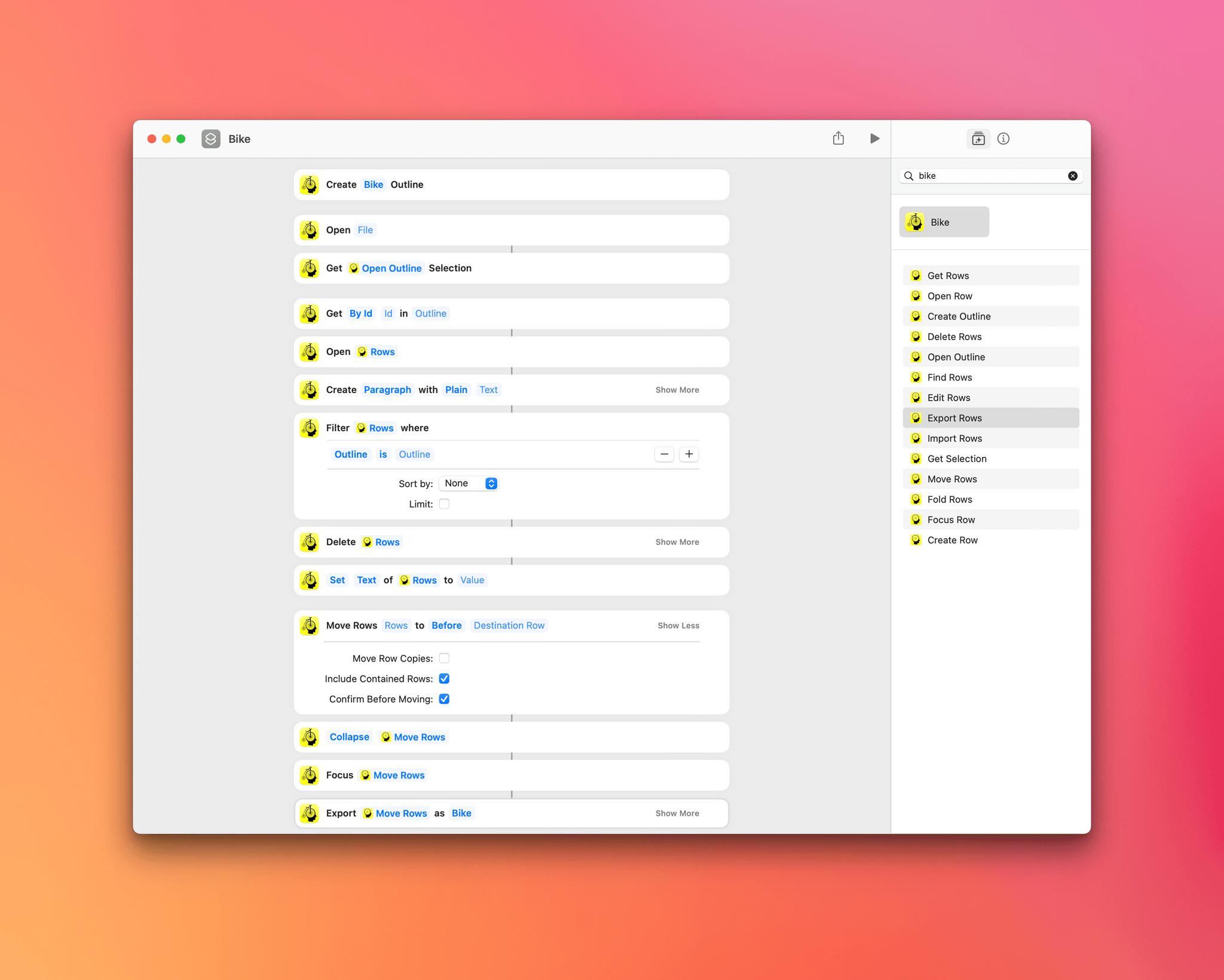 Bike's focus on efficiency and extensive support for keyboard shortcuts and AppleScript make it the perfect candidate for Shortcuts support, which was added to the app today. Version 1.11 of Bike adds 14 Shortcuts actions to the app:
Create Outline
Open Outline
Open Row
Get Rows
Fold Rows
Focus Row
Edit Rows
Import Rows
Export Rows
Find Rows
Create Row
Delete Rows
Move Rows
Get Selection
The actions cover a lot of the functionality of Bike with a focus on outlines, text and row selections, and rows. Outlines can be created from scratch or existing ones opened, and Get Selection returns any selected text and its outline row.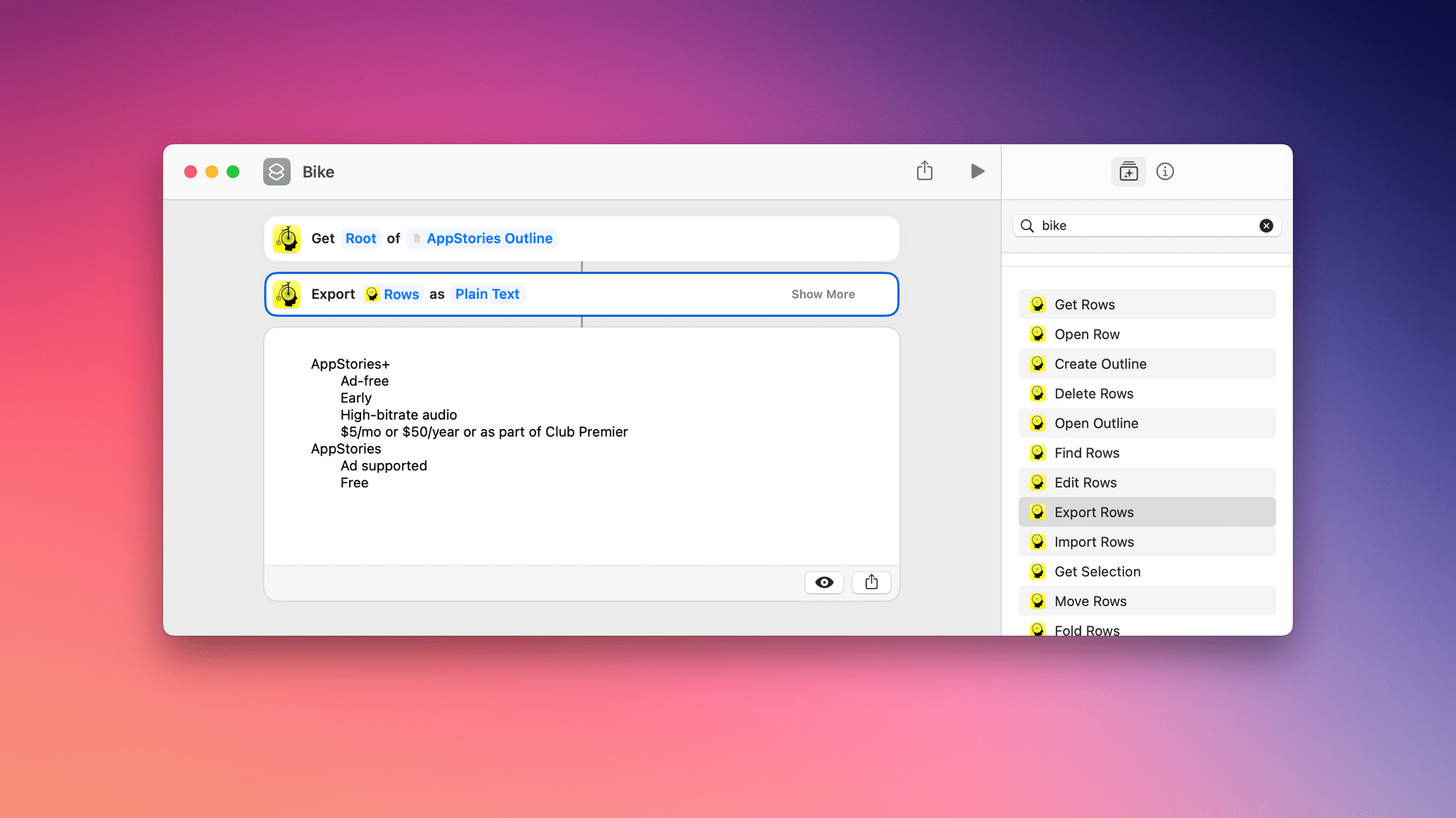 The remainder of Bike's Shortcuts actions apply to rows, the building blocks of outlines. Rows can be opened in-app or retrieved in a variety of ways, such as by their root, row ID, focus, selection, ancestor rows, child rows, and descendant rows by using the Get Rows action. There's also a Find Rows action that uses predicate filtering to allow rows matching multiple criteria to be located and sorted. Rows can be imported and exported in Bike, OPML, and plain text formats too.
Rows can also be created, edited, deleted, and moved within an outline with precision, thanks to a detailed set of action parameters. Actions for focusing on particular rows and folding and unfolding rows round out the available actions by allowing users to use Shortcuts to prepare their outline work environment automatically.
I've only just begun experimenting with Bike's new Shortcuts integration, but it's clear that thanks to extensive parameter and predicate filtering, the automation opportunities are extensive. Especially if you work with big outlines that require frequent, repetitive edits, Bike's new Shortcuts integration could save you a lot of time.
Bike 1.11 is available on the App Store and directly from Hog Bay Software as a free download. Some features, including Shortcuts support, require a $2.99/month or $19.99/year subscription from the App Store or a one-time license purchase directly from Hog Bay Software, which comes with one year of updates.
---
You can also follow MacStories' Automation April coverage through our dedicated hub, or subscribe to its RSS feed.