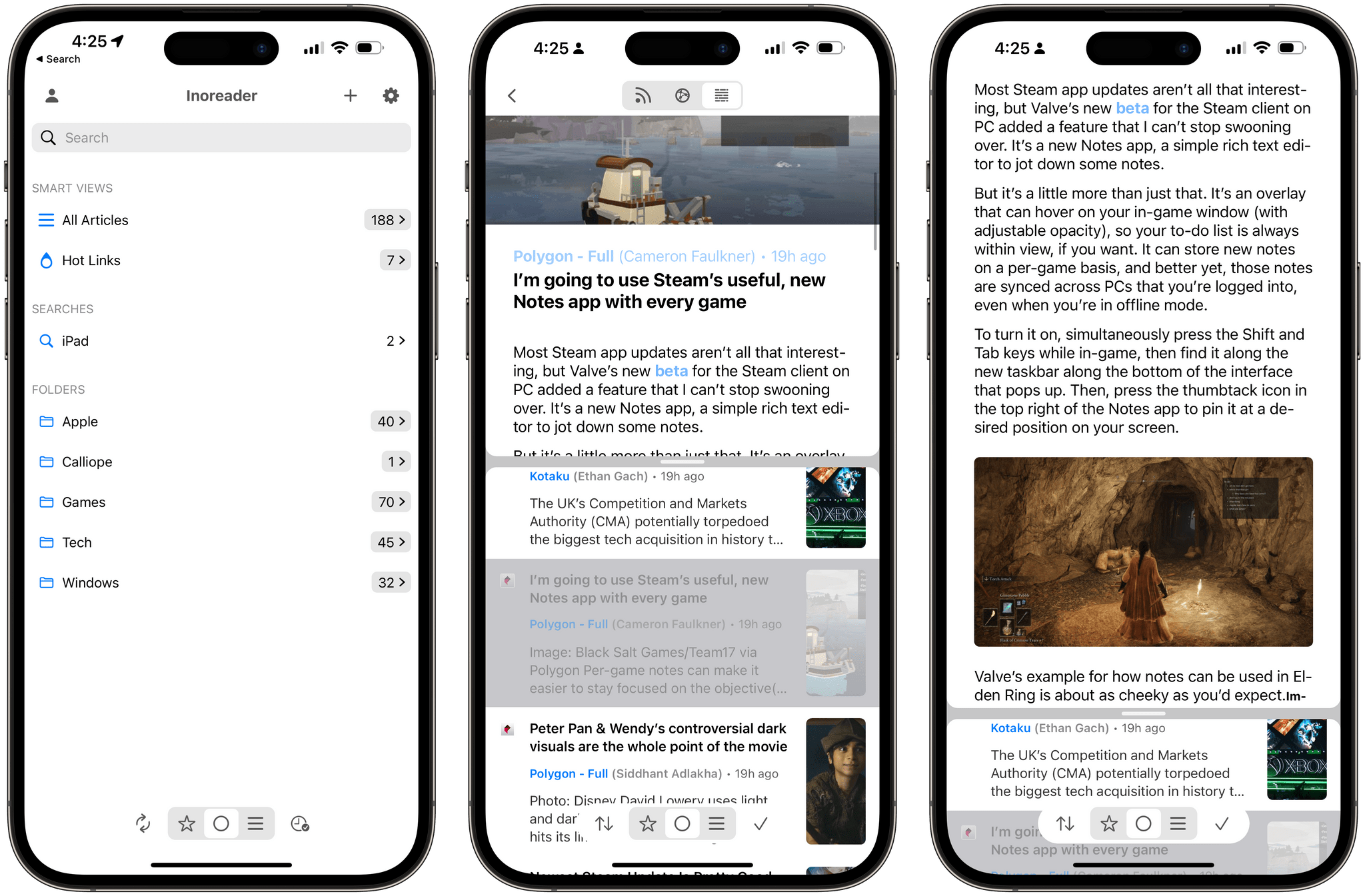 A few weeks ago on Mastodon, I shared a simple feature request: a split-screen mode for iPhone RSS readers that would allow me to scroll headlines in the one half of the screen and preview actual articles in the other.
If this sounds familiar, you're not alone: back in 2007, Steve Jobs demoed pretty much the same thing for the first version of the Mail app for iPhone OS 1.0. That layout mode never shipped, and probably rightfully so at the time given the limited screen real estate of the first iPhone.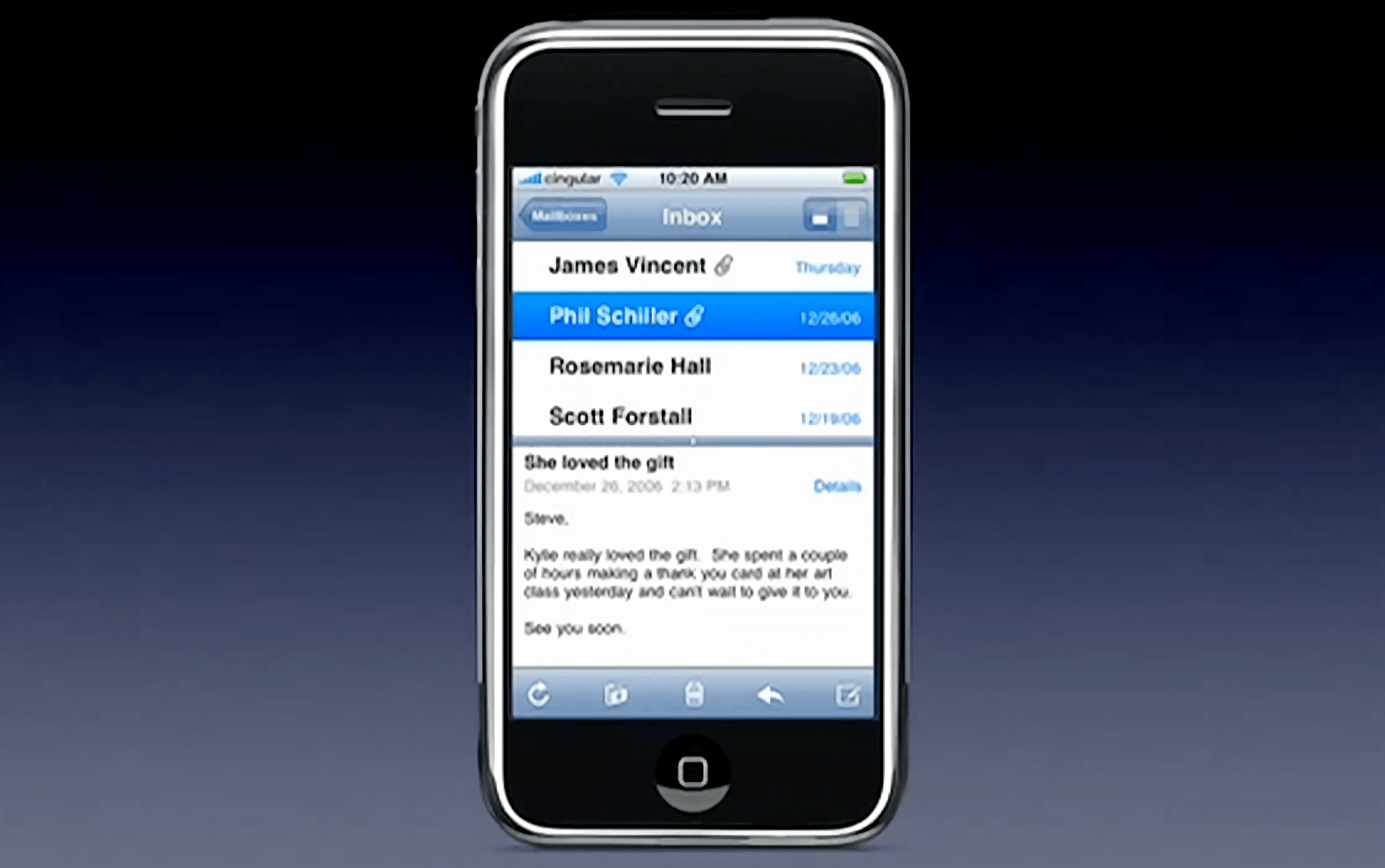 Still, over the years I've started revisiting this idea, and I'm convinced that a vertical split view mode for apps that display tables of content (such as RSS readers, email clients, or ~~Twitter~~ Mastodon apps) could work well – especially on larger iPhone models. At least another app developer agrees with me on this one: Spring, the Twitter client that is soon to be replaced by Mona from the same developer, shipped its own, in-app split view mode. It may not be the comfiest layout, but if you have a big iPhone and can afford to use a smaller text size, it can be a great solution for multitasking inside the same app and scrolling/previewing items without navigating into sub-pages.
(Personally, I believe that Apple should outright enable Split View multitasking for iPhone, but that's a story for another time. Stay tuned for the next episode of AppStories and my iOS 17 wishes.)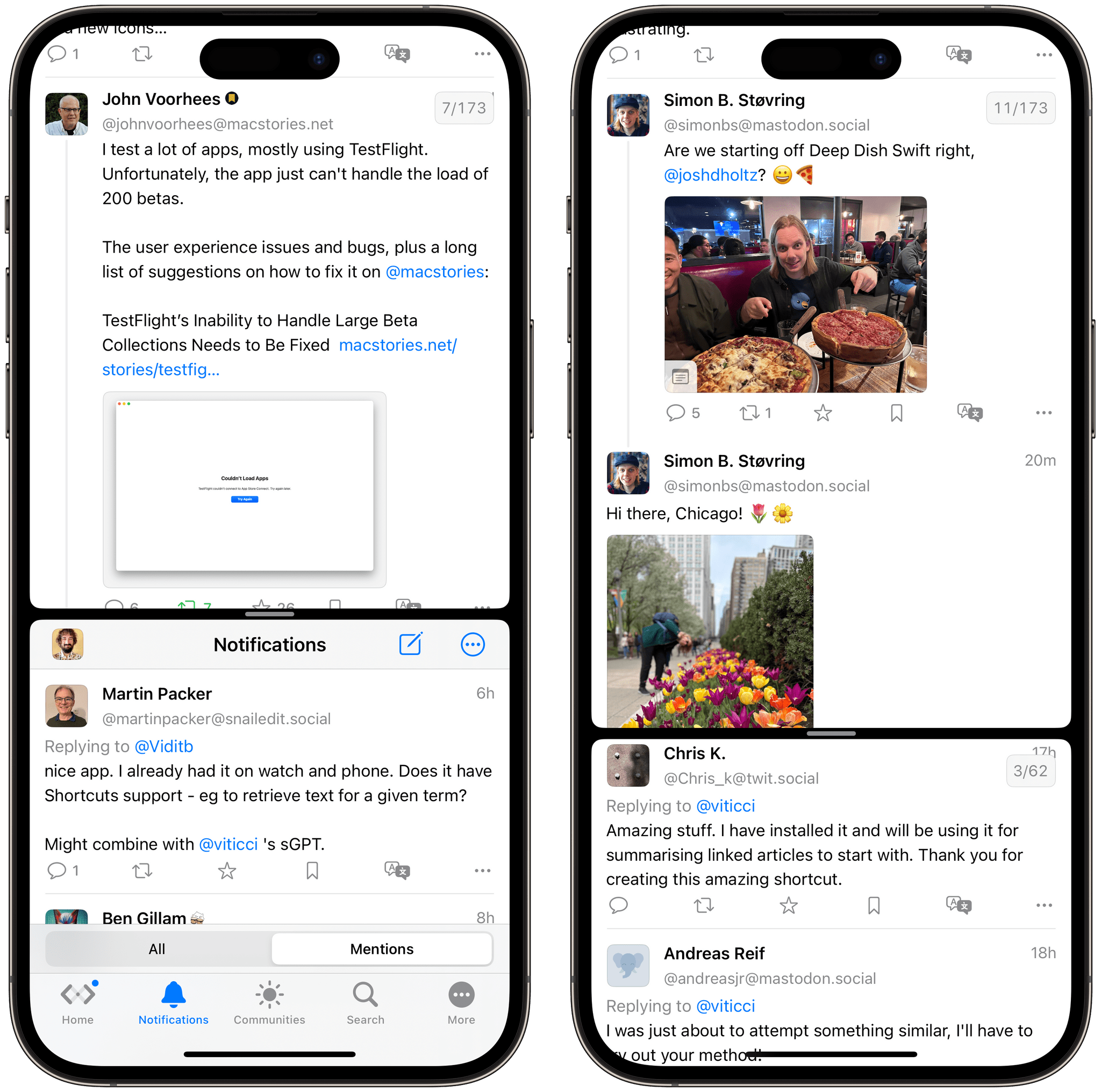 In any case, after I published that post on Mastodon, I thought I would send a private note to Lukas Burgstaller, the developer of the excellent and highly customizable RSS reader Fiery Feeds. Lukas was kind enough to listen to my suggestion and I'm thrilled to see that the latest version of Fiery Feeds (2.9) has added the vertical split view mode I requested.
You can enable this layout in Fiery Feeds by visiting Settings ⇾ Layout ⇾ Vertical Split View; you can choose to always enable vertical split view or only activate it in portrait orientation, and you can even decide whether you want to see the article view above or below the list of headlines. Since Fiery Feeds is a modern, universal app, split view works on the iPhone (as seen in the screenshots at the top of this post) as well as the iPad and Mac. I can confirm it is particularly nice on an 11" iPad Pro.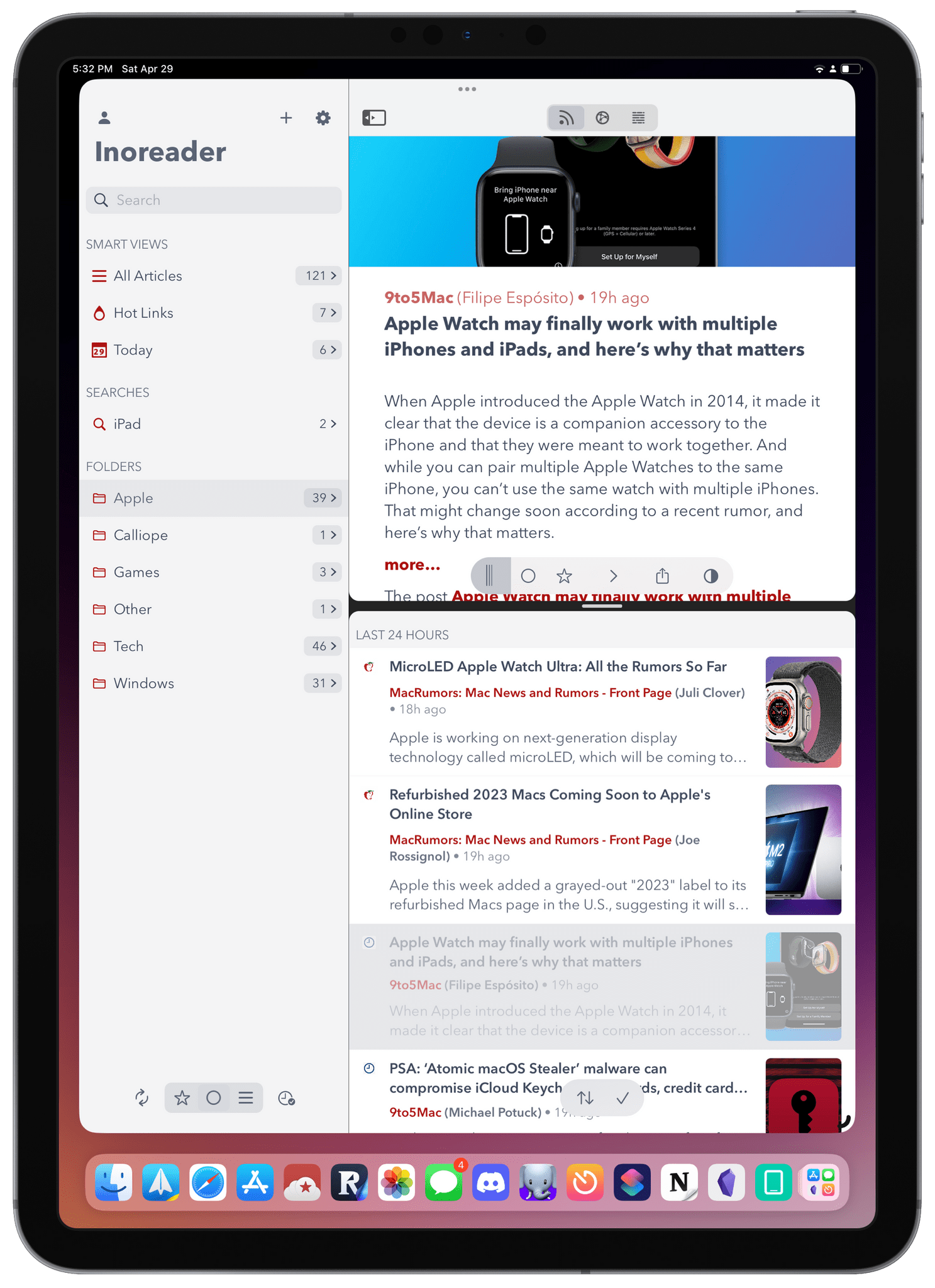 Besides the fact that I'm grateful to Lukas for adding something I suggested, I have to say that this feature has been well implemented and turned out to be just as good in practice as I hoped it would be in theory. Vertical split view is now my default mode for Fiery Feeds on the iPhone: I keep the list of headlines at the bottom and the article view at the top. With my thumb, I can scroll and skim headlines at the bottom of the screen, and if something catches my eye, I can tap it to preview the story in the upper half of the screen. If the article's text is truncated or I want to see the original webpage, I can simply tap the story's title to open it with Safari View Controller. If I want to stay in article mode but feel like I need some extra space for a few seconds, I can grab the split view separator, make the view taller, then drag it back down when I want to go back to skimming headlines.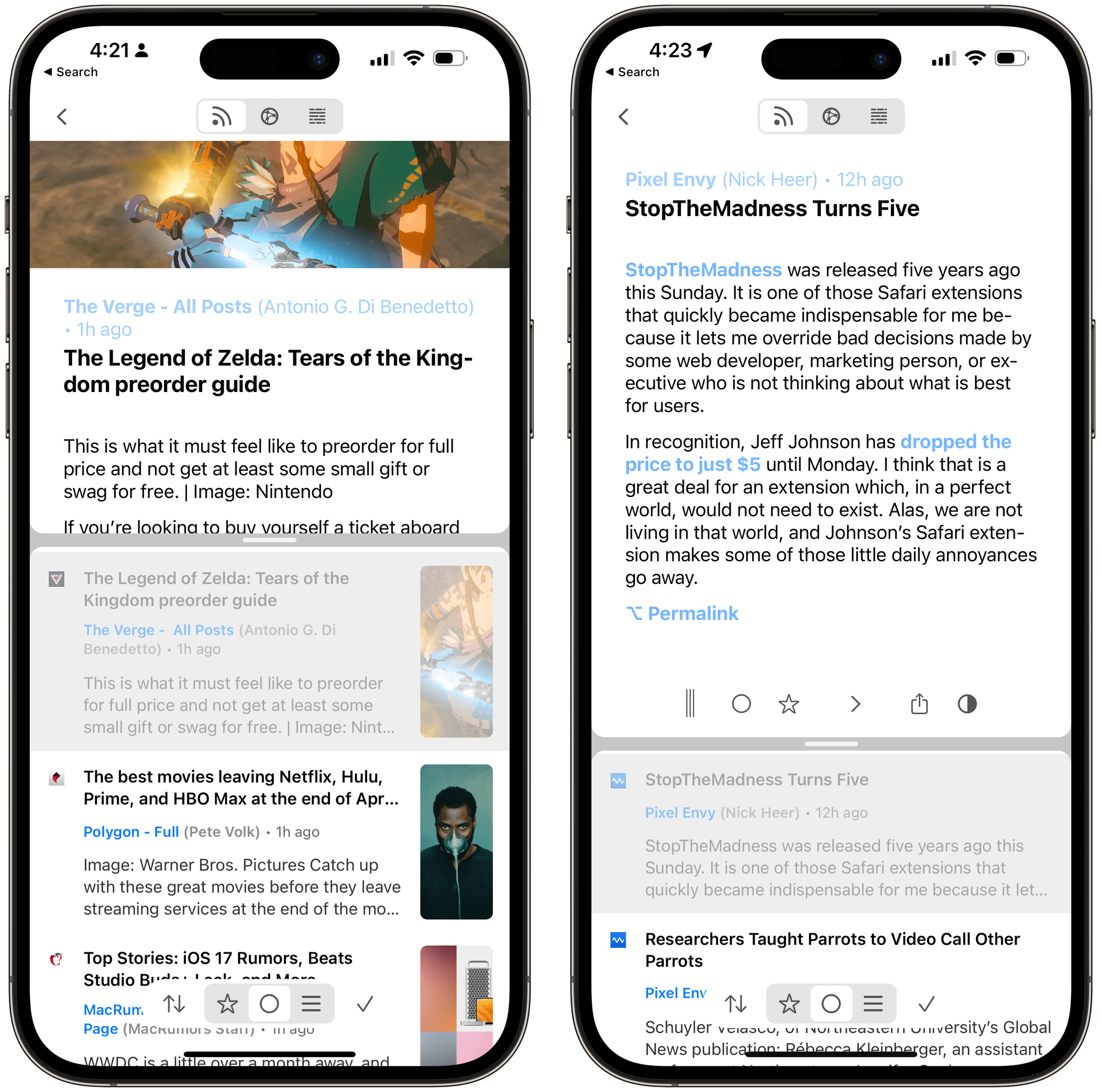 Maybe you're not a fan of this layout (great news: Fiery Feeds has plenty of settings and modes to tweak) but, for me, this is pure, one-handed RSS consumption bliss. Like I said above, I wish more iPhone apps offered this layout: I'd love to navigate my inbox and read individual messages with split screen in Spark, control what's playing and browse around playlists in Marvis, split the UI into two conversations in Messages, and so forth. You get the idea.
Maybe Apple will announce native Split View and multiwindow for iPhone apps in iOS 17 at WWDC. A man can dream. But if they don't – I just hope more third-party developers will consider an approach similar to Mona and Fiery Feeds. If you want to play around with this, you can find the latest version of Fiery Feeds on the App Store.