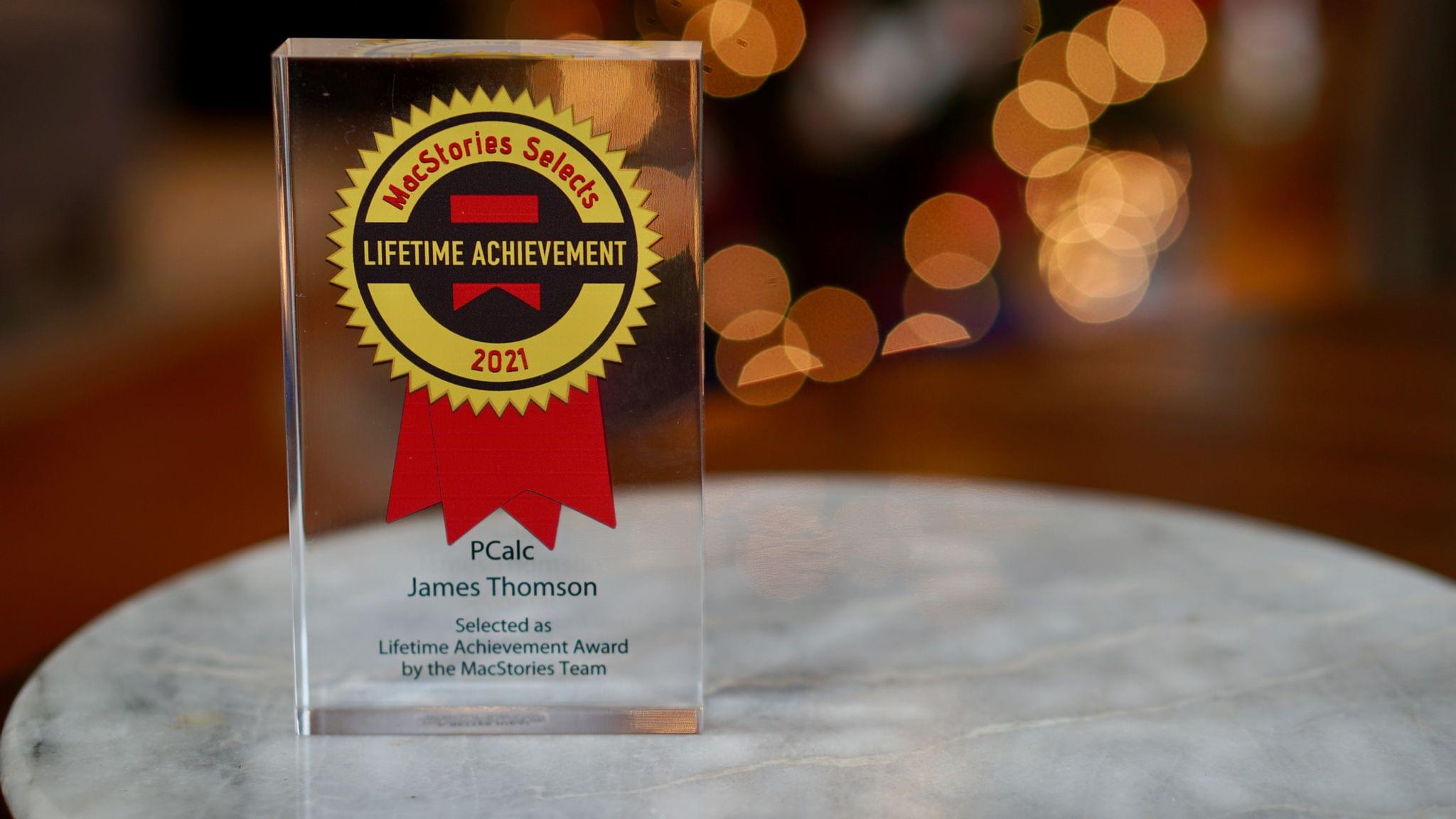 John Voorhees: I'd love to tell you that there was drama surrounding the selection of this year's first-ever MacStories Selects Lifetime Achievement award, but there wasn't. In the end, it was the easiest pick of the lot. Last month, I sat down with Federico in Rome to go over the Selects awards, and we began by scanning a list of potential Lifetime Achievement candidates that we'd put together over the previous weeks. In the end, PCalc by James Thomson, which started on the Mac and has been adapted to every possible Apple platform, was the obvious choice. Not only are James and PCalc longstanding pillars of the Apple community, but PCalc represents the sort of innovative and creative spirit that we value most at MacStories.
Below, you'll find a written interview that Federico conducted with James about PCalc's history, what makes the app special, having to adapt to hardware and software transitions by Apple, and what the future may hold. James also joined us for a special segment of AppStories, covering the Lifetime Achievement award and other MacStories Selects winners. Before we get to the interview, though, I'd like to take a moment to introduce you to PCalc, which has a long and rich history that not all readers may know.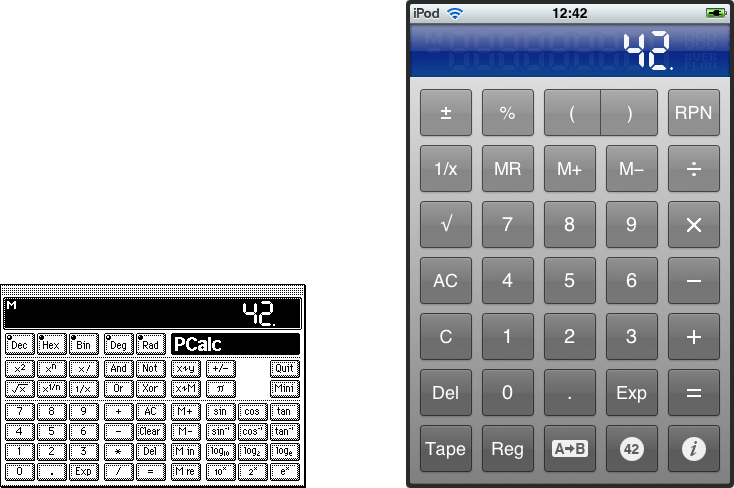 PCalc was first released almost exactly 29 years ago with an email to Info-Mac, an online file hosting service that pre-dates the Internet. In the years since version 1.0, PCalc has updated, refined, and ported to other platforms, including the iPhone, iPad, Apple Watch, and even the Apple TV, where you can enter calculations using a videogame controller.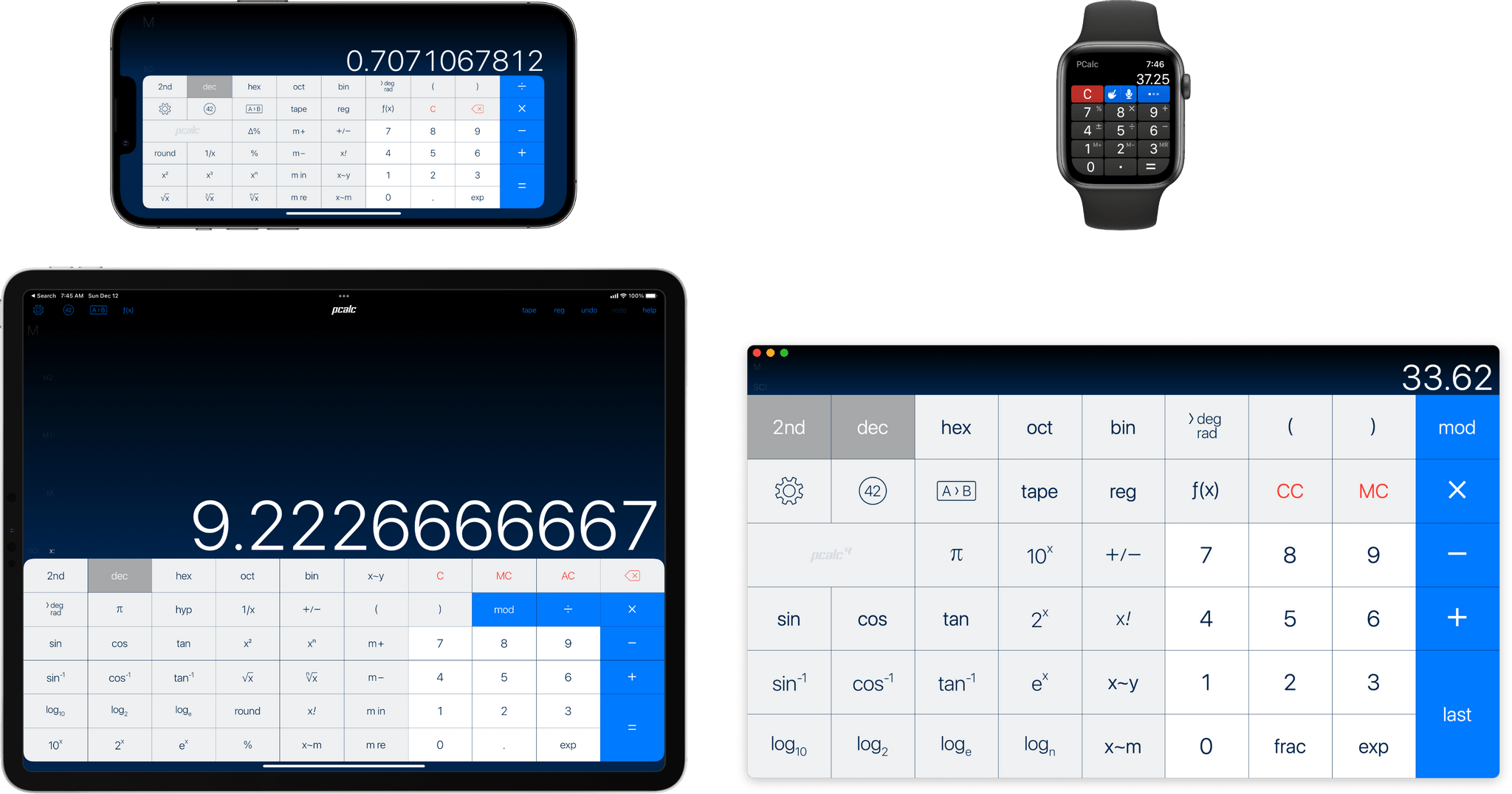 Since its beginning, PCalc has competed with Apple's free system Calculator app on the Mac and iPhone but has succeeded by offering features that Apple doesn't, like an incredibly deep set of customization options, and bringing calculations to the iPad, something which Apple still hasn't done more than a decade after the iPad's release.
James is also known for his experiments with the latest Apple technologies and pushing the boundaries of what people expect in a calculator. One memorable experiment was PCalc's fully-interactive iOS 8 widget. The App Store featured PCalc's innovative widget, but App Review wasn't quite as excited because Apple hadn't anticipated developers building widgets that do anything other than deliver passive data from apps to users' Today page. The kerfuffle passed with Apple allowing PCalc's widget and other interactive widgets to remain on the App Store.
More recently, PCalc's About screen has taken on a life of its own with a full-blown 3D driving game, 3D bananas, coins, calculators, marbles, and other objects that can be dumped into the scene, and support for AR. As I described it in 2017:
As soon as I opened the view, I felt like I'd entered Thomson's private playground where the constraints imposed by developing a calculator app were suddenly removed giving him free reign to experiment.
Words and screenshots don't do PCalc's About screen justice. Tap on the gear icon from the main screen and then 'Help' on the Settings page, where you'll find a link to the app's delightful About screen.

Federico and I have had the pleasure of getting to know James well over the years we've covered his apps. Any app that has been maintained and updated for nearly three decades is a labor of love, but with PCalc, the care, attention to detail, and whimsy that James brings to the app come shining through. As a result, we can think of no better app to award our first-ever Lifetime Achievement than PCalc.
PCalc on the App Store (iPhone/iPad and Mac)
A Selection of MacStories and AppStories Coverage
---
An Interview with James Thomson, Creator of PCalc
Federico Viticci: In 2017, you wrote a retrospective about PCalc's 25th anniversary. The Mac version of PCalc has been around since 1992. For context, that's three years after the release of the original Game Boy and two years before the launch of the first PlayStation. PCalc is going to turn 30 next year. How does it feel to work on the same application for three decades?
James Thomson: I'm going to ignore the voice in my brain which whispered "tiring!". The truth is I've been incredibly lucky that I've been able to work on it this long, and that I've also made a living from it for well over a decade now. And, while PCalc has existed all those years, I've definitely had times that I've taken long breaks when I've been working on other things. So, it's not been constant enough that it's become monotonous, and I've done a wide variety of things under the guise of making a calculator. I think the real turning point was when the iPhone SDK was released on March 6, 2008 – that's the day that PCalc became my main product.
FV: You've been through many hardware and software transitions on Apple platforms over the years. Really, you've seen all the major transitions – from PowerPC to Intel and the debut of the iPhone App Store to iPad, Swift, Catalyst, and Apple Silicon chips. How have you approached these over time, and what is something you've learned as an indie developer going through these transitions?
JT: PCalc has always been a means for me to learn new things. I created it in the first place as a small project to teach myself how to program for the Mac. Ever since then, when there's been something new on the horizon, I've approached it exactly the same way. That's why there's a version of PCalc for the Apple Watch and the Apple TV, for example, even if they might not be the most obvious places to have a calculator.
These days, as PCalc itself has gotten a lot bigger, Dice by PCalc has become my test project, but the overall goal is still the same: learning through building.
One piece of wisdom would be that things are always changing in the Apple ecosystem, You shouldn't get too attached to any one language or technology, as everything has an expiry date. Put your personality into your products and just try and enjoy yourself!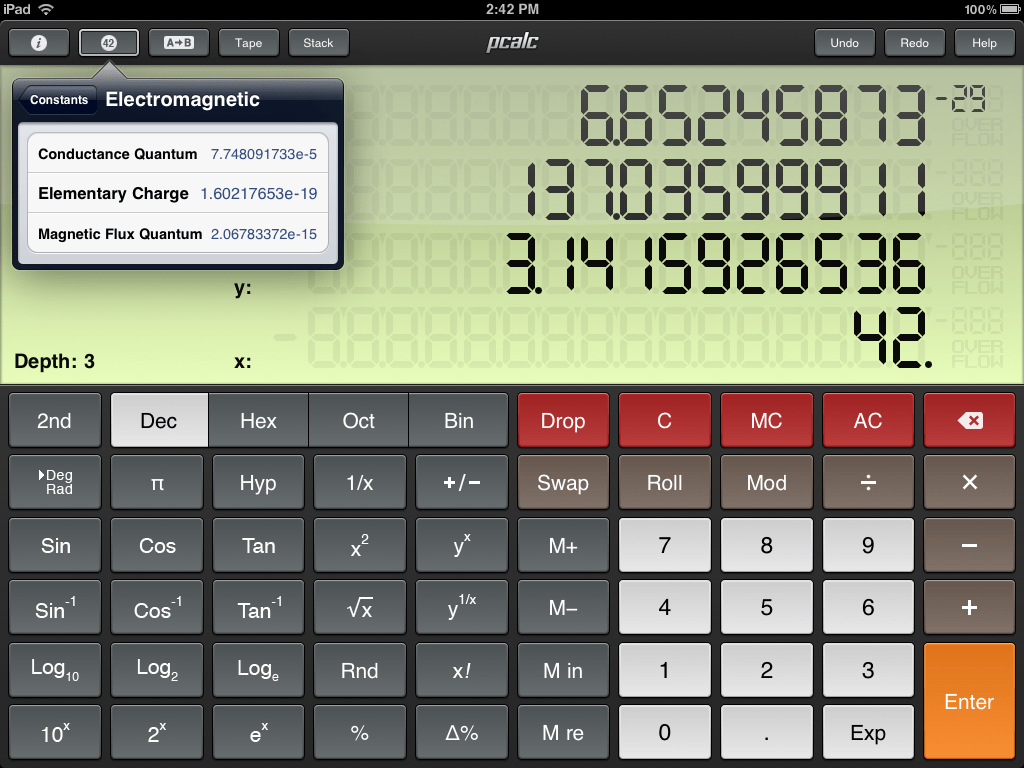 FV: PCalc has long competed with a solution that is, arguably, good enough for most people: Apple's built-in Calculator app. What is it that makes PCalc special, besides the fact that you, unlike Apple, have built an iPad version of your app?
JT: Whenever you're competing with Apple, you have to go a little deeper than they ever would in an app meant for billions of people to use. So, for PCalc, it's a lot more customisable. You can edit the button layouts, create your own conversions and functions, and so on. Plus, tons of settings, so you can make it work the way you want to. I think that's why it's lasted this long. Also, I've been lucky to be in the right place at the right time over the years.
FV: In our opinion, one factor that has always distinguished PCalc is its constant evolution and embrace of new technologies. You're not afraid to take risks with modern features on Apple's devices. What's your approach to evaluating new features and design changes?
JT: There certainly used to be an element of "what is Apple's big new thing this year, that will definitely get me featured on the App Store?". That's been less true in the last few years, but I'll always try all the new technologies, and see what is and isn't useful in practice. Sometimes, that means you'll spend weeks experimenting with something like SharePlay, and come to the conclusion that it's not exactly the best fit for a calculator, but you've still learned something new, and kept your skills up-to-date.
Generally, my year has had a pretty standard rhythm. I spend January to June working on the app features I want to make for myself, then I play with whatever new technology Apple announces at WWDC in June, and see what I can build with that by the time the OS releases appear. Hopefully at some point after that I get a break!

FV: And lastly: with nearly 30 years of experience, we think it's fair to ask you to try and imagine what may happen over the next 10 years. What are your guesses as to where PCalc may be going next?
JT: I'm just glad you didn't ask me to think what will happen in the next 30! If I'm still working on PCalc when I am in my late seventies, something has gone dreadfully wrong with my retirement plan.
It's perhaps too obvious given all the rumours, but I think the next big thing might be AR / VR. I've already got PCalc sort of working in AR in the PCalc About screen, and in Dice too. That's why I started experimenting with 3D graphics over five years ago, because of the rumours that Apple was making something. I still think it's not guaranteed that a headset is going to replace the iPhone as Apple's biggest product any time soon, but I do think it's going to be a really interesting space to explore.
I'm guessing that there will be a new 3D user interface framework from Apple similar to SwiftUI, and probably built on top of RealityKit. I could see a lot of technologies like UIKit not making it over to the new device, and there being a clean break of sorts.
In any case, I certainly have no plans to stop any time soon. Let's check back in a decade and see!